Easy15 minsVegetarian
This restaurant-style fried rice recipe is the absolute BEST. It's quick and easy to make, customizable with any of your favorite mix-ins, and so irresistibly delicious. My kind of comfort food! (This post contains affiliate links.)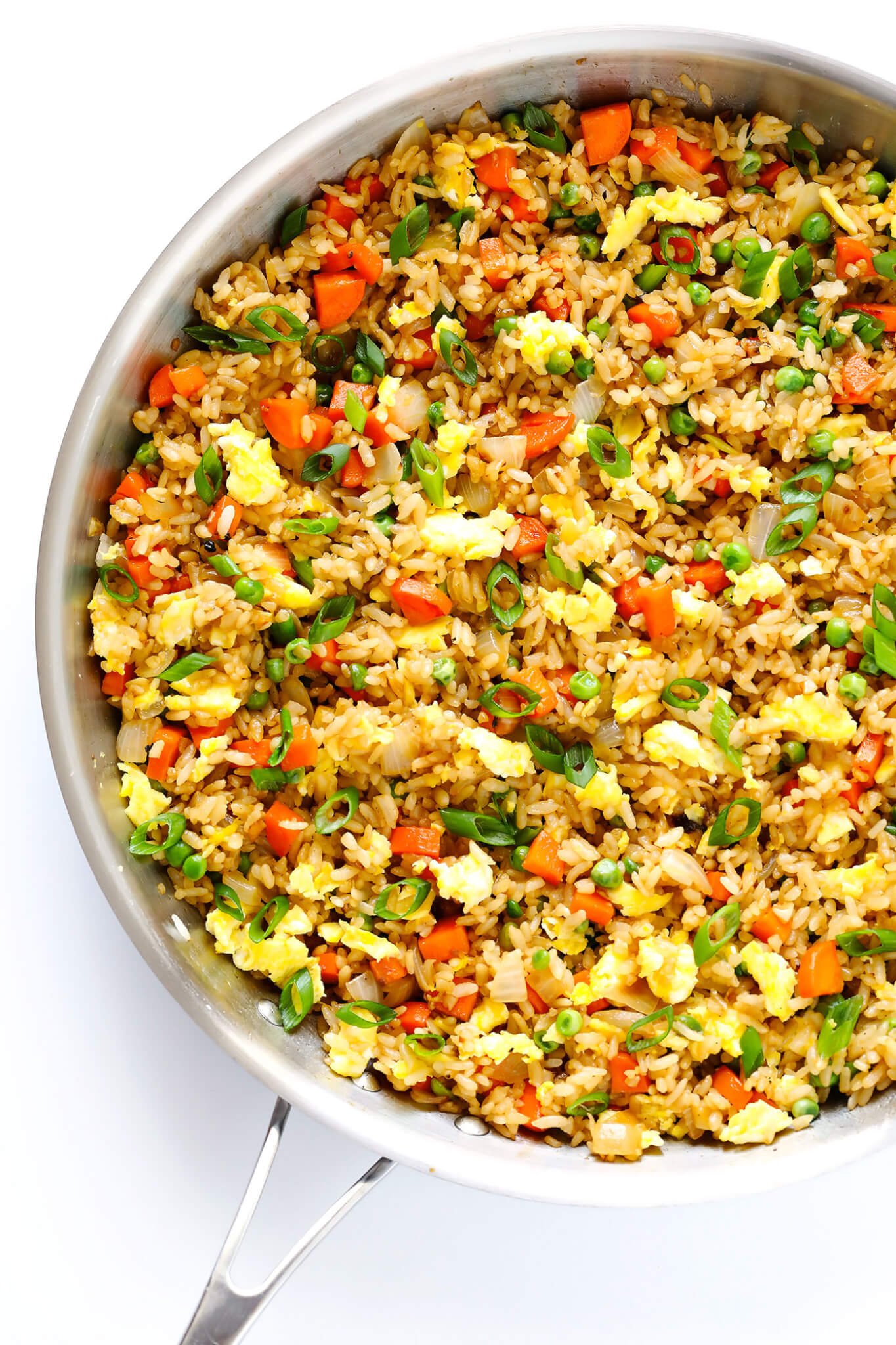 Hey guys! I'm digging back into the blog archives today to share one of my all-time favorite recipes with you again.
And I really do mean all-time.
Because fried rice and I go wayyyy back. ?
Like specifically, back to my picky-eating days that lasted — oh — until college, when I was totally "that girl" who refused to even look at anything else on the menu at a Chinese restaurant besides fried rice and my trusty egg drop soup. Guys, I was crazy about my fried rice. And this was thanks in large part to our amazing little neighborhood Chinese restaurant that knew how to fry up a mean batch of rice, and set the bar high for what I expected fried rice to be. I mean, back then, I just assumed that all fried rice was perfectly stir-fried and full of big flavors and irresistibly delicious! Little did I know about the painfully bland, boring, and tasteless stuff that I would encounter at too many other Chinese restaurants once I ventured out of the nest. Even today, I still can't believe it when I stumble across a bad batch. Such a missed opportunity!
Anyway, I figured out pretty quickly once I left for college (in a small town with zero good fried rice) that this was a problem I was going to have to remedy in my own kitchen. So over many years and literally dozens of test batches, I finally landed on my favorite recipe back in 2014 that has been my go-to ever since. It's surprisingly speedy to make, easy to customize with your favorite add-ins, and more flavorful and amazing than any take-out I've ever ordered. And it's all thanks to a few simple tips that hundreds of readers have agreed totally work.
Let's make some homemade fried rice! ?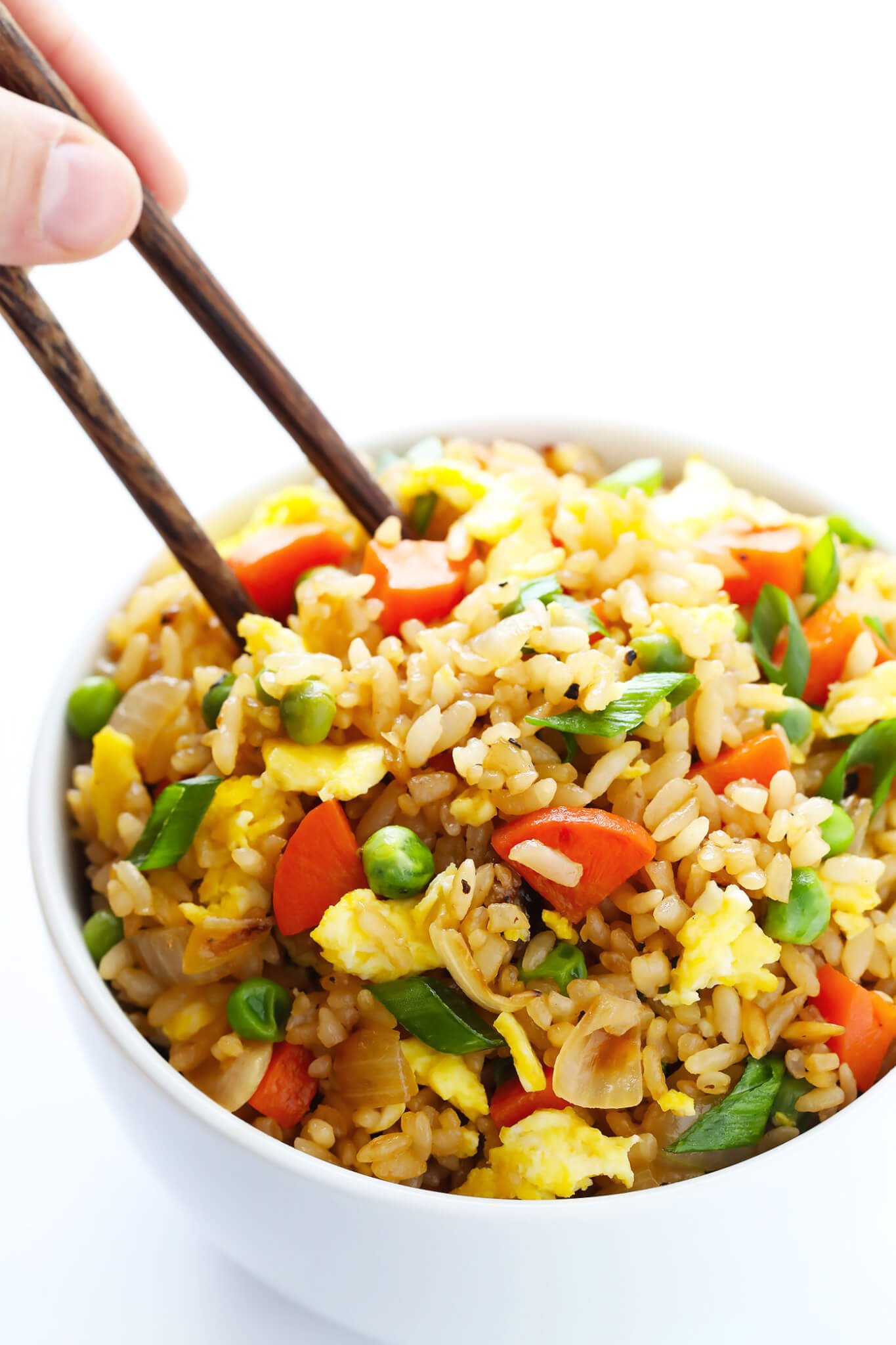 Ok, let's get right to it. Here are the important things I have learned over the years about making excellent fried rice.
1) Use cold rice: You've gotta plan ahead and use thoroughly-chilled cooked rice. A fresh batch of warm (or even lukewarm) rice will not fry well when it hits the hot pan, and will result in soggy and sticky clumps — no good. So leftover refrigerated rice is ideal! Or, if you are in a hurry (or have an impulse craving for fried rice, which I completely understand ?), just cook up a fresh batch of rice. Then spread it out on a baking sheet or another large flat pan, drape the rice with a layer of plastic wrap, then pop it in the fridge for 30 minutes (or in the freezer for 10-15 minutes) until it is thoroughly chilled (not frozen).
2) Use butter: Yes, butter. I have made many a batch of fried rice using various oils, and I'm now convinced there's a reason why Japanese steak houses use that big ol' slab of butter when they're making fried rice. It just tastes so much better, and also makes everything brown up perfectly. (Although don't be scared — we only use 3 tablespoons for a very large batch of rice!)
3) Use veggies: This is one of my big pet peeves with lame take-out fried rice — not enough veggies! In addition to adding some nice spots of color, veggies go a long way in adding some flavor and freshness to fried rice. Our local Chinese restaurant always added both white and green onions, too, which I included in this recipe. But feel free to modernize this recipe with some other delicious stir-fried veggies as well!
4) Use toasted sesame oil and oyster sauce: If you do not eat seafood, you can leave out the oyster sauce and your fried rice will still be great. But this ingredient makes such a difference in good fried rice, and a little goes a long way. So even if you're not into oysters, don't be scared of oyster sauce! Toasted sesame oil, on the other hand, is 100% non-negotiable. It is my favorite smelling ingredient in my kitchen, and tastes wonderful in fried rice. (Also note that sesame oil is meant as a finishing oil, not a cooking oil, so remove the pan from the heat and then stir it in.)
5) Use high heat: This will help fry and brown the rice and veggies well, and will also help prevent the rice from steaming in the pan and sticking together too much.
6) Don't be afraid to add in some extra soy sauce at the end: I know that everyone has different sensitivities to salt, and different brands of soy sauce also contain pretty dramatically different levels of sodium. So I went a little light on soy sauce in the recipe below. But please add more at the end if this tastes good to you. I almost always stir an extra drizzle into my portion and love it.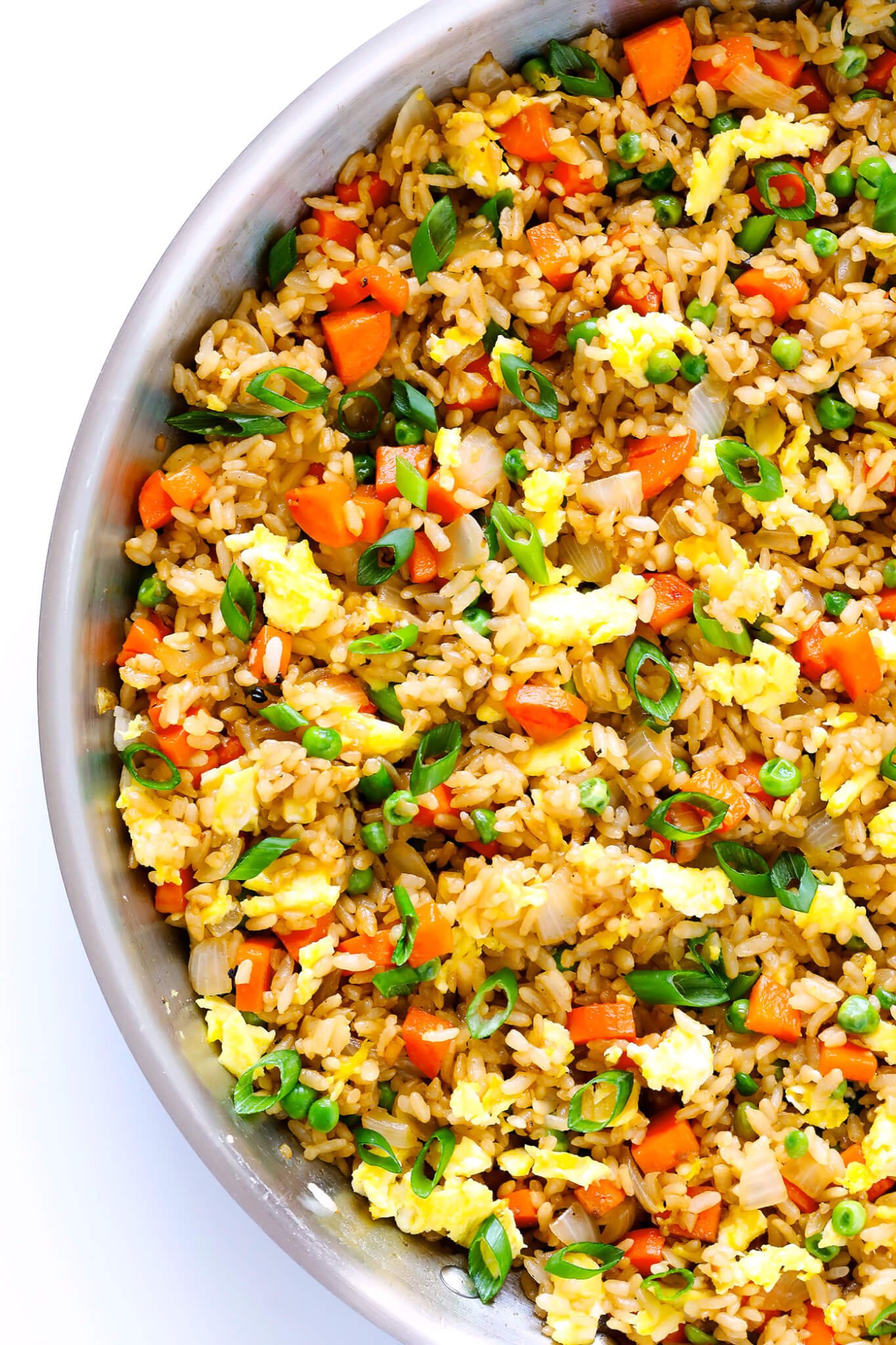 To make homemade fried rice, simply scramble some eggs in a large sauté pan. Transfer them to a separate plate, and set aside.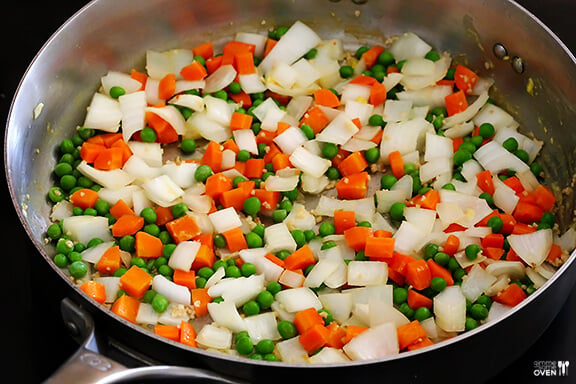 Then sauté some onions, carrots, peas and garlic until they are nice and soft and cooked through.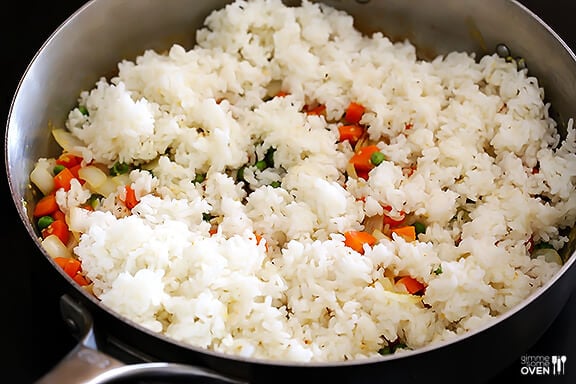 Then add in the rice, soy sauce, and oyster sauce (if using), and stir until combined. Continue sautéing the rice, stirring every 15-20 seconds or so for 3 minutes, or until you notice the rice and veggies starting to brown just a tiny bit.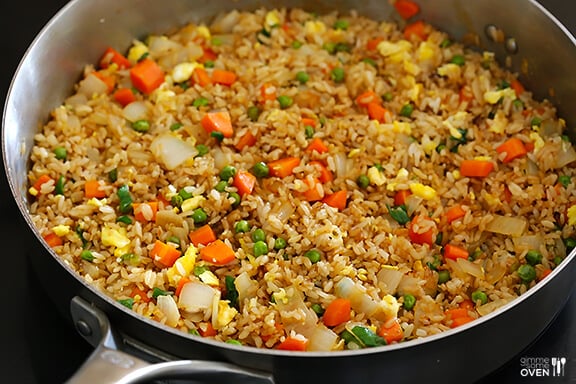 Then remove the pan from the heat. Stir in your green onions, sesame oil, and scrambled eggs. Then give it a taste, and add any additional pepper and/or soy sauce if needed.
Of course, feel free to add in any cooked chicken, shrimp, beef, pork, or other proteins (and/or veggies) if you'd like. Nowadays, I like to add in leftover roasted vegetables to my rice. But this classic base recipe will always be a favorite.
Oh yeah, and did I mention it only takes 15 minutes to make? Take out, shmake out. ?
Enjoy, everyone!
Yield: 4-6 servings
Fried Rice
Learn how to make fried rice with this classic recipe. It only takes 15 minutes to make, it's easy to customize with your favorite add-ins, and it's SO flavorful and delicious!
Ingredients:
3 tablespoons butter, divided
2 eggs, whisked
2 medium carrots, peeled and diced
1 small white onion, diced
1/2 cup frozen peas
3 cloves garlic, minced
salt and pepper
4 cups cooked and chilled rice (I prefer short-grain white rice)
3 green onions, thinly sliced
3-4 tablespoons soy sauce, or more to taste
2 teaspoons oyster sauce (optional)
1/2 teaspoons toasted sesame oil
Directions:
Heat 1/2 tablespoon of butter in a large saute pan over medium-high heat until melted. Add egg, and cook until scrambled, stirring occasionally. Remove egg, and transfer to a separate plate.
Add an additional 1 tablespoon butter to the pan and heat until melted. Add carrots, onion, peas and garlic, and season with a generous pinch of salt and pepper. Sauté for about 5 minutes or until the onion and carrots are soft. Increase heat to high, add in the remaining 1 1/2 tablespoons of butter, and stir until melted. Immediately add the rice, green onions, soy sauce and oyster sauce (if using), and stir until combined. Continue stirring for an additional 3 minutes to fry the rice. Then add in the eggs and stir to combine. Remove from heat, and stir in the sesame oil until combined.
Serve immediately, or refrigerate in a sealed container for up to 3 days.


All images and text ©Gimme Some Oven
If you make this recipe, be sure to snap a photo and hashtag it #gimmesomeoven. I'd love to see what you cook!