Easy40 minsQuick
These Holy Mole Enchiladas are made with my favorite 20-minute mole sauce, filled with chicken and beans and cheese (or your choice of filling), and loaded up with fresh toppings.  So much amazing flavor in one dish!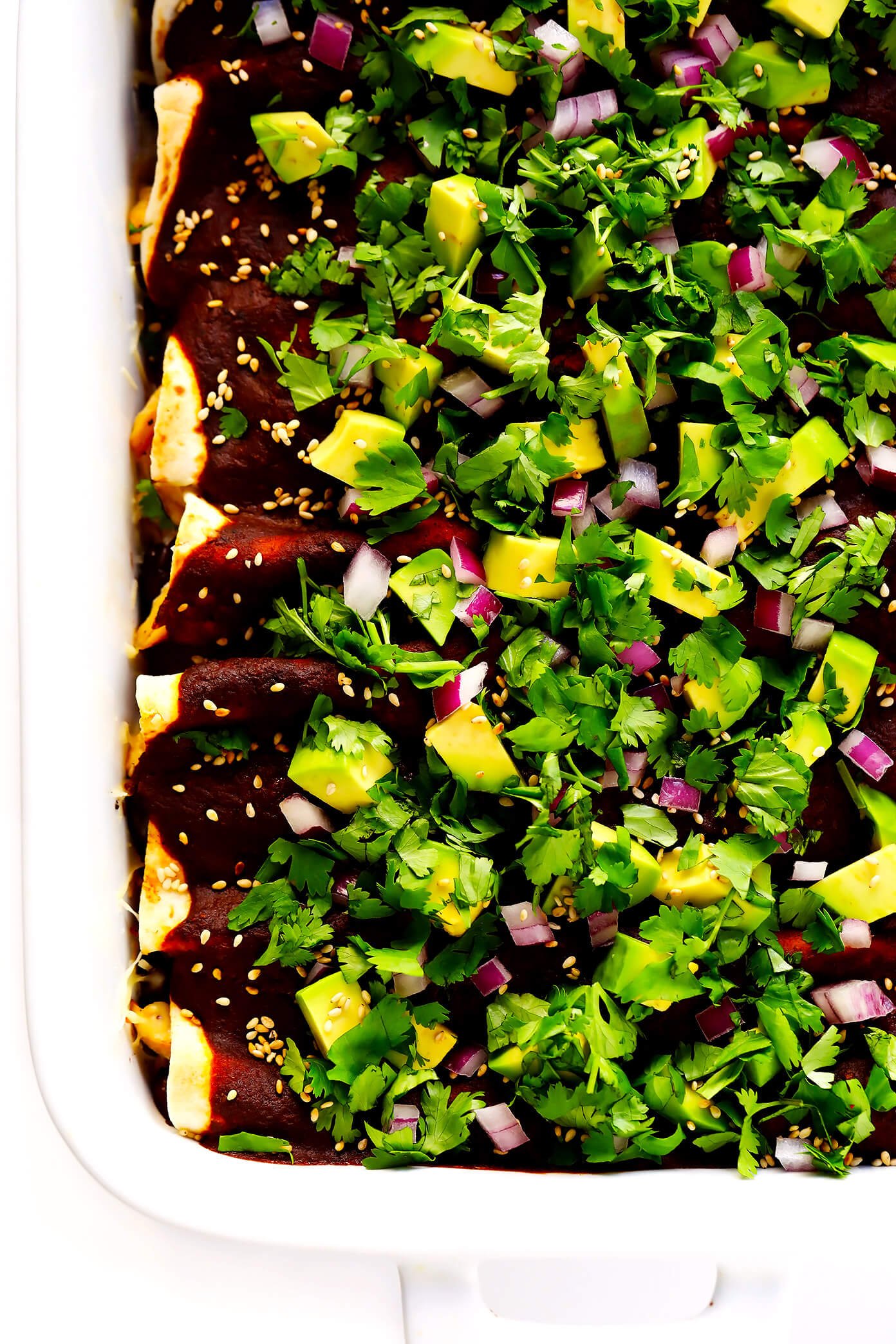 Alright, time to put this new 20-minute mole sauce to use.
I vote we make some mole enchiladas!
I loaded mine up here with a simple baked chicken, beans, and shredded cheese filling.  But really, you could fill them with just about anything — carnitas, barbacoa, roasted cauliflower or other veggies, beans, cheese, you name it.  Pretty much everything goes well with this magical mole, so take a good look around the fridge and toss in anything you have on hand that sounds delicious.  Then pop those enchiladas in the oven until they're hot and crispy, pile them high with lots of fresh, cool toppings to balance out that rich, warm mole.  And get ready to have your enchilada-loving life changed for good.  ♡
Seriously, I could not get over how much flavor was packed in one small bite of these enchiladas.  We went back for seconds…and then thirds…and then couldn't wait to dig in for leftovers again the next day.  (Which says something, for the girl who gets super-bored with leftovers!)  I think you're going to love them.
Pues vamos…let's make some!

Holy Mole Enchiladas Ingredients:
To make these Holy Mole Enchiladas, you will need the following ingredients:
Filling: As I mentioned above, this is totally up to you!  I would recommend any combination of:

Beans

: I would recommend pinto or black beans.

Veggies

: Any cooked veggies that you love, such as roasted cauliflower, sweet potatoes, peppers, onions, etc.

Cheese

: I used a shredded Mexican cheese blend, but shredded Monterrey Jack, Pepper Jack, or even a sharp cheddar would be delicious.

Tortillas: I typically use flour tortillas in enchiladas, which are not traditional but they are easier to roll.  Or, you are welcome to use corn tortillas instead (which can also be gluten-free).
Mole sauce: This 20-minute holy mole sauce is the star of the show.  Feel free to make it a day or two in advance, if you would like.
Toppings: I really love the balance of fresh and cool toppings to balance with the rich and warm flavors of the mole here.  Avocado, cilantro, green or red onions, radishes, and/or queso fresco would all be amazing!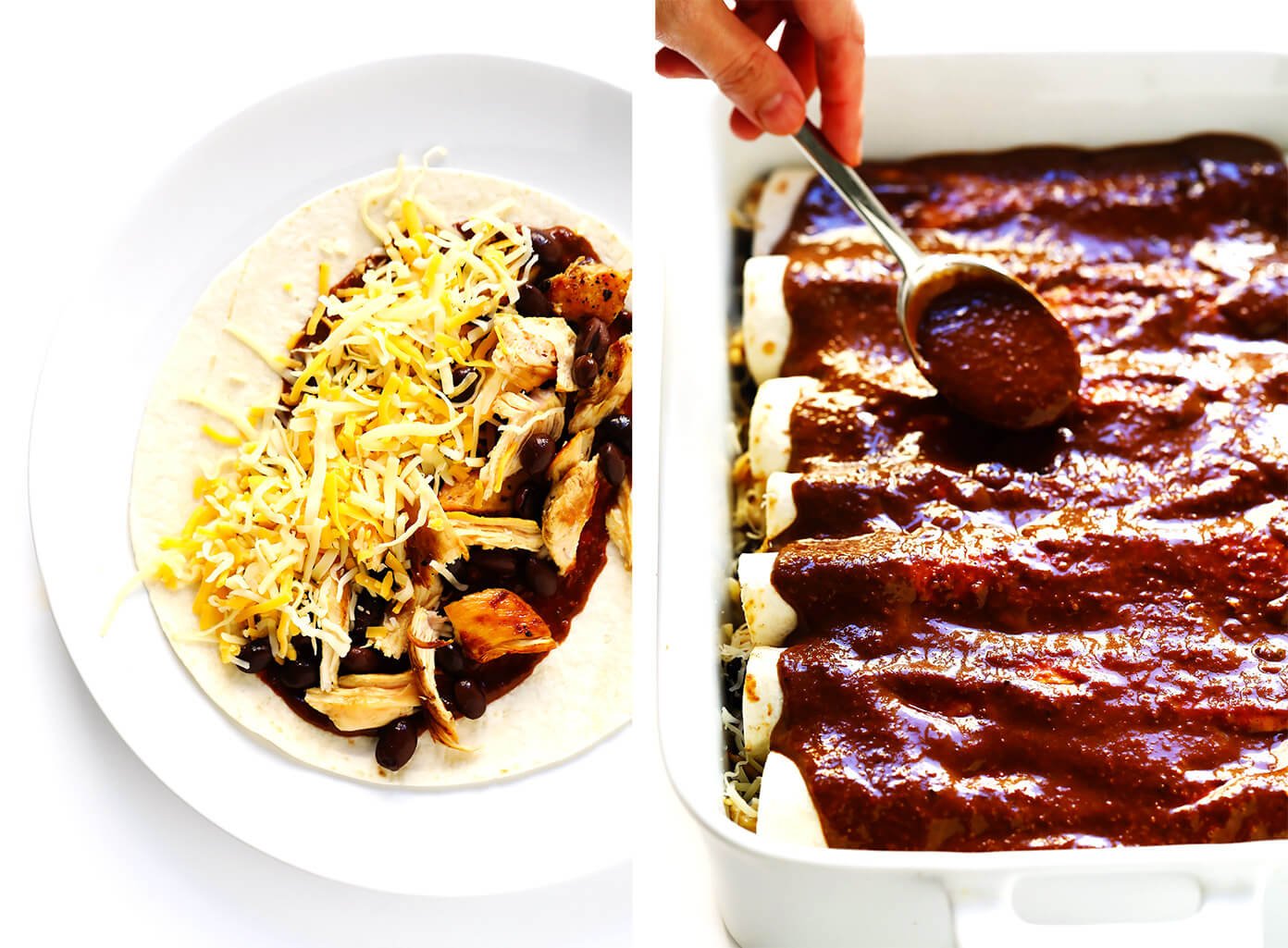 How To Make Mole Enchiladas:
To make this mole enchiladas recipe, simply:
Prep your ingredients: Prepare the mole, and any proteins or veggies that need to be cooked ahead of time.
Assemble the enchiladas: Spread the mole around to cover the bottom of the baking dish.  Then lay a tortilla out on a flat surface, and fill it with more mole plus your desired fillings.  Roll the enchilada up, and place it seam-side-down in the baking dish.  Repeat with remaining ingredients.  Then spread any extra mole around on top of the enchiladas.
Bake: Pop the pan in the oven and bake until the enchiladas are heated through, and the edges of the tortillas crisp up a bit.  Then remove from the oven.
Garnish galore: Seriously, the more the merrier when it comes to these fresh toppings.  Load 'em on.  And then…
Serve: And enjoy!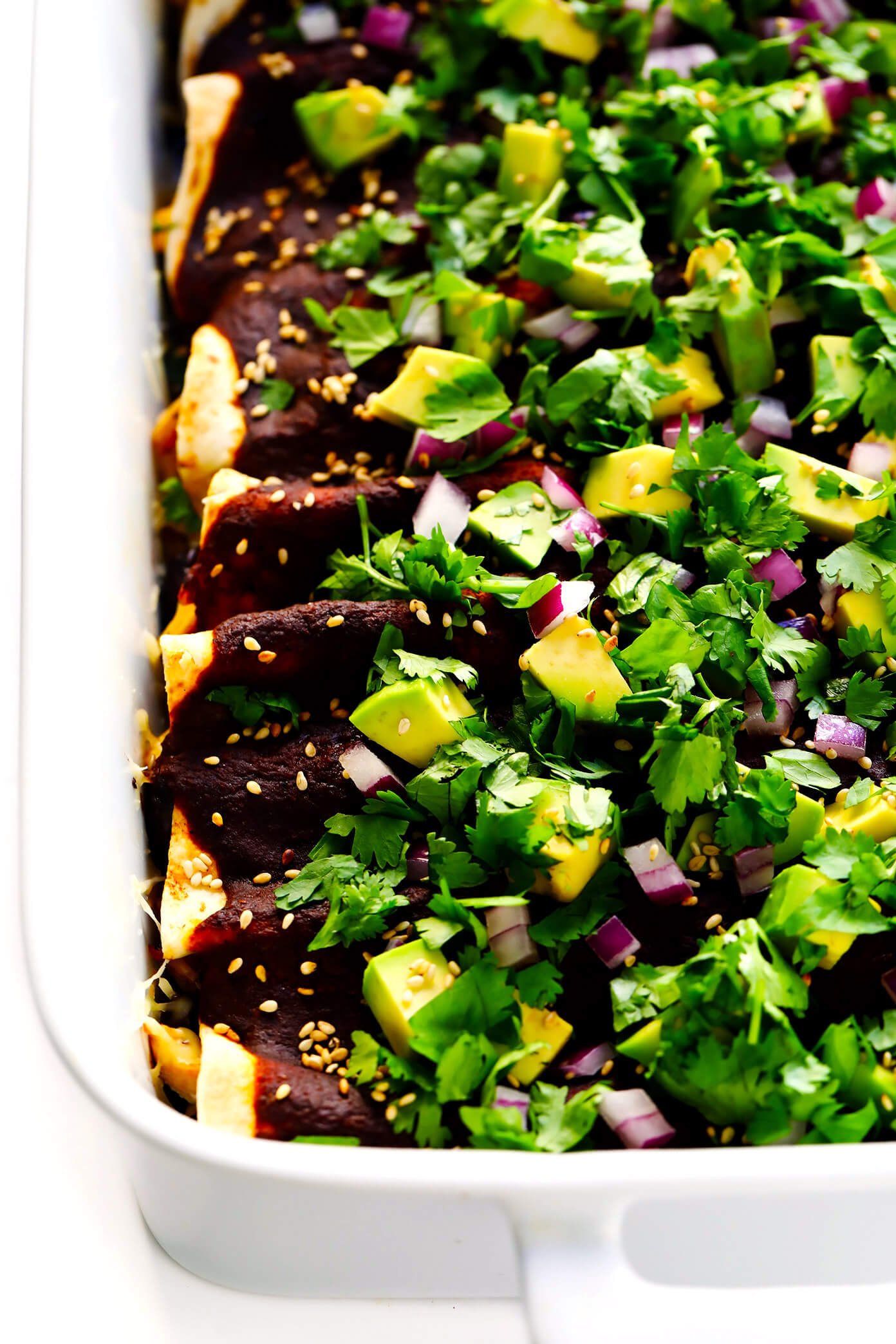 Variations:
The sky's the limit on how to customize these enchiladas, so have fun experimenting!  For example…
Want to make them gluten-free? Be sure to use certified GF corn tortillas, and use the gluten-free option to thicken your mole.
Want to make them vegan? Nix the meat and cheese, and fill your enchiladas with lots of veggies and beans.
Want to make them spicy? I love adding a few jalapeños to the filling!
Want to make a casserole? Just combine all of your ingredients in a baking dish between layers of tortillas, instead of rolling them up into enchiladas.  (This is also a great way to use corn tortillas, which have a tendency to crack more when they are rolled up.)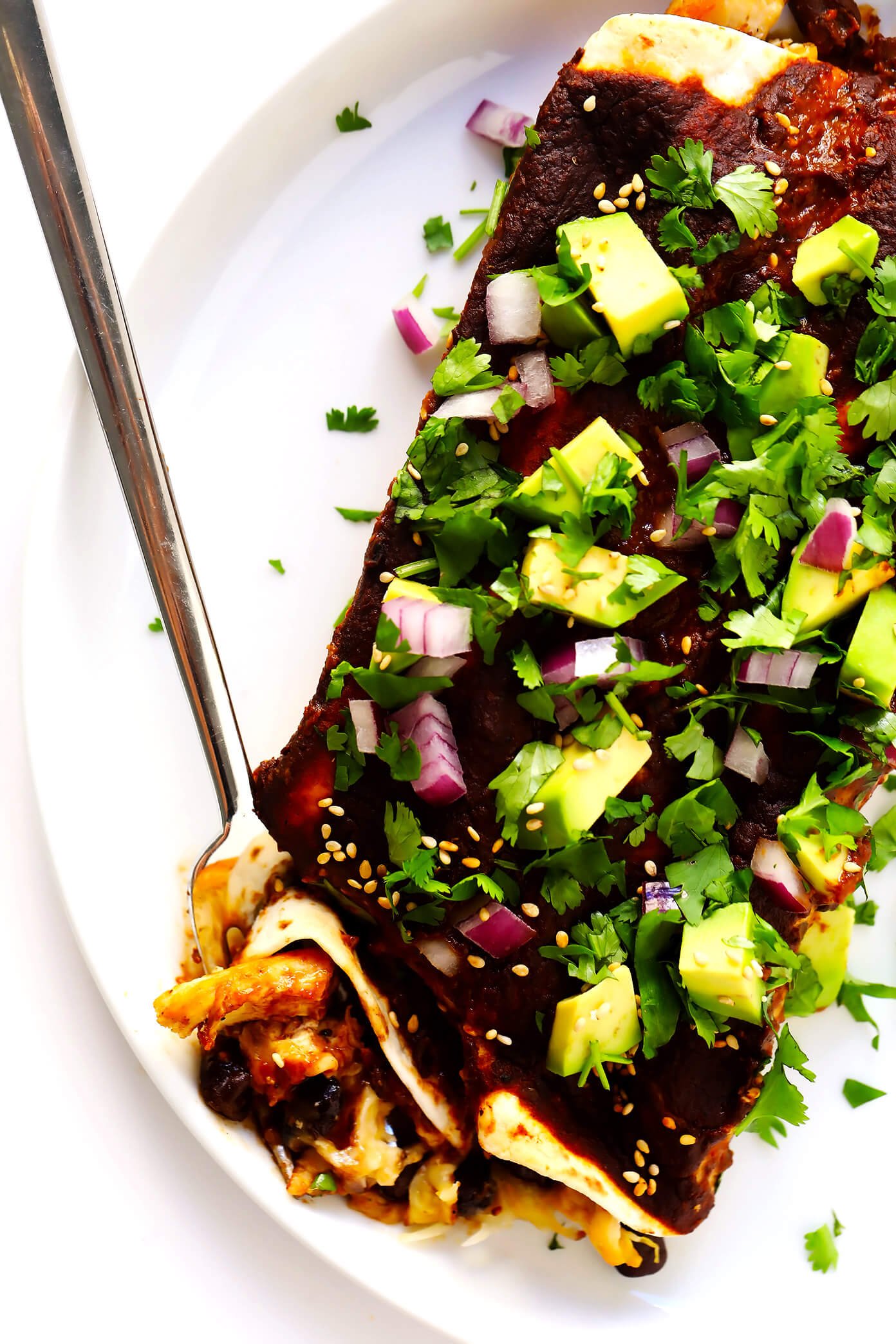 What To Serve With Mole Enchiladas:
Feel free to check out our Mexican Recipes here on the site for inspiration, but a few Mexican side dishes I'd recommend include: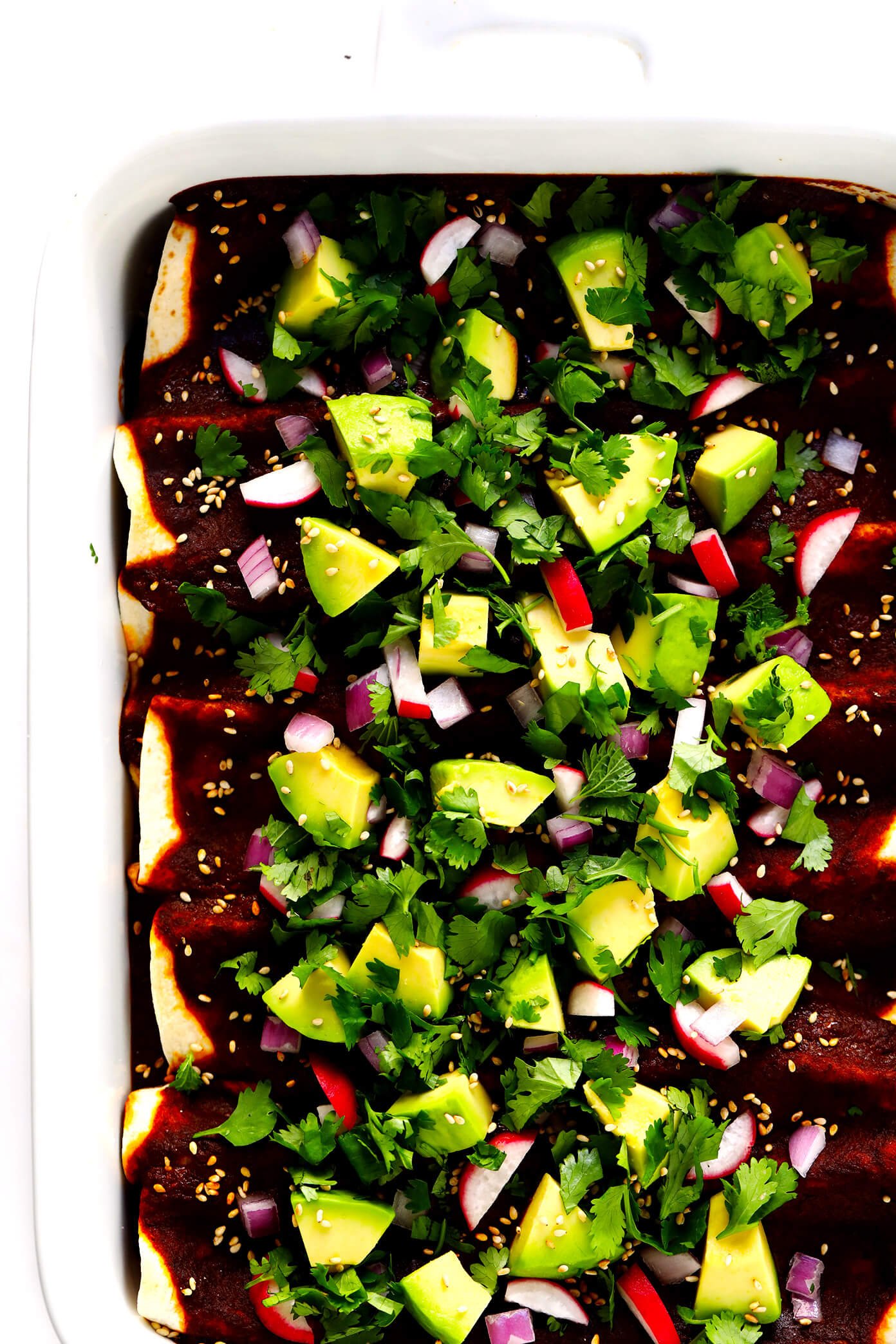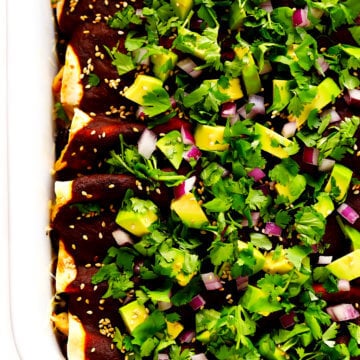 Yield: 7-8 servings
Holy Mole Enchiladas
These enchiladas are made with the most delicious 20-minute mole sauce, your choice of fillings, and lots of fresh toppings.  See ideas above for alternate filling ingredients.
Ingredients:
1 batch holy mole sauce
7-8 large flour tortillas
2 baked chicken breasts, shredded (or your preferred filling)
2 (15-ounce) cans pinto or black beans, rinsed and drained
1 (8-ounce) bag shredded cheese (I recommend either a Mexican blend or Pepper jack)
toppings: toasted sesame seeds, lots of sliced avocado, chopped fresh cilantro, sliced radishes, diced red or green onion, and/or crumbled cotija cheese
Directions:
Heat oven to 350°F.  Lightly grease a 9×13-inch baking dish with cooking spray.
Pour 1/3 cup mole into the bottom of the baking dish, and spread it around evenly with a spoon to cover the entire surface.  Set aside.
Place a tortilla flat on a plate, and spoon a heaping tablespoon of mole into the center of the tortilla.  Spread it around evenly with a spoon.  Then add 1/4 cup of shredded cheese in a line down the center of the tortilla, topped with a spoonful of beans and handful of shredded chicken.  Roll up the enchilada, and place it in the prepared baking dish, seam side down.  Repeat with the remaining tortillas, cheese, beans and chicken.  Then pour the remaining sauce down the center of the pan of enchiladas, and use a spoon to spread it around evenly.
Bake uncovered for 20-25 minutes, until the enchiladas are heated through and the tortillas are a bit crispy.  Remove from the oven, garnish with tons of toppings.
Then serve warm, and enjoy!  Or cover and refrigerate for up to 3 days, or freeze for up to 3 months.
Difficulty: EasyCategory: Quick


All images and text ©Gimme Some Oven
If you make this recipe, be sure to snap a photo and hashtag it #gimmesomeoven. I'd love to see what you cook!