Rosemary Focaccia Bread
Easy1 hour 35 minsVegetarian
This delicious Rosemary Focaccia Bread recipe is easy to make, and tastes so rich and wonderful with the addition of fresh rosemary, olive oil and flaked sea salt.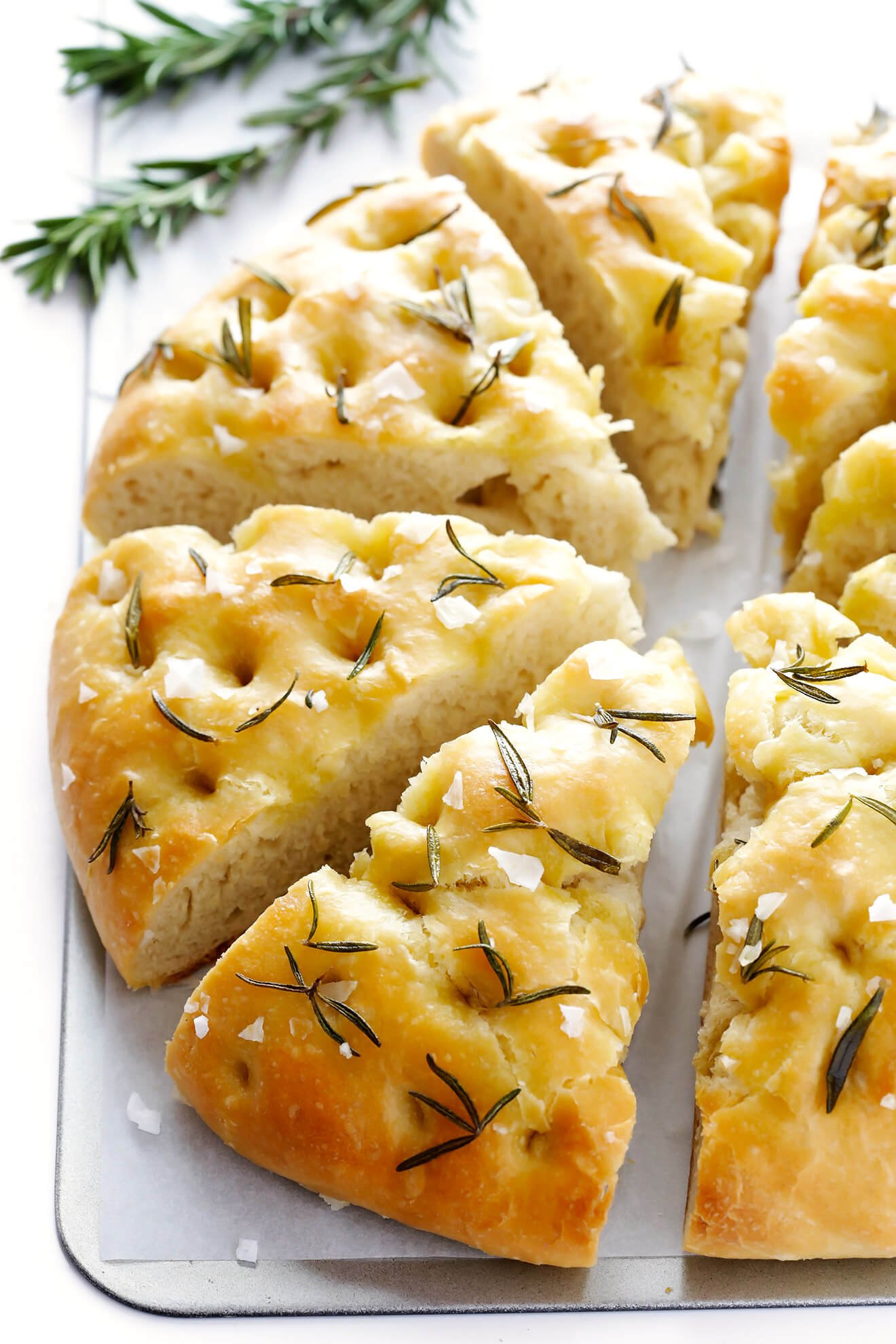 A few years ago, our Kansas City tribe lost one of our best — our Cammie — to the Wild Wild West (of Denver, obvs ?) where she went to go live with her love. It was a wild and wonderful move, and we're all thankful that it worked out for the best, but we still miss her around here like crazy.
BUT. I've gotta say that — more than anyone else I know — Cammie more than makes up for her absence by being the freaking best organizer of our old friends every time she makes a regular visit to town. Seriously, I feel like the girl organizes more happy hours than any of our friends, and she doesn't even live here anymore! ? But what's even better is that she organizes get-togethers at people's houses. So about a week before her arrival, we can always count on a text from Cammie announcing that she's in need of a house. And then sure enough, she always follows through and does all of the legwork rallying everyone together and planning a meal, and then — voila — an awesome time together with always ensues.
(Oh, and bonus — Cammie is probably my friend who loves ALDI even more than I do. So I can always count on her to show up with a grocery bag full of new finds that we can oooh and ahhhh and "omg-I-love-that-cheese-too!" together.)
This past Friday night, I ended up being the lucky hostess of a last-minute happy hour that Cammie pulled together when she decided to come to town at the last minute. I was feeling pooped after a long work week that afternoon, trying to rally for the evening ahead. But the second that all of our girlfriends started showing up, and the hugs and hellos were passed around, and the wine glasses started being filled, and we all filled up our plates with warm Italian lentil soup and Caesar salad and and freshly-baked focaccia bread, and relaxed back into our chairs around the table — I couldn't have been happier. I love these friends of mine so much. And oh my gosh, I was reminded how I love our conversations about everything from good wines to magic realism to Mahershala Ali to Facebook ads for creepy earthquake beds (seriously, YouTube them) to Barcelona to skincare to Jeff Sessions and more so much. And oh my gosh, I laugh with them until my cheeks hurt so much.
So much love for this crew. ?
Anyway, suffice it to say, it was yet another memorable night thanks to our fearless organizer. And it also ended up being a fantastic meal, thanks to this ultra-easy soup recipe, my favorite Costco kale salad, tons of delicious ALDI cheese and crackers, and this ultra-comforting rosemary focaccia bread recipe, which I can't seem to stop making lately.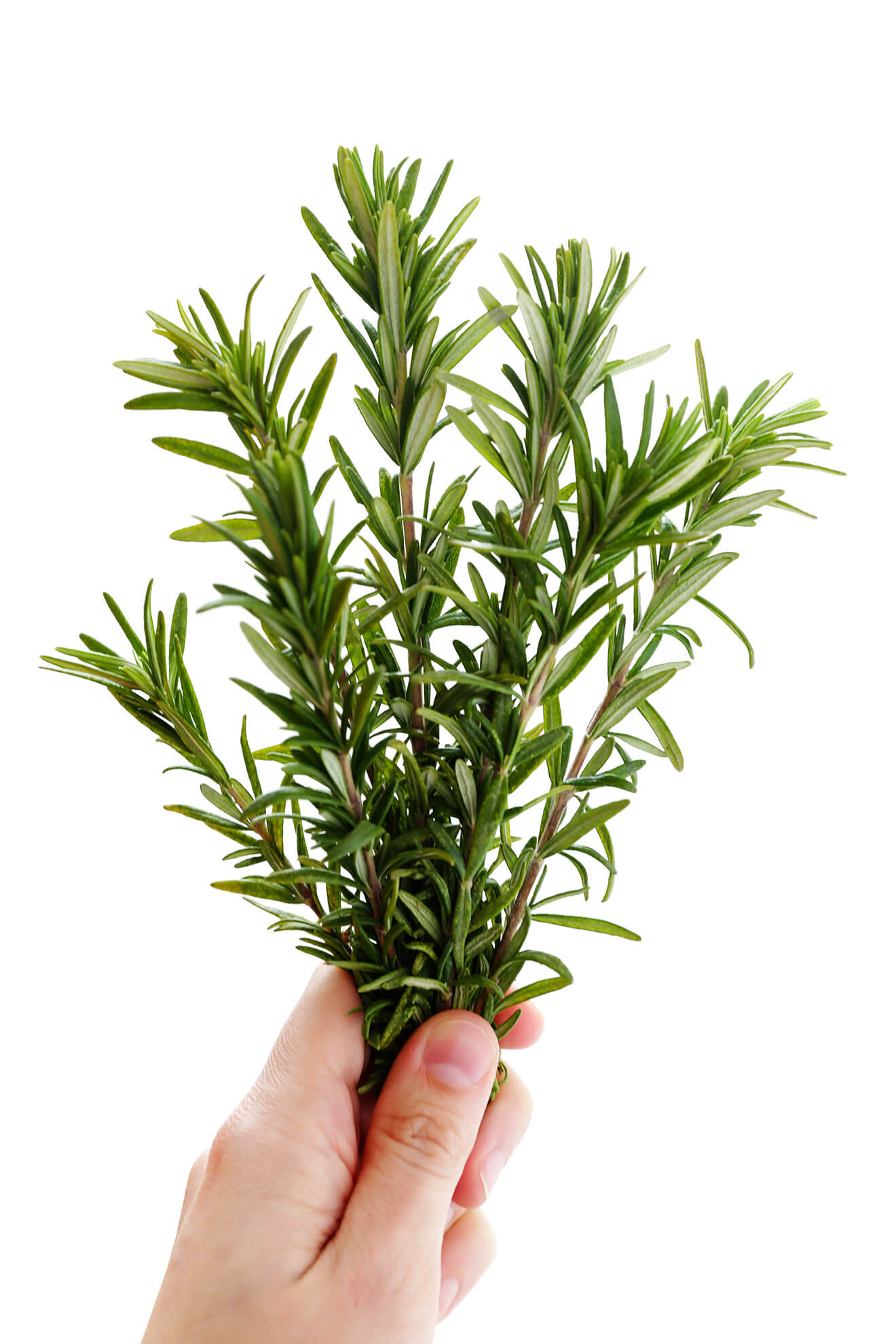 Like, seriously. I made this bread three times last week, and still loved every last bite of it. ?
I mean, let's be real, I forever and always love just about any bread that is served warm and fresh right out of the oven. But there's something extra magical about warm, comforting, decadent focaccia bread. Especially this recipe, which is kicked up a major notch with lots of fresh rosemary, extra drizzles of olive oil, and a generous sprinkle of flaked sea salt. Oh my heavens, it seriously is all of my bread dreams come true.
And the best part?
It's so easy to make!
Just whip up a simple batch of dough. (Trust me, even if you're new to working with yeast, the instructions below will walk you through each and every step. You've got this!) Then once it has risen, and then proofed, and then been rolled out onto a baking sheet…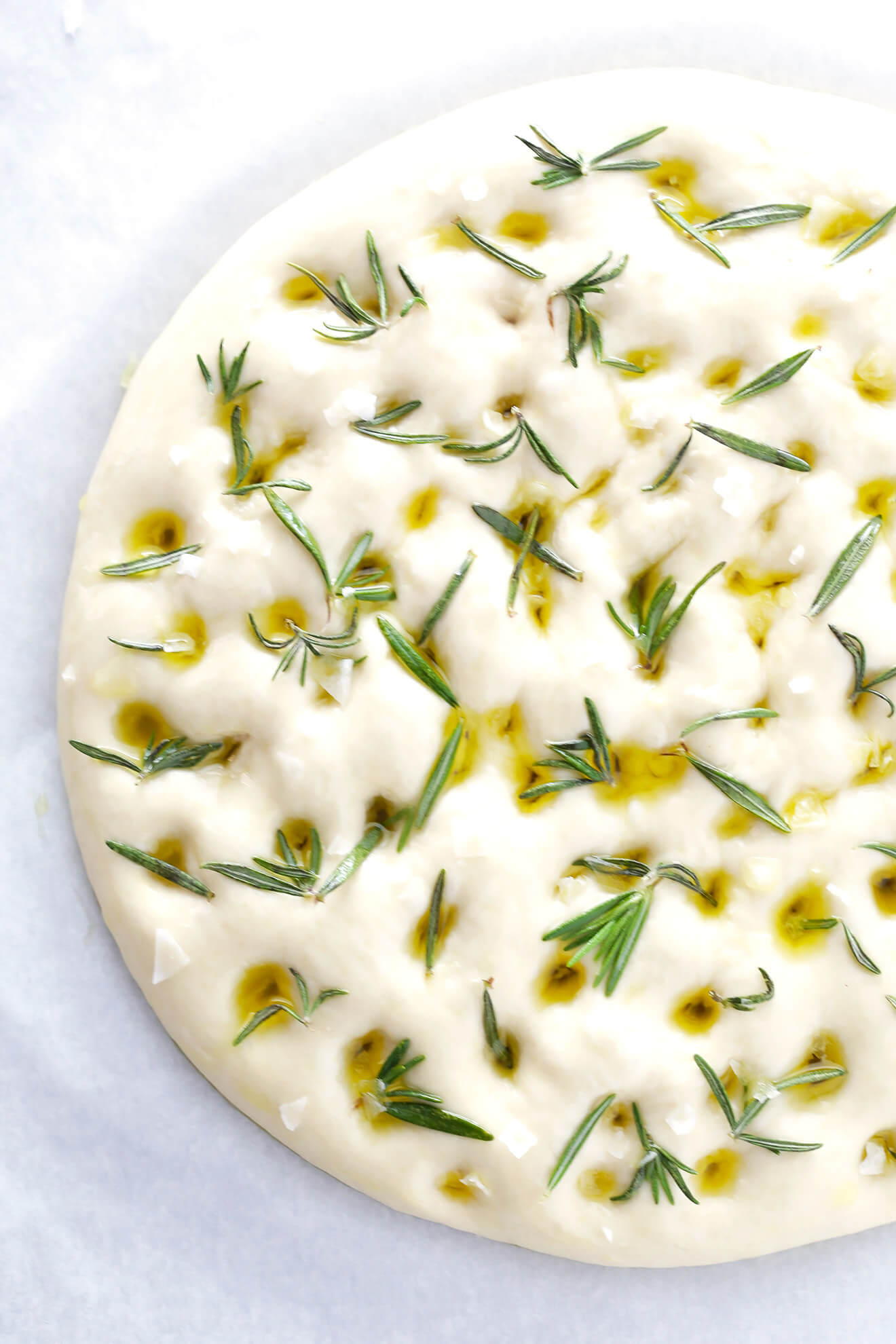 …use your fingers to poke the heck out of the dough (which creates yummy little pockets for the olive oil to pool, and also prevents your dough from rising too high while baking). Then drizzle lots of olive oil on top, and sprinkle the dough with fresh rosemary leaves and flaked sea salt. Bake it for about 20 minutes, or until everything's nice and golden.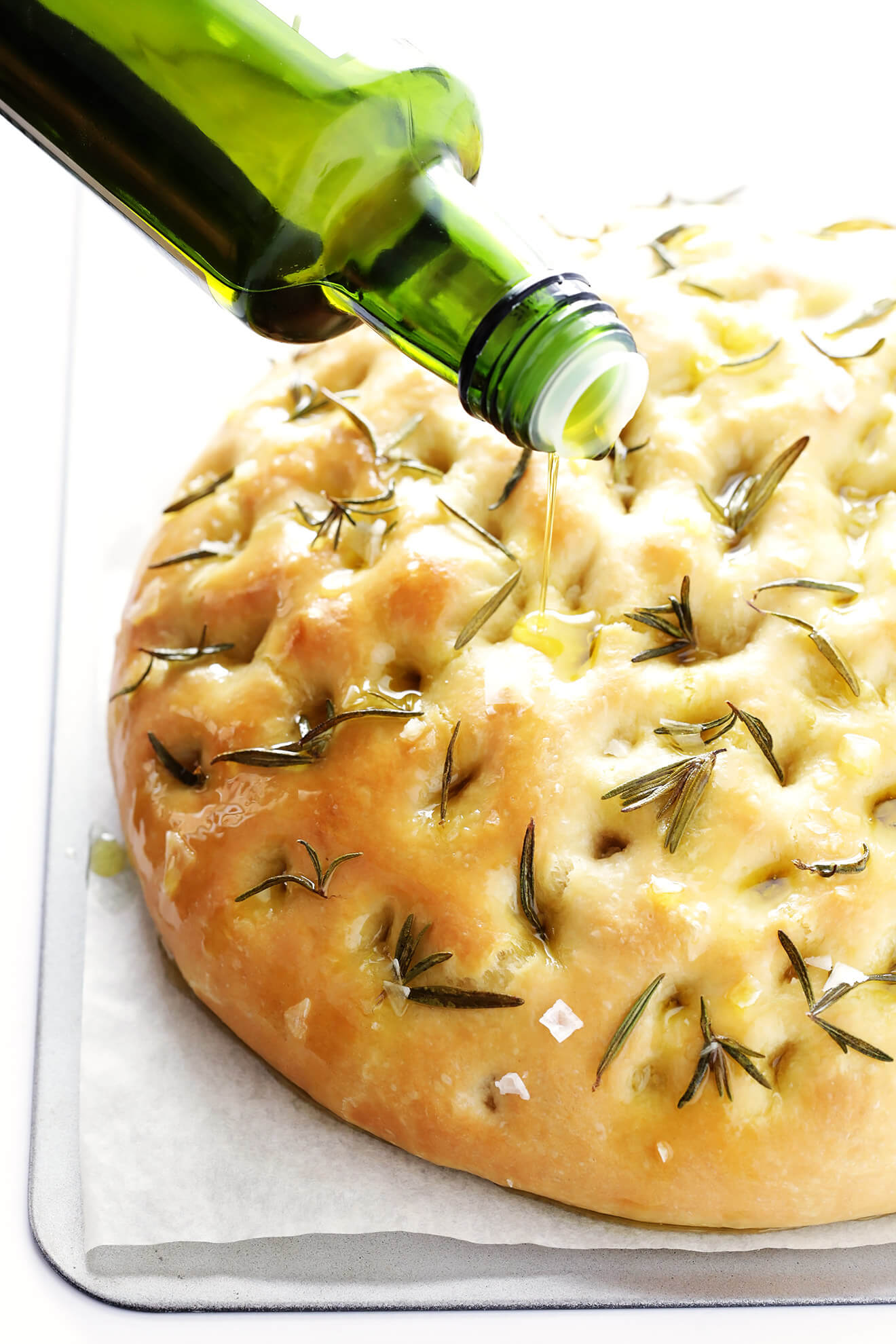 Then give it onnnnnne more healthy drizzle of olive oil, for good measure. Slice it up…serve…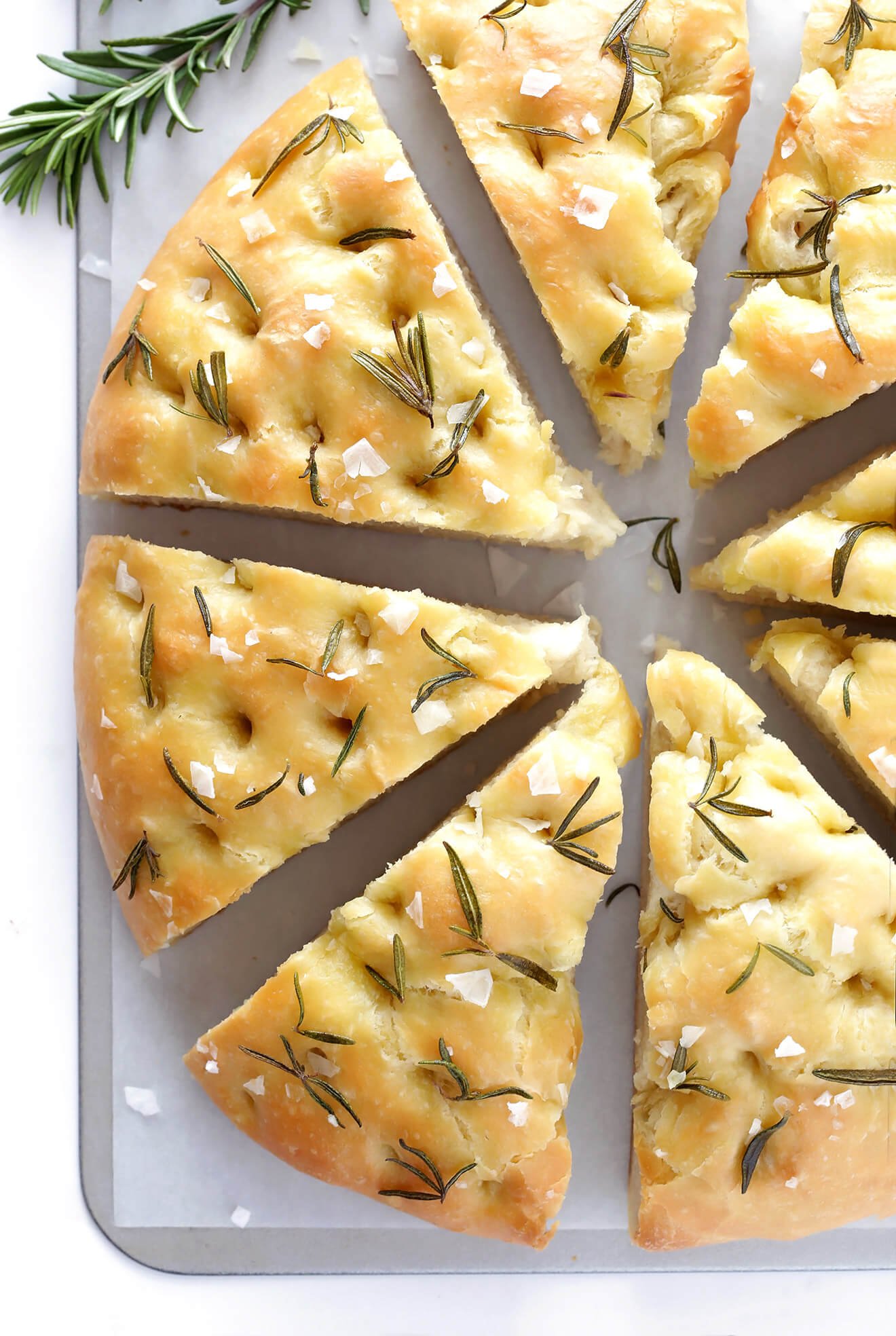 …and enjoy.
Seriously, I haven't had this many requests from friends (and from Barclay) for a recipe to show up on the blog in awhile. So without further ado, here it is! Hope that you enjoy it as much as we did, and hope that you can share it with some of your favorite people too. ?

Yield: 8-12 servings
Rosemary Focaccia Bread
This Rosemary Focaccia Bread recipe is ultra-comforting and delicious, and kicked up a notch with the addition of lots of fresh rosemary and flaked sea salt.
Ingredients:
1 1/3 cup warm water (about 110°F*)
2 teaspoons sugar or honey
1 (0.25 ounce) package active-dry yeast
3 1/2 cups all purpose flour
1/4 cup extra virgin olive oil, plus more for drizzling
2 teaspoons flaked sea salt
2 sprigs fresh rosemary
flaked sea salt
Directions:
Add warm water (*about 110°F, which you can measure with a thermometer if you want to be sure it's the right temp) and sugar to the bowl of a stand mixer with the dough attachment, and stir to combine. Sprinkle the yeast on top of the water. Give the yeast a quick stir to mix it in with the water. Then let it sit for 5-10 minute until the yeast is foamy.
Turn the mixer onto low speed, and add gradually flour, olive oil and salt. Increase speed to medium-low, and continue mixing the dough for 5 minutes. (If the dough is too sticky and isn't pulling away from the sides of the bowl, add in an extra 1/4 cup flour while it is mixing.)
Remove dough from the mixing bowl, and use your hands to shape it into a ball. Grease the mixing bowl (or a separate bowl) with olive oil or cooking spray, then place the dough ball back in the bowl and cover it with a damp towel. Place in a warm location (I set mine by the window) and let it rise for 45-60 minutes, or until the dough has nearly doubled in size.
Preheat oven to 400°F. Turn the dough onto a floured surface, and roll it out into a large circle or rectangle until that the dough is about 1/2-inch thick*. Cover the dough with a greased piece of plastic wrap, and let the dough continue to rise for another 20 minutes.
Remove the plastic wrap, and transfer the dough to a large baking sheet. Use your fingers to poke deep dents (seriously, poke all the way down to the baking sheet!) all over the surface of the dough. Then drizzle a tablespoon or two of olive oil evenly all over the top of the dough, and sprinkle evenly with the fresh rosemary needles and sea salt.
Bake for 20 minutes, or until the dough is slightly golden and cooked through. Remove from the oven, and drizzle with a little more olive oil if desired.
Slice, and serve warm.
*Different people have different preferences on the thickness of their focaccia. I err on liking a thicker bread, so if you want yours thinner, just roll it out a little more. It will rise up considerably while baking. 🙂

Difficulty: Easy
Category: Vegetarian

If you make this recipe, be sure to snap a photo and hashtag it #gimmesomeoven. I'd love to see what you cook!
This post contains affiliate links.