Nov
29
Santa Munch Popcorn Snack Mix {with printable}
posted by Dorothy Kern
Santa Munch Popcorn Snack Mix – an easy 5 ingredient popcorn mix that is the perfect Christmas treat! Popcorn, pretzels, and nuts are coated with white chocolate and mixed with M&Ms making the perfect sweet treat for parties or packaged for goody bags with the printable tags!
I know I'm supposed to talk about popcorn in this post, and about Christmas, and decorating for the holidays and parties and this Santa Munch, which is the ULTIMATE popcorn snack mix, but first I need to get this off my chest:
OMG did you watch The Gilmore Girls?????????
Okay, so I know it's only been a few days. No spoilers in this post. I'll talk at length another day about what happened, the final four words, and my never-ending feels about those three gut-wrenching scenes in Fall (and how I rewatch them every day).
I'm just so….torn up by it being over. Because really, it's NOT over. In my mind I've pictured the next 10 years and I want it on screen, darn it. Also, I started off the year fully #TeamJess and ended the last episode squarely in the #TeamLogan camp.
And that's all I'm going to say…for now.
What did you do over the holiday weekend? We ate lots of stuffing, lots of pie, I spent lots of money shopping (I am scared to look at my credit card statement), we decorated for Christmas…and I spent 7 hours on Saturday binging The Gilmore Girls. Pretty much, it was an amazing week. (Except that now that Gilmore Girls is over I have nothing to look forward too. And I'm now re-reading Twilight again and it's not satisfying me.)
One of the things I love to binge eat while binging TV is popcorn. I'm pretty sure Santa loves popcorn too, especially when it's coated in white chocolate, mixed with pretzels, nuts, and M&Ms, and even more so when you package it in cute little bags.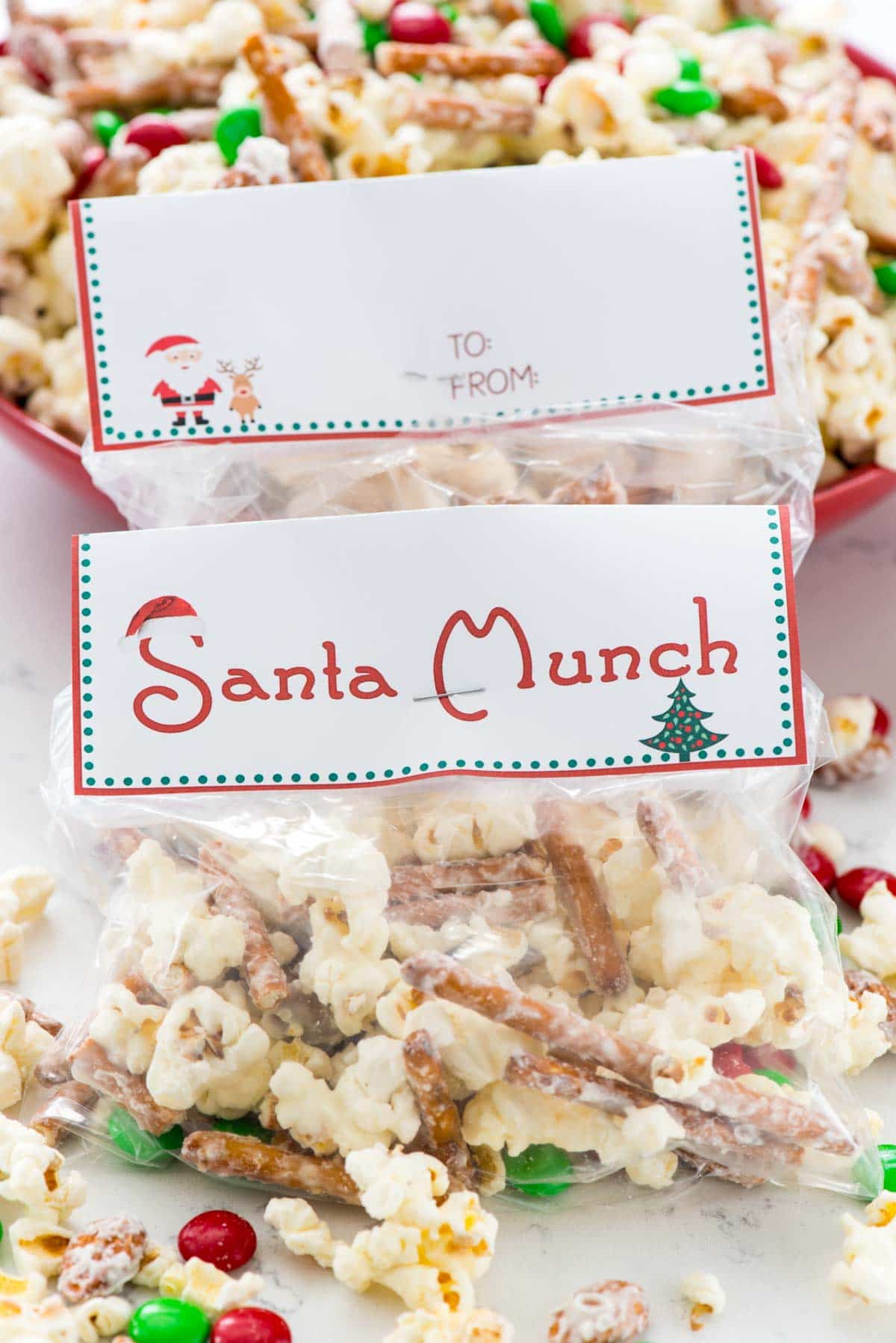 This munch is a little reminiscent of my Elf Munch recipe which at some point I need to remake and reshoot and repost. Every year I see that post pop up in my analytics and cringe a little, hoping that the reader clicks "home" after printing so they know I'm better now than I was then.
Santa Munch is an EASY popcorn snack mix. You can put anything you want in there, but I love adding pretzels and almonds and M&Ms and coating it all with white chocolate. It's pretty and festive and tastes darn good. Kids love it too; Jordan begged me to eat it for breakfast this morning. I love serving it in a big bowl at holiday parties, but I think I love packaging it more. It makes the perfect goody bag treat for class parties or a kids Christmas party.
Speaking of which…I need to start planning our annual kids Christmas party. I was all ahead of things before Thanksgiving and have just realized now that Christmas break is in 3 weeks. Where does the time go?
I'll probably remake this Santa Munch for the party, and I'll package it in little bags with those cute little tags. You can download and print them here.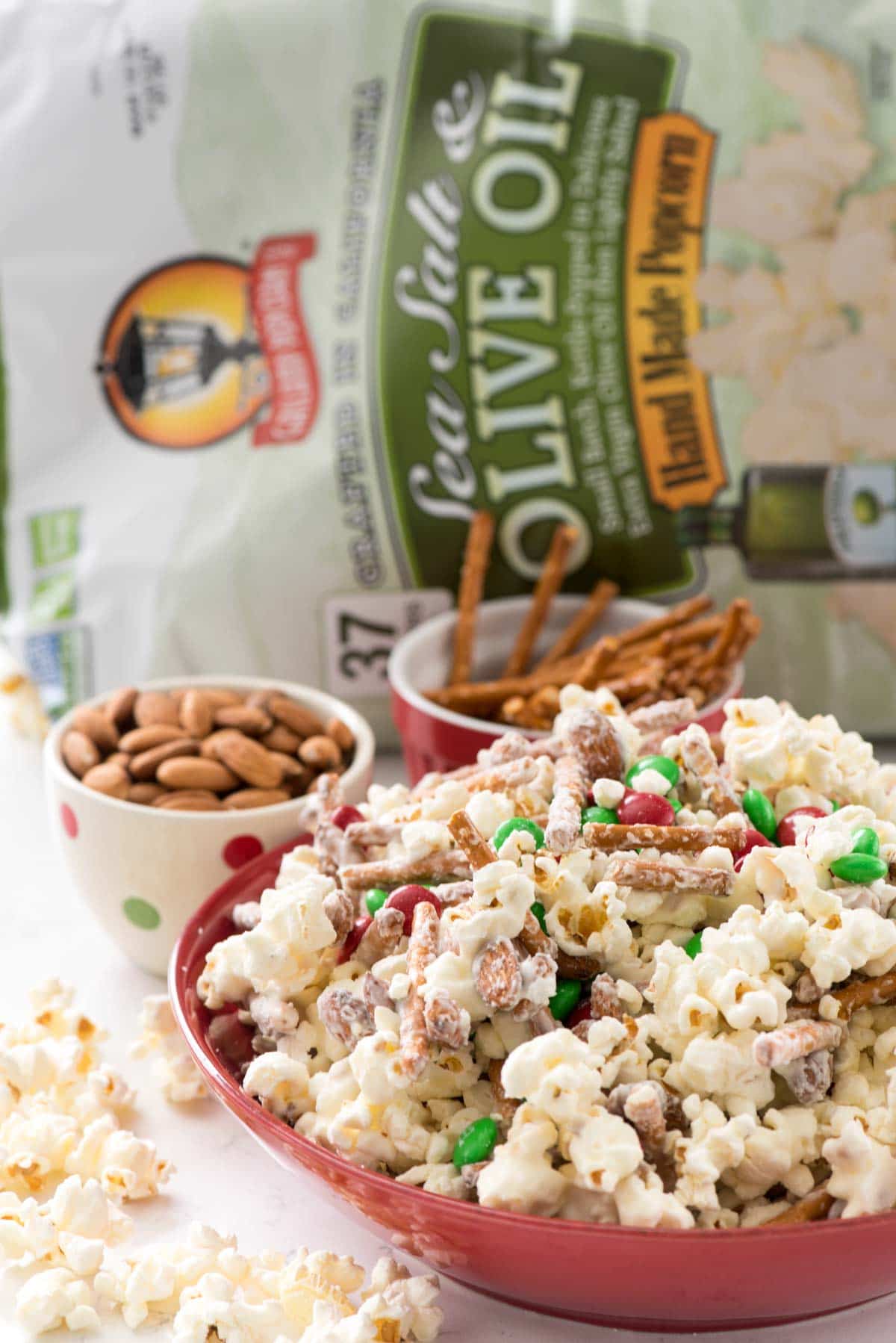 I started this recipe with Gaslamp popcorn. Maybe you remember them? They're the star of my Pumpkin Spice Latte Popcorn when I was on T.V. for the first and only time. I was so excited they wanted to work with me again this year. I usually have a bag of their Sea Salt & Olive oil popcorn in my pantry anyway and I their Cinnamon Caramel Popcorn is probably my favorite flavor ever, and the inspiration behind my Cinnamon Caramel Sauce. Their popcorn is fresh, non-GMO, & gluten free…and it tastes amazing when you coat it with white chocolate.
I know you're going to love this Santa Munch as much as we do…hopefully they'll be some left to actually leave for Santa and the reindeer. I'm sure Rudolph likes popcorn, yes?
CLICK HERE FOR THE FREE PRINTABLE TAGS.
Santa Munch Popcorn Snack Mix
Santa Munch Popcorn Snack Mix – an easy 5 ingredient popcorn mix that is the perfect Christmas treat! Popcorn, pretzels, and nuts are coated with white chocolate and mixed with M&Ms making the perfect sweet treat for parties or packaged for goody bags with the printable tags!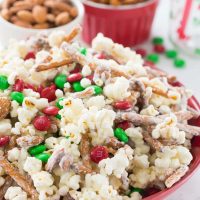 Ingredients:
8 cups popped popcorn (I used Gaslamp Sea Salt & Olive Oil)
2 cups pretzels (rods or mini twists)
1 cup nuts, optional (I used almonds)
12 ounce bag white chocolate chips (about 2 cups)
1 tablespoon vegetable oil or shortening
11 ounce bag holiday M&Ms (any kind)
Directions:
Line a large cookie sheet with parchment paper or a silicone baking mat.
Place popcorn, pretzels, and nuts in a very large bowl. Place white chocolate in a microwave safe bowl and coat with oil. Heat on 50% power for 2-3 minutes, stirring every 30 seconds, until melted and smooth. Pour melted chocolate over the popcorn mixture and carefully toss to coat. Turn out mixture onto prepared cookie sheet and let sit to set (chill if needed).
Once it's set, break apart the popcorn mixture and place in a resealable bag for storage. Add the M&Ms. Serve in a big bowl or package into treat bags.
Mixture stays good for up to one week, as long as it's airtight.
Notes:
To package in treat bags: use fold-top sandwich bags. Fill baggies with popcorn. Cut out labels. Fold the labels in half, then gather the top of the baggie and place the folded label over the top. Seal with double-sided tape or a staple.
Popcorn is such an easy impromptu ingredient that can make the holidays even better. Gaslamp Popcorn is encouraging consumers to think about popcorn differently: not only as an easy better-for-you snack, but also as an ingredient (like in a popcorn snack mix). They've created a quiz to help you find the perfect popcorn recipe for you. Deck the Halls with Gaslamp Popcorn asks you to take a quick quiz telling you what kind of a holiday persona you are and matches it with a popcorn recipe to fit your holiday. Take the quiz here and be entered to win $1,000 and a years worth of Gaslamp Popcorn!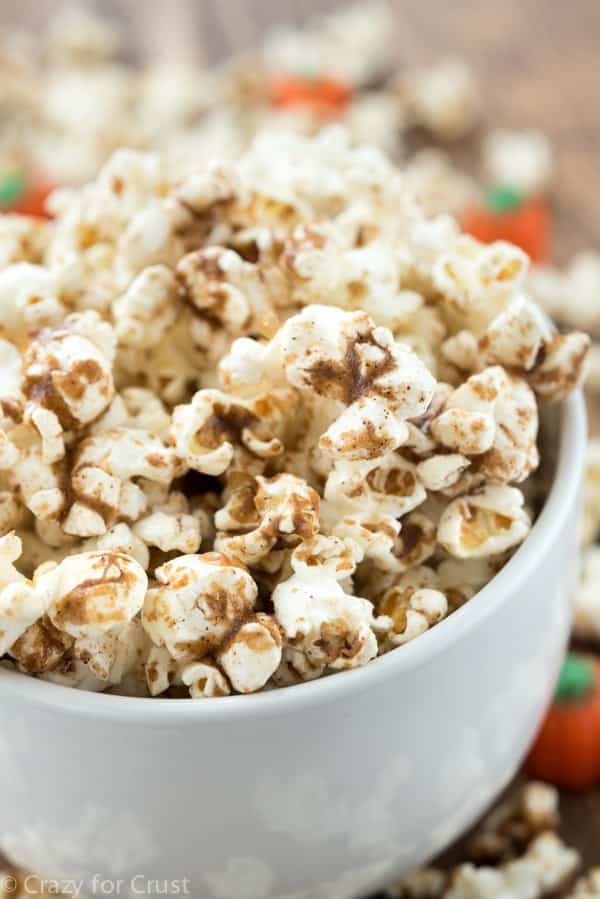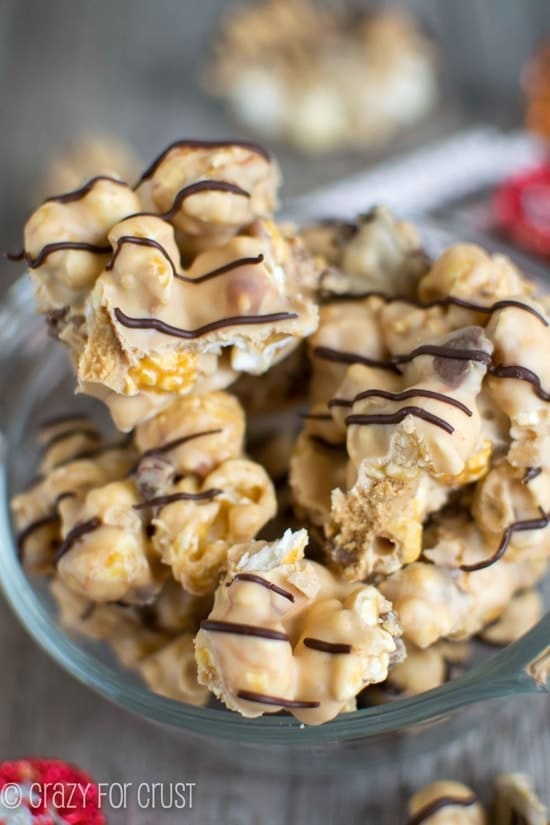 This post has been sponsored by Gaslamp Popcorn. All opinions are 100% my own.