Weeknight meals and potlucks don't get better than these 10 Easy Crockpot Chicken Recipes! Some of my favorite hands-free chicken dinner ideas, including delicious home cooked chicken soups, chilis, pulled chicken recipes, and more.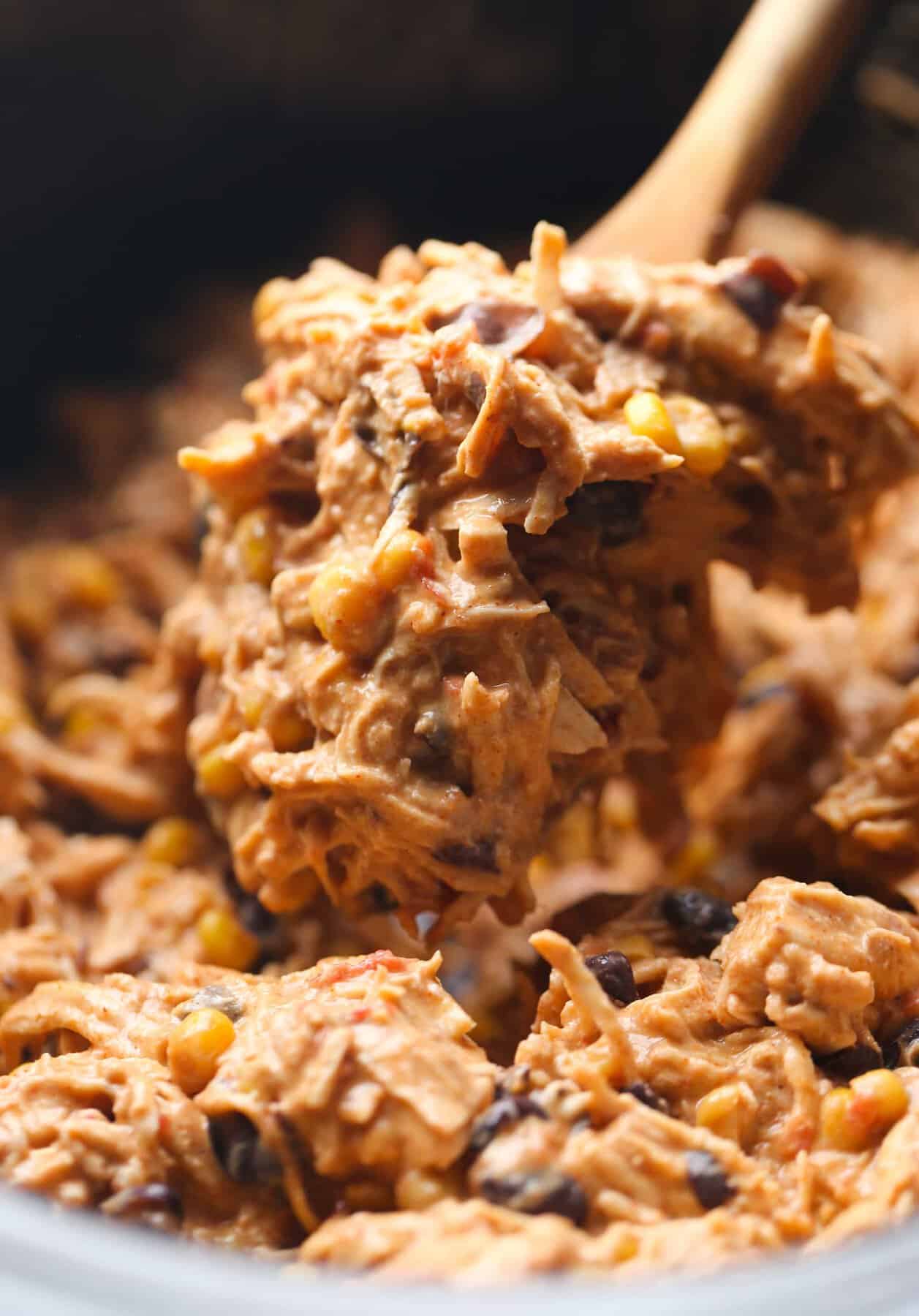 Irresistible Crock Pot Chicken Recipes
When it comes to hands-free meals, I don't think any kitchen appliance rivals the crockpot. And when it comes to cooking delicious and foolproof chicken recipes, the Crock is one of my favorite methods! I don't think anything gets chicken more tender, juicy, and flavorful than a low and slow stint in a slow cooker. 
So I've gone ahead and wrangled up 10 of my best crockpot chicken recipes that I just know you're going to love. I'm talking easy pulled chicken recipes, cozy soups and hearty chicken chilis, to crockpot versions of classics like chicken and dumplings! These recipes are ultra simple, perfect for weeknights or entertaining, and so satisfying.
Why You Need a Crockpot
There are so many reasons, but let's begin with one: Hands. Free. Cooking. The crockpot is the cradle of the dump and go meal. If you've ever cooked with one, you know what I mean when I say it's a game changer! I strongly encourage you to try it if you haven't. Crockpots are:
Great for leftovers. The crockpot is the BEST for leftovers. Many of these chicken recipes can be slow cooked on a Sunday and the leftovers will last through the week. What's even better, many of these crockpot recipes are also freezer-friendly – so you can easily portion out batches for longer storage.
Time savers. Dinner in a crockpot basically cooks itself! Leave the contents to slow cook throughout the day while you carry out your adult responsibilities. You'll be rewarded when you arrive home to a warm, home cooked meal that requires next to no effort. Crockpots are major time savers in the kitchen!
Awesome for meal prep. Freezer bags and a crockpot are a home chef's best friend. Easy hacks like preparing and portioning ingredients out beforehand mean easy dump-and-go slow cooker meals, any day of the week.
Are Crockpots and Slow Cookers Interchangeable?
For lots of home cooks, the terms "crock pot" and "slow cooker" have become interchangeable. Which is fair enough. After all, both appliances are used to slow cook food over extended lengths of time. Also, the Crock-Pot® is technically a brand name and style of slow cooker.
However, let's take a quick look at what sets a crock pot apart from other slow cookers, and vice versa:
An authentic crockpot actually has a crock. This is a stoneware bowl encased by a heating element. Usually with only two settings: High and Low.
Most slow cookers have a pot that rests on top of a heating element. Slow cookers tend to have multiple settings, with slow cooking being one of them.
Is your kitchen rocking a slow cooker or a crock pot? Either way, you're well equipped for the chicken recipes in this round up!
Can You Overcook Chicken in a Crockpot?
You might be thinking, with all that moist heat, how can chicken possibly get overcooked? But the answer is yes. Chicken can become dry when cooked for too long or too high in a crockpot. Most chicken, especially boneless, skinless chicken breasts are best cooked on the Low setting. Chicken thighs and bone-in chicken pieces are a bit more forgiving, but your best bet against overcooking is to cook your chicken low and slow.
Can You Use Partially Frozen Chicken?
Please do not cook frozen or partially frozen chicken in the crock pot. Frozen chicken will thaw as it warms in the slow cooker, leaving it at unsafe temperatures for too long. This can cause a major risk of food-borne illness! Always thaw chicken in the fridge completely before putting it into the crock pot.
10 Must-Make Crockpot Chicken Dinners
Check out these delicious and easy chicken recipes that you can try in your crockpot tonight!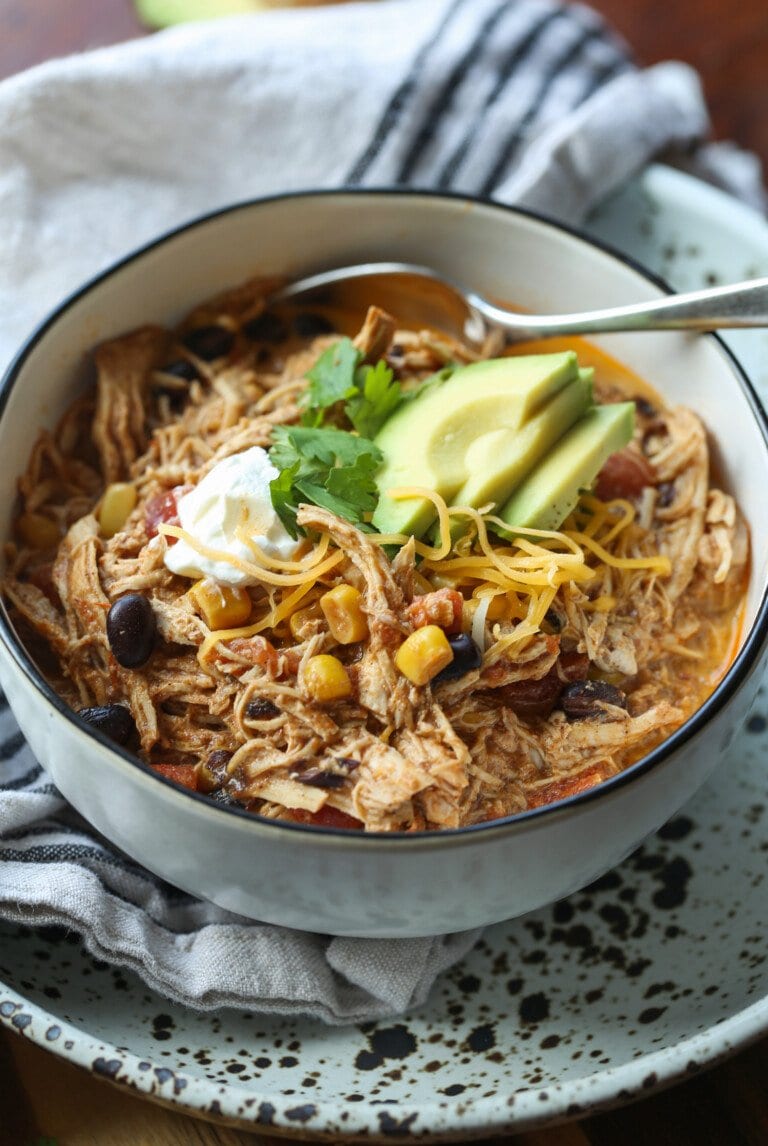 Chicken Enchilada Soup
Cozy, spicy, and made in a slow cooker – what's not to love? This chicken enchilada soup is the perfect weeknight dinner to warm up my family. Yours is bound to love it, too!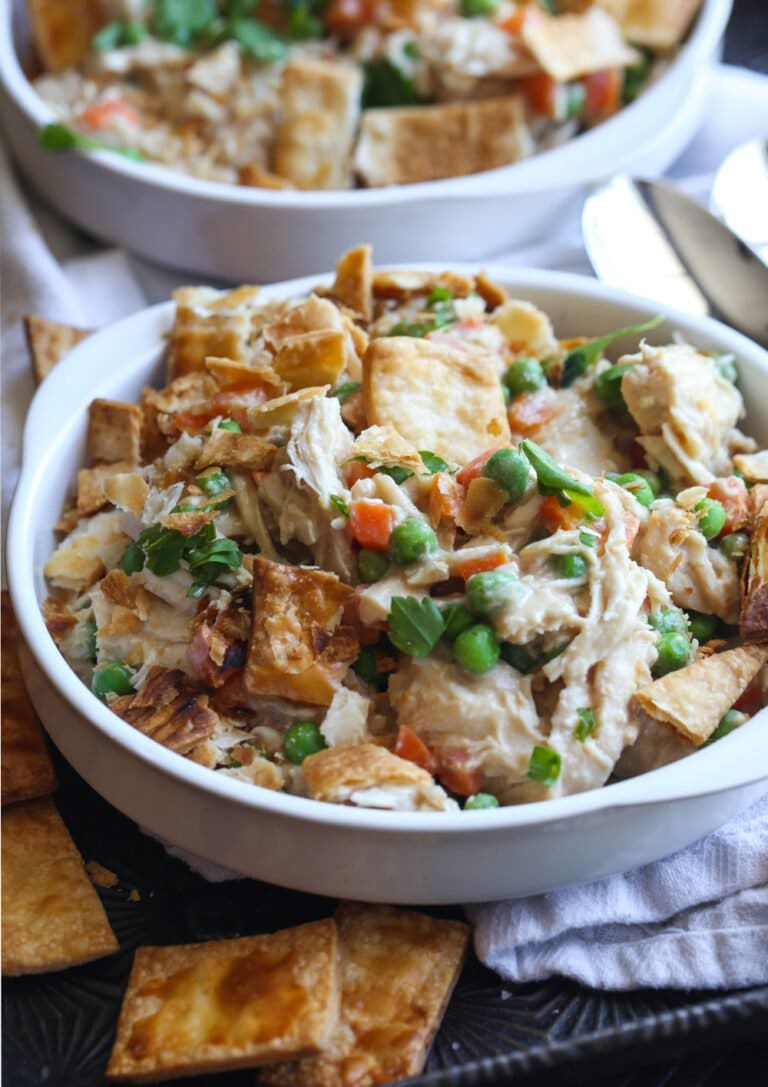 Crock Pot Chicken Pot Pie
You don't even need to switch on your oven to make the best chicken pot pie! Leave that to the crock pot. This easy pot pie recipe is creamy, hearty, and SO full of flavor.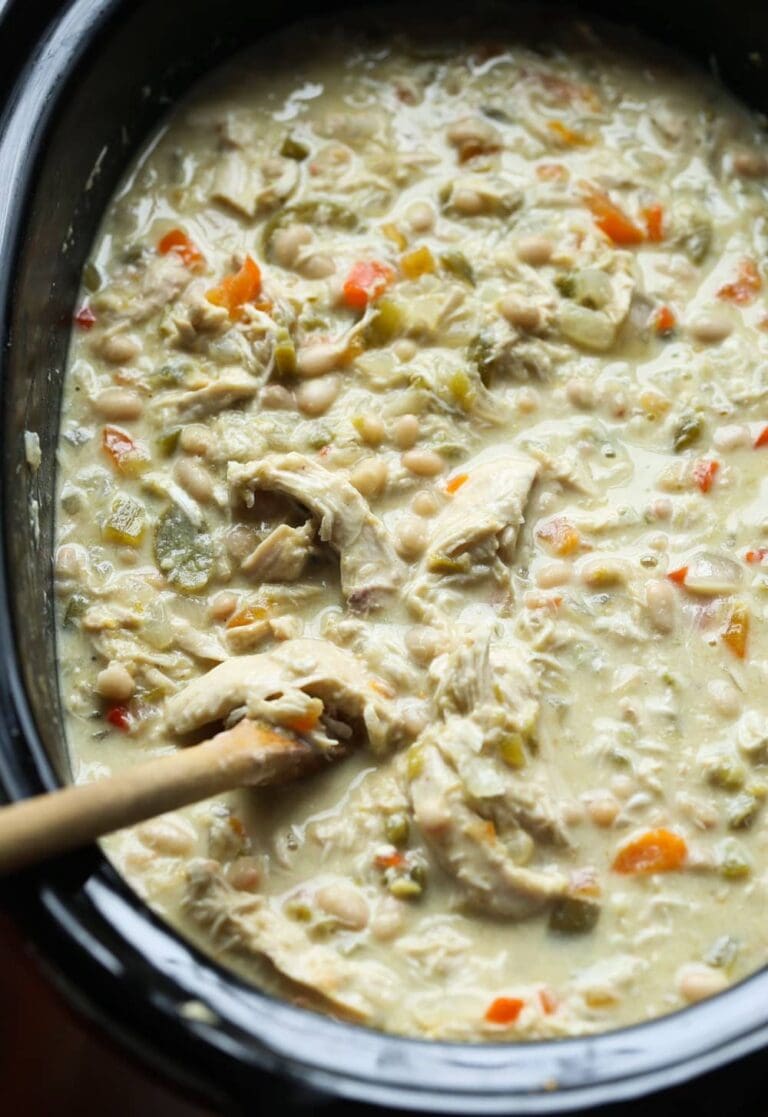 Crock Pot White Chicken Chili
A comforting white chicken chili to take you from potluck to game day and beyond. This crockpot recipe is just the BEST. Full of lean meat, veggies, and loads of warm, Tex-Mex-inspired ingredients like salsa verde and spicy pickled jalapeños.
Crockpot Chicken Tortilla Soup
Let your crock pot do its thing, and come home to this zesty and filling chicken tortilla soup at the end of a long day. Made with tender shredded chicken, black beans, sweet corn and more, slow cooked in a delicious broth jam-packed with spices. Just one more totally delicious Tex-Mex dinner to have up your sleeve!
The BEST Crockpot BBQ Pulled Chicken
Savory, sweet, spicy and sticky, this crockpot BBQ chicken is one of my all-time favorite chicken recipes for a reason! It cooks up so easily in the slow cooker, tastes incredible, plus, it's super versatile. Throw it in a sandwich, into tacos, or over rice – the sky's the limit.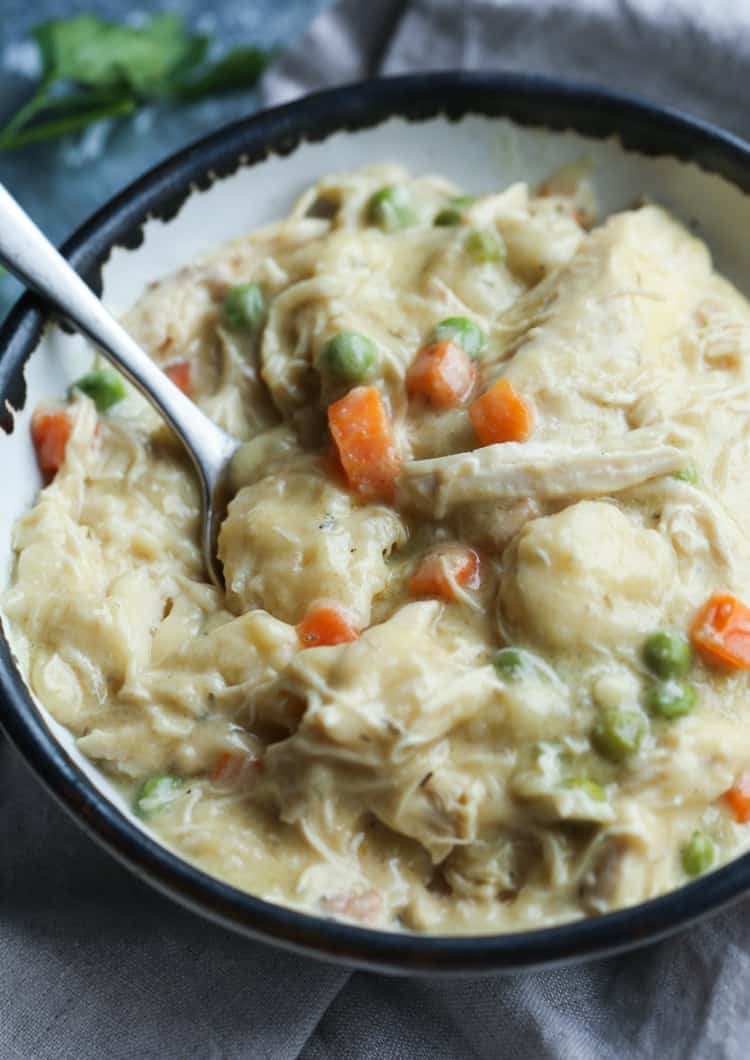 Crockpot Chicken and Dumplings
I'm a huge fan of this easy crockpot chicken and dumplings recipe for so many reasons. The chicken cooks perfectly, the dumplings are the definition of comfort food, and the gravy is just next-level delicious. I make this recipe with some time-saving shortcuts, so it's the best for easy family dinners!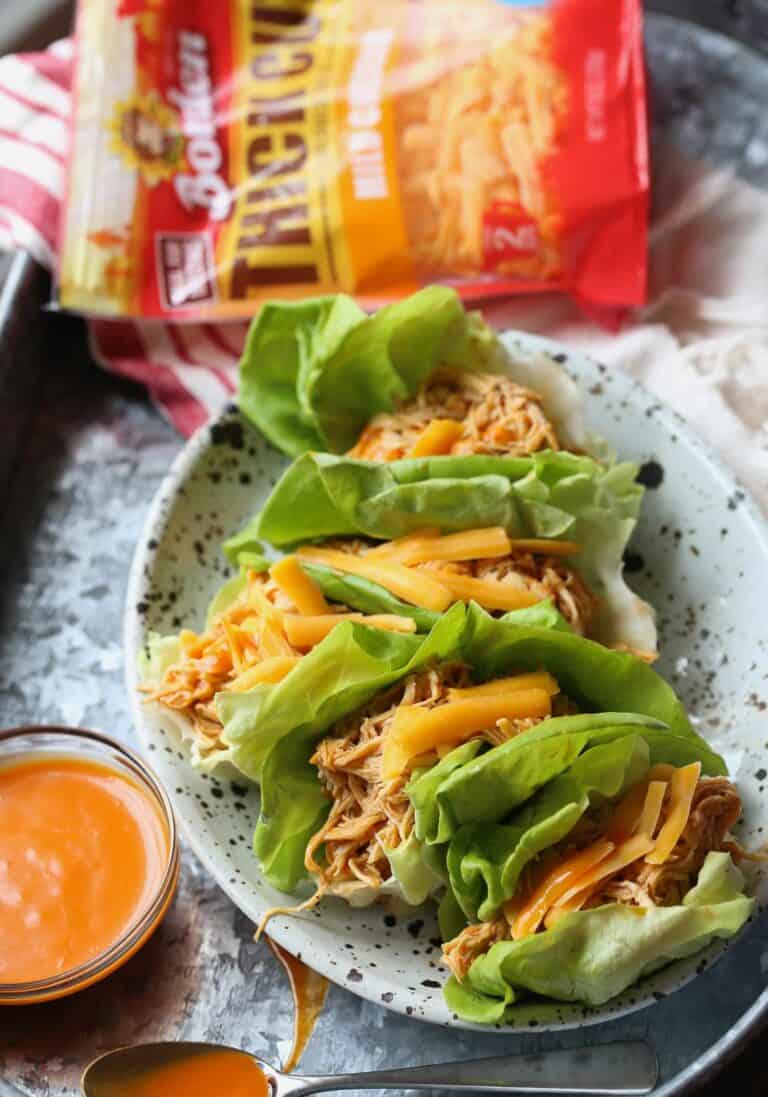 Slow Cooker Buffalo Chicken Lettuce Wraps
These crispy, savory, spicy Buffalo chicken lettuce wraps only need 5 simple ingredients! This is the ultimate busy weeknight, low effort meal with major flavor payoff.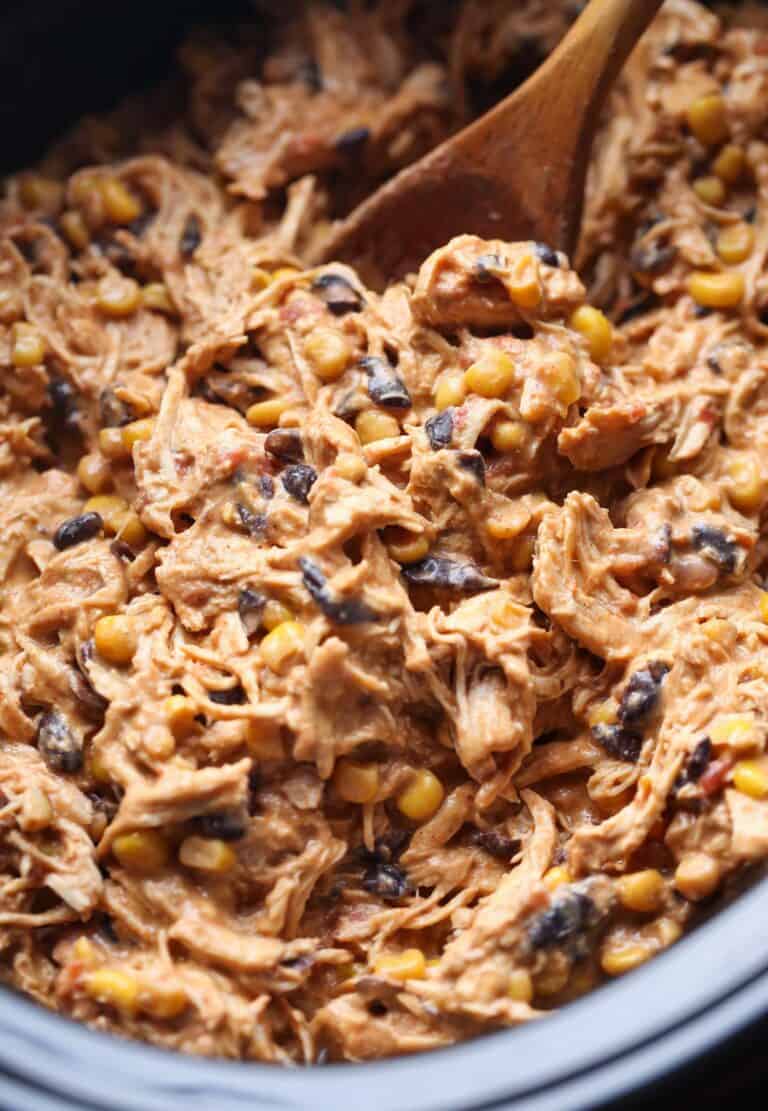 Creamy Fiesta Chicken
Fiesta chicken, but make it CREAMY. Yes, please. My original slow cooker fiesta chicken recipe (see below) gets a mouthwatering twist with the addition of cream cheese. The result is a major hit at the dinner table!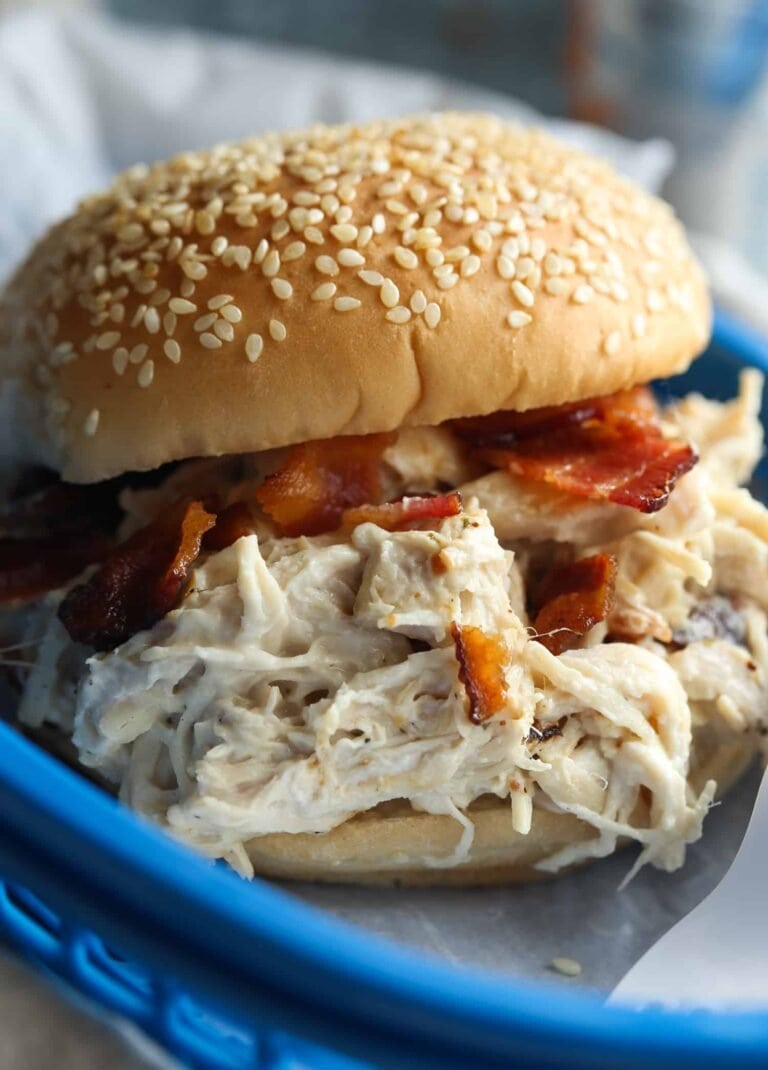 Slow Cooker Crack Chicken
You can thank the genius combo of bacon, ranch, and cheese for this crazy flavor bomb! Crockpot crack chicken is perfect to whip up for sandwiches, nachos, salads, etc.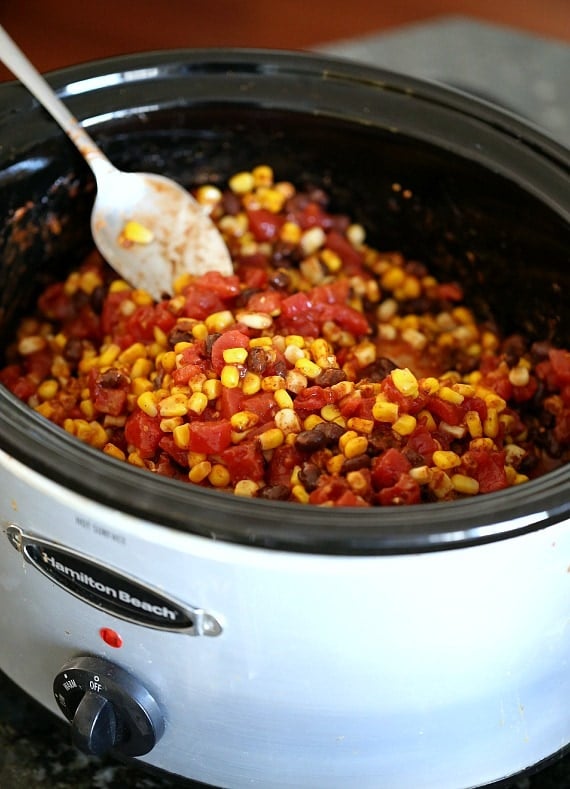 Slow Cooker Fiesta Chicken
Talk about a real fiesta of home cooked proportions! This fiesta chicken recipe for the slow cooker or crockpot is downright tasty. Load it into taco bowls, over nachos, in a burrito – taco night just got a whole lot more festive.