If you are looking for some budget-friendly meals that still taste good, these 15 dinners are all less than $5 each! Your family will love them.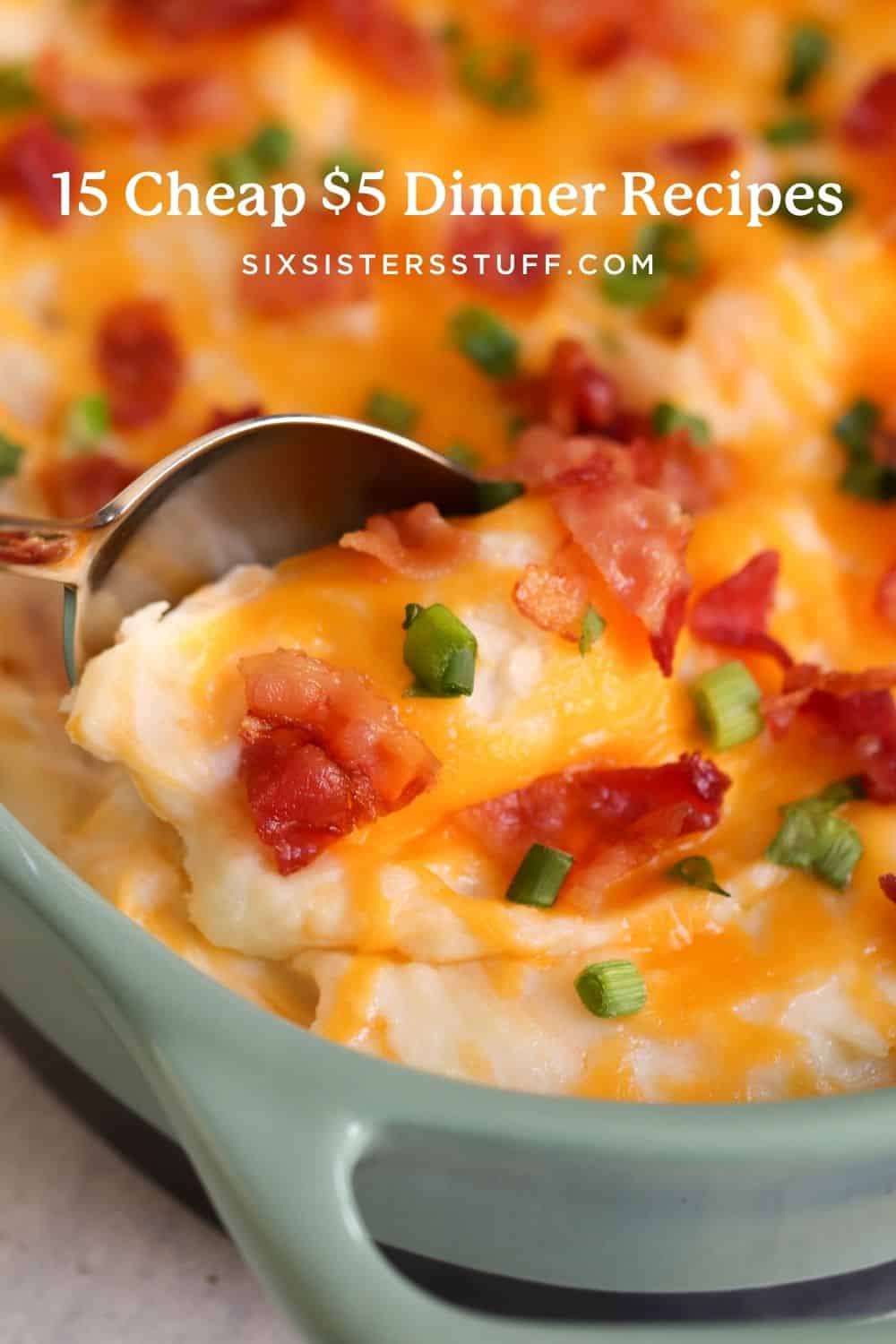 Do you need some new ideas of low budget meals for your family?
As busy moms, it helps to have easy meals that I can quickly throw together that won't break the bank and are still affordable on our budget.
Please note – I know that prices are all over the place right now, so your prices might be a little bit different than mine and some of these meals might not be under $5 in your area.
Here are my 15 favorite budget-friendly easy dinners that you can make with ingredients you probably already have:
This gooey and delicious cinnamon roll recipe starts with french bread that is soaked eggs, milk, and seasonings. It's perfect for breakfast or for "brinner" (breakfast for dinner)!
This smooth, flavorful Broccoli Cheddar Soup will quickly become a family favorite! It's perfect as a main dish and has just a handful of simple ingredients.
Grilled cheese sandwiches are so simple, but if you want to take it to the next level, try these Grilled Cheese Sliders! They are the perfect side dish to any soup or the perfect quick lunch.
This quick, easy tomato soup is made using canned tomatoes, chicken broth, onion, garlic and Italian seasoning. This is the BEST tomato soup we have ever made and is the perfect comfort food, especially when served with grilled cheese sandwiches.
Making Baked Potatoes in the Instant Pot is so much easier and faster than cooking them in the oven! Once you make them this way, you will never go back to your foil potatoes.
I have always bought breakfast quesadillas in the freezer section, but I realized that I could just as easily make them myself. And freeze them for later, too! They make a great breakfast, brunch, dinner, or even snack. 
Spaghetti is one of my go-to meals. You can make it super easy with just noodles and sauce, but if you want to kick it up a notch, try our Slow Cooker Creamy Spaghetti (we also have an Instant Pot Creamy Spaghetti version as well!).
For these sloppy joes, you don't need a can of Sloppy Joe sauce – it's all made from scratch and even has some vegetables hidden in it!
When we have breakfast for dinner, we call it "Brinner". Our favorite brinner is to have scrambled eggs, homemade pancakes, sausage links, and fresh fruit.
In the video, Kristen showed us how to make just rice and beans, but our Spicy Chicken and Rice Bowls kick it up a notch! You could leave out the chicken to make it more budget-friendly and it will still be delicious.
In the video, Kristen followed this recipe but just used sausage and sweet potatoes. You can add whatever vegetables you want to pump up this dish (or clean out the vegetable drawer in the fridge!). Just be sure to use pre-cooked sausage.
This is such a fun and different way to use English Muffins and eggs! To keep this under $5, Kristen used leftover ham from another dinner, but you can also purchase pre-cooked diced ham for just $1-2. This meal is filling and delicious!
Flavorful, fluffy, cheesy potatoes are what you are going to get with downright delightful Twice Baked Potato Casserole recipe! This casserole is so simple to make and is always a crowd pleaser.
A thick and hearty soup that warms you inside and out! This ground beef and black bean taco soup gets rave reviews. Serve topped with cheese and tortilla chips – it's such an easy "dump and go" recipe!
This isn't the exact recipe that Kristen made in the video, but it's another tortellini favorite!