This selection of 25 of the Very Best Salmon Recipes is chock-full of scrumptious, easy, healthy ways to cook everyone's favorite fish. From sheet-pan prep to sticky honey garlic sauce, you're sure to find something perfect for your table.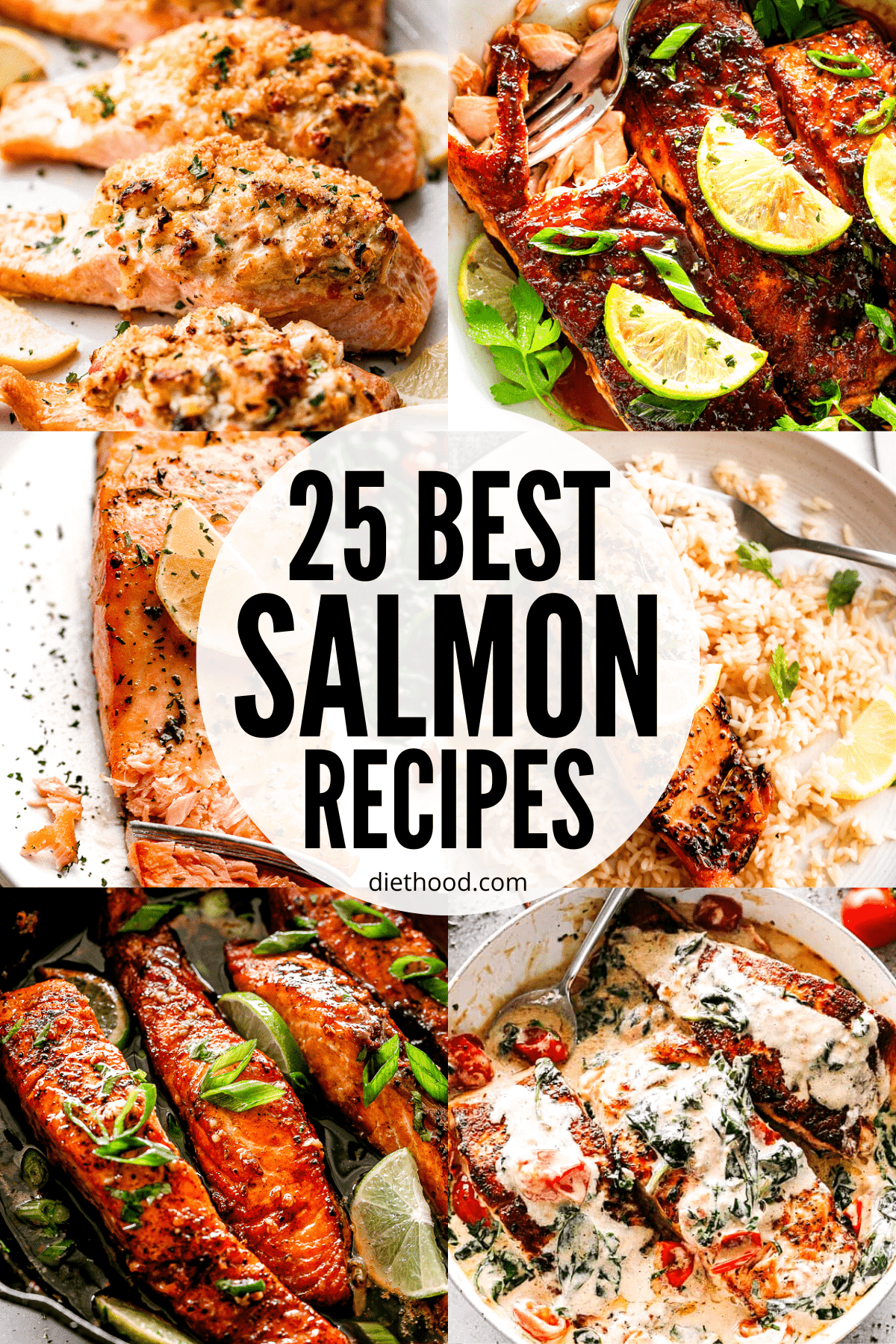 These Easy Salmon Recipes Deliver Perfection, Every Time!
Every cook needs a few lightning-quick recipes to turn to for busy weeknights. And, every cook needs a dish or two that's a gourmet masterpiece. Where do those two categories collide? I'll tell you: salmon recipes! 
Salmon fillets are so flavorful and easy to make, and they cook up real fast, too. This makes salmon a great choice for a busy evening. However, they're also a classic seafood option that pairs well with a killer sauce and some good wine – just the thing for a fancy meal. How can you lose?
Honestly, you can't! Especially with this collection of easy, healthy salmon recipes for every taste. Whether you're glazing, crisping, roasting, searing, or air frying, these tempting recipes are guaranteed to turn out mouthwatering, every time.
Is Salmon a Superfood?
In a word, yes. Salmon is famously nutrient-dense, and nutrition experts are especially in love with the generous amount of omega-3 fatty acids it contains. Omega-3s do a lot of important work in the body, supporting your heart, brain, eyes, and more. Salmon also provides protein, B vitamins, and vitamin D, all of which are important to your health, in a natural whole food. So take advantage of the health benefits, as well as the flavor, with these easy salmon recipes.
25 of the Best Salmon Recipes 
Each of these simple recipes is a bold, healthy, easy way to cook basic salmon fillets, loaded with helpful tips and insights to make your meal amazing. Without further ado, let's get to the recipes!
Juicy, flaky, and deliciously flavored Salmon fillets cooked in the Air Fryer! This easy Keto-friendly seafood recipe is the perfect choice anytime you want a fabulous, low carb dinner.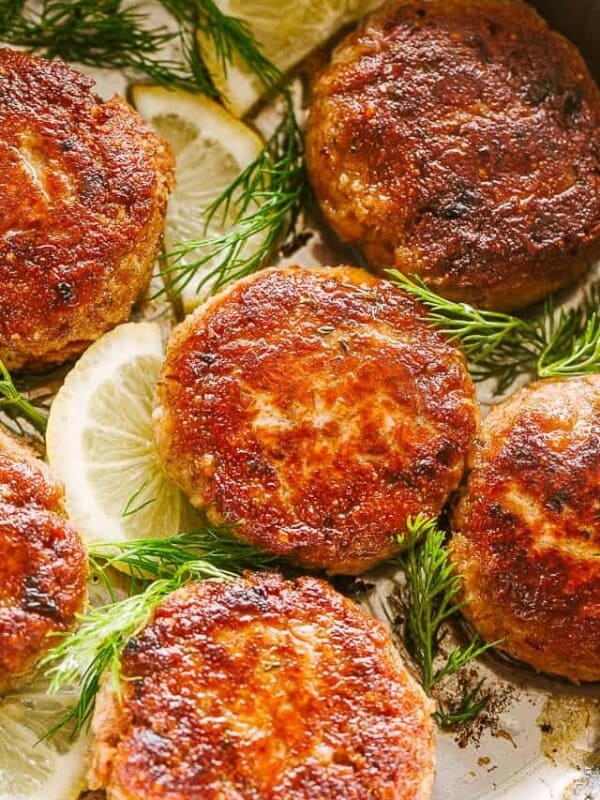 Made with just a handful of ingredients, these crunchy, yet tender and juicy salmon patties are the best idea for a quick and delicious dinner recipe.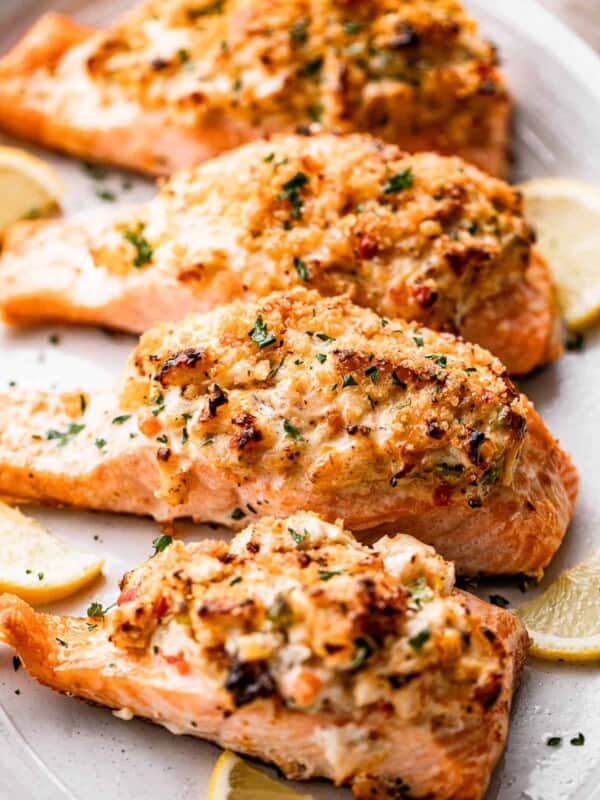 Salmon Cobb Salad with Spinach and Feta – Tender spinach and romaine lettuce topped with delicious oven-baked salmon, tomatoes, eggs, bacon, avocados and feta, all tossed together with a tangy lemon-mustard dressing.
Air Fryer Salmon cooks in just 10 minutes and comes out perfectly tender on the inside with an amazing crust on the outside. The delicious mustard topping makes this one of our favorite salmon recipes.
This Maple Teriyaki Salmon with Veggies is a hearty and delicious weeknight dinner for your family! Salmon fillets are soaked in a maple teriyaki marinade and baked with your favorite vegetables.
Poached-Egg Salmon with Cheese Sauce
Salmon fillets topped with soft poached eggs and a delicious homemade cheese sauce make for a comforting, filling meal that's still light and simple.
Storing and Reheating Guidelines
If you find yourself looking at a plate of leftover salmon fillets, don't feel blue – those leftovers could easily turn into a delicious meal of salmon patties or salmon salad the next day! Just cover your cooled salmon well, or store it in a food storage bag, and refrigerate for 3 to 4 days. Then use it in your favorite salmon recipes.
To reheat salmon, always shoot for a low-and-slow method, like baking in a 300°F oven, or reheating in a covered skillet over low heat. Make sure to include a splash of broth, oil, or sauce to keep the fish from drying out.
Does Leftover Salmon Freeze Well?
Yes, you can definitely freeze leftover salmon to enjoy another time. Just cool it slightly, and then wrap it in two layers. A layer of plastic wrap followed by a layer of foil or a freezer bag would be perfect.
Mark it with the date, and freeze for up to 3 months.
Thaw in the refrigerator before reheating.