It's unbelievable this banana bread is made with just 4 ingredients: bananas, oats, peanut butter & chocolate chips. That's it and it's so AMAZING!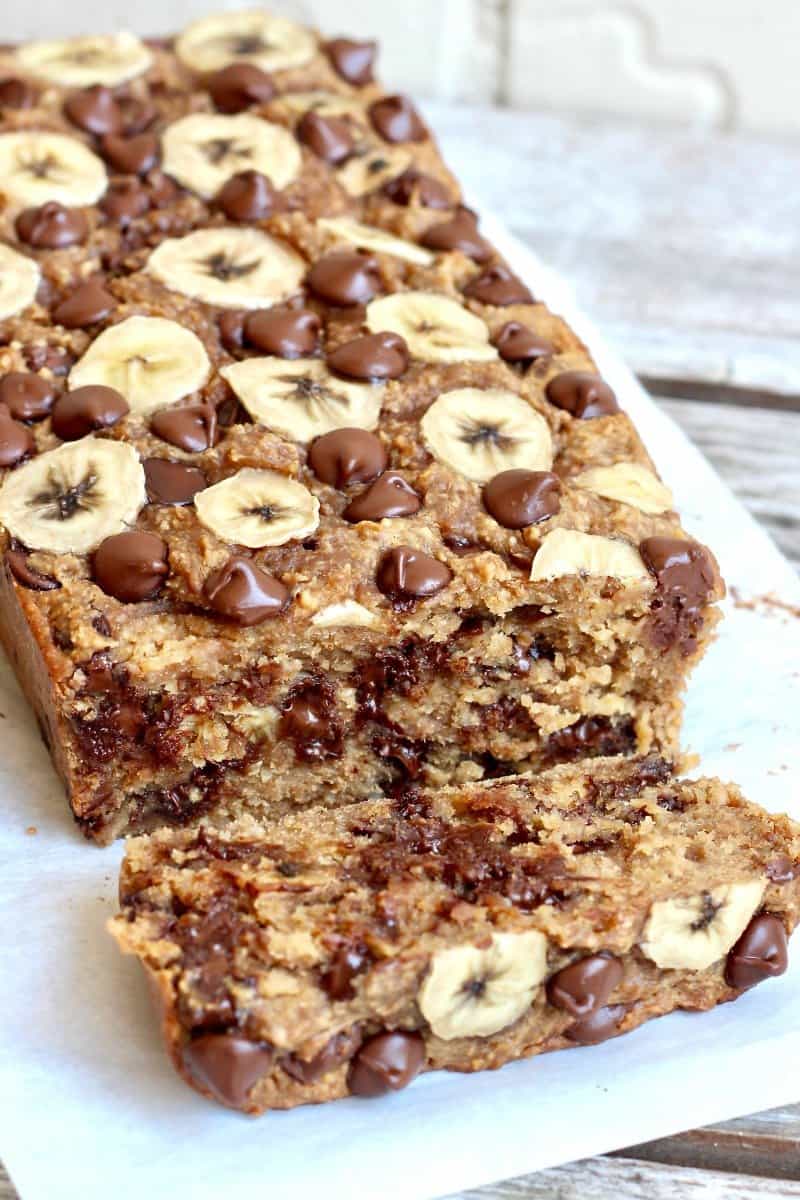 Here I go again! Baking flourless bread with a few simple ingredients that turns out so delicious you'll never miss the flour, butter, oil, eggs or sugars it doesn't have in it.
If you've tried my Healthy 5-Ingredient Flourless Banana Bread or my Healthy Flourless Pumpkin Bread recipes, you know you're in for another great one! And if you haven't baked these breads yet, you so need to. They're easy and incredibly satisfying!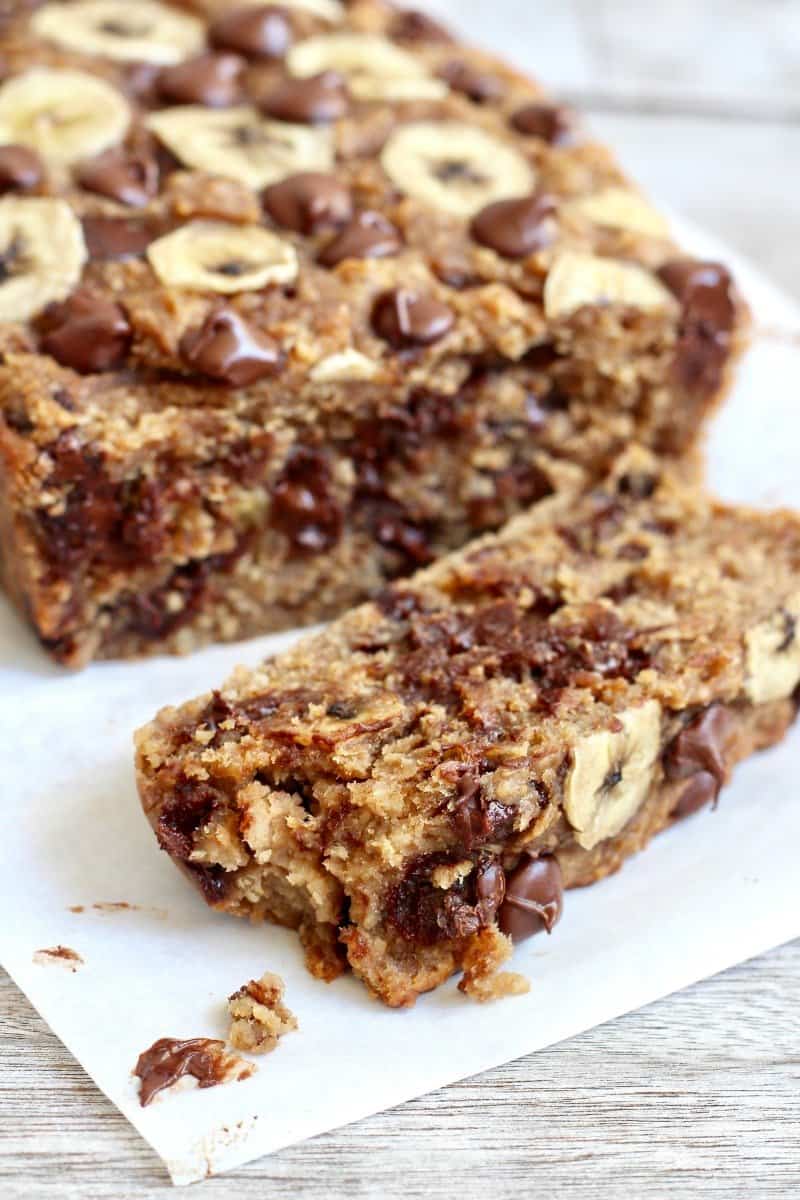 Like I said, just 4 ingredients! And ones that you probably always have on hand…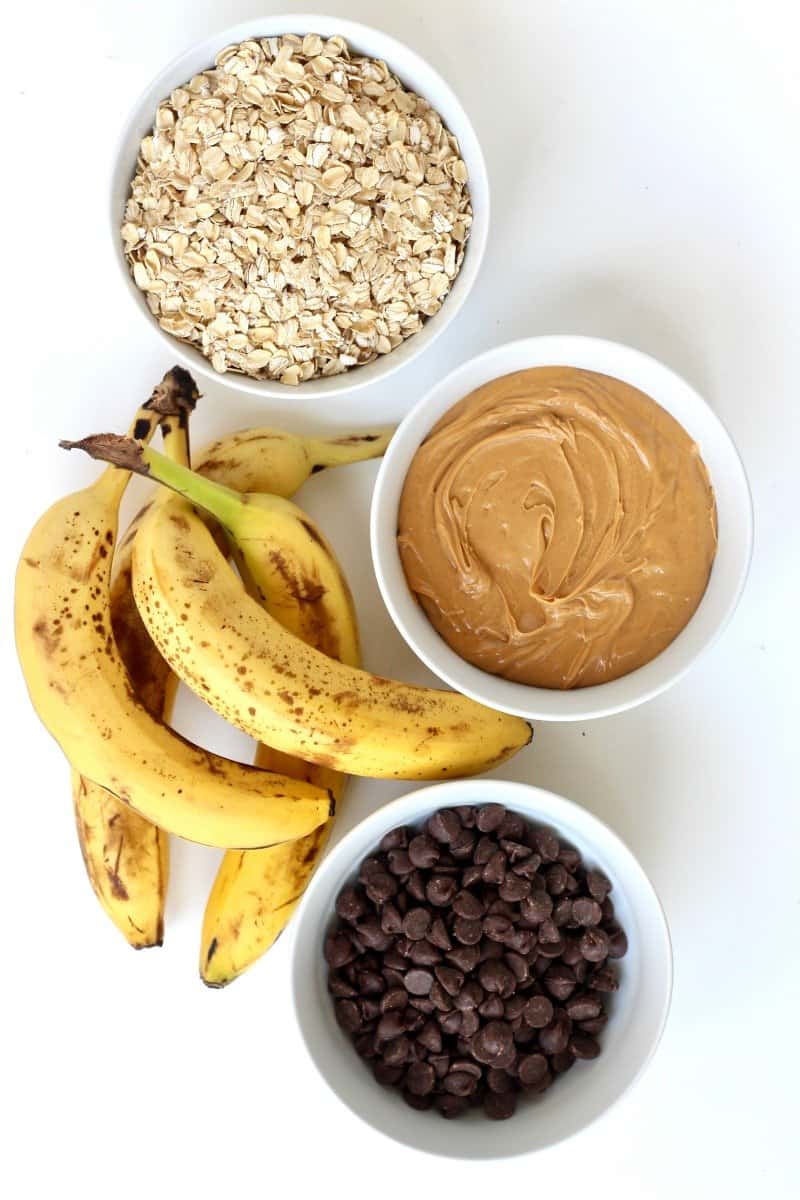 Bananas – I always buy extras so I can bake a loaf of banana bread at least once a week. The riper the bananas, the sweeter the loaf.
Peanut Butter (or another nut butter) – I love the combo of banana, peanut butter and chocolate! Feel free to substitute the peanut butter with almond butter or another nut butter, if preferred or necessary.
Oatmeal – the oats are what give the bread its texture when they're blended in the blender with the other ingredients. It's such a perfect way to replace flour in quick breads. If you're wanting to make the recipe gluten free, be sure to use gluten free oats.
Chocolate Chips – the key ingredient, of course! ? I use dark chocolate chips, but feel free to use your favorite chocolate chips.
And that's it!
The first three ingredients get blended in the blender until a smooth batter forms and then you'll just stir in the chocolate chips.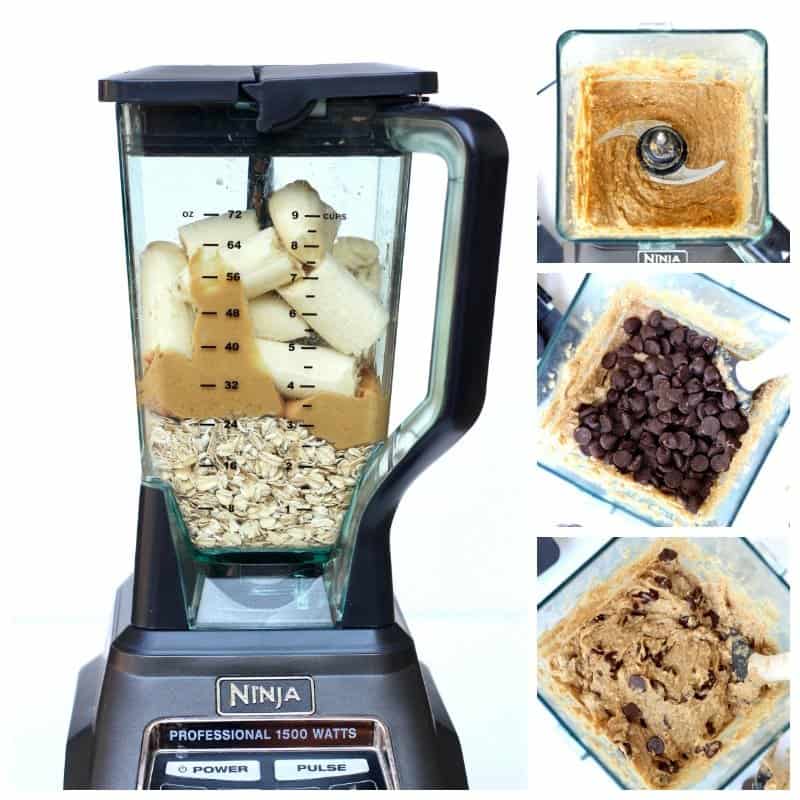 So quick and easy to whip up.
I love garnishing the top of my breads with a few of the ingredients within so with this loaf, I arrange thin slices of banana and a handful of chocolate chips over the top before baking. Completely optional, of course!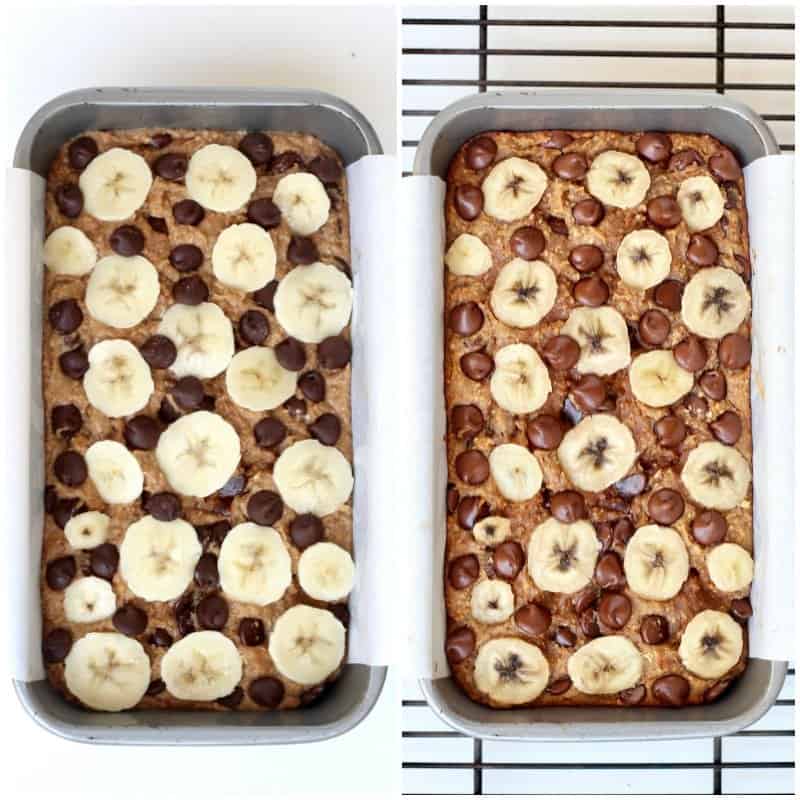 About 30 minutes in the oven and you'll be pulling out warm chocolate chip peanut butter banana bread bliss that nobody will be able to resist.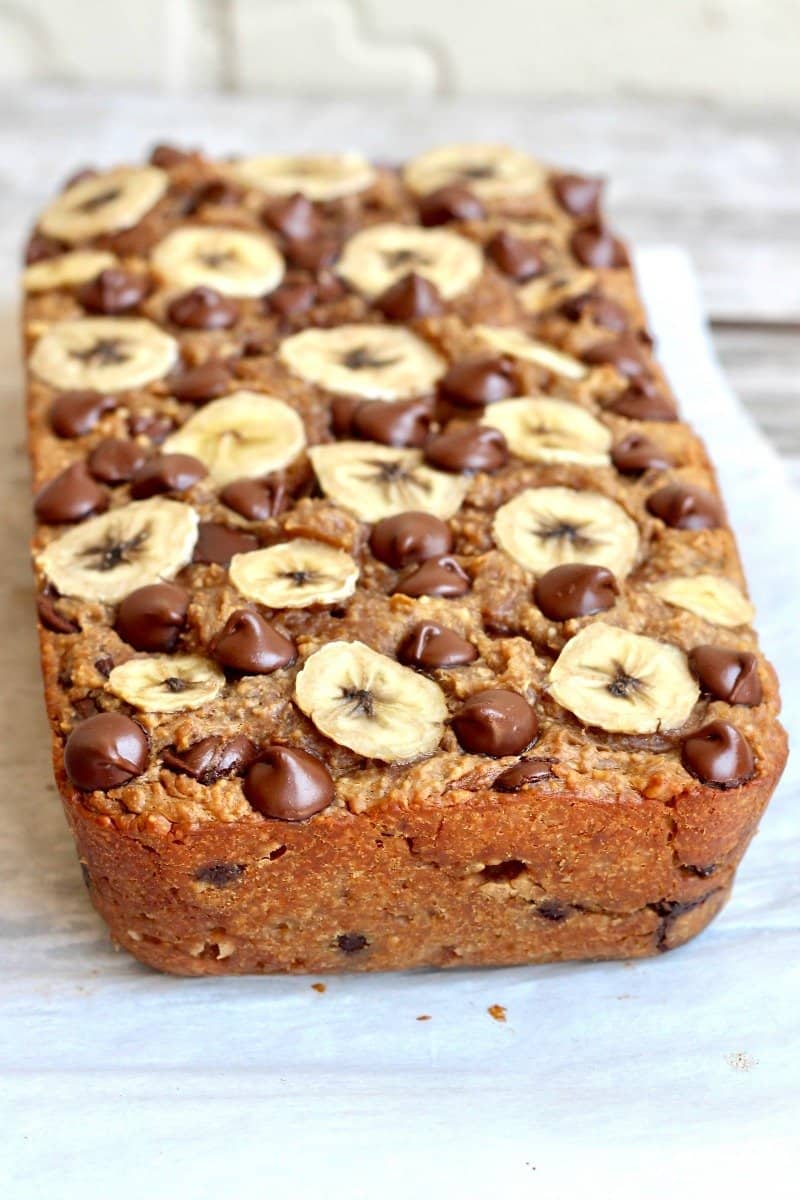 The texture is spot on when it comes to how banana bread should look and taste. Moist and tender with pure banana flavor. The peanut butter and chocolate flavors just make it all the more delicious. Mmmm…mmmm!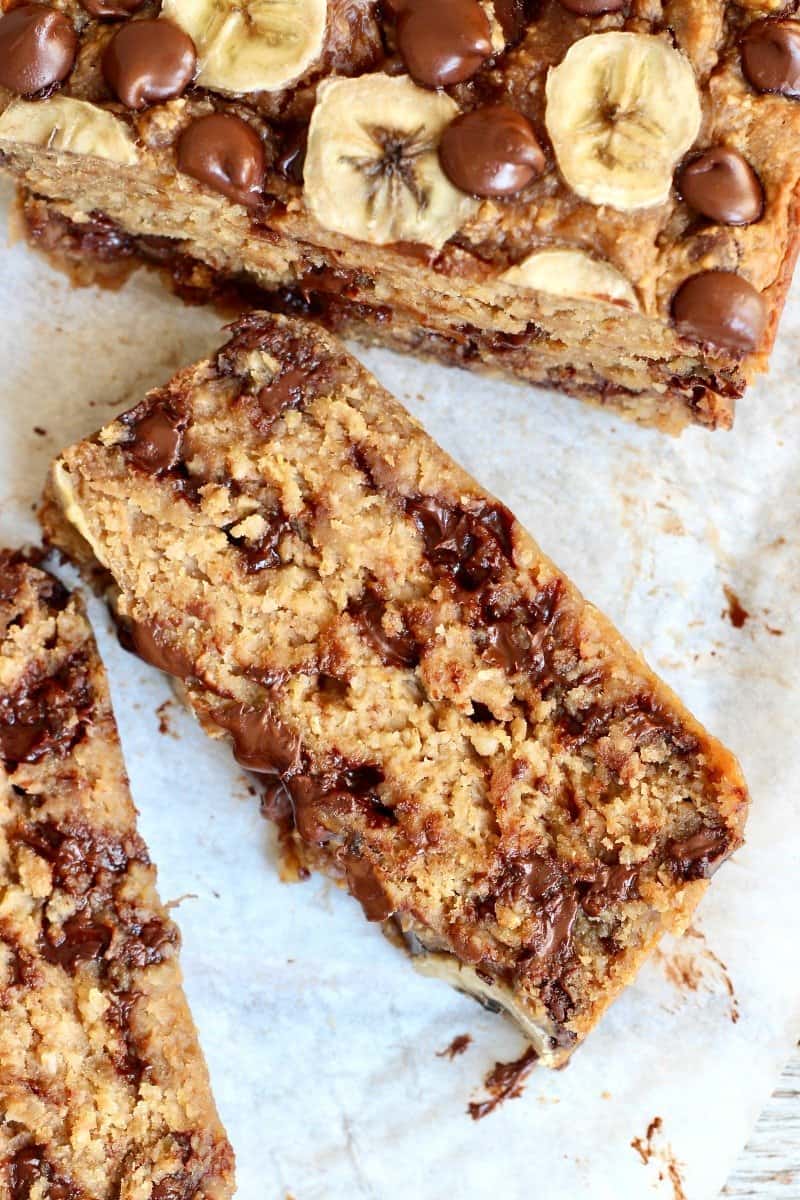 This banana bread truly meets, if not exceeds, those banana bread cravings I get so often. It's been a family favorite lately for breakfast, snack time and even dessert. I already have the recipe memorized and it never ceases to mesmerize me each time I eat a slice.
I hope you love baking and eating this banana bread as much as I do!
xoxo,

4-Ingredient Flourless Chocolate Chip Banana Bread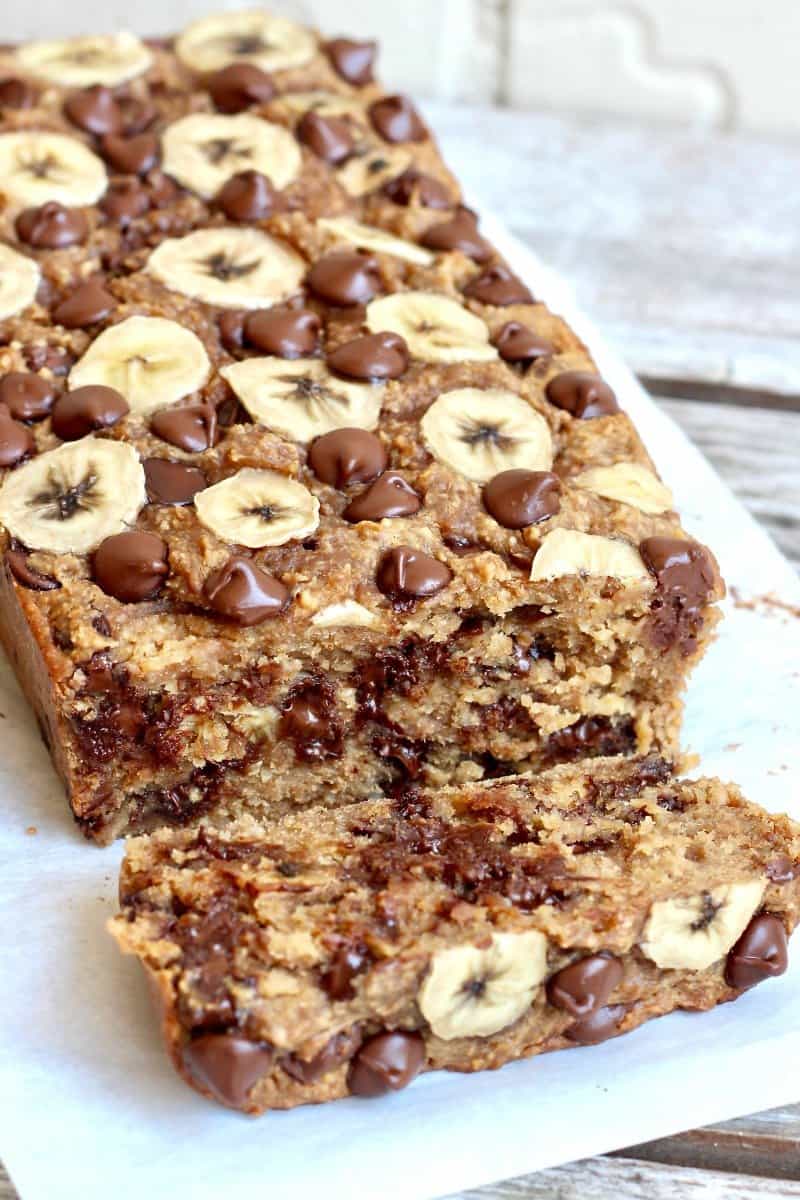 It's unbelievable this banana bread is made with just 4 ingredients: bananas, oats, peanut butter & chocolate chips. That's it and it's so AMAZING!
Author: Maegan – The BakerMama
Recipe type: Breakfast
Serves: 10
Ingredients
1.5 pounds ripe bananas (about 4-5 medium bananas)
2 cups old-fashioned oats
1 cup creamy or crunchy peanut butter (or another nut butter such as almond butter)
1 cup chocolate chips
Instructions
Preheat oven to 350°F. Lightly grease 9×5-inch loaf pan with non-stick cooking spray and line with parchment paper; set aside.
Add the bananas, oats and peanut butter to a blender and blend until smooth and well combined. Stir in chocolate chips.
Pour batter into prepared loaf pan. Garnish with thin banana slices and more chocolate chips, if desired.
Bake for 25-30 minutes or until a toothpick inserted in the center comes out clean.
Let bread cool completely in loaf pan. Store bread covered tightly with plastic wrap in the loaf pan or in an airtight container in the refrigerator.
3.5.3226