Turkey burgers never tasted so good! These simple turkey burgers are cooked to perfection in the air fryer and topped with cheese for one juicy and delicious bite. Ready to enjoy in just 20 minutes!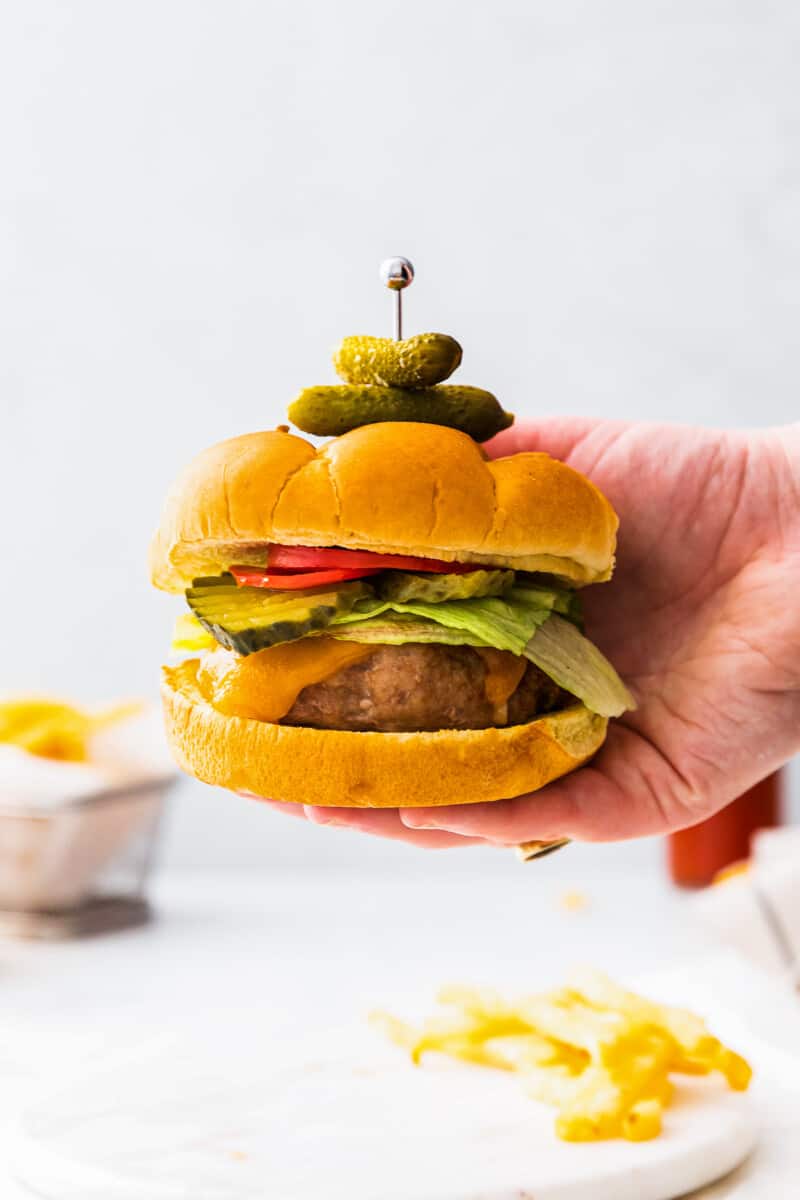 Air Fried Turkey Cheeseburgers
Making homemade turkey burgers have never been easier than in the air fryer. They are a great alternative to beef burgers and the kids love them!
Simple to prep and quick to cook, these turkey burgers are so flavorful, and cooking them in the air fryer helps them to stay nice and juicy.
Load them into buns with all of your favorite toppings.
Why you'll love this Air Fryer Turkey Burgers recipe:
QUICK AND EASY: It takes minutes to prep these burgers and they are ready to serve in 20 minutes, perfect for an easy weeknight meal.
HEALTHY: Ground turkey is low in fat and high in protein. They are also low carb and gluten-free as they are made without breadcrumbs and you only need a very small amount of oil.
SIMPLE INGREDIENTS: You only need five basic ingredients to make these cheese turkey burgers.
You have to give these a go for your next burger night. So simple and so delicious!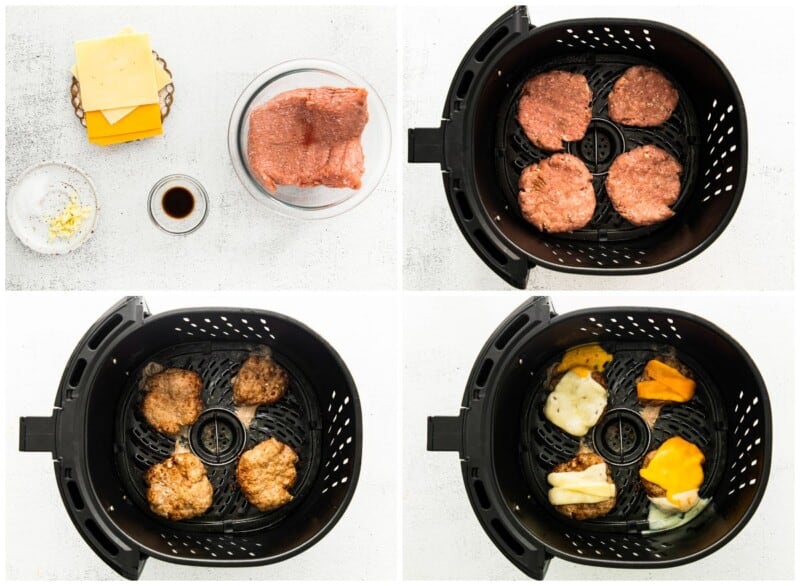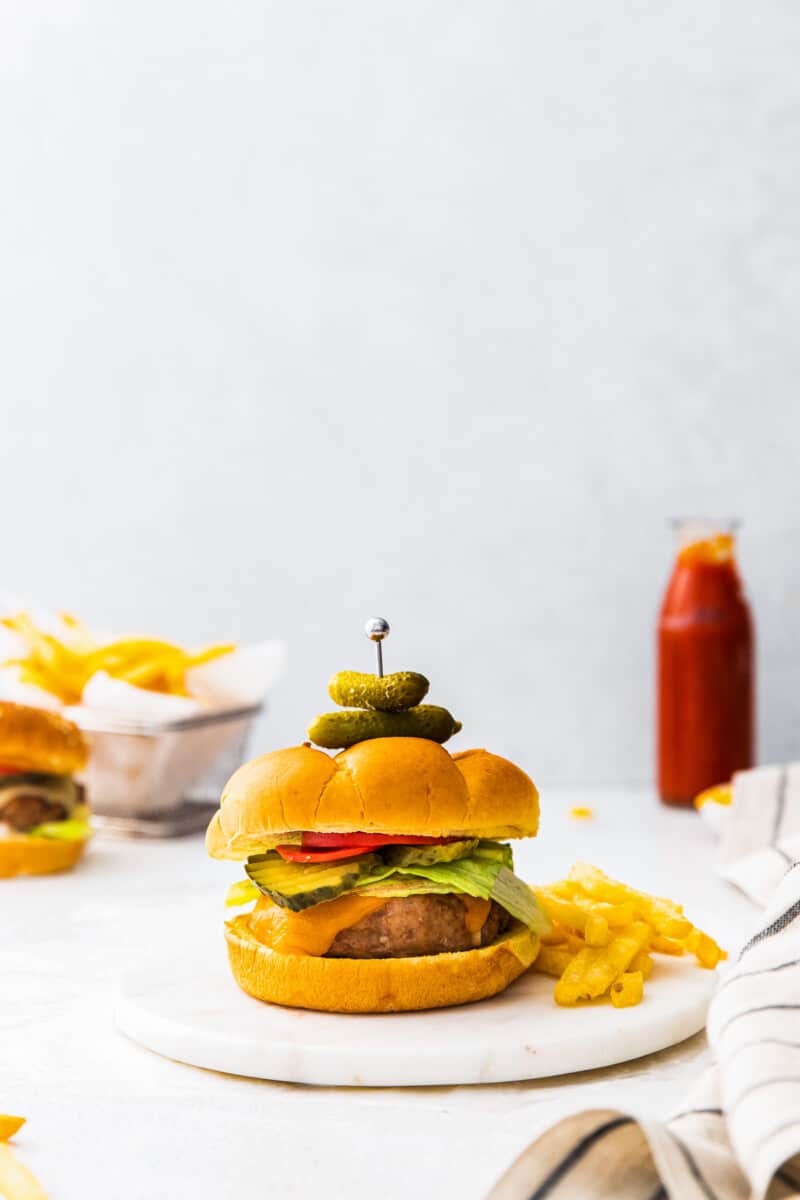 How to make Turkey Burgers in an Air Fryer
Be sure to see the recipe card below for full ingredients & instructions!
Mix the ingredients together.
Shape into four patties.
Place into an oiled air fryer basket and cook.
Top with cheese slices and cook for another minute to melt the cheese.
Serve and enjoy!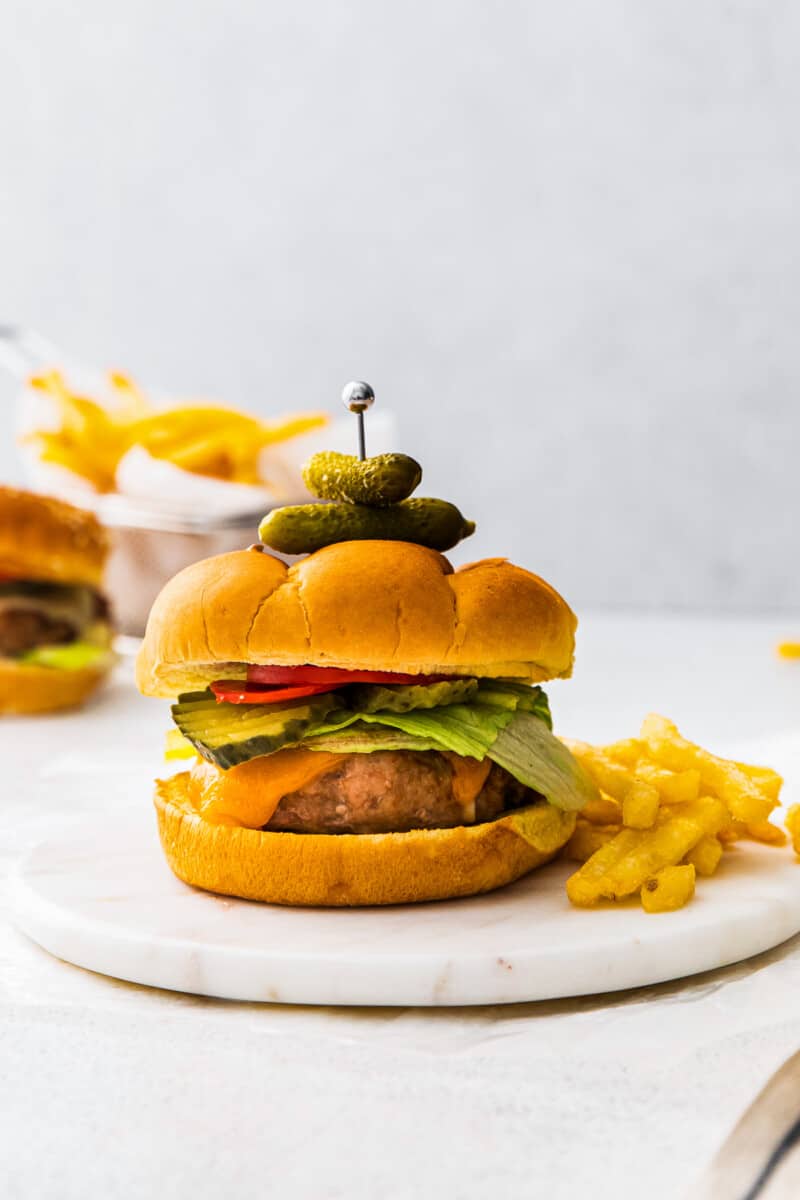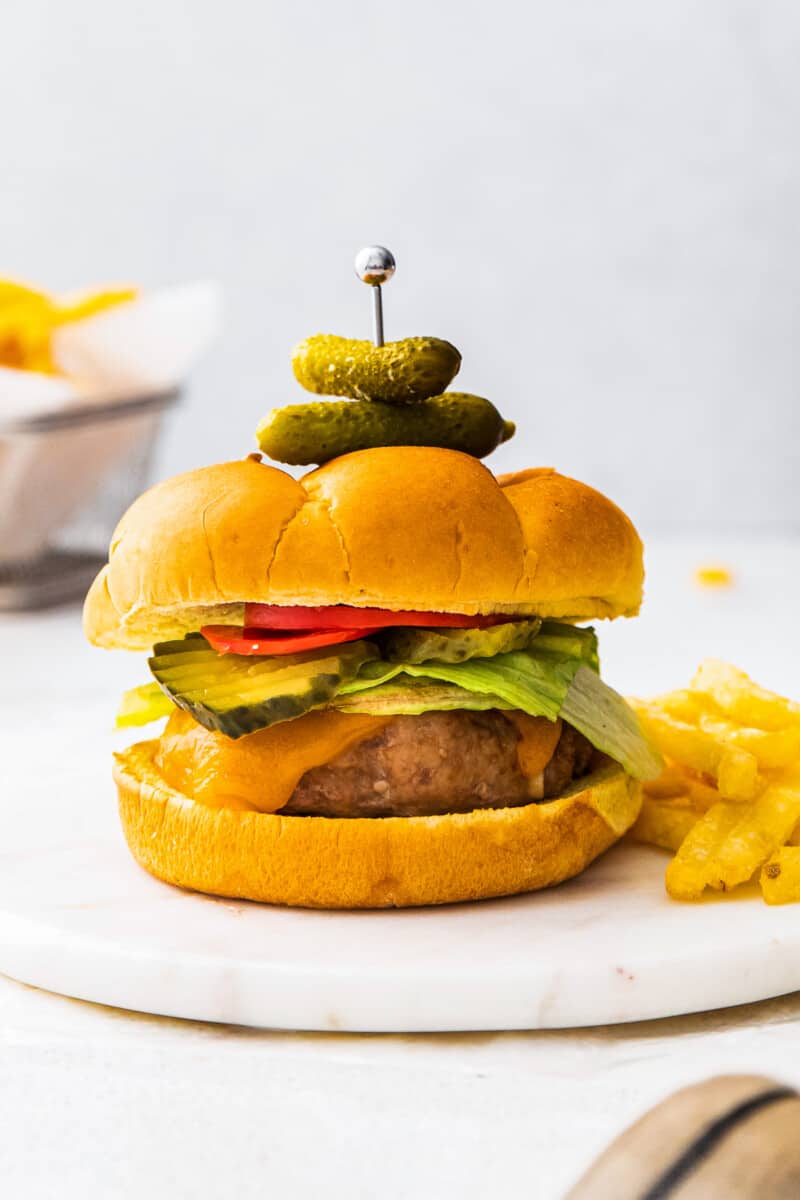 Can you substitute ground chicken for ground turkey?
Absolutley! Ground chicken will easily replace the turkey if you prefer. They'll still come out super delicious!
How long do turkey burgers take to cook in an air fryer?
We cook these burgers at 375F for around 10 to 12 minutes. Air fryer models can run slightly differently, so the best way to check for doneness is to use an instant read thermometer which should register at 165F.
Can you make turkey burgers ahead of time?
The turkey burger mix can be kept in the fridge for a day or two before you want to cook it. Leftovers will keep well for 4 days covered in the fridge and can be reheated at 350F for 4 minutes til warmed through.
Can you freeze cooked turkey burgers?
Yes, so be sure to make a big batch! Let the burgers cool and freeze them on a baking sheet til solid, then transfer to a bag or container. They will keep well for up to 3 months and should be thawed in the fridge before reheating.
Serving Suggestions
Load these turkey burgers into buns and your favorite burger toppings, or serve them in a lettuce wrap for a low carb option. Serve them with these favorite sides:
These turkey burgers are so easy to cook perfectly in the air fryer, they come out so juicy and flavorful.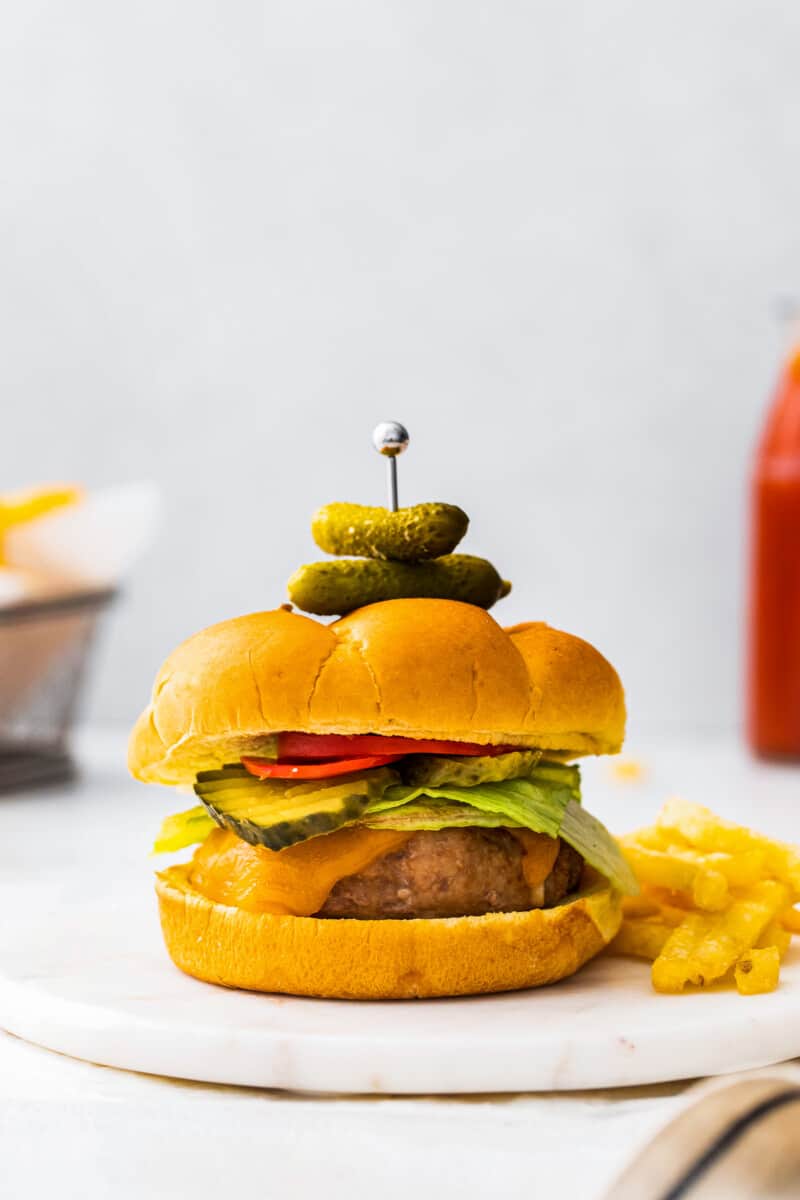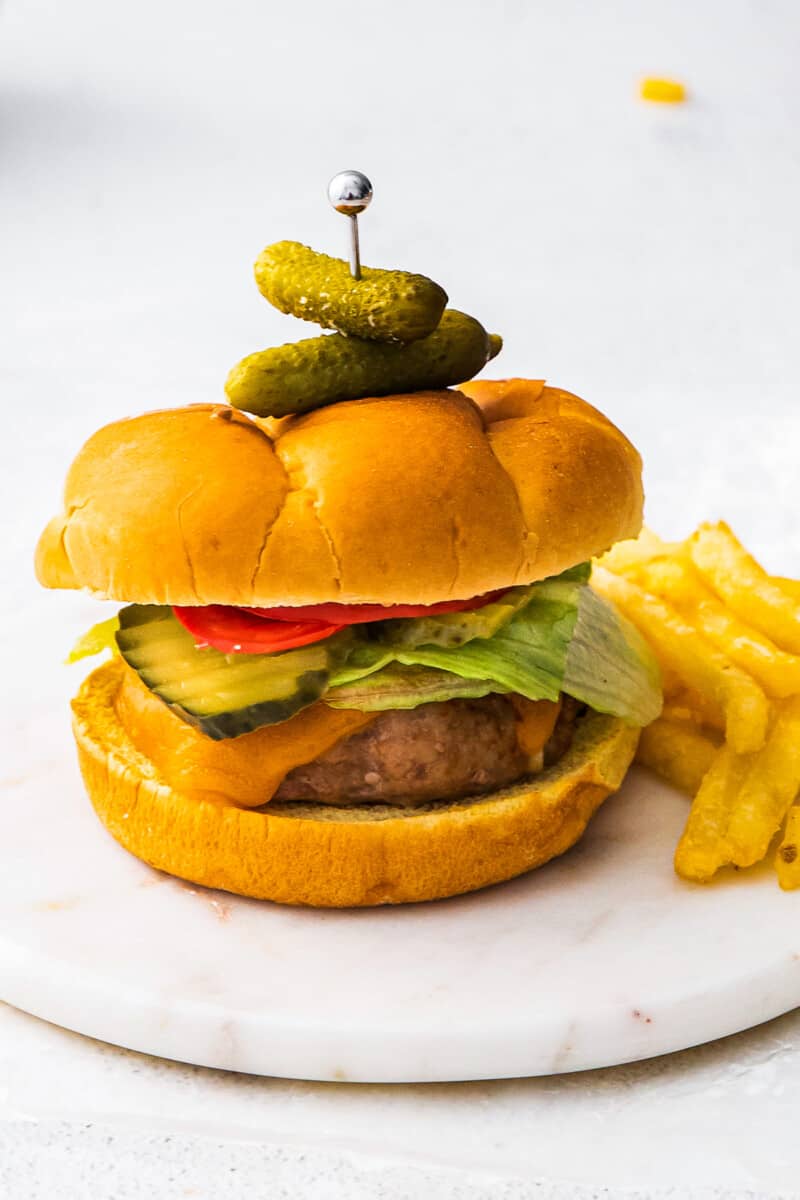 Tips!
Don't over mix the burger ingredients. Everything should be combined, but over working it can lead to tough and chewy burgers.
Spray the air fryer basket with oil so that the burgers brown and don't stick. Alternatively, you can use your hands to rub oil over the burgers before placing them in the basket.
These simple burgers are so delicious, but you can try adding dried herbs or spices, like paprika or Italian seasoning, for a different flavor.
I used sliced sharp cheddar and sliced sharp white cheddar— but use any cheese you like (or leave it off).
These air fryer turkey burgers had thumbs up from my family! Load them up with your favorite toppings for a delicious family feast.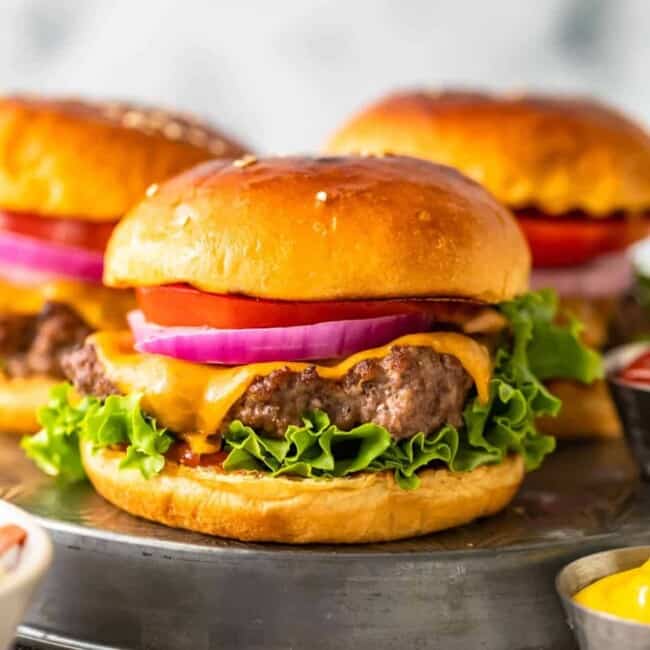 All the Burgers
Guide to Cooking Burgers at Home
See all of our favorite burger recipes PLUS tips and tricks for cooking the ultimate burger at home.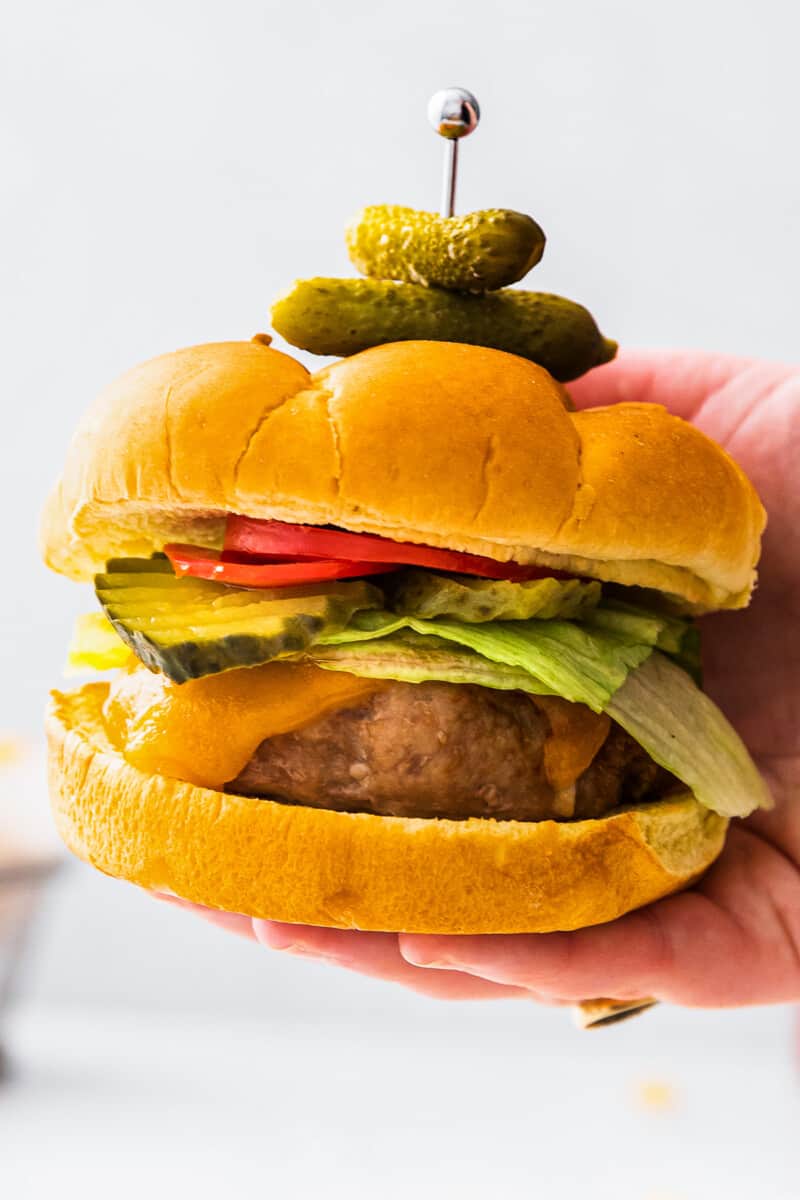 Homemade turkey burgers have never been so quick, easy or delicious and it's all thanks to our trusty air fryer! I know you are going to love these as much as we do!
If you make this recipe be sure to upload a photo in the comment section below or leave a rating. Enjoy!