Apple Cinnamon Rolls with Brown Butter Cream Cheese Frosting-These light and fluffy cinnamon rolls will remind you of apple pie, but in cinnamon roll form! They are the perfect breakfast treat for fall!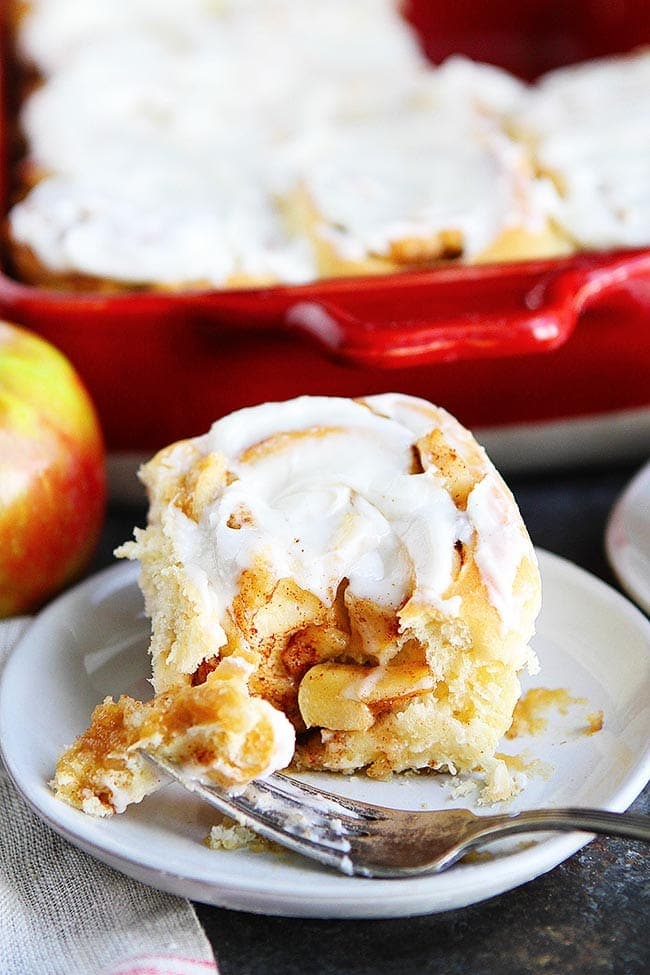 Perfect Fall Cinnamon Rolls
My dad came to visit us for ten days and of course he spoiled us with his famous cinnamon rolls. They are the BEST! And this time he made a new version for fall. Are you ready for his latest cinnamon roll recipe? Apple Cinnamon Rolls with Brown Butter Cream Cheese Frosting.…YES! They are the perfect cinnamon rolls for fall. Think of apple pie and cinnamon rolls in ONE recipe. Oh yeah, you are excited now! They are SO good and taste like fall…if something can taste like fall:)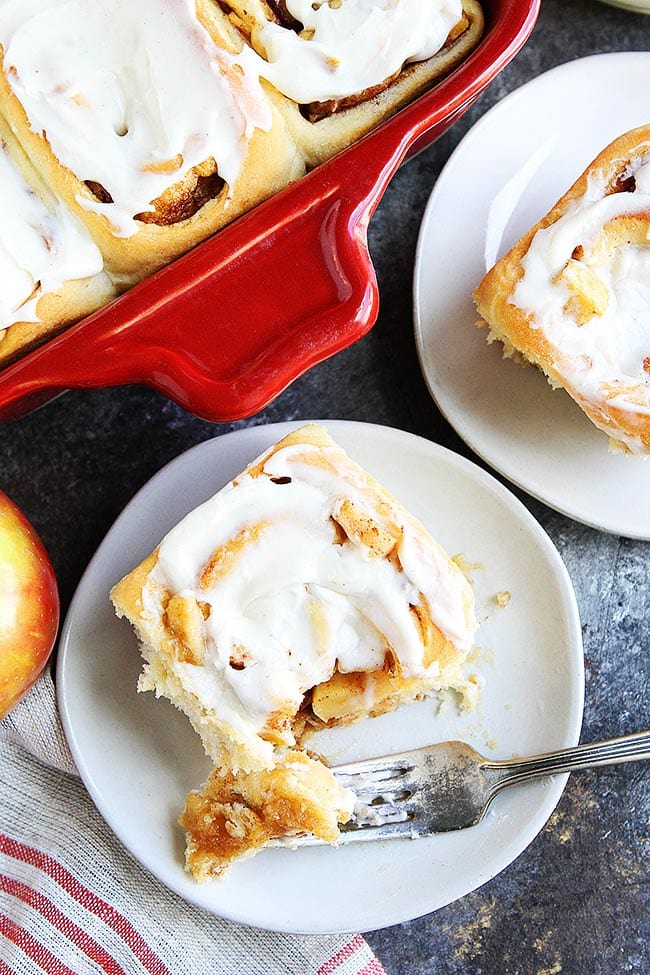 Cinnamon Roll Dough
My dad's classic cinnamon roll dough is PERFECTION! He used his same dough for the apple cinnamon rolls because why change a recipe when it is perfect in every way? The dough is soft, satiny, and makes the BEST cinnamon rolls. It is a yeast dough, but don't be scared. The dough is actually easy to make and the more you make cinnamon rolls, the more confident you will get. You too can master cinnamon rolls! My dad's recipe is the best cinnamon roll recipe, so you are in good hands:)
Apple Filling
The apple filling makes these cinnamon rolls extra special. The cinnamon rolls are filled with a sweet, sugary, apple filling that will remind you of your favorite apple pie. We like to use Honeycrisp apples or Granny Smith apples. We don't peel the apples, but if the peels bother you, you can certainly peel them before chopping them up. Sauté the apples in butter, brown sugar, and a little bit of nutmeg. The nutmeg isn't overpowering, but will give the apples that extra fall flavor.
The apples get rolled up into that perfect cinnamon roll dough with lots of butter, brown sugar, and cinnamon! Bake until the cinnamon rolls are golden brown and your house smells better than any fall candle:)
Brown Butter Cream Cheese Frosting
If you are a regular reader of our blog, you know I LOVE all things brown butter so I suggested to my dad that we make a brown butter cream cheese frosting to finish the apple cinnamon rolls. He loved the idea so we whipped up some frosting and slathered it all over the fluffy cinnamon rolls. The brown butter cream cheese frosting was the perfect ending to the cinnamon rolls. The nutty, caramel flavor from the brown butter complimented the apple cinnamon rolls SO nicely.
Apple Pie Cinnamon Rolls
You will love the combination of apple pie and cinnamon rolls. Serve these decadent cinnamon rolls for a special breakfast, brunch, or even dessert! You will love the juicy apple filling that is surrounded by lots of brown sugar and cinnamon…and don't forget about that brown butter cream cheese frosting. These apple cinnamon rolls are DREAMY! I know we will be making them EVERY fall!
If you like this Apple Cinnamon Roll Recipe, check out: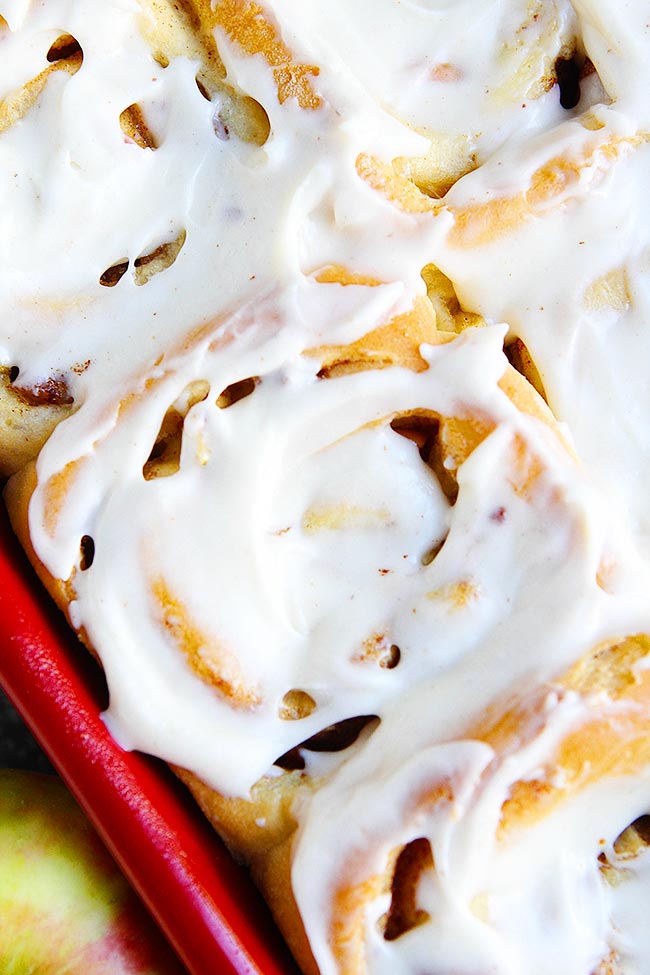 Apple Cinnamon Rolls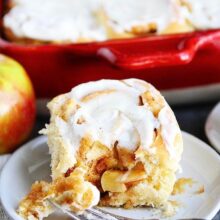 The perfect cinnamon roll recipe for fall. They will remind you of apple pie and that is a VERY good thing!
Yield: 30 cinnamon rolls
Prep Time: 45 minutes
Cook Time: 30 minutes
Total Time: 3 hours
Ingredients:
FOR THE CINNAMON ROLLS:
2 packages active dry yeast (4 1/2 teaspoons)
1 cup lukewarm water
1 teaspoon granulated sugar, to proof the yeast
6 tablespoons shortening (Crisco)
1 cup granulated sugar
8 cups unbleached all-purpose flour (you might need more if the dough is sticky, up to 9-10 cups)
2 cups hot water
2 large eggs, beaten
1 tablespoon salt
FOR THE APPLE FILLING:
2 tablespoons unsalted butter
5 large apples, chopped (we like Honeycrisp or Granny Smith, you can peel them if you want)
2 tablespoons brown sugar
1/4 teaspoon ground nutmeg
Softened unsalted butter (about 1/2 cup total)
Brown sugar (about 1 1/2 cups total)
Cinnamon (about 2 tablespoons total)
FOR THE BROWN BUTTER CREAM CHEESE FROSTING:
4 tablespoons unsalted butter
6 ounces cream cheese, at room temperature
4 cups powdered sugar
3 tablespoons whole milk
1 teaspoon vanilla extract
Directions:
For the Cinnamon Rolls: Add yeast to 1 cup of lukewarm water. Stir with a spoon and set aside for about five minutes.
In the bowl of a stand mixer, add shortening, sugar, and salt to hot water and beat for 30 seconds. Let cool to lukewarm temperature. Stir in 2 cups of flour and mix until smooth. Add yeast mixture and mix until well combined. Mix in the beaten eggs.
Gradually stir in the remaining flour and mix with the dough hook for about 2 minutes. Remove dough from the bowl and place on a lightly floured counter. Knead by hand, add a little flour if the dough is still sticky. Knead until dough feels satiny and smooth.
Put the dough in a greased bowl and cover with a towel. Let rise for 30 minutes or until dough doubles in size.
For the Apple Filling: While the dough is rising, make the apple filling. In a large skillet, melt the butter over medium heat. Add the chopped apples, brown sugar, and nutmeg. Stir so the apples are coated in the butter and brown sugar. Cook until slightly soft, but not mushy, about 2 minutes. Remove from heat and set aside.
Remove dough from bowl and place on a lightly floured counter. Divide dough in half. With a rolling pin, roll one half of the dough into a rectangular shape, about 22 X 13 inches. Spread dough evenly with 4 tablespoons of softened butter. Top with half of the brown sugar. Place half of the chopped apples on top of the brown sugar dough and sprinkle with half of the cinnamon.
Gently roll up dough into one long roll. Cut rolls, using a piece of dental floss or thread, about two inches thick. Place rolls into a greased 9X13 baking pan, leaving a little space in between each roll so they have room to rise.
Now follow the exact same steps with the other half of the dough, using the remaining ingredients.
Place rolls in a warm spot and cover with a towel. Let rolls rise until double in bulk, about an hour. Bake rolls at 350 degrees F for 30 to 35 minutes or until golden brown on top. The insides should be soft, but not doughy. Remove pans from oven and let cool until slightly warm on a wire rack.
For the Frosting: While the cinnamon rolls are cooling, make the frosting. In a small skillet, melt the butter over medium heat. Once melted, turn up the heat to medium high. Continue stirring and look for small golden bits that will start to settle on the bottom of the pan, this should take around 3 to 5 minutes and the butter will have a nutty aroma. Once this happens, take it off the heat and pour into a medium, heat-safe bowl to cool to room temperature. Using a stand mixer or hand mixer, beat together the brown butter and cream cheese until smooth. Slowly add the confectioners' sugar and mix until combined. Add the milk and vanilla extract and mix until smooth. If you need to add a little more milk, you can.
Spread the frosting over the apple cinnamon rolls. Enjoy!
Note-if you want to make the cinnamon rolls in advance, you can refrigerate them overnight and bake in the morning. After you put the rolls in the pans, cover with plastic wrap and put the pans in the refrigerator overnight. In the morning, pull the rolls out and let them come to room temperature and rise a little. Bake and enjoy!


All images and text ©Two Peas & Their Pod.




Follow twopeasandpod on Instagram and show us what recipes you are making from our blog! Use the hashtag #twopeasandtheirpod! We want to see what you are making in your kitchen!