Tasty, tasty, tasty little Asian meatballs with a delectable sweet (and kicky) chili sauce. Serve over brown rice or quinoa for a healthy, easy meal!
Oh man, if you love meatballs. And if you love Asian-style flavors. And if you love simple, quick, healthy dinners. I think you're going to love this one. 
Did you get the little 2-minute survey I sent out in my January newsletter on Friday? I'm loving all your responses so far (if you didn't see it, you can chime in here)! Judging by the hundreds of responses already, quick and easy 30-minute meals are your jam.
And also cookies, glorious chocolatey soft gooey cookies. 
I'm out to fulfill all your 30-minute meal (and cookie) dreams in 2019. Promise. Including posting that new cinnamon roll recipe that clearly I should never have assumed you didn't want.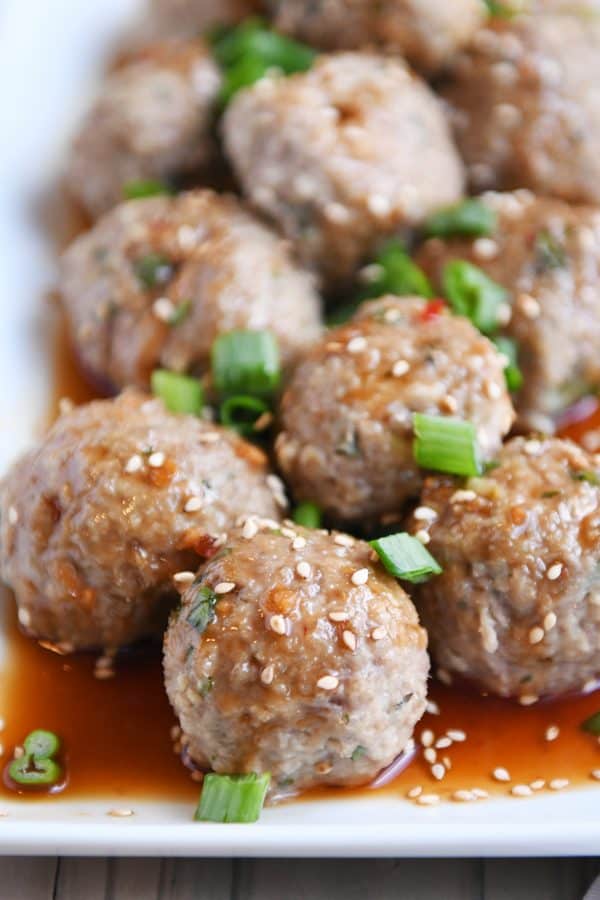 While this amazing Asian meatballs recipe isn't quite in the 30-minute category (looking at right around 40 minutes, so not too terribly bad), it's a good start to the new year. 
It's fast-ish. It's super easy. It's healthy. And wow, those flavors. 
You already know I'm a sucker for many an Asian-inspired dish: 
Asian Garlic Noodles
Asian Chicken Lettuce Wraps
Dan Dan Noodles
Asian Noodle Salad
Korean Beef and Rice
Roast Pork Tenderloin with Asian Glaze
And these Asian meatballs are right up there with all the other faves. They are delicious! 
You can use a variety of ground meat – ground beef, ground pork, ground turkey or a combo. Super adaptable. And while the list of ingredients may seem long, you literally throw all the meatball ingredients together and mash them on up. Same with the sauce, except you'll whisk instead of mash.
I love serving these meatballs over brown rice or quinoa. For the brown rice, I either make this baked brown rice or this no-fail stovetop version or just throw the brown rice in the instant pot – 1 cup rice to 1 1/4 cups broth and cook on high pressure for 22 minutes.
But the tasty meatballs are delicious served on their own or with a yummy side like this chopped Thai salad. Yum.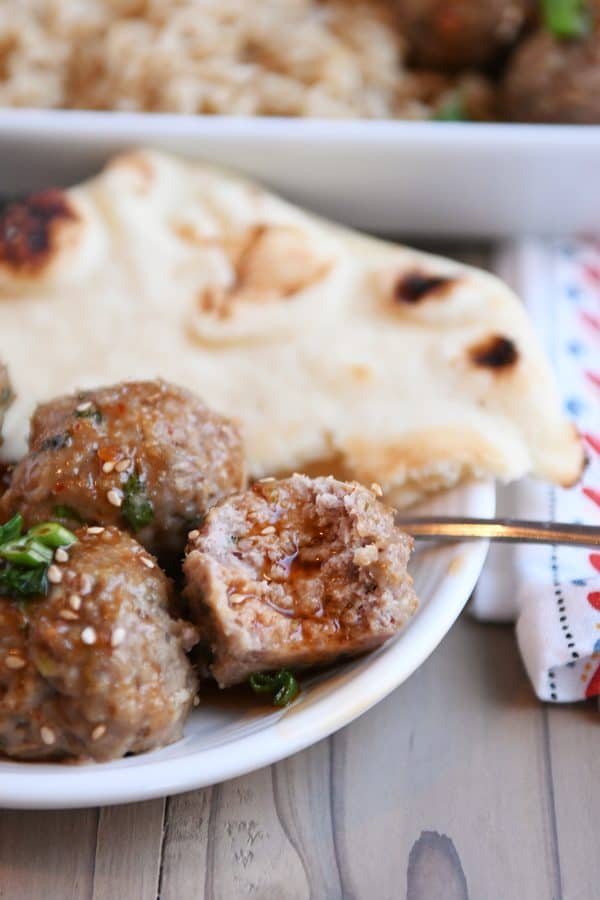 Yield:
6-7 servings
Prep Time:
25 minutes
Cook Time:
20 minutes
Total Time:
45 minutes
Ingredients
Meatballs:
2 pounds ground meat (beef, pork, turkey or a combo – see note)
1 cup panko or regular bread crumbs
1/4 cup chopped fresh cilantro
2 green onions, white and green parts finely chopped
2 large eggs
2 tablespoons soy sauce (I use low-sodium)
1 tablespoon finely minced ginger (or ginger paste)
3 cloves garlic, finely minced or 1/2 teaspoon garlic powder
1 teaspoon dried basil
Zest from 1 lime (about a teaspoon)
Pinch of crushed red pepper, more or less to taste (optional)
Sauce:
1/3 cup soy sauce (I use low-sodium)
1/3 cup sweet chili sauce (see note)
1/4 cup fresh lime juice (from 2-3 limes)
2 tablespoons brown sugar
Instructions
Preheat the oven to 425 degrees F. Line a large, rimmed baking sheet with aluminum foil and lightly spray with cooking spray.
In a large bowl, add the ground meat. Add all the other meatball ingredients and mix until well-combined (I just dig in there with my hands). Roll 2-3 tablespoons of the mixture into meatballs and place 1/2-inch apart or so on the prepared baking sheet.
Bake for 20-25 minutes until cooked through (an instant-read thermometer should read 165 degrees F in the middle of a meatball).
While the meatballs cook, whisk together all the sauce ingredients in a microwave-safe bowl or small saucepan and heat until simmering.
Using tongs or a spatula, remove the meatballs from the baking sheet onto a plate or tray. Drizzle the cooked meatballs with the warm sauce and garnish with additional green onions and toasted sesame seeds, if desired. Serve the meatballs on their own or over brown rice, white rice, quinoa, etc.
Notes
If you want to change up the flavor a bit, use fish sauce instead of soy sauce in the meatball mixture. I've made these meatballs with a combination of ground pork and ground turkey and another time with 100% ground beef. All versions have been delicious.
Sweet chili sauce is pretty widely available in most grocery stores in the Asian-foods aisle (by the soy sauce). It is sweet and spicy; different brands may differ in flavor and spiciness (Mae Ploy is a popular brand). There are also lots of homemade versions online if you google a recipe.
Recipe Source: from Mel's Kitchen Cafe (inspired by this recipe at Once Upon a Chef – changed quite a bit of the ingredients in the meatballs and the sauce as well as the cooking time/temp, etc)