Easy10 minsGluten-Free
Everything we learned from our trip to Greece about how to create an authentic, fresh and delicious Greek salad.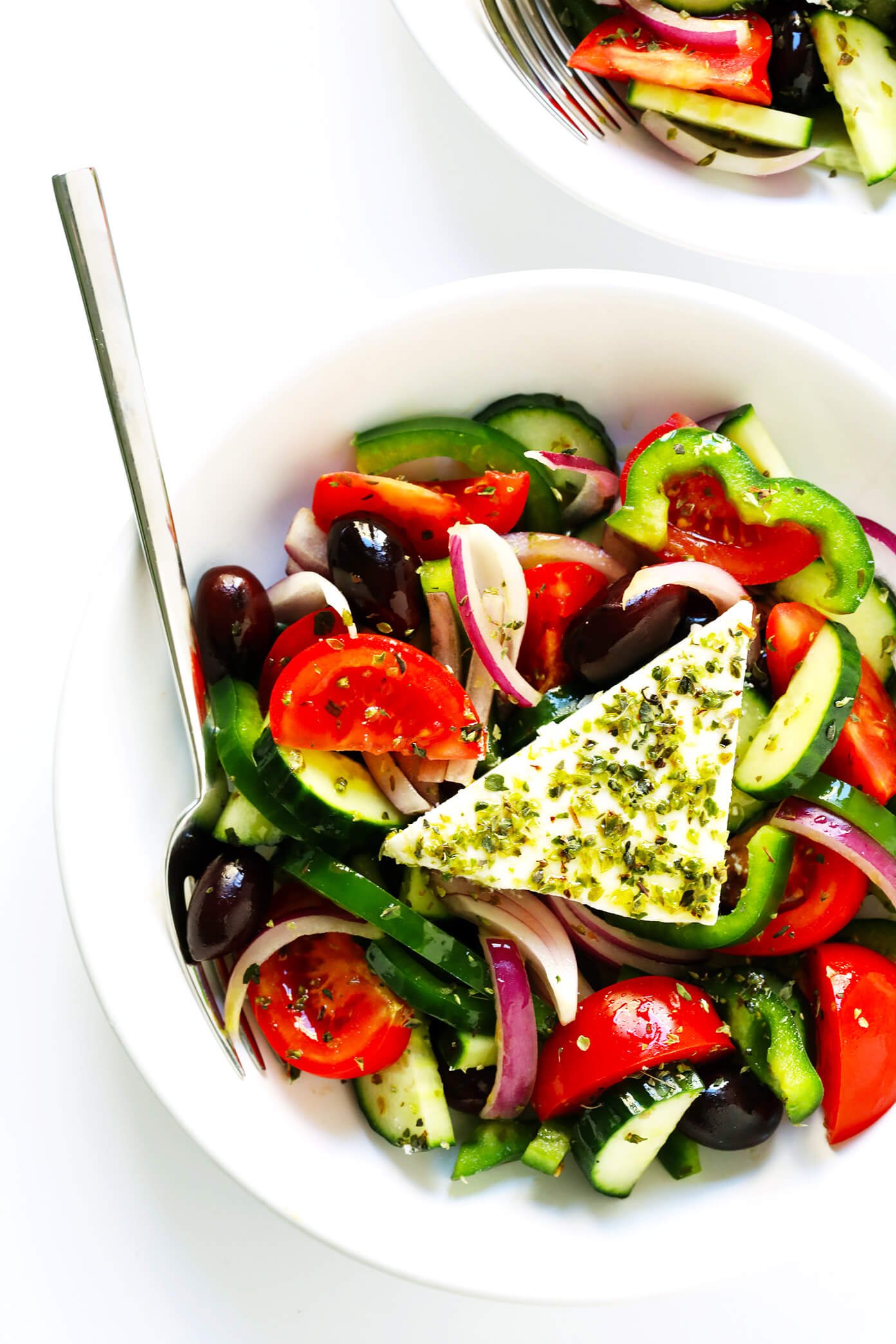 When Barclay asked what I wanted to do in Greece for my birthday, I had three goals:
Soak up pretty views.
Read lots of books.
Eat as many Greek salads as possible.
I'm happy to report — missions accomplished.  Especially the latter.  Oh man, you guys, this trip ended up being the Greek salad-a-thon of my dreams!!
As it turns out, salads are standard fare for lunch, dinner and breakfast in Greece, which we took full advantage of.  And especially being there at the end of May, when all of their fresh produce is in season, I mean — wow — their traditional Greek salads were just as fresh and vibrant and delicious as I had hoped.  Also, totally uncomplicated (and consistent) in terms of ingredients and presentation.  And also, notably different in a few major ways than Greek salads I've been served in the States.  We couldn't get enough of them.  So of course, we immediately came home and made some more for ourselves.
Here's everything we learned!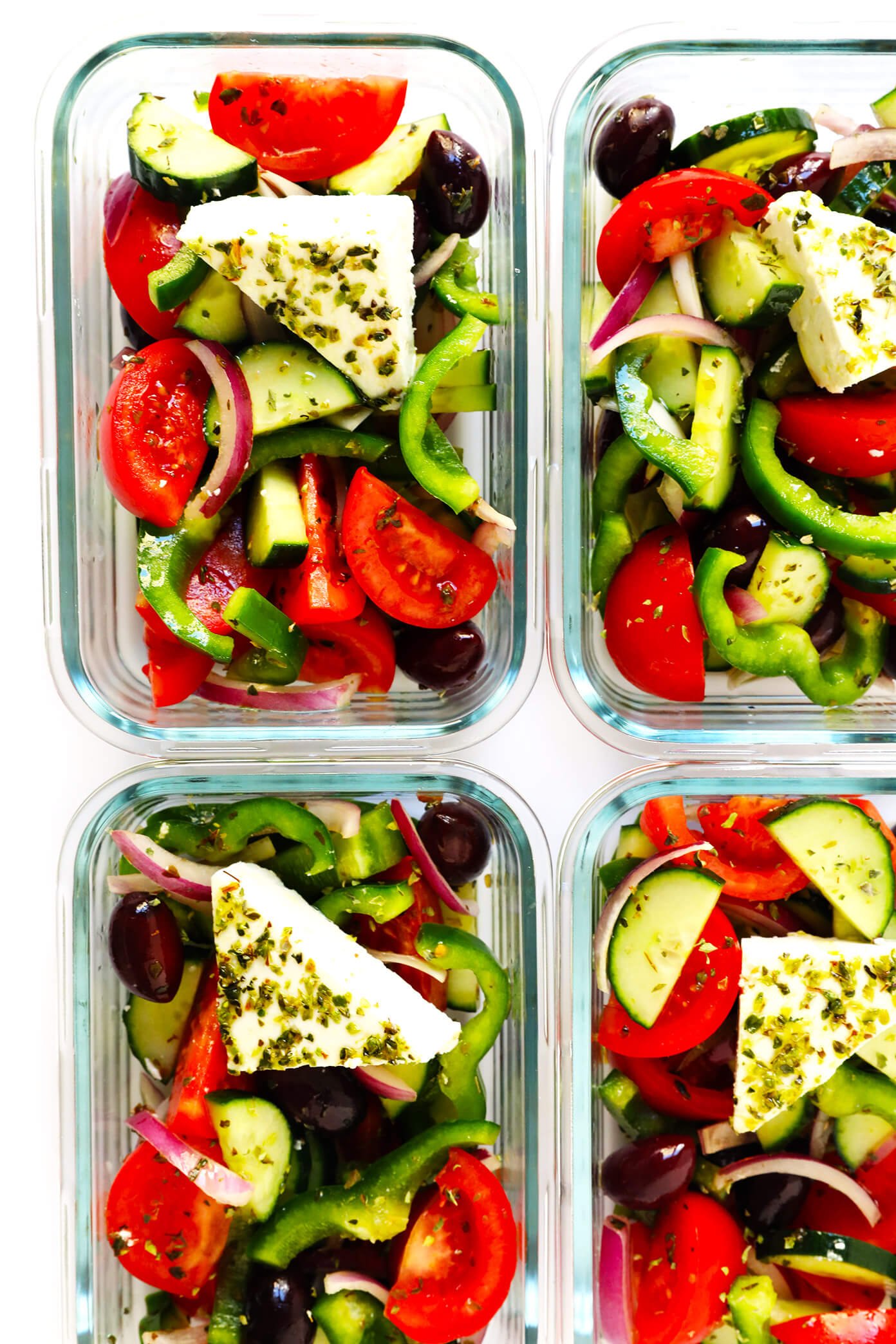 The Hallmarks of an Authentic Greek Salad:
So here's the thing about Greek salads in Greece — they truly are consistent.  Same fresh ingredients, same simple presentation, same winning flavors every single time.  Granted, various parts of the country do have their own local salads (for example, we tried the Santorini salad and the Folegandros salad), each of which feature a unique local ingredient or two in the mix.  But when you order horiatiki — the traditional Greek salad — here's what you will find every time:
No lettuce.  Or any other fresh greens, for that matter.  A classic Greek salad is made solely with a base of veggies, tomatoes, olives and cheese…which we loved.
No fancy dressing. I was surprised to find that what I've always known as "Greek" dressing in the States didn't actually seem to be a thing in Greece.  Rather, Greek salads were simply drizzled with extra-virgin olive oil, maybe a splash of red wine vinegar and a sprinkle of dried oregano and salt.  So simple.
Large chunks of veggies. Especially tomatoes.  We didn't see a single cherry or grape tomato on our trip — just full-size tomatoes chopped into wedges.
Mega hunk of feta.  Greece takes a lot of pride (as they should) in their delicious sheep's milk fresh feta.  And as such, it's the star of the show, served in an enormous brick (either square or triangle) sitting on top of the salad.  It's never crumbled.  (Although if crumbled feta is all you can find at the store, don't be deterred…it'll still be great.)
Green bell peppers.  We didn't see a single red, orange or yellow bell pepper while we were there.  (Although those are still my favorites.)  Just bright green bell peppers, cut horizontally into strips.
Kalamata olives 

with

the pits.  Always.
No frills presentation.  About half of the time, our Greek salads were served with just the base ingredients in a bowl, with a side of olive oil and vinegar on the table for us to add ourselves.  And then the other half of the time, they came completely prepared.  But all of the time, the salads were simple and straightforward, and also not overly-tossed.  Those vibrant veggies are so beautiful on their own that they don't need any fancy garnishes. 🙂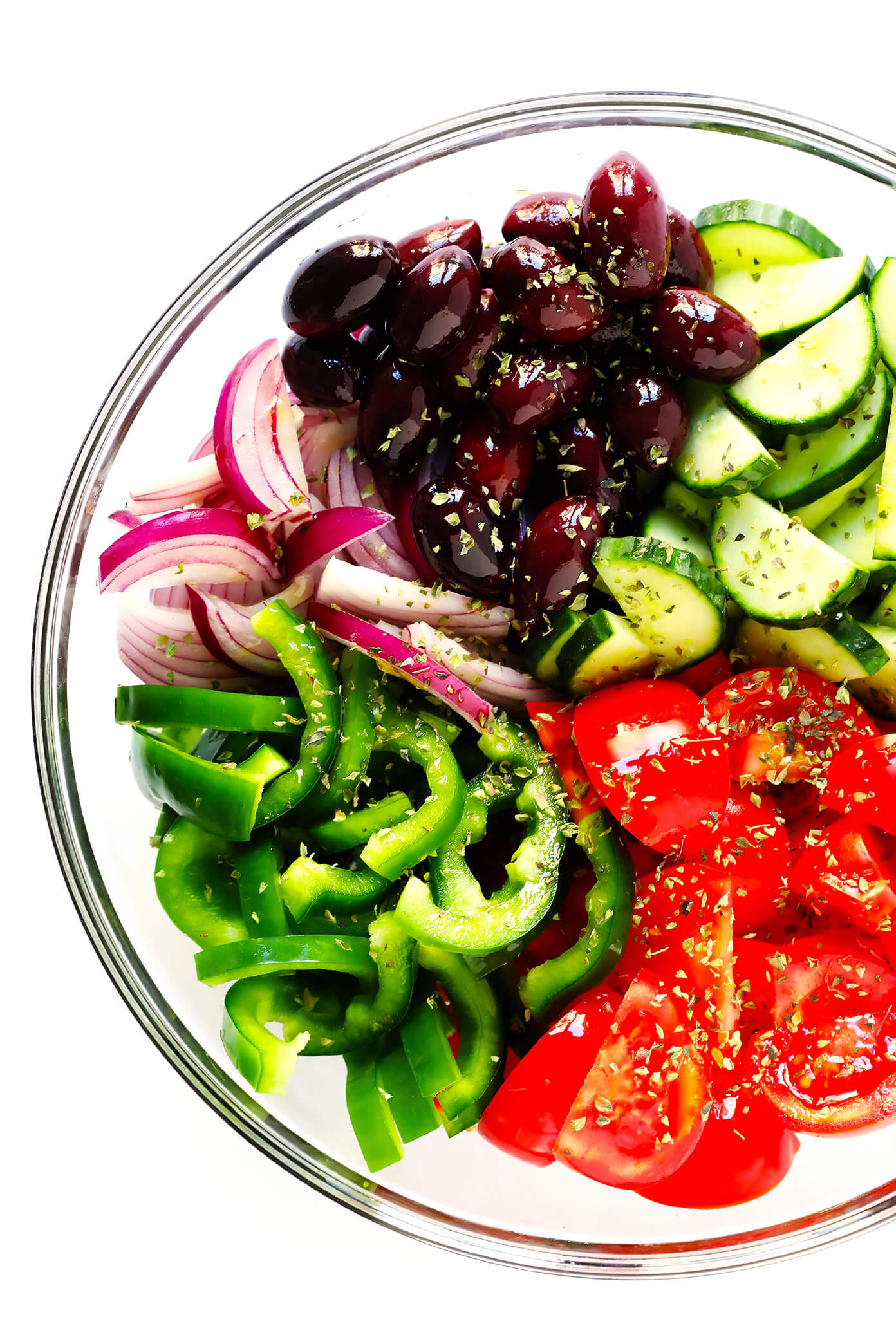 Greek Salad Ingredients:
So let's get a little more specific with these ingredients.  For a traditional Greek salad recipe, you will need:
Tomatoes: We were always served ripe, round, medium-size tomatoes cut into wedges.  But any small to medium ripe tomatoes will do here.  And as always, fresh, ripe, in-season tomatoes will kick this salad up a mega notch.
Cucumber: Either Persian or English cucumbers will do.
Green bell pepper: Again, traditional.  Although I wouldn't fault you if you subbed in a sweeter red bell pepper.
Red onion: Usually cut into thin slices.
Kalamata olives: Always whole, never pitted.
Feta: Made from sheep's milk, and always served in a large chunk.
Extra Virgin Olive oil: I strongly recommend looking for a good-quality oil, since this will be the main ingredient of your Greek "salad dressing" recipe for the salad.
Dried Oregano: This was sometimes tossed with the salads, and sometimes just sprinkled on top.
Sea salt: Always a must, especially on the Mediterranean. 😉  That said, feta cheese is usually pretty salty, so I recommend going light with the salt and you can always add more.
Optional:
Red wine vinegar: Most of our salads were also served with a generous splash of red (or white) wine vinegar, which I fully recommend.
Capers: We also had a few Greek salads that included a sprinkle of capers, which Barclay especially loved.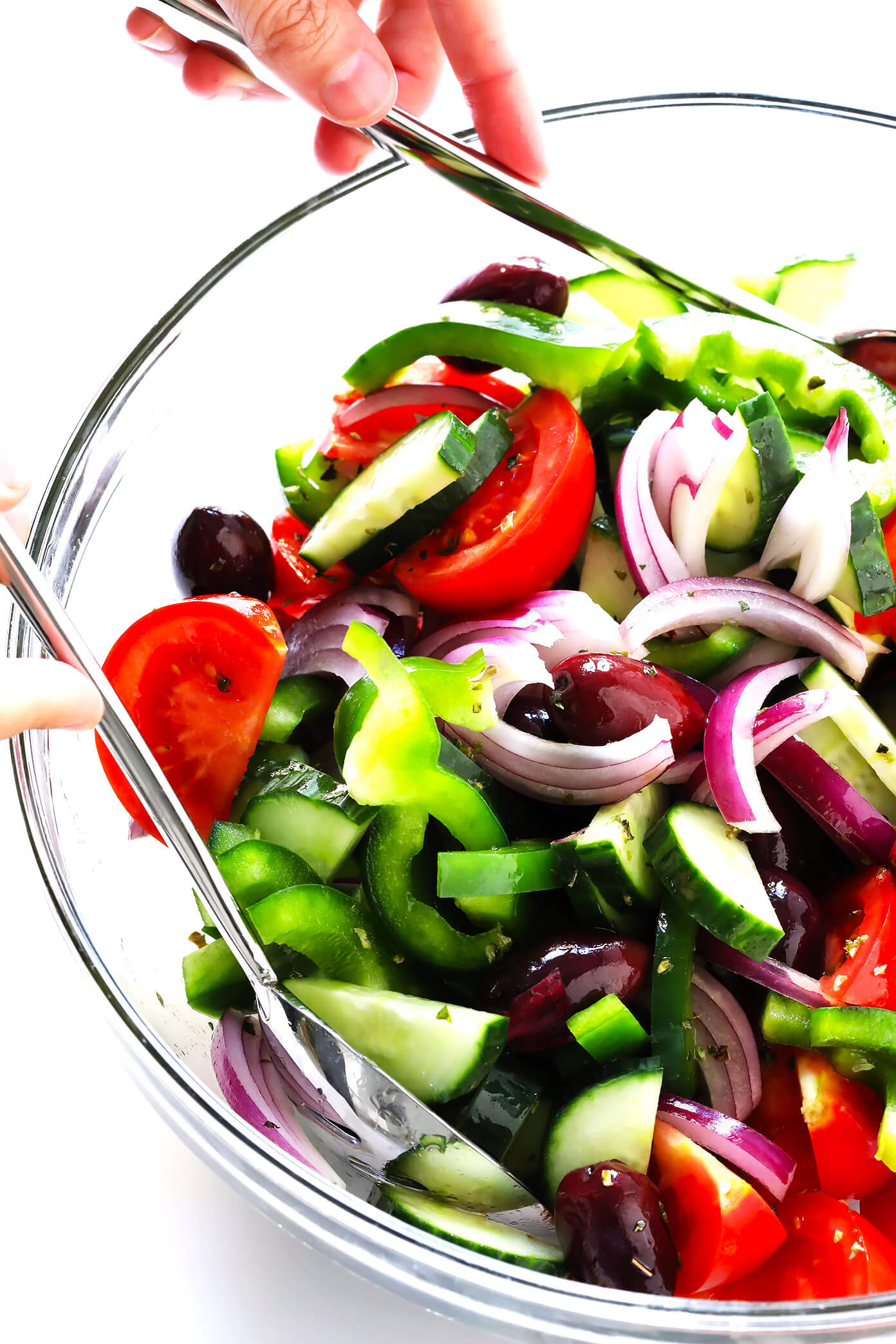 How To Make A Greek Salad:
To make this horiatiki recipe, simply:
Combine your base ingredients. In a large mixing bowl, add your tomatoes, cucumber, green pepper, and olives.
Drizzle with Greek salad dressing.  Which simply includes olive oil, a splash of red wine vinegar, and a pinch of dried oregano and salt.
Briefly toss to combine. The salad should not be over-mixed, so just give it a very light toss.
Top with feta cheese.  The star of the show gets placed right on top, maybe drizzled with an extra bit of olive oil and oregano.  Then…
Serve!  Or transfer to a sealed container and refrigerate for up to 3 days.
What To Serve With A Greek Salad:
All of those light, fresh, summery flavors would pair well with just about any main dish from the grill this time of year.  Or of course, traditional gyros or any kind of pita sandwiches.  Or if you're like Barc and I, a big salad can happily suffice as a main course for the meal.  🙂  But that said, here are a few specific recipes I'd totally recommend:
Pita sandwiches, such as:
A big loaf of crusty bread served with dip, such as: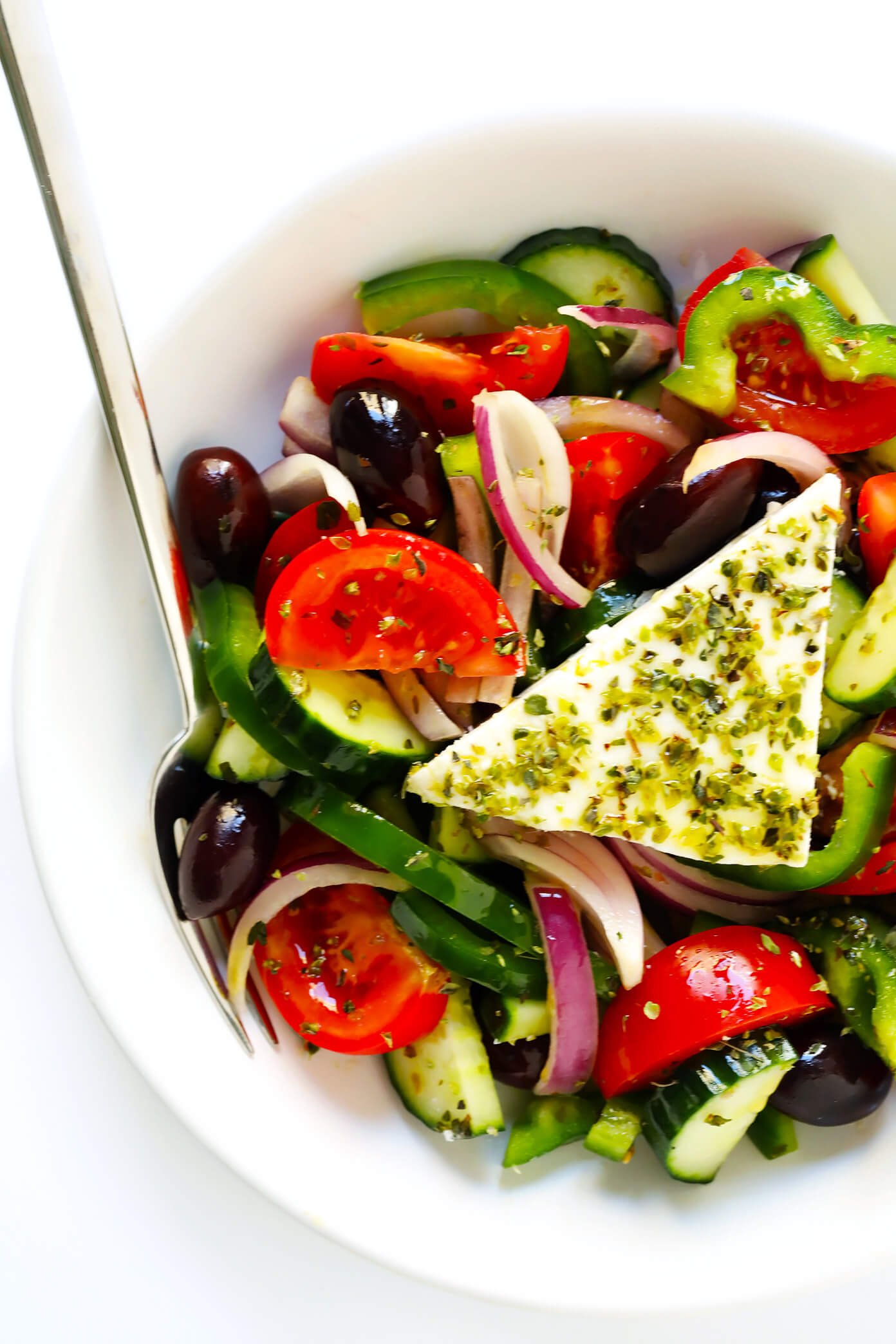 For more Greek salad inspiration, feel free to check out the salad-a-thon photos that I shared from our trip here (which includes a few non-traditional salads).  And also, stay tuned later this week for our full trip report!  I've been getting lots of requests for our travel tips and recs, and have lots to share with you. ♡

Thanks as always for reading along.  And cheers to eating like a Greek local…wherever in the world life may find you!
Yield: 4 servings
Authentic Greek Salad
This traditional Greek Salad recipe is wonderfully uncomplicated, easy to make, and so refreshing.  Feel free to toss it everything together in a mixing bowl, or just serve the base ingredients with bottles of olive oil and red wine vinegar on the side for people to dress their individual portions.
Ingredients:
4 medium-sized tomatoes, cut into wedges
1 English cucumber (or two small Persian cucumbers), sliced into half moons
1 large green bell pepper, cored and thinly sliced
1 small red onion, peeled and thinly sliced
1 cup kalamata olives
3-4 tablespoons olive oil
2 tablespoons red wine vinegar
1 teaspoon dried oregano, plus extra for serving
sea salt
5 ounces feta cheese, thickly-sliced if possible
Directions:
Combine the tomatoes, cucumber, bell pepper, red onion and olives in a large mixing bowl.  Drizzle evenly with olive oil and red wine vinegar, and sprinkle with the oregano and a pinch of salt.
Toss briefly.  Then top with feta cheese.  And finish the salad by drizzling a little extra olive oil and adding another pinch of oregano on top.
Serve and enjoy!  Or refrigerate in a sealed container for up to 3 days.
Difficulty: EasyCategory: Gluten-Free


All images and text ©Gimme Some Oven
If you make this recipe, be sure to snap a photo and hashtag it #gimmesomeoven. I'd love to see what you cook!