Strawberry Avocado Spinach Salad with Poppyseed Dressing
Easy15 mins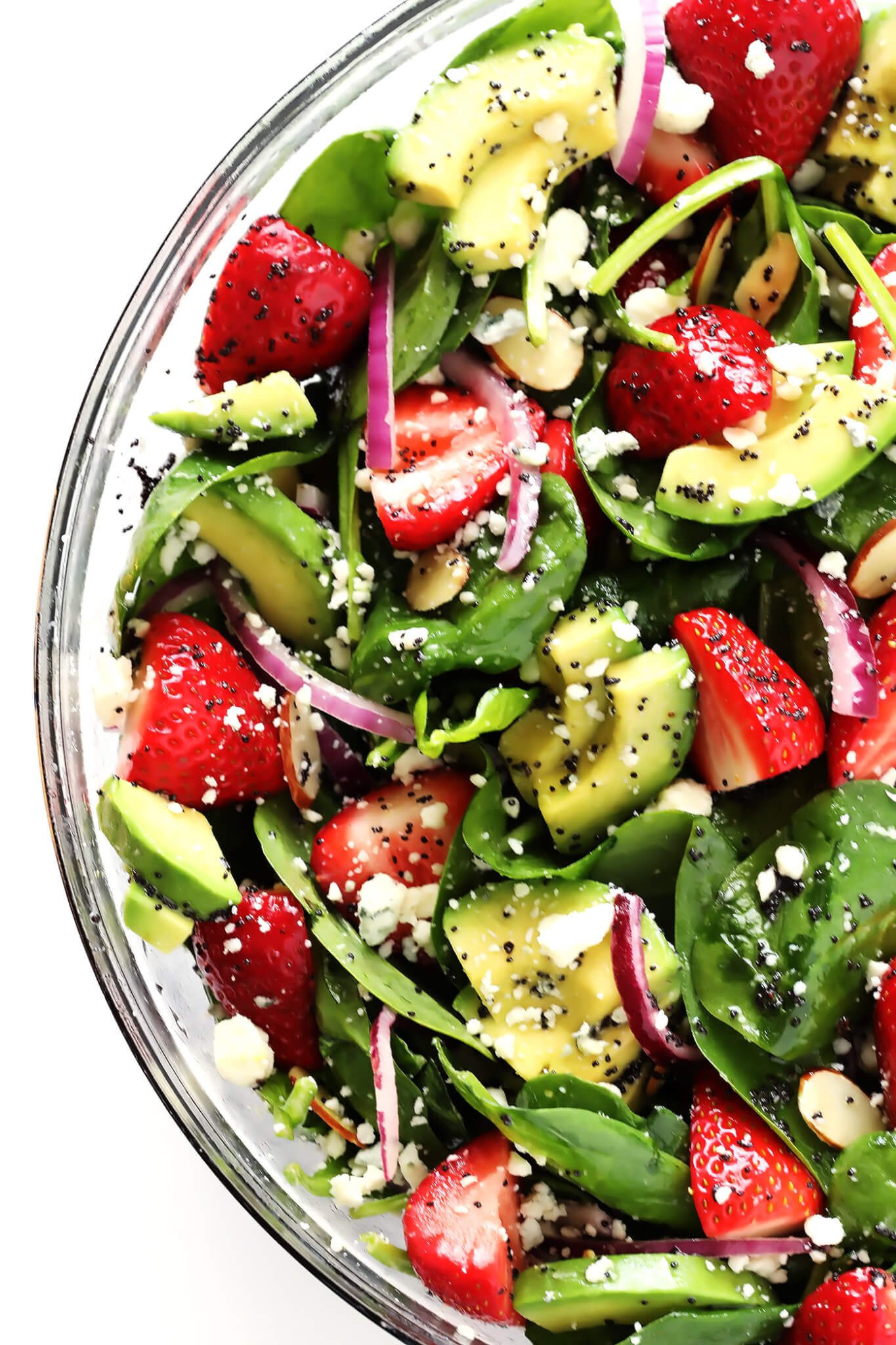 Are fresh strawberries looking as gorgeous in your neck of the woods lately as they are here in Kansas City?
Literally every grocery store I've visited this past month has had an enormous display of ripe, juicy, red berries greeting shoppers as they walk in the door. And you'd better believe that sweet advertising has worked on me…every time. ❤️ ? ❤️ LOVE me some good strawberries when they're in season!
In the past, I've tossed them in everything from salsas to salads, shortcakes to cheesecakes, smoothies to sangrias, and everything in between. But every year, my inaugural recipe for strawberry season is always the same — this classic Strawberry Avocado Spinach Salad with Poppyseed Dressing. It was one of the very first salads that I learned to like (and make) way back in my picky-eating days, and still continues to be one of my favorite sweet and simple throwback recipes to make each spring. Plus — ever since I originally posted this recipe back in 2013 — it seems that thousands more of you have found it to be a favorite of yours too. Apparently you all are my strawberry + avocado loving kindred spirits.
Anyway, while making this salad again for the zillionth time this week, I decided to snap some new photos to update this post. So for anyone who missed the recipe the first time around, now's your chance to make it happen!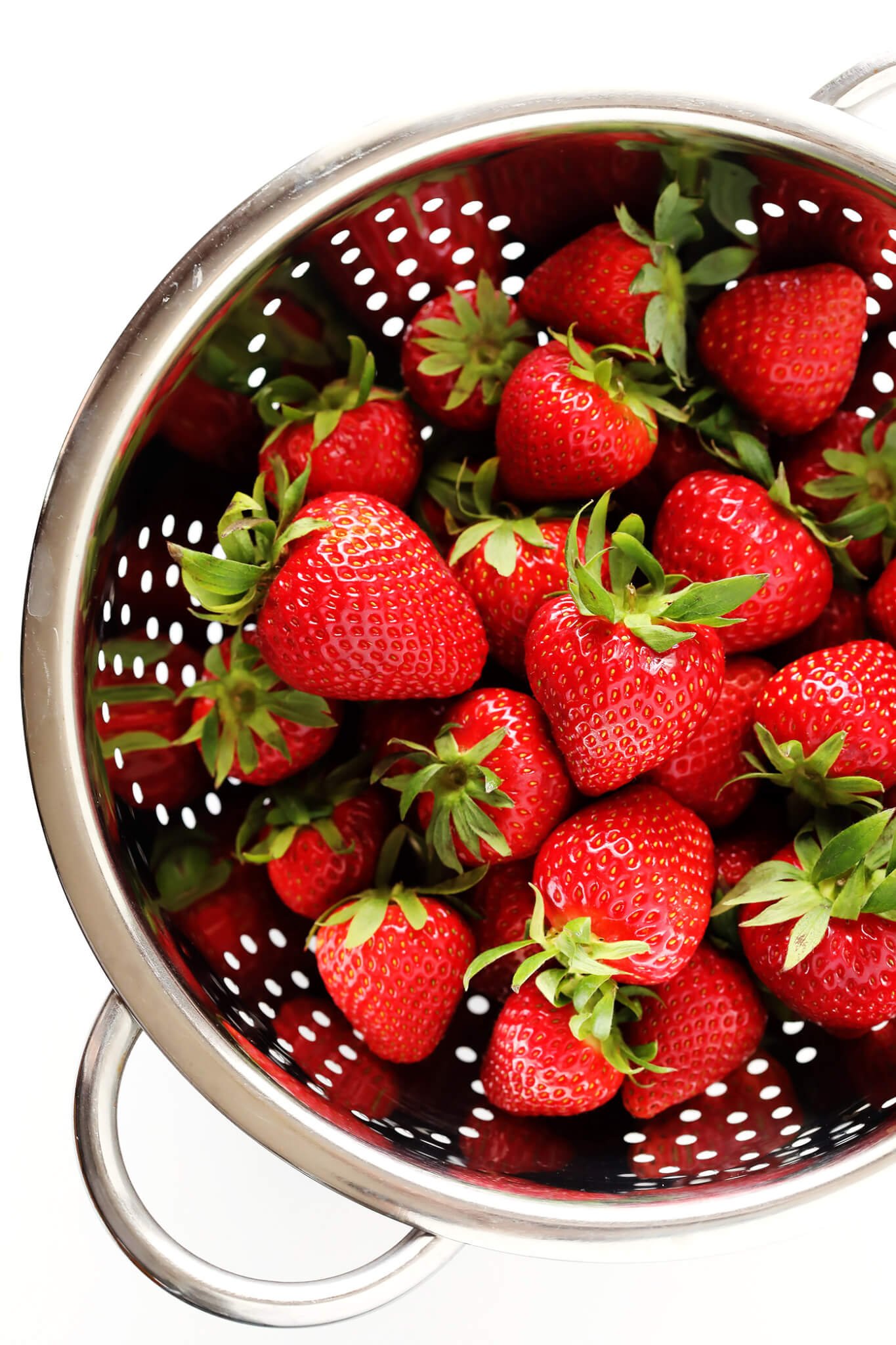 To start, begin by hulling and halving a pint of ripe, red strawberries. (I know it's nearly impossible not to just pop these babies right in your mouth. But trust me, they'll be worth it in the salad.)
Then, combine them with the rest of your ingredients. The list of specifics here is actually pretty flexible — you can go with lots of fresh baby spinach (or whatever greens you'd like), crumbled blue cheese (or any soft cheese), toasted almonds (or any nuts), and thinly-sliced red onion. But the non-negotiable is a big, ripe, creamy avocado. Gotta have the avocado.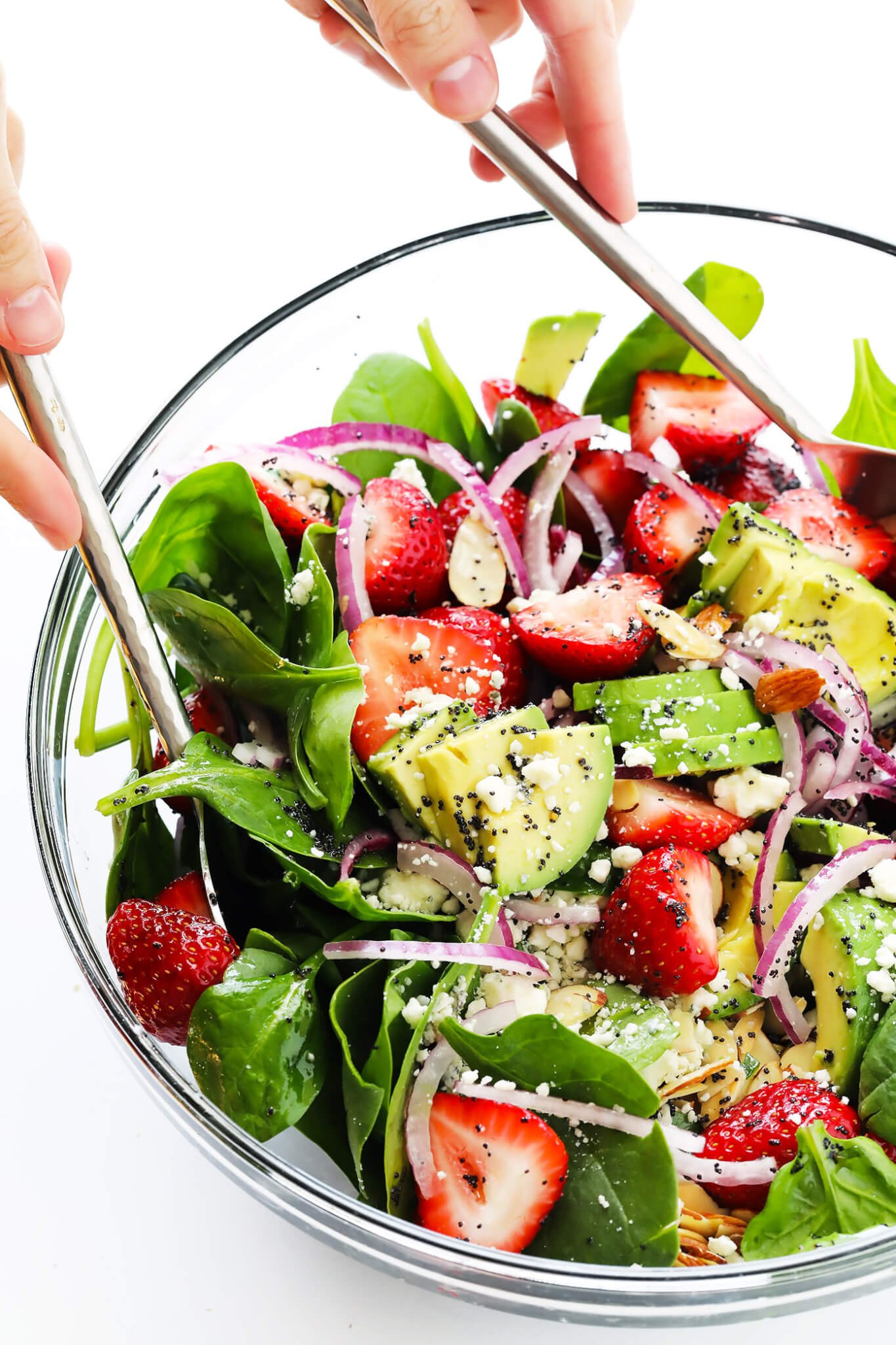 Drizzle everything with a simple homemade poppyseed dressing (see below), and then give everything a good toss.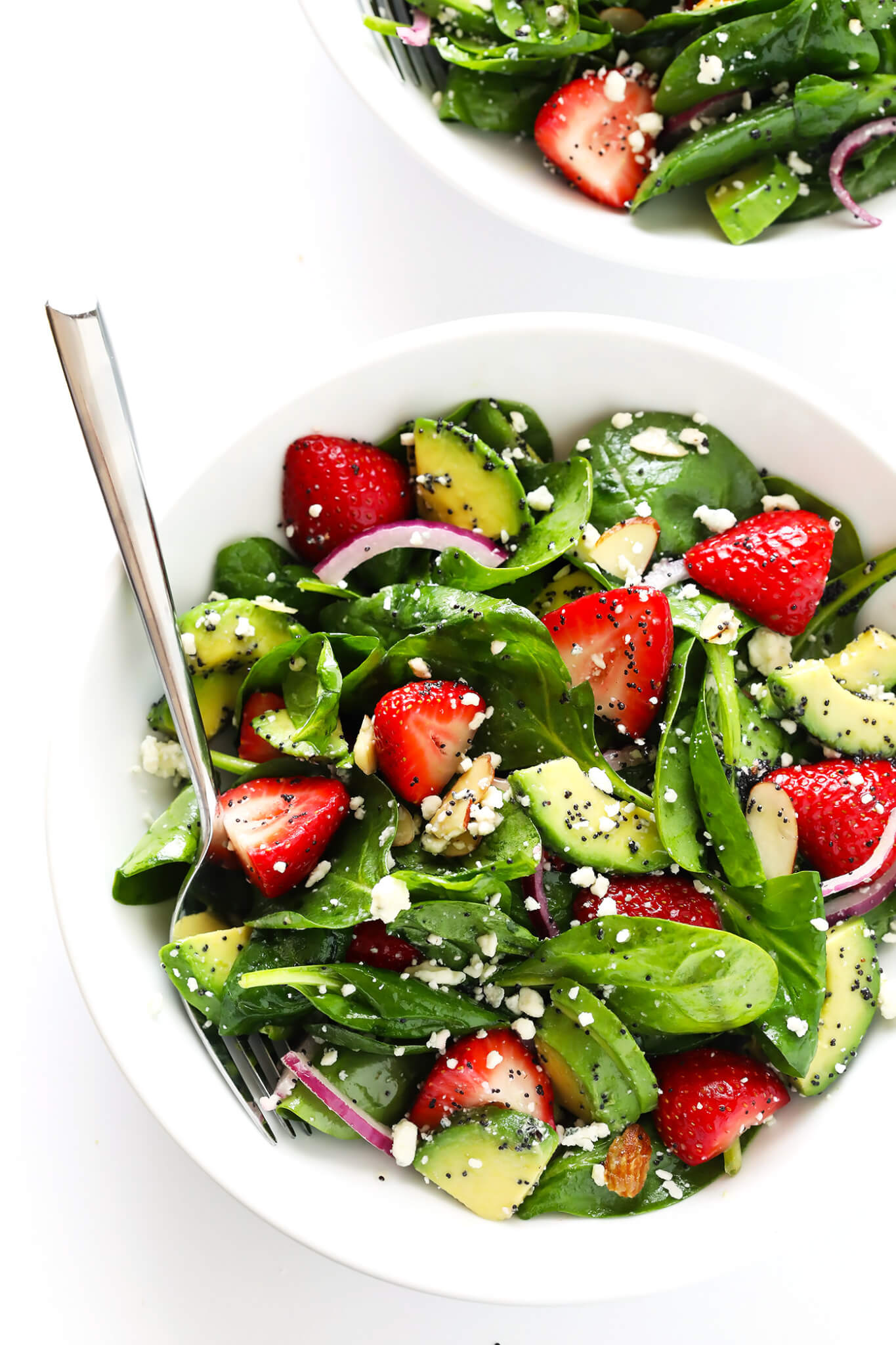 Then within minutes, this bright and beautiful spring salad will be yours to share and enjoy! It's sweet, it's creamy, it's crunchy, it's tangy — it's basically everything you can ask for in a good salad, if you ask me. 😉
Feel free to add in some grilled chicken or another protein if you'd like. Or if you'd like to make it a little heartier, I also love tossing in some chilled cooked farro or quinoa too. However you make it, I hope you enjoy it!
Happy Strawberry Season, friends!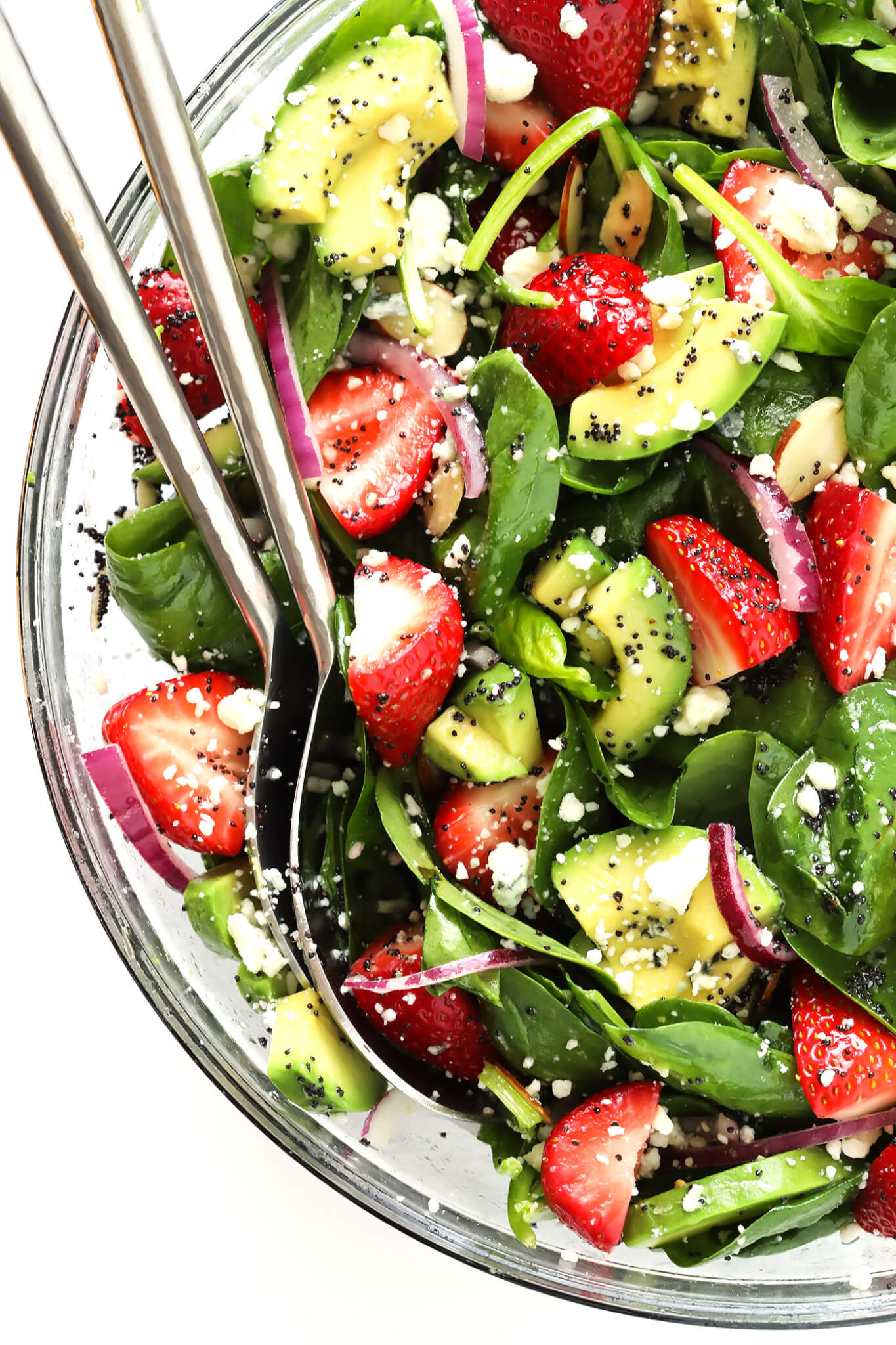 Yield: 4-6 servings
Strawberry Avocado Spinach Salad with Poppyseed Dressing
This delicious Strawberry Avocado Spinach Salad is quick and easy to make, full of great fresh flavors, and tossed with a simple poppyseed dressing.
Ingredients:
Salad Ingredients:
6 cups fresh baby spinach
1 pint strawberries, hulled and sliced
1 avocado, peeled, pitted and diced (or you can double this to 2 avocados!)
4 ounces crumbled gorgonzola or blue cheese
1/4 cup sliced almonds, toasted
half a small red onion, thinly sliced
1 batch poppyseed dressing (recipe below)
Poppyseed Dressing Ingredients:
1/3 cup avocado oil (or any oil, such as olive oil)
3 Tablespoons apple cider vinegar
2 tablespoons honey
1 tablespoon poppy seeds
pinch of ground dry mustard (optional)
salt and pepper
Directions:
To Make The Salad:
Toss all ingredients together with your desired amount of dressing until combined. Serve immediately.
To Make The Poppyseed Dressing:
Whisk all ingredients together until combined. Add a pinch of salt and pepper, or more to taste.
If you make this recipe, be sure to snap a photo and hashtag it #gimmesomeoven. I'd love to see what you cook!
This post contains affiliate links.