Bacon Cheddar Pretzel Cheese Ball-this easy cheese ball is the perfect party appetizer. It can be made in advance and is great served with crackers.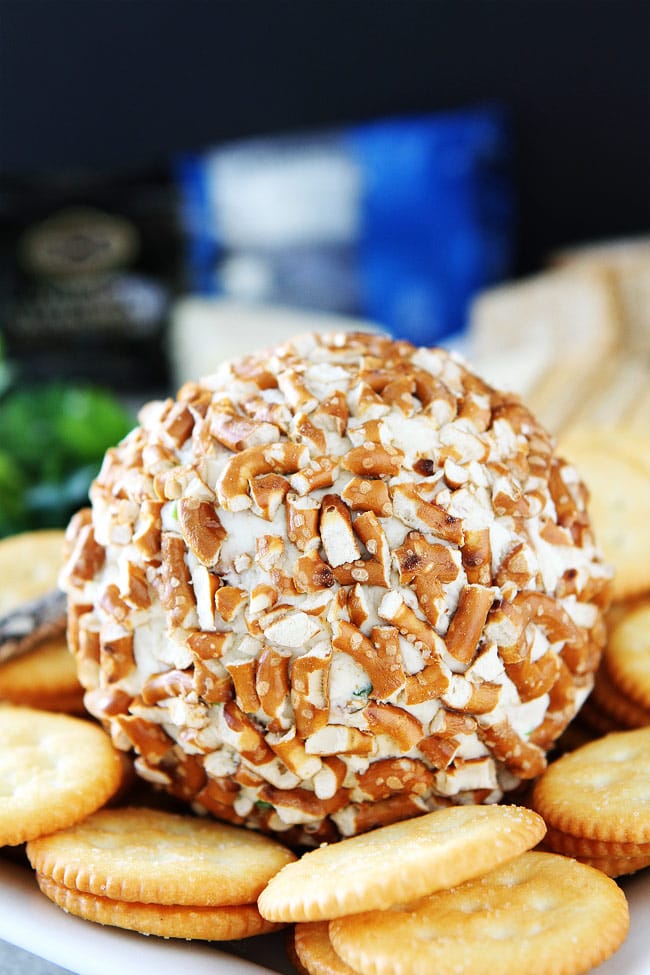 This post is sponsored by Kroger.
Over the holidays, I made my favorite Cheese Ball, but Josh couldn't have it because he is allergic to nuts and it is covered in pecans. Oops. I was feeling kind of bad that he got left out of the cheese ball situation so I made Josh a special cheese ball with BACON! I knew all of my boys would love this Bacon Cheddar Pretzel Cheese Ball.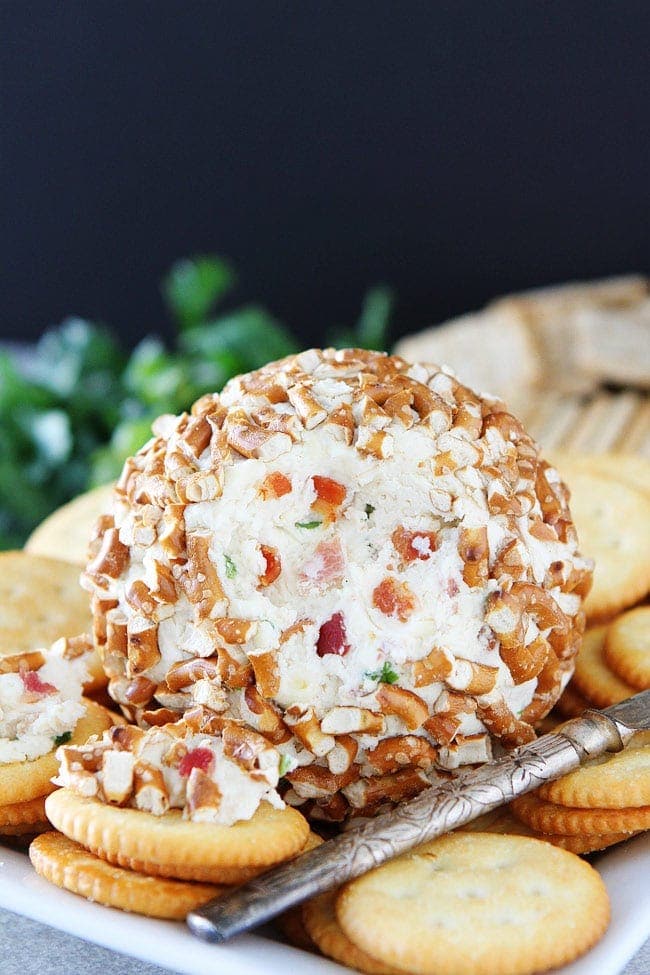 Bacon? Did you hear the word bacon? When my boys hear the word bacon or smell bacon, Josh included, they come running. They LOVE bacon so I knew this cheese ball would be a hit.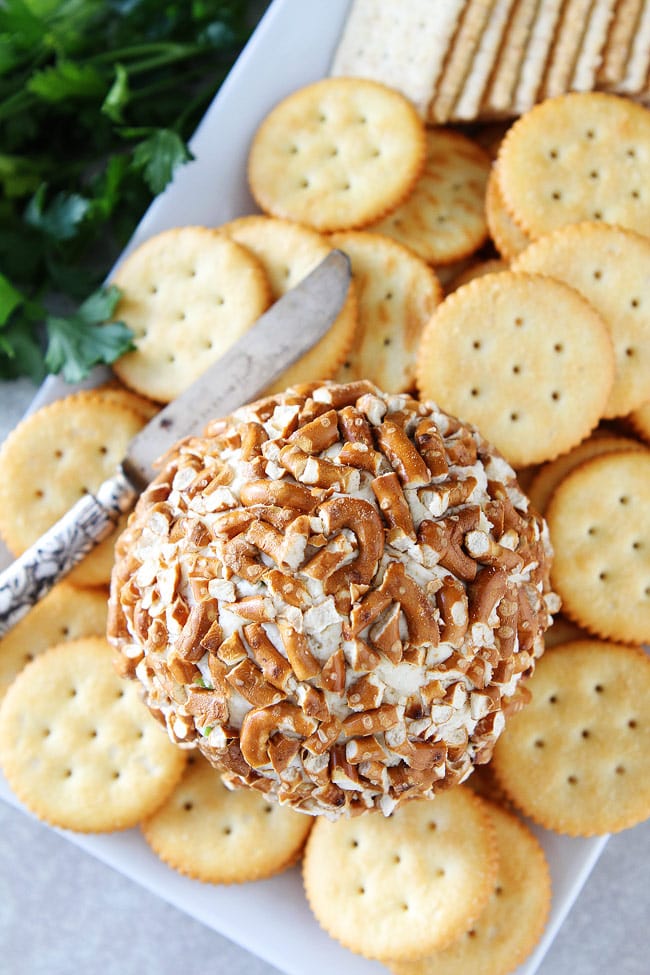 This cheese ball is super easy to make and can be made in advance so it is perfect for parties. The cheese ball starts with cream cheese and Private Selection Vermont Extra Sharp White Cheddar Cheese, which is my favorite Cheddar. It is SO good. Next, I add garlic powder, worcestershire sauce, chopped Private Selection bacon, green onions, and a few dashes of hot sauce.
I chill the cheese ball in the fridge until it is party time or snack time and then I roll the ball in chopped salty pretzels. Serve with crackers and you have the PERFECT party appetizer.
My boys devoured this cheese ball. They loved it so much that they have already put in their request for the Super Bowl. They said this Bacon Cheddar Pretzel Cheese Ball is a game day MUST! It got me major points with my boys and I am sure your friends and family will love it too! Enjoy!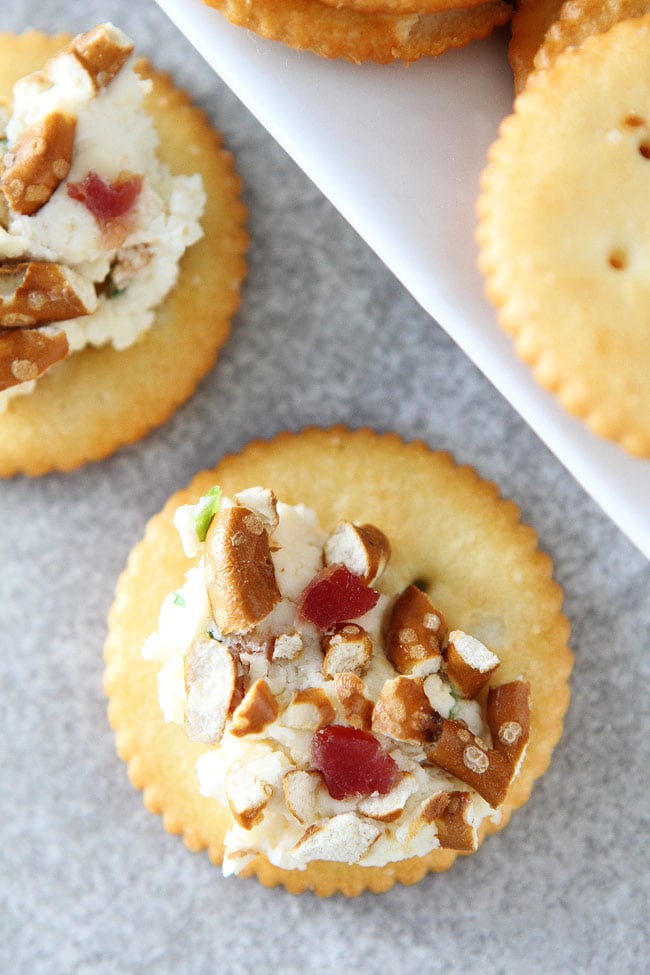 Bacon Cheddar Pretzel Cheese Ball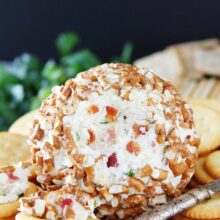 The perfect appetizer for any party!
Yield: 1 cheese ball
Prep Time:10 minutes
Total Time:1 hour 10 minutes (includes chill time)
Ingredients:
8 ounces cream cheese, at room temperature
1 1/2 cups shredded Private Selection white sharp cheddar cheese
1/2 teaspoon garlic powder
1 teaspoon worcestershire sauce
1/4 cup diced cooked Private Selection bacon (about 4 slices)
2 green onions, sliced
A few dashes of hot sauce
1 cup chopped pretzels
Crackers, for serving
Directions:
In the bowl of a stand mixer, beat the cream cheese until smooth. Add the shredded cheddar cheese and mix until just combined. Add the garlic powder, worcestershire sauce, bacon, green onions, and hot sauce. Mix until well combined combined.
Spoon cheese mixture onto a large sheet of plastic wrap and form into a ball. Wrap cheese ball in plastic wrap and chill for at least one hour.
When ready to serve, remove the cheese ball from the refrigerator. Place chopped pretzels on a plate. Unwrap cheese ball and gently roll in pretzels, coating well. Place on a serving plate and serve with crackers.
Note-the cheese ball will keep in the refrigerator for up to 2 weeks. If you are going to keep it in the fridge for that long, wait to add the pretzels until ready to serve so they don't get soggy.
Follow twopeasandpod on Instagram and show us what recipes you are making from our blog! Use the hashtag #twopeasandtheirpod! We want to see what you are making in your kitchen!