Easy and healthy baked greek chicken & veggies sheet pan dinner is seasoned and cooked to flavorful perfection and couldn't be easier with just one pan and a handful of simple ingredients.
Merry belated Christmas!! If you celebrate Christmas, I hope it was the merriest you've had yet, full of everything and everyone you love and LOTS of good food. If you don't celebrate this particular holiday, I still love ya and hope your December 25th was memorable in some other way and was at the very least, a peaceful and relaxing Sunday and that you got your batteries re-charged for a big week ahead. It's that time of year when we're making New Years Resolutions and goals for the upcoming months. I've got a little list going, on a sticky note as usual, and as always I've got some food-related aspirations for 2017.
This one pan meal is a great way to kick-start your healthy eating New Years Resolutions. It's easy to make, incredibly tasty, and quick quick quick – ready in about 30 minutes! All you need is a handful of veggies, some chicken breasts, a little Mediterranean seasoning (your favorite store-bought OR my easy recipe) and some fresh lemon slices for the ultimate one pan meal. Put this one on your menu, it will not disappoint!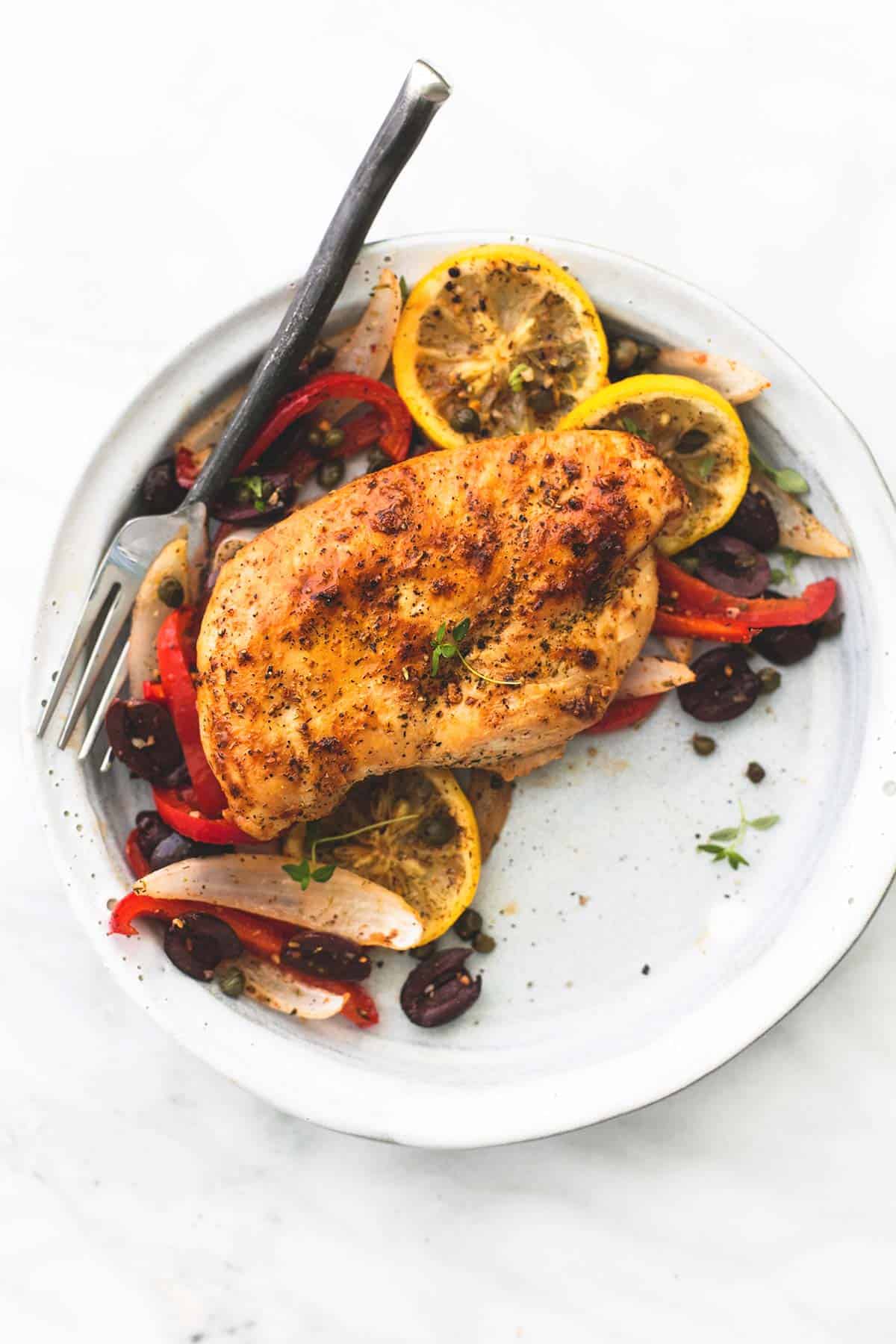 Baked Greek Chicken & Veggies Sheet Pan Dinner
Author: Tiffany
Recipe type: Main Dish
Cuisine: Mediterranean
Serves: 4
Ingredients
4 boneless skinless chicken breasts, pounded to even thickness
salt and pepper to taste
mediterranean seasoning (see note)
1 lemon, thinly sliced
2 tablespoons vegetable oil
1 red bell pepper, chopped or sliced
½ cup kalamata olives, halved
1 medium onion, chopped or sliced
2 tablespoons capers
Instructions
Preheat oven to 400 degrees. Season chicken with salt and pepper to taste and about 3 teaspoons Mediterranean seasoning on both sides. (see note)
Combine lemon sliced, red bell peppers, olives, onions, and capers in a bowl. Drizzle with oil and stir to coat. Sprinkle with remaining Mediterranean seasoning and stir to coat well.
Arrange chicken, lemon slices, red bell peppers, olives, onions, and cappers on a large, greased baking sheet.
Bake, uncovered, for 15–20 minutes until chicken is cooked through and veggies are tender. Top with cracked black pepper and fresh herbs (optional) and serve immediately.
Notes
-For the Mediterranean seasoning, you can use about 1½ tablespoons of your favorite store-bought or homemade Mediterranean seasoning, OR you can whip up your own by stiring together the following: 2 teaspoons dried oregano, ¼ teaspoon ground thyme, 1 teaspoon paprika, ¼ teaspoon ground cumin, ½ teaspoon garlic powder, ½ teaspoon salt, ⅛ teaspoon garlic powder
-I like to cook the chicken in a greased skillet over medium heat on the stove top for 1-2 minutes on each side. This is an optional step but I like the added color and the slightly crispier exterior on the chicken from browning in the pan this way before baking,
3.4.3177
Related