The Best Cottage Pie recipe is here! This is the original comfort food! A tasty ground beef gravy filling is topped with  crispy, creamy mashed potato and baked until golden perfection. Swap the beef for lamb, and you'll turn this into a Shepherd's Pie!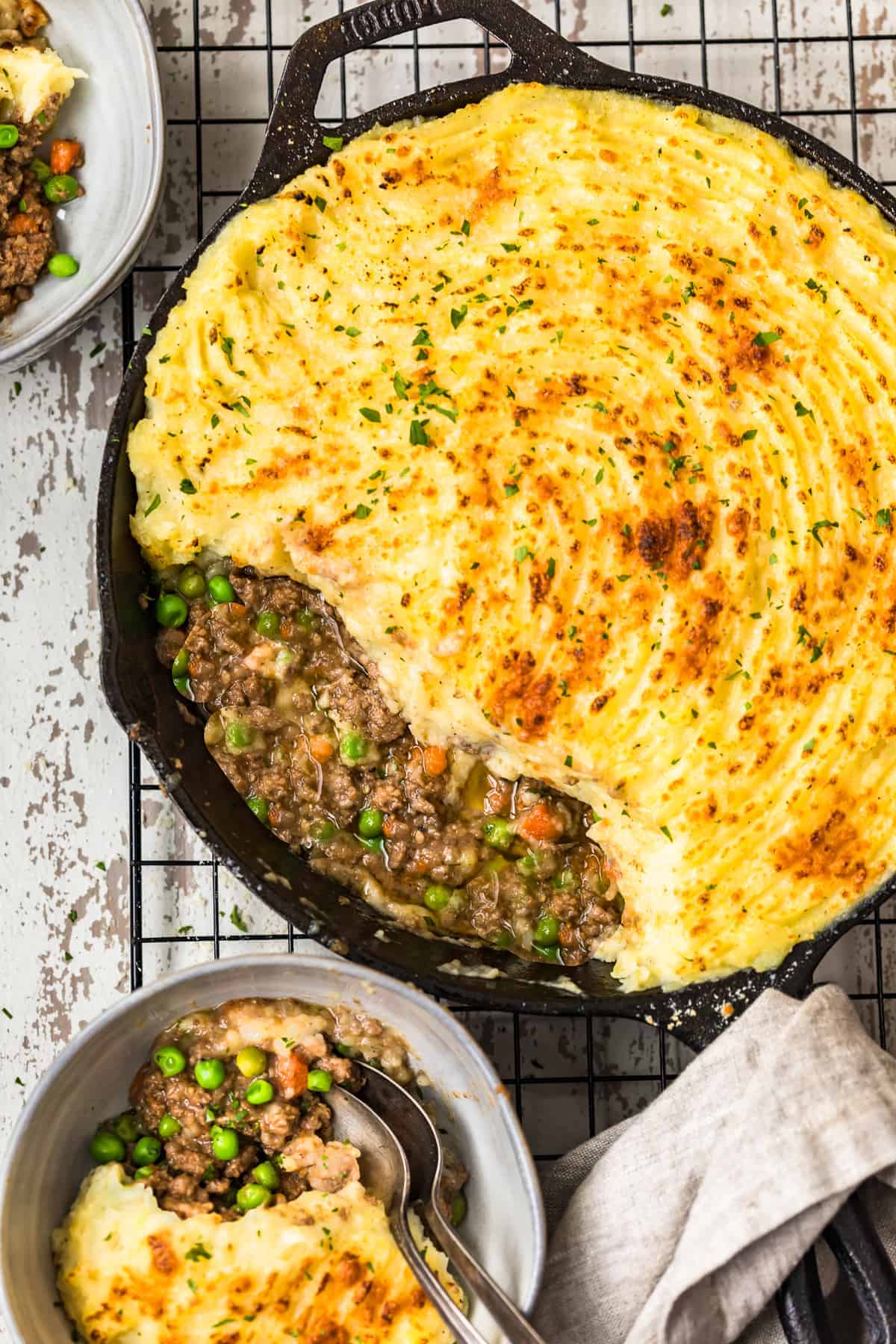 The Best Cottage pie recipe is also easy to whip up! Most of the cooking action is done in one skillet. It's hearty, comforting and delicious, you'll want to make it all year round!
How To Make The Best Cottage Pie Recipe – Step By Step
For The Mashed Potatoes
Place potatoes in a steamer basket, and steam until fork-tender, about 15 minutes. When potatoes are tender, transfer them to large saucepan set over medium-low heat. Shake the pan until excess moisture in the potatoes has evaporated.
Remove from the heat and add butter, cream, salt & pepper. Mash together until butter has melted and potatoes are smooth. (Don't over-mix or the potatoes can become gummy.) Cover with a paper towel and then with foil and set aside (the paper towel will absorb any steam).
For The Beef Mixture
Add beef to a 10-inch cast iron skillet set over medium heat. Cook beef, stirring often, until it is no longer pink, about 8-10 minutes. Transfer beef to a paper towel-lined plate and wipe the skillet dry with a paper towel. Add oil, butter and carrots to the skillet, still set over medium heat. Cook carrots 3 minutes, occasionally stirring. Add onions and cook until onions are translucent and carrots and onions have softened, about 5-6 minutes.
Add garlic, tomato paste, thyme, red pepper flakes, salt & pepper. Stir and cook an additional 1-minute, then add the cooked beef and stir. Cook for 1-minute.
While stirring and scraping up any browned bits, add the broth, Worcestershire Sauce and Madeira. Continue stirring until no lumps remain. Bring to a boil, reduce heat to low and simmer, stirring occasionally, about 10 minutes or until mixture has slightly thickened.
Remove from heat and add peas. Season to taste with additional salt & pepper, if needed.
Adjust oven rack to upper-middle position and set oven to broil.
Spoon the mashed potatoes, in an even layer, over the beef mixture and smooth with the back of a spoon. Use the tines of a fork to make ridges on the surface of the potatoes.
Sprinkle the potatoes with grated Parmesan and set the skillet in the oven and broil 5-10 minutes.
Transfer skillet to a cooling rack and cool about 5-10 minutes before serving. Sprinkle with chopped fresh parsley, if desired.
(See the recipe card below for full ingredients and instructions)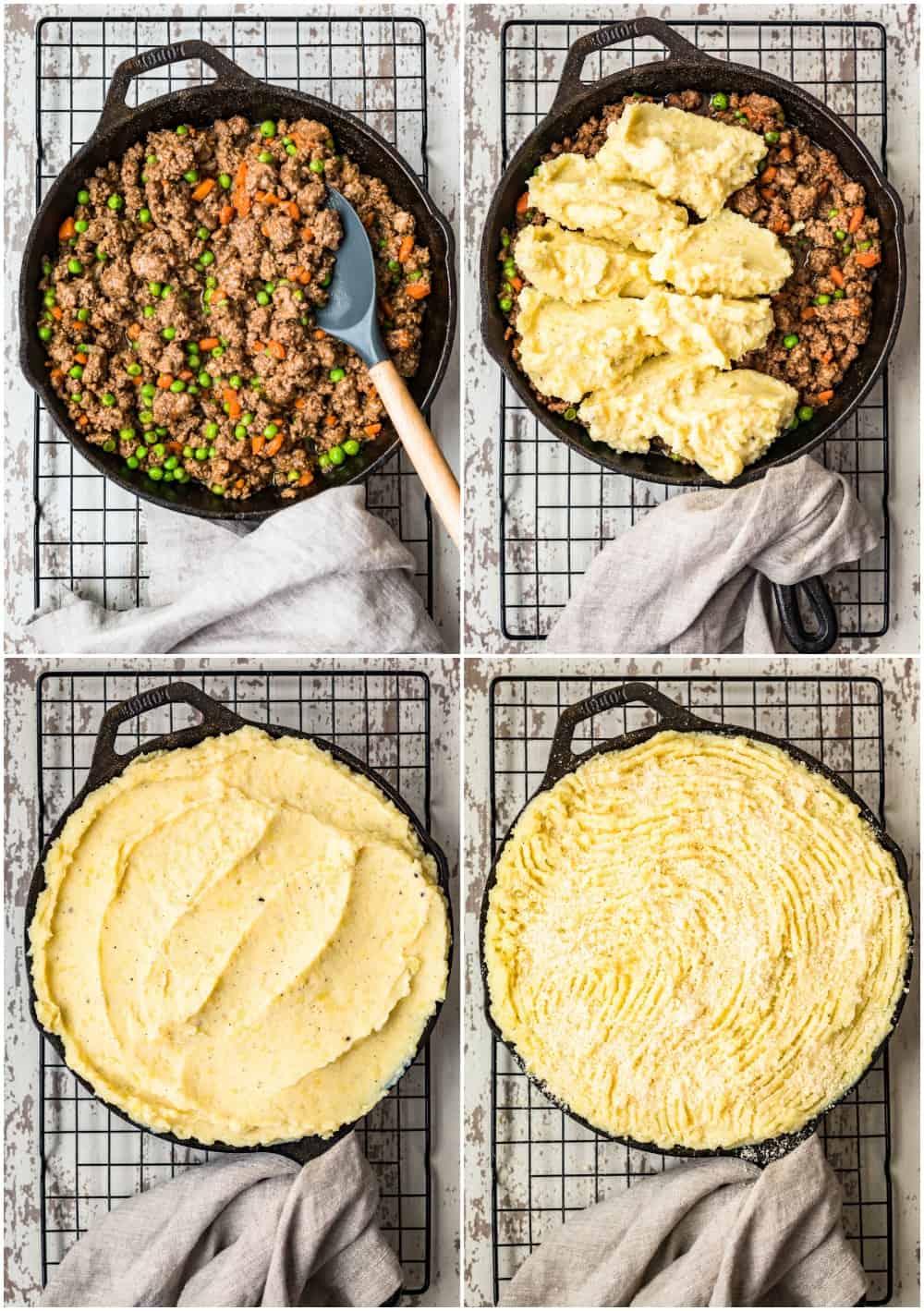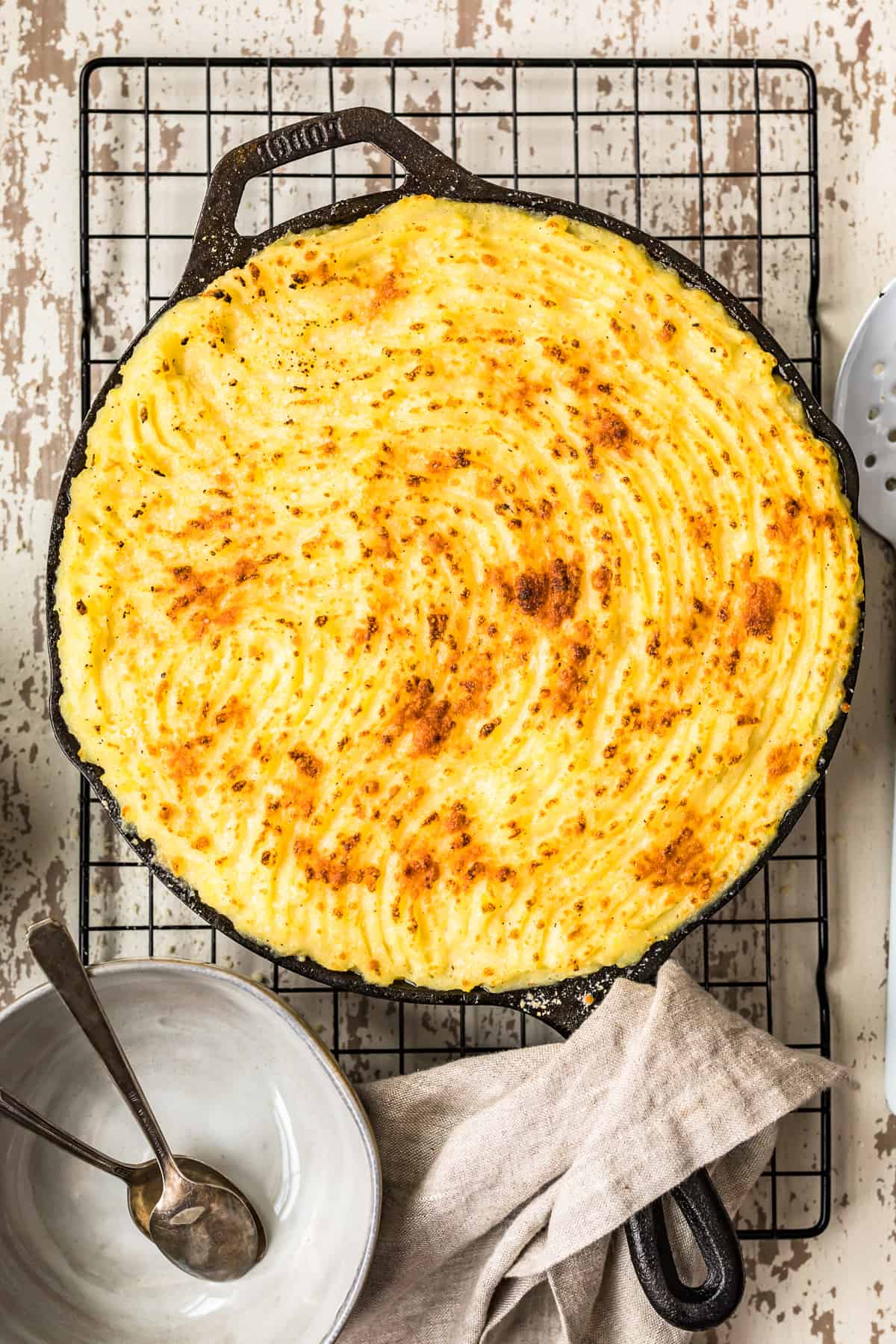 What's The Difference Between Cottage Pie And Shepherd's Pie?
Cottage Pie is a popular English classic, it's the don of comfort foods!
There is often confusion over the difference between Shepherd's Pie and Cottage Pie. Both are made the same way – a ground meat filling in a gravy sauce that is topped with mashed potato, then baked.  The only difference is that Shepherd's Pie is made with lamb instead of beef.
So if you want, just swap the beef in this recipe with lamb and you'll have a Shepherd's Pie. Both are awesome!
How to Store
Freshly baked cottage pie will keep for about 3 to 5 days in the fridge. Refrigerate covered with aluminum foil or plastic wrap. To freeze, wrap cottage pie tightly with aluminum foil or plastic freezer wrap, or place in heavy-duty freezer bag, it will last in the freezer for up to 2 months.
When ready to eat, reheat the cottage pie (still covered with the foil) for 1 hour in a 350ºF oven.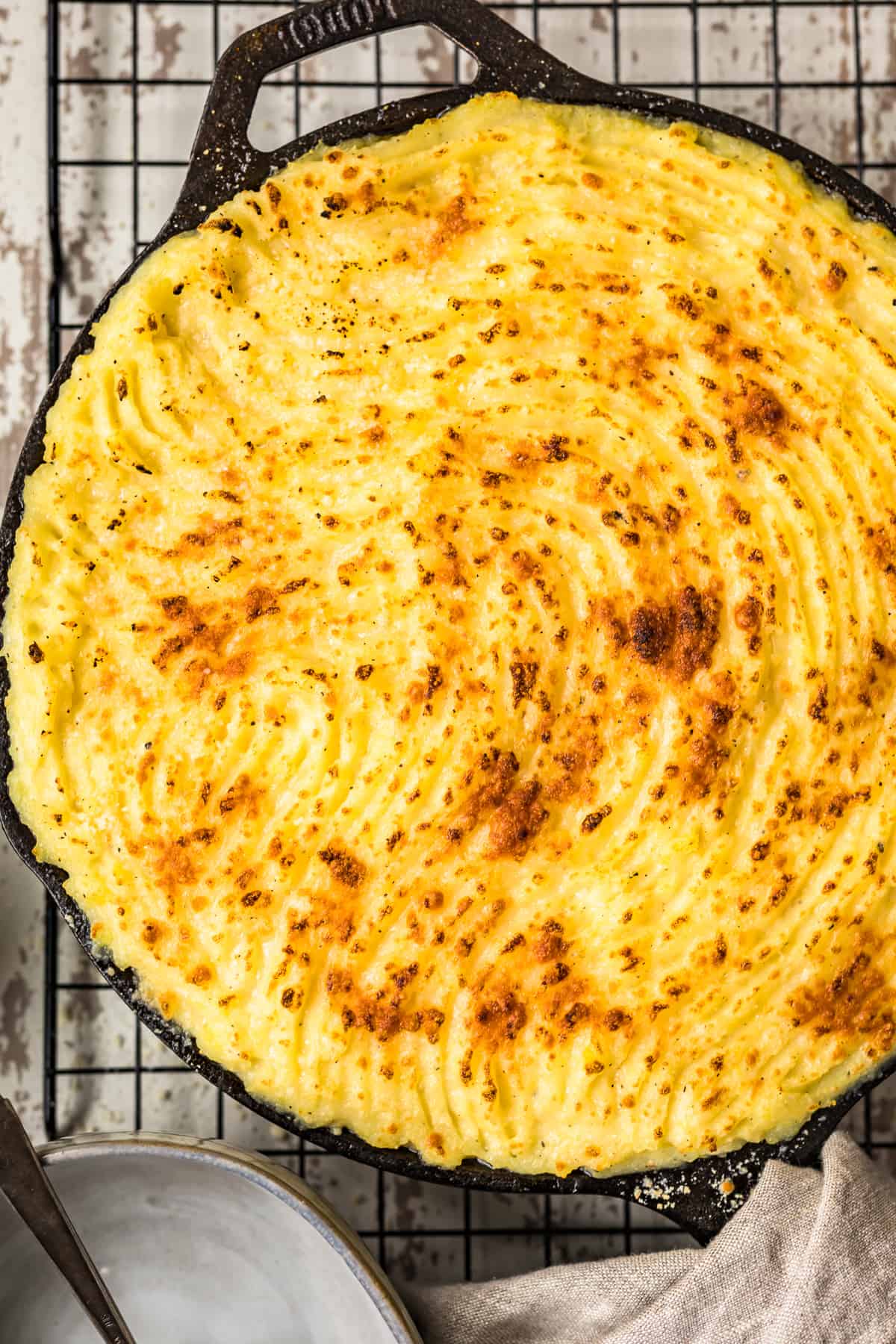 Pairing Ideas
For a cosy meal on a cold winter night, you can't beat a Cottage Pie with perhaps a side of Glazed Roasted Carrots and Grilled Asparagus Recipe with Lemon Butter. The only other thing you need is a glass of red wine!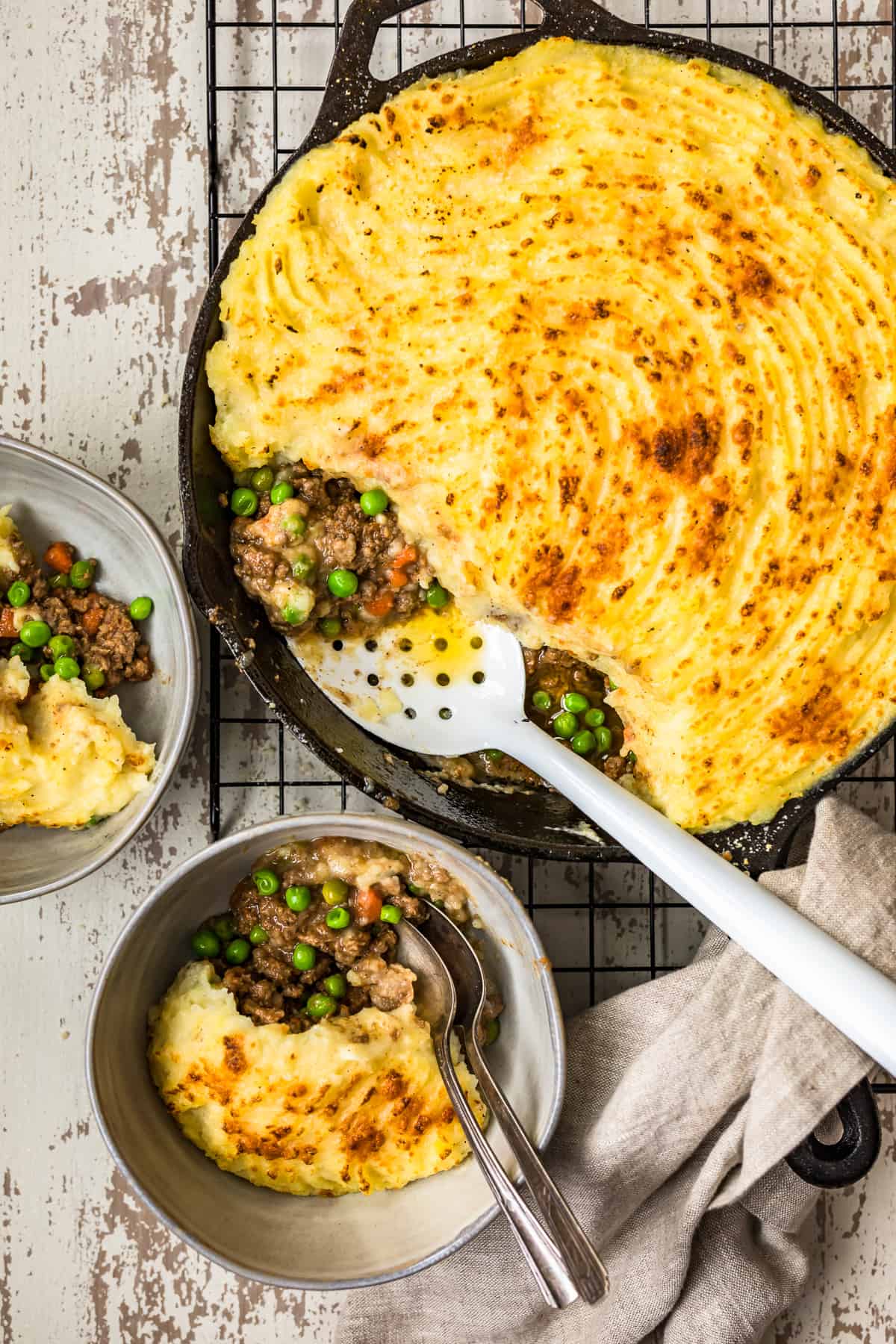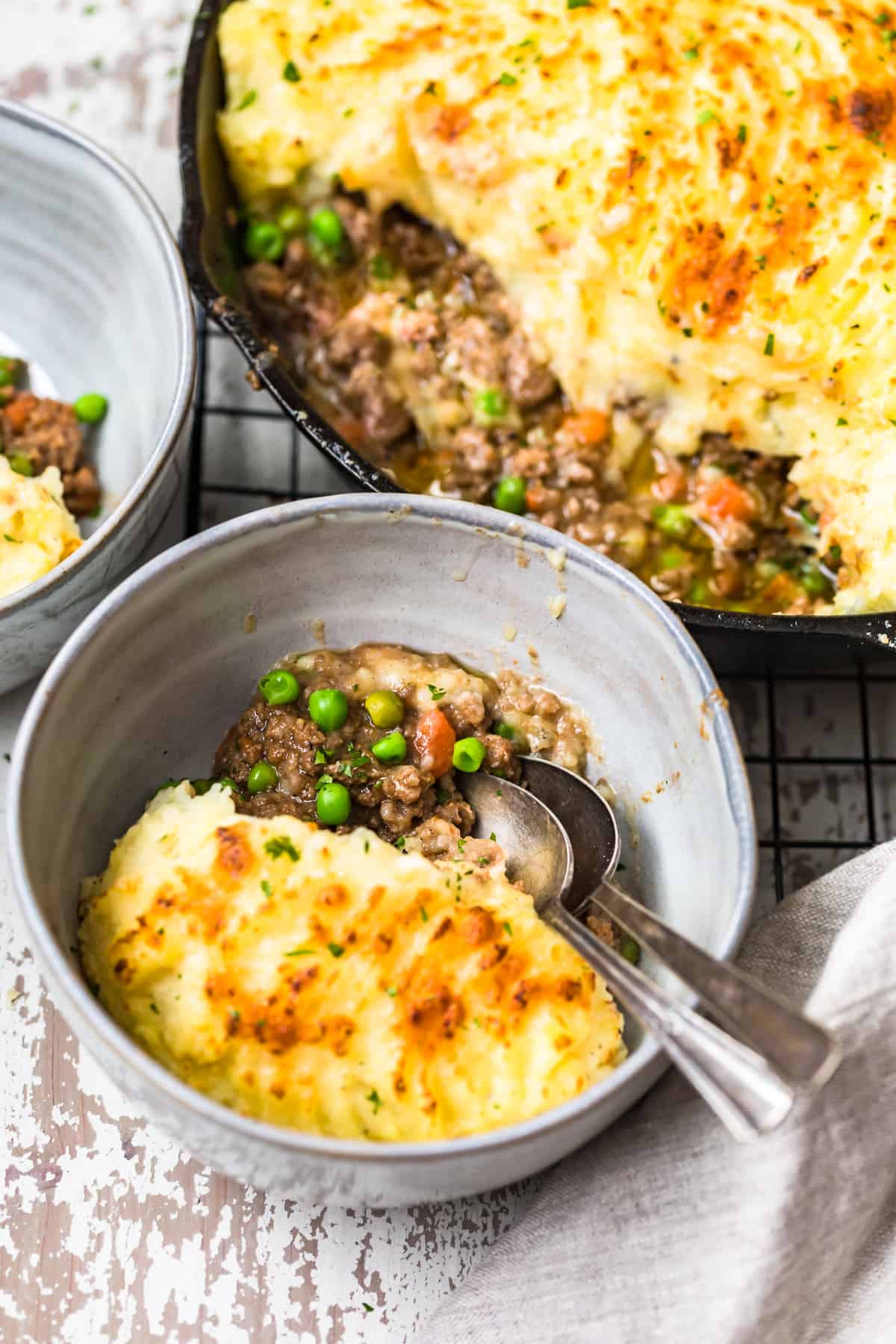 Recipe Tips
If using a cast iron skillet make sure to put a tea towel around the handle, things get hot!
To stop the potato from sinking into the filling, cool the filling first. But this isn't essential.
Ensure the filling reduces down enough. to ensure you don't end up with a watery filling after baking. It's so disappointing when you break through the potato to be greeted with a beef sitting in a watery sauce!
You can swap the beef for lamb, to make a delectable shepherd's pie!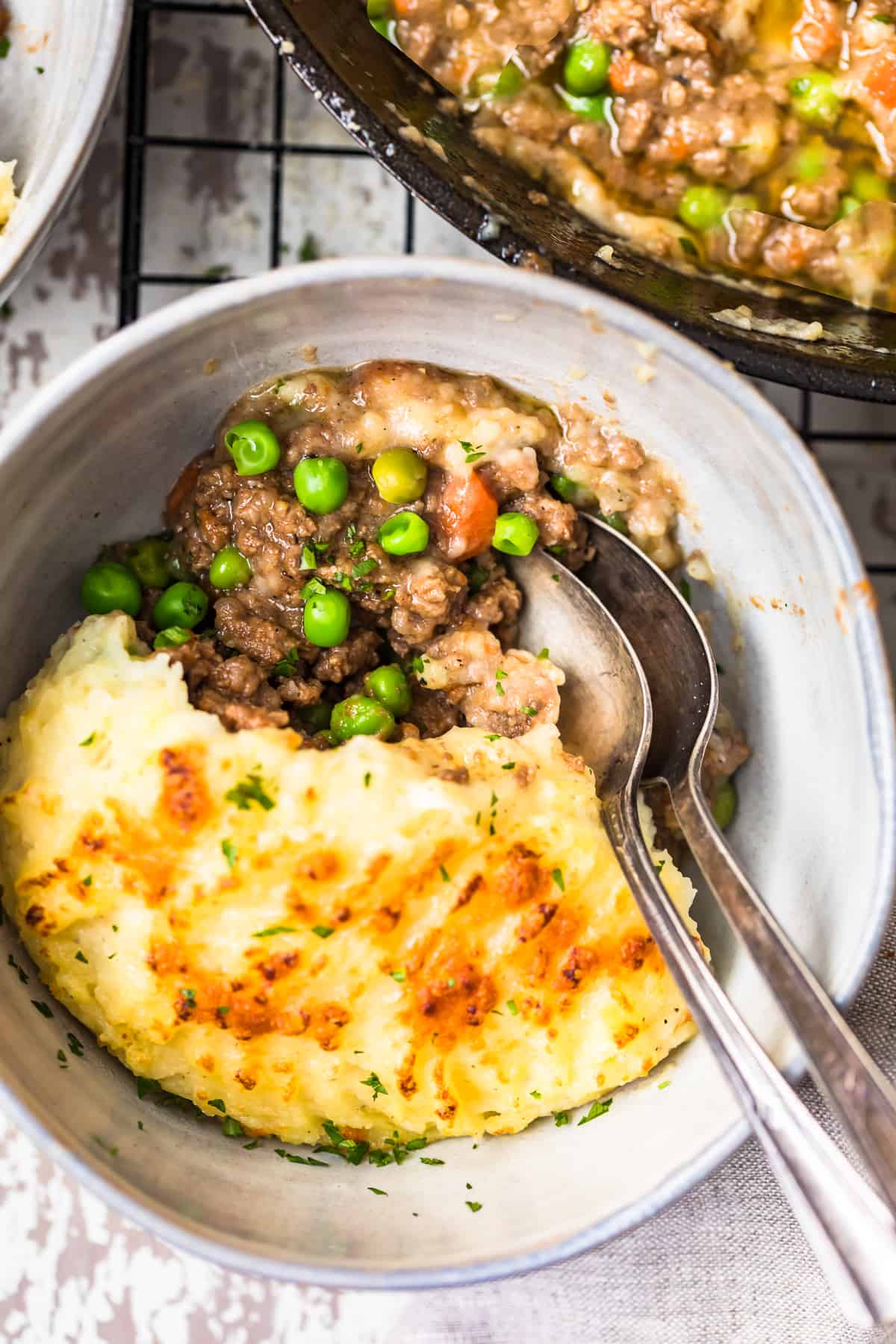 Check Out These Other Delicious Pie Recipes
Have you tried the Best Cottage Pie recipe? Feel free to leave a star rating and I'd love to hear from you in the comments below!