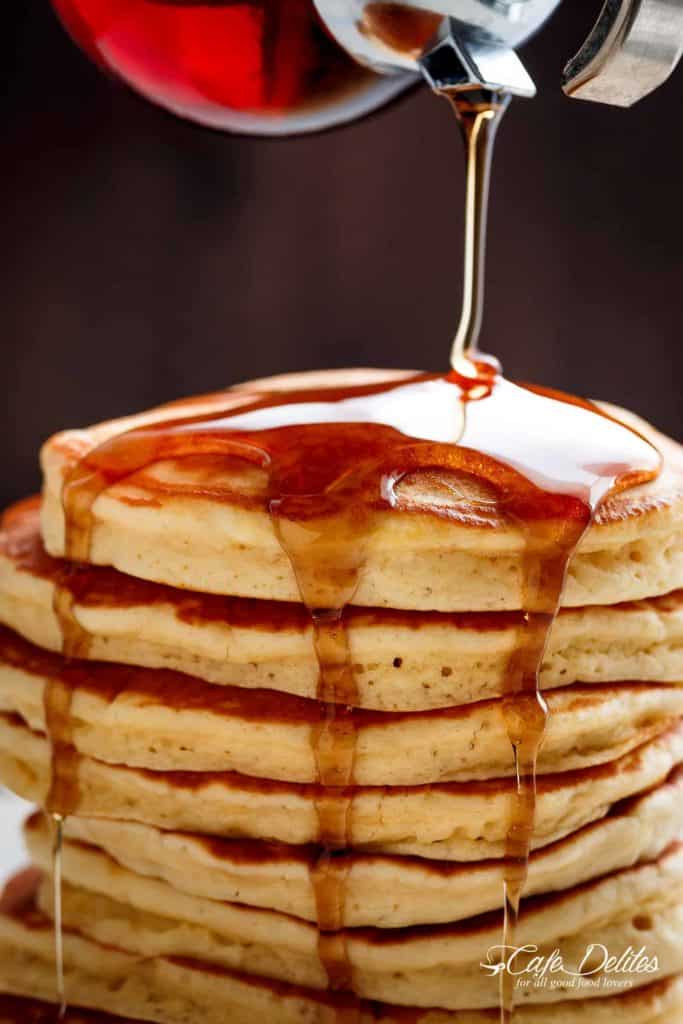 Look no further because a steaming stack of perfectly soft, Best Fluffy Pancakes are right here! Weekends will never be the same again! And NO buttermilk needed!
SIMPLE. EASY. QUICK. FLUFFY.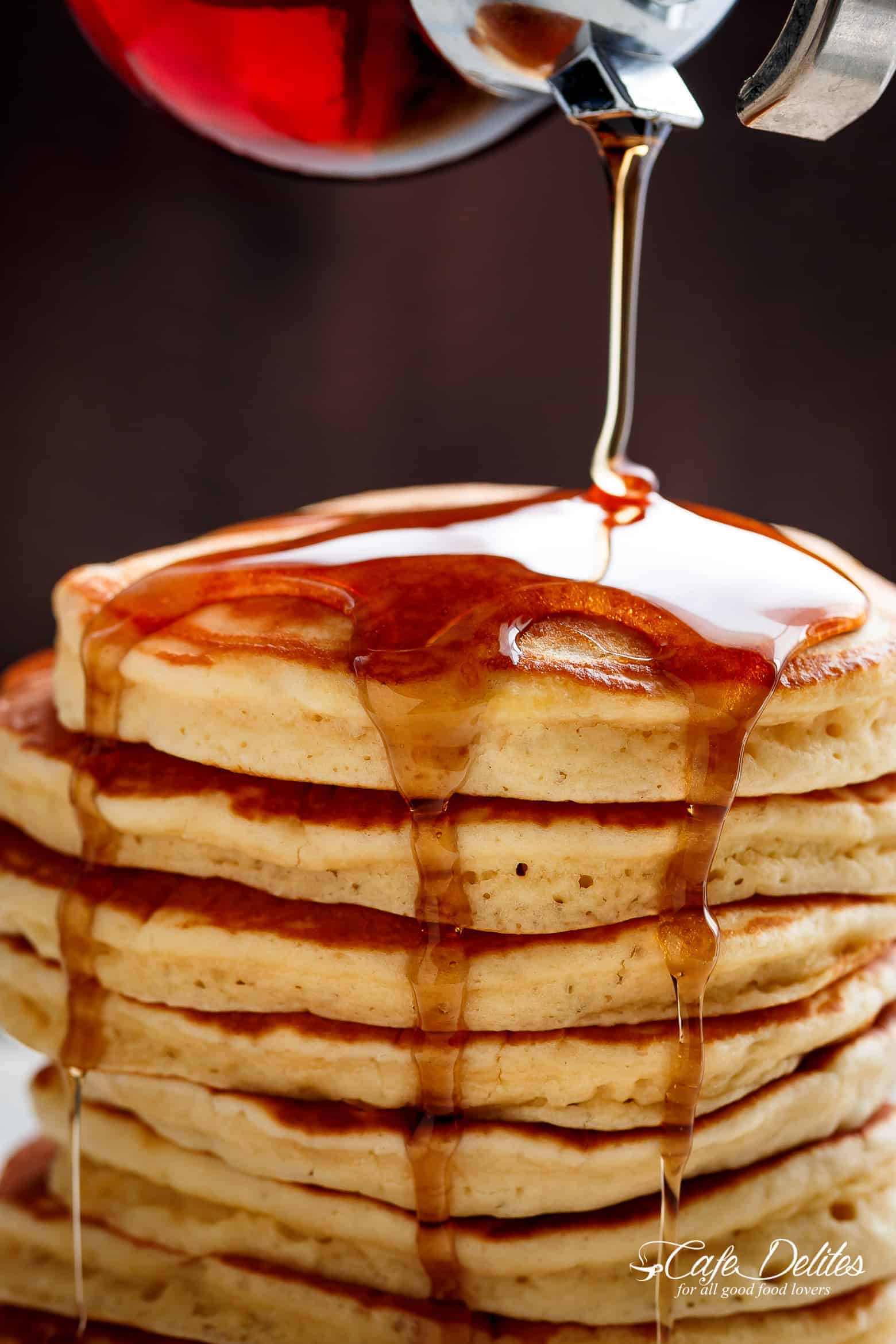 This is our no fail weekend pancake recipe. Every single Sunday begins with pancakes… and ends with leftover pancakes from the morning. These are everything you want in a pancake. They're soft and so fluffy… each mouthful melts in your mouth… you'll be reaching for more than one. Stack. Possibly.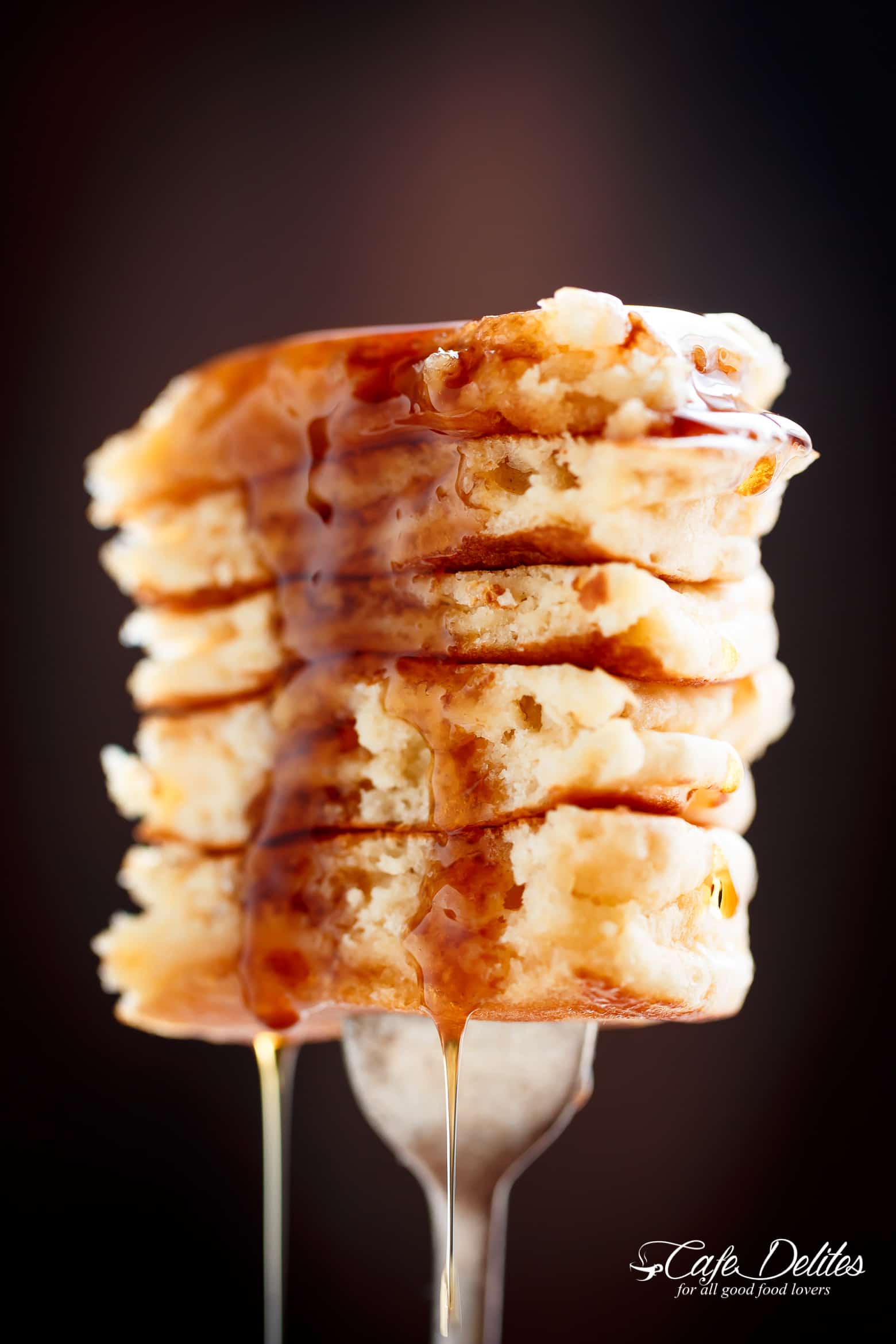 Now, I'm fully aware that many many bloggers throw around the word perfect and best. If you've been following me for a while, you know I don't throw those words around lightly.
The most difficult part of shooting pancakes on a weekend morning WITH kids, is the constant circling around me with ZERO patience levels, waiting for pancakes, watching the pancakes with the syrup cascading down each pancake.Pure torture. For me. Nevertheless, they survived. The kids did too. And we all lived happily ever after.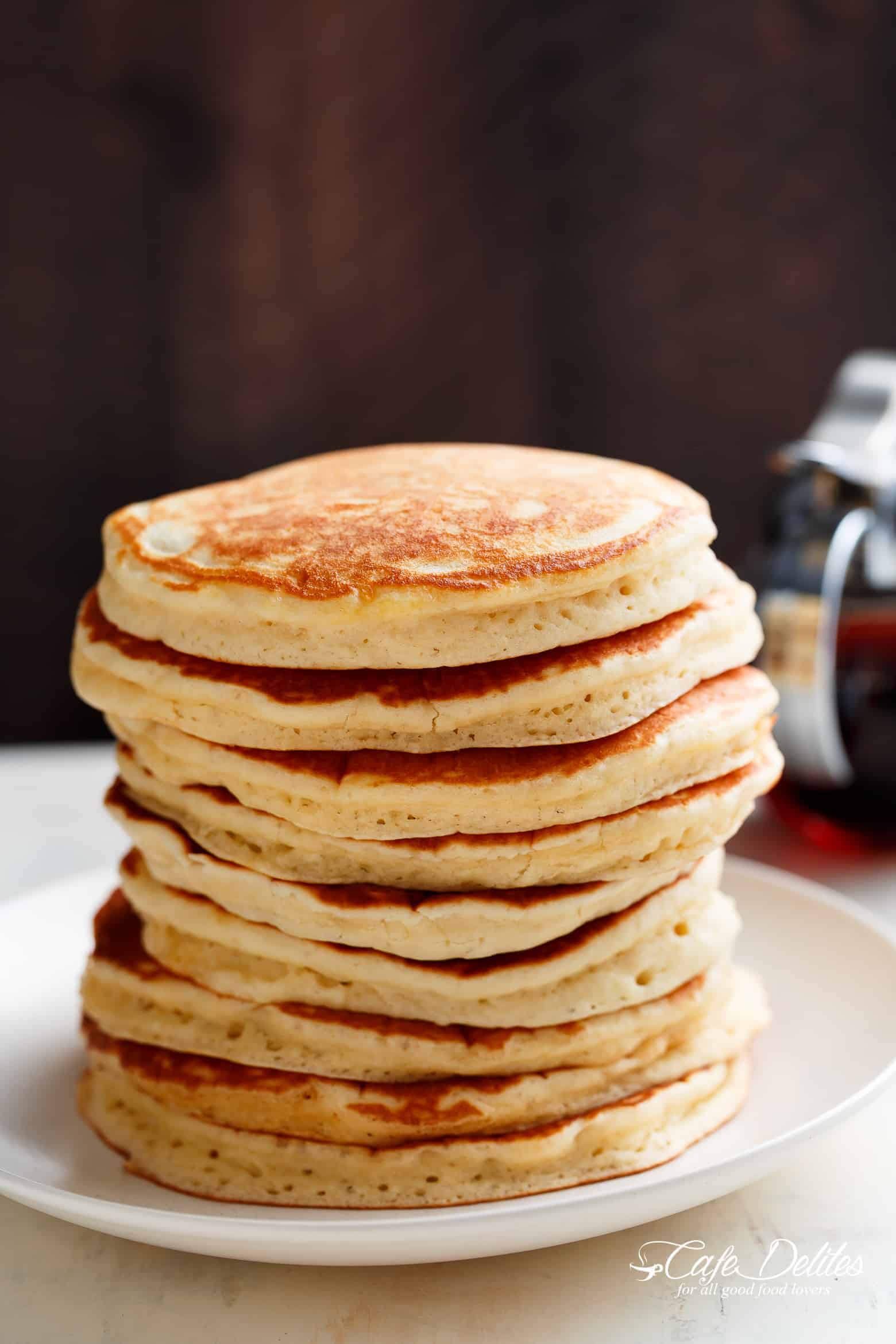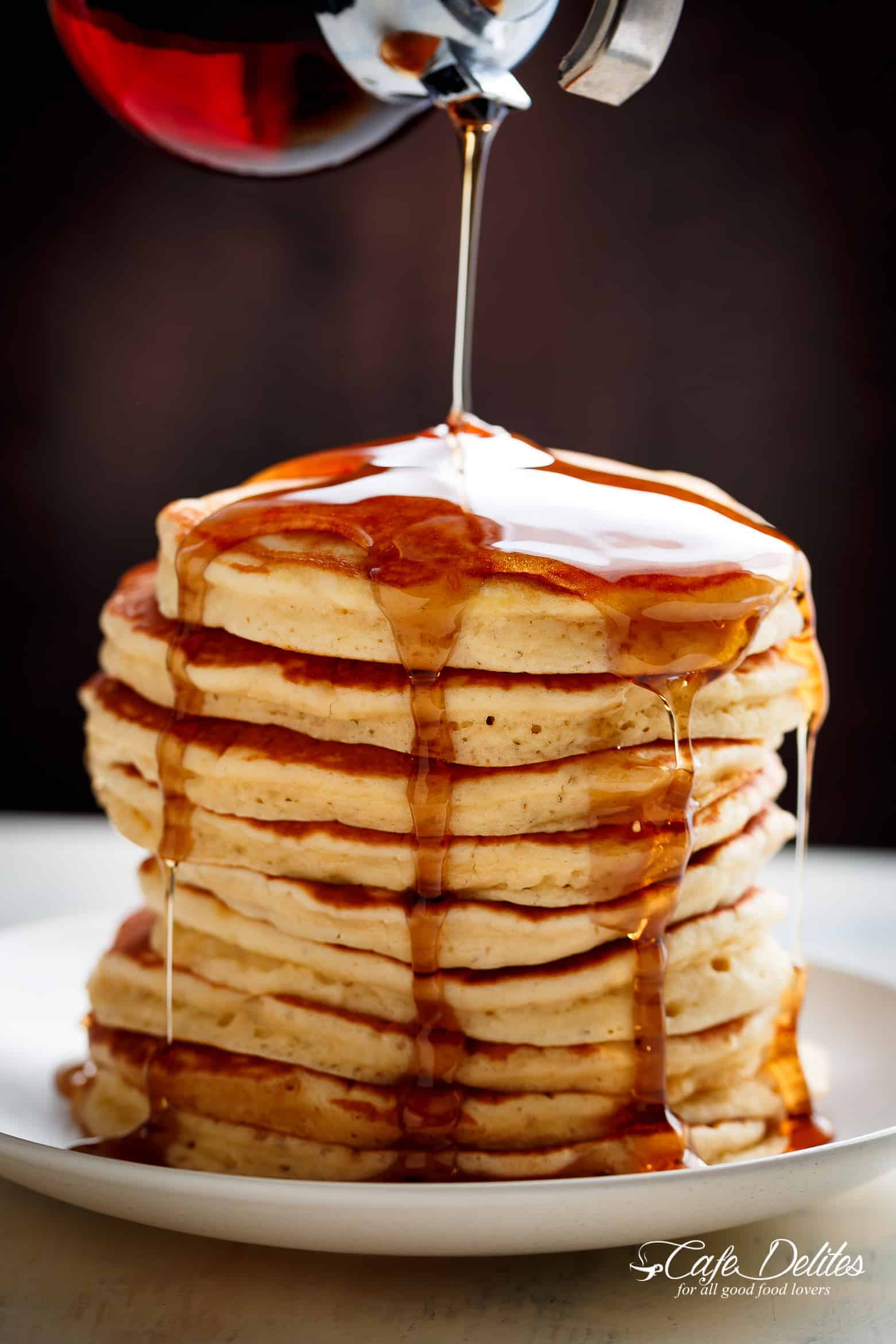 How To Make The Best Fluffy Pancakes
It all starts with the batter. Too thick and the will be gluggy and undercooked on the inside. Too runny, and the pancakes will spread out and won't fluff up. I like to test the batter with my spoon or ladle, lifting it gently above the rim of the bowl. It has to be thick BUT able to run slowly and nicely off of the spoon. A couple of lumps is okay, but I do like to smooth out my batter as much as I can gently with a wire whisk.
Preheat your good quality, non stick pan or griddle on medium heat first. Once it's hot, lower the heat down to low-medium heat. Wait about two minutes. This part is crucial and so worth it. Lightly grease the pan with a small amount of butter (yes, even on non stick pans), and wipe away any excess butter with a sheet of paper towel.
Use a 1/4 cup measuring cup to pour your batter so you get perfect, evenly sized pancakes. Start pouring from the middle, then continue pouring slowly in a circular motion so that the batter spreads into perfect round shapes.
Allow the pancakes to cook properly! Don't rush them on high heat, or flip them too early. Let that under-side cook to a beautiful golden brown colour, and when bubbles start forming on top and around the surface (batter side), they are ready to flip.
How to get that flip perfected without creating lopsided pancakes? Grab a good, plastic spatula and slide it underneath the pancake. Use your WRIST to gently flip them instead of using your whole arm. You'll know what I mean when you're in front of your pan ready to flip. THIS makes a HUGE difference.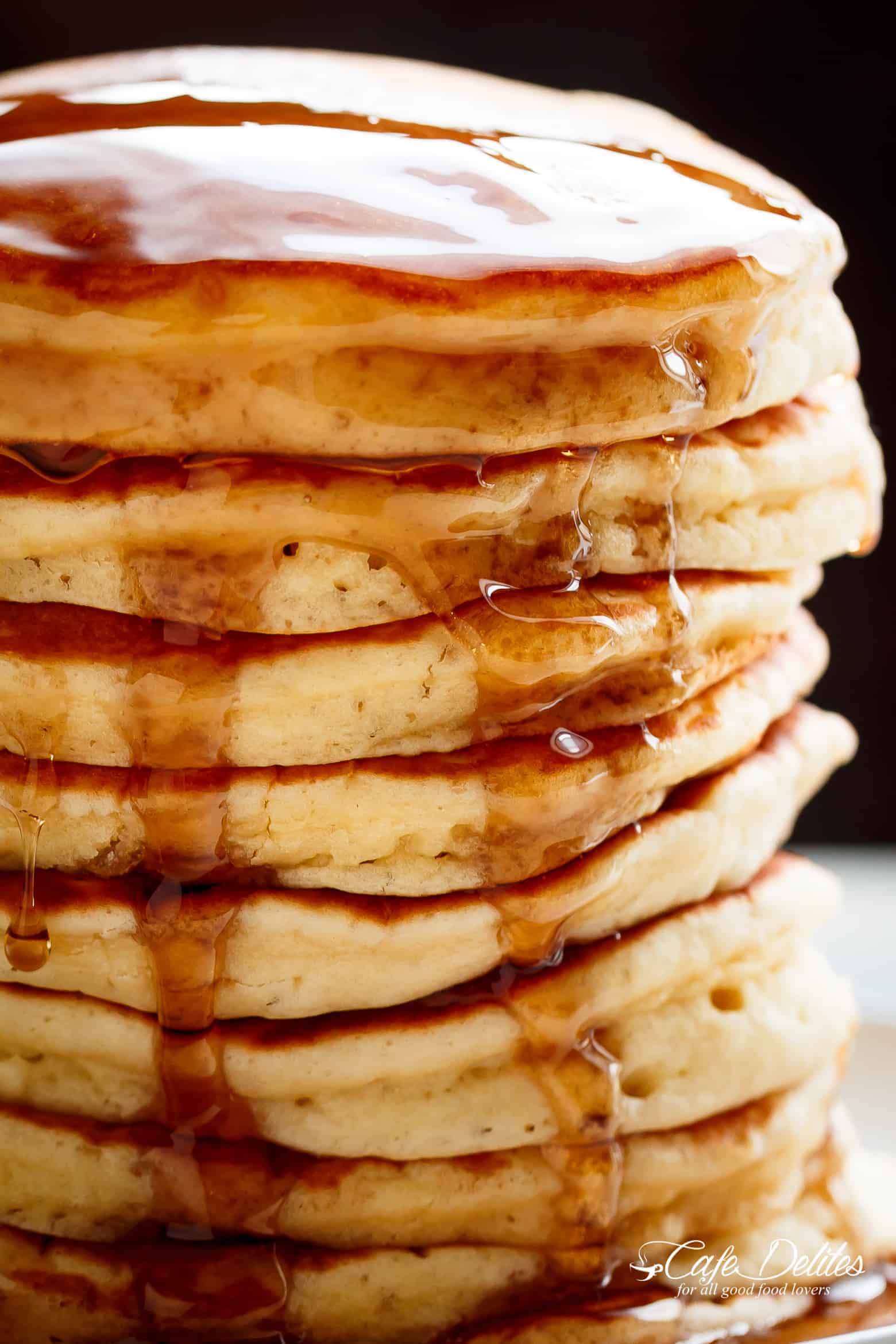 And……perfect pancakes. Almost like a good sponge cake!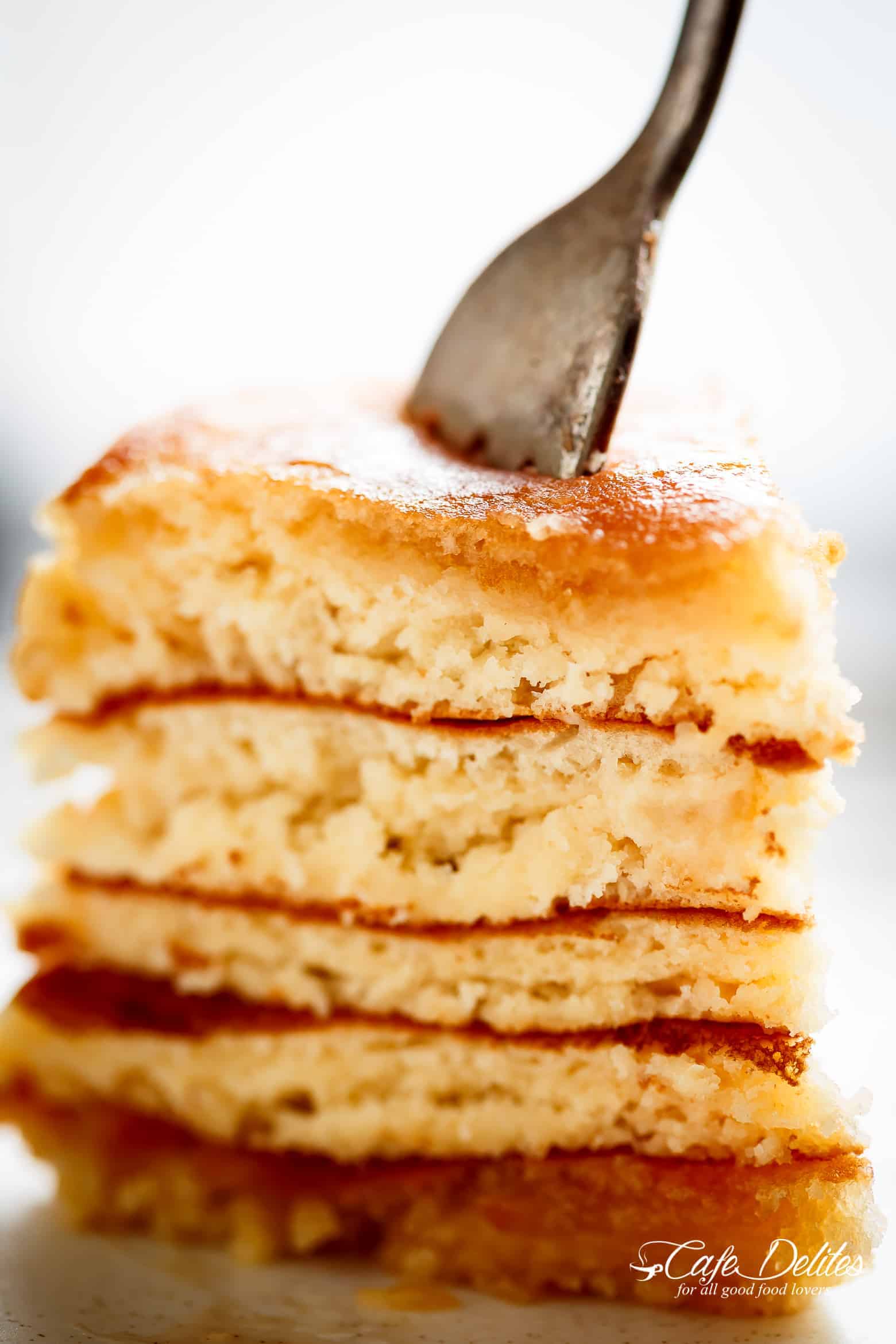 The Best Pancakes Recipe!
Best Fluffy Pancakes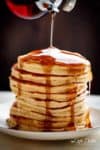 Look no further because a steaming stack of perfectly soft, Best Fluffy Pancakes are right here! Weekends will never be the same again!
2 cups all purpose | plain flour
1/4 cup granulated sugar or sweetener
4 teaspoons baking powder
1/2 teaspoon salt
1 2/3 cup milk
1/4 cup butter (, melted)
2 teaspoons pure vanilla extract
1 large egg
Combine together the flour, sugar (or sweetener), baking powder and salt in a large-sized bowl. Make a well in the centre and add the milk, slightly cooled melted butter, vanilla and egg. Use a wire whisk to the wet ingredients together first before slowly folding them into the dry ingredients. Then lightly whisk everything together until smooth (there may be a couple of lumps but that's okay). 

Set the batter aside and allow to rest while heating up your pan or griddle. (The batter will be thick and creamy in consistency. If you find the batter too thick — doesn't pour off the ladle or out of the measuring cup smoothly, fold through a couple tablespoons of extra milk into the batter).

Heat a nonstick pan or griddle over low-medium heat and wipe over with a little butter to lightly grease pan. Pour ¼ cup of batter onto the pan and spread out gently into a round shape with the back of your ladle or measuring cup.
When the underside is golden and bubbles begin to appear on the surface, flip with a spatula and cook until golden. Repeat with remaining batter.
Serve with honey, maple syrup, fruit, ice cream or frozen yoghurt, or enjoy plain!
Nutritional Information has been calculated per pancake.
More Pancake Recipes!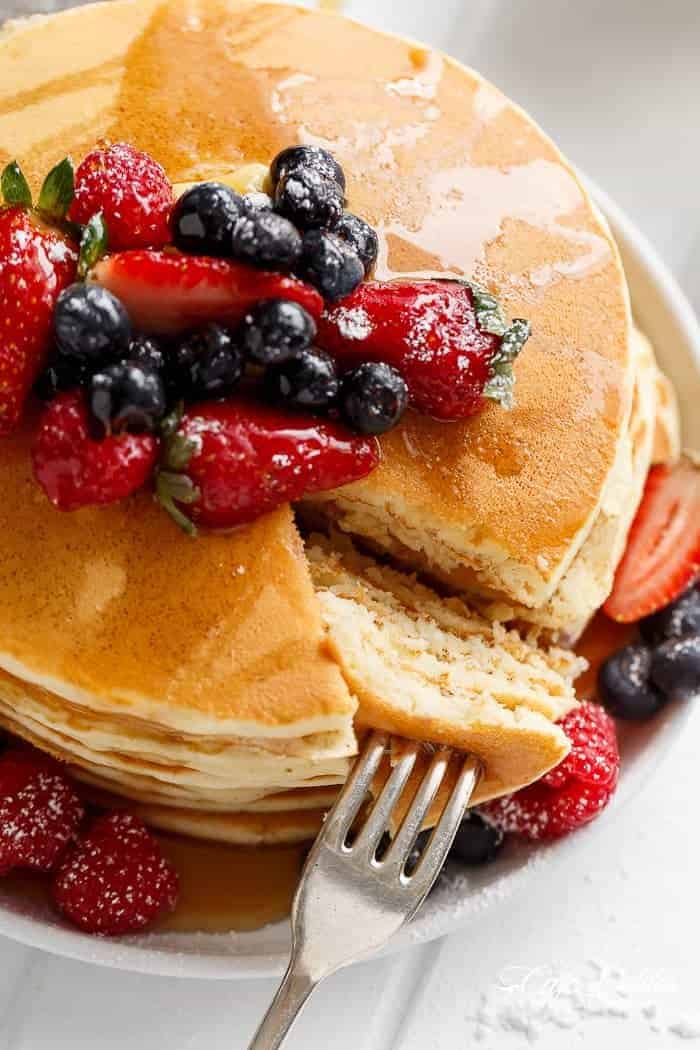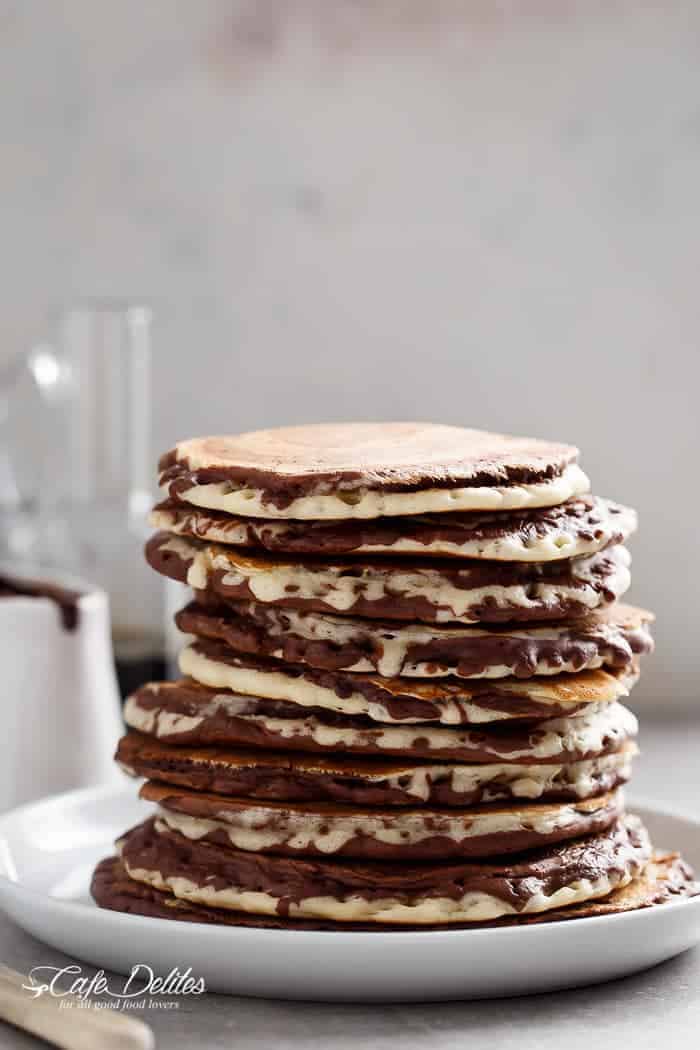 Whole Wheat Choc Chip Banana Bread Pancakes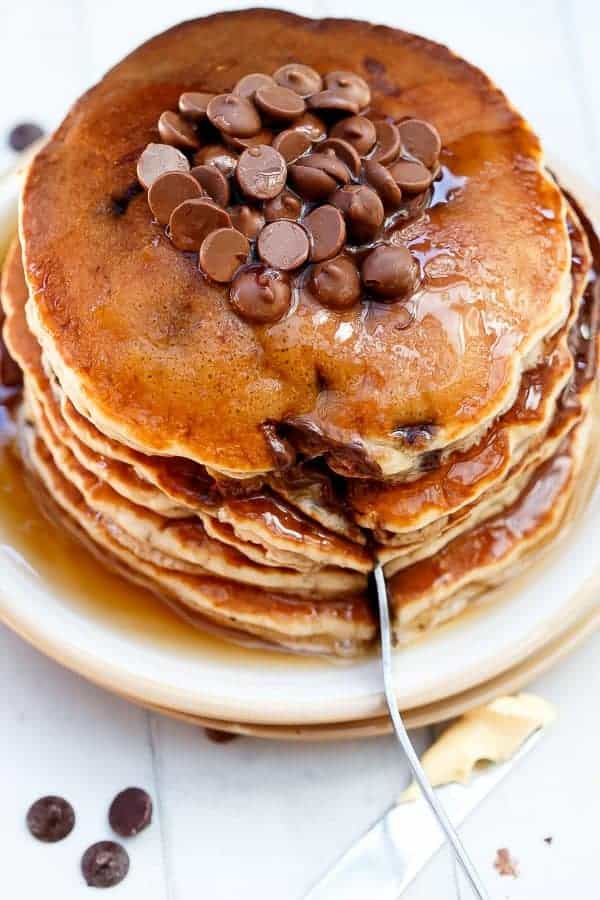 The post Best Fluffy Pancakes appeared first on Cafe Delites.