Updated August 27, 2020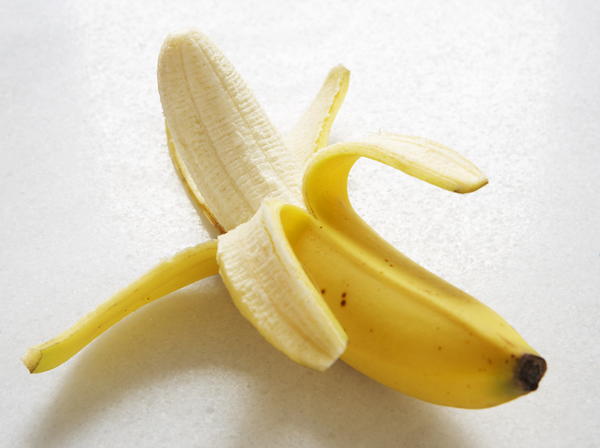 This image courtesy of Joseph DeLeo
This recipe is adapted from my banana cake, one of the most popular recipes in my book The Cake Bible. The texture and flavor of the toasted walnuts, or poppy seeds or chocolate, are a great new addition. I bake them in a Texas muffin pan, which has cups that have an 8-ounce capacity, compared to the usual 6 ounces. Texas, the largest state in America after Alaska, is big on big, which is how this muffin pan got its name! It seemed particularly appropriate for these muffins because they are big on flavor as well as size. This batter can also be baked in a loaf pan, and can feature chocolate chips. See the variations at the end of the recipe.
NotesEquipment:
A heavy-duty stand mixer with paddle attachment OR a hand-held mixer;
A Texas muffin pan lined with foil or paper liners, preferably lightly sprayed with Baker's Joy or cooking spray
Serves5 muffins

Recipe CourseDessert, Snack
MealBreakfast, Brunch, Snack, Tea
Taste and TextureButtery, Fruity, Nutty, Sweet
Ingredients
1 very ripe

banana

, peeled and lightly mashed (½ cup; 4 ounces; 113.5 grams)
1/4 cup

sour cream

(about 1/4 cup; 60 grams)
1 large

egg

(3 tablespoons; 1.75 ounces; 50 grams (weighed without shell))
1 teaspoon grated

lemon zest

(2 grams)
3/4 teaspoon pure

vanilla extract

1 cup plus scant 3/4 cup bleached cake flour or bleached

all purpose flour

(3.5 ounces; 100 grams)
6 tablespoons

sugar

, preferably turbinado (2.6 ounces; 75 grams)
1/2 teaspoon

baking powder

(2.4 grams)
1/2 teaspoon

baking soda

(2.5 grams)
1/4 teasoon

salt

(1.7 grams)
5 tablespoons

unsalted butter

, softened (2.5 ounces; 71 grams)
1/2 cup

walnuts

, toasted and chopped medium fine (1.75 ounces; 50 grams)
Instructions
Preheat the oven. Preheat the oven to 350°F 20 minutes before baking. Have an oven shelf at the middle level.

Mix the batter. In a food processor fitted with the metal blade, process the banana and sour cream until smooth. Add the egg, lemon zest, and vanilla and process until blended.

In a mixer bowl or other large bowl, combine the flour, sugar, baking powder, baking soda, and salt and beat on low speed (#2 if using a Kitchen Aid, with the paddle attachment) for about 1 minute, until well mixed. Add the butter and half the banana mixture and beat until the dry ingredients are moistened. Raise the speed to medium (#4 KitchenAid) or high if using a hand-held electric mixer and beat for 1½ minutes. Scrape down the sides of the bowl. Add the remaining banana mixture in two parts, beating for about 20 seconds after each addition or until well mixed. On low speed, beat in the walnuts.

Fill the muffin containers. Spoon or pipe the batter into the muffin containers, filling them three-quarters full. Pour a little water into the unfilled muffin cup to prevent uneven baking.

Bake the muffins. Bake for 25 to 30 minutes or until the muffins spring back when pressed lightly in the center.

5. Cool the muffins. Remove the muffins from the oven and unmold them at once onto a wire rack. Turn top side up and cool until just warm or room temperature.

Store

Stored airtight at room temperature, these have just as lovely a texture and flavor the next day. The muffins can be reheated for about 4 minutes in a 400°F oven.

Variation: Banana Loaf

This recipe can also be baked in an 8-by-4-inch bread pan for 40 to 50 minutes or until a wooden skewer inserted in the center comes out clean.
Pointers for Success
Use bleached all-purpose flour for a firmer more bread-like texture. Use cake flour for a softer, lighter crumb.
For finely grated zest, use a citrus zester (a small implement with tiny scraping holes), a vegetable peeler, or fine grater to remove the yellow portion only of the peel. The white pith beneath is bitter. If using a zester or peeler, finish by chopping the zest with a sharp knife.
For the best flavor and sweetness, use a banana that is very ripe, with black spots all over the skin.
It is not necessary to sift the flour if you are weighing it. However, if you measure it, be sure to sift it into the cup and then level it off, without shaking or tapping the cup at all.
A #30 ice cream scoop (2-tablespoon capacity) works well for transferring the batter to the muffin containers. But I find it easiest to use a heavy-duty gallon zip-seal bag as a disposable piping bag. Scrape the batter into the bag, zip it closed, and cut off the tip.
The muffins can be frozen for up to 3 months. Frozen muffins can be reheated in a preheated 400°F oven for 15 to 20 minutes or until a metal cake tester inserted briefly into the center feels warm.
These are also delicious made with 2 tablespoons poppy seeds instead of the walnuts.
For a chocolate chip version, fold ¼ cup / 1.5 ounces / 42 grams of mini chocolate chips (or chocolate chopped medium fine) into the finished batter.
For a chocolate swirl version, stir 1 ounce / 28 grams melted cooled bittersweet chocolate into ½ cup of the batter. Add it to the top of the batter in the loaf pan or muffin cups and swirl it in.
For calculation purposes if making these muffins in larger quantities, it is useful to know that the banana peel represents about 25 percent of the weight of the banana.
The dough percentage
Flour:    100% (includes the starch in the banana)
Water:   132% (includes the water in the sour cream, butter, egg white, and banana)
Salt:       1.4%
Fat:        59.2% (includes the fat in the sour cream and egg yolk)
2003 Rose Levy Beranbaum
YOUR RECENTLY VIEWED RECIPES
Free recipes, giveaways, exclusive partner offers, and more straight to your inbox!
Thank you for signing up!
We were unable to sign you up – please try again.
We are adding your Comments.

Thank you! Your comment has been added.
We are sorry. There was an error tyring to post your rating and review.
Your comment will appear after our editors have had a chance to review it.