Easy20 minsQuick
This restaurant-style Chinese Black Pepper Chicken recipe is quick and easy to make at home, totally versatile if you'd like to sub in different veggies or proteins, and so comforting and delicious.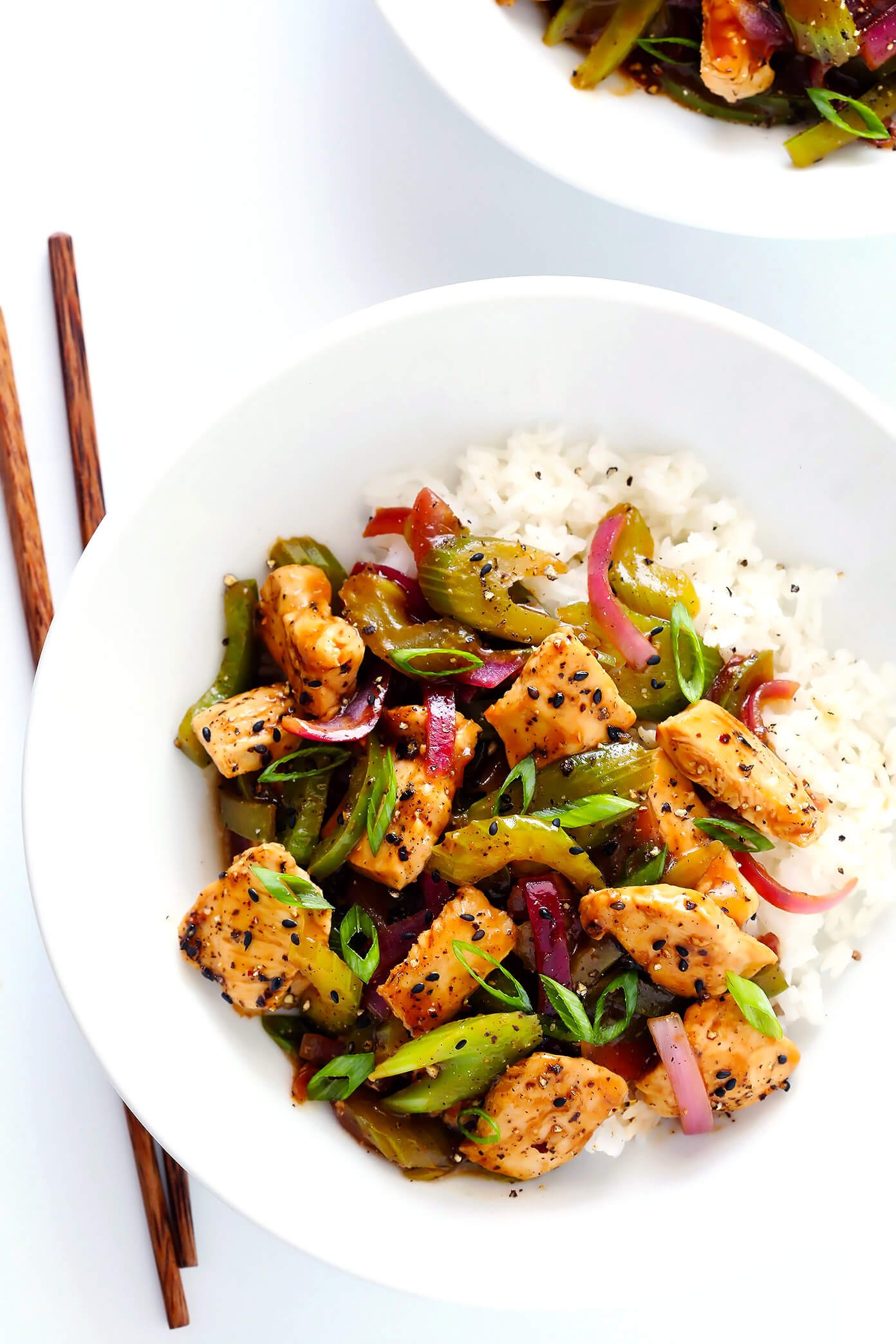 Ok, I probably should have posted this throwback recipe on a Thursday.  But hey, we're smack dab in the throes of getting-ready-to-move-chaos around here, and I have no idea what day it is most of the time anyway. ?  So I figure today is probably as good as any day to post an old comfort food recipe.
And by comfort food, I'm talking specifically about my college days comfort food today.
Although, let's back up a sec.  I should probably point out first that I grew up downright spoiled by the most amazing little local Chinese restaurant down the street from our house in Wichita.  Our family went there for lunch every single Saturday growing up, and good grief, they had the most magical touch ever with stir-fry sauces and fried rice and egg drop soup.  So when I moved away to go to college in teeny-tiny-town Kansas, naturally, I immediately convinced a group of friends to go check out the town's one Chinese restaurant.  Wellllll, let's just say that the pickin's there — even with the $4.99 all-you-can-eat buffet — turned out to be slim.  At most.  (Case in point, this was the place whose egg drop soup officially compelled me to learn how to make my own.)
However.  I've gotta say that they did know how to make a mean Black Pepper Chicken.  ?
And on those late night buffet runs, particularly after an intense study sesh or a long band practice, it always had a way of hitting the spot.  And fifteen years later, classic black pepper chicken is still a fave.
Nowadays, though, I make it in my own kitchen where I have full control over the ingredients.  Often I'll toss in whatever extra veggies I might have on hand, or mix things up using shrimp or tofu instead of chicken.  But when I'm feeling extra nostalgic, I can always count on the classic combo — tender juicy chicken, crisp celery and bell pepper, zesty red onions, and a ultra-peppery sauce — to satisfy the craving.  And man, it still just tastes as good as ever.
Guaranteed to help you tackle that macroeconomics final.  Or, you know, a Tuesday.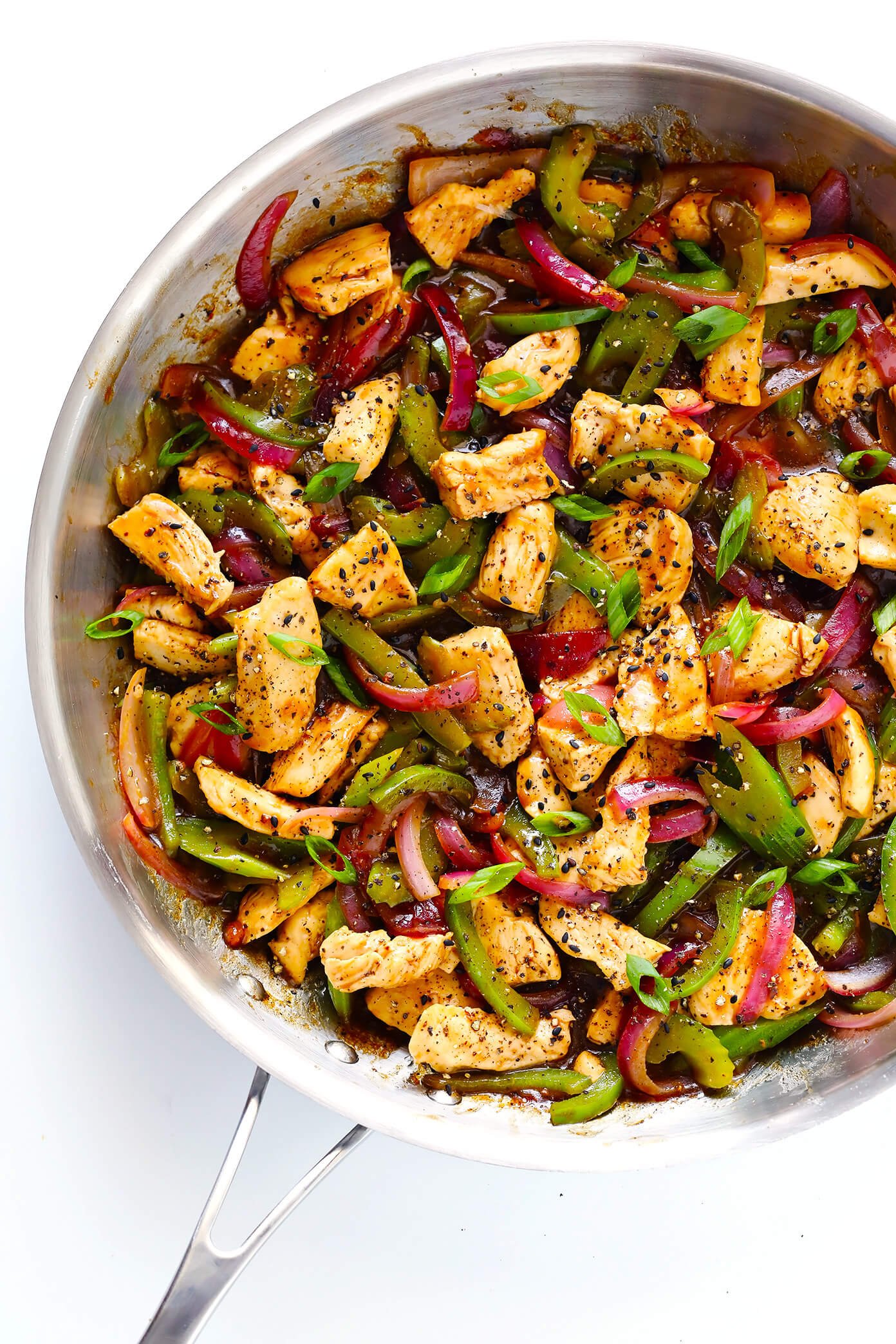 The other bonus about this recipe is that it's ultra easy to make.  Simply stir-fry your chicken, celery, bell pepper and red onions until tender.  Then while they are cooking, whisk together your stir-fry sauce.  Stir it in, and let it thicken for a minute…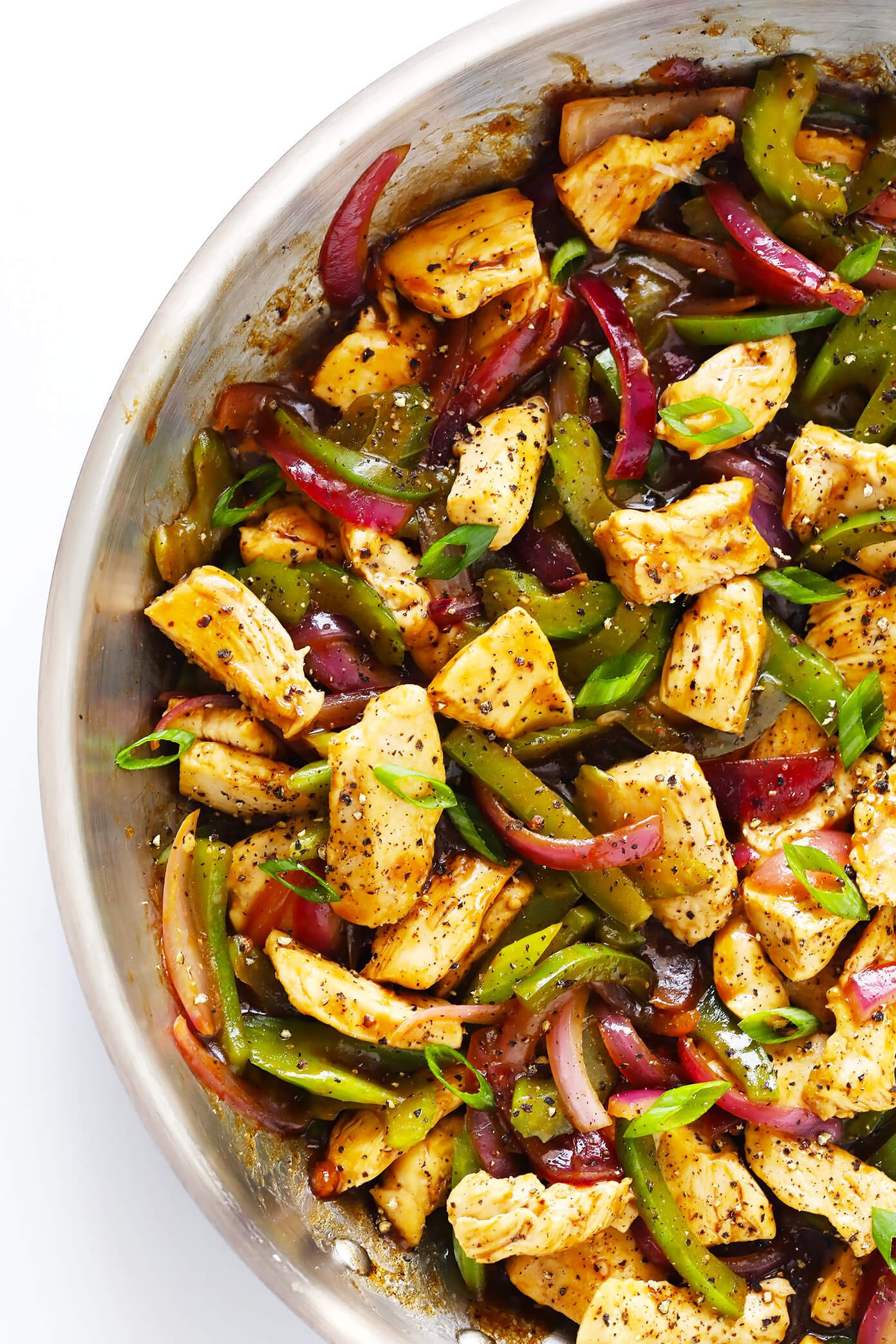 …then serve it up however you'd like!  I often make a batch of rice or quinoa to go along with it, but just about any sides will do.  Oh, and of course, don't forget a twist of extra freshly-cracked black pepper.  Because…black pepper chicken.  ?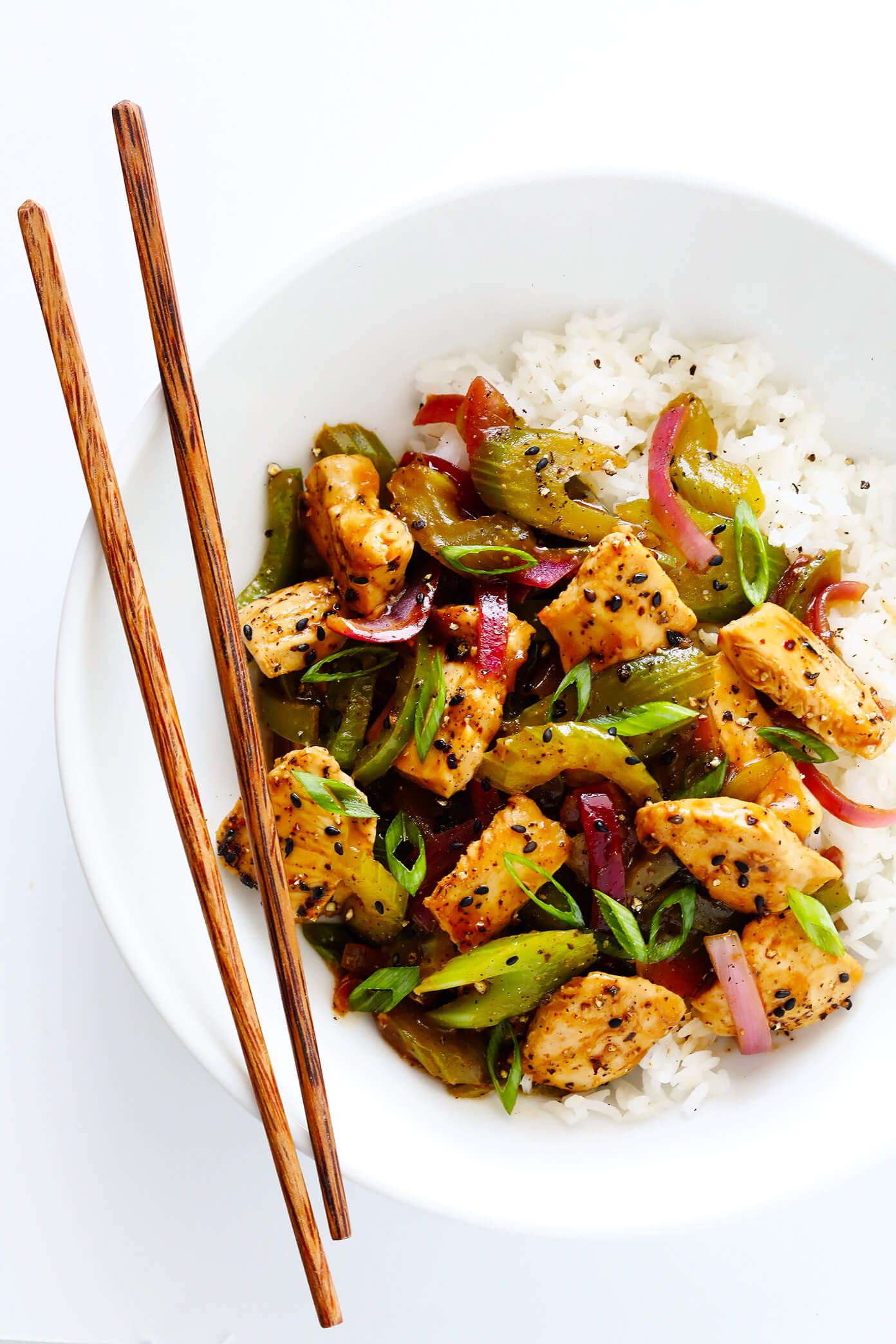 So simple, and always a hit.  Enjoy, everyone!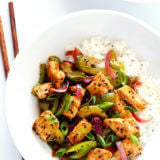 Yield: 4-6 servings
Black Pepper Chicken
This restaurant-style Chinese Black Pepper Chicken recipe is quick and easy to make at home, totally versatile if you'd like to sub in different veggies or proteins, and so comforting and delicious.
Ingredients:
2 tablespoons peanut oil (or any mild-flavored oil), divided
1 pound boneless skinless chicken breasts, cut into bite-sized pieces
1 small bell pepper, cored and thinly-sliced
1 small red onion, peeled and thinly-sliced
2 stalks celery, thinly-sliced on a bias
2 cloves garlic, peeled and minced
1/4 cup low-sodium soy sauce
1 tablespoon cornstarch
1 tablespoon oyster sauce
1 tablespoon rice wine vinegar
2 teaspoons freshly-cracked black pepper (or more to taste)
1/4 ground ginger
optional toppings: thinly-sliced green onions, toasted sesame seeds
Directions:
Heat

1 tablespoon

 oil over medium-high heat in a large sauté pan or wok.  Add chicken and sauté for 4-5 minutes, stirring occasionally, until the chicken is cooked through and no longer pink on the inside.  Use a slotted spoon to transfer the chicken to a clean plate, and set aside.
Add the remaining 1 tablespoon oil to the sauté pan, along with the bell pepper, onion, celery and garlic.  Sauté for 5-6 more minutes, stirring occasionally.
Meanwhile, as the veggies are sautéing, whisk together the soy sauce, cornstarch, oyster sauce, vinegar, black pepper and ginger in a small bowl until combined.
Once the veggies are ready go to, add the chicken and sauce mixture to the pan, and stir until the veggies and chicken are evenly coated.  Continue to cook for 1-2 minutes, or until the sauce has thickened.  Taste, and season with extra soy sauce and/or black pepper as desired.
Remove from heat, and serve immediately, sprinkled with your desired toppings.
If you would like a spicier dish, feel free to stir in a teaspoon or two of garlic chili sauce into the sauce.
Difficulty: EasyCategory: Quick


All images and text ©Gimme Some Oven
If you make this recipe, be sure to snap a photo and hashtag it #gimmesomeoven. I'd love to see what you cook!