This post may contain affiliate links. Please read my disclosure policy.
This blackened salmon tacos recipe is layered with a quick mango slaw, corn tortillas, and your choice of toppings.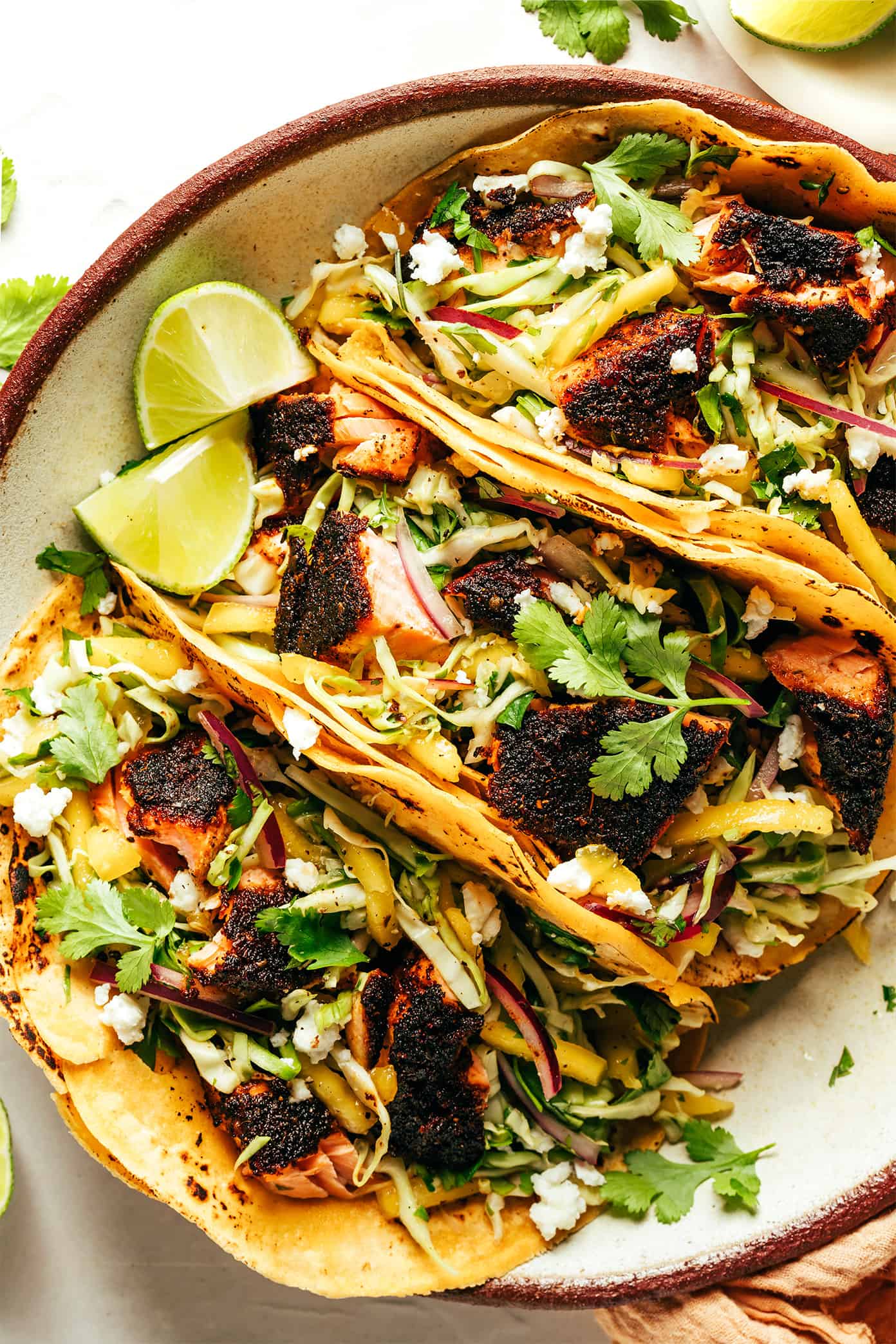 The next time you find yourself craving fish tacos, you must, must try these blackened salmon tacos. ♡
As far as fish taco recipes go, this one is a relative breeze to make. (No breading, frying, or extra-sauce-making required!) Simply sprinkle blackened seasoning on a few salmon filets and pan-sear until perfectly charred and tender. Toss together a quick mango slaw. Warm a batch of corn of flour tortillas until softened. Then layer everything together with whatever toppings make you happy…and enjoy!
These blackened salmon tacos are intentionally low on fuss and big on flavor. And that perfectly-balanced blend of sweet and savory, smoky and tangy, herby and creamy flavors is an absolute winner in my book. That said, feel free to swap in a different protein (such as shrimp or chicken) or a different fruit for the slaw (such as pineapple or peach), if you'd prefer. And if you'd like to make this recipe dairy-free, as well as gluten-free, just skip the cheese.
Let's make some blackened salmon tacos!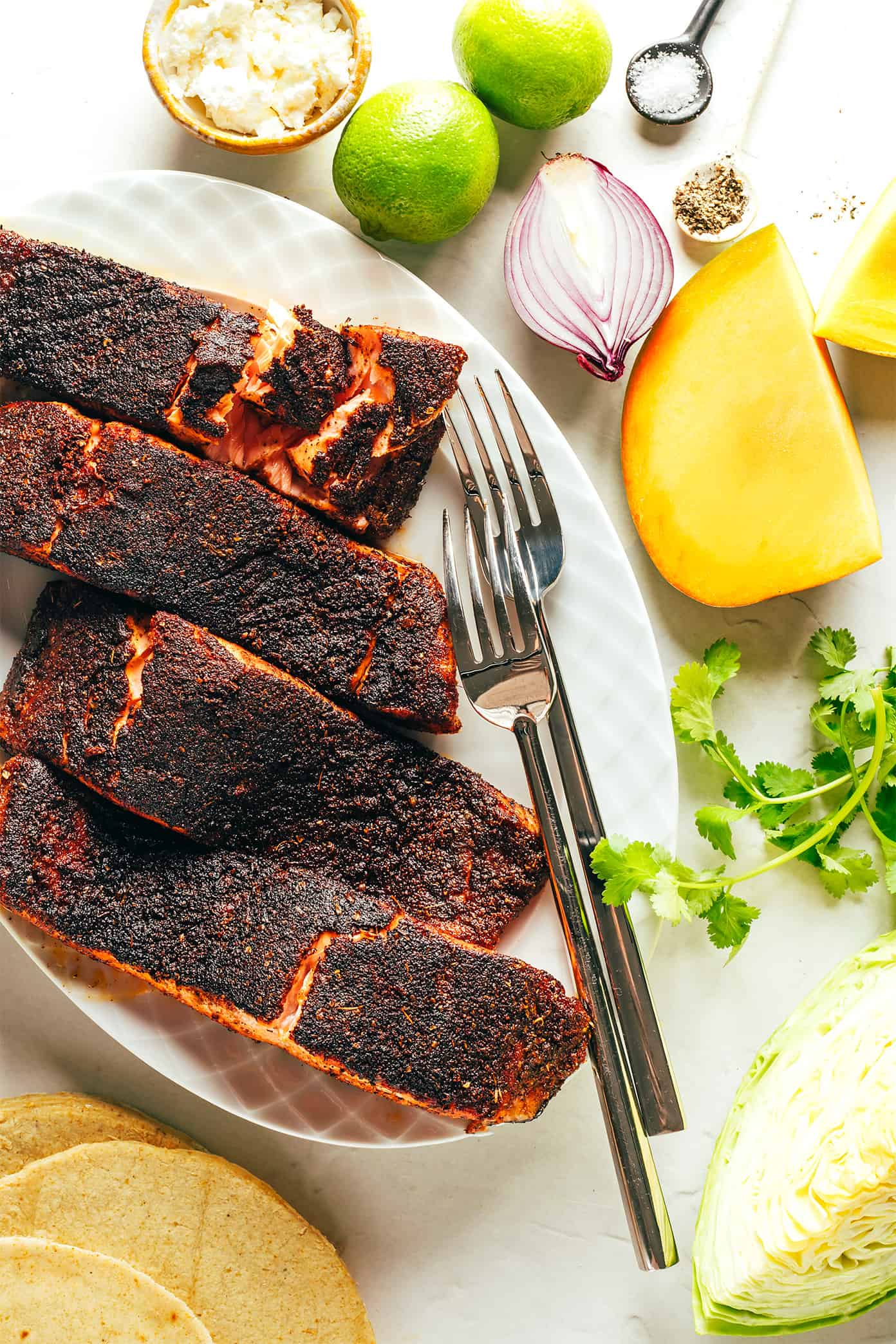 Blackened Salmon Tacos
Here are a few notes about the blackened salmon taco ingredients you will need to make this recipe:
Blackened salmon: We'll use this blackened salmon recipe, which calls for salmon filets, olive oil and blackened seasoning (easy to make homemade with smoked paprika, garlic powder, onion powder, cayenne, oregano, thyme, salt and pepper).
Mango slaw: I recommend using store-bought shredded cabbage (or coleslaw) to save time, but you're totally welcome to shred your own cabbage if you prefer. Toss with diced mango, red onion, lime juice, cilantro, salt and pepper and you're good to go!
Tortillas: We love making this recipe with corn tortillas, which adds great flavor and also makes these tacos gluten-free, but you are completely welcome to use flour tortillas if you prefer.
Toppings: I generally just add a sprinkling of cotija cheese (or queso fresco) and some extra cilantro to these tacos. But feel free to add on a drizzle of Mexican crema, avocado, jalapeño peppers, or any other toppings that might sound good. I also always serve these tacos with extra lime wedges for squeezing.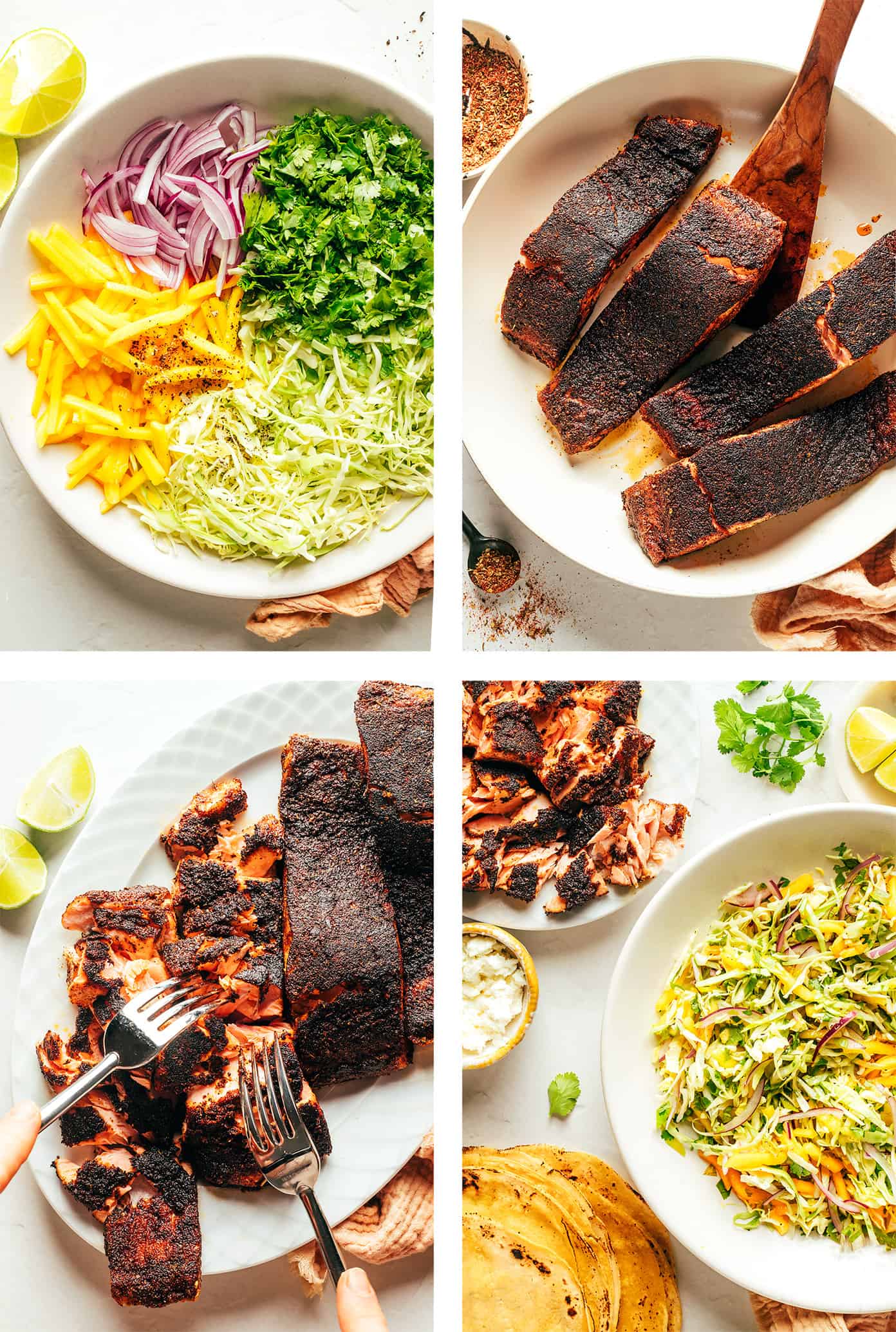 Tips For Making These Tacos
Here are a few additional tips to consider when making these blackened fish tacos:
Prep the blackened seasoning ahead of time. If you have the chance, I highly recommend mixing up the blackened seasoning ahead of time so that these tacos will come together even more quickly. And actually, while you're at it, go ahead and make a double or triple batch! This blackened seasoning tastes amazing on everything from proteins to veggies, potatoes, rices, sauces, and more.
Don't rush the salmon. Be patient and let the fish rest completely undisturbed until the crust has blackened before you flip it over. You can carefully lift up a small corner of a filet to peek and check on the progress of the crust, but otherwise, resist to move the fish around while it is cooking.
Warm the tortillas properly. Here are three great ways to warm tortillas, which will help them to be soft and pliable. If you have a gas stove, I always recommend warming them directly over the flame for that extra charred flavor.
Multitask the tortillas and salmon. I find it's easiest with this recipe to prep the slaw first, and then multitask warming the tortillas and cooking the salmon. But feel free to order the steps however works best for you.
Serve immediately. I love the contrast between the warm tortillas, hot salmon and cold slaw in this recipe. So layer the tacos up and enjoy right away!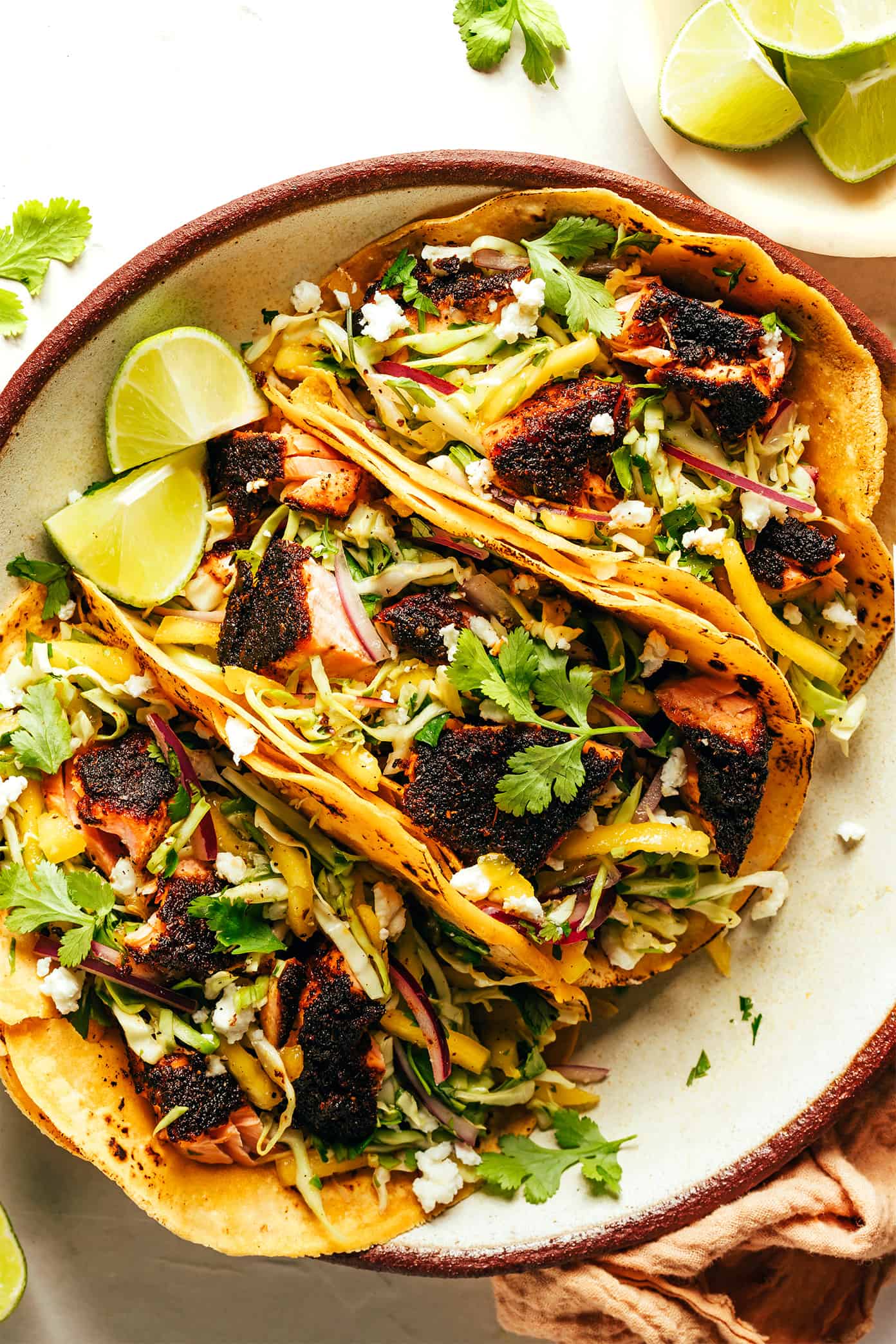 Recipe Variations
Here are a few more delicious ways that you're welcome to customize this salmon fish taco recipe:
Add a salsa: Add a drizzle of Mexican crema (or another creamy sauce), some pico de gallo, or your favorite salsa on top.
Add some heat: Add some sliced or diced chile peppers (such as jalapeños or serranos) to the slaw or drizzle in your favorite hot sauce.
Use a different protein: Use chicken, pork, shrimp, another type of fish, or tofu in place of the salmon.
Use a different fruit: Use a different juicy fruit, such as pineapple, peach, orange, berries, or melon in place of the mango.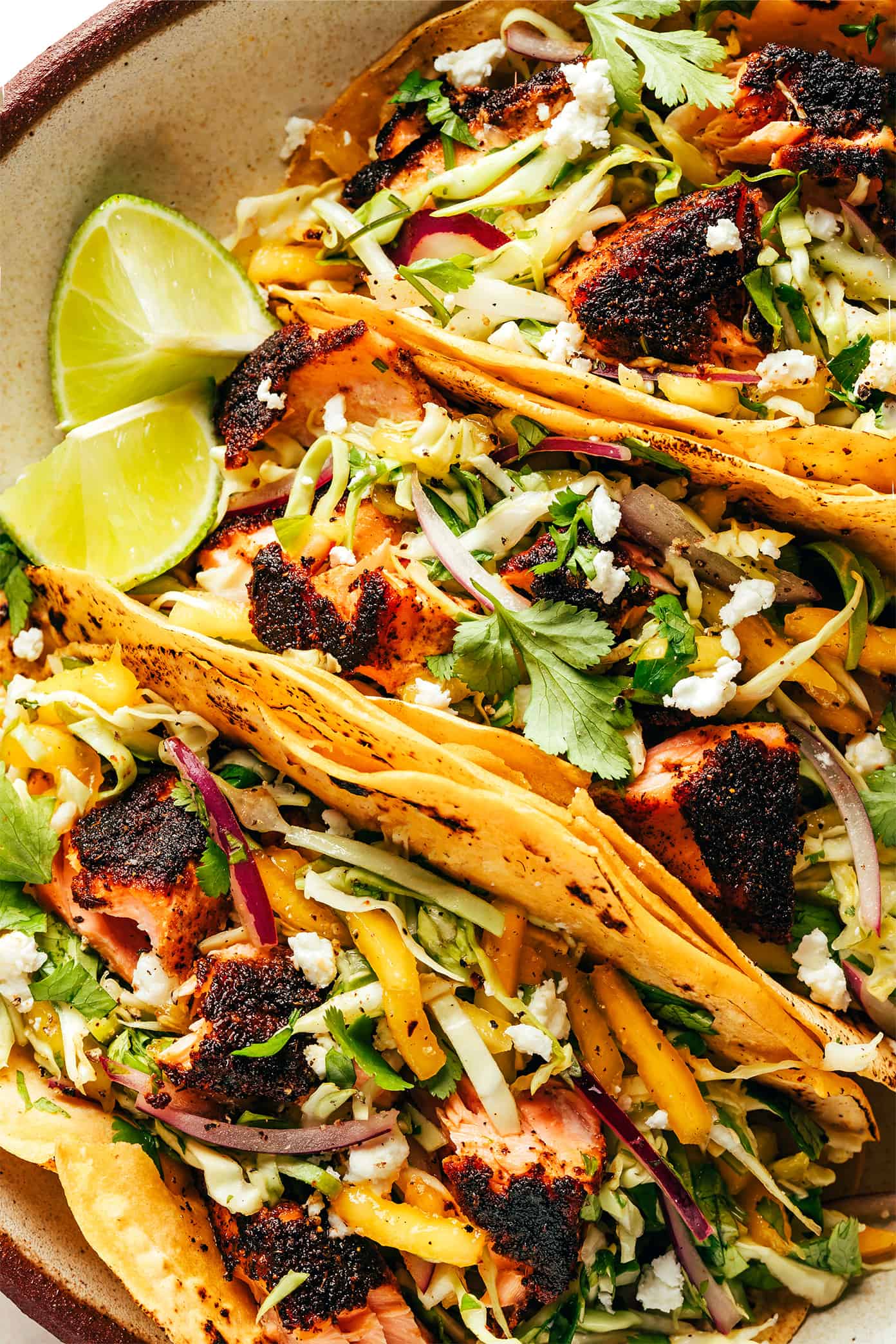 More Taco Recipes To Try
Looking for more tacos to try? Here are a few of our readers' favorite taco recipes:
---
Description
This blackened salmon tacos recipe is layered with a quick mango slaw, corn tortillas, and your choice of toppings.
---
Blackened Salmon Taco Ingredients:
1

batch blackened salmon

8

to

10

small corn tortillas, warmed

optional toppings: chopped cilantro, crumbled cotija cheese, diced avocado, Mexican crema and/or sliced jalapeños

lime wedges
Mango Slaw Ingredients:
1

large mango, peeled, cored and sliced into matchsticks

half of a

small red onion, thinly sliced

3 cups

(about

6

–

7

ounces) shredded cabbage

1 cup

chopped fresh cilantro

3 tablespoons

fresh lime juice

fine sea salt and freshly-ground black pepper
---
Prepare the slaw.

Add the mango, red onion, cabbage, cilantro, and lime juice together in a mixing bowl and toss until combined. Taste and season with salt and pepper as needed. Refrigerate until ready to serve.

Cook the salmon. Cook the salmon according to recipe instructions. Once the salmon reaches your desired level of doneness, transfer it to a clean plate. Then roughly shred the salmon with two forks.
Assemble the tacos.

Fill the warmed tortillas with a scoop of slaw, followed by salmon, then top with your desired toppings. Serve with extra lime wedges for drizzling and enjoy!
---
---