These delicious blackened shrimp po boys were inspired by the classic Southern favorite. Split-top buns are packed full of crispy, blackened shrimp then topped with spicy mayo, tomato, and lettuce.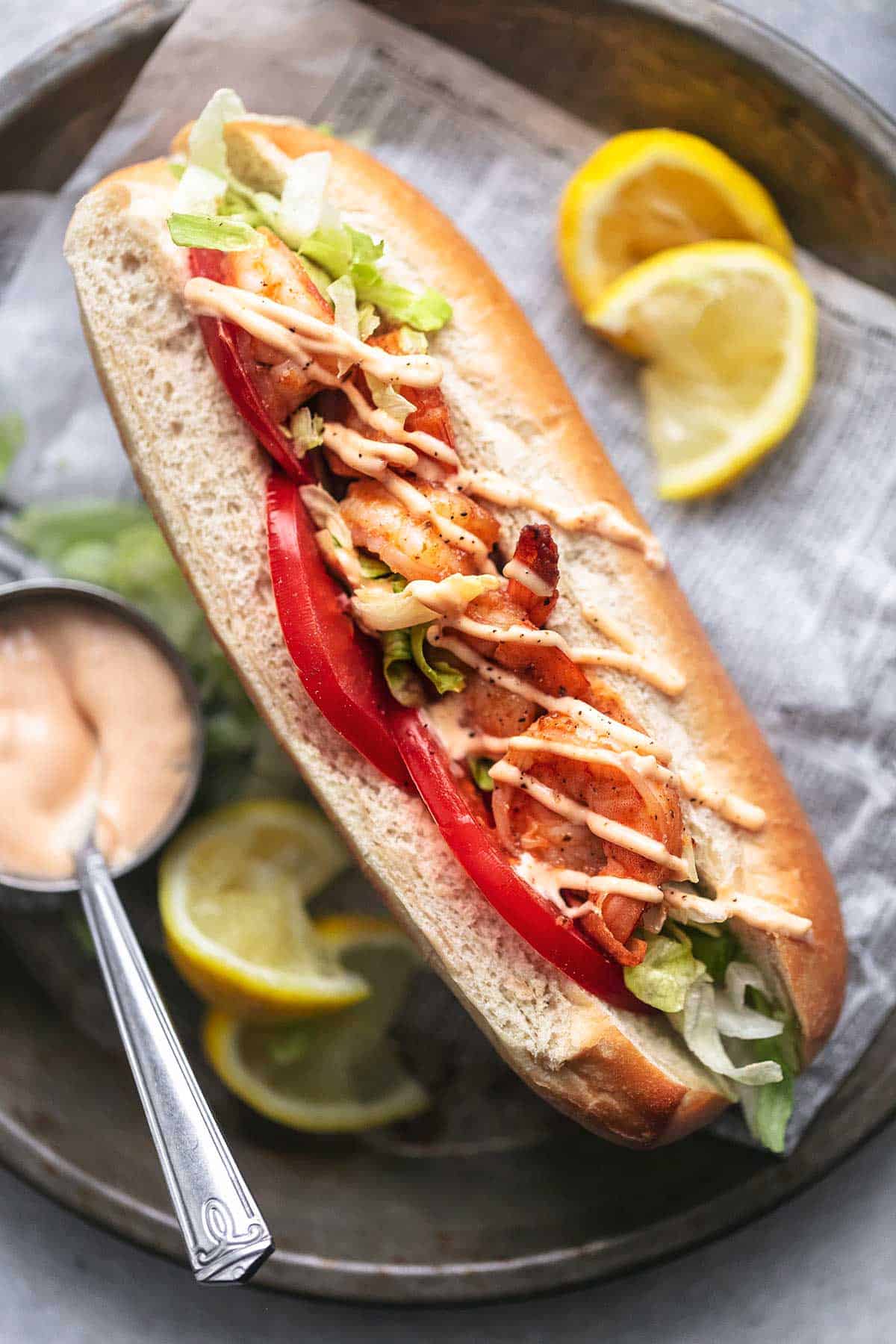 For more delicious ways to devour shrimp, peruse my popular posts for Sheet Pan Cajun Shrimp and Potatoes, Shrimp Tacos with Slaw, and Honey Cilantro Lime Shrimp. 
In my pursuit of the endless ways in which to eat shrimp, I channeled my inner southerner and created my own version of a po boy! Because, if I can't go on vacation to Louisiana right now, then I will just have to bring a bit of Louisiana to me, right? Even the kids love these sandwiches. Not a fan of spicy? Leave the may off or just use plain mayo! Both delish! 
Why this Recipe Works
Quick and easy and so much more! 
Shrimp — Easy to find, quick to cook, and easy to flavor, if you have shellfish lovers in your house, then these will be an easy hit! 
Simple — What's more simple and easy to make than a sandwich? Swap out the turkey for shrimp and the cheese for spicy mayo and you have yourself a not-so-run-of-the-mill, filling, tasty sandwich on your hands. 
Hoagie rolls — No fancy bread to find or make here! I do prefer to purchase split-top buns if I can find them. Otherwise, a regular hoagie roll works just great! Another bonus? I prefer to use plain old white bread. No need to get whole wheat or anything crunchy or nutty here! 
Quick — You can have these shrimp po boys cooked and ready to eat in just 30 minutes, spicy mayo and blackened seasoning and all!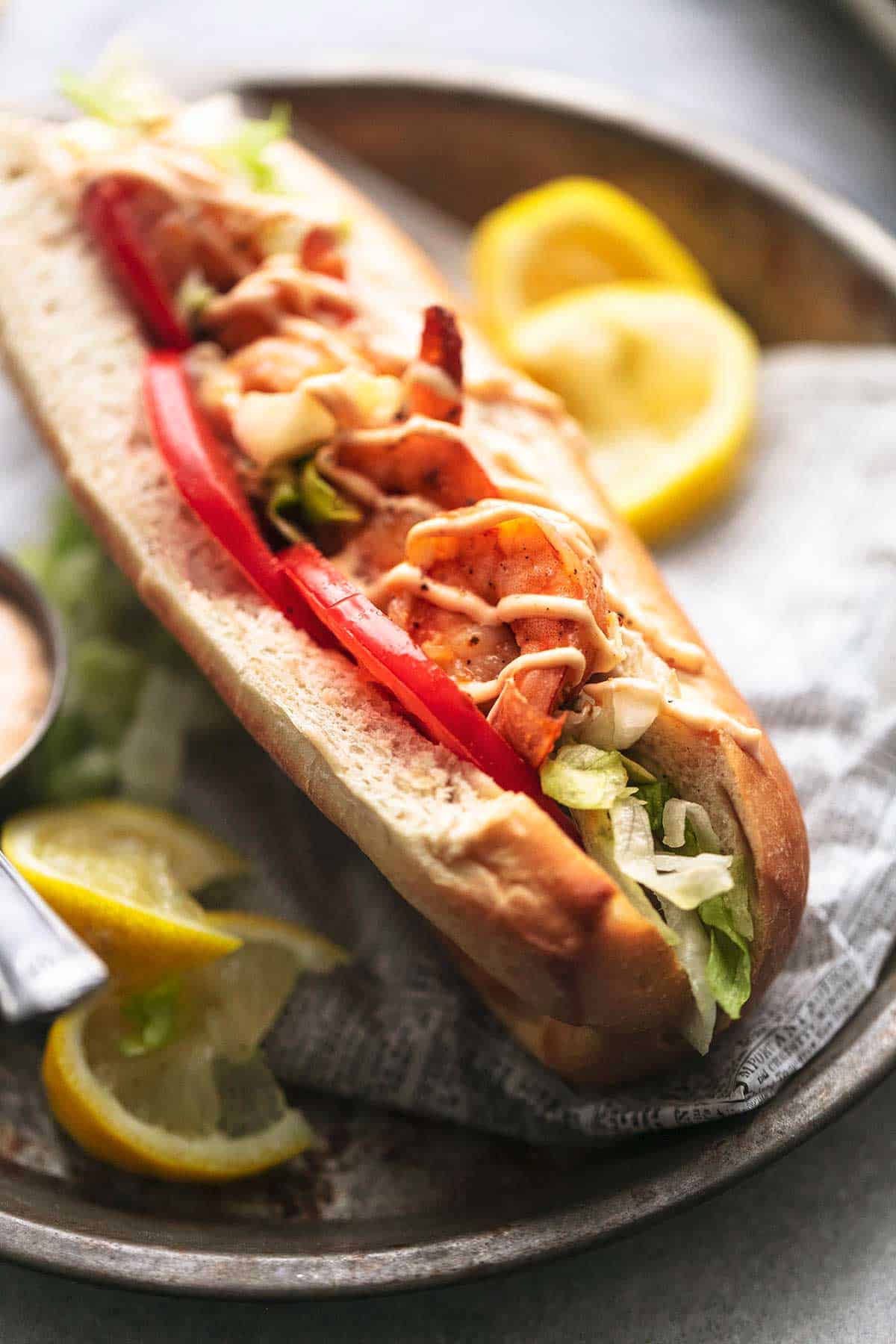 Here's How you Make it
Making the mayo
Mix together ⅓ cup of mayo with 3 teaspoons of Cajun seasoning, and 1 teaspoon of fresh lemon juice. 

Put on top of po boys right before eating. 
Making the shrimp
In a small bowl, mix together the blackening seasoning ingredients (paprika, chili powder, brown sugar, cumin, garlic powder, salt, and pepper). 

Toss peeled and deveined shrimp with the olive oil. Add blackening seasoning and toss again to coat. 

Saute the shrimp in a skillet over medium-high heat for just 4-6 minutes or until the shrimp are cooked through and opaque. 
Making the Po Boys
Put the blackened, cooked shrimp in the bun or hoagie roll. 

Top with lettuce and tomato slices. 

Drizzle the spicy mayo and enjoy! 
Why are Po Boys Called Po Boys?
I find it fascinating how some foods got their names, don't you? There are so many things we eat without considering how they even came to get their names. 
Take, for instance, the po boy. It originated in New Orleans in 1929, born out of the need to feed union streetcar drivers who were on strike at the time. The sandwich was the brainchild of Benny and Clovis Martin, who were streetcar drivers but also owned a restaurant called Martin's Coffee Stand and Restaurant. They decided to give out free sandwiches to other union strikers, served on thin, crispy bread and filled with meat or fried seafood. The sandwich was referred to as a "poor boy" (then later, "po boy") because the strikers who were getting them didn't have any money. 
Ideas for Side Dishes
Looking to make your po boy sandwiches part of a well-rounded meal? I have some great side dish ideas that would pair wonderfully with these shrimp po boys. 
Expert Tips
Purchase

already peeled and deveined shrimp

to make putting together these blackened po boys that much faster! 

Make up an

extra batch of mayo

for use on other foods — spicy mayo goes great on french fries, ham sandwiches, or even on top of pasta salad.

Not into mayo? You can substitute Greek yogurt for all or half of the mayo in the recipe below.
More Recipes Like This
Did you make this dish? Please rate the recipe below! 
Stir together spicy mayo ingredients. Set aside til ready to serve.

In a small bowl stir together blackening seasoning ingredients.

Toss shrimp and olive oil. Add blackening seasoning and toss again to coat.

Saute shrimp in a skillet over medium-high heat 4-6 minutes until cooked through and opaque.

Serve shrimp in buns along with lettuce and tomato slices, drizzle spicy mayo over the top and serve. Enjoy!
Make it spicy: add 1/2 teaspoon crushed red pepper flakes to the blackened seasoning. 
Calories: 471kcal | Carbohydrates: 38g | Protein: 30g | Fat: 22g | Saturated Fat: 3g | Cholesterol: 294mg | Sodium: 1607mg | Potassium: 291mg | Fiber: 3g | Sugar: 8g | Vitamin A: 1965IU | Vitamin C: 10mg | Calcium: 187mg | Iron: 14mg