Blueberry Cobbler made with fresh blueberries and a simple buttermilk biscuit topping is the perfect summer dessert. Serve warm with vanilla ice cream!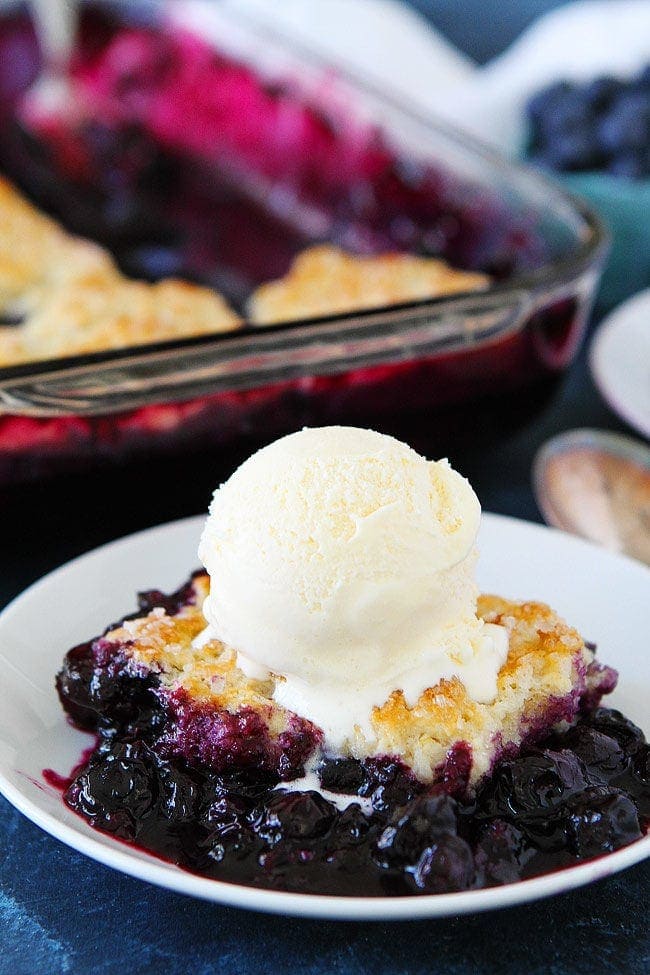 Josh got a little carried away at the grocery store and bought A LOT of blueberries. I am happy he came home with fruit instead of Cheetos or donuts, but I wasn't sure what we were going to do with all of the blueberries. I made Banana Blueberry Baked Oatmeal Cups and salad, but we still had a ton leftover. I wanted a sweet treat so I pulled out all the stops and made an epic Blueberry Cobbler. This easy cobbler is a MUST make summer dessert!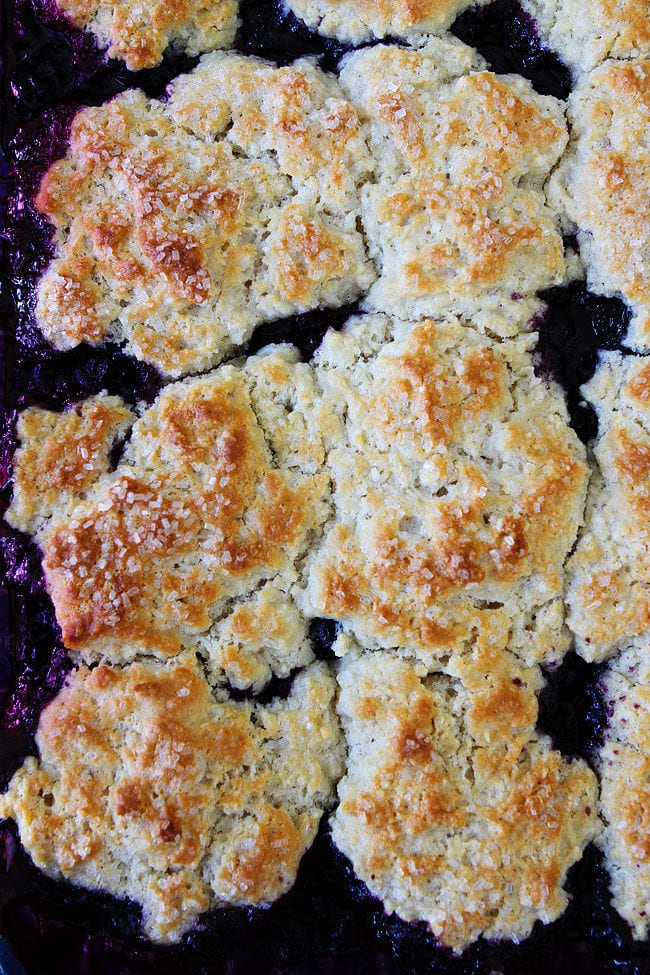 Cobblers are a great way to enjoy summer fruit and this Blueberry Cobbler is down right delicious! So good you will want to eat it for breakfast. It is mostly fruit and blueberries are a super food, so I say go for it:)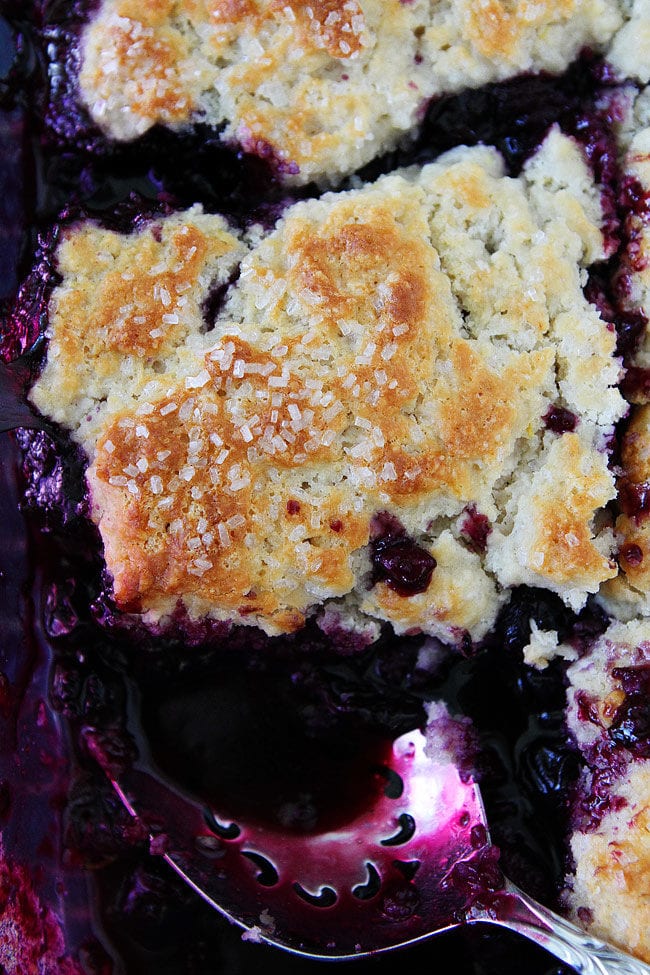 I love making cobblers because you basically dump fruit into a pan, top it with an easy biscuit like topping, and bake it. It doesn't get any easier than that!
For this recipe, I combined the blueberries with sugar, lemon zest, and cornstarch. I let them all hangout while I made the easy buttermilk biscuit topping. I spooned the cobbler topping onto the fruit, brushed with milk, and sprinkled on turbinado sugar. Bake until bubbly and you will have yourself a fabulous summer dessert.
A few cobbler tips:
I used fresh blueberries, but frozen blueberries work well in this recipe too.
Make sure your butter and buttermilk are cold.
The turbinado sugar gives the cobbler a nice, sugary crunch and it makes the cobbler pretty. Don't skip this step.
Let the cobbler sit for about 15 minutes before serving so it can set up a little.
We like to serve the blueberry cobbler warm with a big scoop of vanilla ice cream.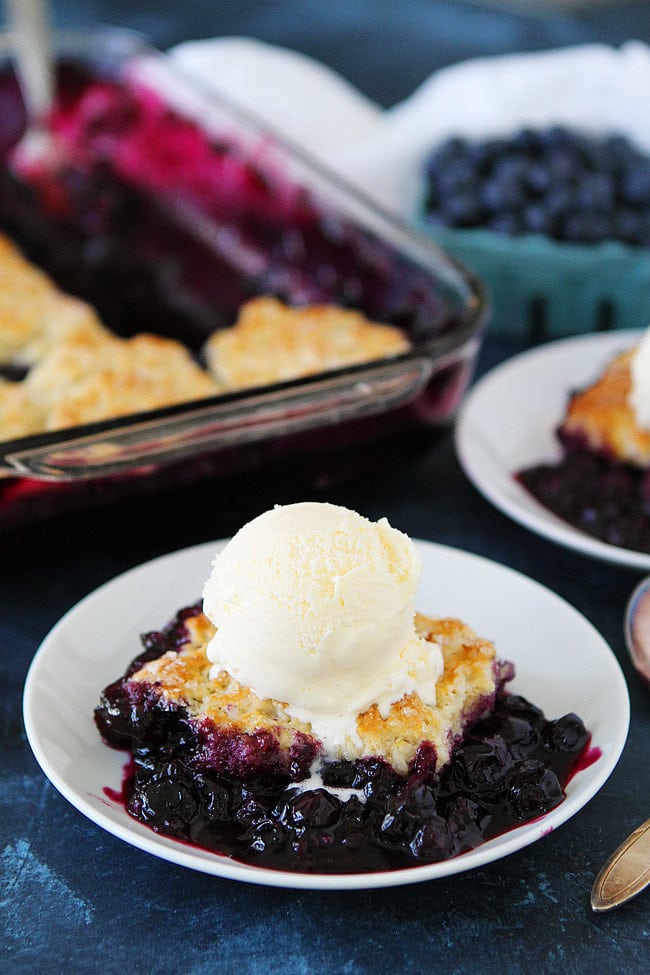 You need to load up on blueberries NOW so you can make this amazing Blueberry Cobbler. If you want, I can send Josh to the store for you, he is good at stocking up:) Don't forget the vanilla ice cream because cobbler and ice cream are a match made in heaven. Enjoy!
If you like this Blueberry Cobbler recipe, you might also like: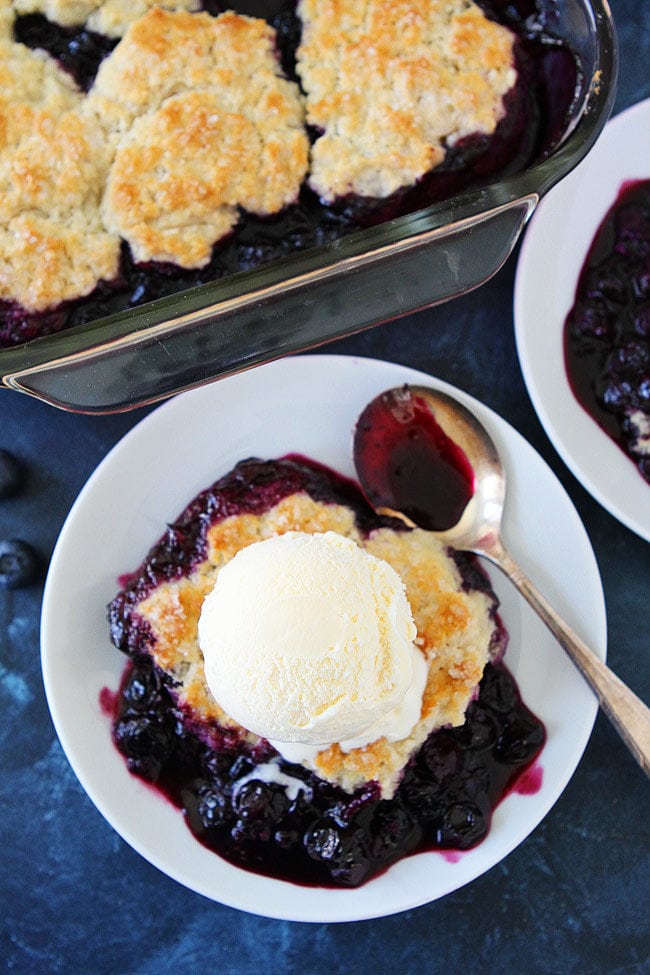 Blueberry Cobbler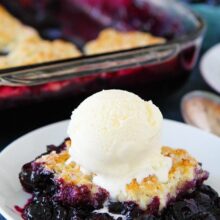 This easy blueberry cobbler recipe can be made with fresh blueberries or frozen blueberries. Serve warm with a scoop of vanilla ice cream.
Yield: Serves 10-12
Prep Time: 20 minutes
Cook Time: 45 minutes
Total Time: 1 hour 5 minutes
Ingredients:
For the Blueberry Filling:
6 cups blueberries
1/3 cup granulated sugar
Zest of 1 large lemon
2 tablespoons light brown sugar
1 tablespoon cornstarch
For the Cobbler Topping:
2 cups all-purpose flour
2 teaspoons baking powder
½ teaspoon kosher salt
1/3 cup granulated sugar
½ cup unsalted cold butter, cut into pieces
1 teaspoon vanilla
1 cup cold buttermilk
Heavy cream or milk, for brushing
Turbinado sugar, for sprinkling
Directions:
Preheat oven to 375 degrees F.
Put the blueberries in a large bowl.
In a small bowl, combine the granulated sugar and lemon zest. Rub together with your fingers until fragrant. Add the sugar lemon mixture to the blueberries. Add the brown sugar and corn starch. Gently stir until blueberries are well coated. Let the mixture sit while you prepare the cobbler topping.
In a medium bowl, whisk together the flour, baking powder, salt, and sugar. Cut the cold butter into the flour mixture with a pastry blender, two forks, or by using clean hands. Mix until the butter pieces are pea size.
In a small bowl, whisk the cold buttermilk and vanilla together, then pour mixture into dry ingredients. Stir with a spatula until mixture comes together. Don't overmix, the dough will be sticky.
Pour the blueberry mixture into a 9″ x 13″ pan. Drop pieces of the cobbler topping on top of the blueberries, it is fine if there is space between the cobbler topping. Lightly brush the cobbler topping with heavy cream or milk. Sprinkle turbinado sugar over the cobbler topping.
Place in the oven and bake for 45-50 minutes or until the cobbler topping is golden brown and the blueberries are bubbling. Remove from the oven and let cool on wire rack for 15 minutes before serving. Serve with vanilla ice cream, if desired.
Note-store cobbler, covered, in the refrigerator for 1-2 days. Reheat in the microwave, if desired.


All images and text ©Two Peas & Their Pod.




Follow twopeasandpod on Instagram and show us what recipes you are making from our blog! Use the hashtag #twopeasandtheirpod! We want to see what you are making in your kitchen!