This tried-and-true, easy recipe for blueberry dump cake is made with a simple cake mix, fresh or frozen blueberries, butter, and milk. Minimal effort for a super tasty dessert!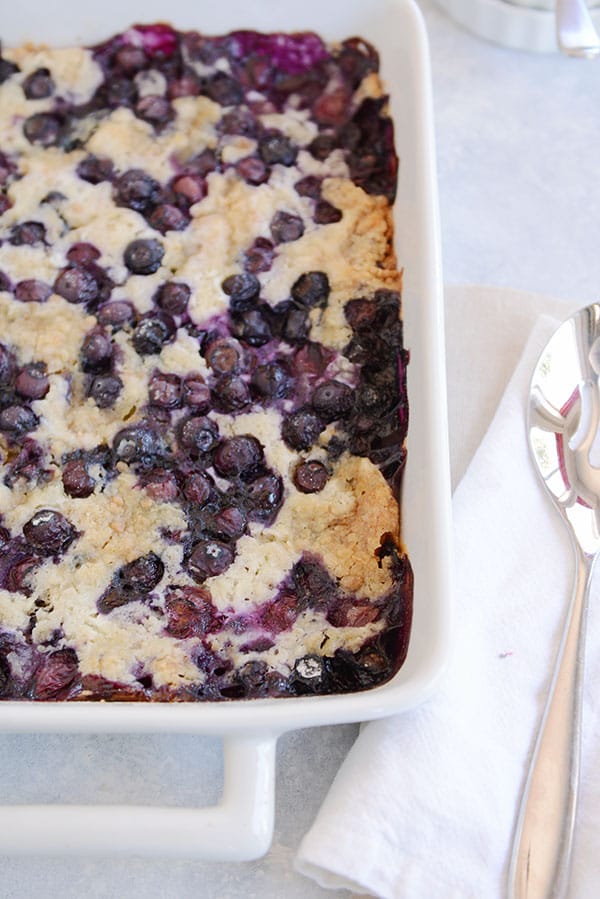 Well, today's a fun day!
Not only are we talking blueberry dump cake (a less fortunate name for one of the yummiest desserts ever), but my friend Nicole, who blogs at Gluten Free on a Shoestring, and I are teaming up to give you a recipe that can just as easily be made with conventional OR gluten-free ingredients (without requiring a lot of specialty fixes).
I guess you could say that today, Nicole is my blogging buddy! Considering we've been real, live buddies (albeit, virtually) for a long time, this is not a stretch.
You may remember that Nicole's the wizard that helped me finally conquer the perfect yellow cake recipe years ago; she's meticulous in the kitchen and always, always willing to help others conquer recipes, too.
For today, I'll be providing the conventional recipe; Nicole will be giving you the details on the gluten-free recipe (which is as simple and foolproof as my version today).
You can check out Nicole's gluten-free blueberry dump cake recipe here, and down below, there's a fun, helpful how-to video Nicole put together.
Over the years, many of you have commented that you work around gluten sensitivities and allergies.
While I am definitely not a consistent gluten-free blogger, your comments and experiences are the reason I started categorizing my recipes into easily accessible gluten-free and gluten-free adaptable categories.
If you're unfamiliar with dump cakes, basically, the premise is that some type of filling or ingredient gets tossed onto the bottom of a baking dish followed by cake mix and then drizzled with butter and milk (or buttermilk, my preference).
I have to be honest, dump cakes haven't been a common occurrence around here, but after making this blueberry dump cake, I'm kicking myself for not embracing the dump cake before now.
While these types of cakes are always ultra easy to make, grating the butter into the cake mix as shown below makes a HUGE difference in the outcome (and may be the reason why I haven't been enamored with dump cakes in the past).
It's as simple as pulling out that cheese grater and going to town with the chilled butter. Once it's grated, just toss it with the cake mix until it's well-combined.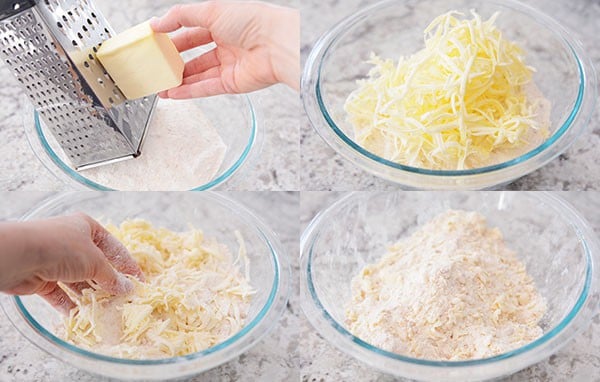 After that? You're nearly there!
Scatter those blueberries (you can use frozen, too – just don't thaw first!) on the bottom of a baking pan.
Top the luscious little berries with the cake mixture, toss quickly to combine, and then drizzle with buttermilk or milk.
So easy!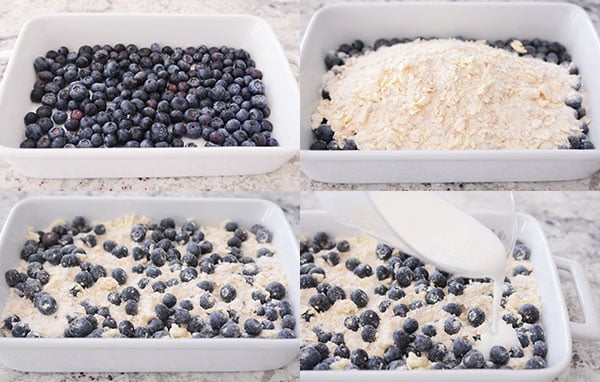 Pop that cake in the oven and give it about a half hour before it looks like the most magically delicious blueberry cake ever.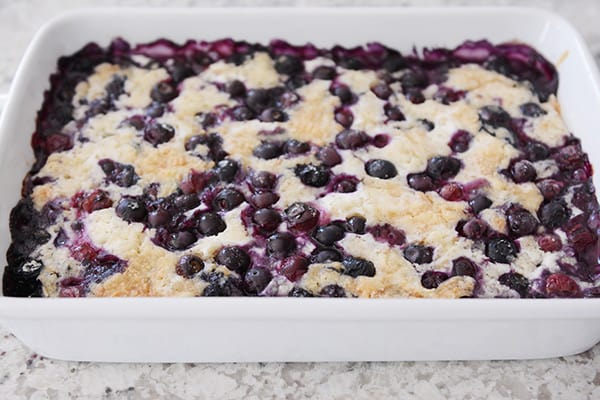 Do you see that gorgeous golden bottom crust?
Right there in that picture below?
Oh my, it is the best part. Buttery and golden and ridiculously yummy.
I mean, the juicy blueberries mingling with the sweet vanilla cake batter don't hurt anything either.
But that crust is something else.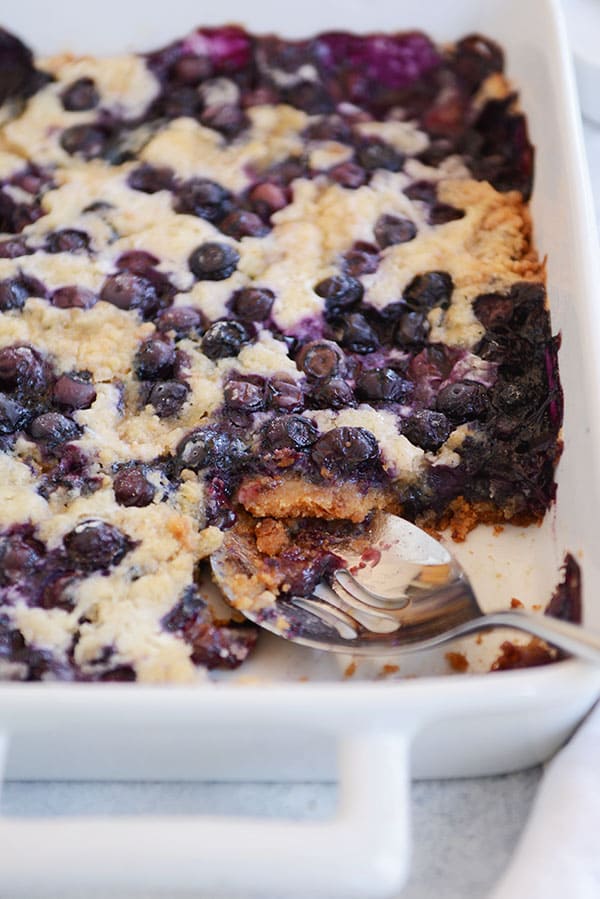 This blueberry dump cake, though it goes without saying, is fantastic with a scoop of vanilla ice cream or a dollop of whipped cream.
You won't even care that it looks a total mess when it's scooped up.
It just doesn't matter, because the taste is out of this world. And besides, I'm convinced the best desserts in the world are a jumbly mishmash of simple and tasty ingredients anyway.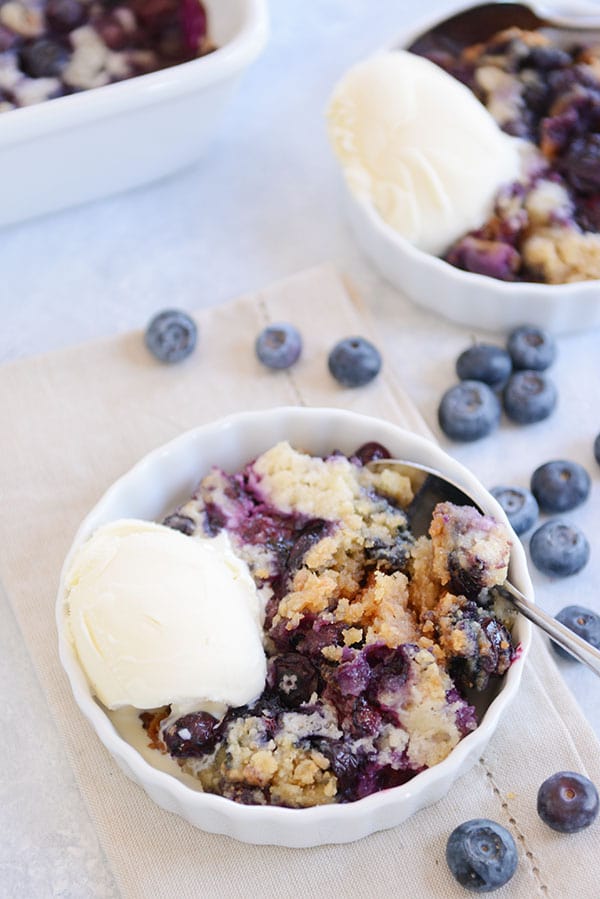 I have to throw a quick note in here about one of the critical ingredients in the recipe: cake mix!
Because a tiger can't change her stripes, you know I had to make this with a homemade cake mix.
And the result is spectacular.
The best part is that the homemade cake mix ingredients are simple pantry staples that take just minutes to whisk together, which is perfect when you may not have a storebought cake mix on hand.
Or, if you are like me and get the itch to try a from-scratch version of anything and everything.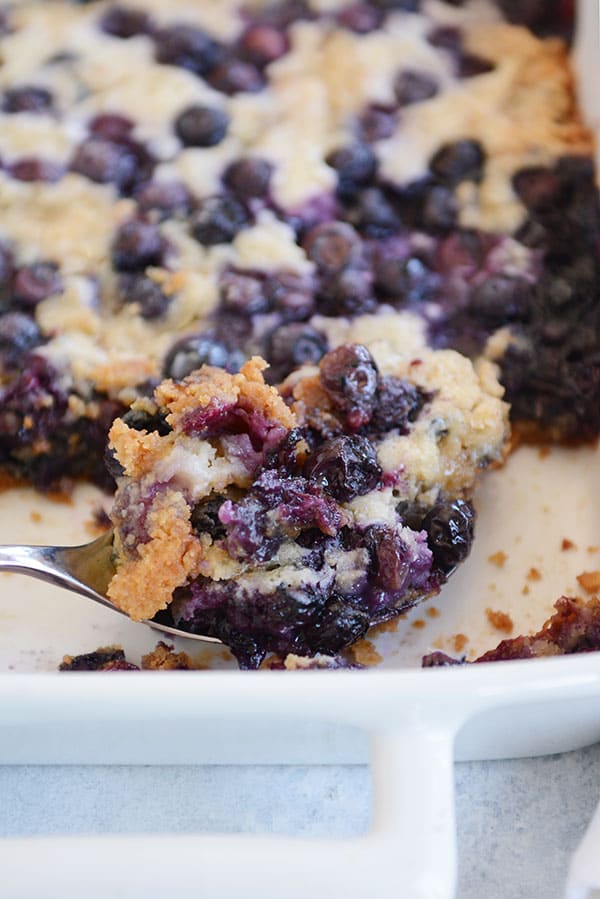 I hope this blueberry dump cake is part of your very, very near future.
If you are after a gluten-free version, don't forget to check out Nicole's gluten-free blueberry dump cake here!
One Year Ago: Double Chocolate Oatmeal Chocolate Chip Cookies
Two Years Ago: Whole Grain Pumpkin Blueberry Muffins
Three Years Ago: My Favorite Breakfast Smoothie
Yield: 1 cake
Blueberry Dump Cake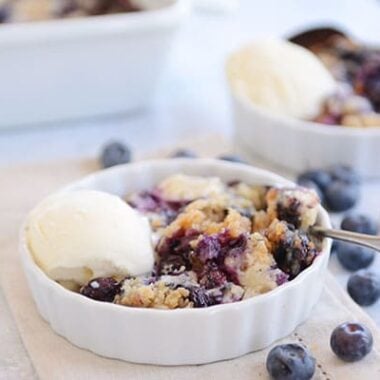 Ingredients:
3 cups (about 16-17 ounces) fresh or frozen blueberries (don't thaw if using frozen)
16 ounces vanilla cake mix (homemade version below)
9 tablespoons butter, chilled
1/2 cup buttermilk or milk, chilled
Ice cream or whipped cream, for serving
Easy Homemade Cake Mix
1 cup (7.5 ounces) granulated sugar
3/4 cup (3.75 ounces) all-purpose flour
2/3 cup (2.75 ounces) cake flour (see note below)
1/4 cup (1.25 ounces) nonfat dry milk powder
1/2 tablespoon baking powder
1/2 teaspoon salt
1 tablespoon vanilla extract
Directions:
Preheat the oven to 325 degrees F. Lightly grease a 9X12- or 9X9-inch baking dish with cooking spray. The cake will obviously bake up thicker if using a 9X9-inch baking pan.
Add the blueberries to the pan in an even layer. Set aside.
If making the homemade cake mix, whisk together all the dry ingredients and sift through a fine mesh strainer into a bowl. Reserve the vanilla to use later with the buttermilk (or milk).
Using a cheese grater (as pictured in the post), grate the chilled butter into the dry cake mix. Using your hands, toss the cake mix and butter together until the butter is uniformly distributed and the mixture looks like coarse sand. Make sure not to go crazy here – you don't want to melt the butter as you toss it all together.
Dump the cake/butter mixture onto the blueberries and toss with your hands to combine.
Whisk together the buttermilk (or milk) and vanilla (only need to do this if using the homemade cake mix recipe above). Drizzle the mixture in a thin stream over the top of the cake.
Bake the cake until the batter is puffy and lightly golden, about 35-38 minutes for a 9X12-inch pan and a few minutes longer for a 9X9-inch pan. Don't overbake or the bottom may burn.
Serve warm or at room temperature (let's be honest, warm is the way to go) with a scoop of ice cream or a dollop of whipped cream.
Notes:
For the homemade cake mix, since I never have cake flour on hand and always make my own cake flour, I either measure about 1/2 cup all-purpose flour + 2 tablespoons cornstarch for the 2/3 cup cake flour in the recipe, OR I weigh the amounts (3 ounces all-purpose flour and about .5 ounce cornstarch).
If you are already weighing out the all-purpose flour also, you can simplify and for the entire homemade cake mix, you can weigh 6.25 ounces total all-purpose flour and .5 ounce cornstarch. Make sense?
All images and text ©Mel's Kitchen Cafe.
Recipe Source: adapted from Nicole's gluten-free recipe; cake mix ingredients adapted from my favorite homemade cake mix recipe