This recipe for Broccoli Rabe and Chicken Pizza came to me after I sat down a few weeks back to brainstorm ideas for March and my mind filled with endless ideas for St. Patricks Day recipes, too many ideas even. I couldn't decide which ones to try out or decide which ones you would enjoy most. So I chose a few so now you'll be seeing more green this week (along with my Healthy Shamrock Shake from last week!).
Today, since we're focusing on green I thought I would share a little bit about how I get my 3 year old to eat green foods, and how to overcome pickiness. Pickiness in kids eating habits occurs in every house, EVERY house, including ours. Just because you see my instagram feed filled with healthy meals, lots of veggies, fruit, whole grains etc, doesn't mean my kids loves every meal we bring to the table. So if you have a picky eater in your family, I get it, I've been there, and I'm still there in many ways.
Several years ago Josh and I got certified to be foster parents, though it never panned out for us to actually foster any kids (God had a very different plan for us), we still learned a lot during the process. One of the classes I took to get my certification hours was a class on picky eaters. It was fascinating, and even though I was child-less at the time, I knew I would hold onto the info for later use.
Here are some of the ideas that really help with picky eaters:
Keep familiar and favorite foods on rotation. You can add in vegetables here and there to these familiar foods or change them up slightly but it's good and healthy for kids to have some familiarity with meals. This broccoli pizza is a perfect example of matching familiar (pizza) with a veggie. I can honestly say Everett was skeptical but ended up eating 3 regular sized pieces.
Make sure your kids are seated comfortably. I recently moved my 3 year old back into a booster seat at home because he was getting in and out of his seat too much during dinner time. Now he sits comfortably during the whole meal. Think now only about the seat but also about there feet dangling too much.
Make sure they're hungry. This is a really important one at our house. If Everett has snacked too much around dinner time then it's my fault he won't eat a full meal. If your kids re starving and dinner isn't ready, try for distraction, save a favorite 15 minute show for them to watch or toy to play with (reserved for these times).
Start with small portions. I actually learned this one from a friend who is currently fostering 3 kids. She said she starts all of the kids with a very small portion so they don't get overwhelmed with how much they have to eat of a food they aren't familiar with or don't like. Then, if they are still hungry they can ask for more.
Have the kids help pick produce and help with the cooking. I've found that when Everett is involved in the cooking process weather its picking out one or two veggies at the store, helping press the button on the blender for a smoothie, or helping tear off broccoli stems (like in this recipe) then he's more likely to enjoy the 'fruits of his labor.' I'll often remind him at dinner, look here's the broccoli you helps tear apart or this is the squash you picked out at the store. If you have a garden in the summer, this tip is really helpful. I got Everett to eat purple lettuce in salads all summer because he was the one watering it and harvesting it before dinner time.
What are your tips or problems with picky eaters? I'd love to hear.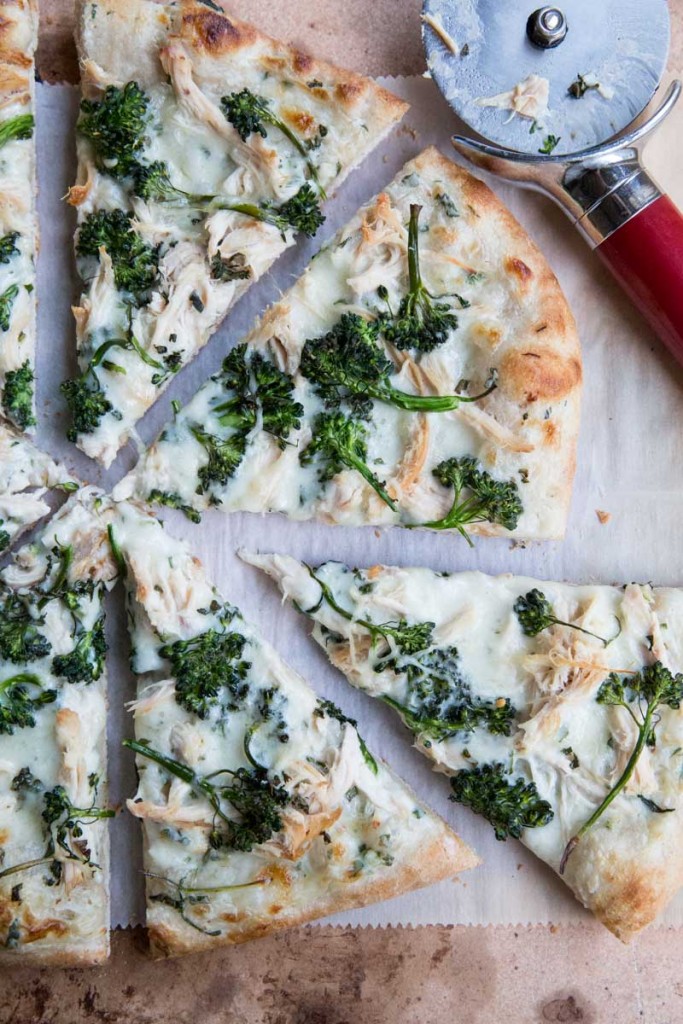 Without further adeau I give you this month's line up of seasonal recipes. Try one of these with your family this week and with the tips above I hope that even your pickiest of eaters will like it!
Creamy Vegan Kiwi Lime Avocado Pie by Letty's Kitchen
Chana Aloo Gobi Masala: Chickpea, Potato, and Cauliflower Curry by Food for My Family
Stuffed Sweet Potatoes with Chickpeas, Asparagus and Arugula by Floating Kitchen
Spicy Lemon-Ginger Tonic Tea by Suitcase Foodist
Hot Chili Blistered Asparagus with Sriracha Aioli by Kitchen Confidante
Glazed Meyer Lemon Bundt Cake with Candied Lemons by Simple Bites
Frozen Chocolate-Dipped Kiwi with Sea Salt by Project Domestication
Tempura Cauliflower with Spiced Yogurt Dipping Sauce by Completely Delicious
Easy Lemon Thyme Roasted Artichokes by Flavor the Moments
Healthy Shamrock Shake by Joy Food Sunshine
Curry Roasted Cauliflower by Healthy Seasonal Recipes
Roasted Cauliflower Pasta with Lemon Chimichurri by She Likes Food
Thai Curry Cauliflower Soup by Mountain Mama Cooks
This Broccoli Rabe and Chicken Pizza was inspired by a recipe from Smitten Kitchen.