This BROWN SUGAR POUND CAKE with BROWN SUGAR ICING (let's be honest, it's caramel) is utterly delicious and just perfect for Fall. A simple classic. The pecans add a little extra crunch to this sweet and amazing cake.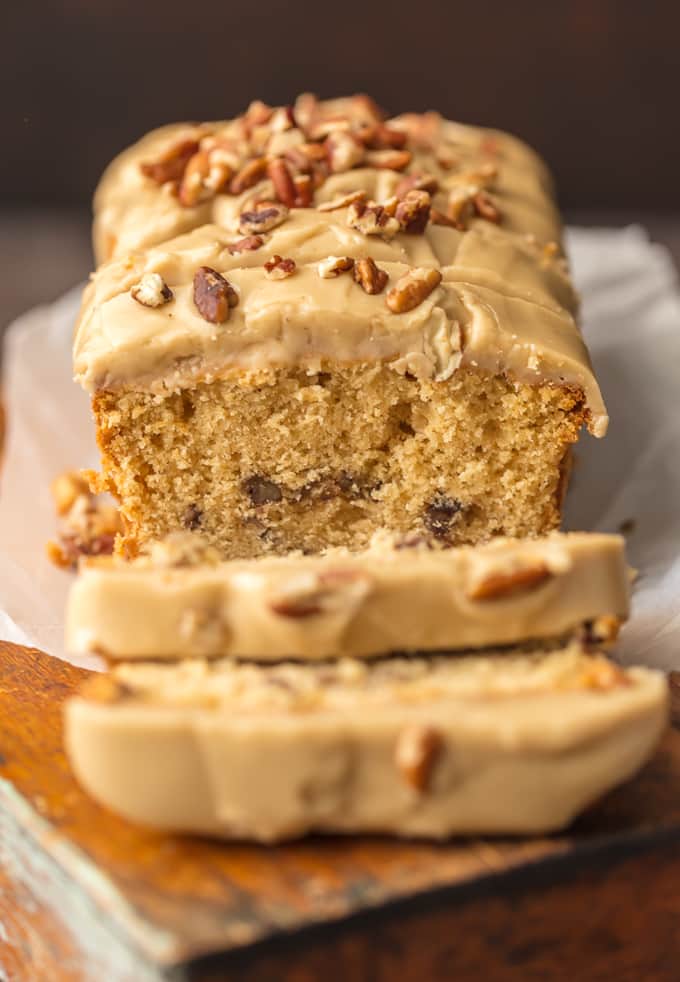 I'm a bread making MACHINE! First the Caramel Cheesecake Stuffed Apple Bread and now this Brown Sugar Pound Cake…we are on a roll! With these two recipes combined…you can conquer Fall and especially the holidays! As far as sweet cakey breads go, this Brown Sugar Pound Cake is EVERYTHING. A simple classic, you cannot go wrong when making this for anyone and everyone. Work party? Bring this. Homemade gift needed? Make this. New baby in the world? Make his or her mama THIS. Utterly delicious, pretty, and so perfect for Fall. I'm in love love love.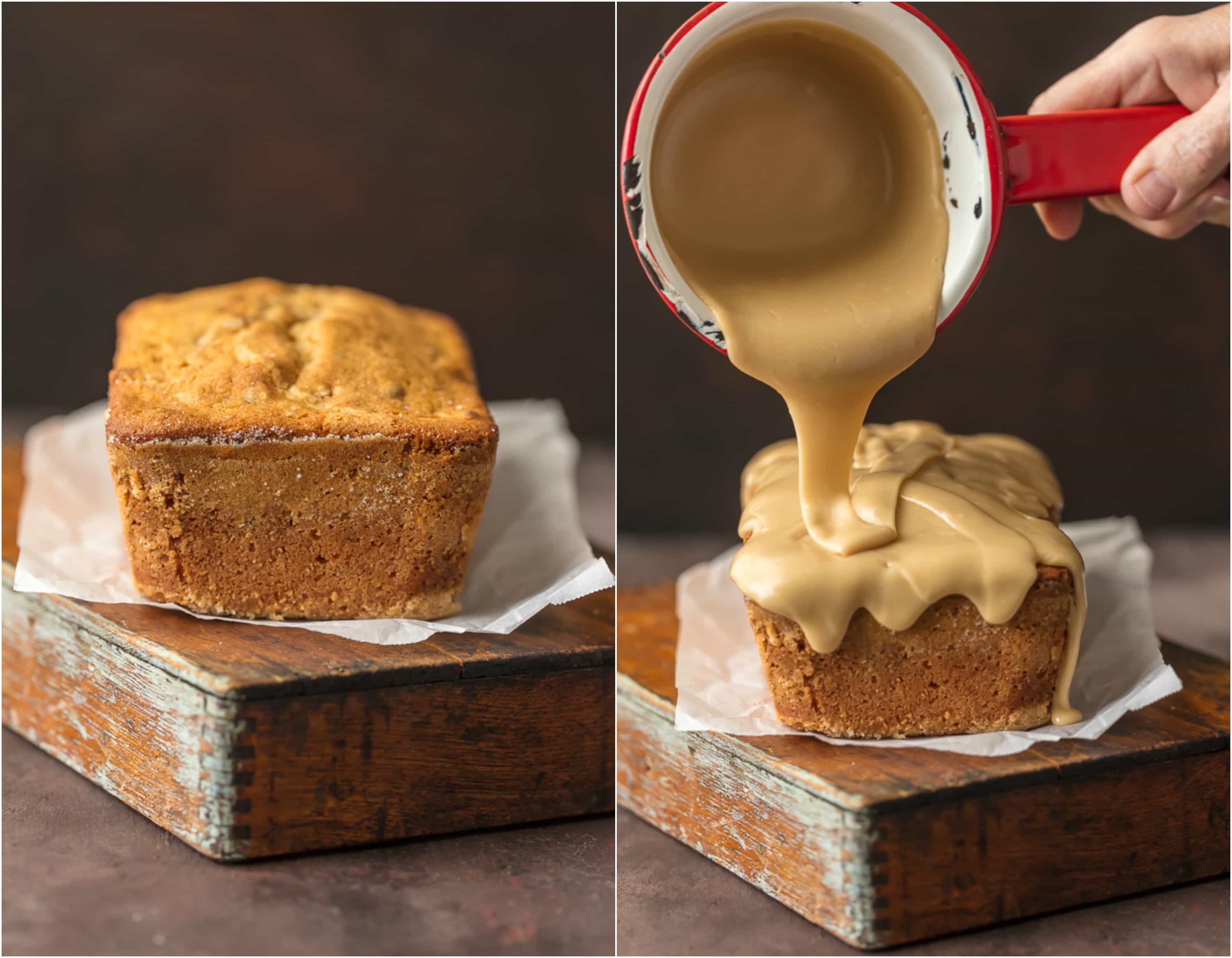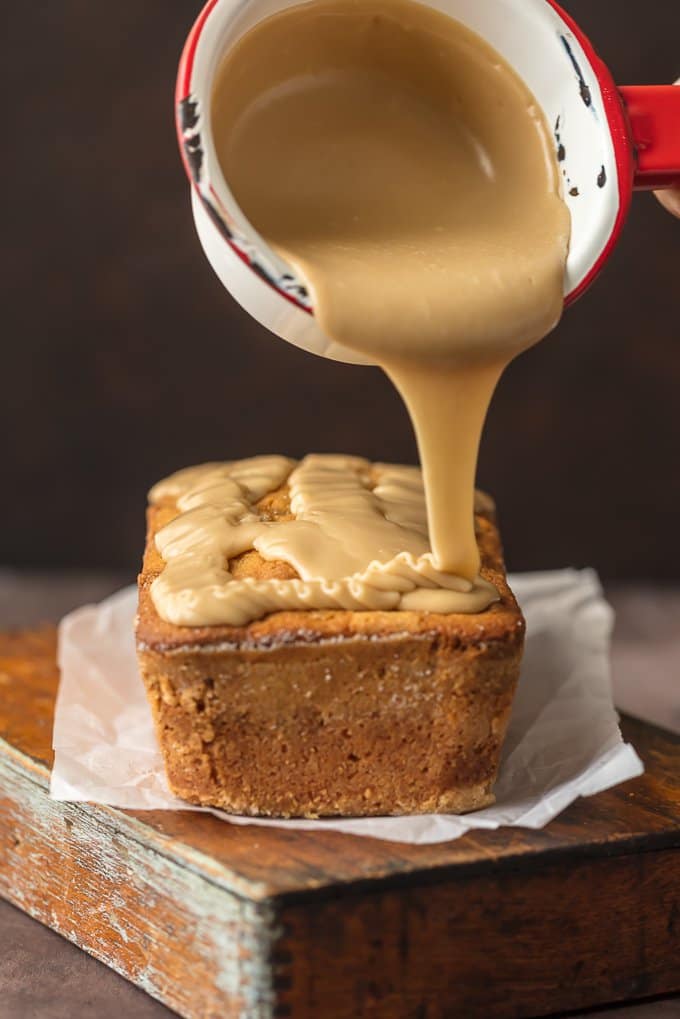 Now that we have talked about the Brown Sugar Pound Cake itself, let's PLEASE discuss this brown sugar icing. A mix between an icing that you spread on and a glaze that you pour, this icing is way too delicious. If I could dip the entire cake in the icing, I would. "Brown sugar icing" is actually code for CARAMEL, and that's pretty much what it tastes like. Addicting is an understatement. The sweet bread combined with the crunch of the pecans combined with the sweet thick layer of brown sugar icing…it's all too much and all just right.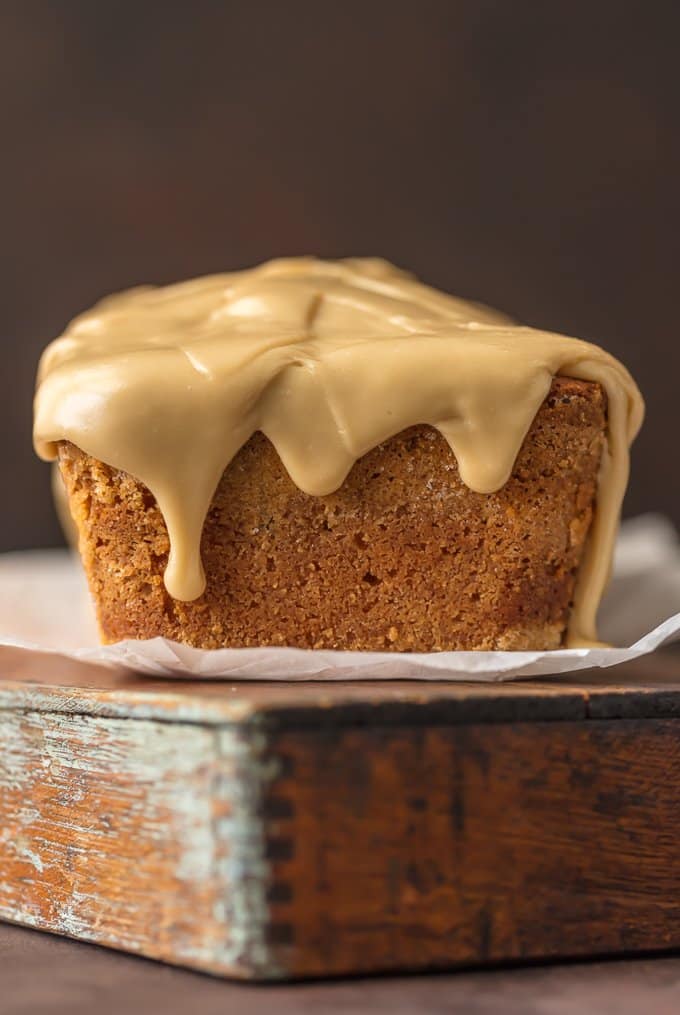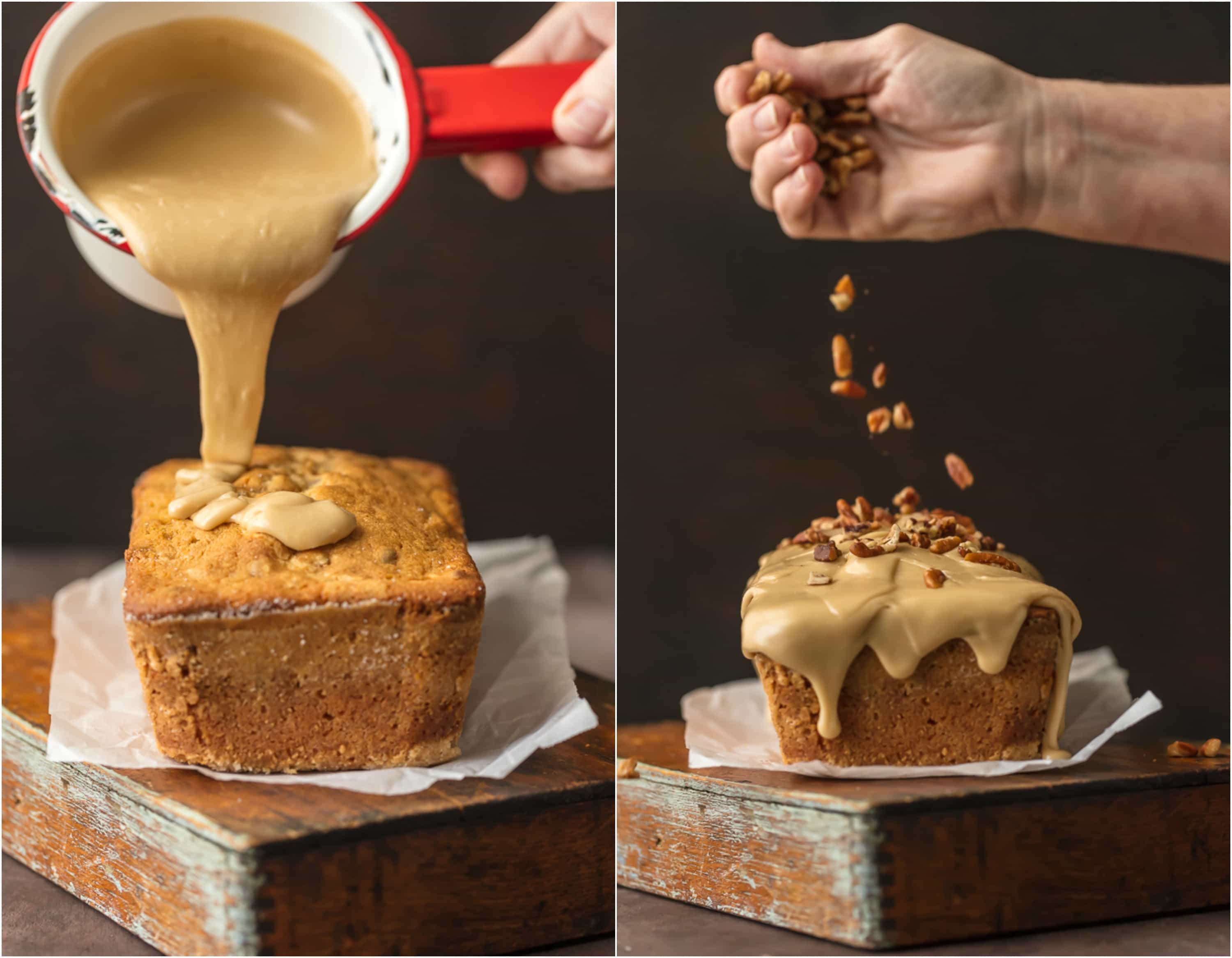 This Brown Sugar Pound Cake is genuinely hard to put down or avoid when it's on your counter. Good luck to you all. I ate way too much of this in one sitting and I actually don't regret it. This is why its great you can wear layers in the Fall and Winter. Thank goodness for sweaters when this cake is around. Breakfast, snack, dessert, eat it all the live long day.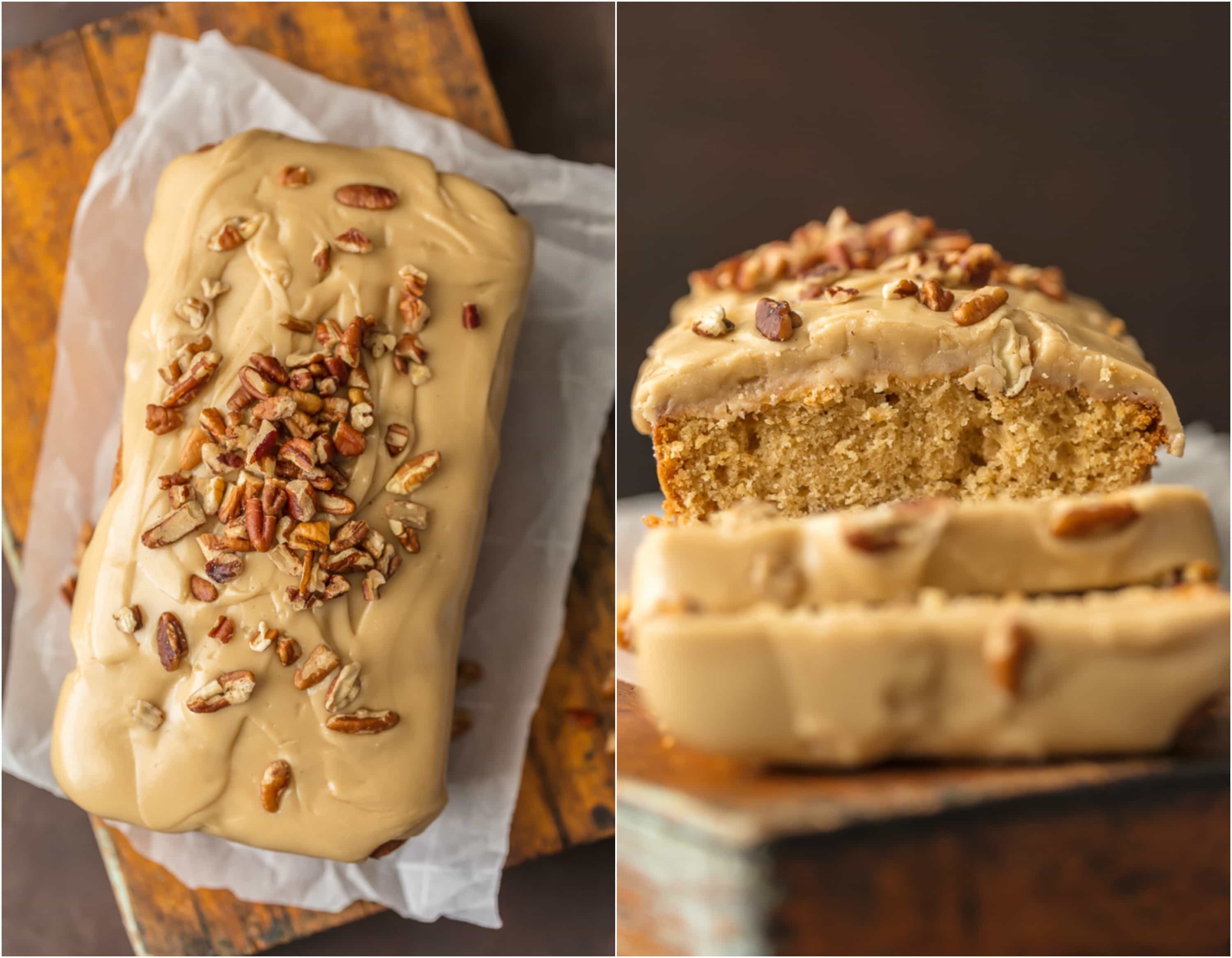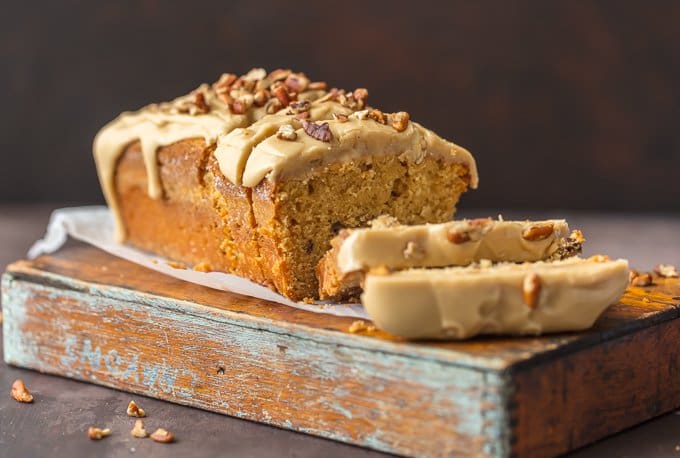 Enjoy!
Becky Hardin | The Cookie Rookie
Brown Sugar Pound Cake
Original Recipe found in Southern Living Magazine
20 minPrep Time
1 hr, 30 Cook Time
1 hr, 50 Total Time
Ingredients
Instructions
Instructions for cake:

*Note: Brown Sugar Pound Cake starts in a cold oven to bake. Do NOT preheat the oven.
Grease and flour baking pan(s) or spray with Baking Spray.
Place butter and shortening in the bowl of an electric mixer. Beat on MED speed until creamy. Gradually add sugars and beat until light and fluffy. Add eggs, 1 at a time. Beat, after each addition, just until incorporated.
In a large bowl, sift together flour, baking powder and salt.
In a small measuring cup, mix together the milk and vanilla.
Add the flour to the butter/sugar mixture alternately with the milk/vanilla mixture. Begin & end with the flour mixture.
Add in pecans, if using.
Place pan on the middle rack in a cold oven and set the temperature to 300°F.
Bake 1 hour 10 minutes, test with a toothpick, and check every 5 minutes thereafter. The cake is done when the toothpick inserted in the middle comes out with just a few crumbs attached.
Transfer cooked cake to a cooling rack 10-15 minutes. Remove from pan and cool completely on the wire rack.
Dust cake with powdered sugar or with glaze.

Instructions for Glaze:

Melt butter in a medium saucepan over medium-low heat. Add brown sugar and cook 2 minutes, whisk constantly. Continue whisking and add the milk. Bring to a boil. Remove pan from heat and add the vanilla. Add the powdered sugar in ¼ cup increments, whisking after each addition. Whisk until drizzle is creamy and smooth. (Add more milk, if necessary, to desired thickness.) Pour glaze over cooled cake. Sprinkle with toasted pecans, if desired.
Enjoy!
7.6.4
2439

JOIN OUR MAILING LIST
TO GET COOKING!
Subscibe to recieve all the latest, greatest, and EASIEST recipes sent straight to your email inbox. If we post something yummy, you'll be the first to know.