This post may contain affiliate links. Please read my disclosure policy.
This 30-Minute Brussels Sprouts Parmesan Pasta is made with garlicky shredded Brussels sprouts, toasted pine nuts, and a silky cheese and black pepper sauce.  Feel free to add bacon or sausage if you'd like, too!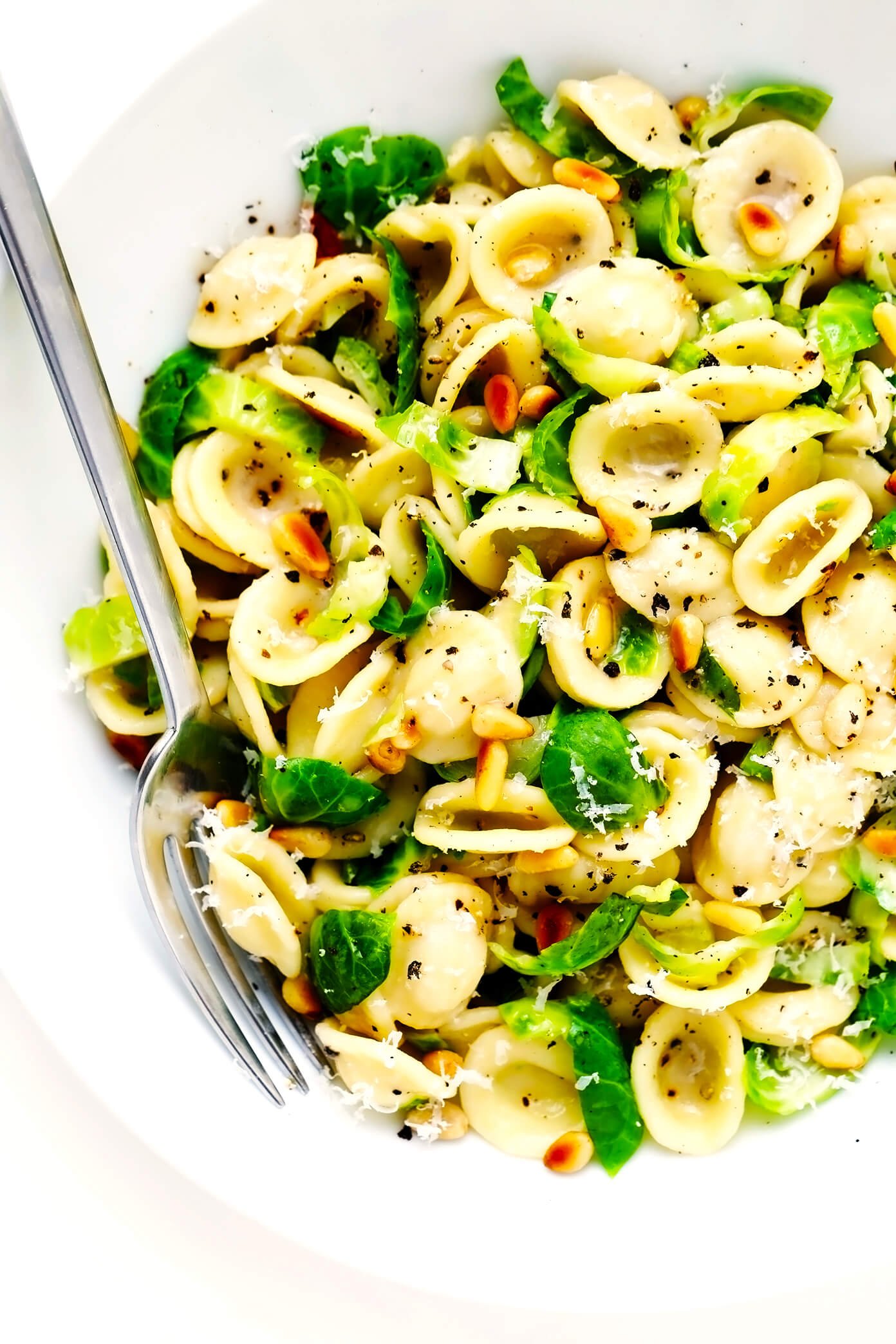 Now that Brussels sprouts are back in season, we've been buying them pretty much non-stop lately here in our house and roasting, sautéing, and tossing them into salads basically as often as possible.  I can't get enough of these little green superfoods this time of year!  But one of our favorite new recipes this past month ended up being an impromptu fusion of one of our favorite pastas (cacio e pepe) and one of our favorite side dishes (sautéed garlicky Brussels sprouts with pine nuts).
For lack of a more creative name, I'm calling it our new favorite Brussels Sprouts Parmesan Pasta. ♡
It's a super-basic recipe that requires just 6 ingredients and comes together in less than 30 minutes.  But I'm telling you, the comfort and flavor factors of this pasta are a full-on 10 outta 10.  The texture of that thick and chewy al dente pasta is balanced with wisps of tender shredded Brussels sprouts and toasted buttery pine nuts.  And when tossed together with a glossy butter, Parmesan, garlic and black pepper sauce, get ready to go back for seconds because I assure you that one bowl of this cozy seasonal pasta is going to have you swooning.
If you feel like adding in extra protein, some sautéed Italian sausage or bacon in there would be a very, very good idea.  Or if you felt like giving the pasta more of a lemon-buttery twist, this recipe would also be delicious made instead with the lemony brown butter sauce that I used in this recipe too.  However you make it, this pasta is a great way to enjoy the season's sprouts.  So bring home a batch, and let's make some pasta together!
Brussels Sprouts Pasta Ingredients:
First, a few quick notes about the ingredients you will need to make this pasta (amounts listed in the full recipe below):
Pasta: I really recommend using a good thick pasta for this recipe, such as orrecchiette or bucatini.  But any pasta shape that you have on hand will do.
Butter: Part of which we will use to sauté the Brussels, and part of which will form the base of our Parmesan sauce.
Brussels sprouts: I love shredding them into confetti-like ribbons for this pasta.  (Here is a quick video tutorial you can watch for how to shred Brussels either by hand or with a food processor.)  Or you could also just halve the Brussels sprouts if you prefer.
Garlic: Either pressed or minced.
Parmesan: This recipe calls for a full 2 ounces of Parmesan cheese, which will be the starring ingredient in our cheesy sauce.  As always, it's important that your Parmesan be freshly-grated before adding it to this pasta, so that it will melt smoothly into a silky sauce.  Unfortunately the pre-grated or shredded Parmesan you buy at the store will not melt well.  So purchase a wedge of cheese and give it a quick grate by hand.
Pine nuts: Briefly toasted in a sauté pan or in the oven, to bring out their best flavor.
Sea salt and black pepper: And finally, lots of sea salt to generously season your pasta water.  Plus lots of freshly-cracked pepper to season the sauce.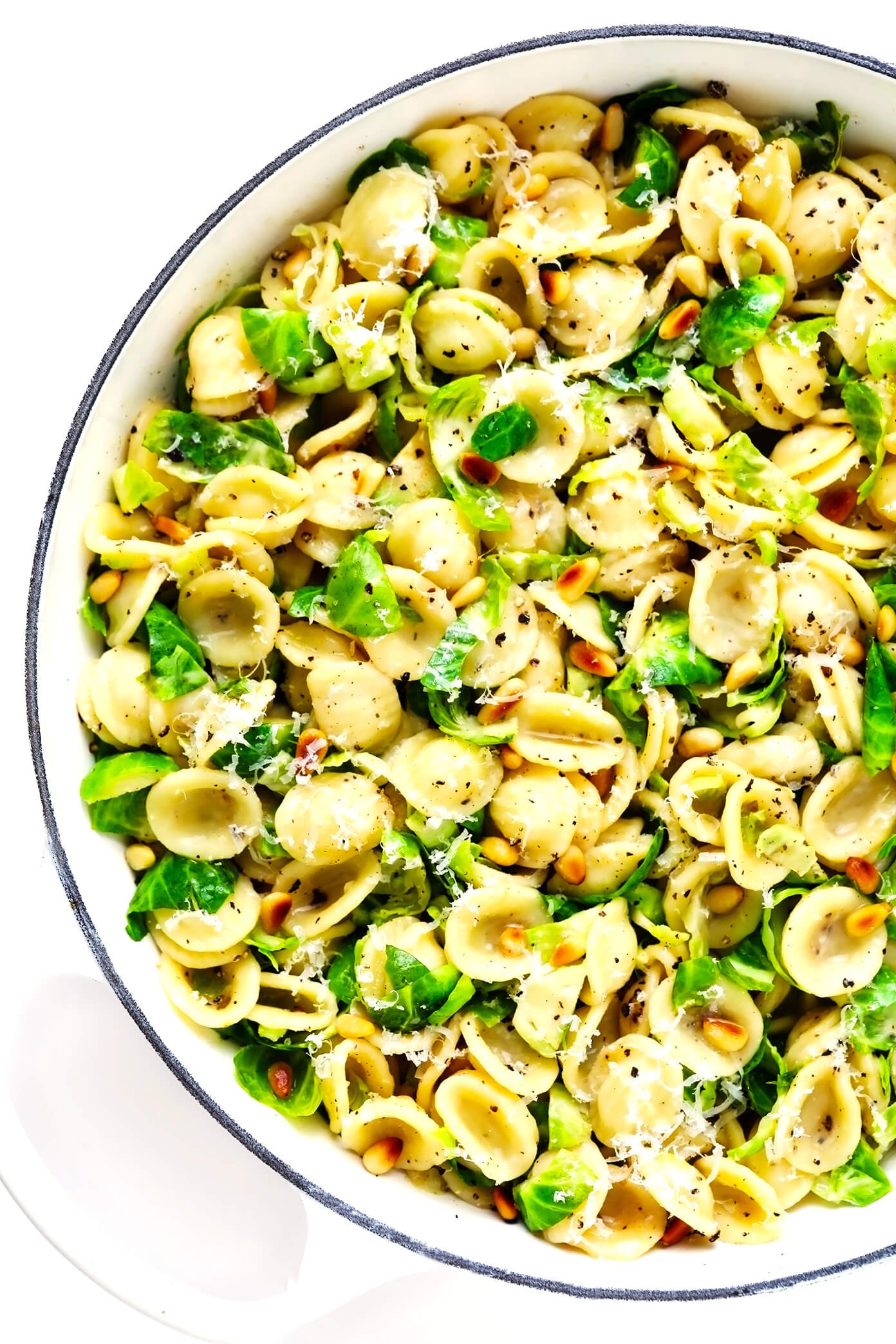 Tips For Making This Pasta:
Before we get to the full recipe below, here are a few quick tips for making this pasta:
Prep your ingredients beforehand. Once you begin boiling the pasta, this recipe moves pretty quickly.  So I recommend being sure that your pine nuts are toasted and the Brussels sprouts and garlic are chopped and ready to go before you begin the cooking the pasta.
Use a spider strainer to transfer the pasta. If you love pasta as much as I do, I really recommend investing in a spider strainer so that you can easily and immediately transfer your cooked pasta from stockpot to sauté pan for the final step of this recipe.  If you don't have a spider strainer, you can reserve a cup or so of the starchy pasta water and then drain the pasta in the sink in a large strainer.  But I really prefer the spider strainer method for efficiency.
Don't overcook the pasta! Our goal for this recipe is that the pasta is nice and chewy and al dente after it has been tossed with the sauce.  So keep a close eye on the pasta as it cooks and test a few bites here and there.  And when the pasta seems just 1 minute or so shy of al dente (it will still have a slightly firm bite), go ahead and transfer it to the sauté pan and then the pasta will finish cooking in the sauce.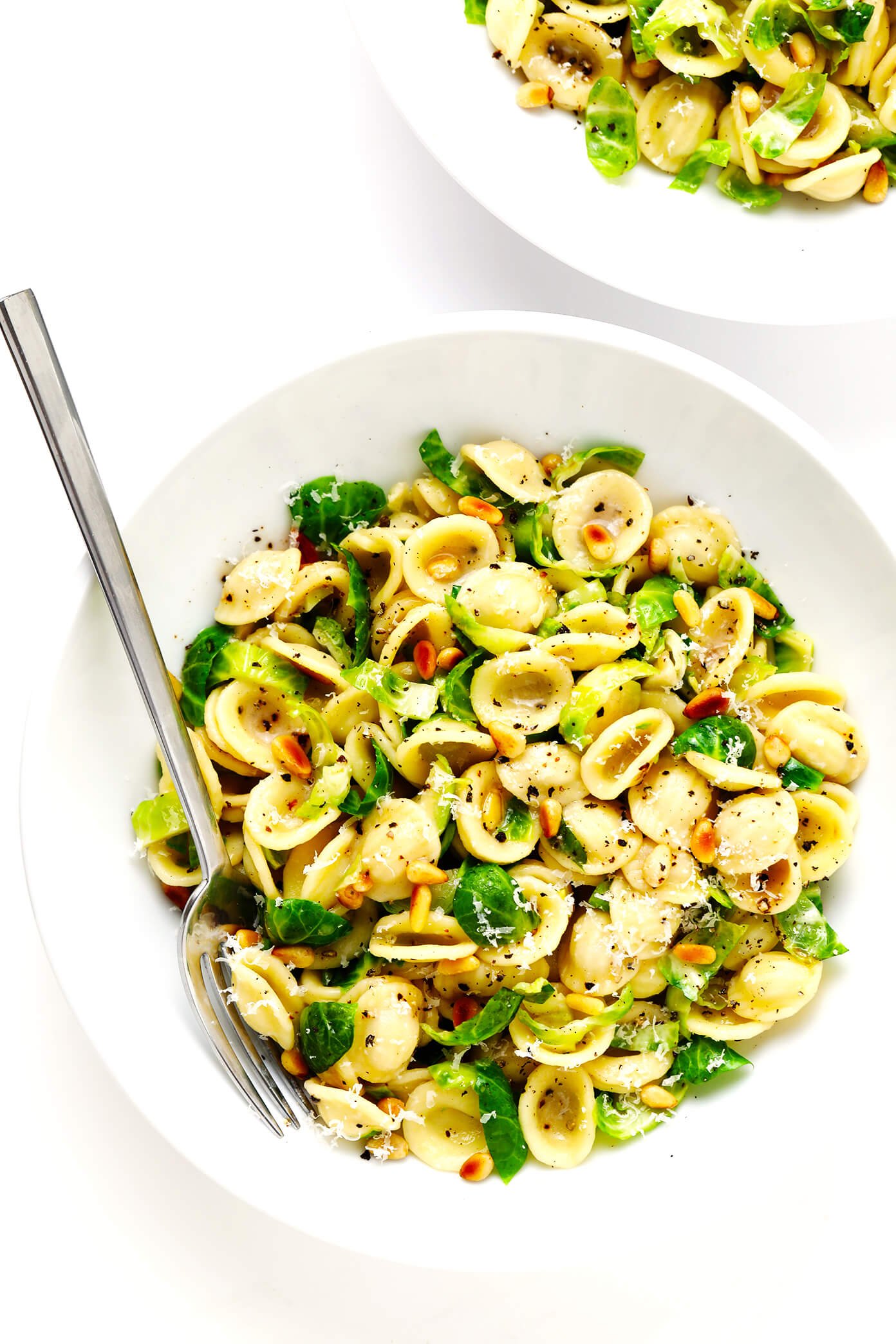 Possible Variations:
As I mentioned above, this recipe is incredibly flexible if you would like to personalize it with ingredient swaps or add-ins.  For example, you could…
Add a protein: Bacon or Italian sausage would be a natural fit in this pasta.  (And if you add them, I recommend using the leftover grease to sauté the Brussels instead of the butter!)  But shrimp, chicken or salmon would also be delicious additions here too!
Add extra greens: Feel free to also sauté in some fresh kale or baby spinach with the Brussels sprouts, if you would like to add in some extra greens.
Add lemon juice: As mentioned above, this recipe would also be delicious made with my the lemony brown butter sauce found in this recipe.  Or, if you just wanted to add a hint of lemon to the cacio e pepe sauce, you could toss the pasta with a few tablespoons of lemon juice just before serving.
Add some spice: I usually can't resist also adding in a pinch of crushed red pepper flakes, to give the pasta a subtle hint of heat.
Use different nuts: If you would like a more budget-friendly alternative to pine nuts, toasted walnuts would also be delicious in this recipe.
Make it gluten-free: Just be sure to use certified gluten-free pasta.
More Favorite Brussels Sprouts Recipes:
Looking for more ways to cook with Brussels sprouts this season?  Here are a few of my favorite Brussels sprouts recipes:
---
Description
This Brussels Sprouts Parmesan Pasta is made with a simple combo of shredded Brussels sprouts, toasted pine nuts, and a silky cacio e pepe (cheese and black pepper) sauce.  Feel free to double the recipe if you would like to use a full pound of pasta.
---
---
Instructions
Cook the pasta. Heat a large stockpot of generously-salted water until boiling.  Add the pasta (about 5 minutes before you begin sautéing the Brussels, see below) and cook the pasta until it is 1 minute shy of al dente.
Sauté the Brussels sprouts and garlic. Heat 

1 tablespoon

of the butter in a large sauté pan over medium-high heat.  Add the shredded Brussels sprouts and garlic, and season with salt and lots of black pepper.  Sauté for 2 minutes, stirring occasionally.  Continue with step 3, or if the pasta is not yet ready, briefly remove the sauté pan from the burner until the pasta is ready to go.
Toss the pasta. Once the pasta is ready, use a spider strainer to transfer the pasta into the sauté pan with the Brussels.  Add in 1/2 cup of the starchy pasta water and sprinkle the Parmesan evenly over the top of the pasta.  Remove the sauté pan from the heat.  Then toss the pasta with the Brussels and cheese for about 1 minute, or until the cheese has melted evenly into a silky sauce and the pasta is cooked to al dente.  If the sauce seems too dry, add in 1/4 cup of additional pasta water at a time until the right consistency is reached.
Serve. Serve the pasta warm, garnished with lots of toasted pine nuts, and enjoy!
---
---