Butter Burgers are amazingly delicious! These butter-soaked burgers are not for the health-conscious, but they are for anyone who enjoys REALLY GOOD FOOD. This Wisconsin Butter Burger recipe will have you drooling before you even bite into the juicy, cheesy, buttery goodness. And it wouldn't be complete without a good dose of onion!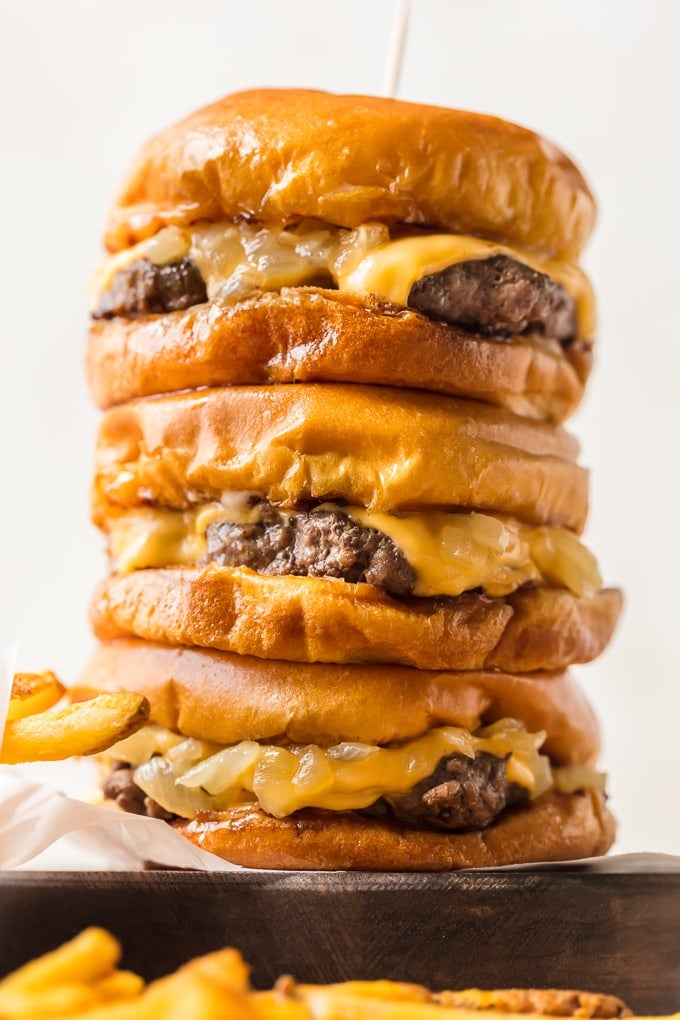 Butter Burger Recipe
Butter Burgers are an indulgent dream. A buttery burger topped with cheese and onions, made on the stove top for a delicious dinner.
I'm going to start off by saying a few obvious things: Butter Burgers are made with lots and lots of butter; they are incredibly flavorful and delicious; and they are not healthy.
The Wisconsin Butter Burger is everything you dream of when you're on a diet, and it's well worth the indulgence. Meat patties cooked in butter, onions cooked in butter, and buns slathered with more butter. Plus you can't forget the cheese. These burgers are so juicy and flavorful, and you just have to give in to the butter!
These burgers are made on the stove top, so no need for a grill. They are seared to perfection in butter to give them a nice crispy edge. Make a few of these and serve them with crispy fries for a fun and tasty meal.
This Wisconsin Butter Burger recipe will have you drooling. So much butter and so much flavor. Don't be afraid to indulge in this delicious burger!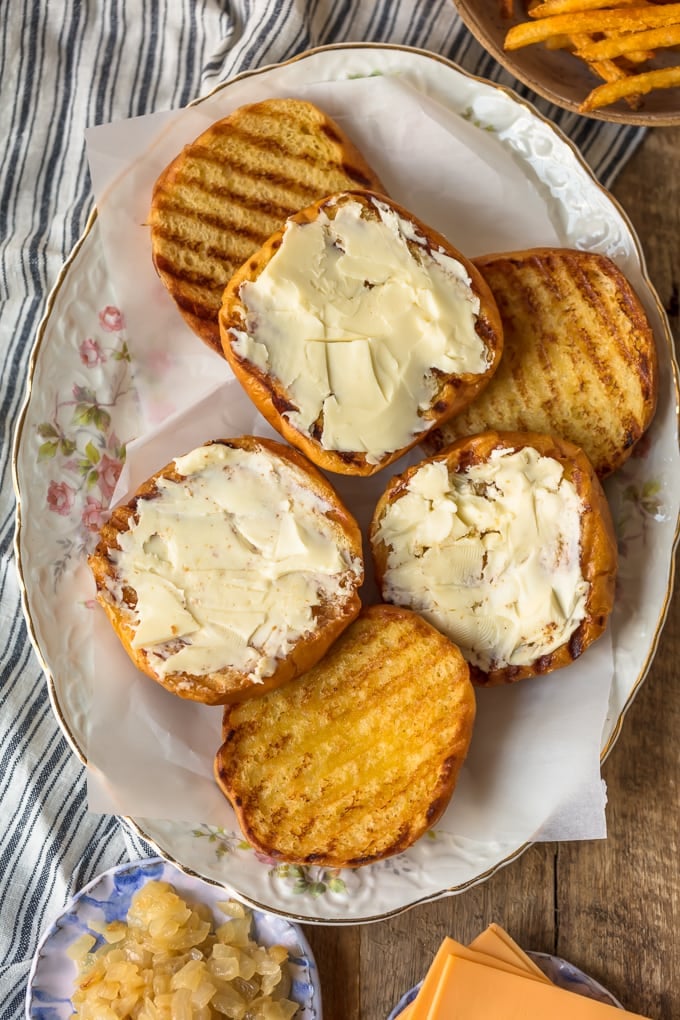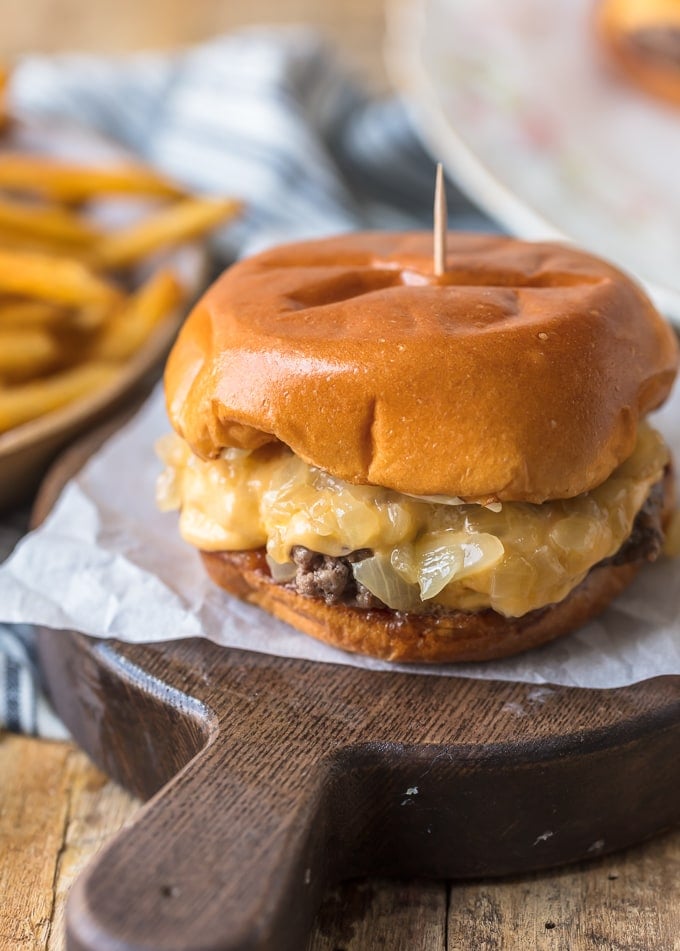 Wisconsin Butter Burgers
Butter Burgers are a Wisconsin classic. It should be no surprise that a state known for its dairy products would pile them on to a burger. Every part of this dish is cooked in butter, hence the name. The meat and onions are cooked in butter, but you can't skip adding it straight onto the bun too. There's not point in resisting this indulgent burger; your taste buds will absolutely love you!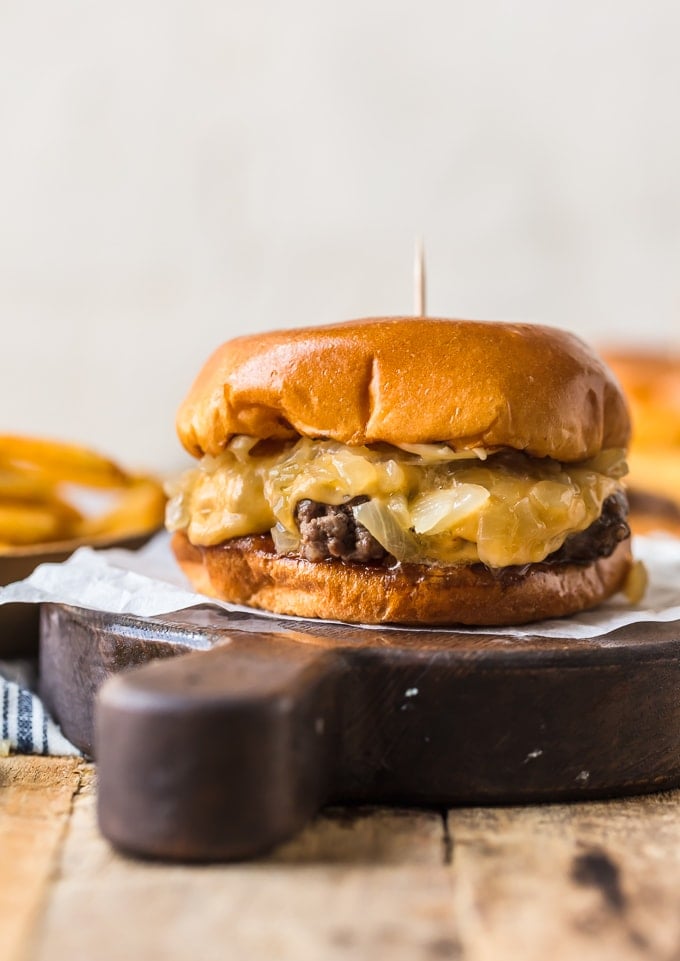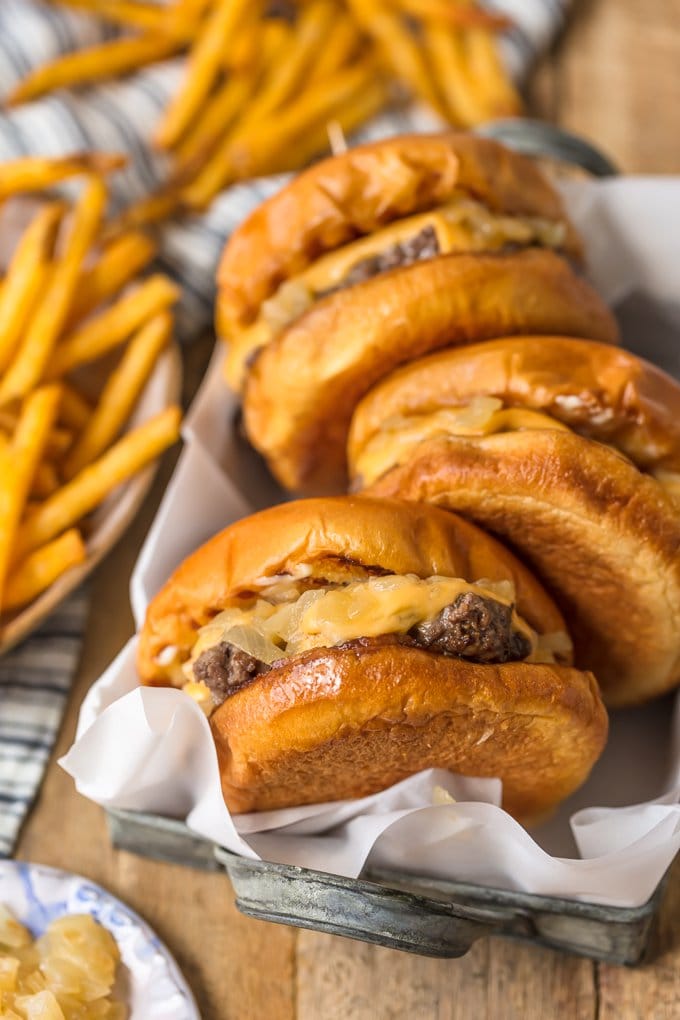 How to Make a Butter Burger
Butter burgers are made on the stove top, so no need for a grill. The best part is that everything is cooked in the same pan, so you don't need to dirty up a bunch of dishes. You want the flavor of the butter and onion still on the skillet as you cook the meat patties. It gets crispy and cooks in the flavor of the onions. YUM!
Melt butter in a skillet and cook onions until tender, translucent, and starting to brown
Divide beef into 4 equal size portions and work into patties, then refrigerate them for 15-30 minutes
Spread 2 tablespoons of butter onto each bun
Using the same skillet you used to cook the onions; cook beef patties for 3 minutes, then flip & cook 1 more minute
Add a slice of cheese to each burger & cook until melted
Lay the patties on the buns and top with onions
See the recipe card for full details & instructions
Recommended Products to make Butter Burgers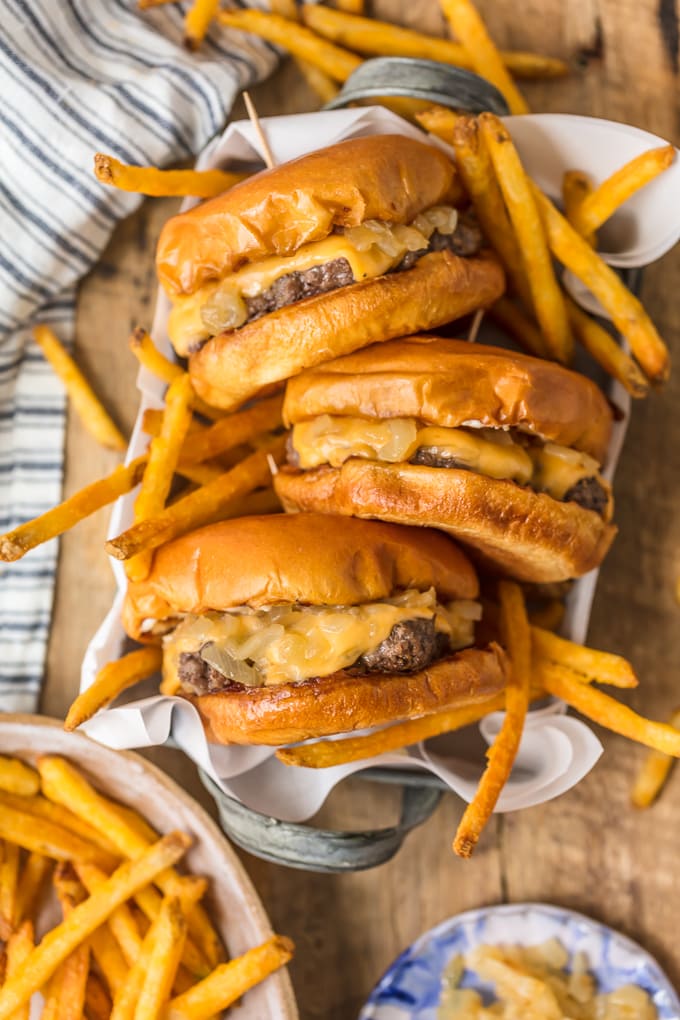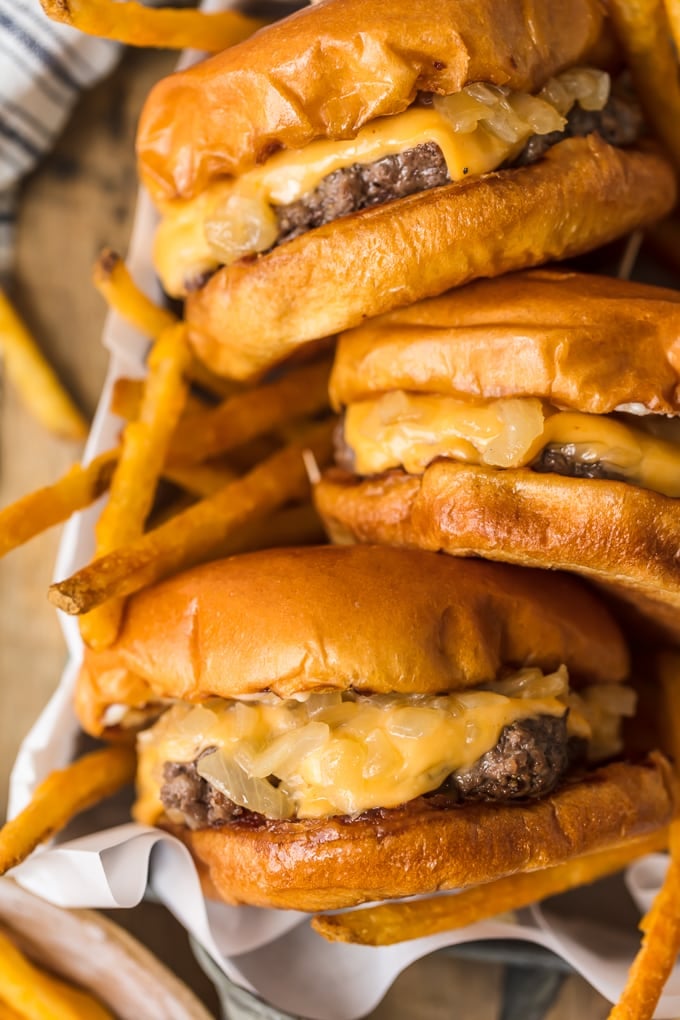 What is in a butter burger?
A butter burger is made up of a pan-seared buttery burger patty, a slice of cheese, onions cooked in butter, and a soft bun covered in butter. It's true to its name with all the butter!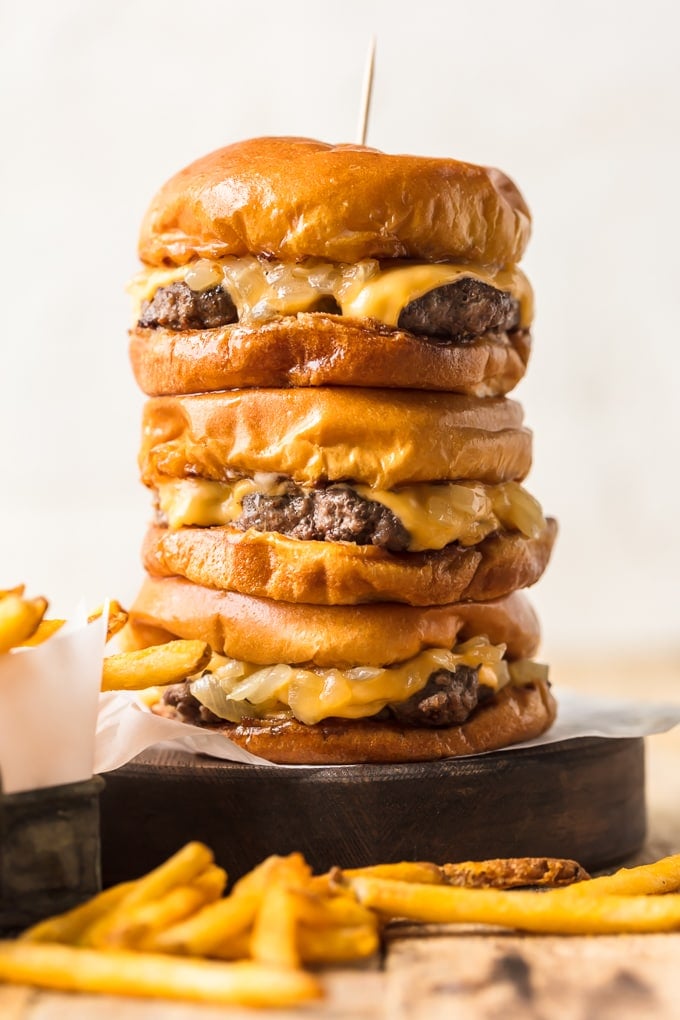 This Wisconsin Butter Burger recipe is beyond delicious, and perfect for lunch or dinner. Serve them up with crispy fries and just embrace the butter! You won't regret the enjoyment you get from eating this tasty burger.
See the recipe for details on how to make Wisconsin Butter Burgers. Enjoy!
If you like this butter burger recipe, try these other burger recipes too: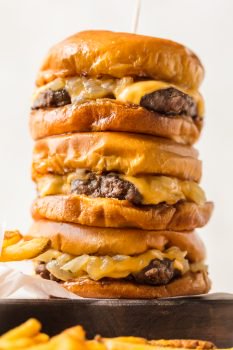 Butter Burger Recipe (Wisconsin Butter Burgers)
Butter Burgers are the most delicious burgers ever, cooked and smothered in butter! This Wisconsin Butter Burger recipe is everything your dreams are made of, juicy, cheesy, and absolutely tasty.
10

tablespoons

salted butter

softened

1

medium sweet yellow onion

chopped

1

tablespoon

water

¾

teaspoon

kosher salt

¾

teaspoon

freshly ground black pepper

1

pound

90% lean ground beef

4

hamburger buns

toasted

1

teaspoon

vegetable oil

4

slices

American cheese
In a large skillet, melt 2 tablespoons butter over medium heat. Add chopped onion, water and ¼ teaspoon salt. Cover and cook, until tender, about 5 minutes. Reduce heat to medium-low and remove lie. Continue to cook until onions are translucent and just beginning to brown, about 3 more minutes. Transfer onions to a plate, and divide into 4 equal portions; set onions aside until ready to use.

Divide beef into 4 equal sized portions and gently shape each into a 4½x½-inch patty. Sprinkle both sides of the patties with salt and pepper. Refrigerate the patties 15-30 minutes.

Spread each bun top with 2 tablespoons butter; set aside.

Heat oil in the same skillet used for the onions until the oil begins to smoke. Use a spatula to transfer the patties to the skillet and cook 3 minutes (without moving them). Flip the patties and cook 1 more minute. Place 1 cheese slice over each patty and continue to cook until cheese is melted, about 20-30 seconds more.

Transfer patties to the bun bottoms and place ¼ of the sautéed onions on each patty. Top each with the buttered bun tops and serve immediately.

Enjoy!
1. Be sure to cook the onions in butter and water and then brown them.
2. Don't skimp on buttering the bun tops. Yes, 2 tablespoons per bun top to be considered Wisconsin Butter Burgers.
3. Be sure to cook the patties a full 3 minutes before flipping them. These burgers need a good sear to get the flavorful dark brown crust.
Nutrition Facts
Butter Burger Recipe (Wisconsin Butter Burgers)
Amount Per Serving
Calories 668 Calories from Fat 441
% Daily Value*
Total Fat 49g 75%
Saturated Fat 27g 135%
Cholesterol 169mg 56%
Sodium 1328mg 55%
Potassium 486mg 14%
Total Carbohydrates 25g 8%
Dietary Fiber 1g 4%
Sugars 4g
Protein 31g 62%
Vitamin A 21.5%
Vitamin C 3.1%
Calcium 32.2%
Iron 23.4%
* Percent Daily Values are based on a 2000 calorie diet.