This CARAMEL STUFFED DOUBLE CHOCOLATE SHARE COOKIE is the stuff dreams are made of! This is our favorite oh so decadent dessert to make for any and every celebration. Gooey chocolate cookies for the win!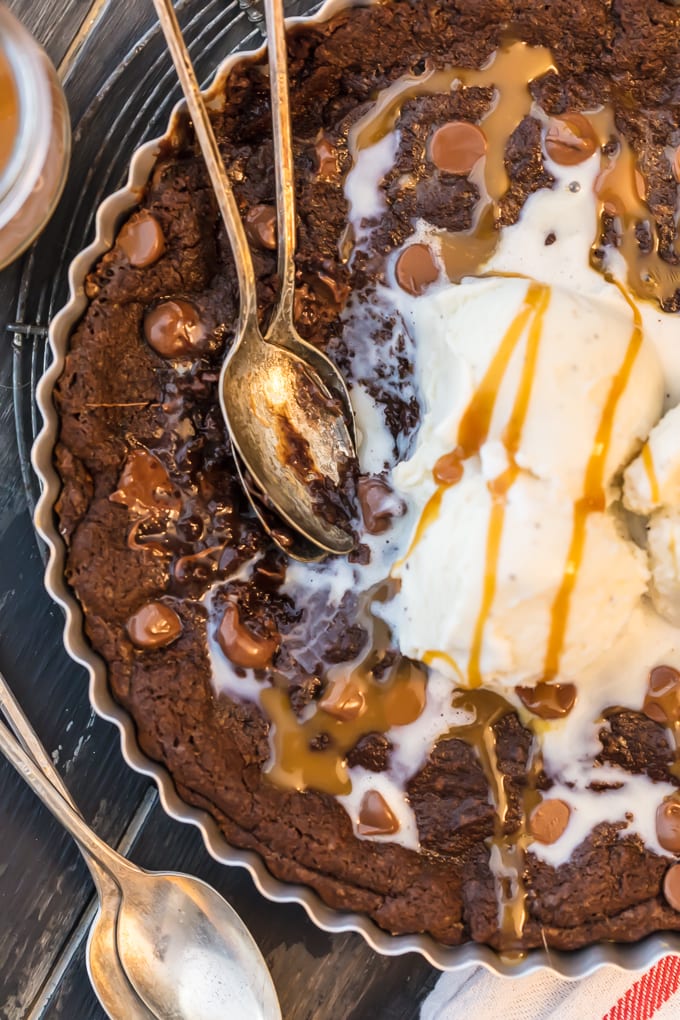 Um…yeah. Today is a good day. Today is the day we dive into this Caramel Stuffed Double Chocolate Share Cookie. Mom and I were brainstorming about this recipe and she thought it might be too gooey. TOO GOOEY!? Excuse me? She still thinks that but I DO NOT. I love the ooey gooey texture and love the indulgent sweetness. This cookie is meant to be eaten with a spoon and meant to be shared. It's HUGE, delicious, over the top, and so fun. Wow your guests when you bring out this monster at your next dinner party!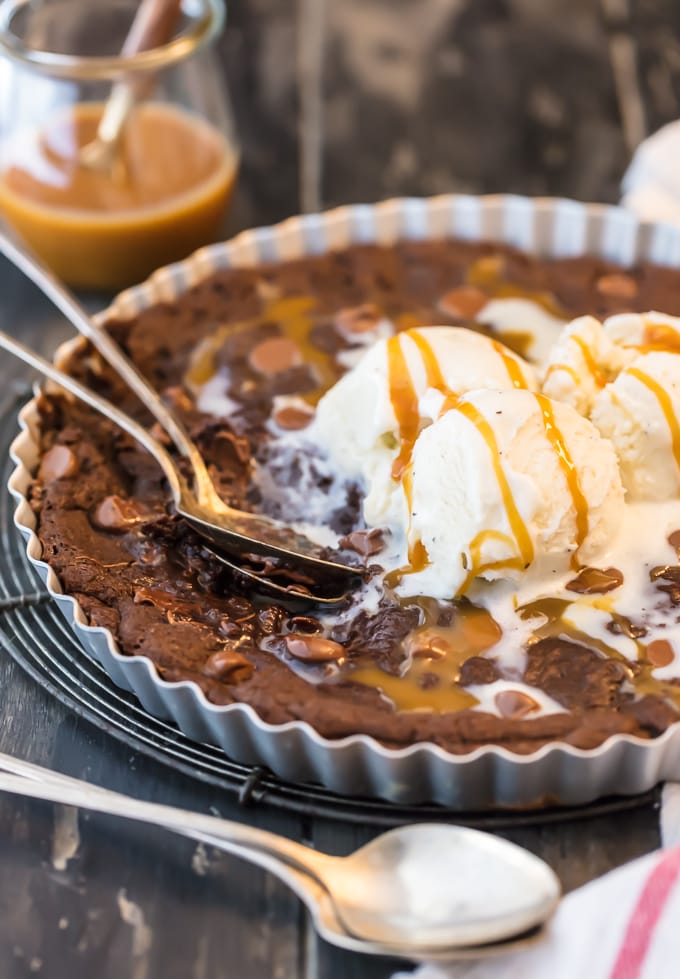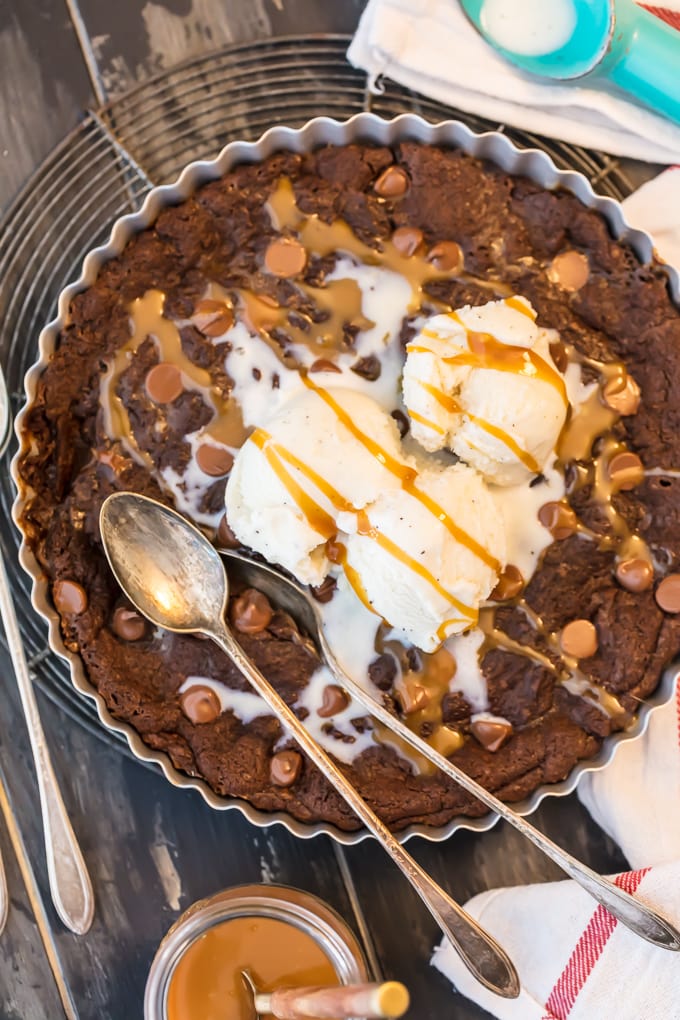 This Double Chocolate Share Cookie is so rich that a little goes a long way. Top it with vanilla or caramel ice cream and share it with 6-8 of your closest friends or family. They'll love your forever and like you for always (can you tell I have a 10 month old at home?) after this! In my world there's never enough caramel or never enough chocolate. Combine the two and you're really in business. It's like a brownie on overdrive.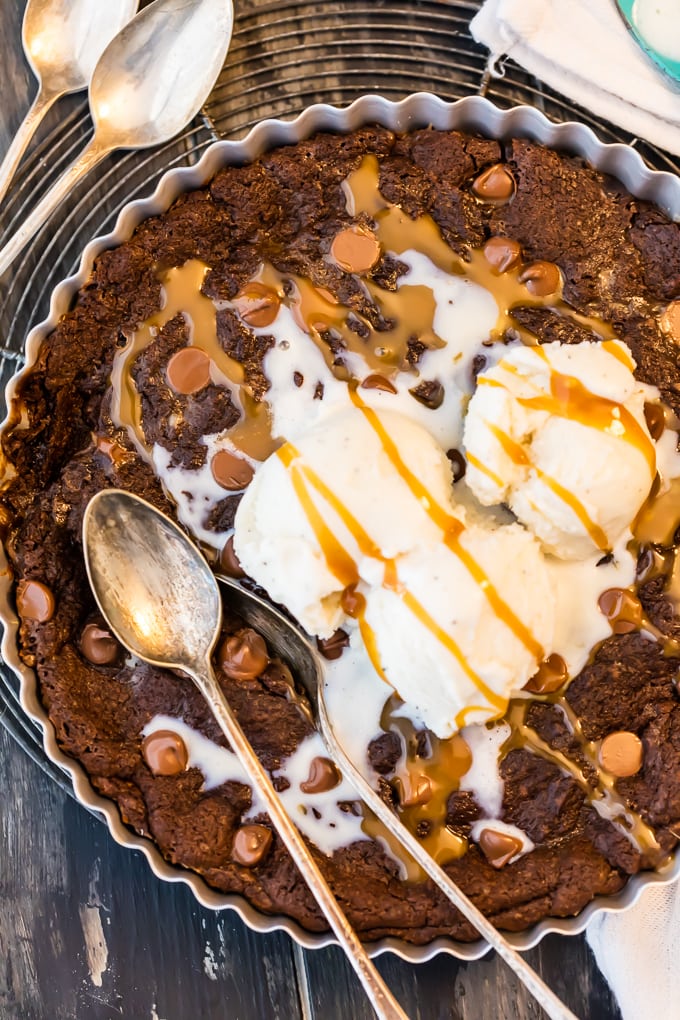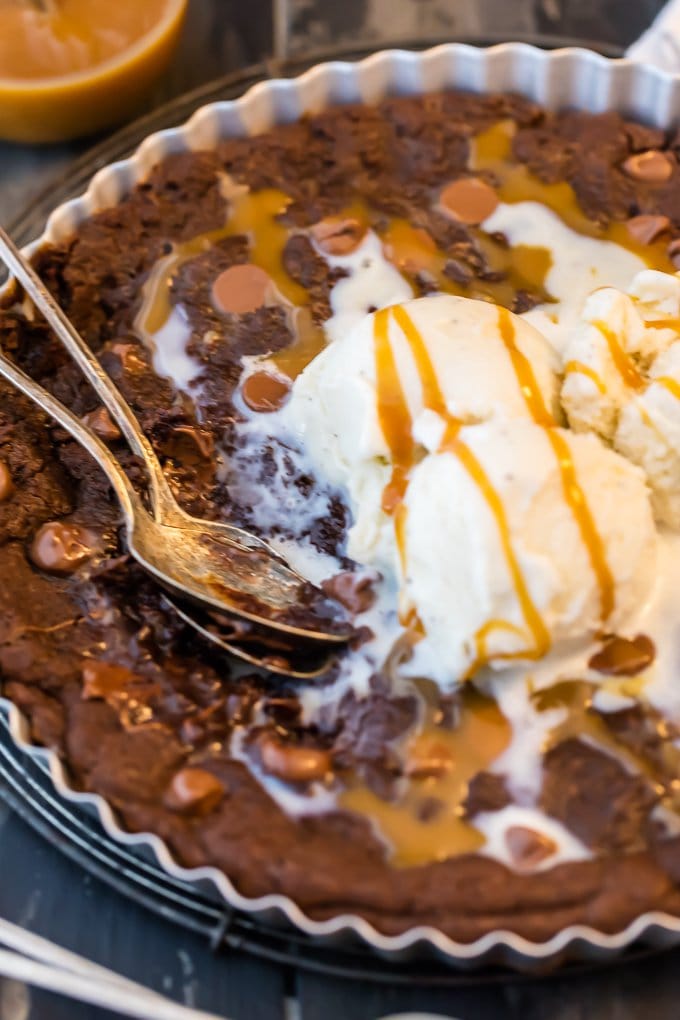 You don't really need extra caramel sauce for the top, but why not. You've already gone this much over the top…what's a little bit more. I keep dreaming about this dessert and wish I would have shared it with a few less people so that I could have eaten even more. This is like one of those amazing desserts at your favorite steak restaurant…except you made it in your own home. Winning! This would also make an awesome Vday dessert to make for your sweetie. But only if you're ready to spend the rest of your life with that person because they'll be obsessed ;).
I hope you enjoy! If you're looking for more sharable dessert options be sure to check out our Red Velvet Dessert Lasagna and Triple Berry Tiramisu! xoxo
Caramel Stuffed Double Chocolate Share Cookie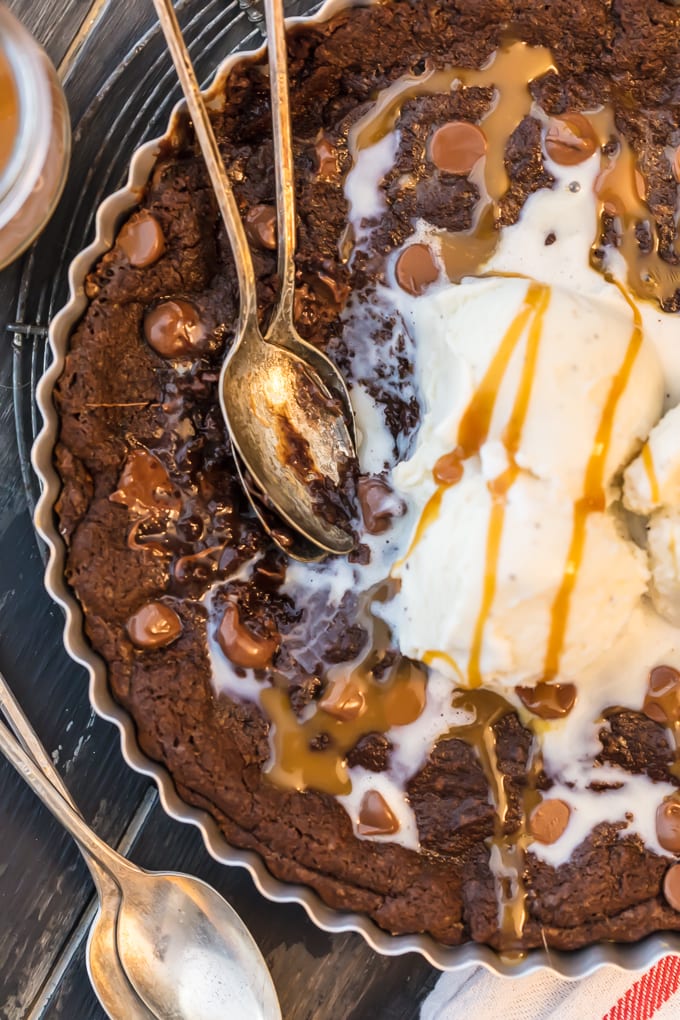 Ingredients
6 tablespoons unsalted butter, softened
¾ cup brown sugar
¼ cup superfine (caster) sugar or granulated sugar. *See note
1 large egg
2 teaspoons vanilla extract
1 cup all-purpose flour
1/8 teaspoon baking soda
½ teaspoon kosher salt
¼ cup cocoa powder
¼ cup + 2 tablespoons store-bought caramel topping (Smucker's Simple Delight Salted Caramel works well.)
½ cup milk chocolate chips
Instructions
Preheat oven to 325°F. Spray a 9-inch pie tin or drop-bottom baking tin with cooking spray and line the bottom with parchment paper cut to fit. Spray the parchment with cooking spray.
Also, line a large baking sheet with foil and spray the foil with nonstick spray. (The round baking tin with be set on the larger tin while cooking)
Place the butter, sugars, egg, vanilla, flour, baking soda, salt and cocoa in the bowl of a food processor, fitted with the metal blade. Process until the cookie dough forms. Divide the dough in half.
Press half the dough in the bottom of the prepared tin, pressing the sides of the dough halfway up the sides.
Pour ¼ cup caramel over the pressed dough.
Lightly flour a clean work surface. Form the remaining half of the dough into a disc and flatten it on the floured work surface. Use a rolling pin to roll it out, in a circle, large enough to cover the caramel in the tin. Carefully lift the rolled out dough and place it over the caramel. Press the bottom edge of dough and the top dough edges together, to seal in the caramel. Sprinkle the chocolate chips on top and press them gently into the dough.
Place the cookie dough tin on the prepared large baking sheet.
Bake 18-20 minutes at 325°F or until dough feels set to the touch.
Transfer cookie to a cooling rack. Do NOT remove the cookie from the tin. It is ooey, gooey delicious and made to be eaten from the tin.
Top with scoops of your favorite ice cream and drizzle with 2 tablespoons caramel sauce.
Hand everyone a spoon and…
Enjoy!
*Note: Caster sugar can be made by processing granulated sugar in a food processor for a few minutes. Be careful not to over-process the sugar or it will turn into powdered sugar.
7.6.6
2514
https://www.thecookierookie.com/caramel-stuffed-double-chocolate-share-cookie/
Did you make this recipe?