Carmelita Cookies are the ULTIMATE oatmeal chocolate chip cookie stuffed with gooey caramel! This cookie recipe is a twist on the classic cookie bar.
Make sure to try my Oatmeal Chocolate Chip Cookies too!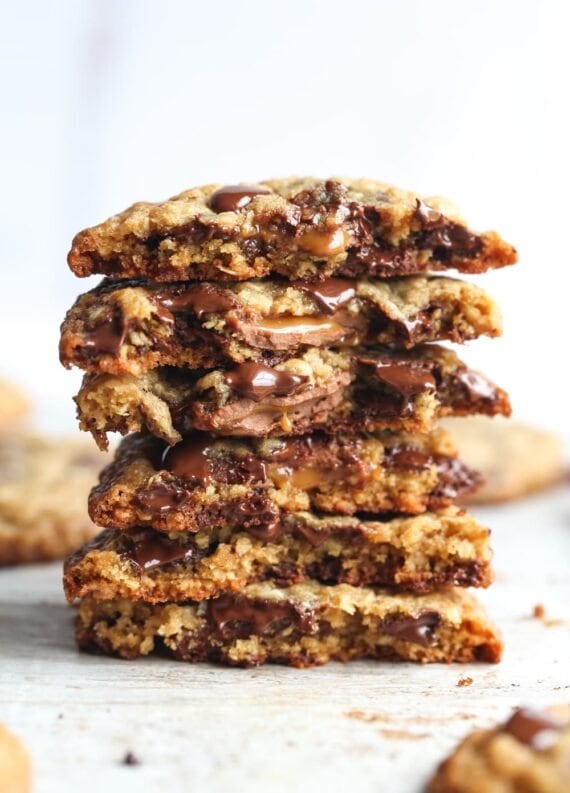 Carmelita Cookies Are The Ultimate Oatmeal Chocolate Chip Cookie!
I made these cookies back in 2013, but I thought the pictures needed a little bit of a spruce up because they are AMAZING! They're a soft, buttery oatmeal chocolate chip cookie with gooey layer of caramel baked inside!
These stuffed cookies are easy to make because we use a little shortcut for the caramel filling! We used a caramel filled chocolate candy (like Rolos) in the middle to do the heavy lifting here! They bake up beautifully if you follow some of the important tips below!
What Are Carmelitas?
Traditionally, Carmelitas are a cookie bar recipe. The crust and topping is a quick, buttery oat cookie with a layer of chocolate chips and caramel in the middle. They're a quick, gorgeous cookie bar that is always a crowd pleaser.
I KNEW I had to make a cookie version of the bars, and they turned out absolutely perfect!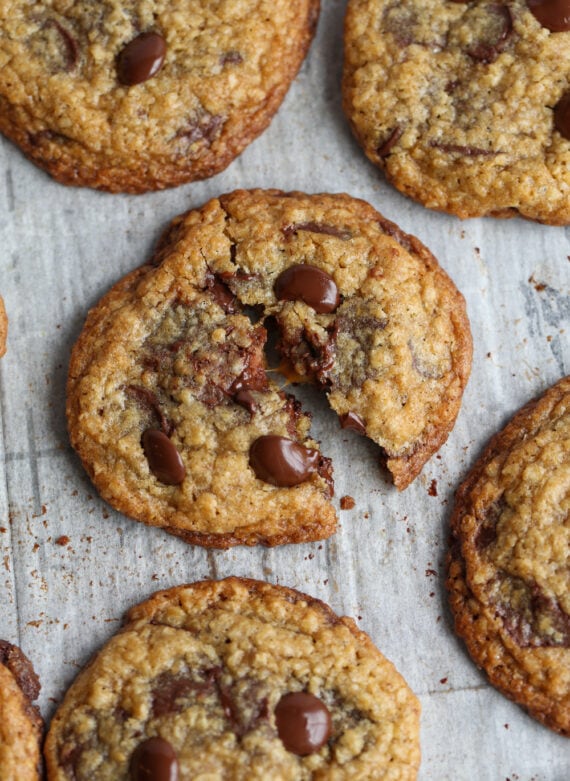 What Ingredients Do You Need?
You might have most of these ingredients in your pantry now! Here'a list:
butter
light brown sugar
eggs
vanilla extract
baking soda
kosher salt
all purpose flour
quick oats…you can also use old fashioned (or rolled oats) if that's all you have, but I prefer smaller, quick oats, for these cookies for best results.
semi-sweet chocolate chips
caramel filled chocolate candies
What Kind Of Caramel Candies Are Recommended?
I have made these cookies with different kinds of caramel candy.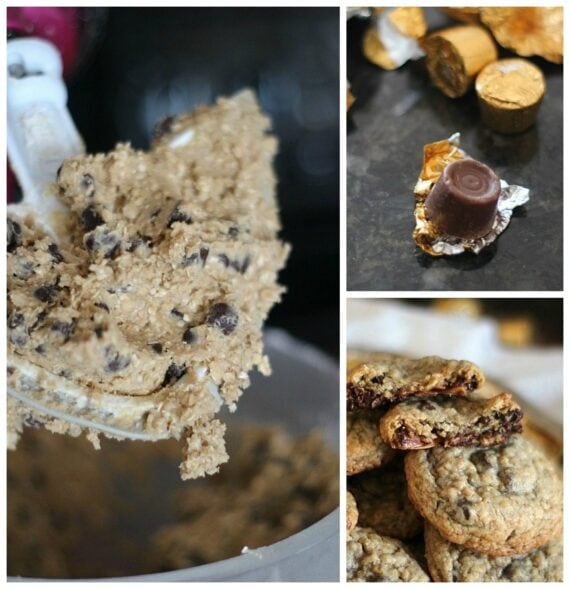 How To Make Carmelita Cookies…
Cream the butter and sugar together until light and fluffy and then add in the eggs, vanilla, baking soda, and salt and mix for 1 minute until incorporated and smooth.
Turn your mixer to low and add in the flour and then the oats.
Next add in your chocolate chips until combined. You could stop here and bake these as-is and you would have great oatmeal chocolate chip cookies…BUT since we're going the extra mile today…
Chill your dough in the fridge. AND your candies in the freezer. You need both to be cold, so give them at least an hour, but if you want to make this the day before that works too!
When you're ready, portion out the dough using a medium scoop and form the dough around one caramel candy. Seal the dough completely around the candy so the caramel doesn't ooze out.
Bake until edges are golden and tops have just set and let the cookies cool on baking sheet for 4-5 minutes before transferring them to a wire rack to finish cooling.
Why Do You Have To Freeze The Candy?
This step is one I HIGHLY recommend for these cookies. The frozen candy has less of a chance of melting out of the chocolate during baking if you start out frozen.
Caramel, if it does get baked, can burn quickly and get hard, so starting with a frozen candy helps prevent this from happening and escaping from the dough.
The Cooling Process…
Allow these cookies to cool on the baking sheet for as long as you can. The caramel candy sinks to the bottom of the dough while baking (totally normal) and if you try and mix the cookie before it's cooled, the candy may drop out of the cookie.
The caramel inside needs to set back up because it will be gooey and because a mess if moved while hot!
Looking For More Caramel Stuffed Desserts? Try These…