EasyVegan
This Chai Butternut Squash Soup recipe is easy to make in the slow cooker or pressure cooker, and it's seasoned with yummy chai tea.  Absolutely delicious, and also naturally gluten-free and vegan!  (This post also contains affiliate links.)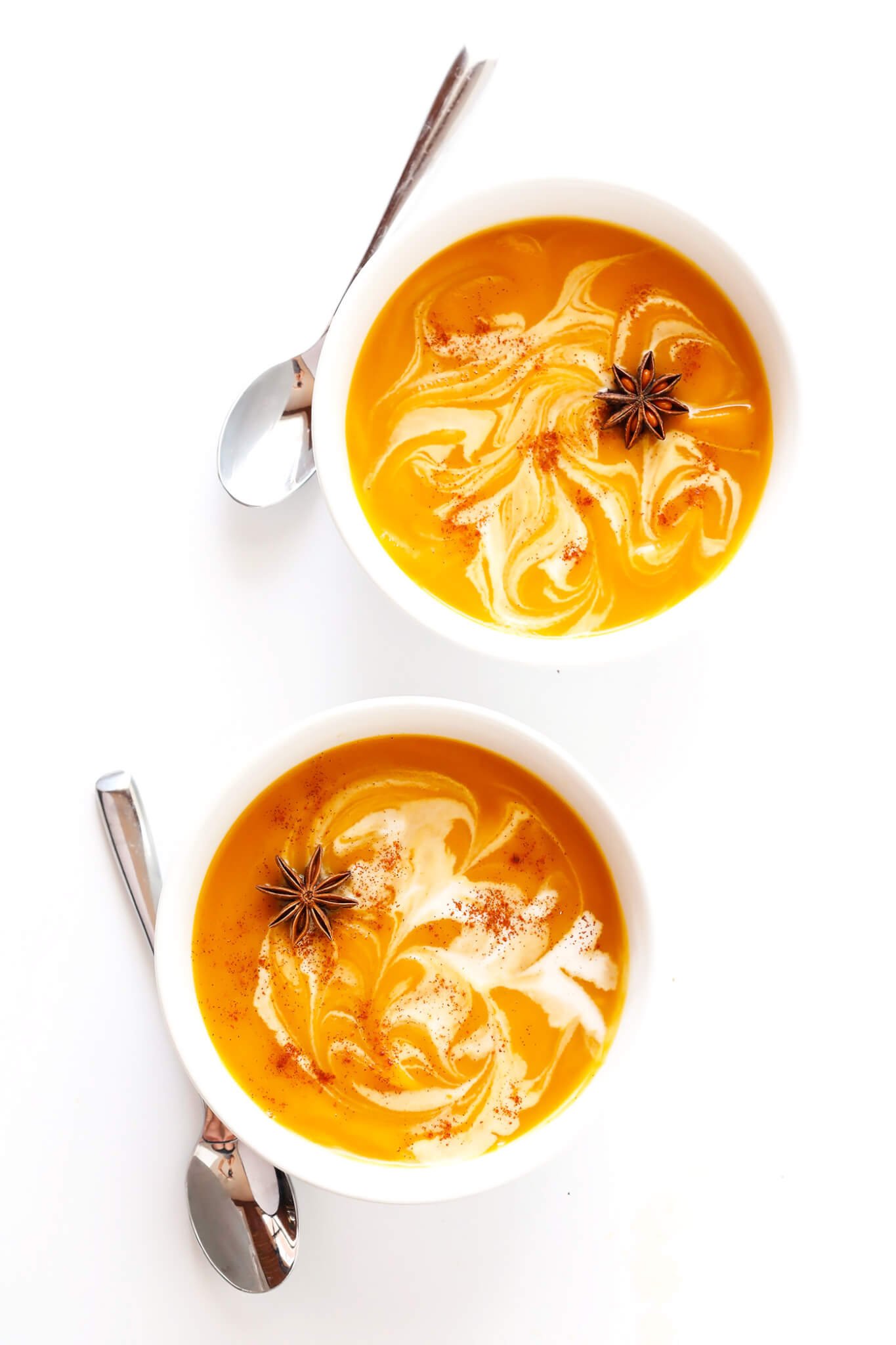 Oh friends, I have a new secret ingredient that is going to kick your butternut squash soup game up a major notch this year.  And it's just about the simplest thing ever…
…a chai tea bag!  ?
Many of you have heard me chat before about how much I love drinking hot cinnamon spice and chai tea (kind of have a thing for spice-filled teas) every afternoon during the chillier months of the year.  So it's safe to say that our tea cabinet is always well-stocked this time of year.  But the other day as I was grabbing a mug to steep my afternoon tea, it randomly occurred to me — all of those yummy chai spices and butternut squash would probably be a match made in flavor heaven.  And they would probably be extra-amazing in my favorite slow cooker butternut squash soup recipe.  So last week, when I cooked up my inaugural batch  for the fall, I decided to try swapping the usual seasonings for a single chai tea bag instead.
And guys, this soup ended up being fall vibes to the max. ? ? ?
It was cozy, it was chai spice-y (not to be confused with spicy), it was wonderfully creamy and butternut-y, and it was hands-down one of the tastiest soups I've ever made.  You've gotta try it.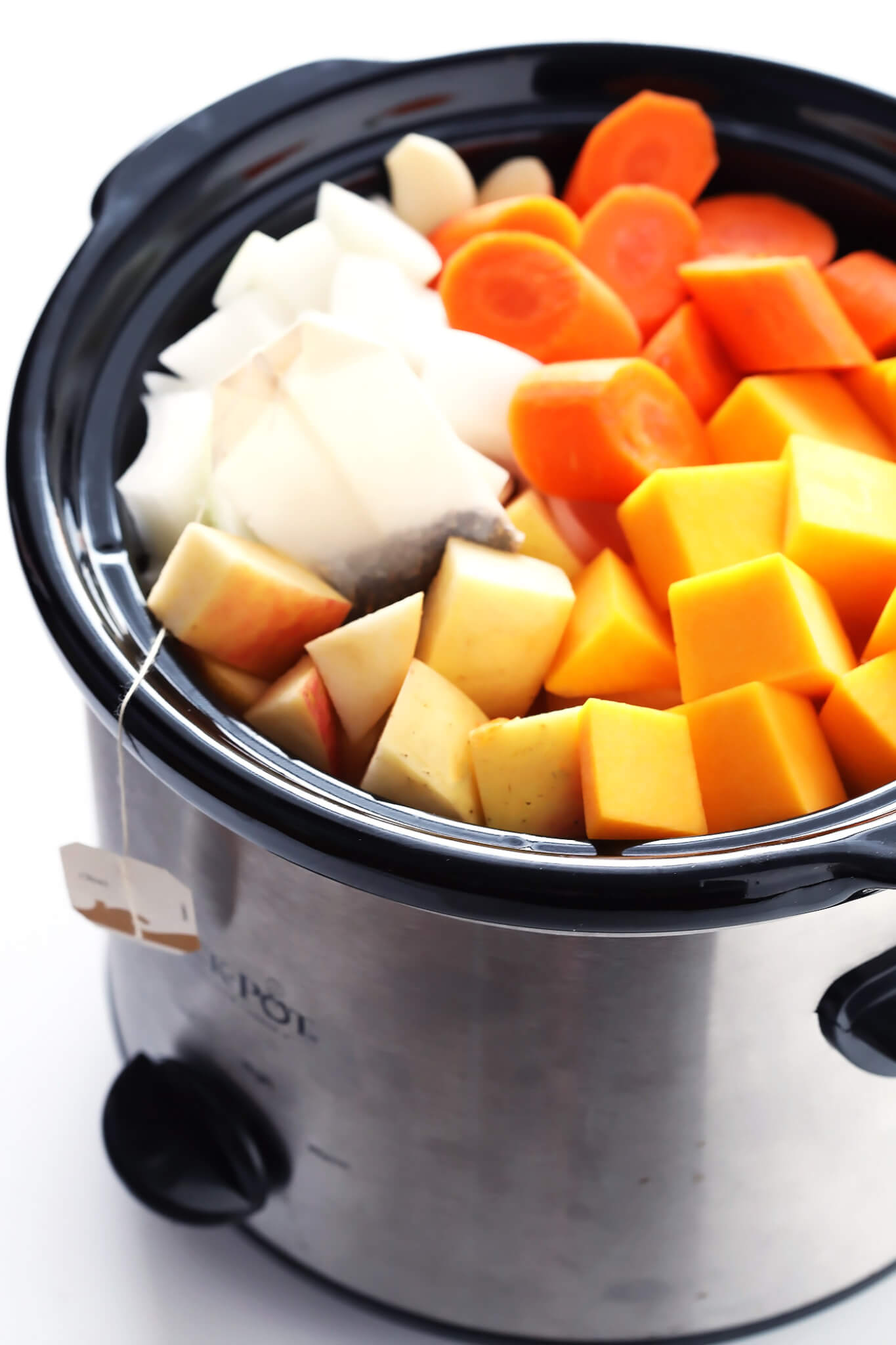 Actually, I was just going to pop in and make a note about the chai option on my usual butternut squash soup recipe page.  But so many of you requested the recipe after I shared about the tea bag hack on Instagram that I thought this twist might as well have it's very own post.  ?
As I mentioned above, it also happens to be naturally gluten-free, dairy-free, vegetarian and vegan.  AND, it's incredibly easy to make.
Simply toss all of your main ingredients — some butternut squash, garlic, carrots, apple, onion, cayenne and a chai tea bag — together in a slow cooker or pressure cooker.  Then cook until the squash is nice and tender.  Remove the tea bag, puree until smooth, then stir in the coconut milk (or any kind of milk/cream you prefer), and season with salt and pepper.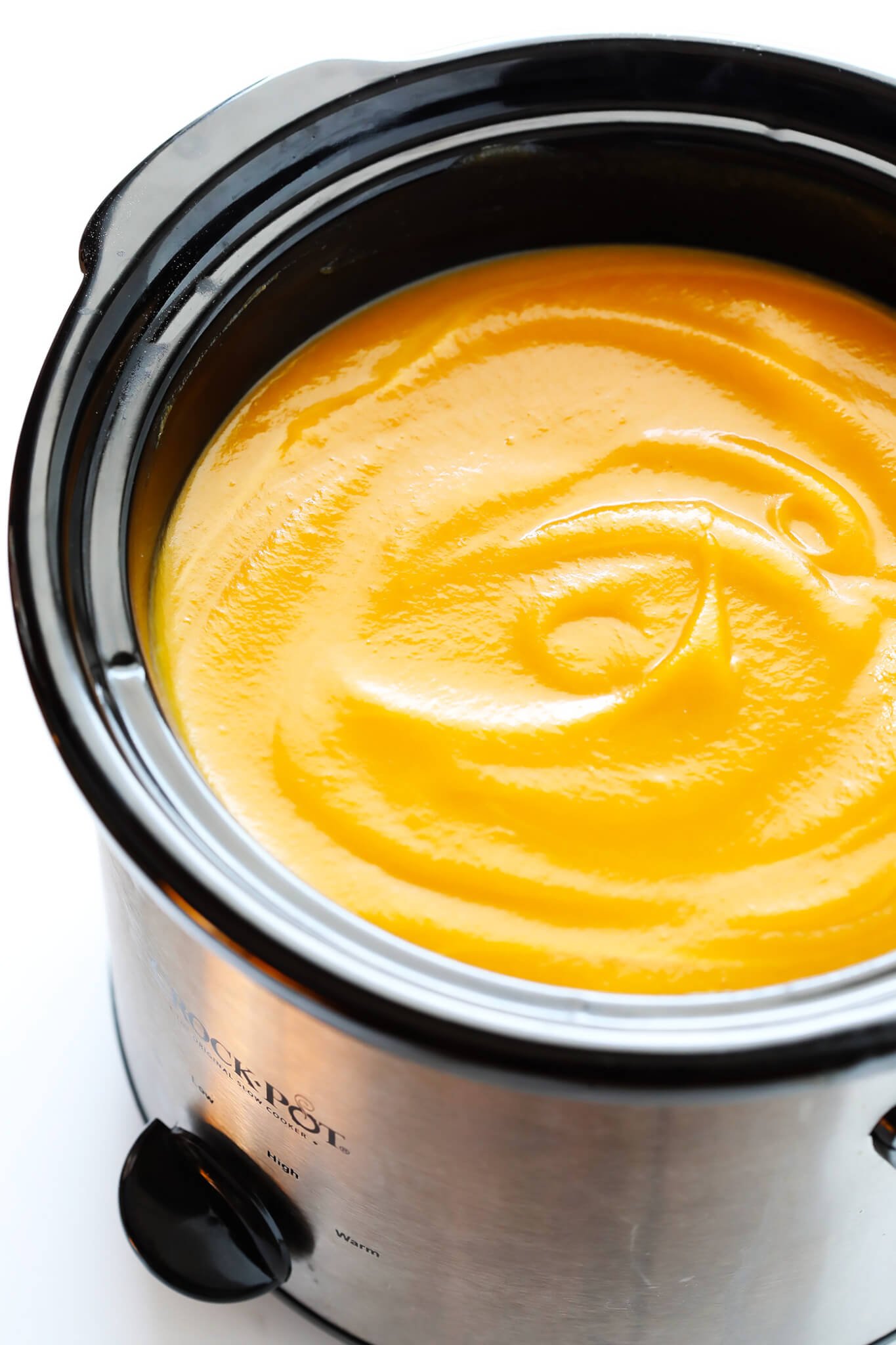 Then this gorgeous, silky, creamy, delicious soup will be ready to enjoy!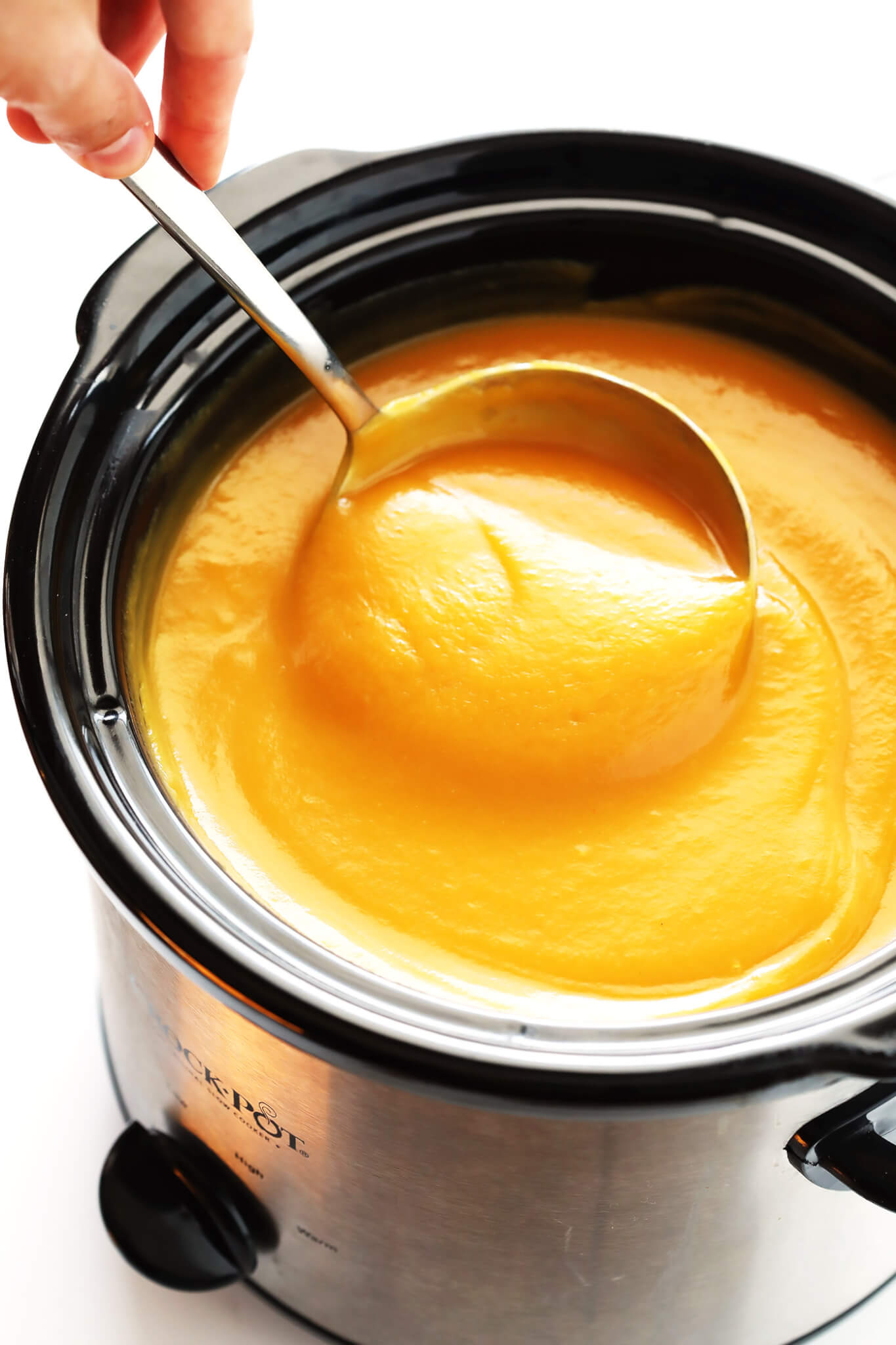 I topped mine with an extra drizzle of coconut milk (swirled around with a knife), a sprinkle of cinnamon as garnish, and a star anise pod for garnish.  But feel free to top yours however you'd like.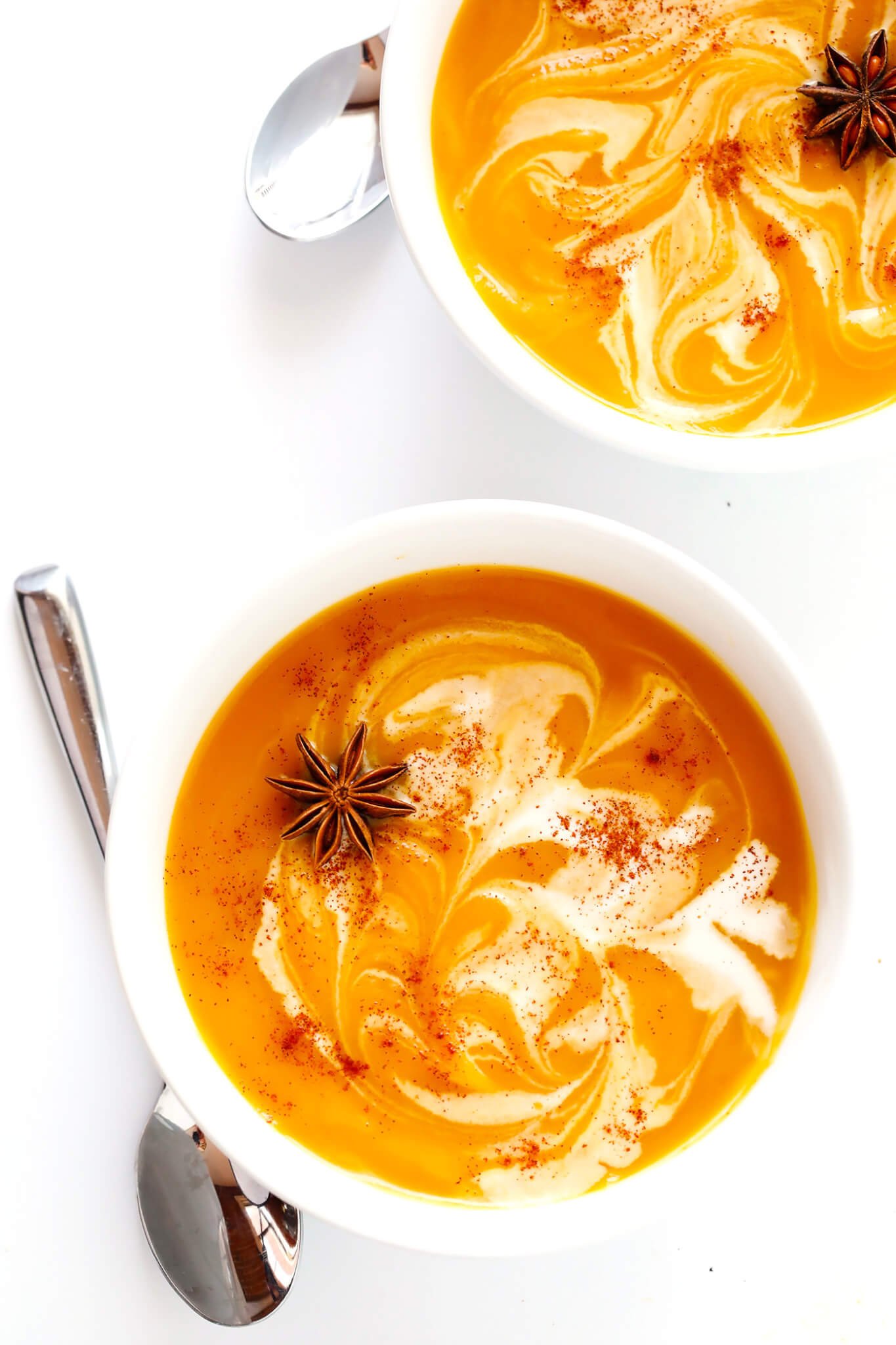 As a bonus, this soup also freezes well for up to 3 months if you'd like.  But I have a feeling it may disappear sooner than later. ?
Enjoy, everyone!
Chai Butternut Squash Soup
This Chai Butternut Squash Soup recipe is easy to make, naturally gluten-free and vegan, and seasoned simply and deliciously with a simple chai tea bag.
Ingredients:
2 cups vegetable stock
2 cloves garlic, peeled and minced
1 carrot, peeled and diced
1 apple, cored and diced
1 medium (uncooked) butternut squash*, peeled, seeded and diced
1 small white onion, peeled and diced
1/8 teaspoon cayenne, or more to taste
Kosher salt and freshly-cracked black pepper, to taste
1/2 cup canned (unsweetened) coconut milk
optional garnishes: swirled extra coconut milk and/or a sprinkle of ground cinnamon
Directions:
Add vegetable stock, garlic, carrot, apple, butternut squash, onion, cayenne to a large slow cooker.  Toss to combine.  Then nestle the chai tea bag into the mixture so that it's completely submerged in the broth.
Cook for 6-8 hours on low, or 3-4 hours on high, or until the squash is completely tender and mashes easily with a fork.  Remove and discard the chai tea bag.
Use an immersion blender to puree the soup until smooth.  (Or you can transfer the soup in two batches into a traditional blender, and puree until smooth, being very careful when working with the hot liquid.)  Stir in the coconut milk until combined.  Then taste, and season with a few generous pinches of salt and pepper as needed.  (Feel free to add in more cayenne too, if you'd like.)
Serve warm, topped with your desired garnishes.  Or refrigerate in a sealed container for up to 3 days, or freeze for up to 3 months.
*A medium-sized butternut squash should weigh around 3 lbs.
Difficulty: EasyCategory: Vegan


All images and text ©Gimme Some Oven
If you make this recipe, be sure to snap a photo and hashtag it #gimmesomeoven. I'd love to see what you cook!