These Cheesy Creamy Chicken Enchiladas make for a quick and filling weeknight meal that the entire family will love it!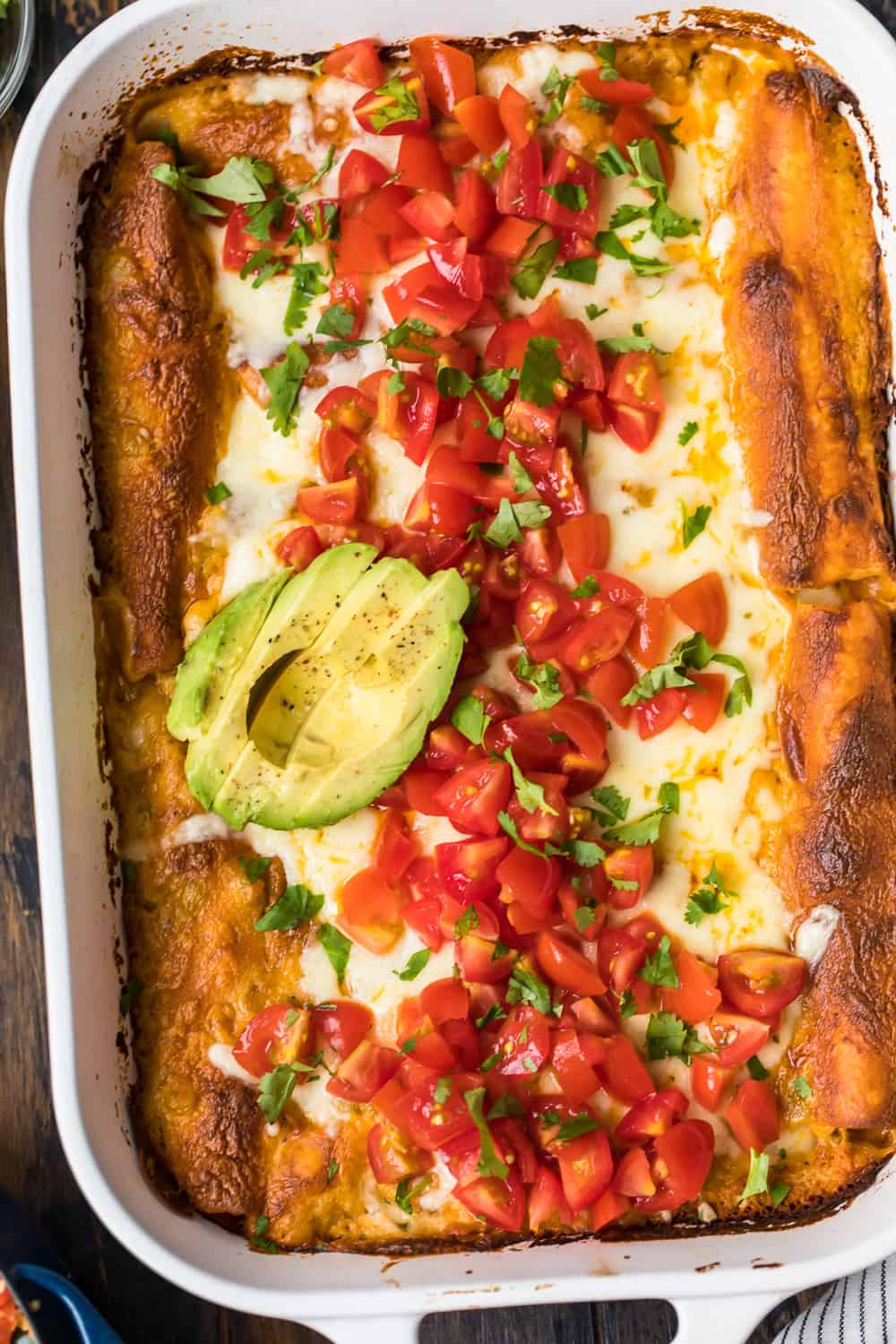 Cheesy Creamy Chicken Enchiladas,  made with corn tortillas, shredded chicken, a mix of cheeses, green chiles and a delicious and rich sauce! Perfect for a hearty weeknight meal that's packed with Mexican flavor.
How To Make These Cheesy Creamy Chicken Enchiladas – Step By Step
Wrap tortillas in paper towels and heat them in the microwave on HIGH just until softened and warm; set aside.
In a large skillet, add 1 tablespoon oil, onions and jalapenos. Sauté the onions and jalapeno until softened. Add chicken, green chilies (with juice), smoked paprika and red pepper flakes. Then, add cup chicken broth, stir and bring the mixture just to a boil. Remove from the heat; set aside.
In a different large skillet set over medium heat, melt the butter and whisk in the flour. Cook one minute, whisking continuously, and add the remaining 1¾ cup chicken broth. Continue stirring and cooking 2 minutes. Then, add the remaining can of green chilies with juice.
Reduce the heat to low and stir in 2 cups of the mixed cheeses, sour cream, ¼ teaspoon smoked paprika and cilantro. Stir and cook just until cheese is melted.
Spoon about 2 tablespoons chicken mixture into the middle of a tortilla, cover with 1 tablespoon shredded cheese and roll it up. Place seam-side down into the sprayed dish and repeat with the remaining tortillas (or as many as will fit in the dish).
Pour the cheese mixture over the tortillas and top with additional shredded cheese, then bake until hot & bubbly and the cheese is just beginning to brown.
Remove from the oven and sprinkle additional fresh cilantro. Serve with your favorite toppings.
Enjoy!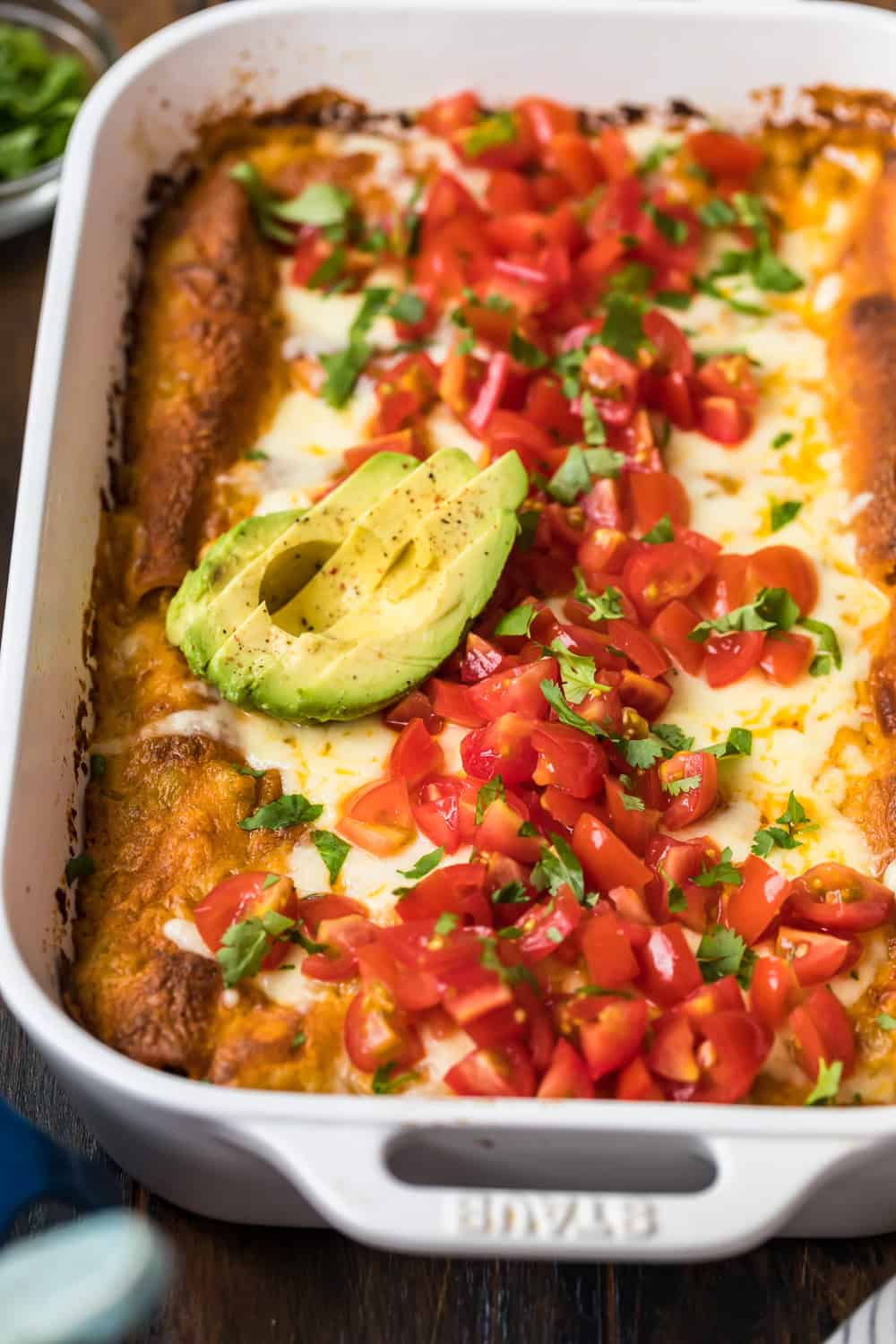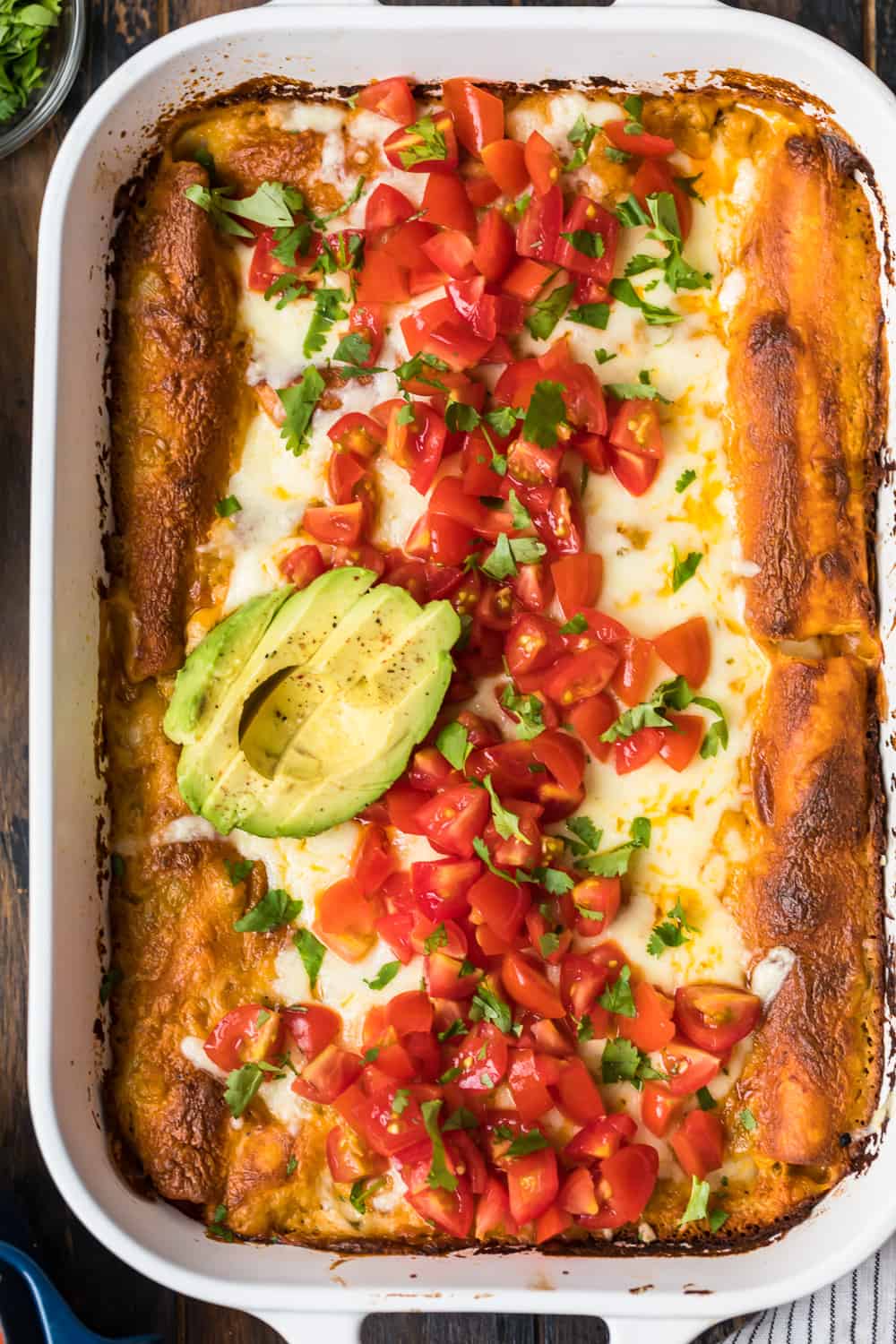 A Delicious Enchilada Sauce
Red sauce has its place in the world of enchiladas, but the red sauce can sometimes be too thin or so overwhelming in flavor that you can't taste the other flavors. This recipe has a rich and creamy the white sauce, a light-tasting sour cream sauce that has a hint of heat from the green chiles, so good!
What To Serve With These Cheesy Creamy Chicken Enchiladas
Some store-bought refried beans or one some mexican rice. If you like, just serve with a delicious, leafy green salad. Here are some other ideas:
Corn on the Cob.
Black Bean and Corn Salad. 
Grilled Zucchini.
Ranch Veggie Salad. 
Slaw with Tomato, Red Onion and Jalapeno. 
Summer Corn Salad.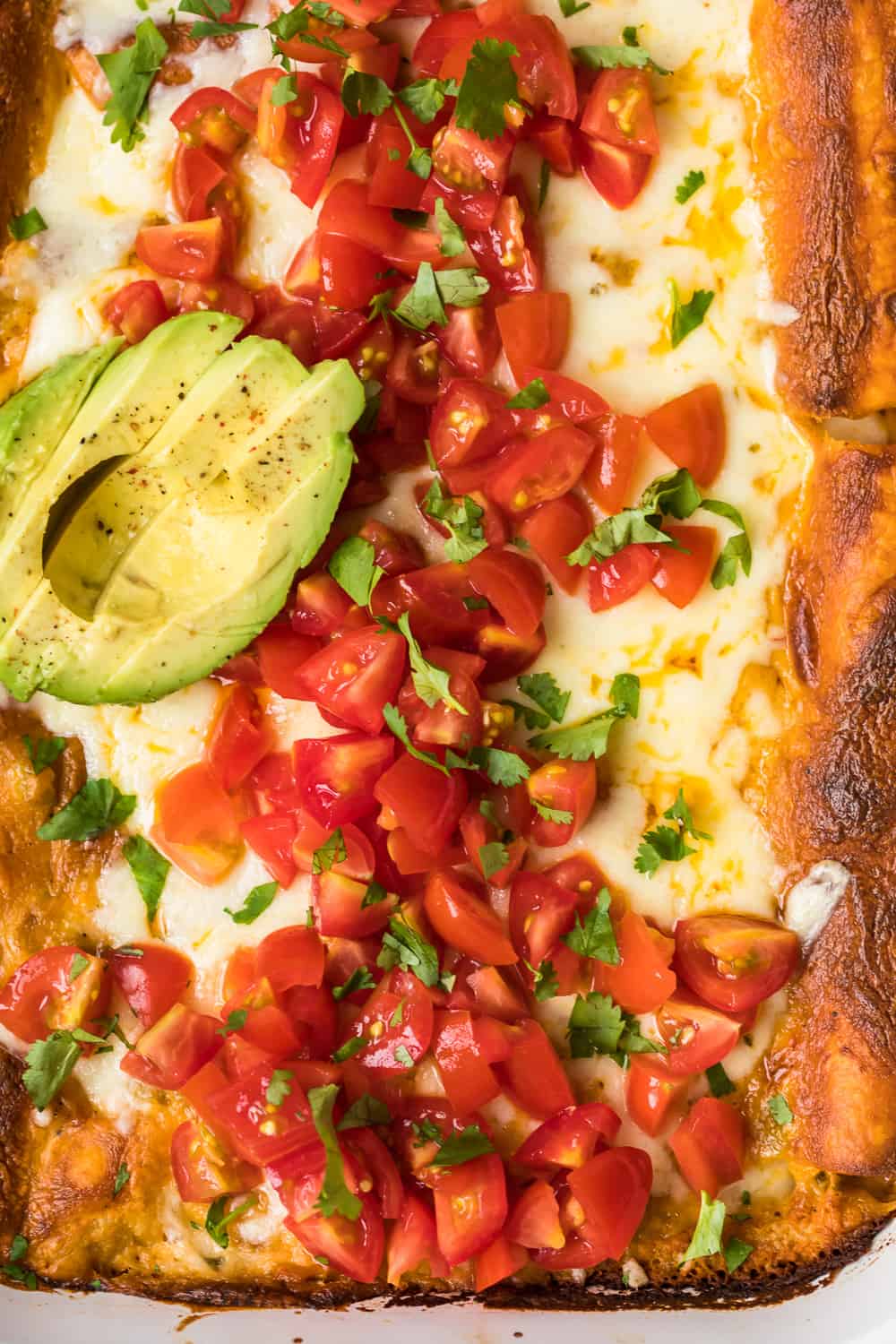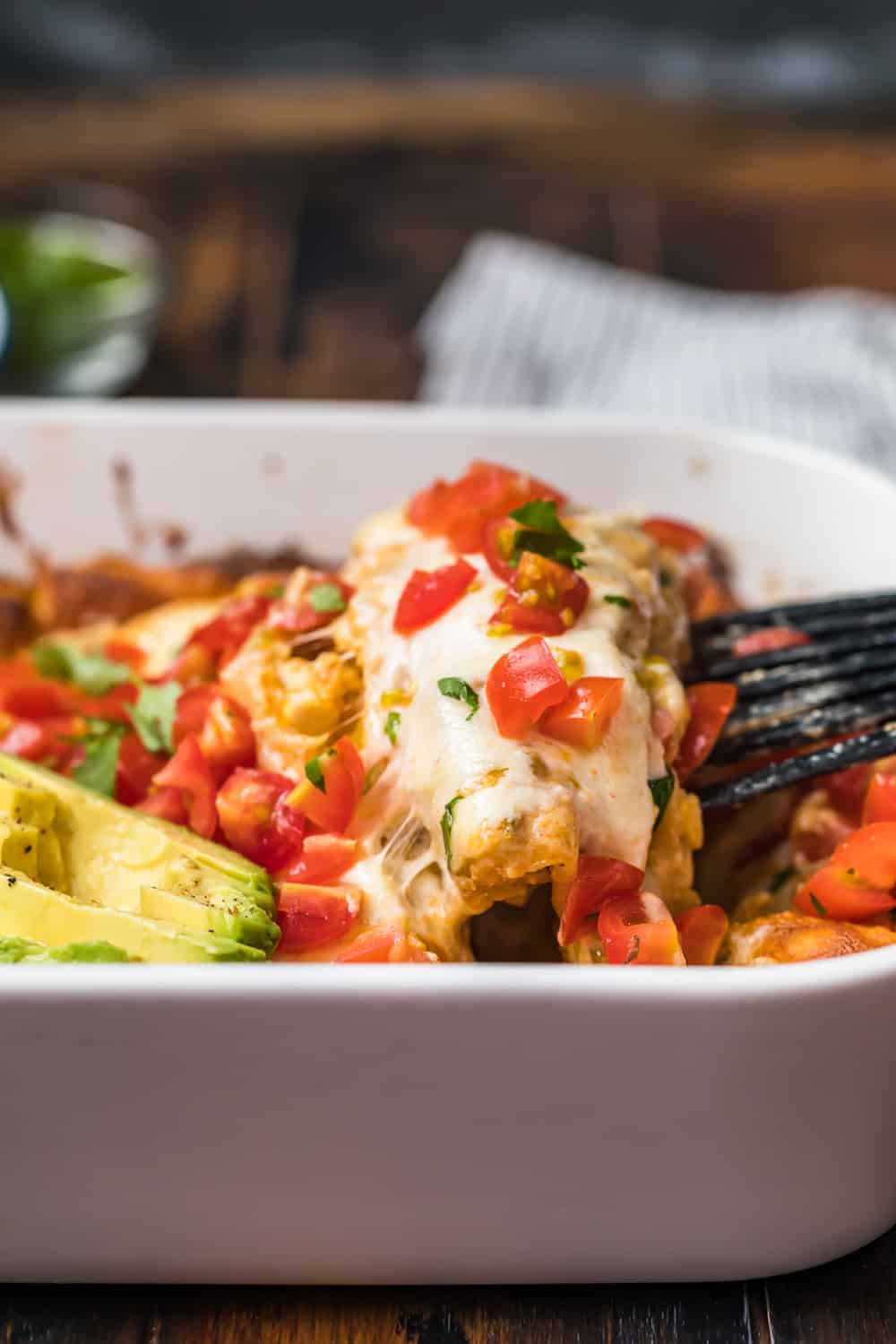 Can You Freeze These Cheesy Creamy Enchiladas?
To keep the enchiladas up to 2 days in the refrigerator, tightly cover the pan with foil before storing. To freeze the enchiladas for up to 3 months, tightly wrap the entire pan with foil, crimping to seal around the edges to prevent freezer burn.
To reheat, to bake, remove plastic wrap, cover and bake for 30 minutes. Uncover; continue to bake for an additional 5-10 minutes, or until completely cooked through.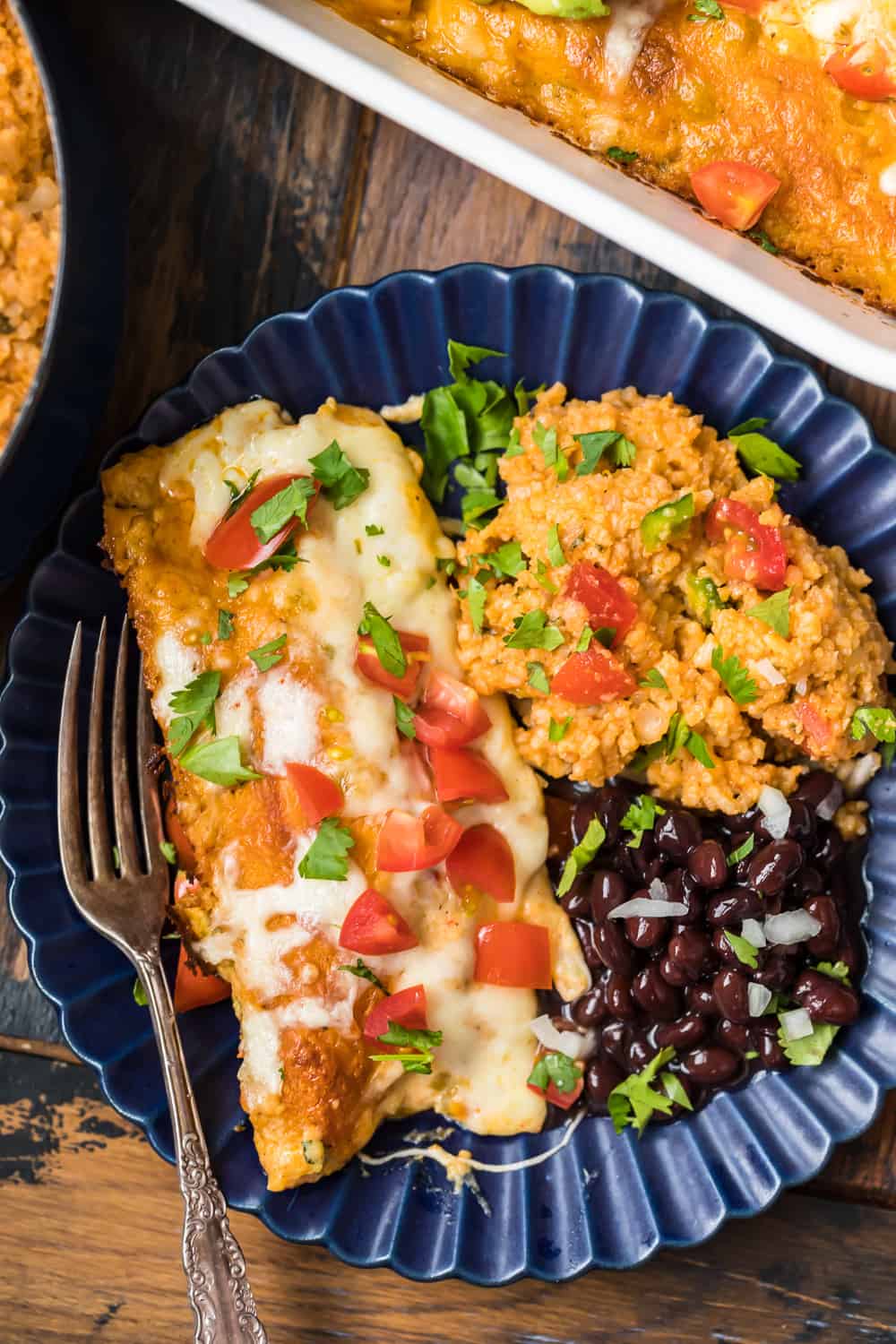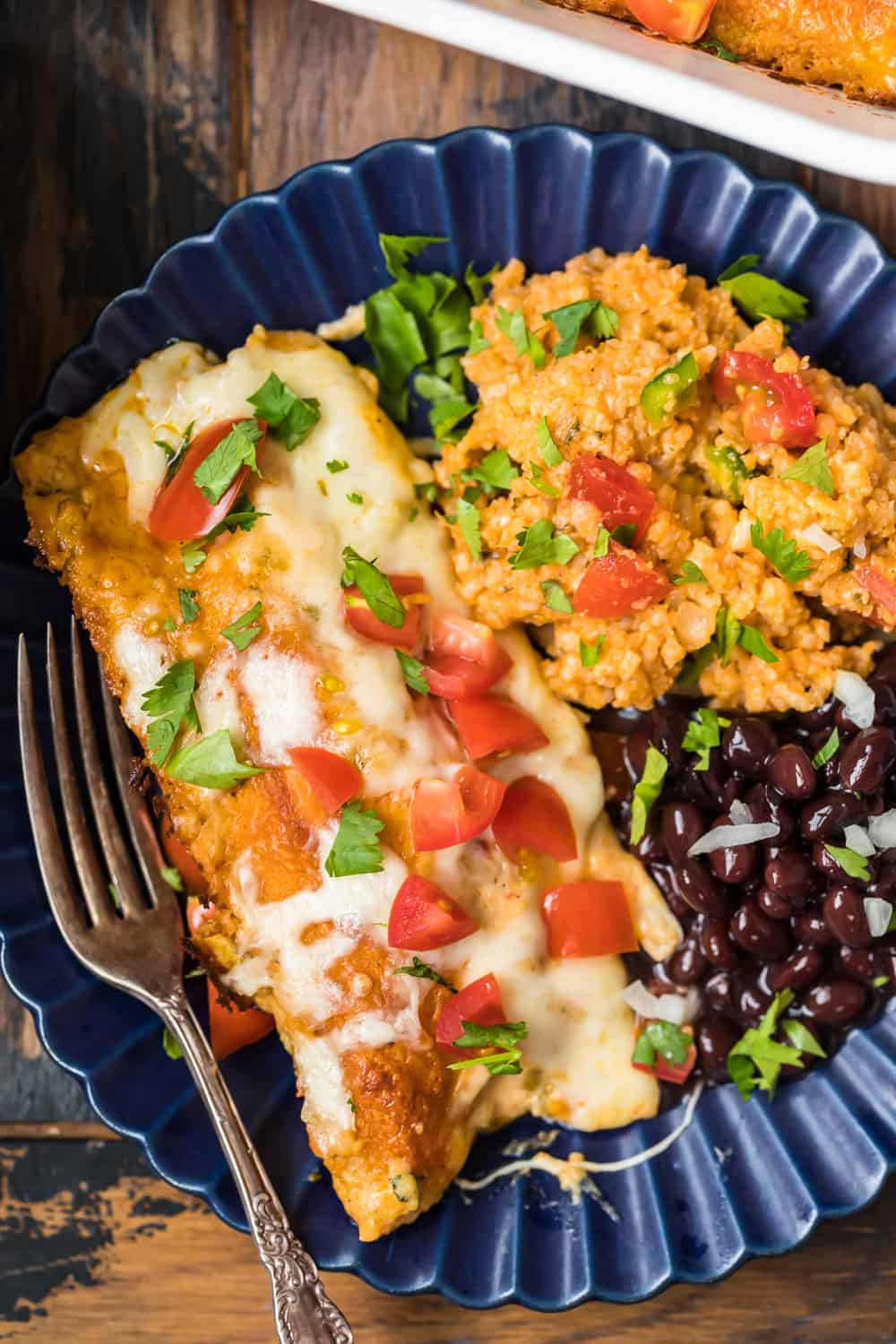 Top Tips For These Cheesy Creamy Chicken Enchiladas
You can use a rotisserie chicken for this recipe, easy and delicious!
You can use flour tortillas but they can get a bit soggy, but still delicious!
Many people like to trade out sour cream for plain greek yogurt and you can definitely do the same in this recipe. Just switch out an equal amount of sour cream for the yogurt.
You'll want to shred it using two forks. Or if you have a stand mixer, using the paddle attachment, put your chicken in the mixing bowl and mix until shredded.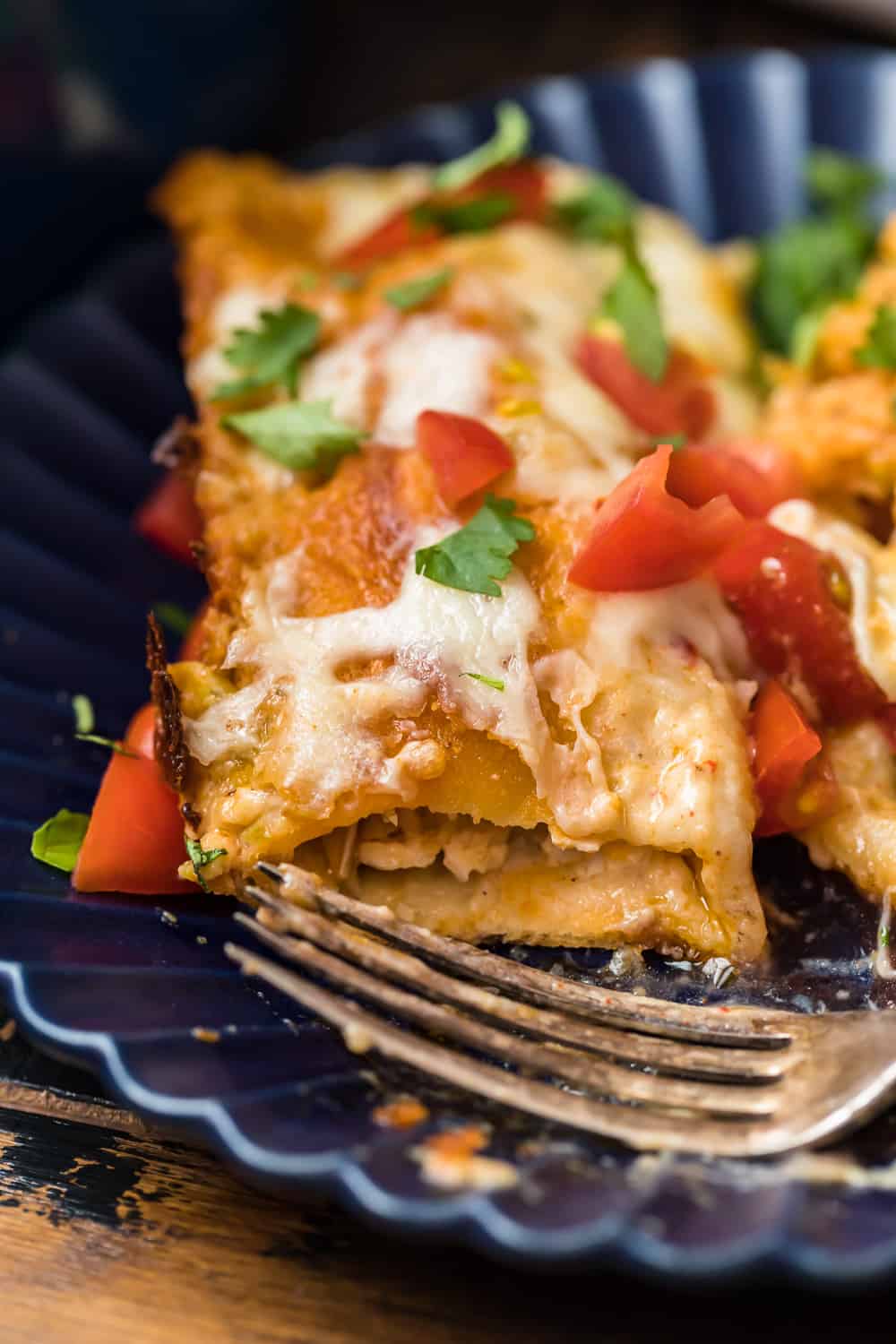 Check Out These Other Delicious Mexican Recipes
Have you tried these Cheesy Creamy Chicken Enchiladas? I'd love to hear from you in the comments below!