Easy50 minsGluten-Free
This Chicken Enchilada Casserole recipe is everything you love about chicken enchiladas…stacked into delicious layers instead of rolled up. And made with the best homemade enchilada sauce recipe.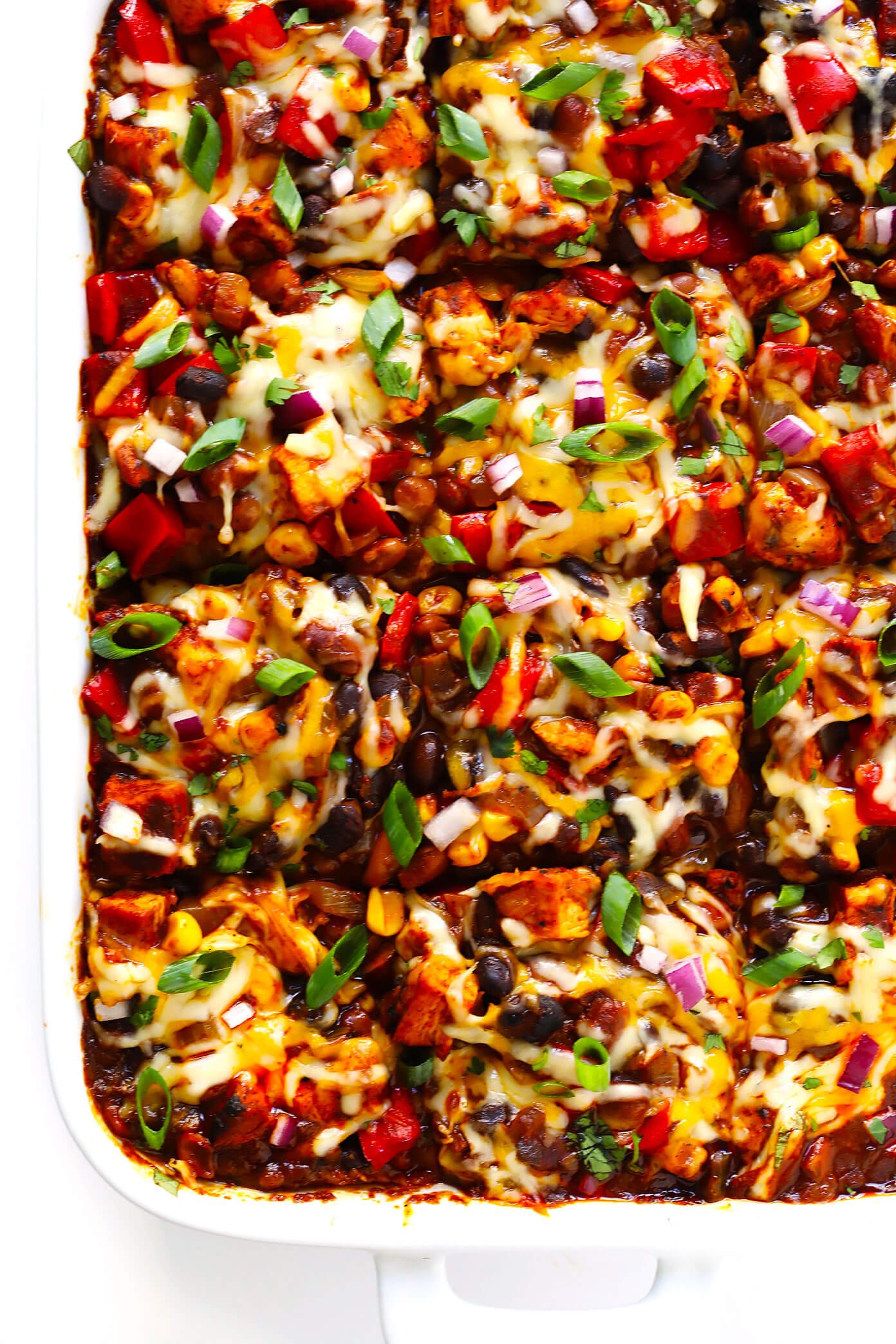 Whenever anyone asks what food I miss most in the States, my instant answer is still the same as it was on week one after moving to Europe — Mexican food.
Oh my goodness.  I've been away from my favorite Mexican restaurants back home (with their glorious tradition of complimentary chips and salsa that we will never ever take for granted again) for going on eight months now.  And while I had wondered whether the Mexi cravings would begin to subside with time, they instead seem to be getting stronger and stronger.  Which means that the friendly owner of the Latin American grocery (where I make special trips to stockpile tortilla chips) now knows me by name, our food processor has now become known as the "salsa machine", all of our Spanish friends have officially been introduced to our favorite margs, and I find myself digging back into the blog's archives weekly to make my favorite Mexican dinner recipes.  And the latest fave?!
This easy chicken enchilada casserole recipe.
I first shared it on the blog about four years ago, as a stackable casserole riff on my favorite chicken enchilada recipe.  And in the years since, it has continued to be a regular in my rotation, as well as a total fave with family and friends.  It's made with my favorite easy homemade enchilada sauce, which automatically bumps any enchilada recipe up a mega notch.  It's easy to customize with any of your favorite enchilada fillings.  It makes a big batch, which is perfect for a party, or wrapping up to take to a friend in need, or just having extras for leftovers.  It's made with corn tortillas and is naturally gluten-free.  And it is downright delicious comfort food, wherever in the world life may find you.
I've tweaked and updated the recipe a tad on my own over the years.  So today, I thought I would bump this chicken enchilada bake back to the top of the blog and give it a quick refresh with some new photos and recipe tweaks.  Because in case you've never tried it…it's time.  🙂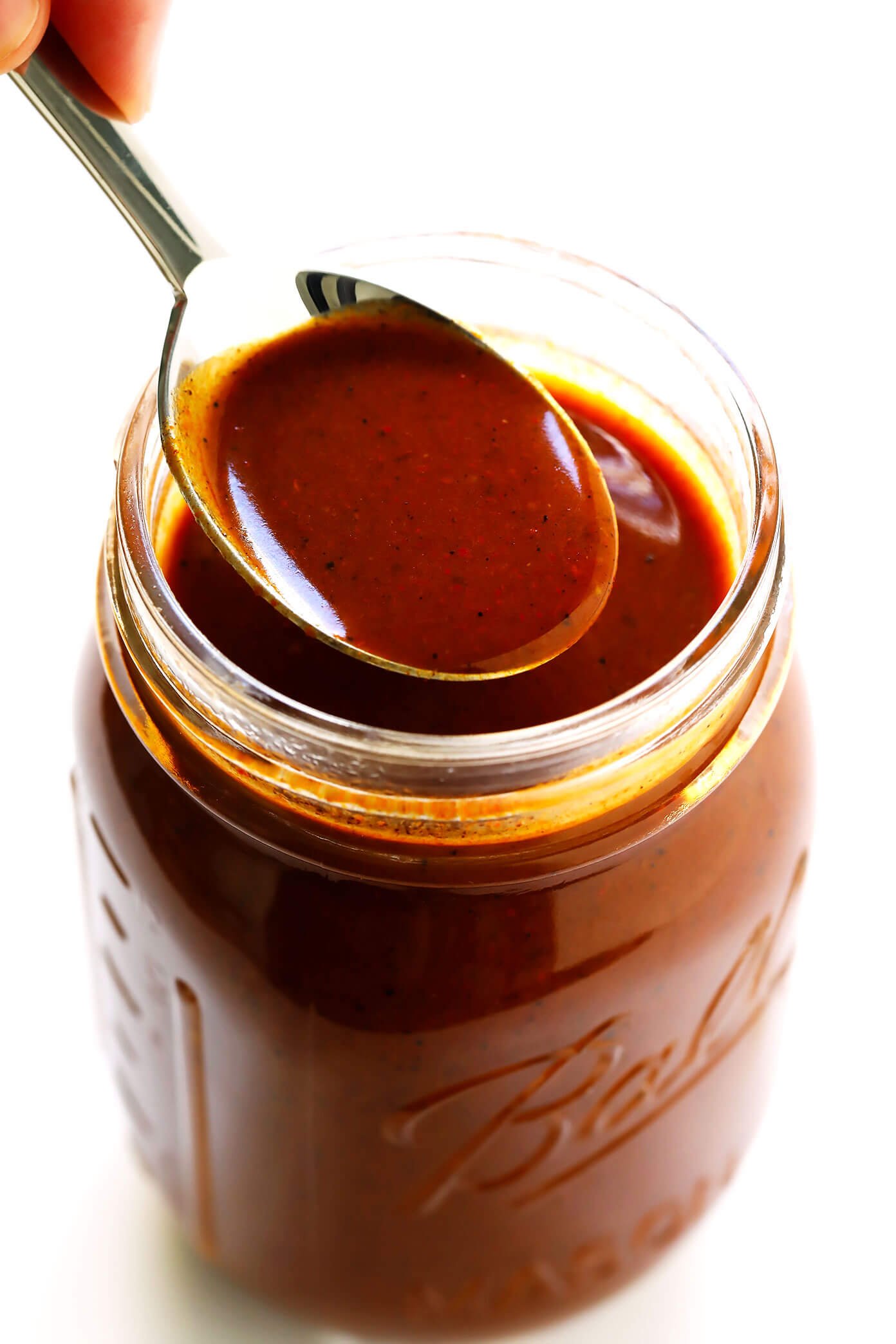 My Favorite Homemade Enchilada Sauce Recipe:
Alright, before we get to the full ingredient list, a quick word about the homemade enchilada sauce included in the recipe.  In my opinion, it's simply the best.  It's irresistibly delicious, and made in the New Mexican tradition (without tomatoes, which I love).  It calls for a simply ingredient list that you likely already have in your pantry.  And it's absolutely worth the extra 5 minutes of prep time (plus 20 or so minutes simmering on the stove, which you can multitask) that it requires to make.  Thousands of readers have made it and agree — it's a total keeper!
That said, if you're absolutely in a hurry, you can sub in some store-bought green or red enchilada sauce instead.  But I'd urge you to go homemade if you can.  The sauce is the main seasoning in this recipe, and makes all the difference.
Here's my full post about how to make enchilada sauce.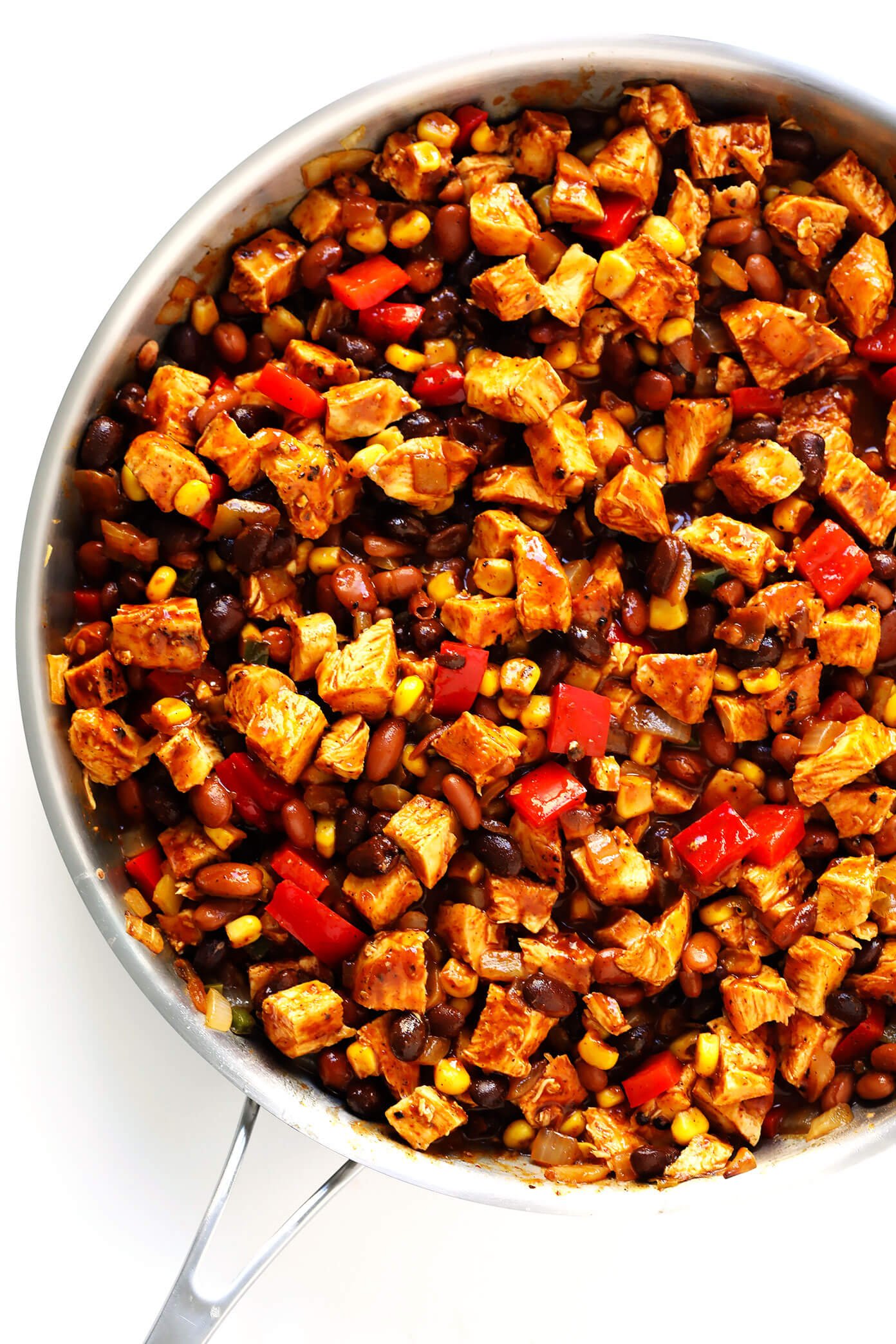 Chicken Enchilada Casserole Ingredients:
As I mentioned above, the ingredient list for this recipe is super-flexible, so feel free to add in any of your favorite fillings for chicken enchiladas.  I like to use:
Cooked chicken: Either from my recipe for baked chicken breasts, or I often just shred a rotisserie chicken.
Veggies: The recipe below uses a quick blend of onion, red bell pepper, diced green chiles and corn.  But feel free to add any other favorite veggies to the sauté.
Beans: Two cans of your faves.  I like to use one can of black beans, one can of pinto.
Enchilada sauce: Homemade or store-bought.
Corn tortillas: We'll cut them in half, in order to help them layer a bit more evenly.
Shredded cheese: Any kind of Mexican blend, Monterrey Jack or Pepperjack will do.
Toppings: Chopped fresh cilantro, diced red onion, thinly-sliced green onion, diced avocado, sour cream, extra cheese…whatever sounds good to you.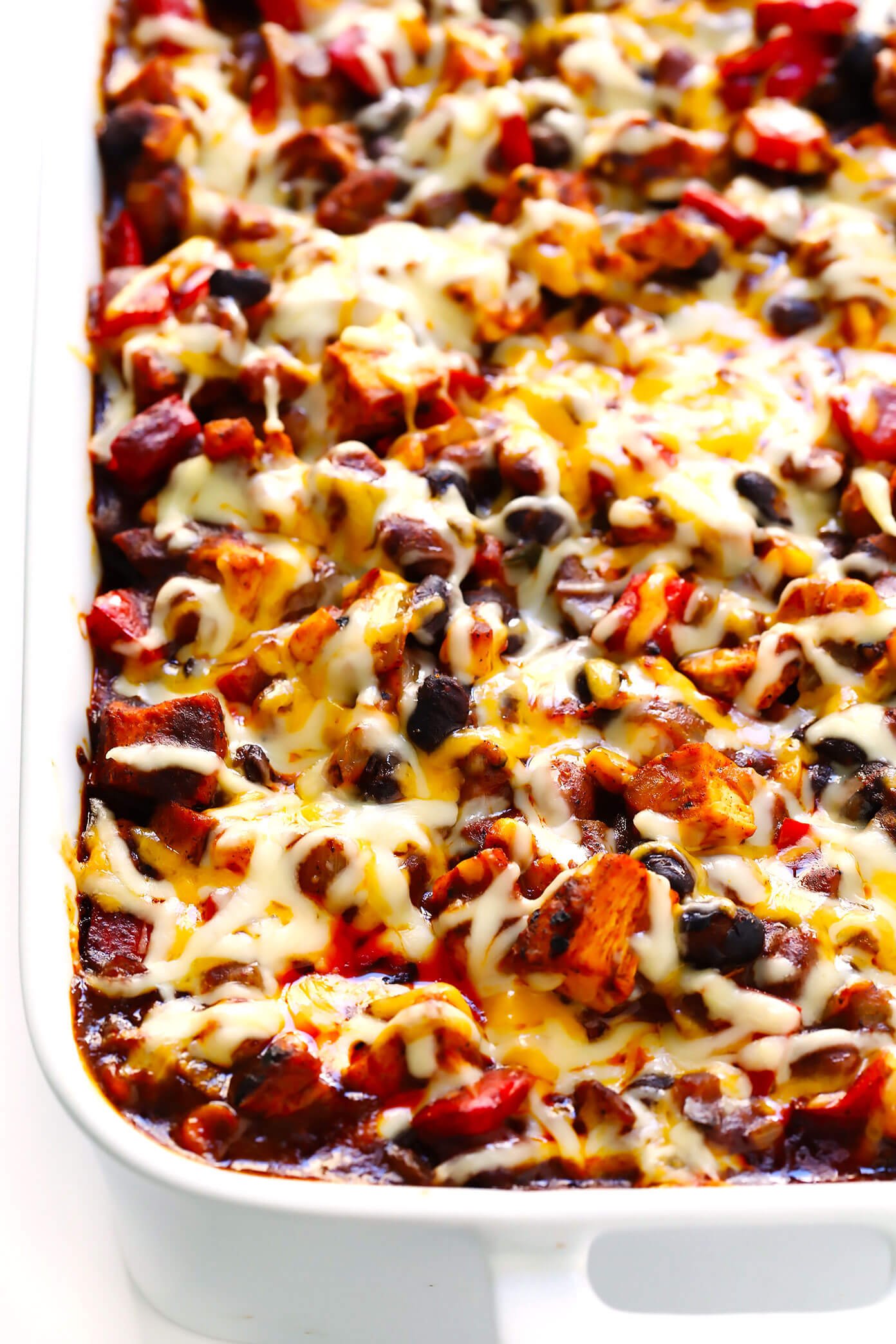 How To Make Stacked Chicken Enchiladas:
To make this chicken enchilada casserole, simply:
Cook your filling: Sauté the onion and bell pepper until soft.  Then stir in the green chiles, beans, corn, chicken and enchilada sauce until combined.  This will be your main filling.
Stack your layers: In this order: enchilada sauce, tortillas, chicken filling, cheese, tortillas, chicken filling, cheese, tortillas, chicken, enchilada sauce and cheese.
Bake: Covered for 20 minutes, then uncovered for another 10 until the cheese is melted.
Garnish: Sprinkle on any of your desired toppings.  (I vote the more, the merrier for sure.)
Serve warm: Or cover and refrigerate for up to 3 days.  (The leftovers are fantastic!)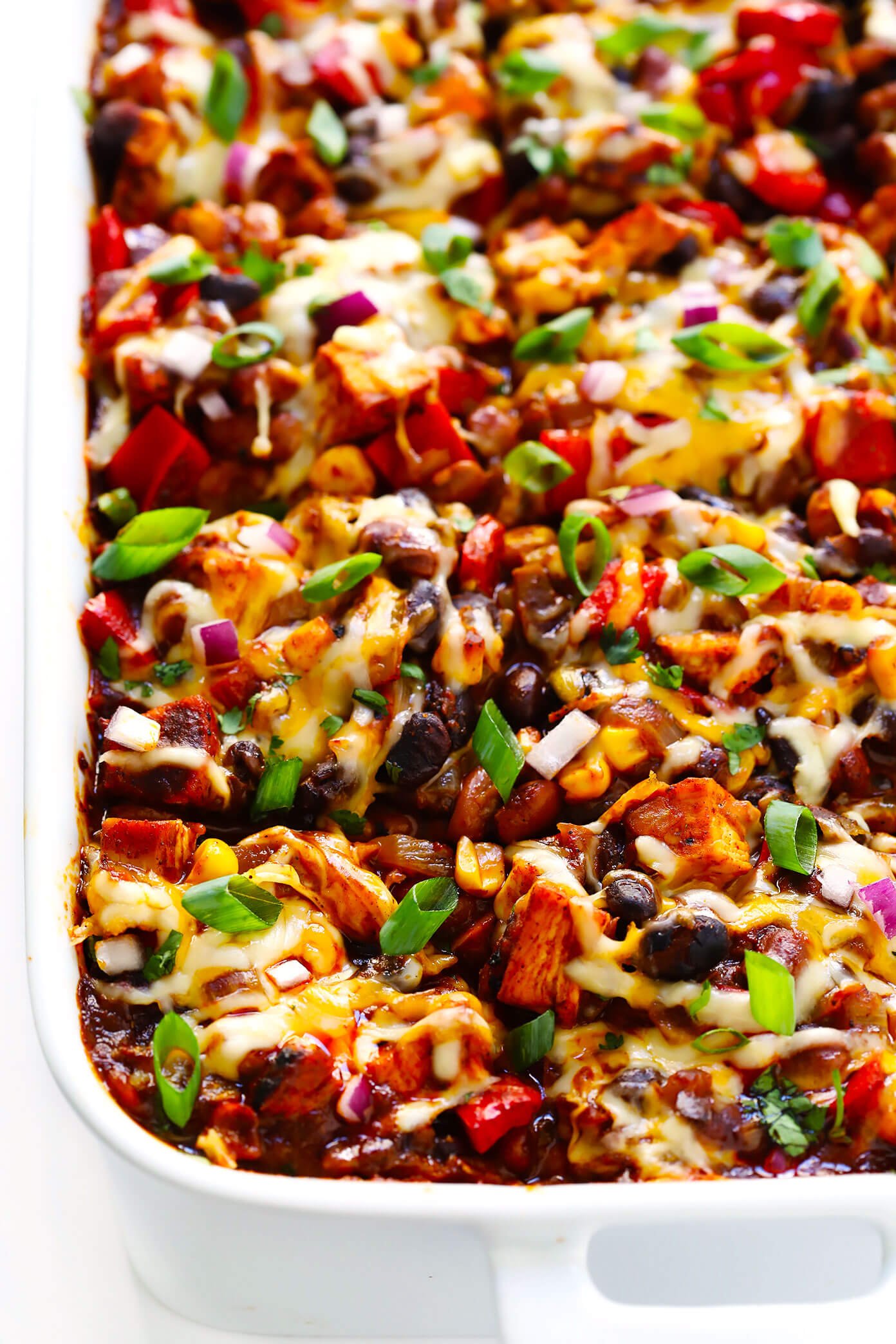 Possible Variations:
Looking to mix things up?  Feel free to:
use a different protein: cooked beef, pork, or shrimp would all be delicious in this recipe (or you could nix the meat entirely)
add more veggies: as mentioned above, extra veggies/greens would be delicious in this recipe, either sautéed or roasted
nix the cheese: I've made this recipe dairy-free multiple times in the past, and didn't even miss the cheese with all of the other great flavors/textures happening here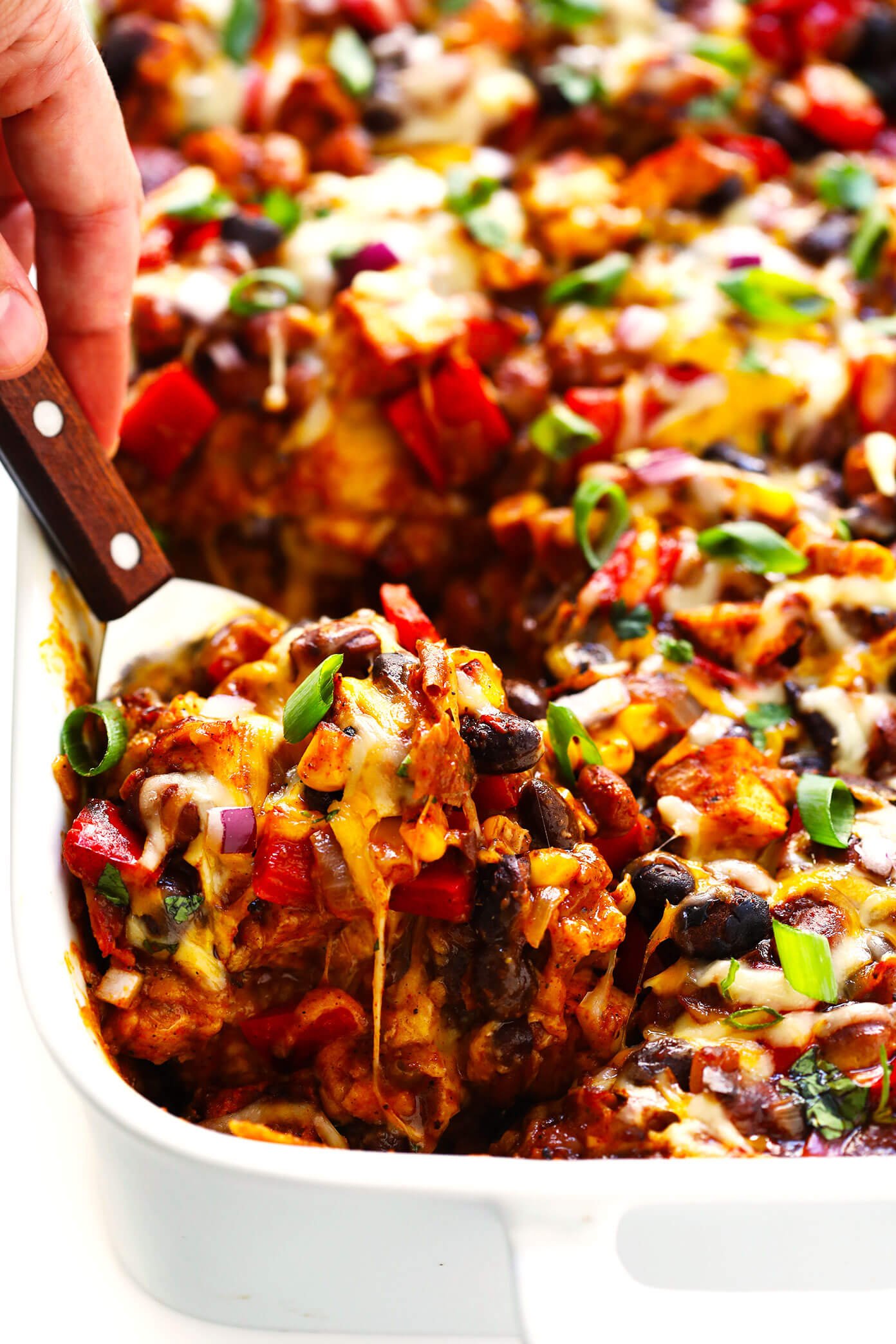 Mexican Side Dish and Drink Ideas:
Let's make this a meal!  Some classic Mexican recipes to go with this chicken enchilada bake could include:
Or as always, feel free to check out our Mexican recipe archives here on the blog for more inspiration.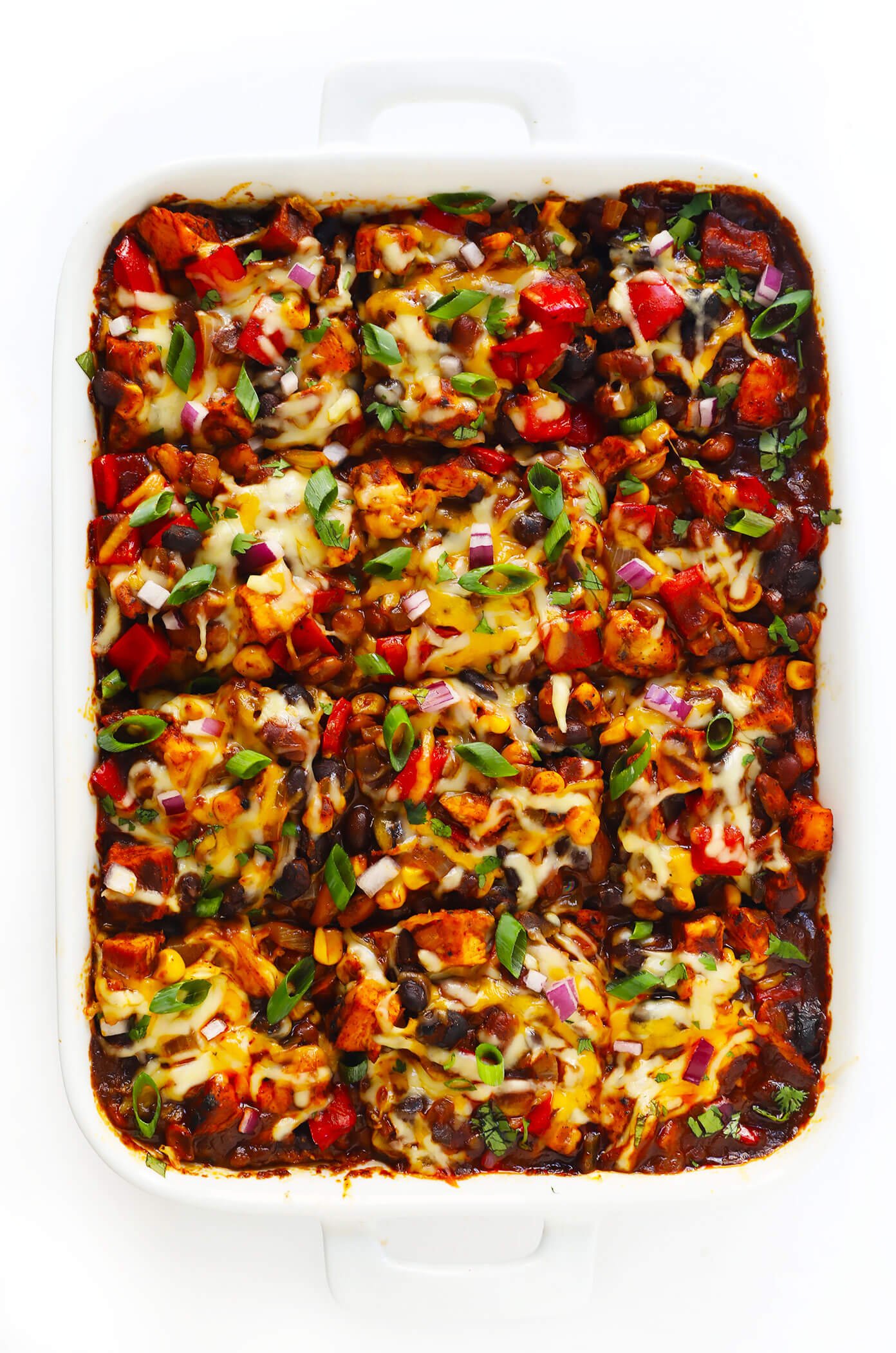 Love Enchiladas?  Check Out These Recipes Too!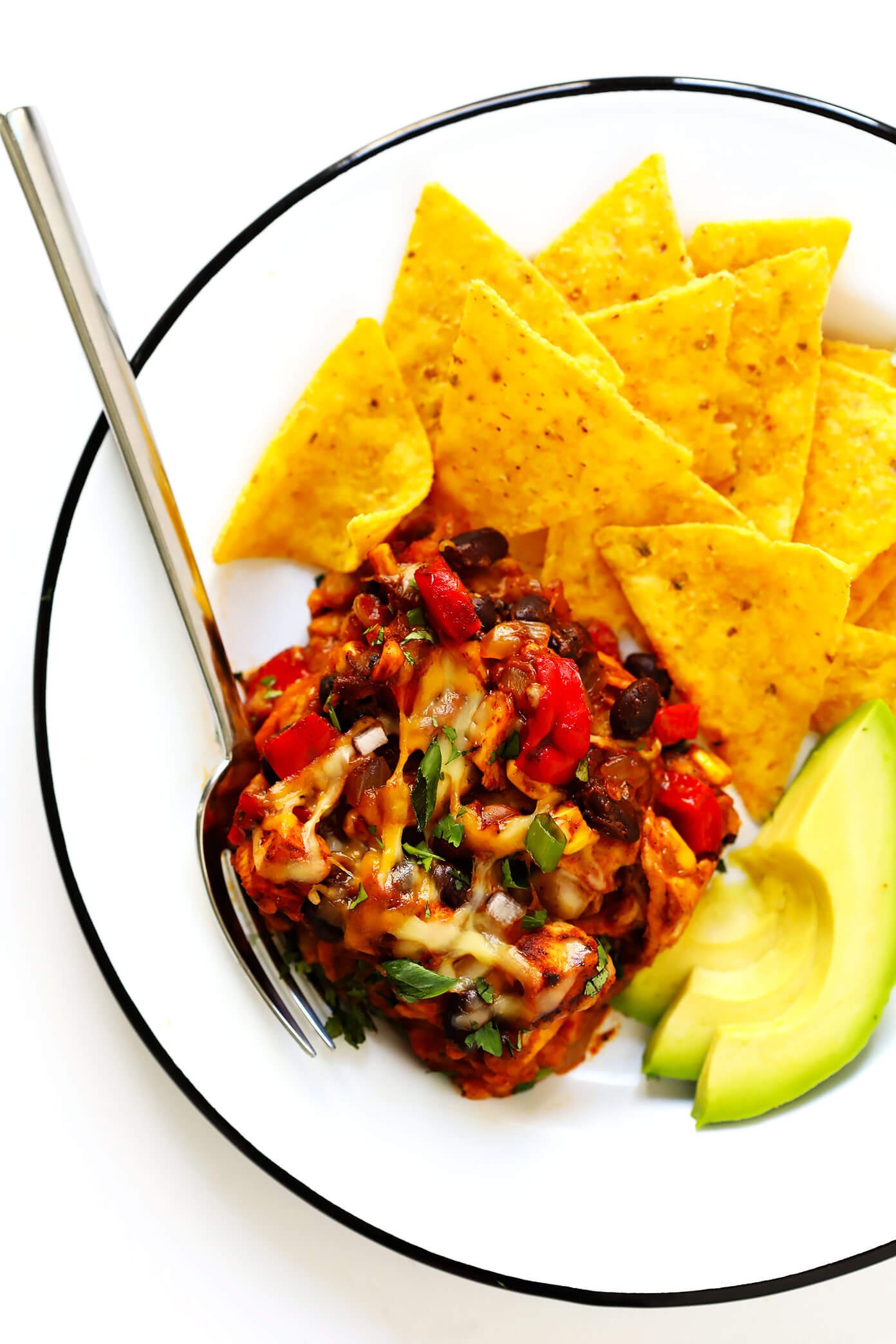 Enjoy, everyone!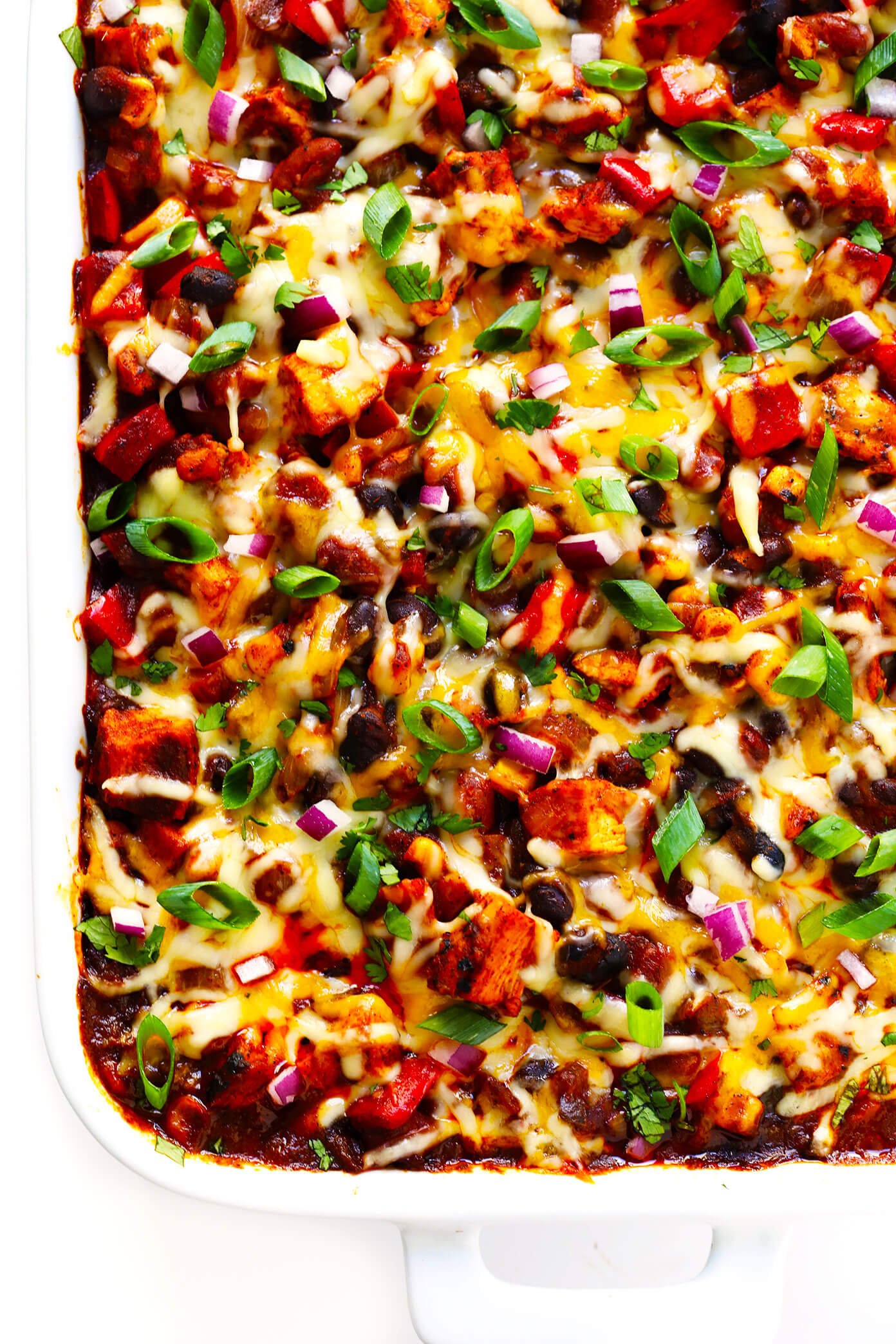 Yield: About 8 servings
Chicken Enchilada Casserole
This chicken enchilada casserole recipe is easy to make, naturally gluten-free, and full of the BEST flavors!
Ingredients:
1 tablespoon olive oil
1 medium white onion, peeled and diced
1 large red bell pepper, cored and diced
1 (4 ounce) can diced green chiles
2 (15 ounce) cans beans, rinsed and drained (I used one can pinto, one can black beans)
1 (15 ounce) can whole kernel corn, drained
3 cups (about 1.5 pounds) shredded or diced cooked chicken
3 cups red enchilada sauce, homemade or store-bought, divided
12 corn tortillas, halved
3 cups shredded Monterrey Jack or Mexican blend cheese
toppings: chopped fresh cilantro, diced red onion, thinly-sliced green onion and/or diced avocado
Directions:
Heat oven to 375°F. Mist a 9×13-inch baking dish with cooking spray; set aside.
Heat oil in a large sauté pan over medium-high heat.  Add onion and bell pepper and sauté for 6-7 minutes, or until softened.  Stir in the diced green chiles, beans, corn, chicken and

2 cups

 enchilada sauce, and stir to combine.  Remove from heat and set aside.
Pour about 1/2 cup of the remaining enchilada sauce in the baking dish, and spread until the bottom of the dish is evenly coated. Top with a layer of about 8 tortilla halves, so that the entire dish is covered. Top evenly with 1/3 of the chicken mixture, followed by 1/3 of the cheese.  Repeat with another layer of tortillas, chicken mixture, and cheese.  Followed by a final layer of tortillas, chicken mixture, the remaining 1/2 cup of enchilada sauce, and cheese.
Cover the pan with aluminum foil, then bake for 20 minutes.
Remove pan and remove aluminum foil. Uncover and bake for 10 more minutes, until the cheese is thoroughly melted.
Remove from the oven and serve warm, garnished with your desired toppings.
*To make this recipe gluten-free, double check the labels of all ingredients to ensure that they are certified gluten-free.
*This recipe was originally published in April 2014, and updated in July 2018.


All images and text ©Gimme Some Oven
If you make this recipe, be sure to snap a photo and hashtag it #gimmesomeoven. I'd love to see what you cook!