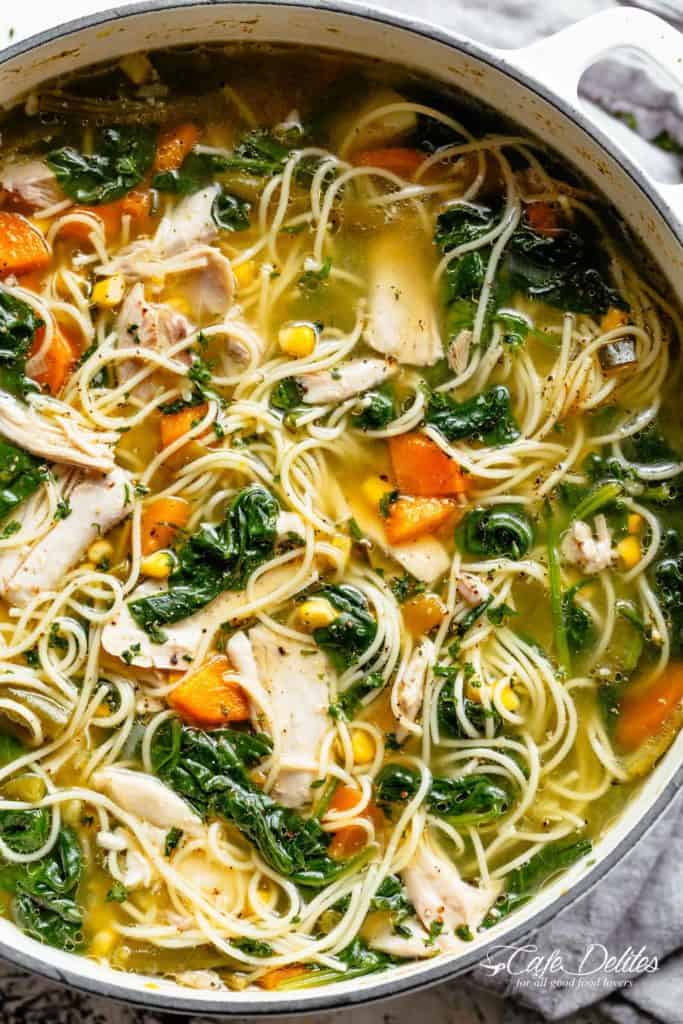 Homemade Chicken Noodle Soup loaded with vegetables and a delicious broth made from scratch! One pot…one soup!
A homemade easy to make Chicken Noodle Soup perfect for any day of the week! With the broth AND the soup made from scratch in under an hour, you will be craving this often! Healthy, low calorie, filling with incredible flavours!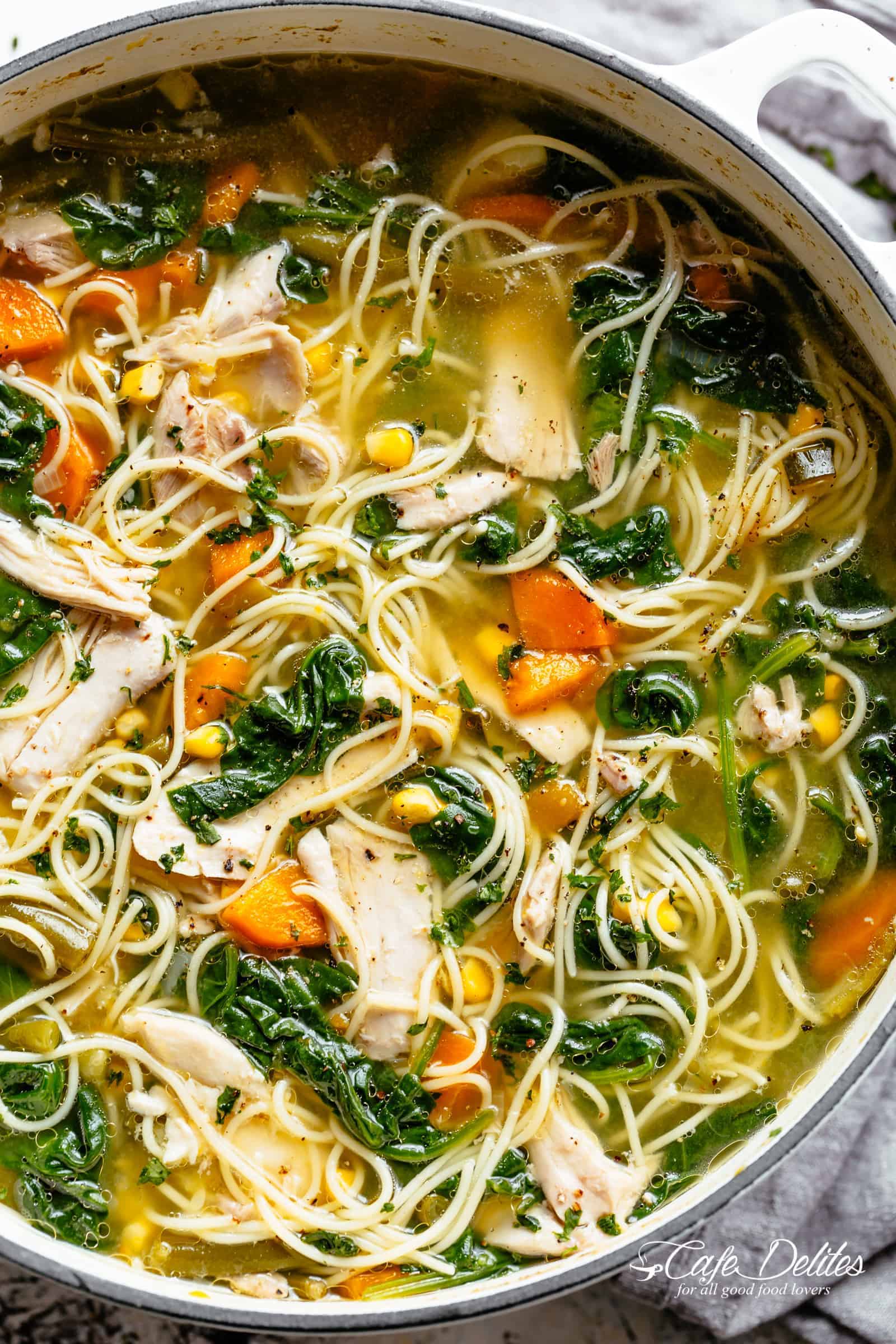 Chicken Noodle Soup Recipe
This is one recipe that we cook so often because it's the best and most delicious way to get our veggies in with no one complaining. Why?
Broth = good.
Chicken = fall apart good.
Egg noodles = carb good (sub with zucchini noodles for a low carb option).
There's no need to use a whole chicken to make the broth for this. We cut corners in this family by using bone-in skinless chicken thighs. No skimming broth needed. No need to make a separate broth. Just one soup in one pot, and all from scratch!
Chicken Noodle Broth
You can use pre-cooked chicken or shredded rotisserie chicken and add the meat in right at the end when your noodles are done and veggies are cooked, but the flavours you get from cooking your chicken right into this soup from scratch are so much better and richer.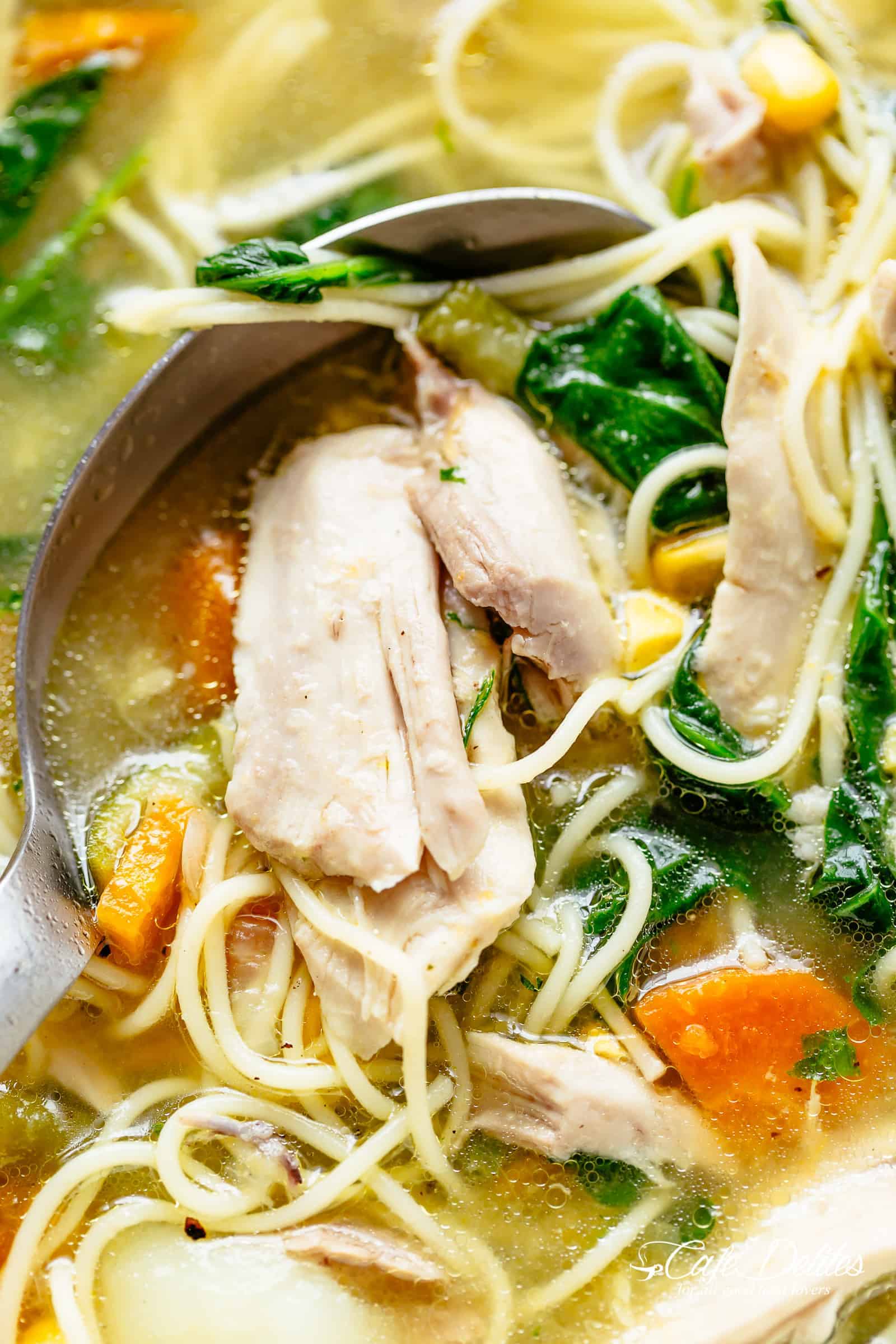 What goes in Chicken Noodle Soup?
This recipe is extremely forgiving in that you can add or take out whatever you like, don't like. The basic veggies we normally use are:
Carrots
Corn
Spinach
Green Beans
We also sometimes add in pumpkin, potatoes, zucchini or peas. You can add as much or as little as you want from each vegetable!
I love using vermicelli egg noodles in our soup, but you can use thin spaghetti, angel hair, or ay other type of pasta you like.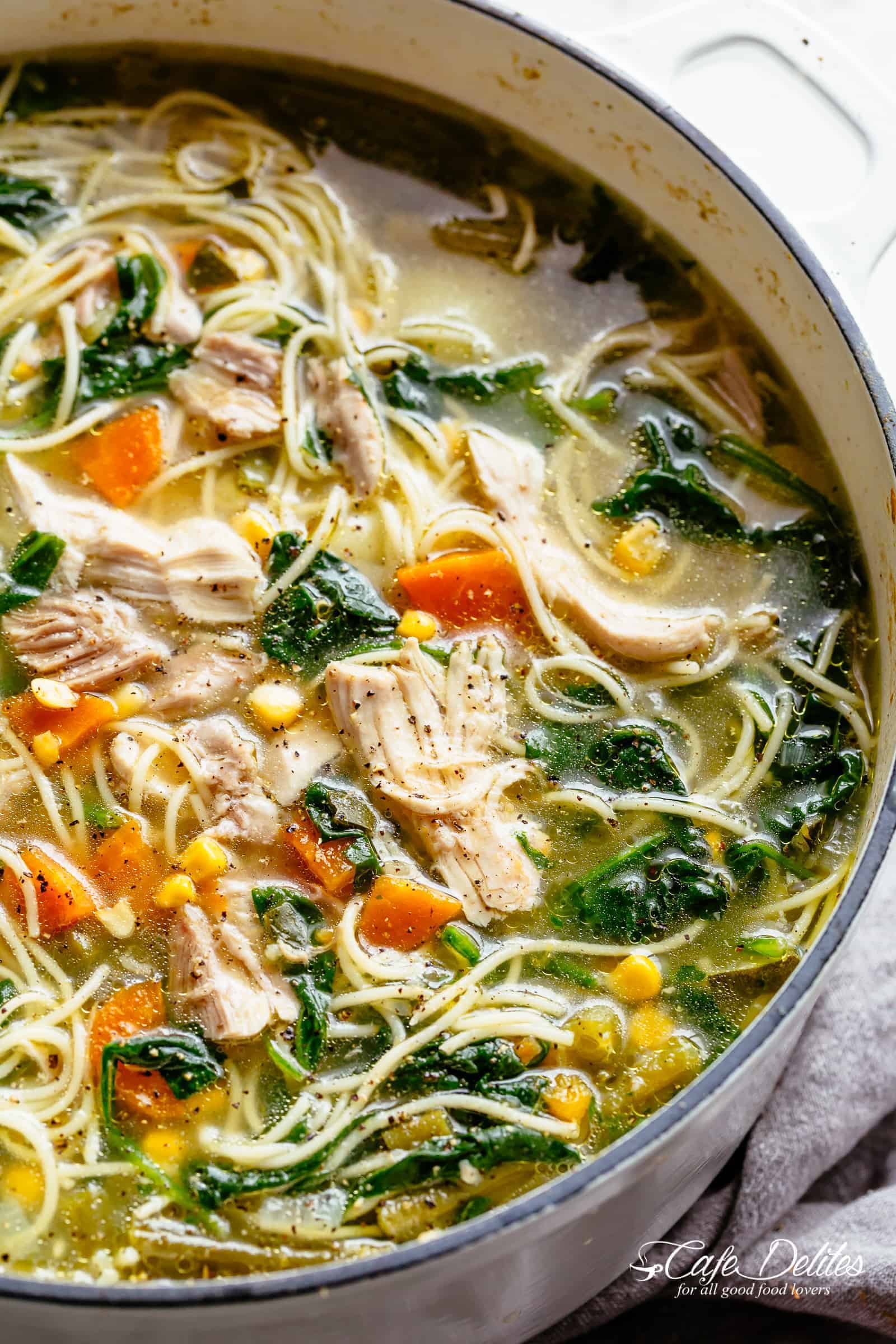 Nothing says a big bowl of comfort like a steaming hot bowl of soups and some fresh bread rolls to mop up the broth afterwards.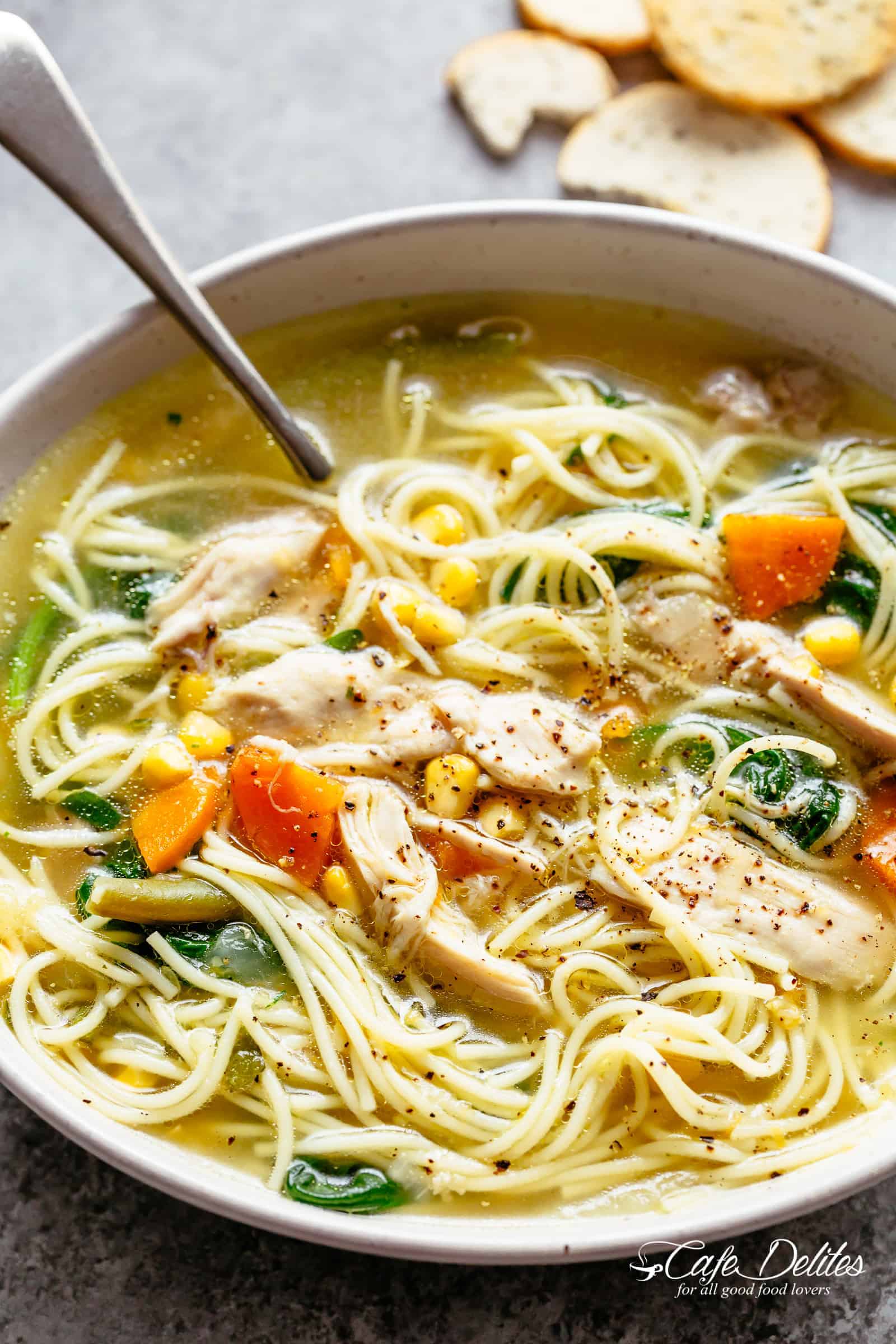 Love soup? Try these!
Beef Cabbage Soup | Lentil Soup | Easy Broccoli Cheese Soup | 10-Minute White Bean Parmesan Spinach Soup | Slow Cooker Creamy Tortellini Soup | Creamy Roasted Tomato Basil Soup (No Cream)
Chicken Noodle Soup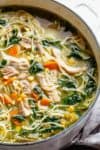 Homemade Chicken Noodle Soup loaded with vegetables with a delicious broth made from scratch! One pot…one soup! Perfect for any day of the week with the broth AND the soup made from scratch in under 45 minutes. You will love this!
1 tablespoon olive oil
1 large onion (diced)
4 cloves garlic (minced)
2 large carrots (chopped)
1 rib celery (chopped)
6 skinless chicken thighs, bone in
2 quarts (litres) chicken stock or broth
1-2 chicken bouillon cubes, (crushed (adjust to your tastes))
7 oz (200 g) green beans, chopped in thirds
3/4 cup corn kernels
4 oz (120 g) baby spinach leaves
1/2 quart (litre) of water, as needed
6 oz (200 g) vermicelli or egg noodles (or angel hair pasta)
Salt and pepper, (to taste)
1/4 cup fresh parsley, (finely chopped)
Heat oil in a large pot over medium meat. Cook onion for 2 minutes, then add garlic, celery and carrots; cook for 5 minutes.

Add the chicken thighs, broth (stock), crushed bouillon, green beans and corn kernels. Top up with water if needed to cover all of the ingredients.

Increase heat and bring to a boil for about 4 minutes. Reduce heat, partially cover the pot with a lid, and allow to simmer for 20 minutes or until the chicken is cooked through.

Transfer chicken to a plate and shred the meat; discard the bones.

Add the chicken back into the soup along with the noodles. Cover and cook for 6-8 minutes while stirring occasionally to separate noodles.

Stir in the spinach leaves and allow to wilt in the soup (about 3 minutes, pressing leaves into the liquid with the tip of a wooden spoon). Mix parsley through. Season with salt and pepper, to taste.

Serve warm.
The post Chicken Noodle Soup appeared first on Cafe Delites.