This chocolate chip mug cookie is pure gooey comfort food in a mug. Loaded with chocolate chips, just pop in the microwave and ping! A warm treat or dessert that the whole family will love!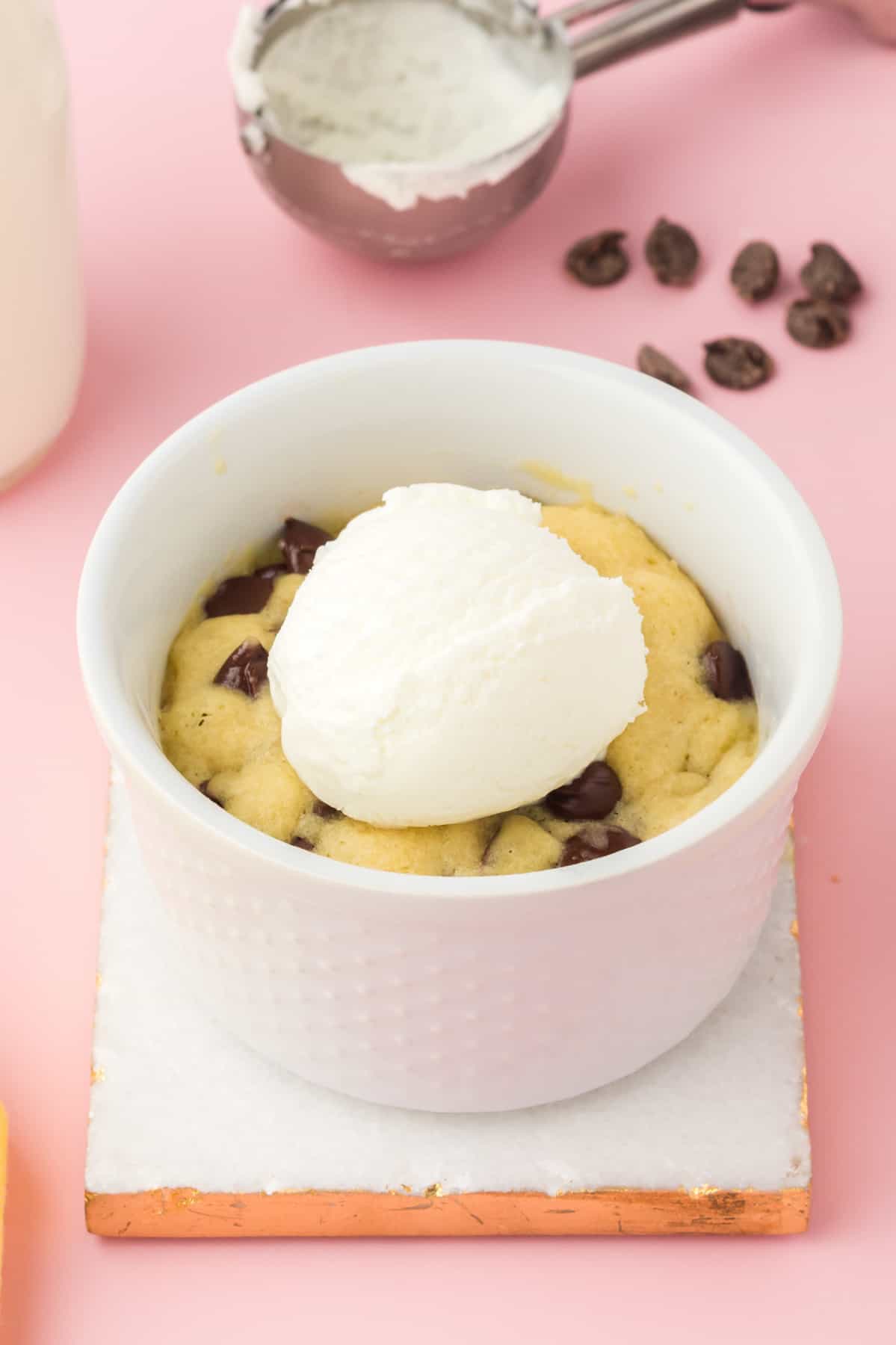 Chocolate Chip Cookie in a Mug
Want your chocolate fix without a ton of cooking, mess and cleanup? Look no further than this melt-in-the-mouth chocolate chip cookie in a mug! No need to make a huge batch of anything, you can slip to the kitchen and make one for you, or whip up a few for the fam.
Looking for more cookie recipes? Why not also try my Mocha Cookies and my Nutella Stuffed Cookies.
Why You'll Love this Mug Cookie Recipe:
KID FRIENDLY: It's like their favorite warm cookie in a mug! They can even help prep them.
EASY TO MAKE: Made with a handful of pantry staples, no oven needed.
VERSATILE: Mix things up and add in your favorite mix ins.
These dreamy mug cookies are perfect for chocolate lovers!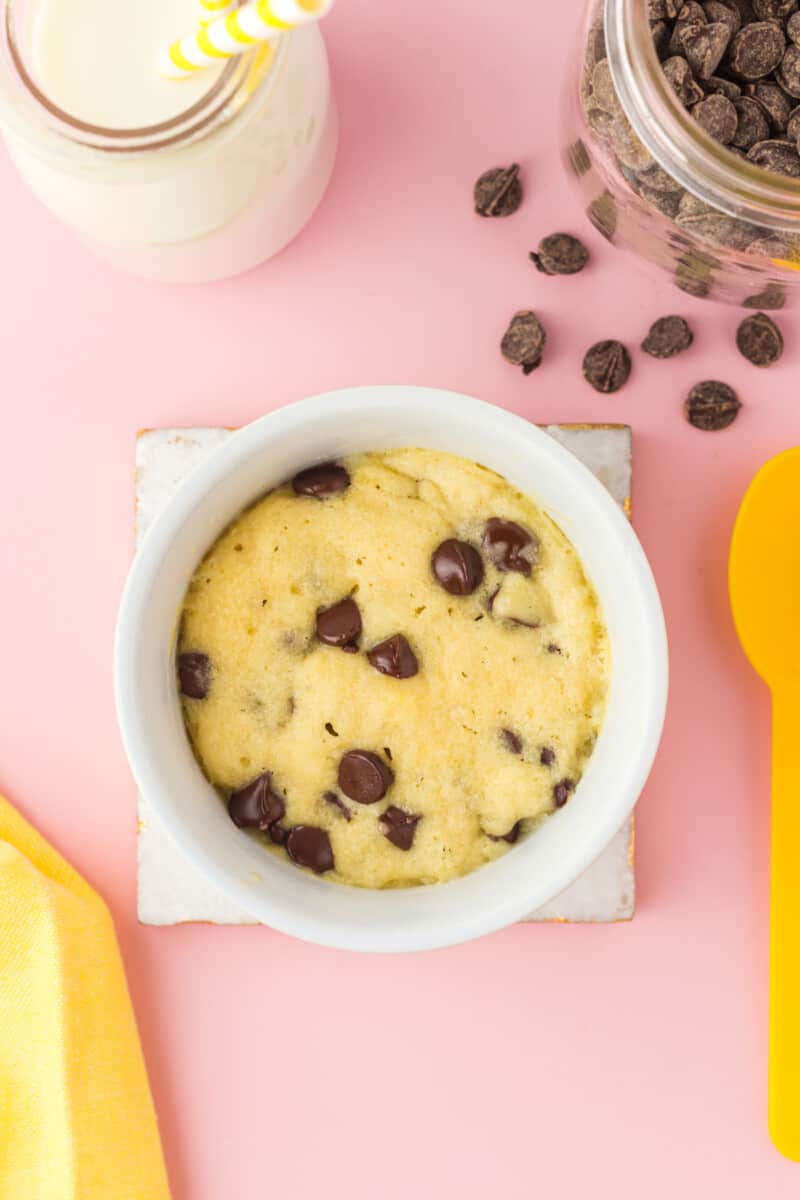 How to Make a Chocolate Chip Mug Cookie
Be sure to see the recipe card below for full ingredients & instructions!
In a small bowl, mix your wet ingredients then add in your dry ingredients.
Transfer the mix to a microwave safe mug and sprinkle on remaining chocolate chips.
Microwave for 1 minute then allow to cool slightly.
Top with ice cream if desired and serve!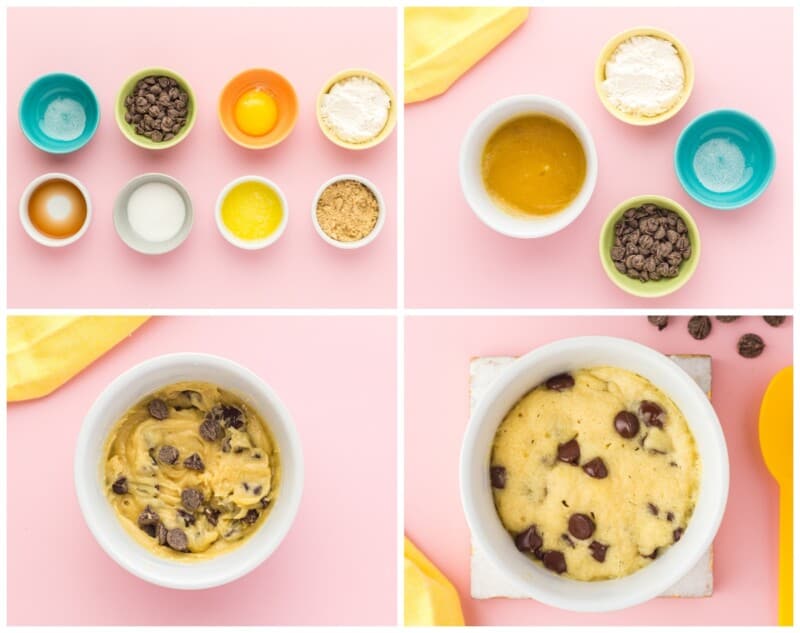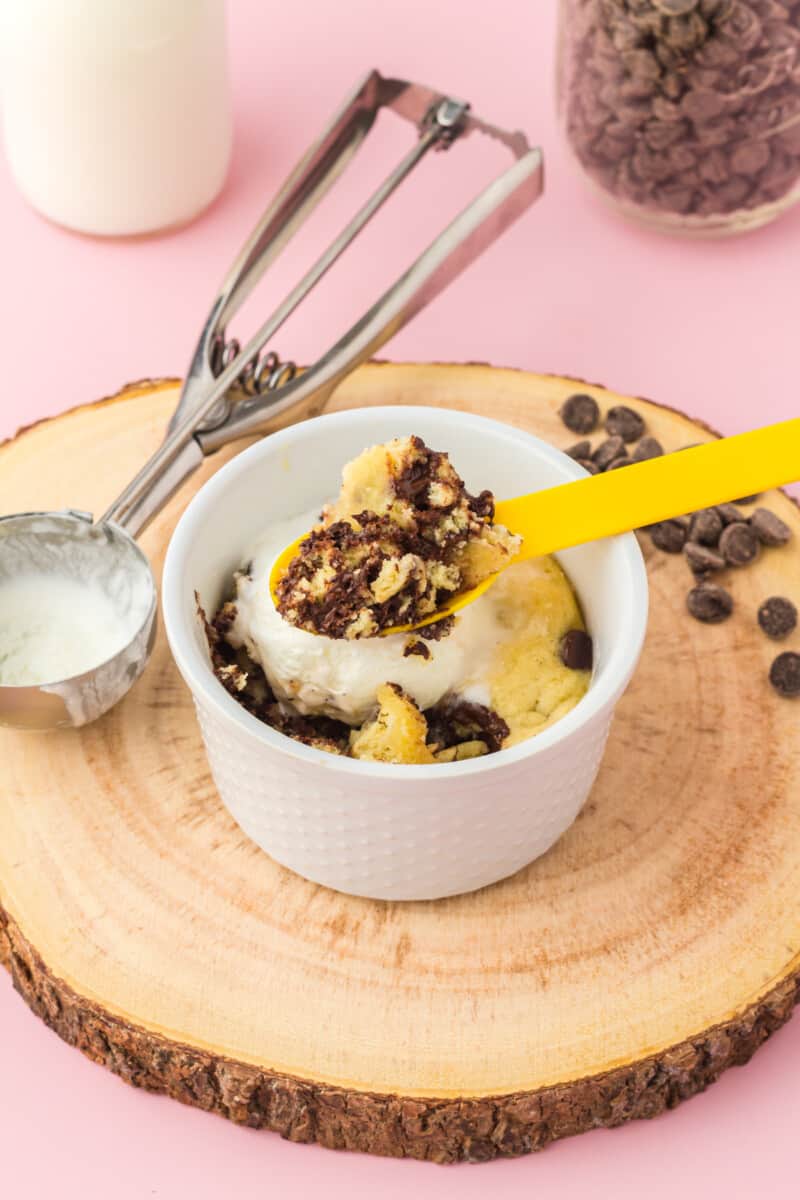 Can I double this recipe?
Yes. Simply double all ingredients and divide the chocolate chip cookie dough between 2 prepared microwave-safe mugs. Bake one mug at a time.
Can I microwave 2 mug cookies at a time?
No. Only place one mug in the microwave at time to ensure proper baking.
Why is my cookie dry?
All microwaves are different so the 1 minute bake time is approximate. If your cookie turned out dry, next time reduce the cook time by 15 seconds and check for doneness.
How do I know when the cookie is done?
The top of the chocolate chip cookie should be set, puffy, and a little wet – no longer raw and jiggling.
You'll be amazed at the gooey, delicious perfection that comes out of just a few simple ingredients and 1 minute in a microwave! Homemade cookies have never been so easy!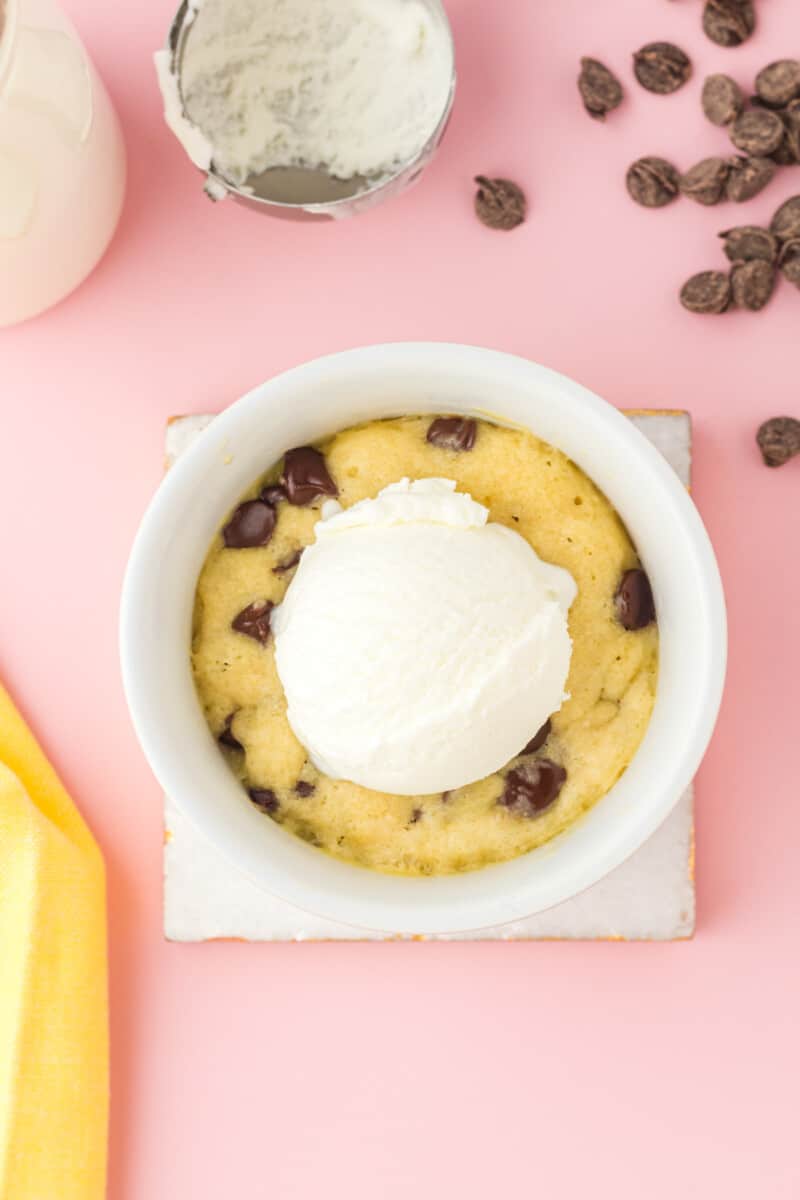 Chocolate Chip Mug Cookie Storage
This chocolate chip mug cookie is best enjoyed fresh and is not meant to be reheated.
Cookie in a Mug Tips
– Don't overfill your mug, mug cookies can rise a lot more than regular cakes and cookies.
– Use a wider mug so the batter cooks evenly through.
– Grease the mug well before adding the batter.
Mug Cookie Variations
– You can use different chocolate chips, like white or mint – whatever your heart desires!
– Play around with other ,mix in favorites, like nuts or sprinkles.
– If you don't have an appropriate mug you can use a ramekin.
– Sub in gluten free flour if you desire.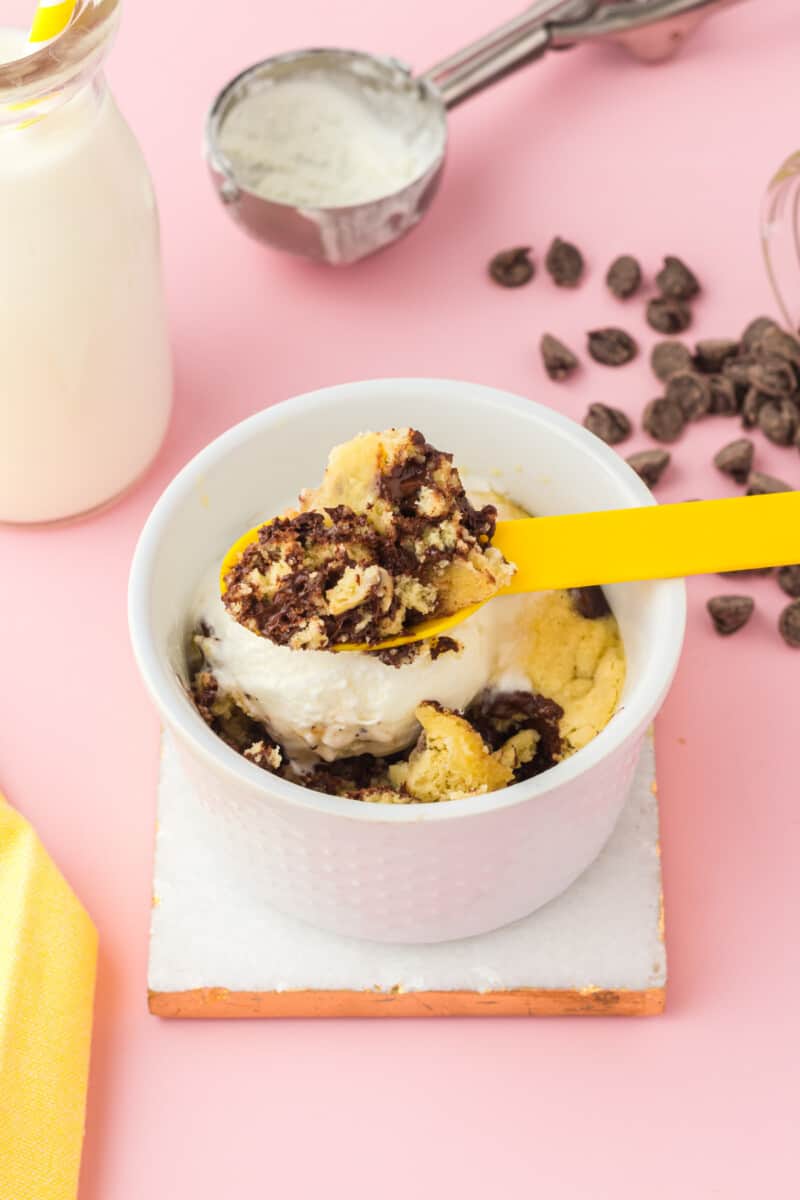 If you love fresh brownies or cookies but don't want to spend too long making a batch, then this dreamy chocolate chip mug cookie is made for you!
If you make this recipe be sure to upload a photo in the comment section below or leave a rating. Enjoy!