Perfect for breakfast or a snack, cinnamon streusel muffins are light, fluffy, fast, and loaded with a double dose of cinnamon-sugary goodness inside and on a crisp, buttery, streusel topping.
For more delicious recipes with that tasty cinnamon-sugar pairing, check out my posts for Super Soft Cinnamon Rolls with Brown Sugar Frosting, Apple Pie Cinnamon Rolls, and Cinnamon Roll Ups. 
This post is in partnership with B&G Foods. All opinions are my own. 
Is there any better flavor combination than cinnamon and sugar mixed together? I can't think of many others I like just as much, especially in a baked good! These cinnamon streusel muffins are made with lots of delicious ingredients like Spice Islands Ground Cinnamon, butter, white and brown sugars, vanilla, and Greek yogurt (my not-so-secret-secret for a moist muffin). 
My only warning is you might want to go ahead and double these because in my experience, the first batch will be gone in a flash! 
Why This Recipe Works 
From simple, quality ingredients to quick prep and bake times, these cinnamon muffins are perfect to make any day, every day. 
Quality ingredients — Baking powder and baking soda are key ingredients in this muffin recipe. They help the muffins to rise and also help to make them soft and tender. I always keep fresh containers of Clabber Girl Baking Powder and Clabber Girl Baking Soda in my pantry because I know they'll help me achieve the best results from my baked goods. 
Cinnamon Toast Crunch™ Cinnadust™— Since I've gone on about the cinnamon-sugar flavor combo, it will come as no surprise to you then that Cinnamon Toast Crunch™ would be one of my favorite cereals right? Well, imagine how ecstatic I was to discover I could buy the key cereal ingredient in a jar in the spice aisle? You'd better believe Cinnamon Toast Crunch™ Cinnadust™ finds its way into my hands at least once a day. It's what I use in the cinnamon streusel topping, because I love to get that cinnamon toast cereal flavor in all my favorite foods! 
Greek yogurt — My tip for making moist muffins is to swap out oil for Greek yogurt. The muffins will be moist and you'll get some extra protein and calcium in your diet to boot! 
Room temperature ingredients — I let the eggs, yogurt, butter, and milk come up to room temperature before mixing together these muffins because they will mix together more easily and the warmer ingredients makes for fluffier baked goods with a smooth texture.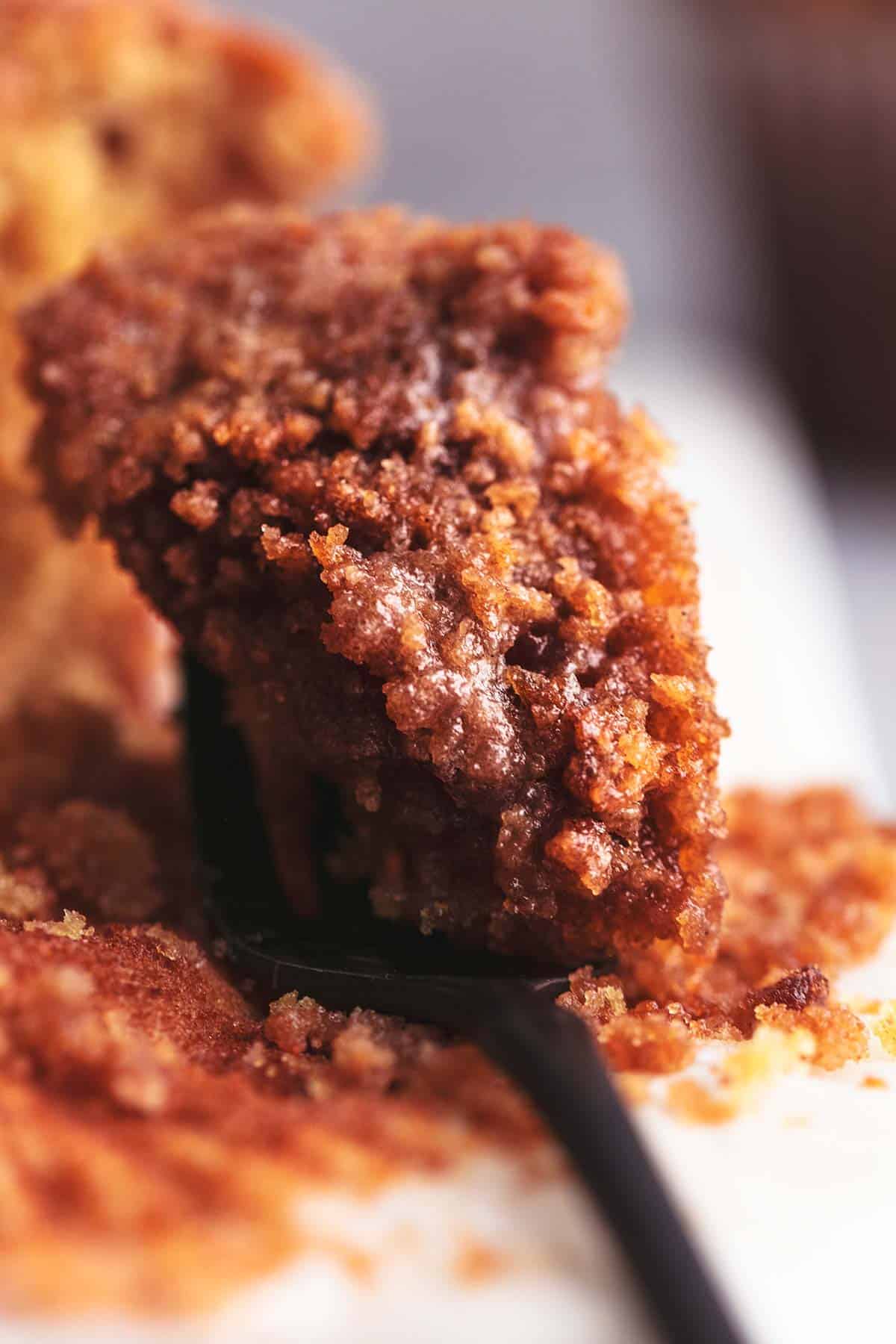 Here's How You Make It
Make the streusel

In a bowl and with a wire whisk, combine together the dry ingredients and Cinnadust. 
Then, add the butter into the Cinnadust mixture using your fingertips to work the butter in until it looks like you have a bunch of coarse crumbs. (You could also use a food processor to achieve this, with the pulse button.) 
Make the muffin batter
Turn the oven on to preheat at 425 degrees. Then line your muffin tins with cupcake liners. 
Next, whisk together the flour, baking powder, baking soda, salt, and cinnamon. 
In another large bowl or in the bowl of a stand mixer, beat together the butter and sugars. Then add the other wet ingredients: vanilla, yogurt, milk, and eggs and mix all together. 
Now add the dry ingredients into the wet ingredients, mixing till just combined. Be careful not to overmix. 
Fill each cupcake liner only ⅔ full, then top the rest of the batter with the streusel. 
Put the muffins into the oven and let them bake for 5 minutes. Then turn the oven down to 325 and let the muffins continue to bake for 13-15 minutes or until a toothpick inserted into the middle of one comes out clean. (Don't sweat it if there are a few loose crumbs on the toothpick from the streusel, that's normal.)
Cinnamon Toast Crunch™ Cinnadust™

Enjoy! 
Is Ground Cinnamon the Same as Cinnamon Powder?

Yes, the two are interchangeable. Sometimes powder might be ground a bit finer than the ground spice, but they will both work the same in your recipes! 
Expert Tips 
These cinnamon streusel muffins

will keep for a week

either placed in an airtight container at room temperature or wrapped individually in plastic wrap and put in the fridge. 

Make sure not to overfill the muffin cups. You only need to put the batter in up to

⅔ full and then top with streusel

. Otherwise, they will overflow when baking and the streusel will burn onto your muffin tin instead of delighting your tastebuds with its Cinnadust goodness. 

Take care

not to over-mix or over-bake

the muffins or you'll run the risk of having over-dry, hard muffins instead of these moist, melt-in-your-mouth ones! 

For a little extra crunch on these muffins, you can

mix in some finely chopped walnuts

or almonds into the streusel and bake as directed.
More Recipes Like This
Did you make this Cinnamon Streusel Muffins recipe? EXCELLENT! Please rate the recipe below! 
Prepare the Streusel
Whisk together flour, brown sugar, Cinnadust, and salt. Use food fingertips to smoosh the butter into the dry ingredients until mixture resembles coarse crumbs. (Alternately, you can use a food processor)
Prepare the muffin batter
Preheat oven to 425 degrees and line muffin tins with cupcake liners.

In a medium bowl whisk together flour, baking powder, baking soda, salt, and cinnamon.

In a large bowl cream together butter and sugars. Mix in eggs, vanilla, Greek yogurt, and milk.

Add dry ingredients to wet ingredients and mix until just combined.

Fill cupcake liners 2/3 full. Fill the remaining space with the streusel.

Bake for 5 minutes, then reduce oven temperature to 325 degrees. Bake for 13-15 minutes while temperature is coming down and remove when an inserted toothpick comes out clean besides a few loose crumbs. Sprinkle with additional Cinnamon Toast Crunch™ Cinnadust™.

Store in airtight container at room temperature or wrap individually with plastic wrap and chill for up to 1 week.
Makes 12 regular-size or 6 jumbo muffins. 
Calories: 200kcal | Carbohydrates: 41g | Protein: 5g | Fat: 2g | Saturated Fat: 1g | Trans Fat: 1g | Cholesterol: 30mg | Sodium: 308mg | Potassium: 94mg | Fiber: 1g | Sugar: 23g | Vitamin A: 73IU | Vitamin C: 1mg | Calcium: 73mg | Iron: 1mg