Congo Bars are soft and gooey chocolate chip cookie bars made with 2 kinds of chocolate. Using both light and dark brown sugar gives them an extra rich caramel flavor that sets them apart.
Congo Bars Are Just Like Chocolate Chip Cookie Bars…But Better!
So Congo Bars…I have no idea where the name came from. They sound like they are super exotic and should maybe have some weird fruit ingredient that you could only buy online. Well folks, sorry to disappoint.
They're actually just an extra special version of a chocolate chip cookie bar. This is a totally nostalgic recipe that I snagged out of my Grandma's recipe box. Leave it to the 80s to take an everyday kind of recipe and give it a fancy name.
But What Are Congo Bars?
So like I said, they're basically a chocolate chip cookie baked into a bar dessert…with a few minor tweaks:
2 kinds of chocolate! I mean why just use semi sweet chocolate when you can also use milk chocolate! AND I'm using chunk and chips too…we're going big today!
2 kinds of brown sugar! Let's up the richness and caramel favor by adding both dark and light brown sugar. No boring granulated today folks.
An extra egg. Ok this is minor, but it's important in this recipe, as it affects the texture and richness. And since we're baking these as bars, the extra egg adds a little more chewiness that works!
Ingredients List:
butter
brown sugar: light and dark
eggs
vanilla extract
kosher salt
baking powder
all purpose flour
semi-sweet chocolate chunks (or even chopped chocolate)
milk chocolate chips (or chopped milk chocolate)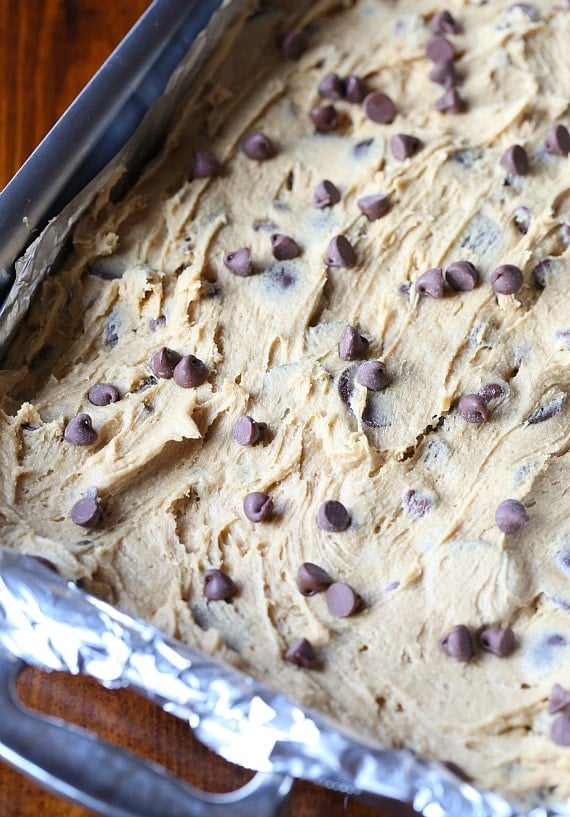 Instructions:
Line a 9×13 pan with parchment paper and coat with nonstick spray.
Beat the butter and both light and dark brown sugar together in your stand or hand mixer. Add in the eggs, vanilla, salt and baking powder and mix for an additional minute and scrape the sides of the bowl as needed. Then add in the flour and mix until just combined.
Stir in all the chocolate and spread the dough into the prepared pan. Bake for 30 minutes at 350°F or until the edges are set and lightly golden and the center appears slightly under-baked.
Remove the pan from the oven and allow the bars to cool completely before cutting.
How Do You Know When They're Done?
You might think I listed the bake time wrong because after 30 minutes they might not seem quite done in the centers. But trust me no this, they will seem a little gooey, but that's ok. As they cool they will stay soft and delicious.
If you bake them until they look completely done in the centers they will end up a little dry, which is not what we want.
Love Bar Cookies? Check Out Some of My Other Recipes Too!