These Cookie Dough Stuffed Brownie Truffles are the ultimate cookie dough truffle ever! You have fudgy brownie wrapped around egg free cookie dough all dipped in melted chocolate!
This recipe is updated from the original back in 2011.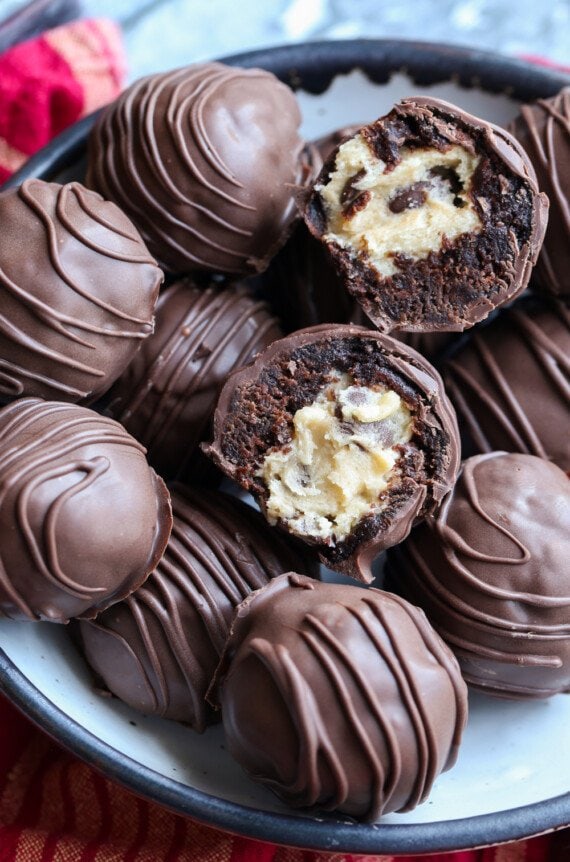 Cookie Dough Truffles Are the Ultimate Truffle Recipe!
I made this recipe back in 2011, but decided they needed a little facelift for 2020, just in time for the holiday season. These will look GORGEOUS on your holiday platter but of course will bit the it of any dessert table they're on, whether it be a birthday party, Halloween get together…or heck, as a Wednesday night sweet treat.
I mean you have a fudgy brownie wrapped around egg free cookie dough all encased in a sweet chocolate coating. I am telling you, the first bite into these is an EXPERIENCE!
Ingredients:
You have multiple steps in the this truffle recipe, so go ahead and use a shortcut with a boxed brownie mix! You can certainly make homemade brownies if you prefer, but it really won't make a difference in the taste.
There are 3 elements of this recipe, and they're all extremely simple!
Baked Brownies
Egg-Free Cookie Dough
Melted Chocolate To Coat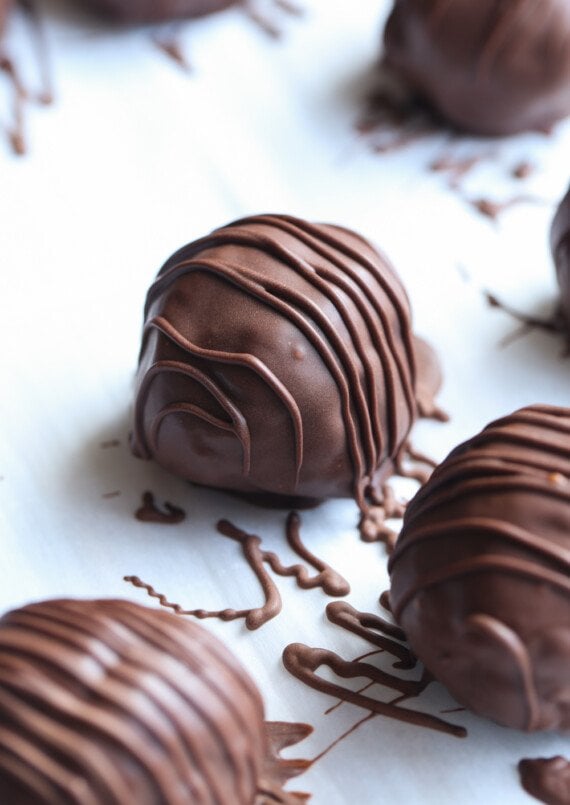 How To Make Cookie Dough Truffles:
The steps are varied, but all easy! In essence you will need to:
Bake brownies and allow them to cool completely.
Make egg free cookie dough, allow it to chill so it's easier to handle. Then roll the cookie dough into balls about the size of large marbles. You might be tempted to make the cookie dough balls a little bigger, but keep them on the small size. They can get get real big real fast, and if you start with a large cookie center, you can end up with a truffle the size of a baseball when it's all said and done!
Once you have the cookie dough done, go ahead and break up all the brownies into a crumbly mess! Grab about 2 tablespoons of the broken brownies and squeeze them into a ball. The oils in the brownies will hold it together. Now flatten it out. Place a cookie dough ball in the center and form the brownie around the cookie dough. When they're all assembled, chill them. This will make them easier to handle, as well as setting up the melted chocolate quicker.
When you melt the chocolate, just try to use a bowl the is deeper than it is wide. this will allow you to coat the truffle easily in the chocolate.
PRO TIP: Tap off the excess chocolate over and over before placing it back on the baking sheet. The more you tap off the extra chocolate, the smoother the coating will be.
Is the Cookie Dough Filling Safe To Eat?
Yep, this cookie dough is egg free. If you're worried about eating raw flour (I'm not) try out my Edible Cookie Dough recipe, as it shows you how to heat treat the flour to kill any potential bacteria if that's a worry for you!
This Truffles Recipe Is Great To Make Ahead!
When you read the steps of this recipe you might be like, of that's complicated! It's not, I promise. In fact, my teenage boys make these truffles! BUT there are multiple steps that can take time.
You have to bake the brownies and let them chill. ALTERNATE: You can buy pre-made brownies.
You have to chill the cookie dough for about an hour before rolling it into balls to make it easier to handle and less sticky. Make this in advance! If you do this even up to a few days before you will have them all ready to go!
How To Store:
These can be stored at room temperature for up to 3 days, or can be refrigerated for 5 days!
You can also freeze these truffles airtight for up to 30 days!
Perfect For Gifting!
Of course these little truffles are pretty, and will look gorgeous on a cookie platter or dessert tray. BUT they are a sweet little gift all on their own as well.
AND beyond gifting, this is a great recipe to get the kids involved making. The steps are easy and these truffles are sure to garner excitement!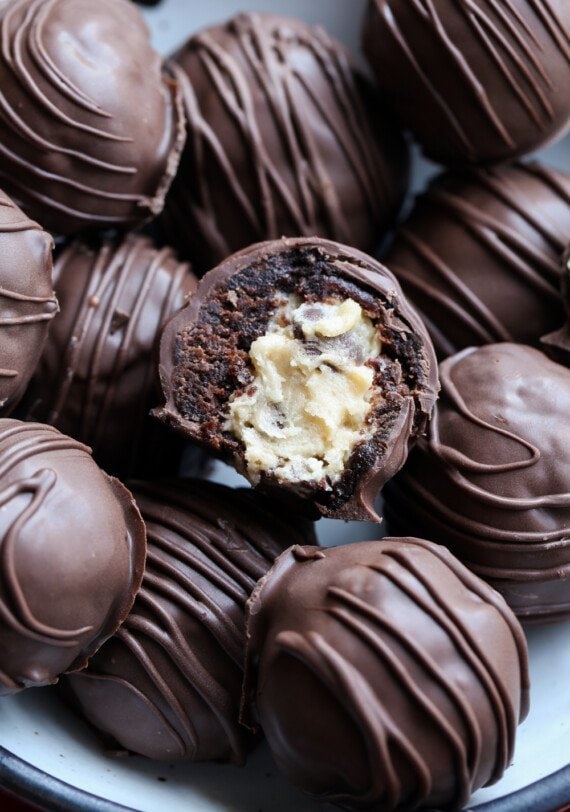 Looking For Other Truffle Recipes? Try These:
Cookie Dough Brownie Truffles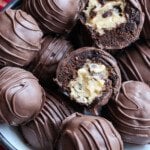 ---
Description:
The ULTIMATE Truffle recipe!
---
Ingredients:
Brownie:
1

boxed brownie mix, prepared and baked according to package directions and cooled completely
Cookie Dough
1 cup

butter, room temperature

1 cup

light brown sugar

1/2 cup

granulated sugar

1/4 cup

milk

2 teaspoons

vanilla extract

1 teaspoon

kosher salt

2 cups

all-purpose flour

1 1/2 cups

mini semi-sweet chocolate chips
Coating
---
Instructions
Brownies: Bake the brownies according to the packages directions and cool completely. *Alternately you can use a homemade brownie recipe for this, but it's not necessary.
Cookie Dough:  In the bowl of your stand mixer fitted with the paddle attachment mix the butter, brown sugar, granulated sugar, milk, vanilla, and salt together on medium speed for 1 – 2 minutes until combined and smooth. Turn the mixer to low and add in the flour, mixing until just combined. Stir in the  mini chocolate chips until evenly incorporated. Cover the cookie dough and chill in the refrigerator  for 1 hour to make it easier to handle.
Line a baking sheet wit parchment or wax paper. Set aside. When the dough is chilled, portion out 1 teaspoon(ish) of the cookie dough and roll it into balls about the size of large marbles. Place them on the prepared baking sheet and place in the freezer for about 15 minutes.
Assembly: Break up the cooled brownies using your hands or a fork. Squeeze roughly 2 tablespoons of the broken brownies in your hand so they hold together and form a ball. Flatten the ball into a disk and place a chilled cookie dough ball into the center. Wrap and form the brownie around the cookie dough and place back onto the baking sheet. Repeat with remaining cookie dough.
Coating: Place chocolate chips in in a medium bowl, microwave-safe bowl. Microwave in 30 second increments, stirring after each, until the chocolate is melted and smooth.
Using a fork, dip the brownie ball into melted chocolate sprinkle. Top with mini chocolate chips, or once set, drizzle with extra melted chocolate to create stripes.
Place truffles in the refrigerator so the chocolate sets quickly.
---
Notes:
*If you would like to make homemade brownies in place of the boxed brownies, try my Fudgy Brownie Recipe.
Store airtight for up to 5 days in the refrigerator or at room temperature for up to 3 days.
Keywords:: cookies and cups, truffles, cookie dough, brownies, cookie dough truffles
Want To Save This Recipe?
PIN for later: