Craving a cafe-style coffee drink at home? Try this simple recipe for Spanish Cortado Coffee! Equal parts espresso and frothed milk, it's easy enough for a beginning barista, and it will satisfy even the pickiest coffee expert.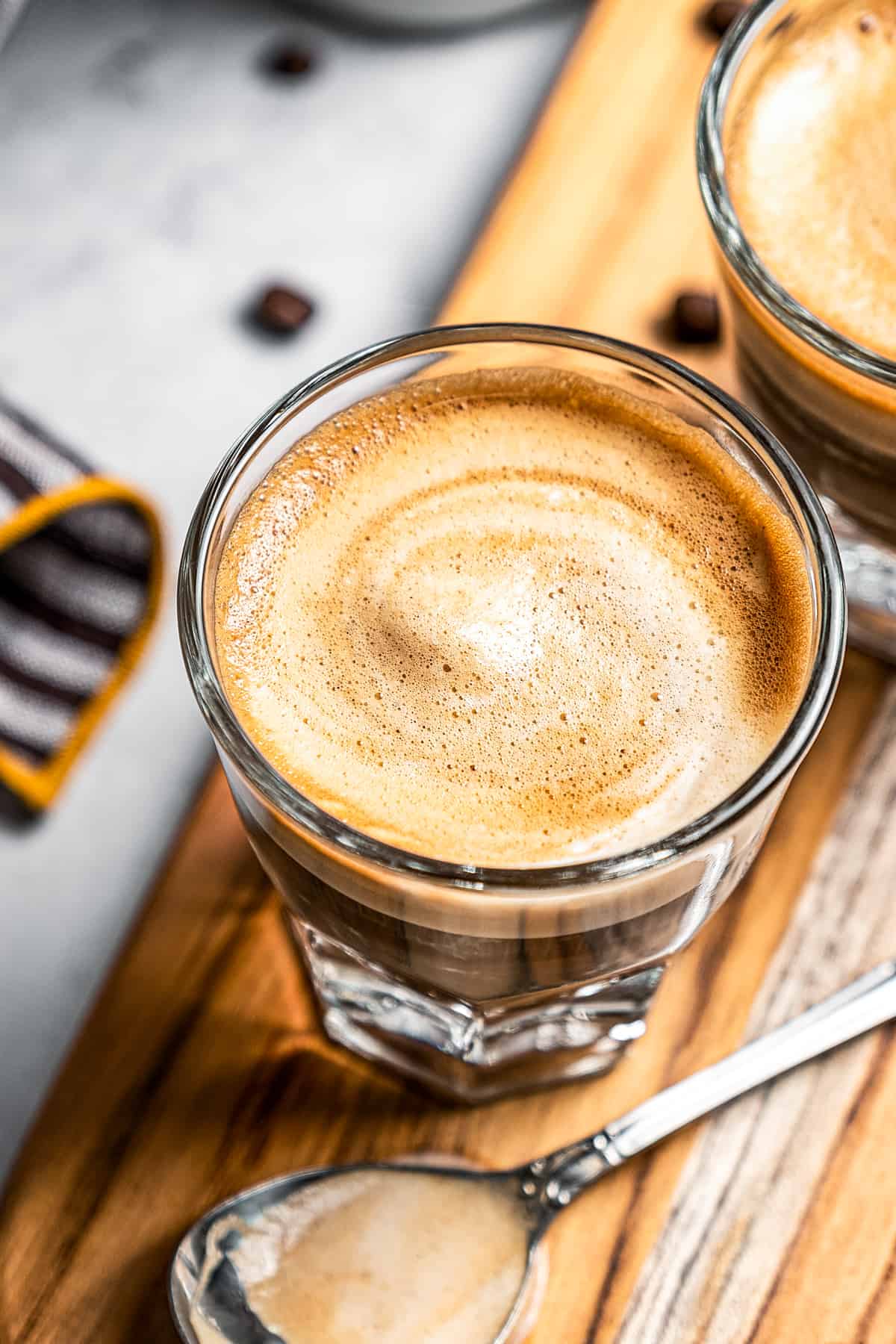 Make Your Own Cortado – With or Without an Espresso Machine!
If you've never tried a cortado, you may just find that it's your new favorite coffee drink. Like a latte or flat white, this simple drink is all about frothy milk and hot espresso. However, it's not as big as a latte – it's only four ounces, total. Originally from Spain, cortados are also popular in Portugal and throughout Latin America, and once you try one, you'll see why! Cortado is the Spanish word for "cut," and perfectly captures how the richness of frothed milk cuts the sharpness of espresso, making a perfectly balanced drink.
If you're new to the world of espresso, no worries! This is one drink that's incredibly simple to make – perfect for getting started with espresso-based drinks. You can use an espresso machine, a stovetop espresso pot, or just some powdered espresso. No matter how you make it, you'll get a fast, energy-boosting treat that's full-bodied and rich, without the coffee-shop price tag, and no waiting in line.
Is a Cortado the Same as a Flat White?
A cortado is different than a flat white, although they both use basically the same ingredients. Cortados are made with equal parts espresso and milk, while a flat white has more milk than espresso.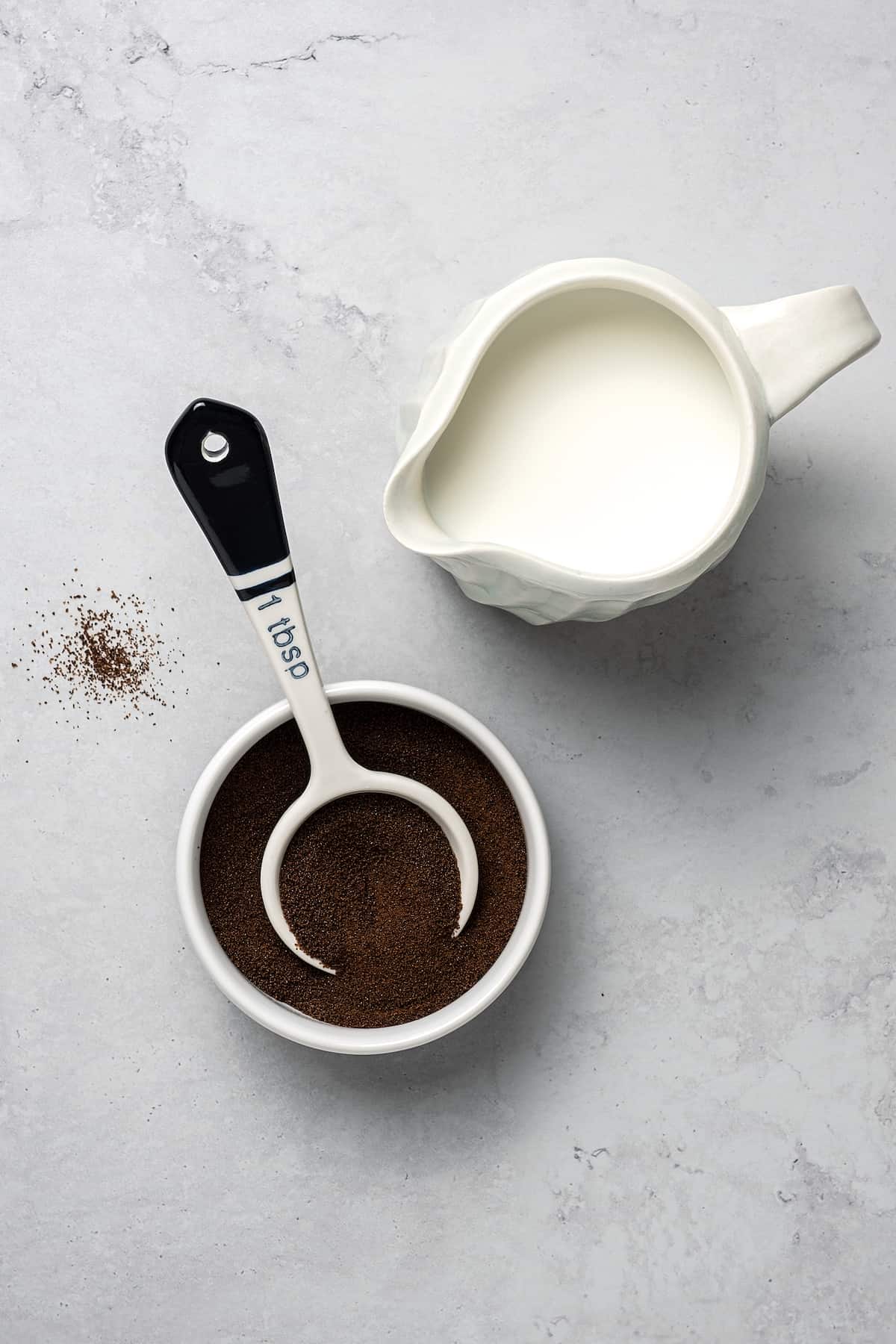 What Is in a Cortado Coffee?
Espresso: To make the espresso, you'll either need enough espresso-ground coffee to make two shots, OR you'll need 2 two tablespoons of instant espresso.
Water: To make the espresso.
Milk: Whole milk froths the best, but you can substitute dairy-free milk such as oatmilk if you prefer. Keep in mind that lowfat milk substitutes are trickier to froth.
Is Coffee Powder the Same as Espresso Powder?
You may be wondering if instant coffee is the same as instant espresso – although they are definitely similar, they are not the same. Espresso powder is much more concentrated than regular instant coffee powder, so you can't really use them interchangeably. In a pinch, you could use about 3 tablespoons of instant coffee instead of 2 tablespoons instant espresso, but the flavor will not be as smooth or strong.
Let's Make a Cortado!
One thing that makes this recipe so easy is that you have options. There are two easy ways to do this at home: making "real" espresso, or making espresso with instant espresso powder. Here's how to do it, step by step.
Using Espresso Powder
Make the Espresso. First, put about one tablespoon of espresso powder into each glass mug. Then add two ounces of very hot water to each mug, and stir well to dissolve the powder.
Top with Frothed Milk. Froth the milk using any method you choose (more on that in the Tips section!). Once it's done, divide it between the two cups. 
Enjoy! Serve your cortados immediately.
Using an Espresso Machine (or Pot)
Make the Espresso. Follow your espresso machine or pot's guidelines to make four shots of espresso (that's four ounces, total). Pour two shots into each glass.
Froth the Milk. Make the frothed milk however you choose (see the Tips section for ideas) and pour it evenly over the espresso in each cup.
Enjoy! Serve right away.
Helpful Tips and Tasty Variations
If you like regular cortado, you've got to take a look at these delicious variations! Plus, check out the easy tips for getting perfect frothed milk in the comfort of your own kitchen.
Cinnamon Cortado: A sprinkle of ground cinnamon is the perfect finishing touch!
Iced Cortado: Make the espresso and frothed milk, but pour both into a rocks glass or similar, over ice.
Flavored Cortado: Add a small amount of liqueur or syrup (think hazelnut, vanilla, caramel, etc) to your taste.
Cortado Condensada: This rich little variation uses a small amount of sweetened condensed milk along with whole milk, for a sweeter and creamier variation.
Frothed Milk Hacks: While you can use a real milk frother, if you don't have one (or don't want to use it), you can also froth milk using a stick blender, a regular blender, a French press, or even by shaking it in a jar! Just heat your milk so that it's very hot but not boiling, and then carefully blend/pump/shake it. Make sure to use a large enough container, oven mitts or heatproof gloves if you're handling anything hot, and be very careful to avoid spattering the milk – hot liquids can cause severe burns.
Can You Store Leftover Cortado?
I don't recommend storing leftover cortado, because the milk will not stay as frothy when refrigerated (and especially when reheated). Espresso does not store well for longer than a few hours, and should not be reheated. All in all, it's best to enjoy this drink freshly-made.
ENJOY!
If Using Instant Espresso
Divide the espresso powder between two cortado glass mugs.

Pour in the hot water; about 2 ounces in each mug, and stir to combine.

Froth the milk with a frother.

Top the espresso with the steamed (frothed) milk.

Serve immediately.
If Using an Espresso Maker
Follow your espresso maker's guidelines to make four shots of espresso.

Divide the espresso evenly between two glass cortado mugs.

Froth the milk.

Top each mug with frothed milk.

Serve immediately.
Frothed Milk Hack: You can use a real milk frother, or you can also froth milk using a stick blender, a regular blender, a French press, or even by shaking it in a jar. Just heat your milk so that it's very hot but not boiling, and then carefully blend, pump, or shake.
Calories: 52 kcal | Carbohydrates: 6 g | Protein: 2 g | Fat: 2 g | Saturated Fat: 1 g | Polyunsaturated Fat: 1 g | Monounsaturated Fat: 1 g | Cholesterol: 7 mg | Sodium: 26 mg | Potassium: 262 mg | Sugar: 3 g | Vitamin A: 92 IU | Calcium: 78 mg | Iron: 1 mg | Net Carbs: 6 g
Nutritional info is an estimate and provided as courtesy. Values may vary according to the ingredients and tools used. Please use your preferred nutritional calculator for more detailed info.
More Festive Drinks