Creamy Sun Dried Tomato Chicken Penne is a summery pasta dish that's perfect for dinners al fresco and potlucks too. It's a 30-minute, one-pot wonder you'll make again and again! 
Loving the one-pot chicken pasta dishes? Me too! These are sure to make you smile as well: Pesto Chicken Pasta Salad, Chicken and Sausage Pasta, and Chicken Alfredo with Broccoli.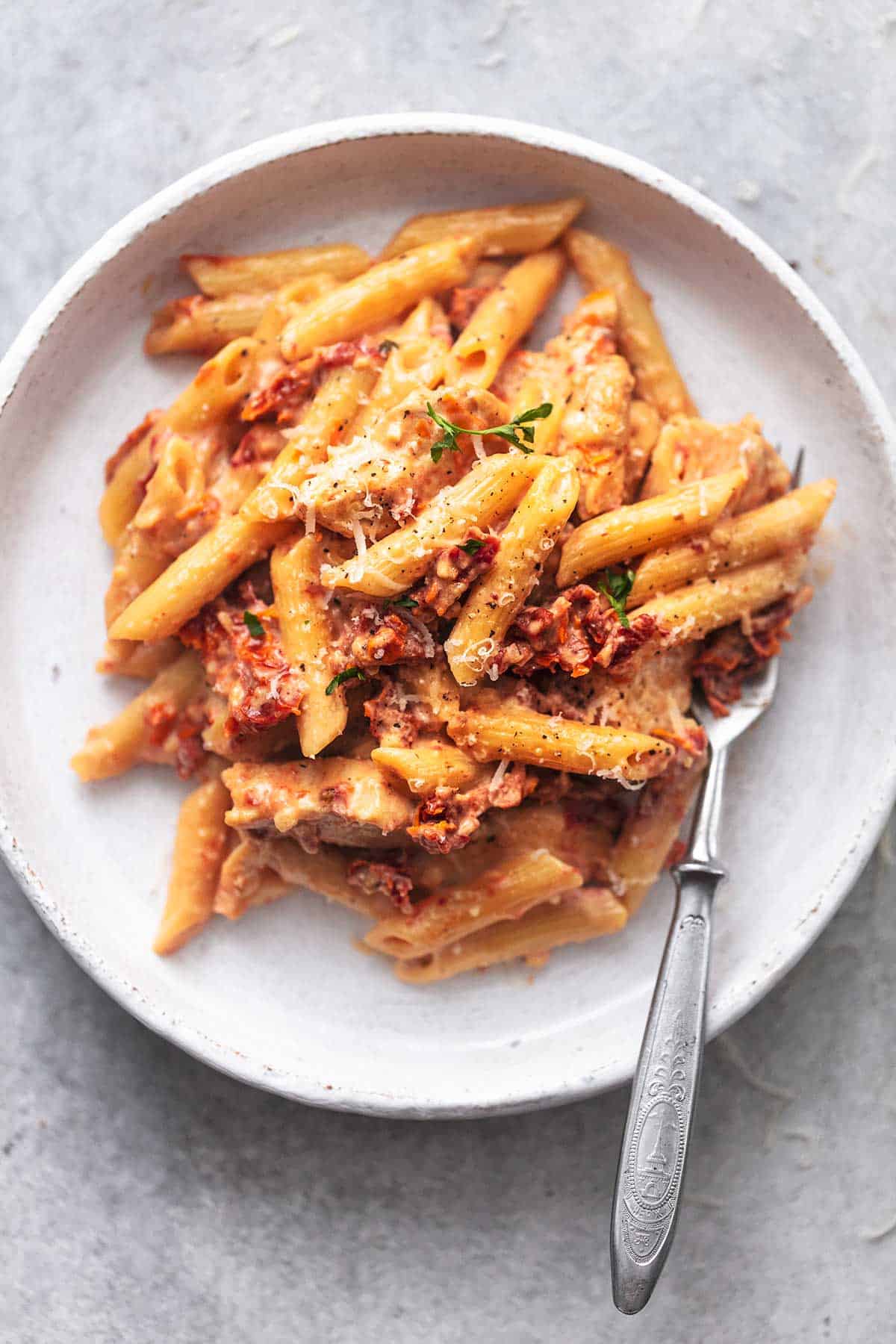 Sun dried tomatoes just make you feel sunny and summery don't they? I mean, it says it right in the name — "sun." It's hard to resist an ingredient that conjures up the process itself, big, plump tomatoes laying out in the sun, drying all up into a wonderfully sweet and tart dried treat that adds such a depth of flavor to so many dishes.

I love to add them to pastas, sandwiches…anything creamy and cheesy and saucy just begs for some sun dried tomatoes. For this dish, I was looking for a quick, one-pot pasta dish that could serve a crew: mine plus my sister and her newly minted husband. This perfectly fit the bill!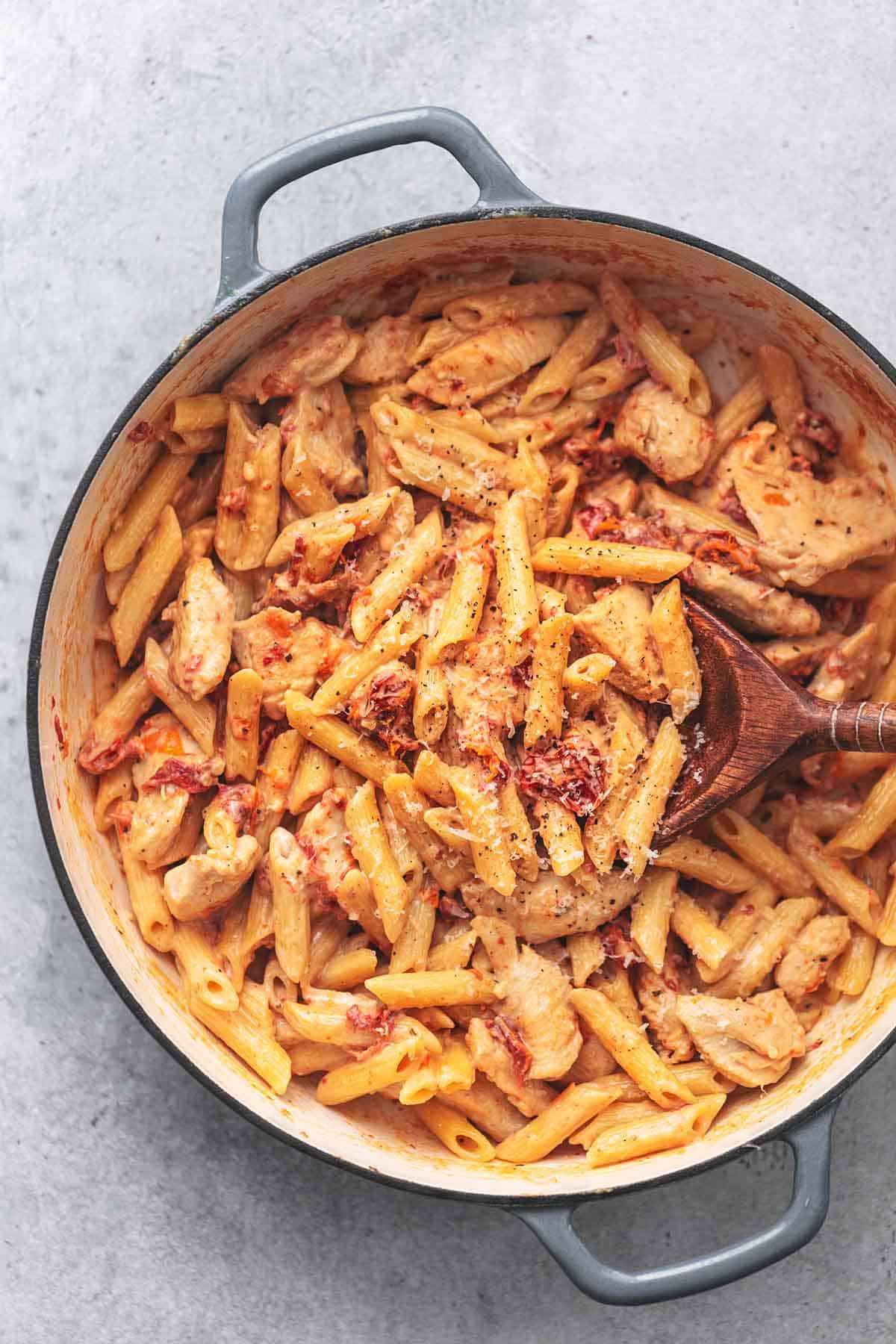 WHAT INGREDIENTS ARE IN CREAMY SUN DRIED TOMATO CHICKEN PENNE?
To make this dish, you'll only need a handful of pantry ingredients, chicken, and a few dairy items.

Penne pasta

Boneless skinless chicken breasts

Salt and pepper to taste

Olive oil

Butter

Minced garlic

Italian blend seasoning or Herbs de Provence

Sun dried tomatoes packed in oil 

Chicken broth

Heavy cream or half-and-half 

Freshly grated parmesan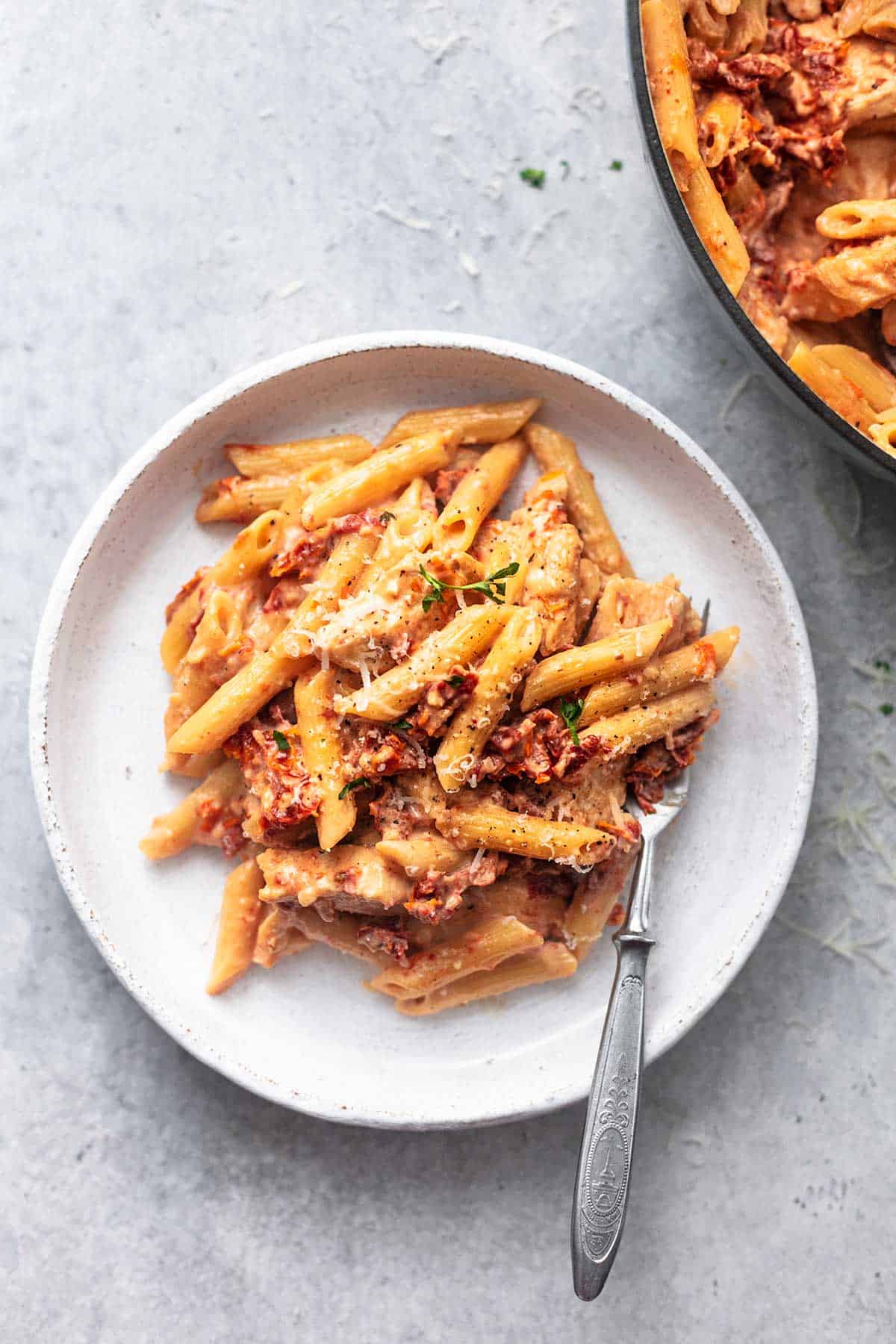 HOW DO YOU MAKE THIS 30-MINUTE PASTA DISH? 
I make this dish in what is basically a three-part process: the chicken, the sauce, and the pasta. Then you put it all together into one fantastic meal! 
To make the chicken, you'll season the pieces with salt and pepper, then add olive oil to a large skillet over medium heat. Add the chicken to the skillet, and stir the pieces around for about 5-7 minutes, or until the chicken is cooked through. Take the chicken out of the skillet and put it on a plate or in a bowl and cover it to keep it warm. 
Using the same skillet, melt the butter over medium heat. When it's melted, add the minced garlic and stir that around in the butter for about a minute till it fills up your house with that wonderful garlic smell.

Add the sun dried tomatoes to the garlic butter mixture, along with the dried herbs and stir it all together for another minute. Pour in the chicken broth, and bring the whole mixture to a high simmer. Pour in the half-and-half or heavy cream and parmesan for 3-4 minutes till the cheese is good and gooey and melted and the sauce is all yummy and creamy looking. Add salt and pepper if you prefer more.

Finally, add the chicken back to the sun dried tomato sauce along with the cooked penne noodles. Add some more freshly grated parmesan to the top, some cracked black pepper, and fresh herbs for a garnish before serving. 
ARE SUN DRIED TOMATOES BAD FOR YOU?
Sun dried tomatoes are actually not bad for you. You might have heard they aren't good for you because they are packed in oil. But, this just keeps them moist enough so that you can cut them and add them to dishes. In this creamy tomato chicken dish, we drain the tomatoes and pat them dry so the oil you'll get from them is very little. 
Plus, they are a great source of antioxidants like lycopene (because all tomatoes are full of lycopene, of course), which are thought to reduce your risk for cancer as well as control inflammation in the body.
HOW LONG DO SUN DRIED TOMATOES IN OLIVE OIL LAST?

The best way to know how long your sun dried tomatoes will last is to check the expiration date on the label. Usually you get about one to two years before they go bad. You can store them in the fridge after you've opened them and keep on using them up to about another 6 months. 
HOW DO YOU SOFTEN SUN DRIED TOMATOES?
If you've purchased sun dried tomatoes that aren't packed in some kind of oil, then they will probably be too hard for your taste for this recipe without soaking them first. They can get quite leathery.

If you want to soften the tomatoes, then add that step before you get started on the creamy tomato pasta. Add about ½ a cup of them to a heatproof bowl and cover with 1 cup of broth or warm water that has had a ½ teaspoon of salt dissolved in it. 
Cover the bowl with a microwave-safe lid or a plate and microwave for about 2 minutes. Then let the tomatoes sit about 10 minutes, or until they can be easily pierced with a fork. 
To use, drain and pat dry the tomatoes, then cut up for use in this creamy tomato pasta dish.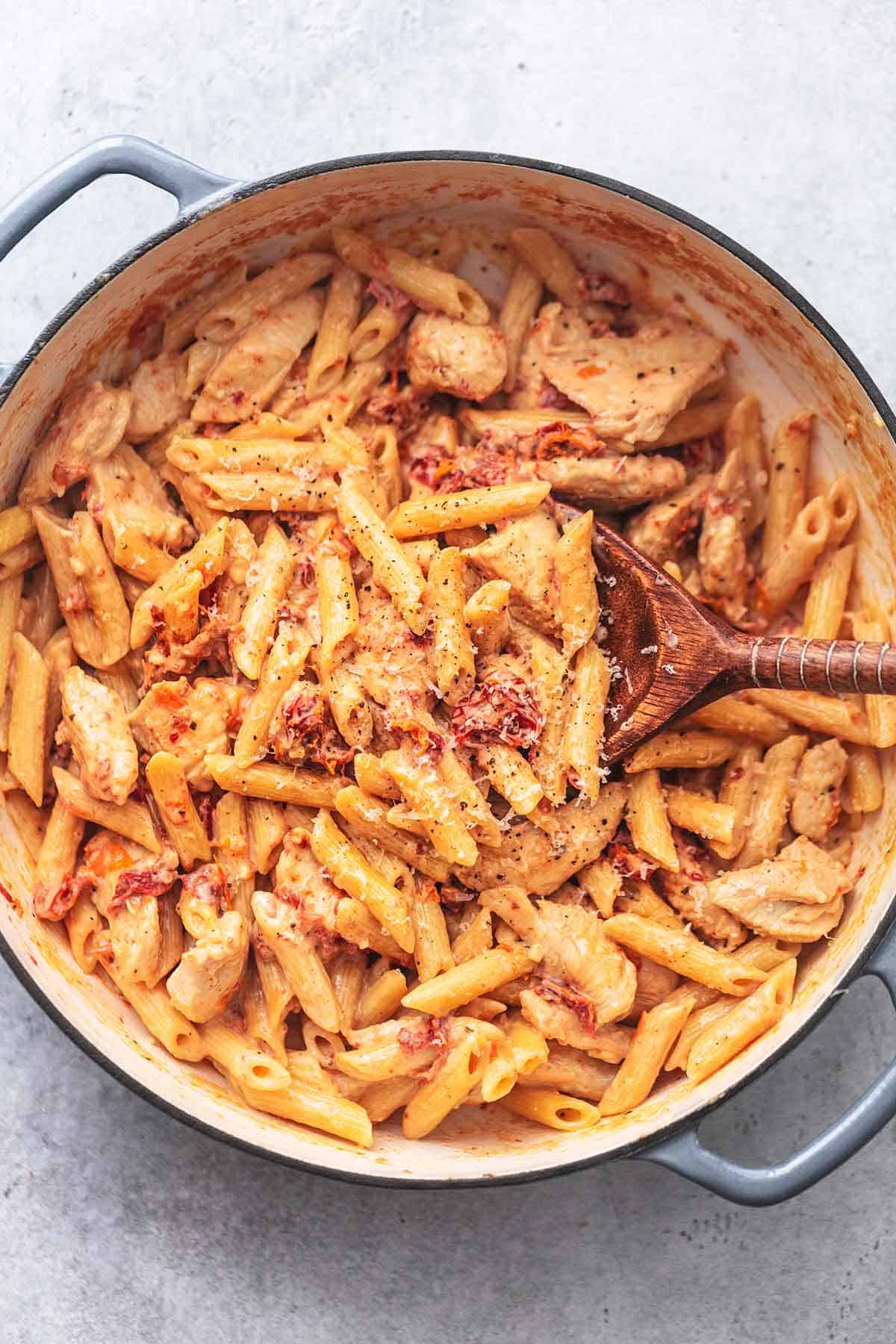 Prep Time: 10 minutes
Cook Time: 20 minutes
Servings: 6 servings
12

ounces

penne pasta, cooked and drained according to package instructions
for the chicken
2

medium boneless skinless chicken breasts, cut into 1-inch pieces

salt and pepper to taste

1

tablespoon

olive oil
for the sauce
2

tablespoons

butter

1

tablespoon

minced garlic

1

teaspoon

Italian blend seasoning or Herbs de Provence

3

ounces

sun dried tomatoes packed in oil – drained and patted dry with a paper towel

2

cups

chicken broth

1 1/2

cups

heavy cream or half and half

see note

1/2

cup

freshly grated parmesan cheese
Prepare the chicken
Season chicken with salt and pepper. Drizzle a large skillet with the olive oil over medium heat.

Add chicken and cook, stirring as needed, for 5-7 minutes until chicken is cooked through. Transfer to a plate and cover to keep warm.
Make the sauce
In the same skillet, melt butter over medium heat. Once melted stir in garlic for 1 minute until fragrant.

Stir in sun dried tomatoes and dried herbs (Italian seasoning or Herbs de Provence), and stir for 1 minute.

Stir in chicken broth, bring to a high simmer. Stir in heavy cream and parmesan for 3-4 minutes til cheese is melted and sauce is creamy. Season with salt and pepper to taste.
Put it together
Stir in chicken and cooked penne noodles. Top with additional parmesan, cracked black pepper, and fresh herbs if desired and serve.
*Heavy cream will yield a richer and creamier sauce. If using half and half, reduce chicken broth to 1 cup.