Cronuts are the best of both worlds – the flakiness of a croissant combined with the fried and glazed goodness of a donut! These homemade croissant donuts are easier to make than you might think and will get even the groggiest sleeper jumping out of bed for breakfast in the early morning.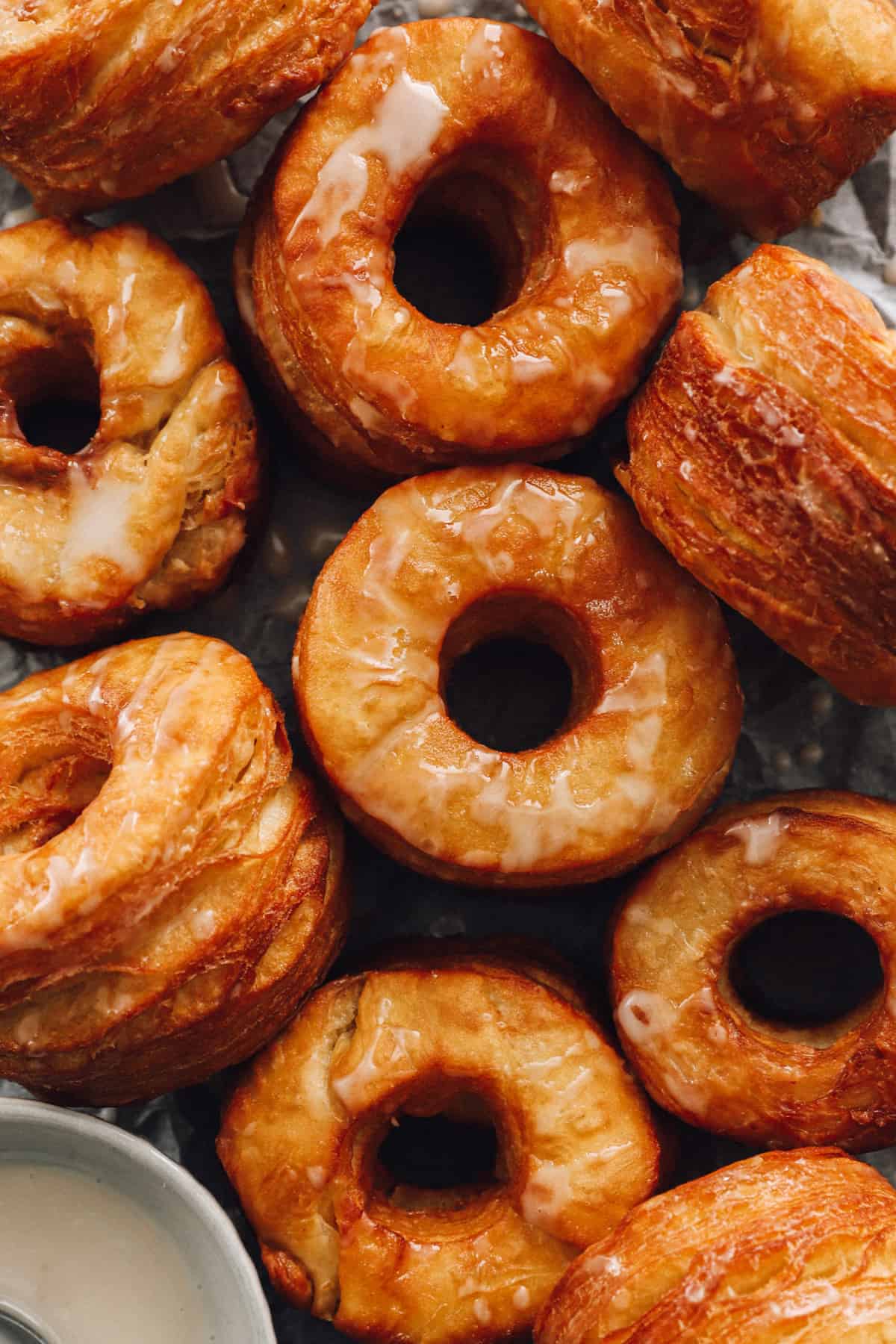 What's in this Cronut recipe?
There's nothing more satisfying than biting into a Cronut! Every single flaky layer that you love about a croissant is fried to perfection in the shape of a donut and drizzled with a simple and sweet glaze. Simply put, it's total bliss!
Milk: Warm milk helps the yeast to bloom and adds moisture to the cronut dough. For a plant-based option, try oat milk.
Yeast: Active dry yeast causes the dough to rise, creating light, fluffy cronuts. You could use instant yeast if you prefer.
Sugar: Granulated sugar feeds the yeast and adds sweetness to the dough, while powdered sugar creates a smooth, sweet glaze that's never grainy.
Eggs: Eggs help make the dough soft and rich.
Vanilla: Pure vanilla extract adds rich vanilla flavor to the dough and the glaze. Feel free to experiment with other flavors, like citrus, anise, or almond!
Salt: Kosher salt enhances the natural flavors of the dough. If using a finer salt, like sea salt or table salt, use half the amount by volume (or the same amount in grams).
Flour: All-purpose flour forms the base of our cronut dough.
Butter: Unsalted butter helps to create rich, flaky, croissant-like layers in the dough.
Oil: Vegetable oil is the perfect neutral oil for frying. It helps the cronuts to achieve a rich, golden color. You can use other high smoke point neutral oils, like canola or avocado, if you prefer.
Pro Tip: If you're not a fan of glaze, try rolling your hot cronuts in a 50/50 mixture of cinnamon and sugar!
Variations on Croissant Donuts
I love the simplicity of these cronuts. They're perfectly sweet, soft, and fluffy. But they're also so fun to experiment with. I love them topped with bacon crumbles or drizzled with chocolate or lemon syrup. I've also sliced them in half horizontally and stuffed them with lemon curd, peanut butter fluff spread, banana strawberry cream cheese, cookies and cream butter, or apple butter! For a decadent dessert, I've even used them to make ice cream sandwiches with my favorite red velvet ice cream.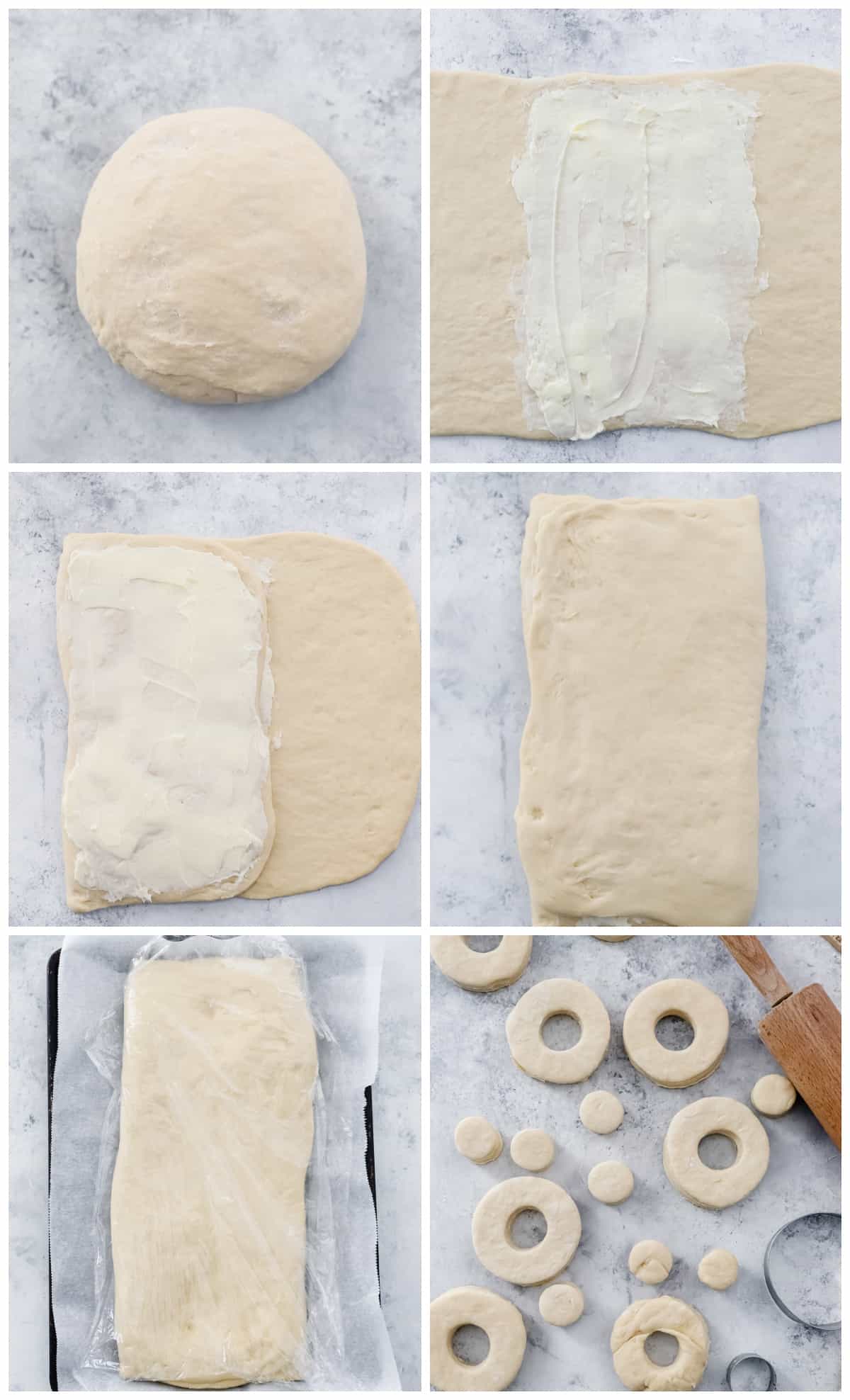 What is a cronut?
A cronut is a hybrid of a croissant and a donut. Imagine cutting croissant dough into rings and deep frying it to create a rich, buttery, flaky donut!
Who invented the cronut?
The cronut was invented by Chef Dominique Ansel in his New York City bakery.
What does a cronut taste like?
A cronut tastes like a buttery, flaky croissant that has been fried instead of baked.
How many calories are in a cronut?
There are about 430 calories in a cronut, but this will vary depending on the size you make yours!
Why are my cronuts greasy?
If the oil gets too hot, the cronuts burn before they cook on the inside. If the oil is too cool, the donuts absorb all the oil and end up greasy. Be sure to monitor the oil temperature closely, and don't overcrowd the cronuts.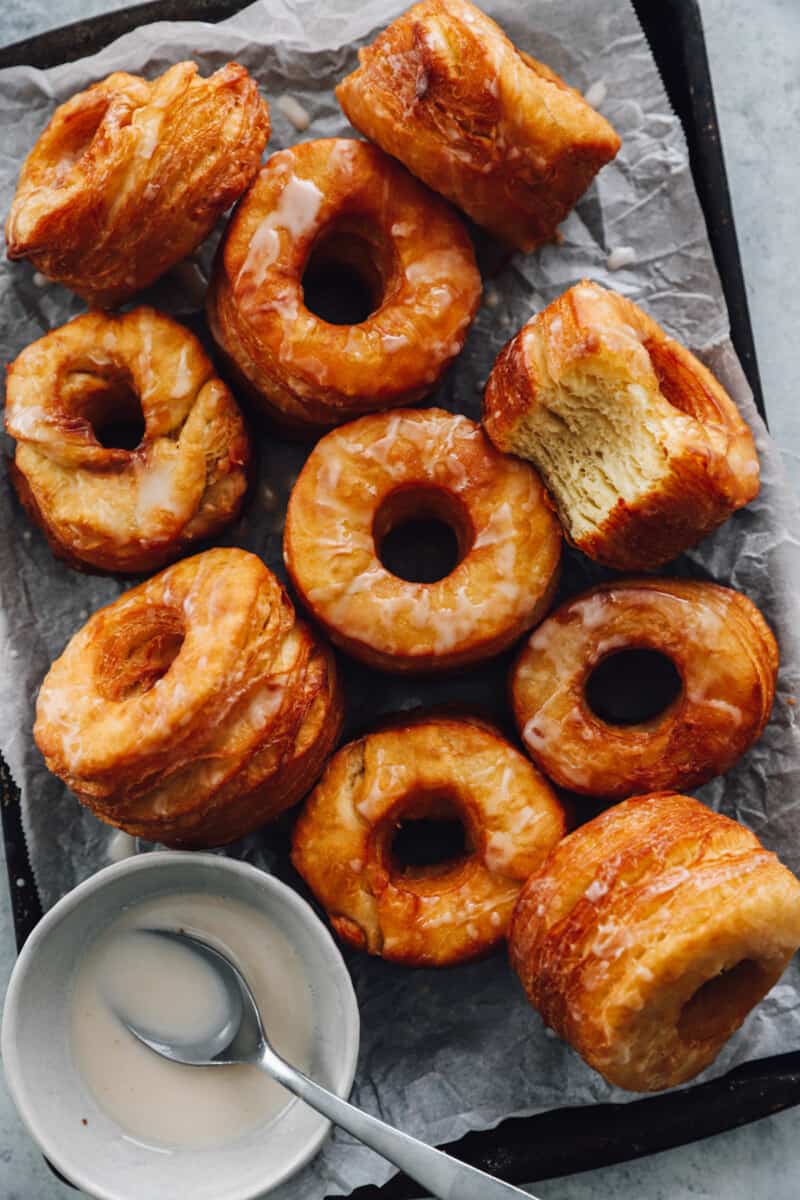 How to Store a Donut Croissant
Store leftover cronuts in an airtight container at room temperature for up to 8 hours or in the refrigerator for up to 1 day. I do not recommend freezing cronuts.
What to Serve with Homemade Cronuts
These pillowy breakfast sweets pair so well with your morning cup of coffee! Try them with a chocolate coffee, flat white, iced caramel latte, iced honey cinnamon latte, or an iced espresso. Not a coffee drinker? Go for an iced chai tea latte, an orange ginger shot, or a triple chocolate detox smoothie. For a filling breakfast, opt for a cronut served alongside some bacon, egg bites, granola, or PB&J overnight oats.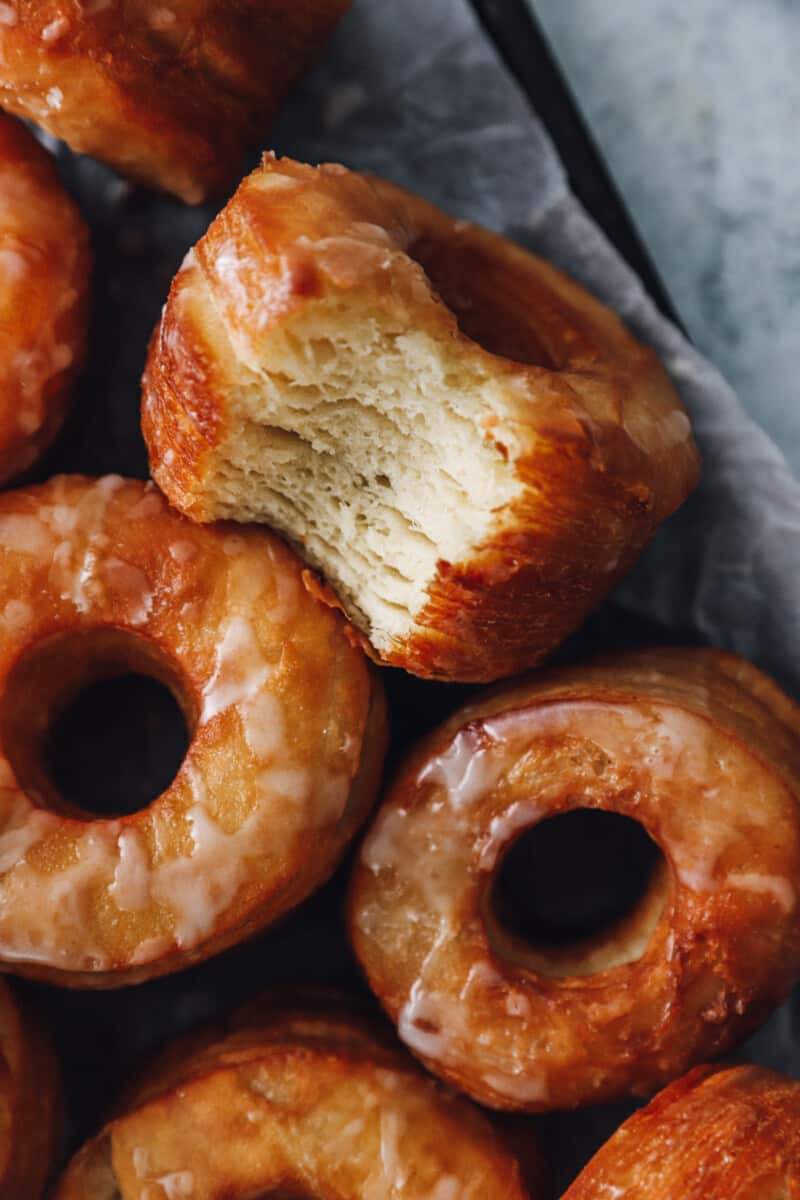 More Donut and Croissant Recipes We Love