Baked Ziti is a simple and delicious baked pasta dish that never fails to please. This easy baked ziti recipe is extra creamy and cheesy! Everything bakes together into something so tasty…the best baked ziti recipe ever!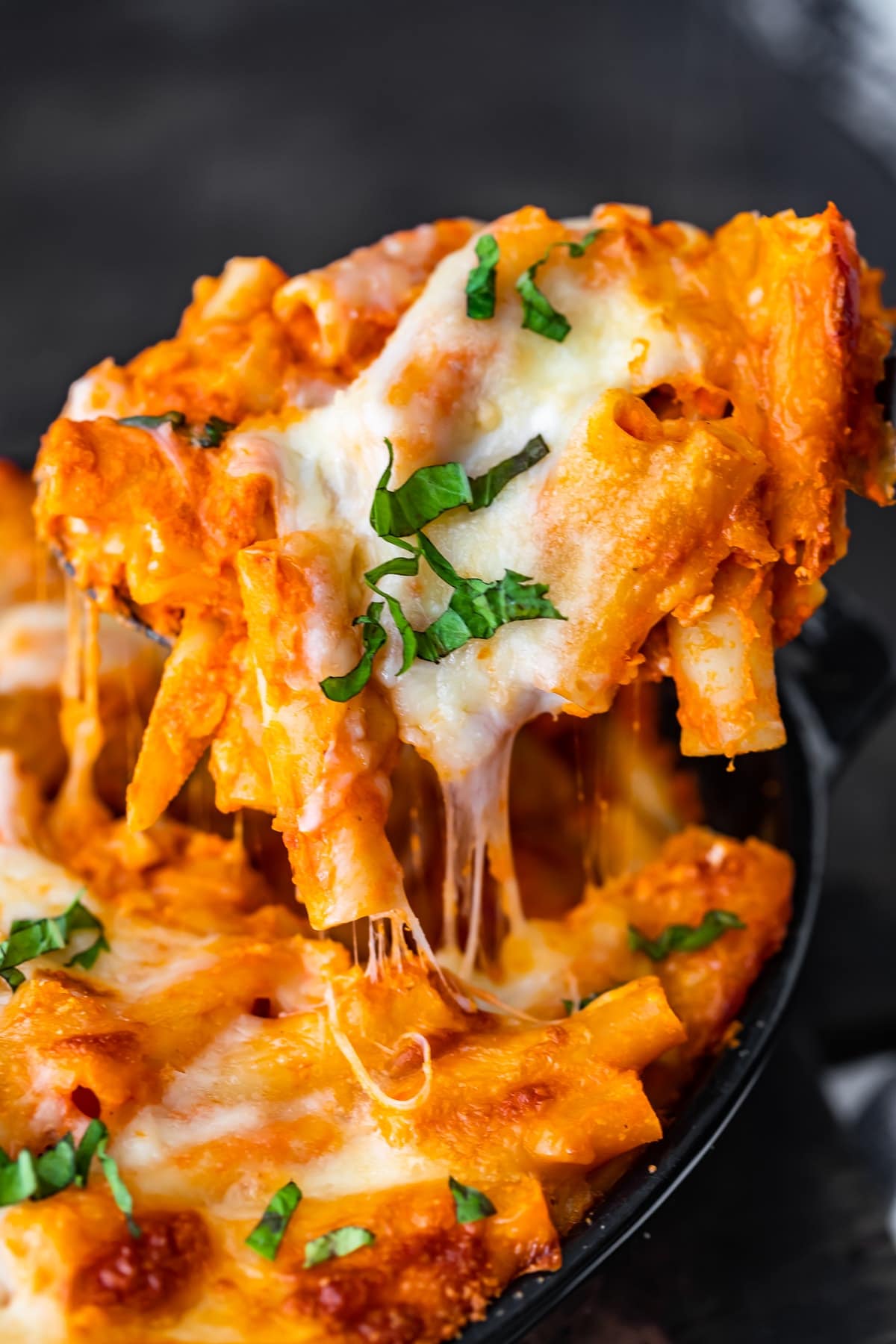 Baked Ziti Recipe
This easy baked ziti recipe is the best ever! It's the creamiest, cheesiest baked pasta dish…something I can never resist!
If you love pasta and cheese, then this recipe is about to be one of your favorites! I can't resist cheesy pasta in any form, and this Creamy Baked Ziti just might be the best pasta dish for easy dinners.
One of the many great things about this dish is that EVERYONE will love it. Without exaggeration, I can't imagine anyone not enjoying this. Pasta covered in a creamy sauce and baked with tons of cheese…yum! I'll gladly eat this every night until it's gone.
As with any good casserole, this recipe is really easy to make ahead of time, and really easy to save leftovers for later. So there's never a reason to let this cheesy ziti go to waste! If you need a dinner that's simple yet delicious, then this is exactly what you need!
This Creamy Baked Ziti recipe is the BEST ziti I've ever tasted. Make it at home tonight and you'll see what I mean!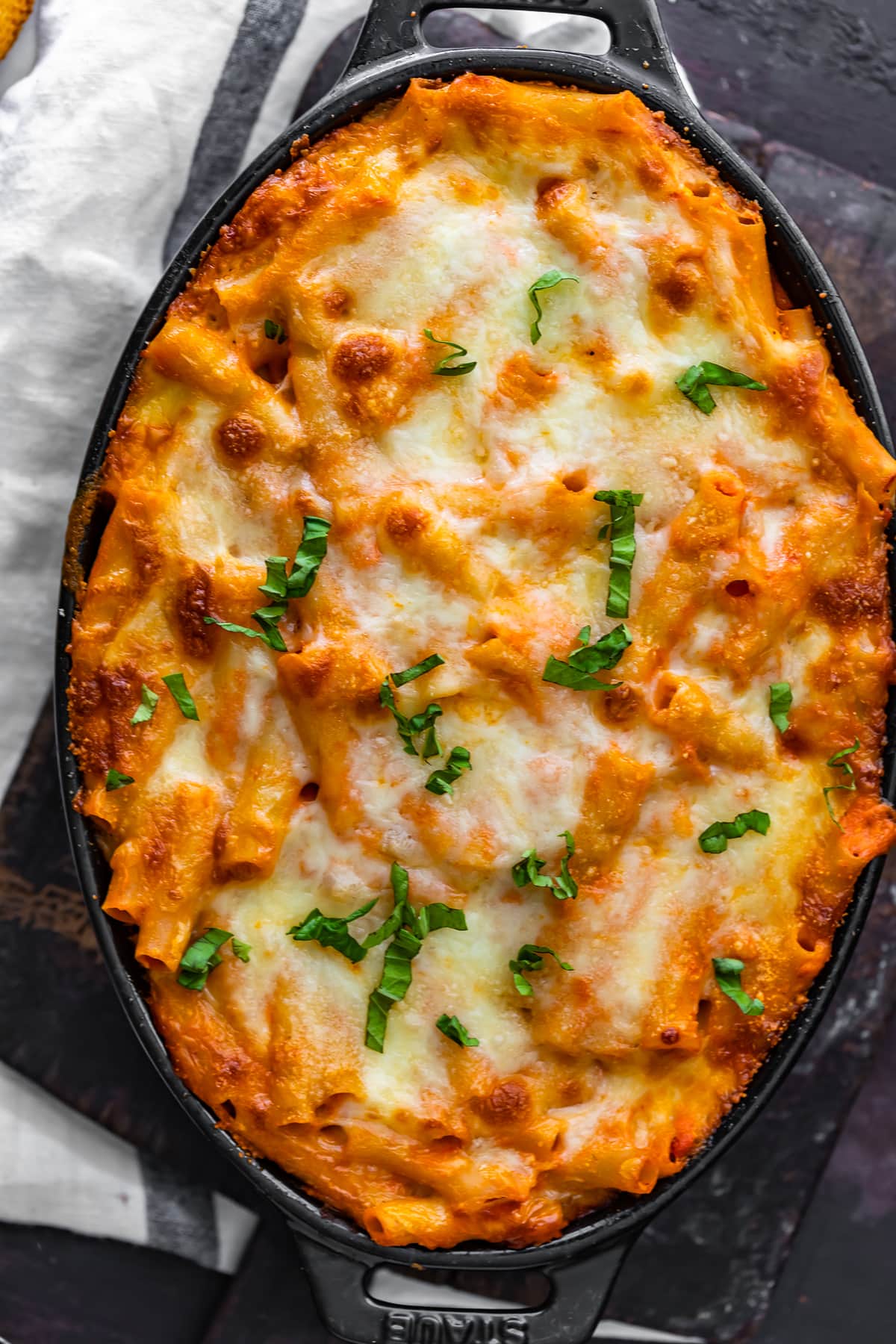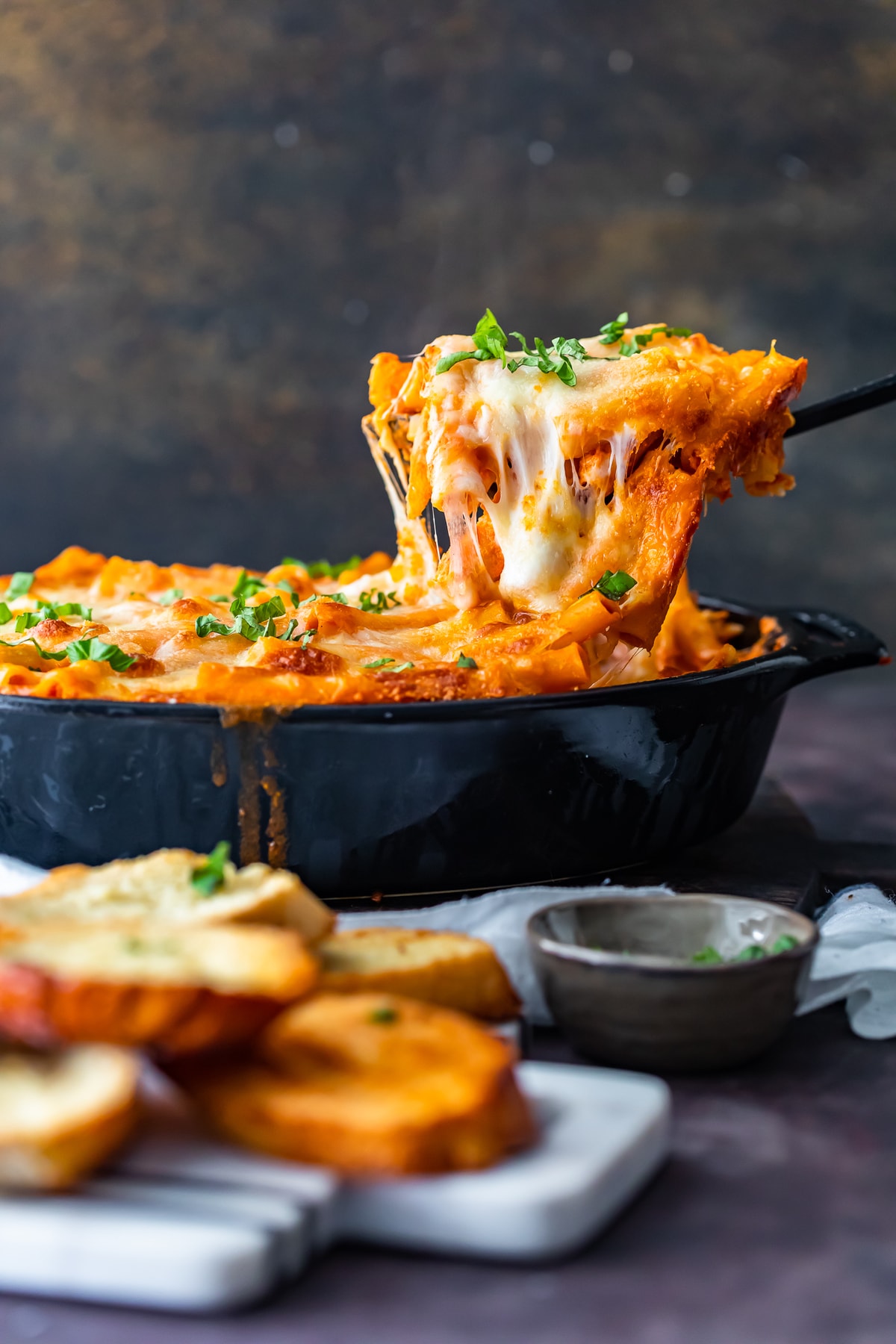 Best Baked Ziti Recipe
So what makes this the best baked ziti recipe? A lot of recipes use ricotta cheese, but I'm going to let you in on a secret. The thing that makes this recipe sooooo creamy and amazing is cream cheese! You cook the cream cheese directly into the marinara sauce, which adds even more cheesy goodness into this pasta. 
What ingredients do you need for baked ziti?
This easy baked ziti recipe really is simple. There's just a few ingredients (pasta, sauce, cheese, check!) and a few steps between you and a creamy, cheesy baked pasta dish! 
Baked Ziti Ingredients:
Ziti
Marinara Sauce
Cream Cheese
Mozzarella
Parmesan
Basil
Can I use penne for baked ziti?
You can substitute penne in this recipe if you don't have ziti, although it shouldn't be hard to find. They have the same basic shape, so it won't make too much of a difference. However, this recipe really does taste best with ziti noodles!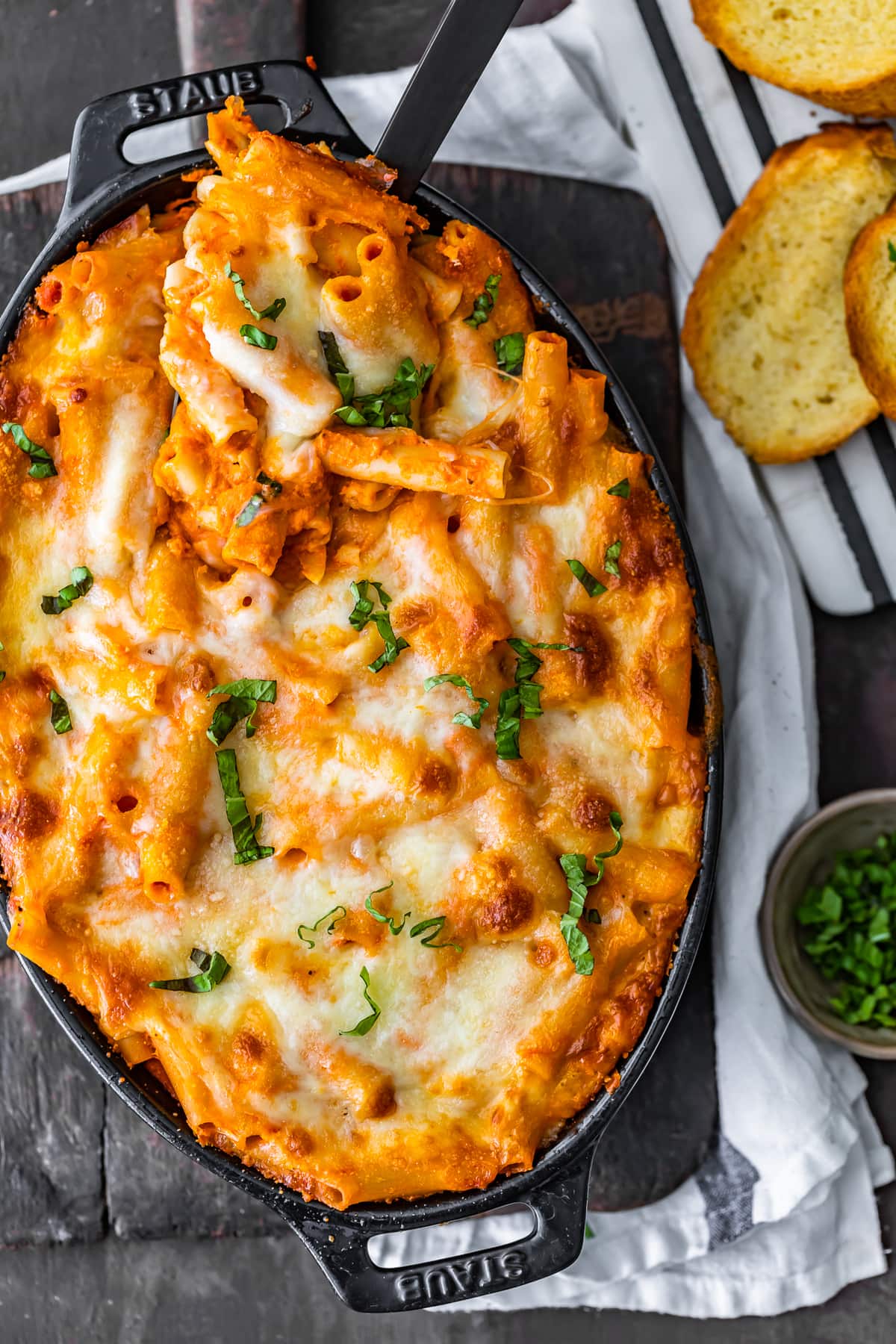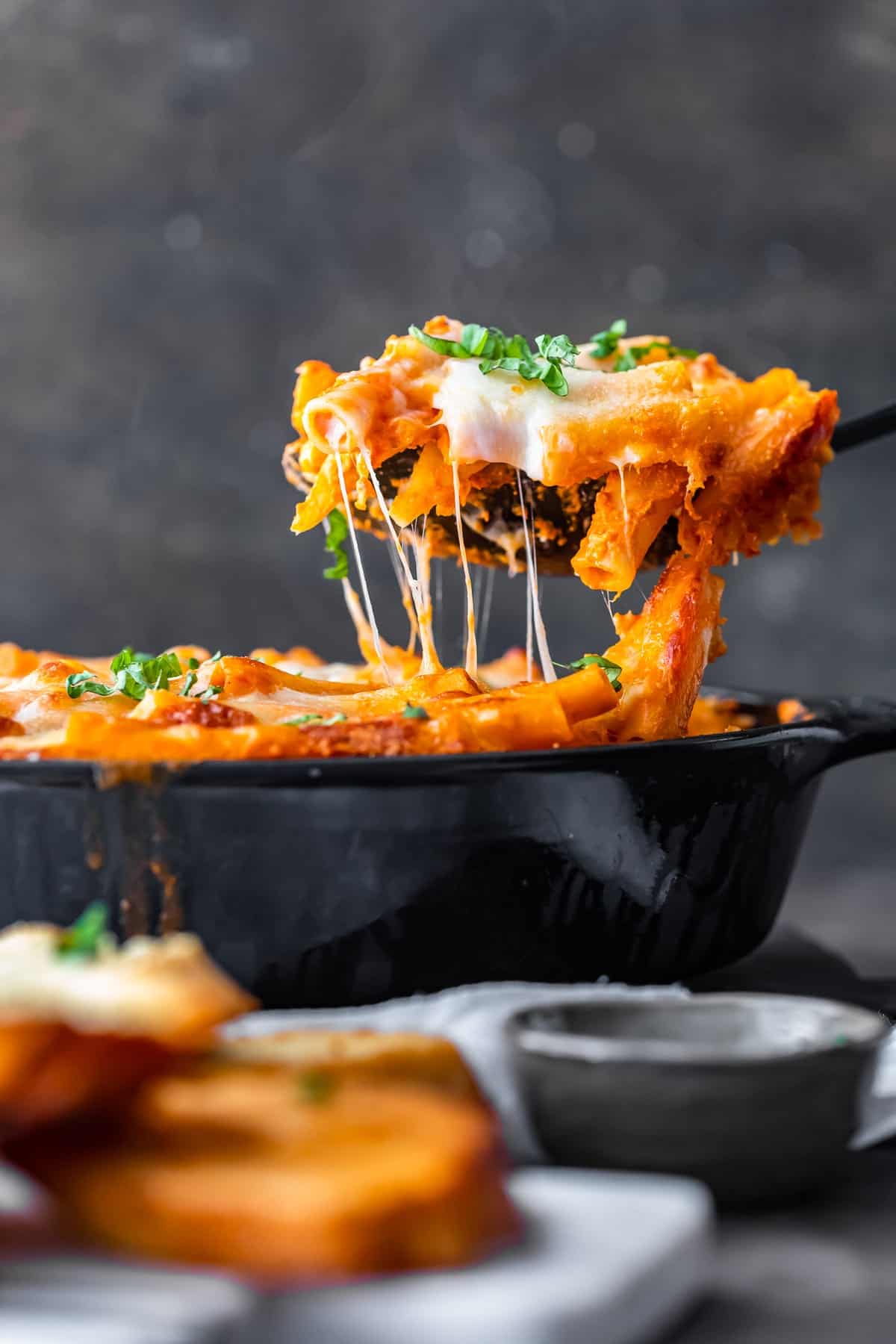 How to Make Baked Ziti (Easy Baked Ziti Recipe)
This is just about the easiest baked ziti recipe out there! Just like any casserole, it's so easy to throw this baked pasta dish together for dinner.
Boil the pasta according to package instructions and drain.
Heat the marinara sauce and cream cheese in a saucepan, combining them into one sauce.
Add the pasta into the pot of sauce and stir it all together, so that the ziti is well covered.
Pour half of the ziti & sauce into the prepared casserole dish, then sprinkle with mozzarella and parmesan.
Pour the rest of the ziti into the dish and top with the rest of the mozzarella and parmesan.
Cover the casserole dish and bake for 30 minutes at 375°F. Then remove the lid, and bake uncovered for another 15-20 minutes.
Simple as that! It comes out creamy, cheesy, hot, and bubbly. Just so darn good! Leftovers will keep in the refrigerator for a couple of days, and you can easily freeze the rest for another time.
Be sure to check the recipe card below for the full recipe.
Can I make baked ziti ahead of time?
Yes! This baked ziti recipe is a great dish to make ahead of time. Just follow the recipe as is, but don't bake it yet. Instead, cover the ziti in the casserole dish and refrigerate it until ready to serve. It can be made up to 2 days ahead of baking. 
When you want to serve it, let the ziti sit out while the oven preheats. Then just follow the rest of the baking instructions. Cover and bake at 375°F, then bake uncovered for another 15-20 minutes.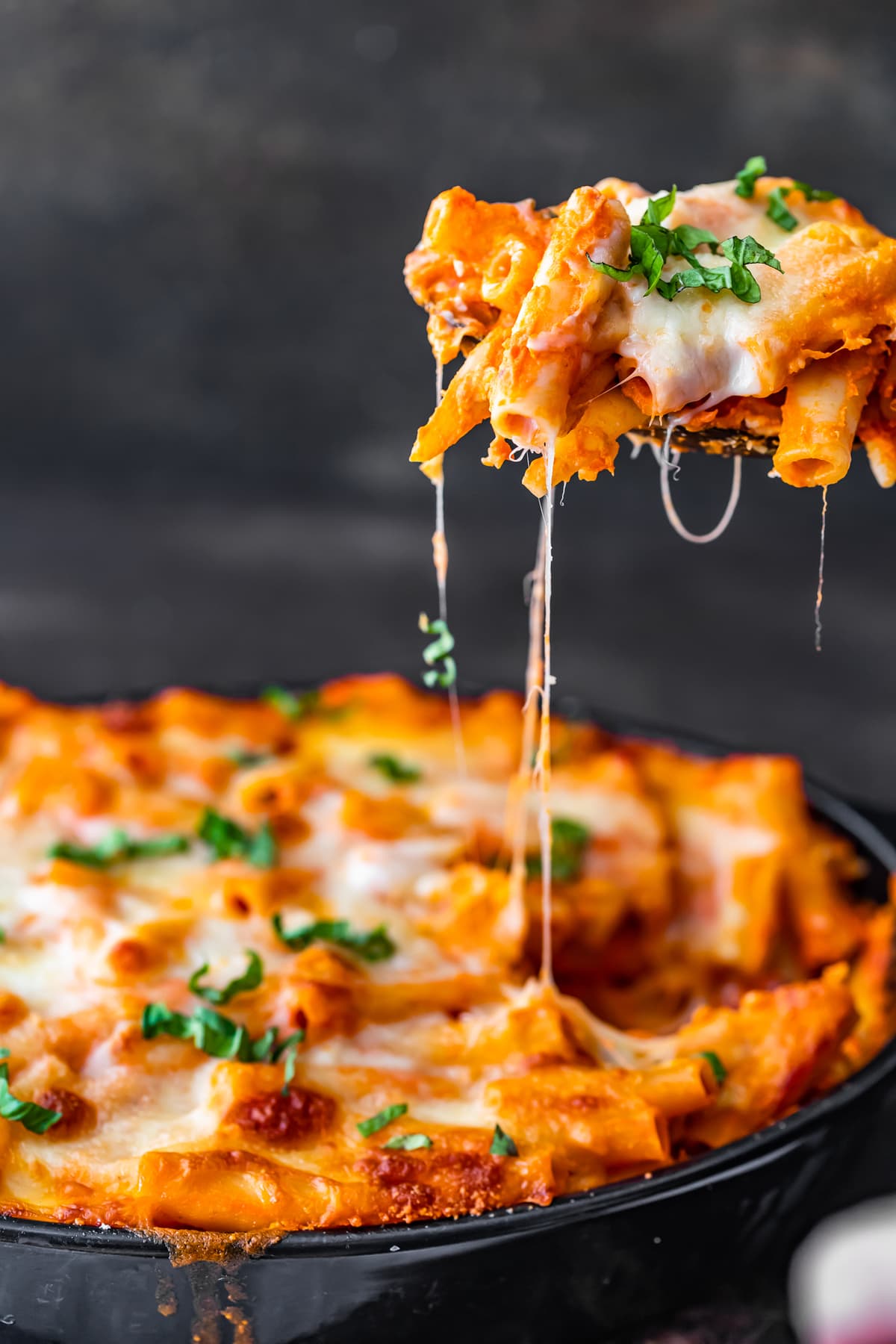 Vegetarian Baked Ziti (No Meat)
The base recipe for this dish is meat free! So if you're looking for a vegetarian baked ziti recipe, just follow the recipe card as is. This is one of the great pasta dishes that doesn't need meat to be incredibly delicious. It's perfectly creamy, cheesy, and flavorful with just marinara sauce (and cheese, duh).
Baked Ziti with Meat
That being said, if you prefer your baked ziti with meat, that's easy to accommodate! Again, just follow the recipe as is, but add in Italian sausage, ground beef, chicken, or your favorite meat sauce. It's easy to just cook up some ground beef to mix in with the marinara, and then mix that into the pasta. Meat or no meat, this is the best baked ziti recipe and everyone will love it!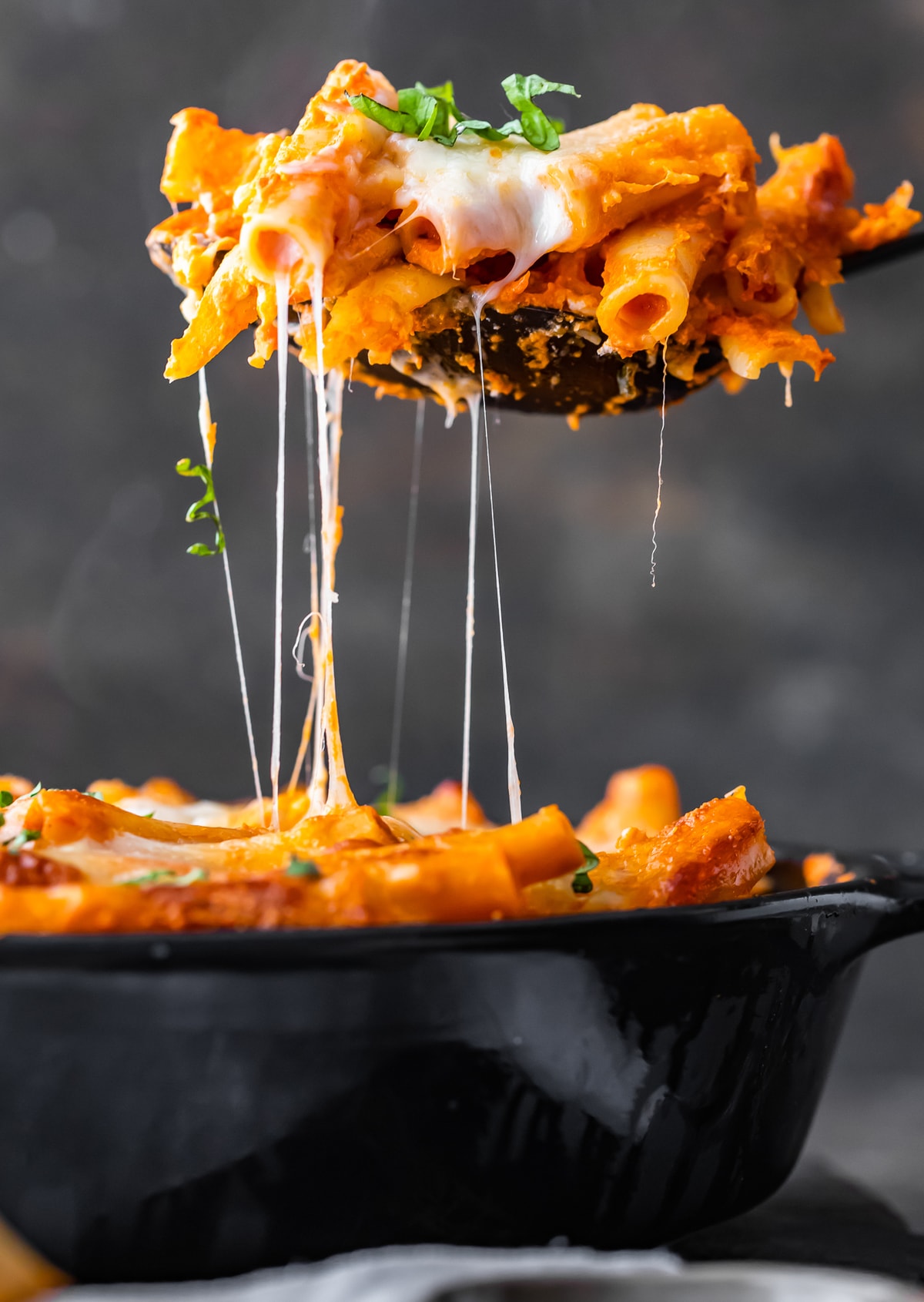 You and your family are going to LOVE this easy baked ziti recipe. So cheesy and creamy…there's nothing not to love!
See the recipe card below for details on how to make Baked Ziti. Enjoy!
If you like this recipe, try these other easy pasta recipes: