Chicken Cordon Bleu Casserole is a comforting recipe that even your pickiest eater will love. Layers of chicken, cheese, stuffing, and ham are create all the flavors of the classic dish in an easy to prepare dinner idea!
If casseroles are your thing, make sure to try a reader favorite, my Fiesta Chicken Casserole!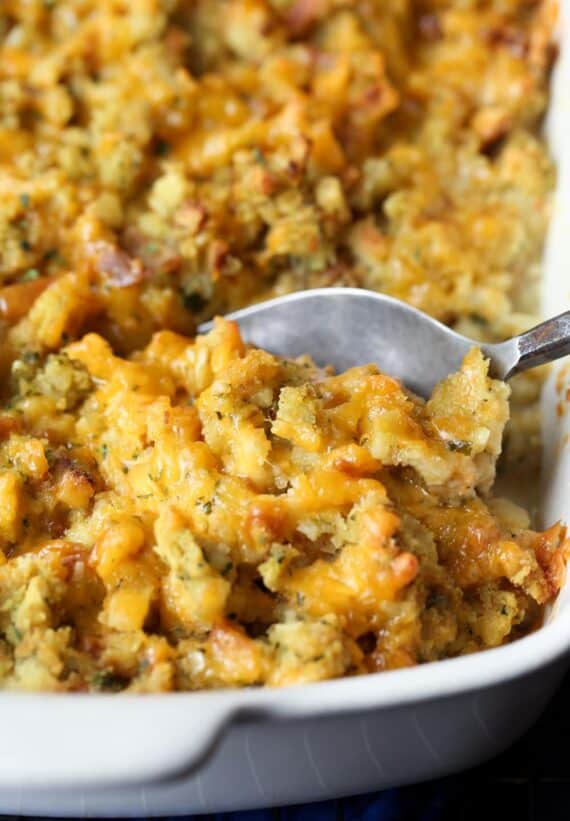 Chicken Cordon Bleu Casserole Takes A Classic Dish And Turns It Into Pure Comfort Food!
I am all about a shape shifting recipe…taking a classic and switching it up into something different is a fun and creative way to get your family to try new foods! Say, you know your kids like Corn Dogs? Make them Corn Dog Muffins! Or how about Sloppy Joe STEW…or Buffalo Chicken Pizza! I've got lots of recipes like this here on my site, and so many more on my list of recipes to make.
So today I've taken the classic Chicken Cordon Bleu and made it far less fancy. I casseroled it! All the same flavors, but totally easy to make, and delicious to eat.
What Is Chicken Cordon Bleu?
I remember my mom making Chicken Cordon Bleu in the 80s and 90s for us to eat. I used to think it was pretty fancy.
It's a French-inspired dish that is a piece of chicken rolled up with a piece of ham and Swiss, then breaded and fried. There are lots of variations that include veal or beef cutlets, a meat, and other cheeses.
All those ingredients are easy to modify into a casserole!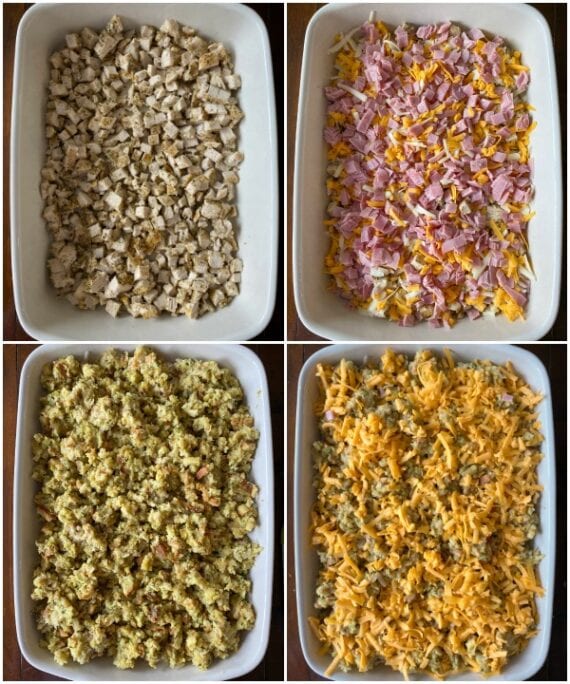 What Ingredients Do I Need For The Casserole Version?
The very simple ingredients necessary for this casserole are:
Chicken: You can bake and dice it yourself, or use a rotisserie chicken to save that step!
Ham: I used deli ham in this recipe because I always have some on my fridge, but you can use leftover ham diced up too!
Cheese: I've listed a combination of Cheddar and Swiss for this recipe, but feel free to use any cheese that melts well!
Stuffing: Prepare the stuffing according to the package directions. I recommend using a lower sodium stuffing because you have more than enough sodium in this recipe with the ham, cheese, and condensed soup.
Cream of Chicken Soup: This is an ingredient used for flavor and ease. If you don't like to use condensed soup, no problem…I'm talking about substitutions below!
What Can I Sub For the Condensed Soup?
If you aren't all aboard the condensed soup train, here are a few options to swap it out in this recipe:
1 cup of sour cream for condensed soup
1 cup Greek Yogurt
2 eggs whisked together with the milk called for in the recipe will also work as a binder in this casserole recipe!
Can I Freeze Chicken Cordon Bleu Casserole?
Yep! This is a great make ahead dish. Here's what you do:
Prepare the casserole up until baking. Cover it with plastic wrap tightly and again with aluminum foil Freeze foe up to a month.
To bake from frozen: Remove the plastic wrap and cover with foil. Bake covered at 350° for 60-70 minutes, remove the foil and bake un covered for 15 minutes.
To bake from thawed: Thaw casserole in the refrigerator. Remove plastic wrap and foil and bake for 45-50 minutes or until heated through.
Divide and Conquer!
This is a great recipe to divide in half! This feeds a crowd, so you can easily divide it into 2, 9×9 pans. One for now, one for later!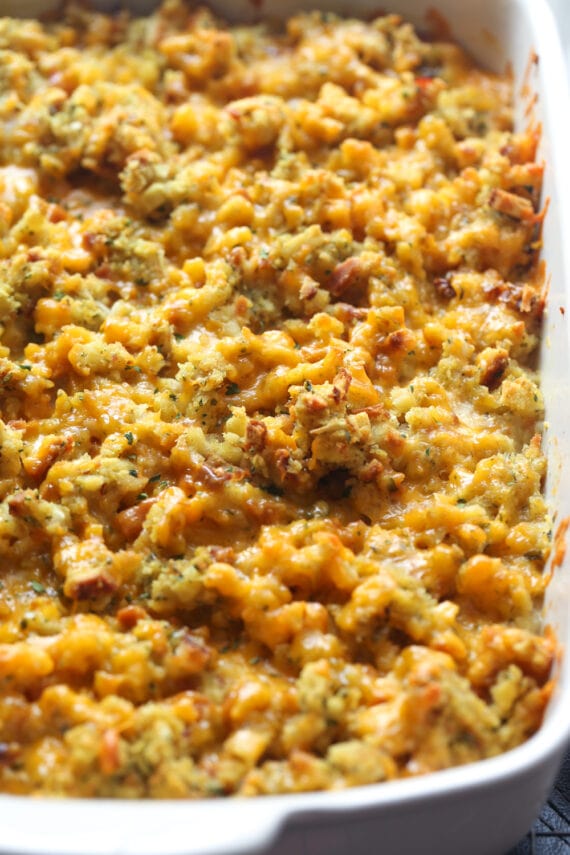 Looking Foe More Casserole Recipes? Try These:
Chicken Cordon Bleu Casserole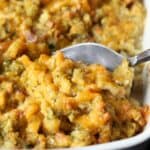 ---
Description:
These comforting casserole recipe is a classic that even the pickiest eaters will love! Stuffing, ham, chicken, and cheese round out this filling dish.
---
Ingredients:
12

-ounces lower sodium chicken flavored stuffing mix, prepared according to package directions

2

pounds cooked chicken, cubed or shredded (about

8 cup

s)

1 tablespoon

chicken seasoning, like Montreal Chicken

1/2

pound deli ham, diced

1 cup

grated Swiss cheese

3 cup

s grated cheddar cheese

1

(10.75- ounce) can cream of chicken soup

1 cup

milk

1 tablespoon

dried parsley
---
Instructions:
Preheat oven to 350°F. Lightly coat a deep 9×13 baking dish with nonstick spray and set aside.
Prepare the stuffing according to the package directions. Set aside.
Sprinkle the chicken with the chicken seasoning and toss to coat. Spread the chicken in the bottom of the baking dish. Evenly top the chicken with the ham.
Sprinkle Swiss cheese, and 1 1/2 cups of cheddar cheese on top of the ham.
Mix the soup, milk, and parsley together and pour on top of the cheese layer.
Spread the stuffing evenly on top and sprinkle with remaining cheddar cheese.
Bake for 45-50 minutes, or until cheese is melted and the top is lightly golden. If you notice the top browning too much tent with foil.
Allow the casserole to sit for 10 minutes before serving.
---
Notes:
Store airtight in the refrigerator. You can divide this recipe and bake in 2 9×9 baking dishes. This is a great make-ahead option. Just cover the unbaked casserole with cling wrap and then foil and freeze for up to a month. To heat, remove the cling wrap, return the foil and bake for 45 minutes covered, and then 10-15 uncovered.
Keywords:: cookies and cups, casserole recipe, chicken cordon bleu, chicken recipe, chicken dinner idea, baked chicken cordon bleu, easy chicken cordon bleu
Want To Save This Recipe?
PIN for later: