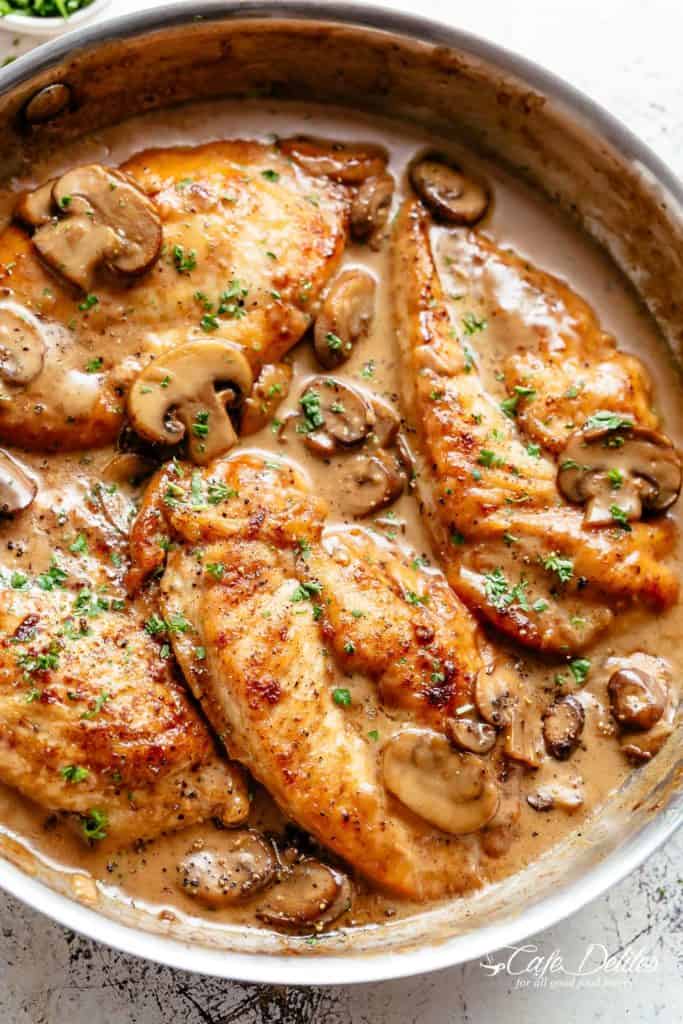 Chicken Marsala in a deliciously creamy mushroom sauce rivals any restaurant! Cook a chef tasting chicken recipe right at home like a pro!
One of the most sought after dishes served in restaurants is super fast and easy to make in your very own kitchen. Flavourful Chicken Marsala with EXTRA sauce to serve with your chicken and sides, with an authentic Italian taste! Perfect for weekend OR weeknight cooking, this is one chicken recipe you will make time and time again.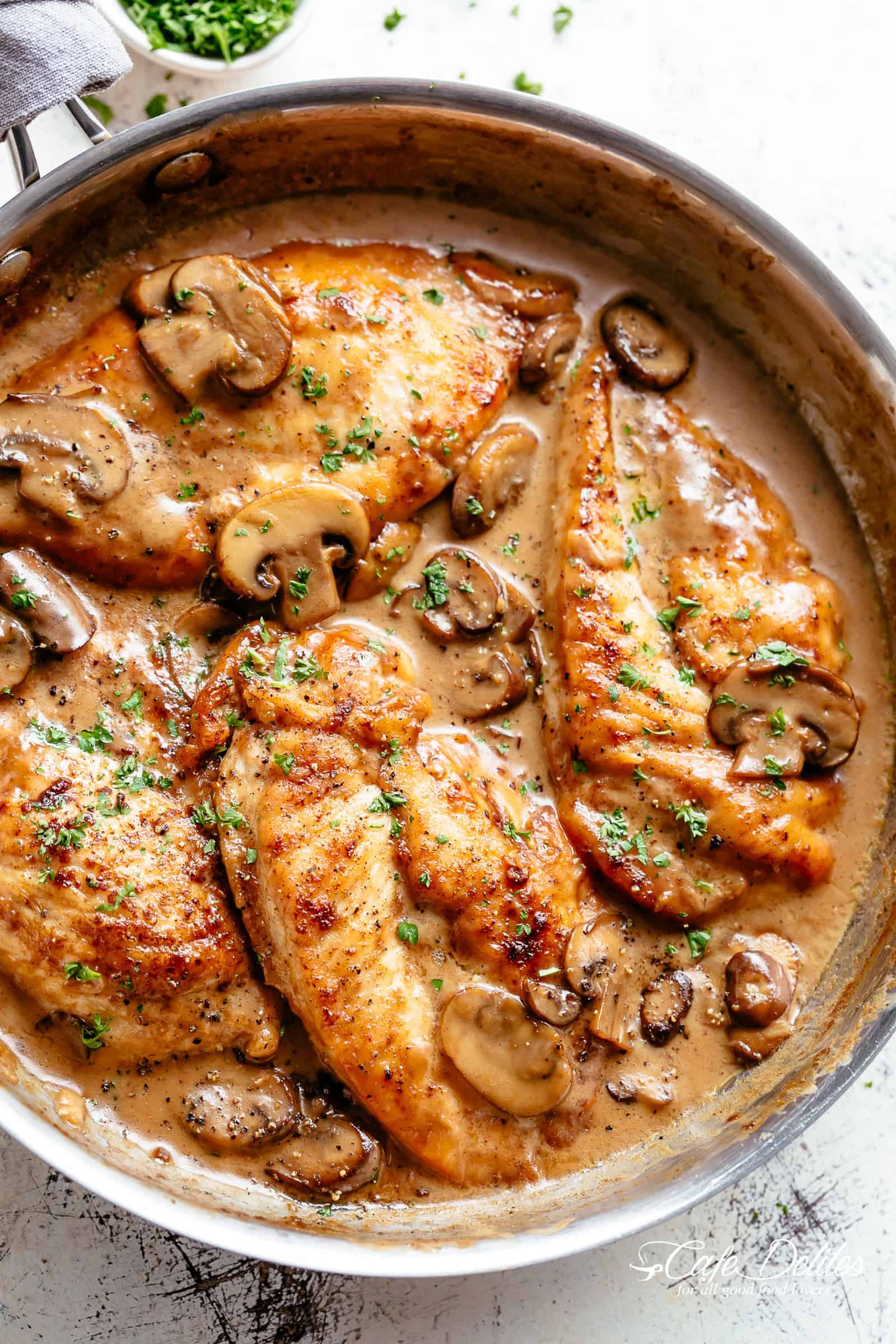 Chicken Marsala
A variation of the traditional Italian Scaloppine, this Americanized Marsala version is completely addictive. It's no wonder it's one of the most ordered chicken dishes in restaurants! Made with golden, crispy, pan-fried chicken, a mushroom-filled creamy Marsala wine sauce and a good kick of garlic, this Chicken Marsala recipe is next-level!
How To Make The Best Creamy Chicken Marsala at Home
You're going to start with thin breast fillets. For a faster prep-time, cut your chicken breasts in half horizontally to make four fillets. Quicker and easier than pounding them thin with a meat mallet and yields the same results.
If you prefer pounding, I've included the option in the recipe notes. Whichever option you choose, thinner chicken pieces cook faster and evenly.
We use a combination of oil and butter to fry the chicken for the best golden browned results and delicious flavour.
Cook the sauce in the same pan as the chicken. Don't get rid of any chicken bits from the pan as they add tons of flavour into the sauce! Scrape them up while the mushrooms are releasing their liquid.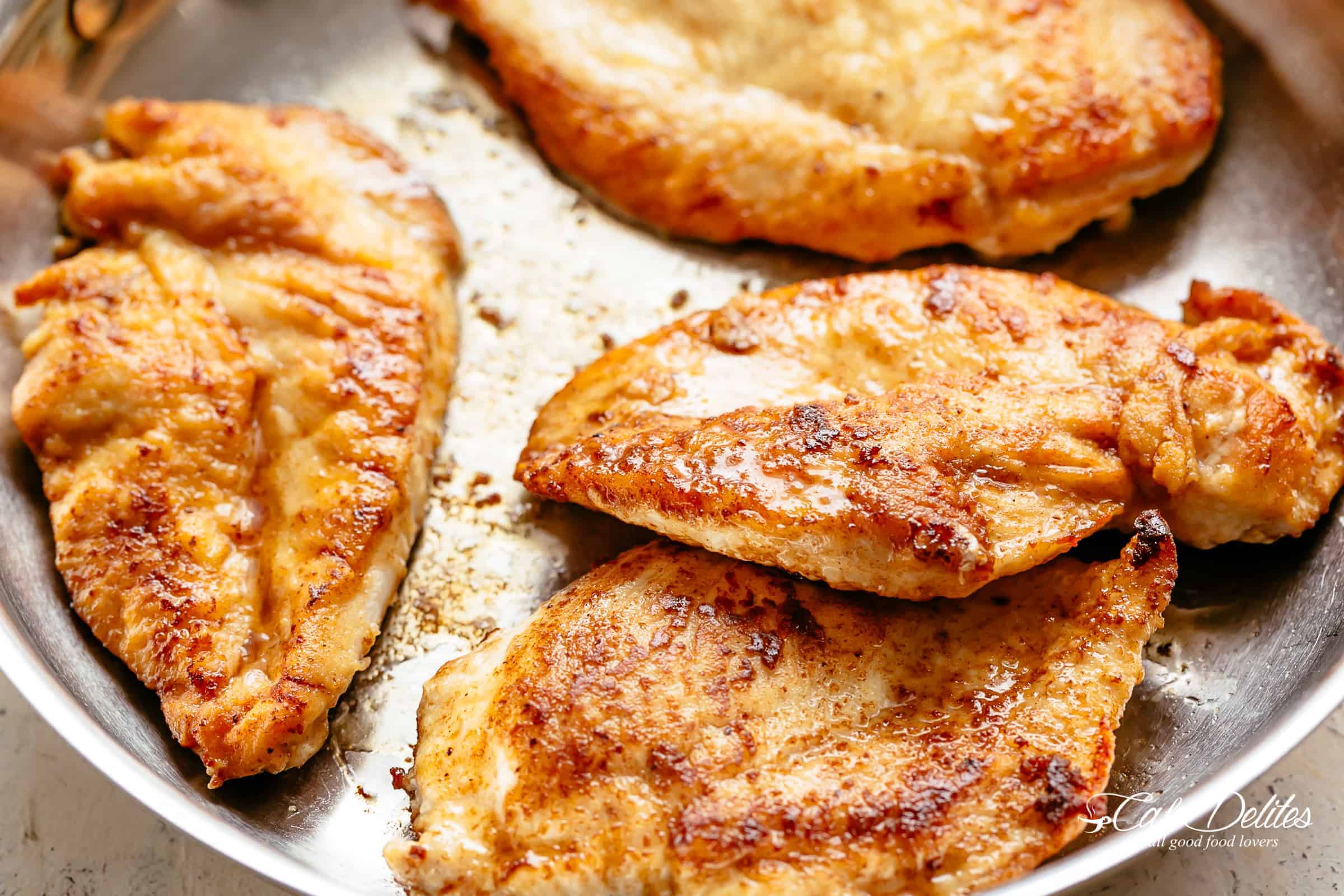 How To Make Marsala Sauce
Normally chicken Marsala does not include any cream. However, I found during testing that cream was needed for our tastes to balance out the strong flavour coming from the wine.
You can use heavy cream or thickened cream in the sauce.
For a lightened up sauce, use evaporated milk or half and half. If using half and half, be careful not to bring your sauce to a rapid boil or it may curdle.
The Marsala sauce will not thicken immediately after adding in your cream. Once you add your chicken back into the pan, the flour from the chicken will thicken your sauce.
Best Marsala Wine To Use
Marsala wine is a fortified wine from Sicily with a deep flavour and is used in this sauce to create a caramelized rich flavor. When making savory dishes like Chicken Marsala, dry Marsala is the best option. Keep your sweet Marsala for desserts!
Marsala Wine Substitutes
Dry Madeira wine

Sherry (Dark)

Port (1/2 cup)
Red Vermouth (1/2 cup)
3/4 cup of dry white wine mixed with 2-3 teaspoons of brandy.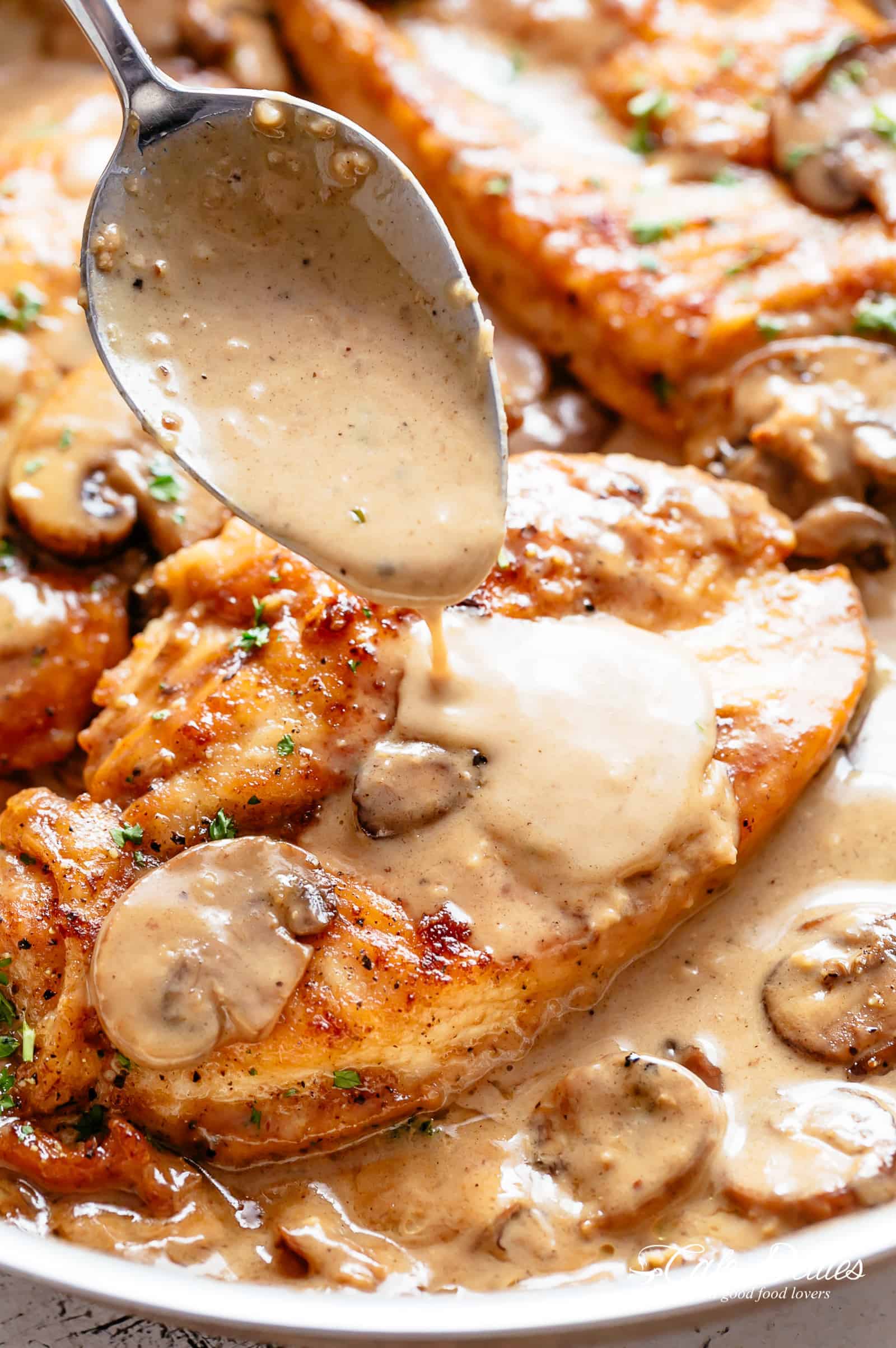 What To Serve With Chicken Marsala
This Marsala recipe makes enough creamy sauce to pour over pasta (angel hair is the preferred choice), potatoes or rice, or keep it lower in calories and enjoy over cauliflower rice or zucchini noodles!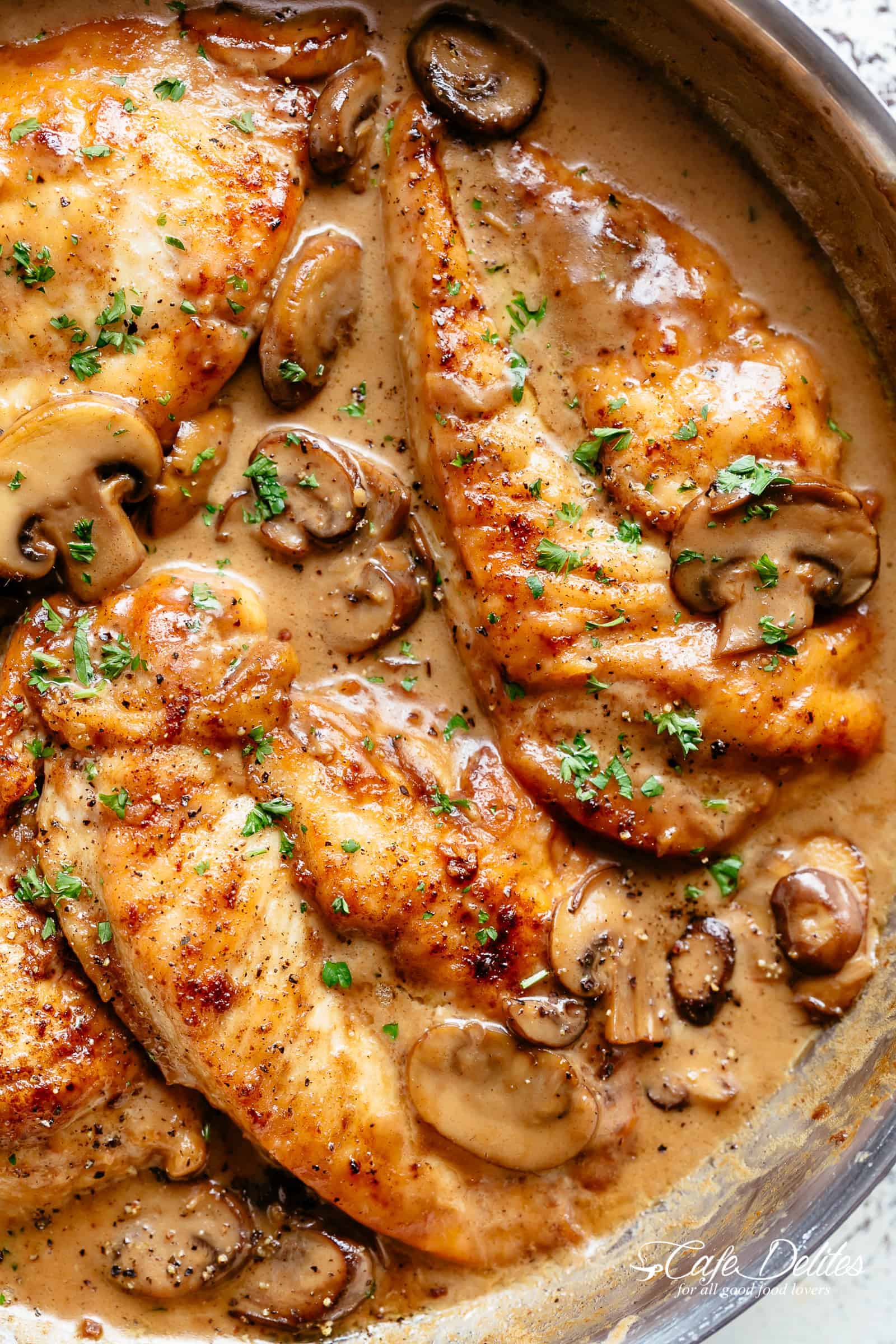 Looking for more Italian-American recipes? Try these!
Creamy Lemon Parmesan Chicken Piccata | Creamy Garlic Butter Tuscan Shrimp | Creamy Garlic Parmesan Chicken Alfredo
Chicken Marsala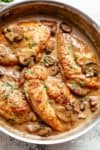 Chicken Marsala in a deliciously creamy mushroom sauce rivals any restaurant! One of the most sought after dishes served in restaurants is super fast and easy to make in your very own kitchen! A flavourful chicken dinner with plenty of sauce to serve over your sides and an authentic Italian taste!
Chicken:
1/2 cup all-purpose flour ((plain flour))
1 teaspoon kosher salt
1 teaspoon garlic powder
1/2 teaspoon black cracked pepper
2 large boneless skinless chicken breasts, (halved horizontally to make 4 fillets*)
2 tablespoons olive oil, (divided)
4 tablespoons unsalted butter, (divided)
Marsala Sauce:
1 tablespoon unsalted butter (as needed)
8 ounces (250g) brown or Cremini mushrooms, sliced
4-5 cloves garlic, (minced)
3/4 cup dry Marsala wine
1 1/4 cup low-sodium chicken broth ((or stock))
3/4 cup heavy cream ((thickened cream, evaporated milk or half and half may also be used)**)
2 tablespoons fresh chopped parsley
Mix the flour, salt, garlic powder and pepper in a shallow bowl. Dredge the chicken in the flour mixture and shake off excess.

Heat 1 tablespoon oil and 2 tablespoons butter in a 12-inch pan or skillet over medium-high heat until shimmering. Fry 2 of the chicken breasts until golden-brown on both sides (about 3 to 4 minutes per side). Transfer to warm plate, tent with foil and keep warm. 

Repeat the same with the remaining 2 chicken breasts.

In the same pan with remaining pan grease leftover from the chicken, melt 1 tablespoon of butter. Add the mushrooms and for 2-3 minutes until browned, scraping away at any of the leftover chicken bits off the bottom of the pan.

Add the garlic and cook until fragrant, about 1 minute.

Pour in the Marsala and the broth and simmer until reduced by half and starting to thicken, (about 10-15 minutes).

Pour in the cream and return the chicken back into the sauce. Cook until the sauce thickens (about 3 minutes). Garnish with chopped parsley and serve immediately. (The sauce will continue to thicken off the heat.)

Serve over cooked angel hair pasta (or pasta of choice), rice, potatoes, cauliflower rice or zucchini noodles, if desired.
NOTES
*For pounding chicken breasts method:
You will need 4 chicken breasts (skinless and boneless). Place one chicken breast in between sheets of plastic wrap (or in a ziplock bag) and use a flat side of a meat mallet or rolling pin to pound and flatten to an even 1/4-inch thickness. Set the flattened chicken breast aside and repeat with remaining breasts.
Continue on from Step 2.
**If using half and half, be careful not to bring your sauce to a rapid boil or it may curdle.
Storage
Store leftovers in an airtight container in the refrigerator for up to 4 days.
The post Easy Creamy Chicken Marsala appeared first on Cafe Delites.