Crock Pot Ribs are an easy way to make the most delicious ribs for any occasion. This slow cooker ribs recipe is so simple! You can cook these crock pot BBQ ribs stress-free, and they'll come out super tender and flavorful. Find out how to cook ribs in a crock pot, and serve them on game day, at BBQs, or any get together that needs a delicious dish.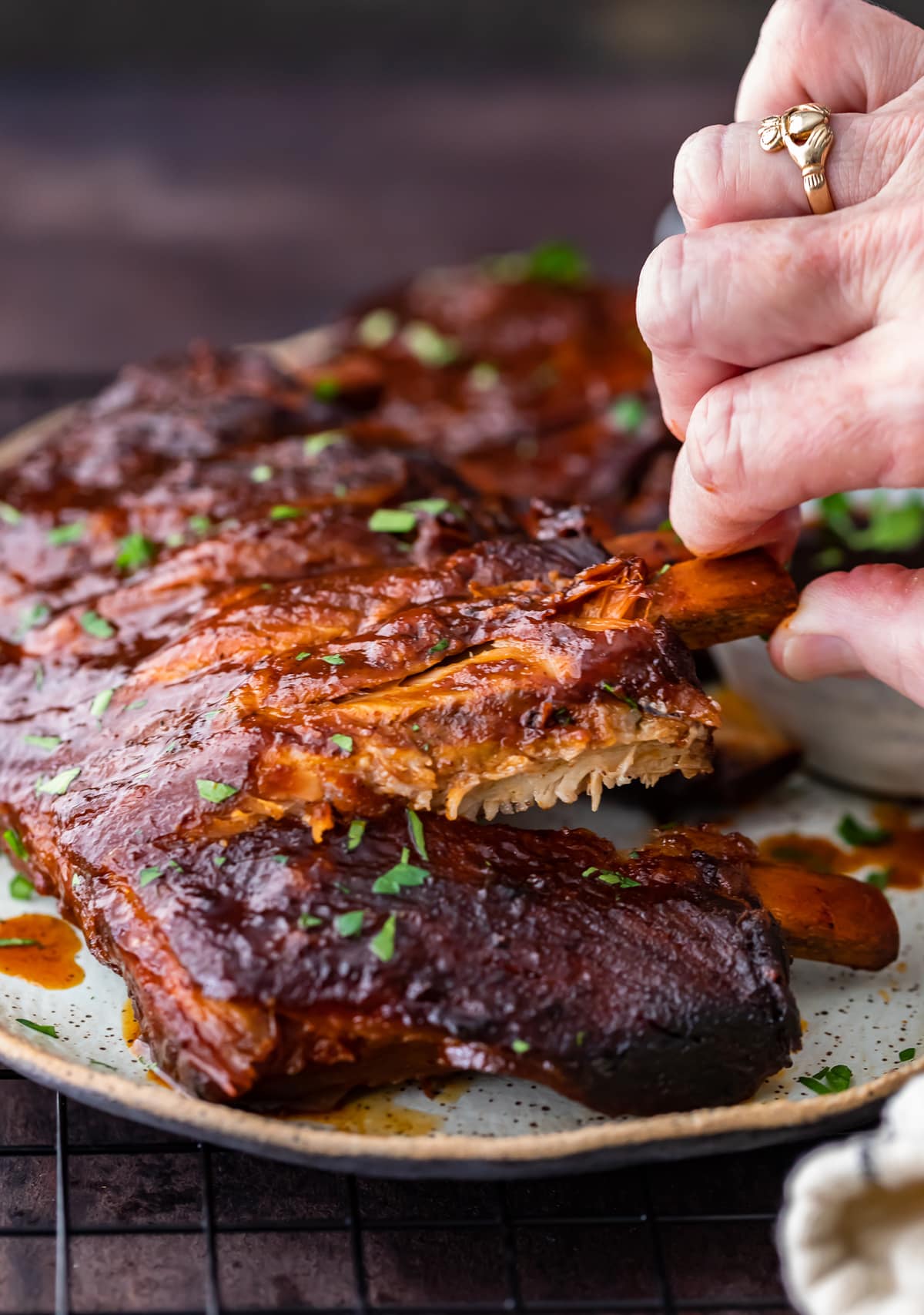 Crock Pot Ribs – Slow Cooker Ribs
This easy crock pot ribs recipe will be your new favorite way to make BBQ ribs. There's nothing easier (or tastier) than slow cooker ribs!
BBQ Ribs are always a favorite for any occasion. Weeknight dinners, summer time barbecues, holidays and get togethers, and especially game day! There's never a bad time to eat ribs. This easy crock pot ribs recipe is the best way to make them because it's so simple and hassle free. Slow cooking the meat into the juiciest most delicious flavor!
These slow cooker BBQ ribs are a real winner. Moist, tender, fall off the bone meat cooked in BBQ sauce…Everyone will devour these! I love serving ribs on game day, and cooking ribs in a crock pot is the easiest way to do that. You can just let them cook while the game is on, and serve them with plenty of BBQ sauce! We love Oven Baked Ribs, but these Crock Pot Ribs take the cake!
This easy crock pot ribs recipe is a lifesaver. Make delicious slow cooker BBQ ribs for game day, BBQs, or any occasion!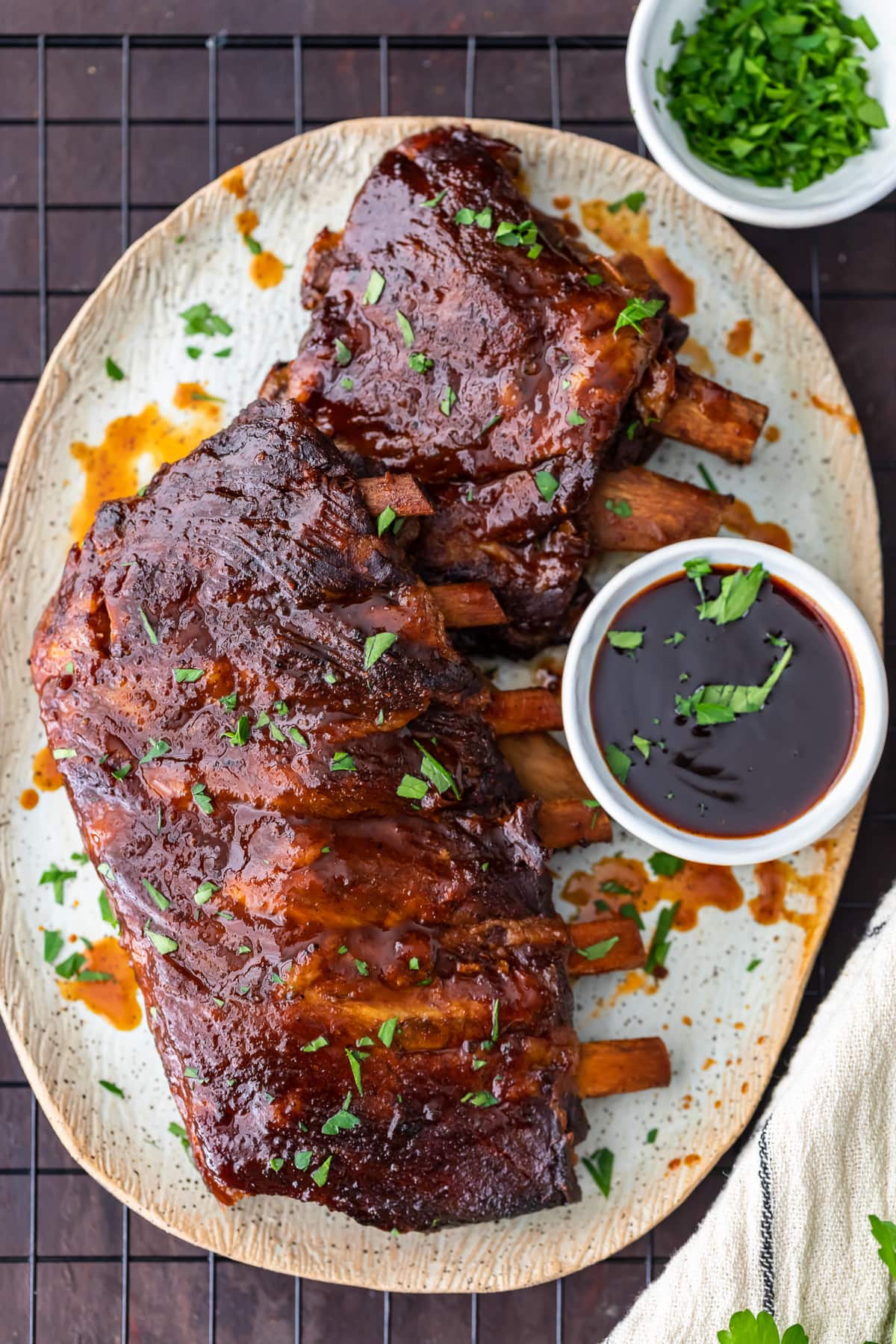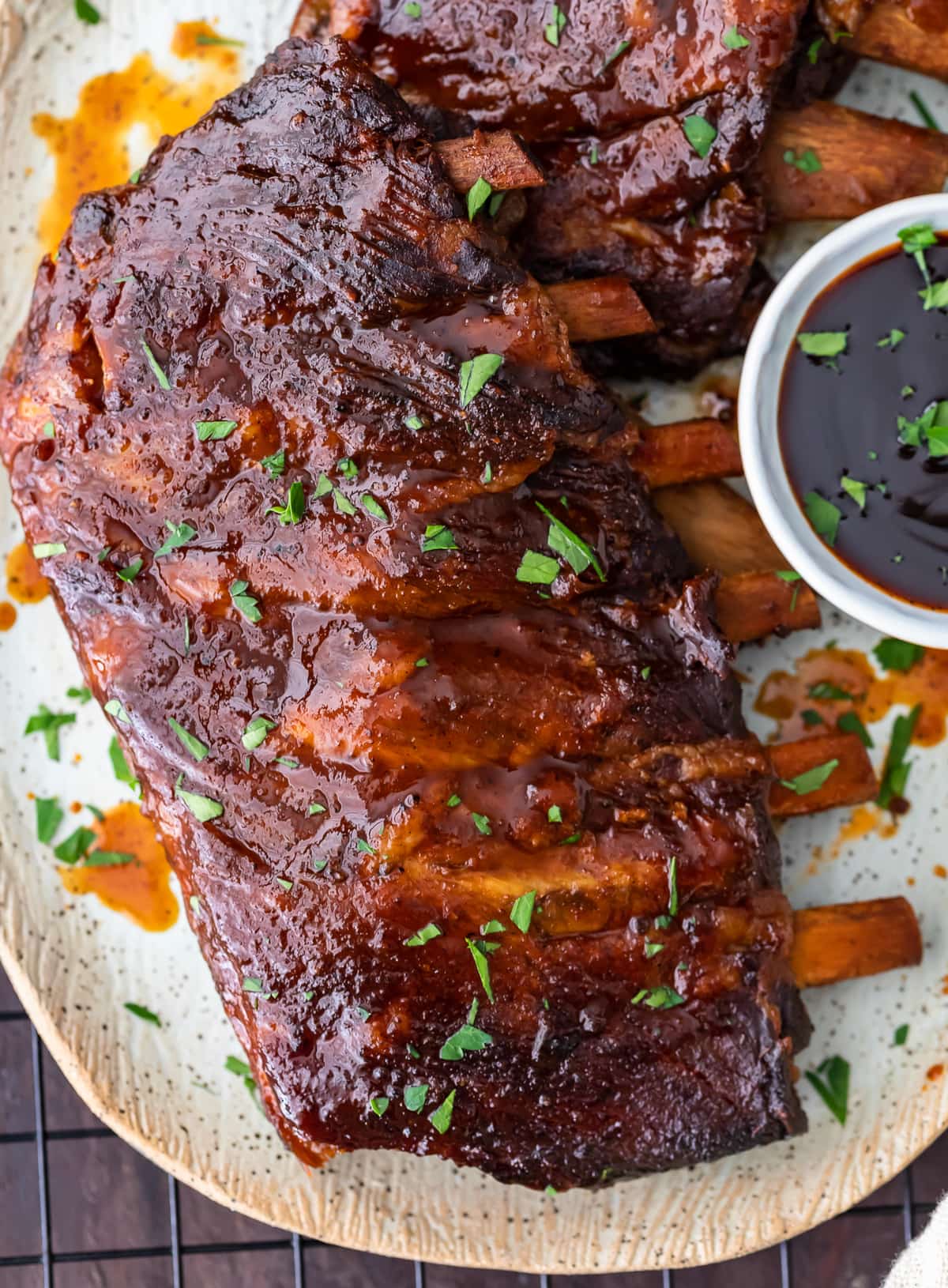 Easy Crock Pot BBQ Ribs
Slow cooker ribs are the easiest way to make delicious BBQ ribs! Just place them in the crock pot, add your BBQ sauce, and let them cook. That's all there is to it!
I love these for game day. In addition to all of the appetizers, you need something more substantial too. Whether it's burgers, tacos, or something else, it's nice to have a sort of "main dish" to make sure everyone can fill up while watching the game, drinking beer, and eating snacks. So crock pot BBQ ribs are a front runner for game day, especially Super Bowl Sunday!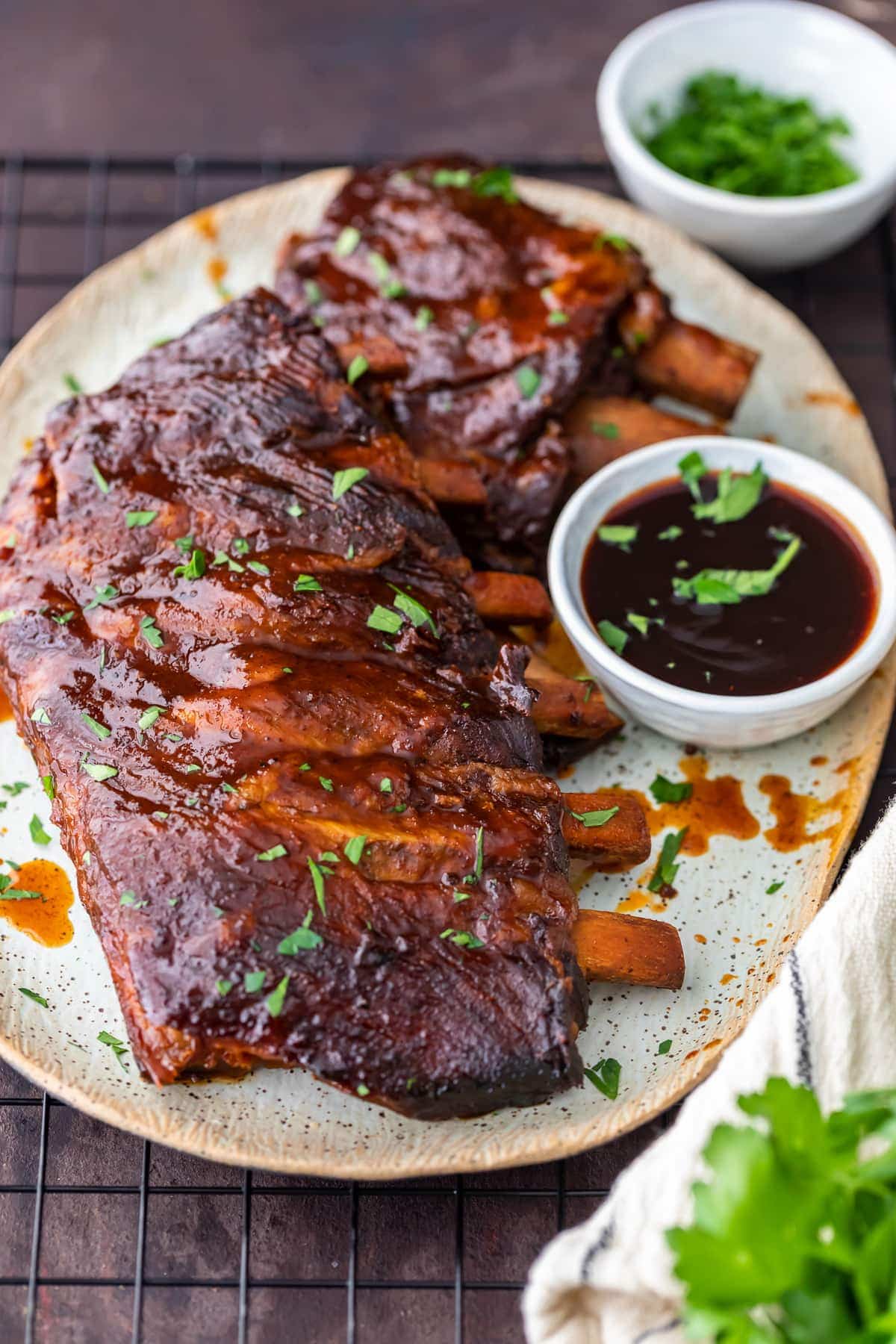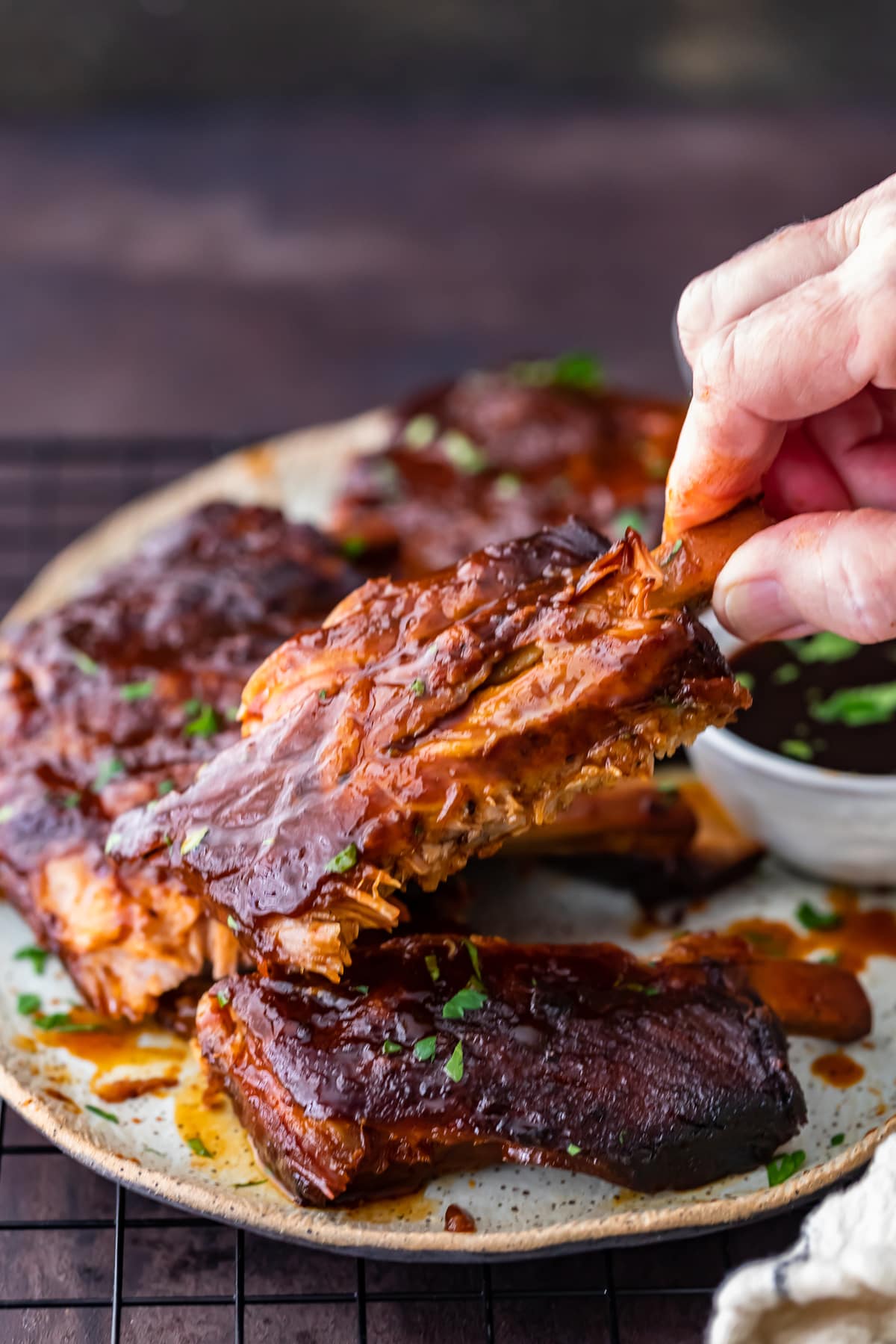 How to Cook Ribs in a Crock Pot (Slow Cooker BBQ Ribs)
Cooking ribs in a crock pot seems too good to be true! Who knew you could make the most amazing BBQ ribs in a slow cooker? This crock pot ribs recipes is just so easy. Basically, you just need to season the ribs, set them in the crock pot, and let them cook! You can use spare ribs or baby back ribs for this slow cooker BBQ ribs recipe.
How to cook ribs in a crock pot:
Whisk together paprika, brown sugar, salt, black pepper, and red pepper flakes to make the dry rub mix.
Rub the dry rub mix over the ribs, and then brush them with your preferred BBQ sauce.
Place the ribs upright in the slow cooker, then pour the rest of the BBQ sauce over them. (If you're using a sweeter BBQ sauce, add in the cider vinegar.)
Place the lid on the crock pot and cook on low for 4-5 hours (meat should be fork tender).
Simple as that! To serve the crock pot BBQ ribs, just slice the meat between the bones and serve with extra BBQ sauce. So juicy, so tender, so delicious!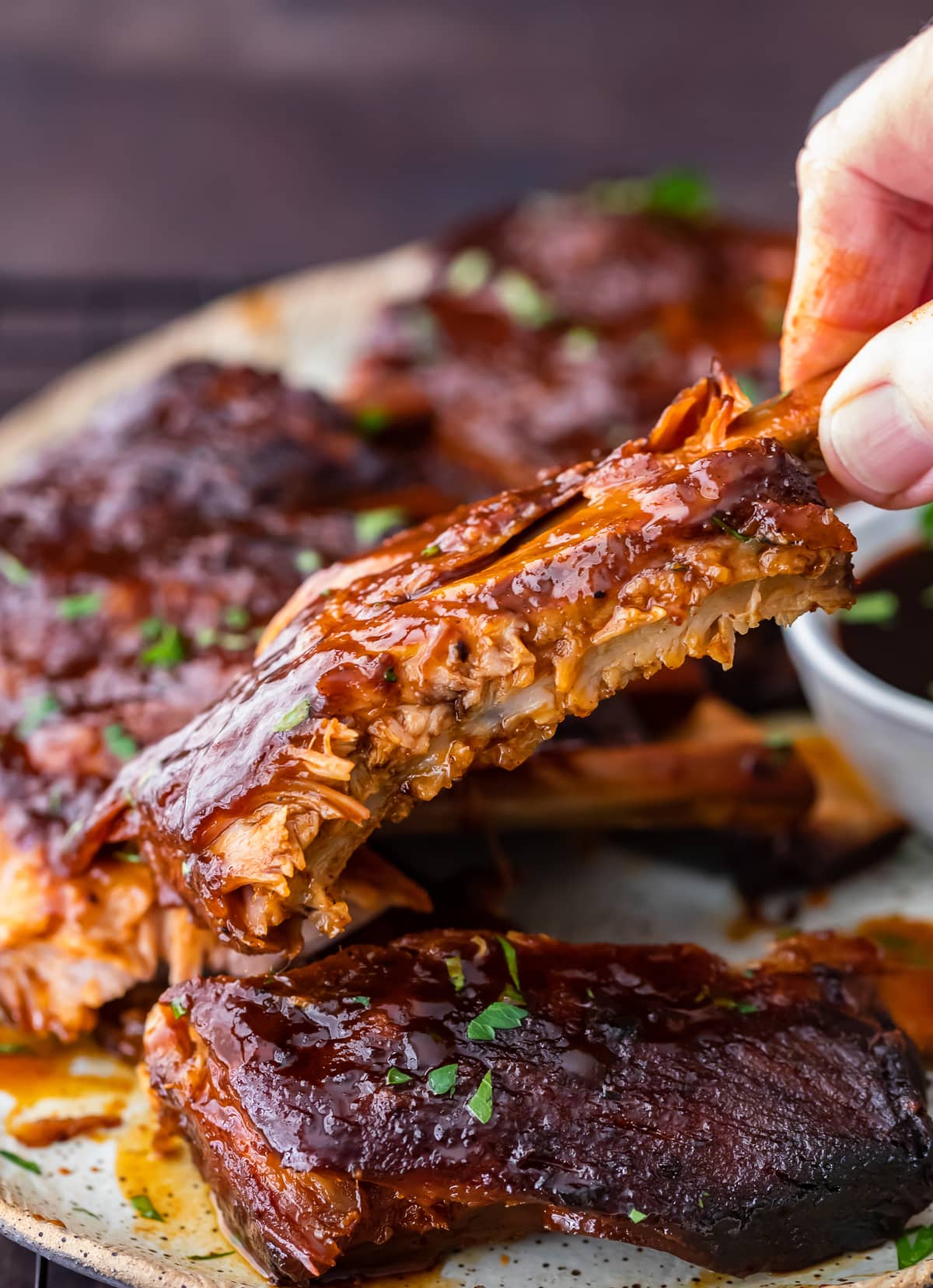 How long to cook ribs in a crock pot?
With the crock pot set to low, give the slow cooker ribs about 4-5 hours to fully cook. They will come out super juicy and tender, ready to eat!
Crock Pot Baby Back Ribs vs Spare Ribs
This easy crock pot ribs recipe works with both baby back ribs and spare ribs, so the choice is up to you. 
Baby back ribs are smaller than spare ribs. They are shorter, and will generally weigh less and feed fewer people, but they are super tender and lean. Spare ribs are going to be meatier, with more fat, making them super flavorful when cooked. A rack of spareribs will usually feed 3-4 people. Because of the size difference, expect the spareribs to take a bit longer to cook than baby back ribs.
Again, you can use either type of pork ribs for this slow cooker ribs recipe. Both will turn out amazing, it's really up to your preferences.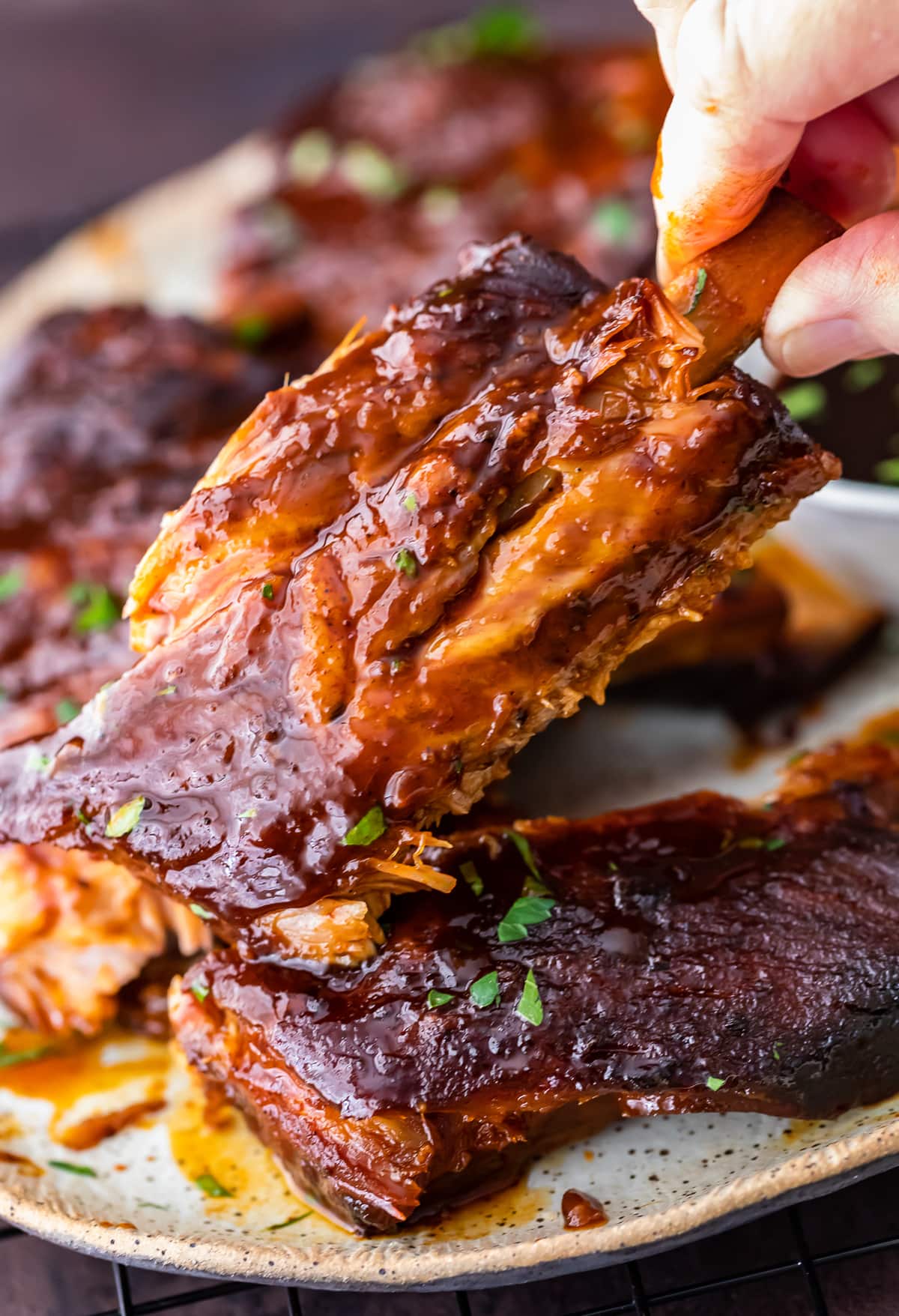 These slow cooker BBQ ribs are just so easy, so tender, and so flavorful. A real favorite for any occasion!
See the recipe card below for details on how to make Crock Pot Ribs. Enjoy!
If you like this crock pot ribs recipes, try these other slow cooker recipes: