Easy Hot Cross Buns with Chocolate Chips are so much better than store bought!
Fluffy and fragrant homemade hot cross buns filled with melted chocolate chips to please the kids as well as the adults! There's just something about warm and fresh homemade breads! The best part? No proofing yeast! This recipe is so easy!
It's finally Easter!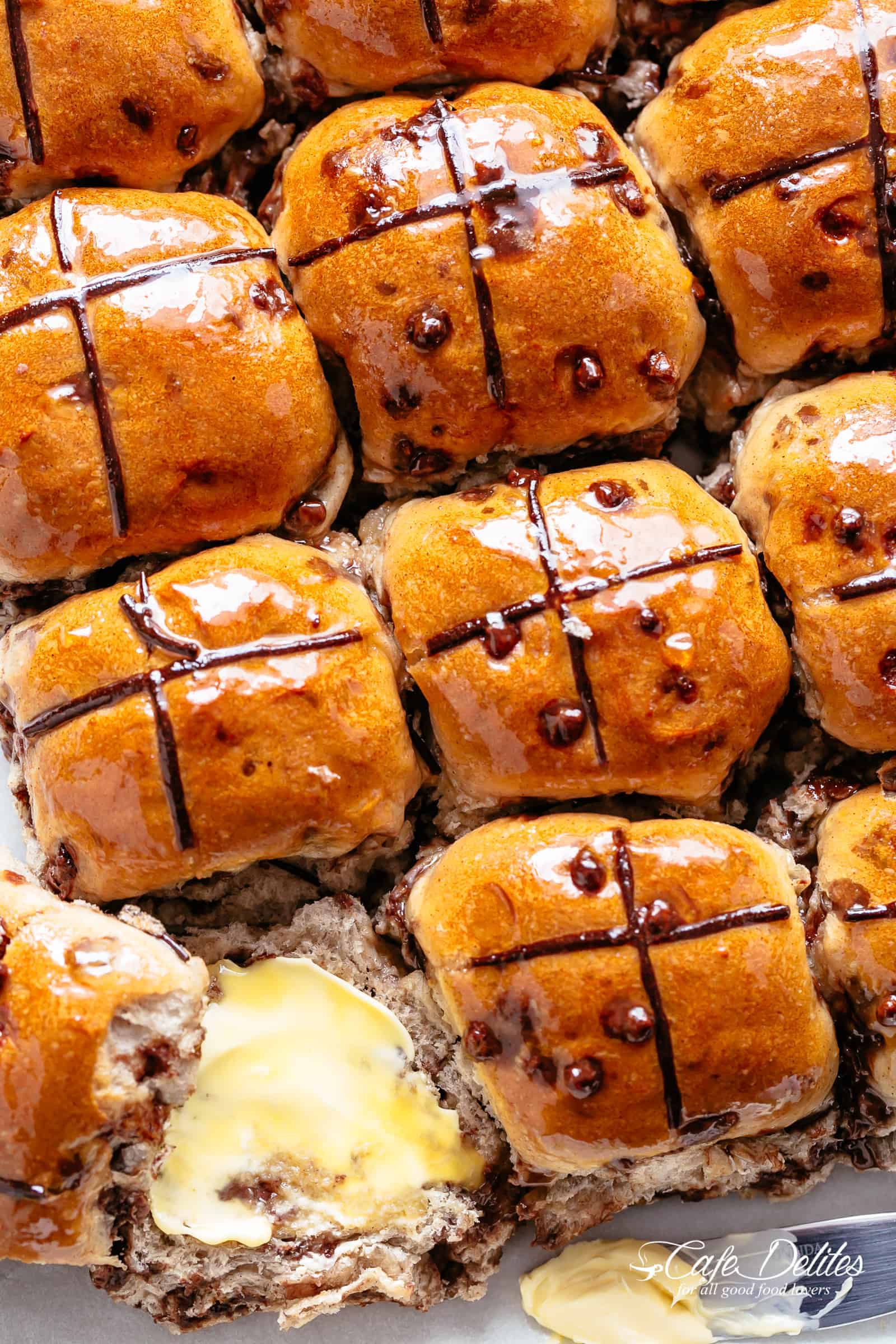 Easy Hot Cross Buns Recipe
You guys have been LOVING these Soft Cinnamon rolls so much lately that it makes me super proud that you are all fearless of yeast! Go YOU! There's no reason to be afraid of baking with yeast. Especially in this recipe!
Testing
With all of the hot cross buns coming out of my kitchen for the last three weeks trying to perfect this recipe, my freezer/refrigerator can't handle anymore. My family have buns coming out of their ears, my jeans are now way too tight. One batch came out flat like pancakes. The next had dry and powdery crosses (no thank you), and one came out with so much chocolate it was goo in the middle.
Become a food blogger they said.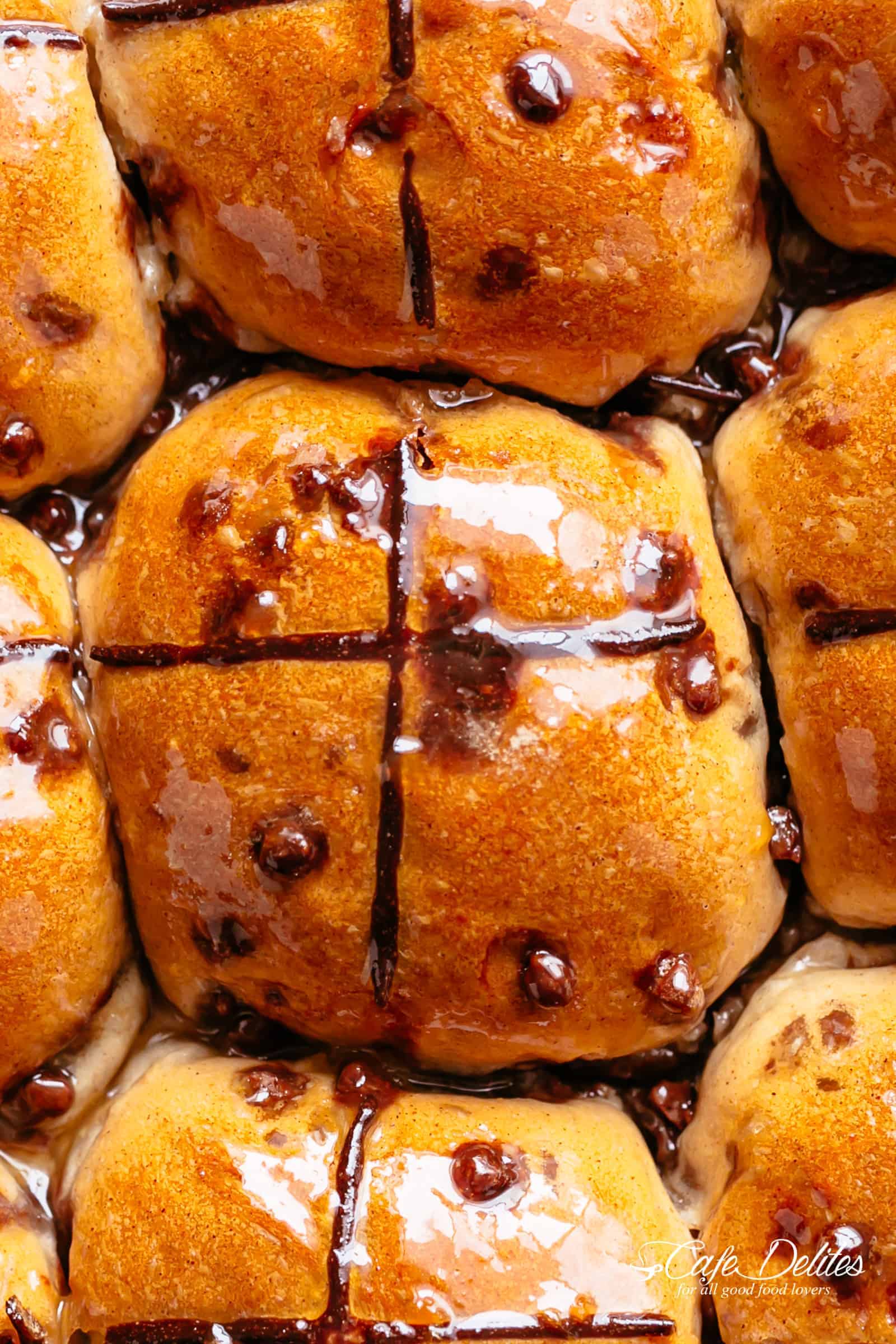 Fruit or Chocolate
This is no argument in this house. While I love and appreciate traditional fruit buns, my kids won't go anywhere near them. If you suffer from the same in your house, then this recipe is for you! You can replace the chocolate chips with sultanas or raisins if you wish.
What is the cross on the hot cross bun made of?
It's usually made form a flour/water paste, but to keep with the 'I>want>my>kids>to>eat>these' theme, I went with melted chocolate!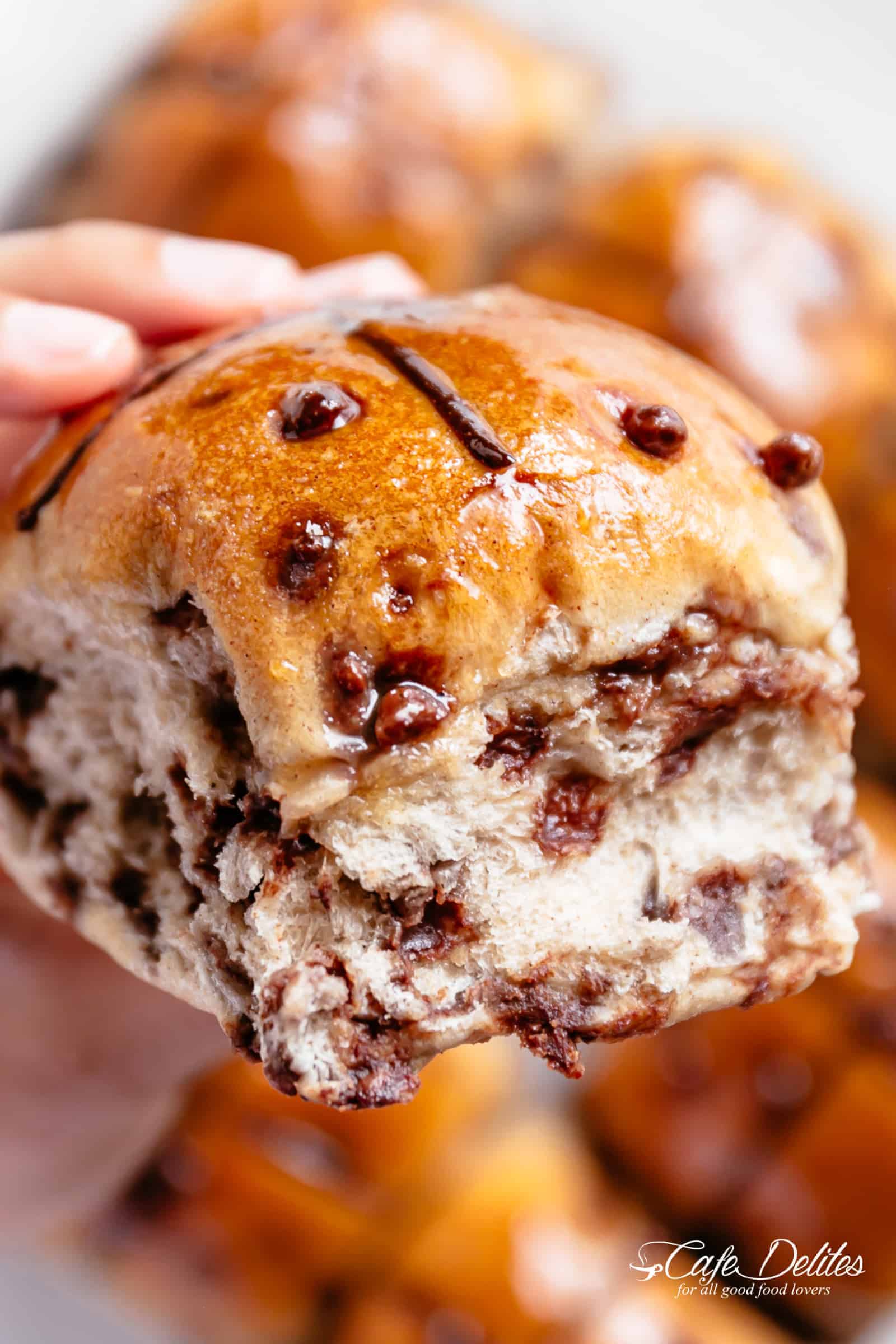 Yeast
As I mentioned before, we don't proof the yeast before we start on the dough in this recipe. The yeast gets mixed in with flour and other dry ingredients from the start. If you want to check that your yeast is still active, you can do the following:
Combine 1 teaspoon of yeast in a jug with 1/4 cup warm water or milk (warmed for about 1 minute or 1:30 in the microwave) .
Give it a good mix and wait 5-10 minutes.
If your yeast is active, it should start foaming at the 5 minute mark.
I suggest and recommend a quick rise yeast (instant or rapid rise) for this recipe.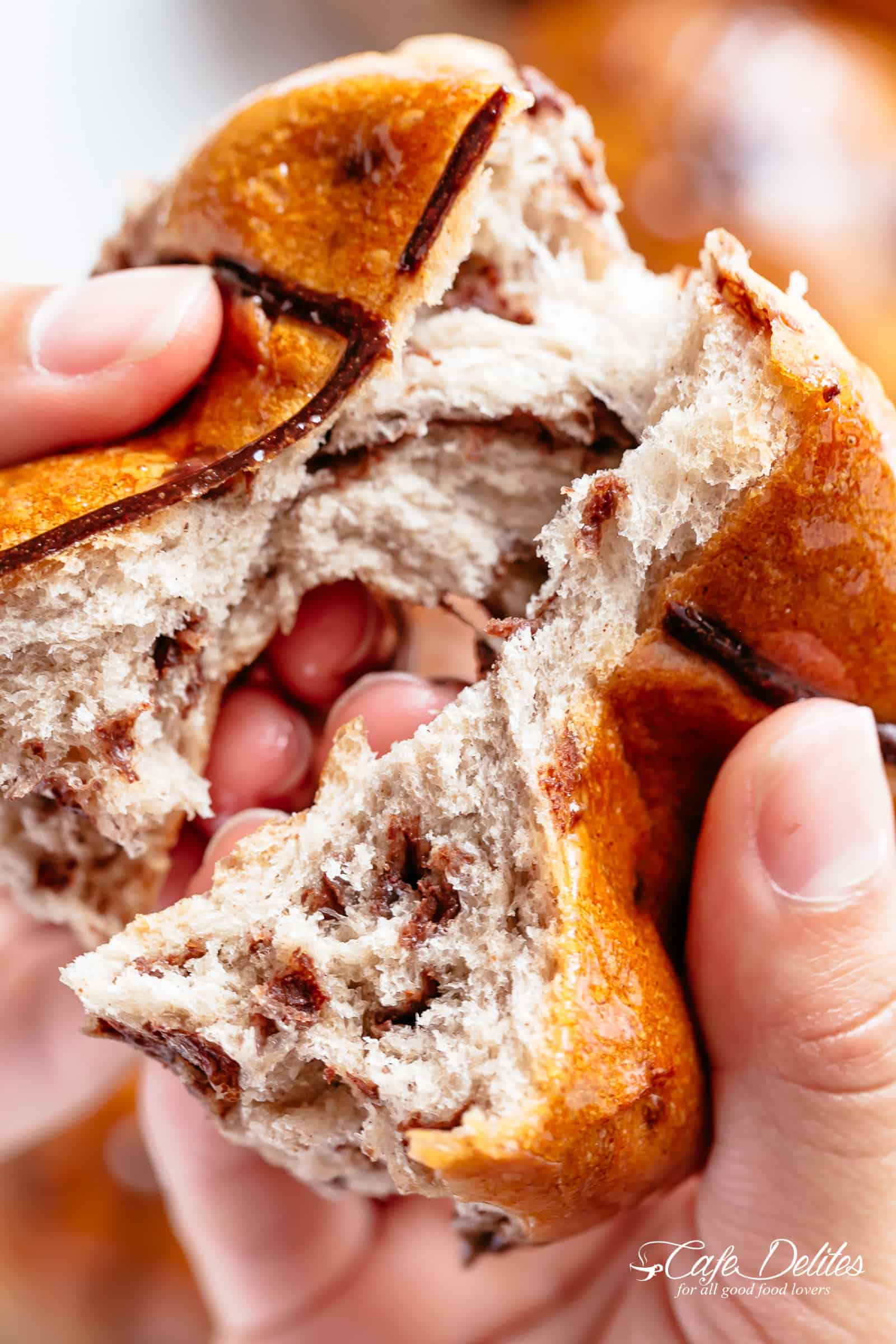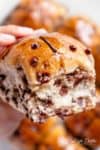 Print
Hot Cross Buns with Chocolate Chips
Fluffy and fragrant homemade hot cross buns filled with melted chocolate chips to please the kids as well as the adults! Better than store bought, there's just something about warm and fresh homemade breads! The best part? No proofing yeast! This recipe is so easy!
Course: Easter
Cuisine: British
Servings: 15 Buns
Calories: 329 kcal
Author: Karina
Ingredients
3 1/2

cups

(500g) strong bread flour

1

tablespoon

(15g) instant or rapid rise yeast

(quick-rise yeast)

1/2

cup

(80g) sugar

(caster or superfine sugar preferred)

1

teaspoon

salt

2

teaspoons

ground cinnamon

1

tsp

all spice

1/4

tsp

nutmeg

1

cup

(250ml) warm milk

(temperature at 110°F (45°C)

1/3

cup

60g melted butter

1

large

egg

at room temperature

1/2

cup

125ml warm water,

if needed

2

cups

semi sweet chocolate chips

(mini or regular)
Glaze:
2

tablespoons

apricot jam

1

tablespoon

hot water
Instructions
Sift the flour into a large bowl. Add the yeast, sugar, salt and spices and mix well to combine. 

Make a well in the centre and pour in the milk and butter. Stir the liquid into each other, then add in the egg. Mix with a wooden spoon then bring the dough together with your hands, pressing into it until it forms a sticky ball. (If the dough is too dry add the water in tablespoon increments until the dough is just sticky to touch.)

Transfer dough onto a lightly floured surface and knead for 5-10 minutes until it becomes smooth and springy.

Transfer dough back into the bowl and cover with plastic wrap (or a clean, damp tea towel). Leave in a warm place to rise until doubled in size (about 1 hour depending on how warm the room is).

Lightly grease a large baking sheet or line with parchment paper. Set aside.

Punch down dough and transfer onto lightly floured surface. Sprinkle with 3/4 of the chocolate chips and knead the dough for 2-3 minutes. 

Divide dough into 12 or 15 even portions (depending on how many buns you need). Roll each piece into round smooth balls and arrange on baking sheet, leaving space between each bun to allow them to rise. Press remaining chocolate chips on top of each bun.

Cover with plastic wrap (or damp tea towel) and place in a warm place once again to prove for 20-30 mins, until doubled and just touching. Preheat oven to 400°F (200°C).

When oven is hot, bake buns for 20 minutes until they are golden brown and sound hollow inside when tapped.
Crosses:
Melt the chocolate in the microwave in 30 second increments until melted. Transfer chocolate to a ziplock bag and snip a small hole in a bottom corner (the larger the hole the wider the crosses will be).

Allow buns to cool slightly and pipe crosses onto your buns. Allow them to set before glazing.
Glaze:
Mix together the jam and warm water to combine, and brush the glaze evenly over each bun using a pastry brush.
Nutrition Facts
Hot Cross Buns with Chocolate Chips
Amount Per Serving
Calories 329 Calories from Fat 126
% Daily Value*
Total Fat 14g 22%
Saturated Fat 8g 40%
Cholesterol 26mg 9%
Sodium 207mg 9%
Potassium 193mg 6%
Total Carbohydrates 43g 14%
Dietary Fiber 2g 8%
Sugars 17g
Protein 6g 12%
Vitamin A 3.8%
Vitamin C 0.3%
Calcium 4.4%
Iron 10.4%
* Percent Daily Values are based on a 2000 calorie diet.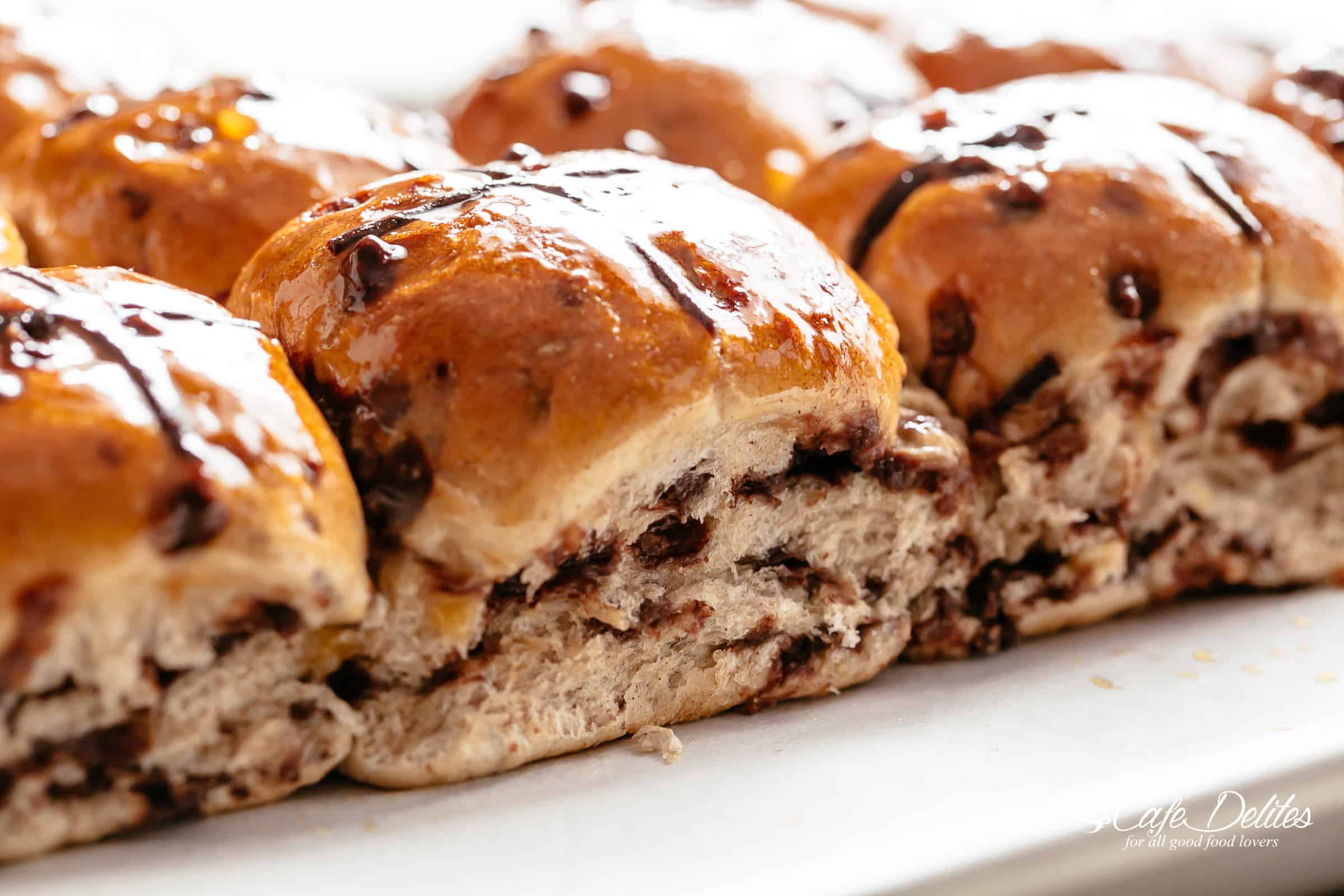 Related