This Easy Omurice Recipe is a delicious way to mix up your egg routine. Inspired by the Japanese Omurice, I make my own version of this Japanese Omelet Rice simple, easy, and tasty, with quick-cooking rice, shredded chicken, eggs, and plenty of veggies flavored with sesame oil, soy sauce, and ketchup!
For more simple and inspired egg dishes, click on my posts for Sheet Pan Breakfast, Freezer Breakfast Burritos, and Baked Croissant Breakfast Sandwiches.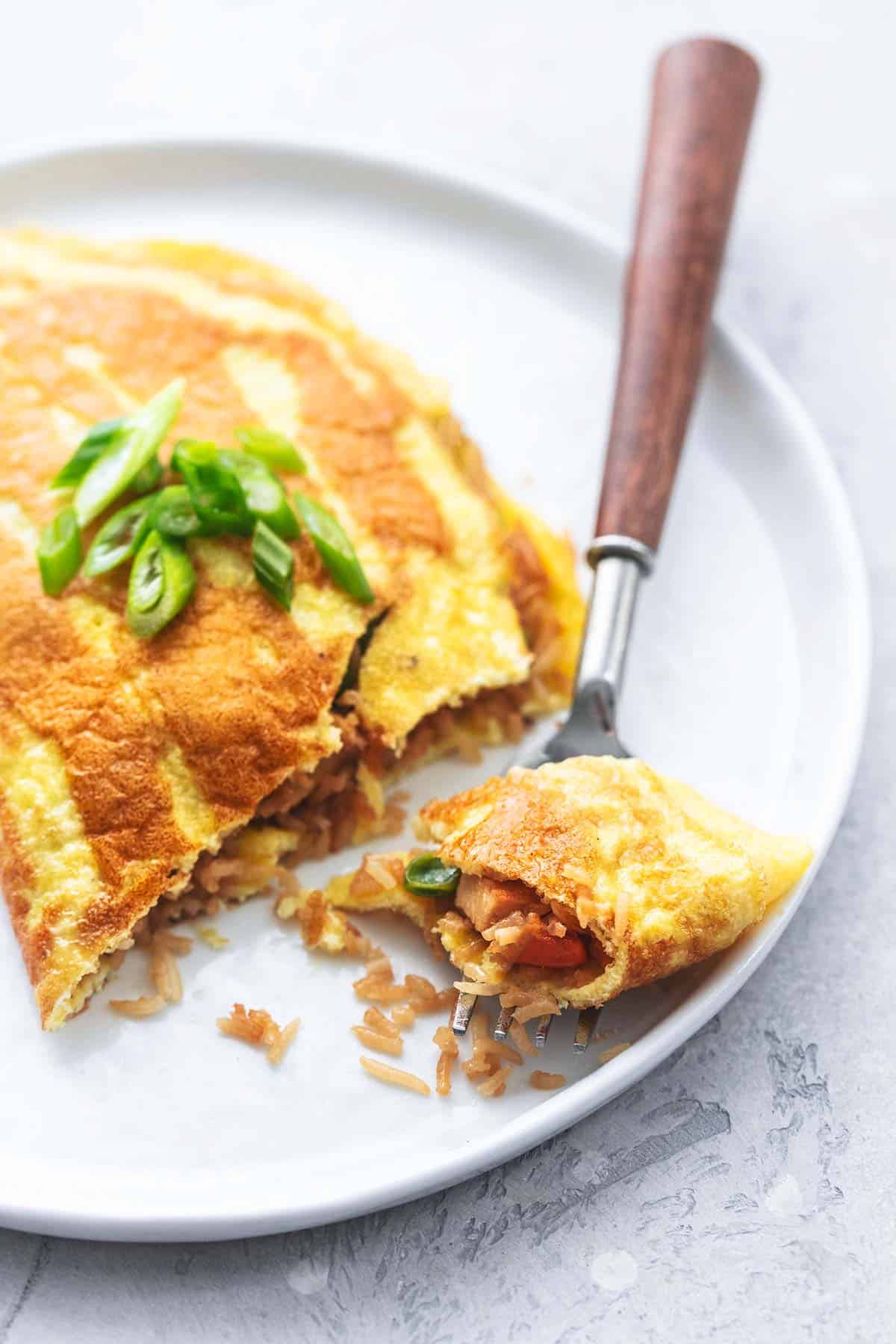 Ever try something you didn't even know existed and now you can't live without it? That's how I felt the first time I tried Omurice. This omelet with rice in it will change the way you think about boring old cheese-filled omelettes forever. 
I know it changed me. Once I tried this delightful breakfast (or anytime, really) dish, I knew I had to try to make my own version at home. So, I started with what I knew: How to make fried rice. Then, I played around with the quantity of eggs needed to get that nice, thin egg wrap around the rice. Then I played with the amount of fillings needed and viola! 
What I ended up with was a decent facsimile of a Japanese Omurice omelet and plenty of delicious "mistakes" that weren't the most picture-worthy but still so good!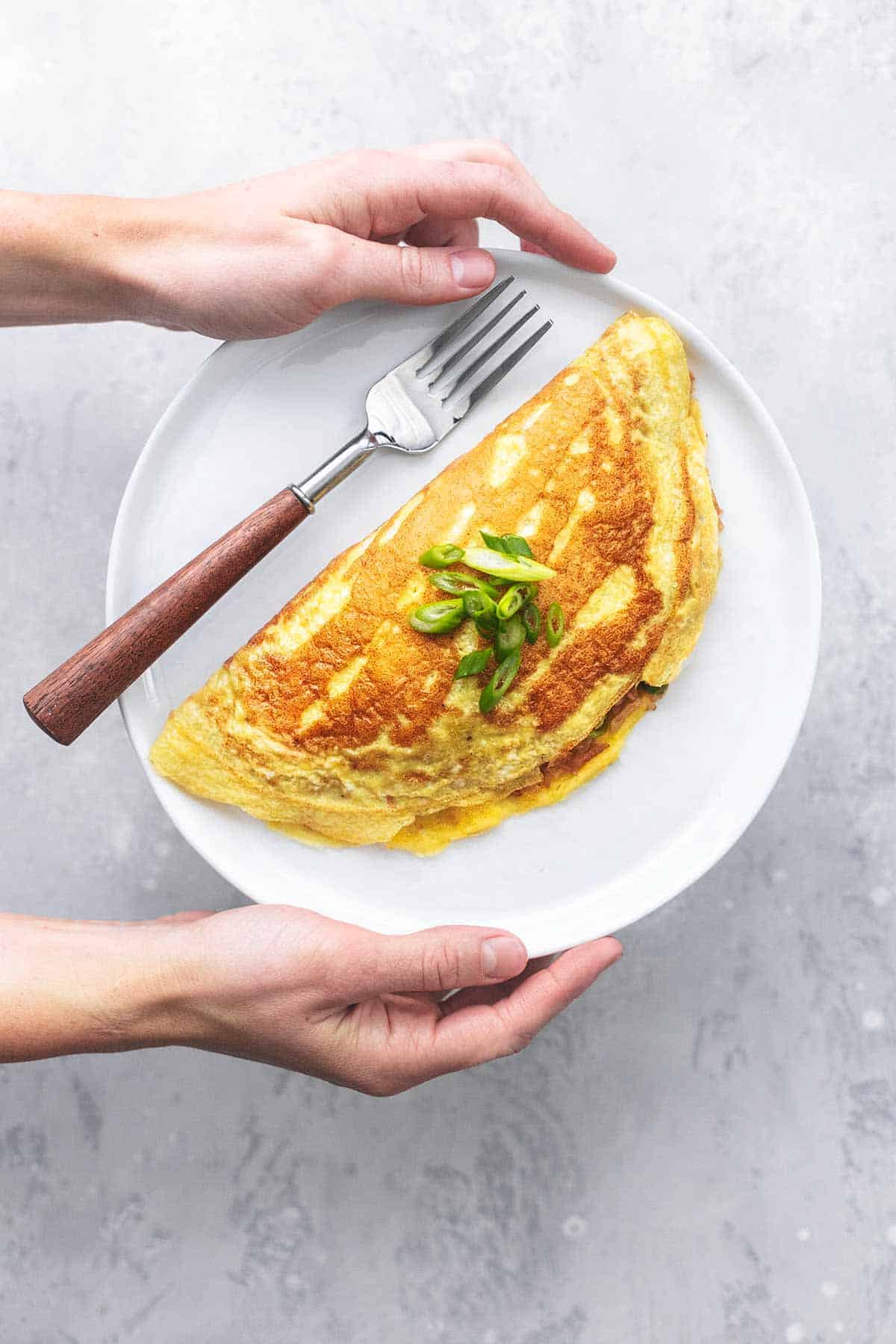 WHAT IS OMURICE?
Omurice is essentially fried rice wrapped up in an omelet. It's usually topped with ketchup, but you can easily skip that part. You will find it at western-style diners in Japan and widely cooked at home. 
WHAT INGREDIENTS ARE IN OMURICE?

Prepared white rice (Minute rice works fine)

Diced or shredded chicken

Toasted sesame oil 

White or yellow onion

Soy sauce

Ketchup 

Frozen vegetable mix 

Eggs

Salt and pepper

Shredded cheese 

Olive oil

 
HOW DO YOU MAKE OMURICE? 
I think you'll find Japanese Omurice just as delicious to eat and easy to make as I do!

First, whisk together the eggs with the olive oil. Set that aside and a move on to the next part: cooking up the fried rice portion. 
To do this, you'll saute diced onions in 1 tablespoon of sesame oil over medium-high heat for 2-3 minutes until the onions become translucent. Next, stir in the rice, the rest of the sesame oil, soy sauce, and ketchup and keep stirring rice mixture for another 3-4 minutes or until it starts to brown. 
Now add in the defrosted mixed veggies and pre-cooked chicken to heat through. Take the rice/veggie/chicken mixture off the burner and transfer to a bowl, covering to retain heat. 
To make the eggs, add half of the whisked eggs to the same pan over medium heat and tilt the pan to get the mixture to spread all around and coat the bottom of the pan. Sprinkle half of the cheese over the eggs and let the eggs and cheese cook, untouched for about 1-2 minutes. Then, spoon half the rice mixture to the center of the eggs, and use a spatula to fold over the eggs over the top of the rice to make an omelet. 
Turn the omelet onto a paper towel, using the towel to put the edges of the egg together to seal in a football/omelet shape.

Repeat the process with the egg and rice mixtures to make the second omelet. Serve them warm, topping with more ketchup if you like.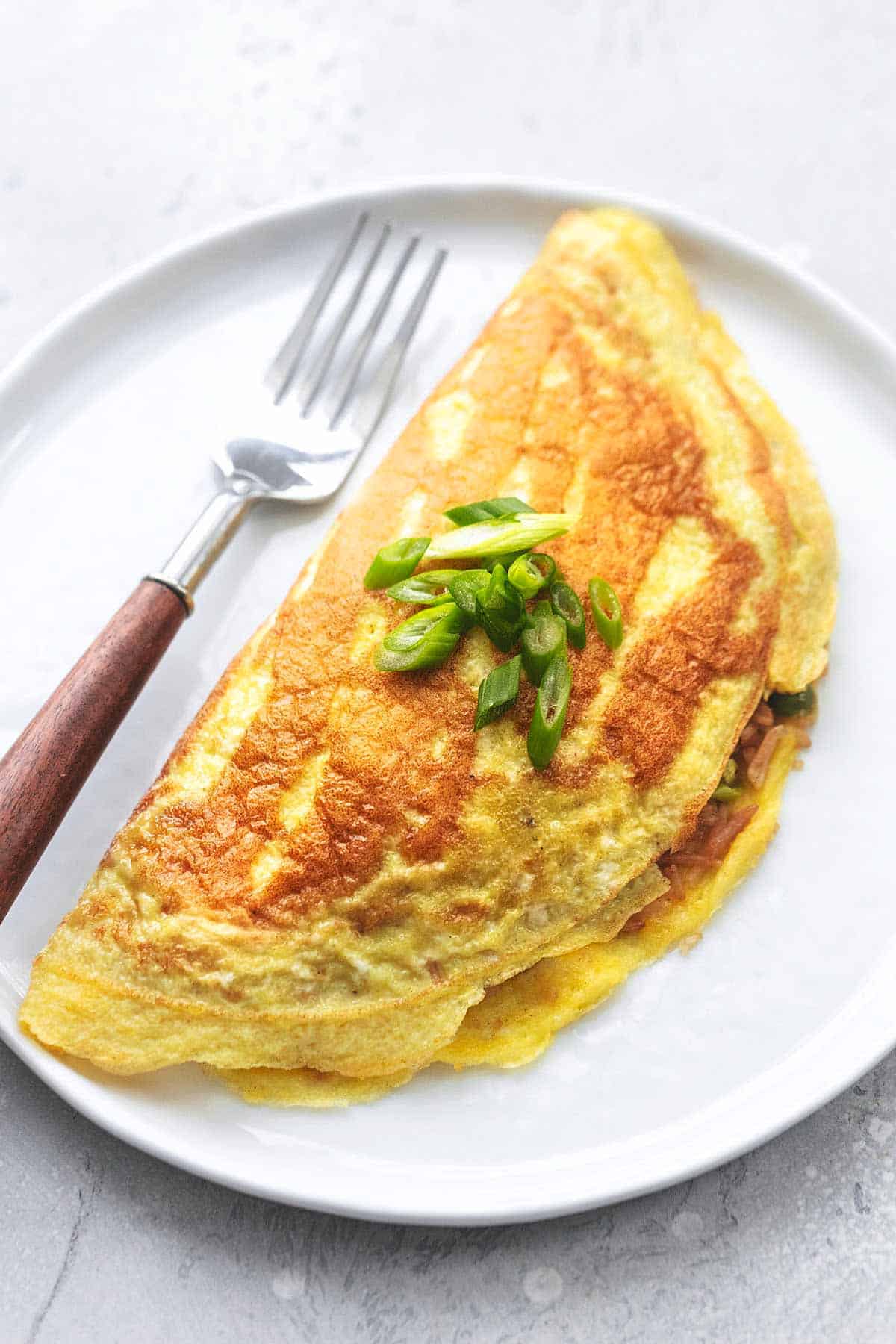 IDEAS FOR CUSTOMIZING OMURICE?

If you'd like to put your own spin in making this Japanese Omelet Rice (or sometimes even referred to as a Korean rice omelet), there are a few ways you can customize it: 
You can add cooked pork or beef instead of chicken if you prefer. 

Use only egg whites (use 6 egg whites if you choose to omit the yolks) to make this a bit healthier (although you'll be missing out on some of that wonderful egg taste). 

You can also use fast-cooking brown rice if you prefer that over white, or even cauliflower rice for a carb-free rice omelet. Just make sure to squeeze out any excess water in the cauliflower rice so that your omelet rice isn't too wet. 

Japanese omelets are very versatile. Use red onions, an Asian frozen veggie blend, edamame, or any veggies you like. Just only use a half a cup of the veggie mixture or you won't be able to seal the egg omelet. 

Omit cheese to make the fried rice portion more authentic (but I do love cheese with my eggs, so I have to have it!)
HOW DO YOU MAKE VEGETARIAN OMURICE?
To make this dish vegetarian (assuming you still eat eggs), just omit the chicken or other meat. It's that easy and will still be quite tasty!
You can also substitute mushrooms (cook them a bit first) instead of the chicken or even chickpeas I think would be delicious!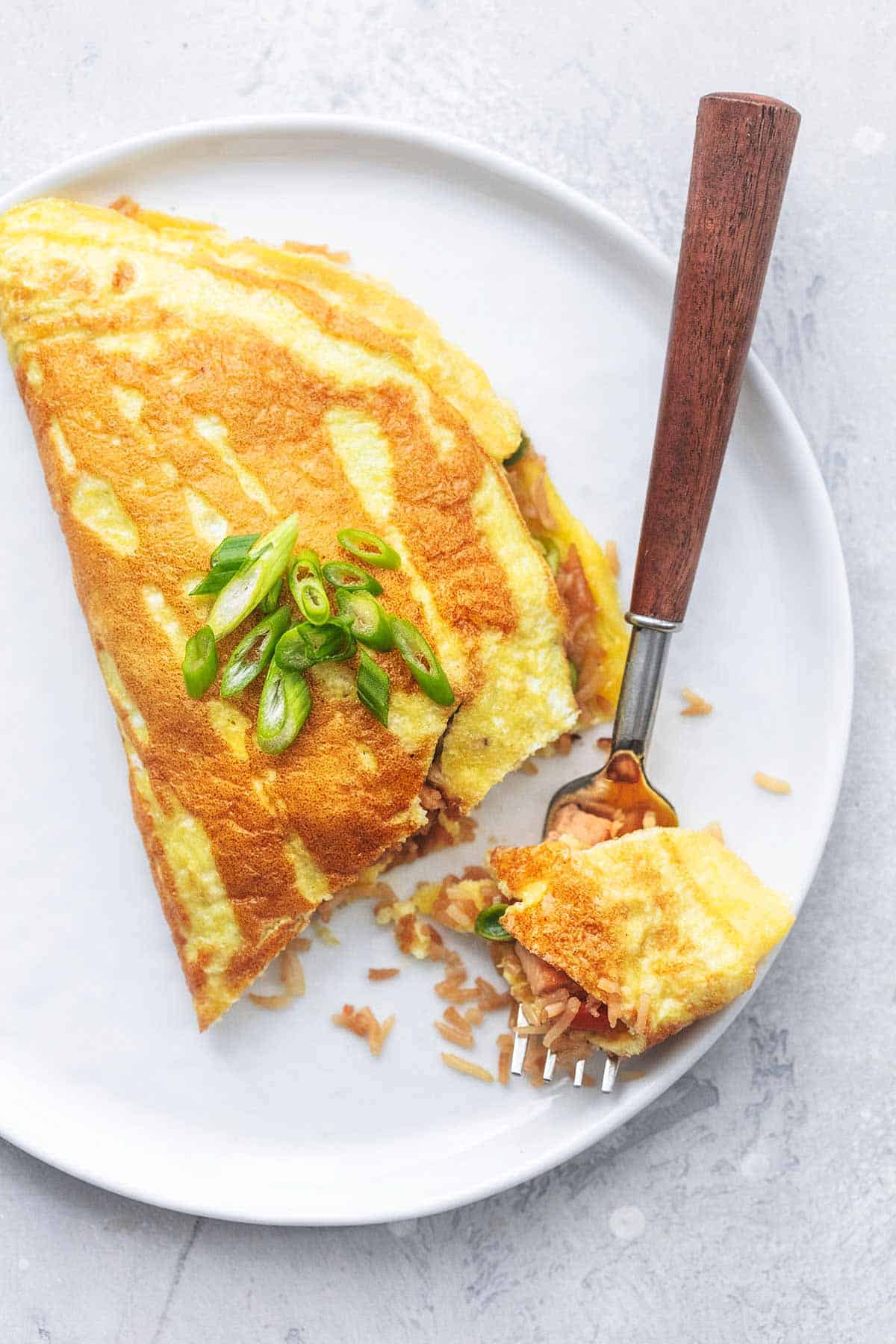 2

cups

prepared white rice

minute rice works fine

1/2

cup

diced or shredded chicken

2

tablespoons

toasted sesame oil

divided

1/4

white or yellow onion, diced

1/4

cup

soy sauce

1

tablespoon

ketchup

1/2

cup

frozen vegetable mix (peas/carrots/corn)

defrosted

4

large eggs

salt and pepper to taste

1/4

cup

shredded cheese

choose your favorite – I used cheddar and monterey jack

1

tablespoon

olive oil
Whisk together eggs and olive oil and set aside.

In a medium skillet, saute diced onions in 1 tablespoon toasted sesame oil over medium-high heat for 2-3 minutes til onions are translucent.

Stir in rice, remaining 1 tablespoon sesame oil, soy sauce, and ketchup and saute rice for 3-4 minutes until browned.

Stir in mixed vegetables and chicken until heated throughout. Transfer rice mixture to a bowl and cover to keep warm.

Pour half of the whisked eggs into the pan (over medium heat). Immediately tilt the pan to coat the entire bottom of the pan with egg. Sprinkle half of the cheese over the eggs.

Cook for 1-2 minutes until eggs are mostly cooked (they will still be slightly undercooked on top).

Spoon half of the rice mixture into the center of the eggs. Use a spatula for fold over the the eggs over the rice to make an omelet. Carefully turn out onto a paper towel. Immediately wrap in the paper towel and shape into a football/omelet shape to seal the edges together.

Repeat with remaining egg and rice mixtures to make a second omelet. Serve while warm, top with additional ketchup if desired.