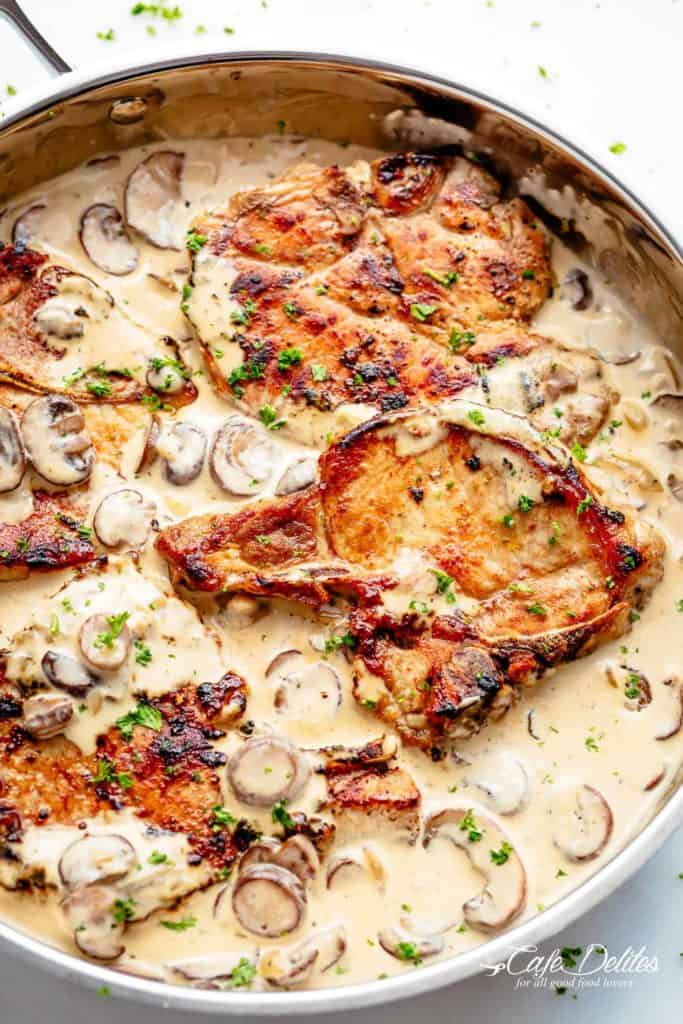 Deliciously Easy Pork Chops with Creamy Garlic Herb Mushroom Sauce is a super easy dinner recipe! Perfect for any night of the week.
The ultimate ONE PAN Pork Chop Recipe is here! Tender, golden and juicy pan seared pork chops are served in a rich and creamy garlic herb mushroom sauce filled to the brim with flavour. Low carb, gluten free, easy to make and ready on the table in less than 20 minutes!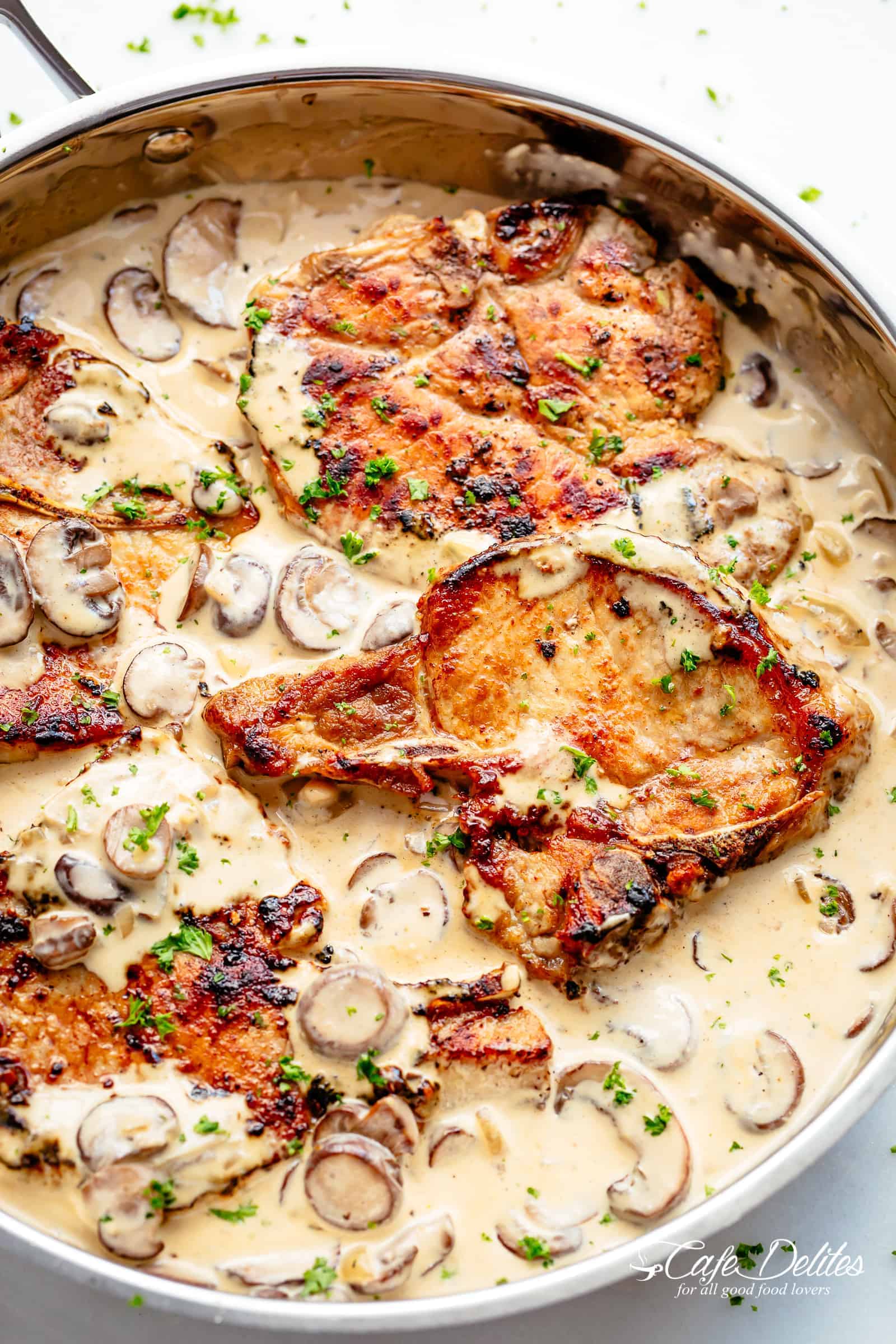 Pork Chop Recipes
With the popularity of my Seared Garlic Butter Steak & Mushroom Cream Sauce recipe, we've received many MANY emails and messages through our Facebook and Youtube channels asking us to cook pork chops in the same sauce! Ladies and gentlemen….our first pork chop recipe and it's a winner of a dinner!
How To Cook Pork Chops
This recipe promises easy and delivers on that promise. For the best flavour and golden, juicy result, you're going to sear some pork chops in a butter/oil mixture. This not only promises BIG flavours, but delivers crispy yummy edges. Once your chops are done, you're then going to sauté the mushrooms with garlic and herbs for even BIGGER flavours. Don't forget to scrape up any browned bits leftover on the pan from the chops…MORE flavours here.
Wine
You have the OPTION to pour in dry white wine to deglaze the pan. If using wine, use a good quality brand of Pinot Grigio (my favourite). If you don't want to add wine? No problem! Simply add in the cream, simmer until thickened, then add the chops back in to absorb all of those favours!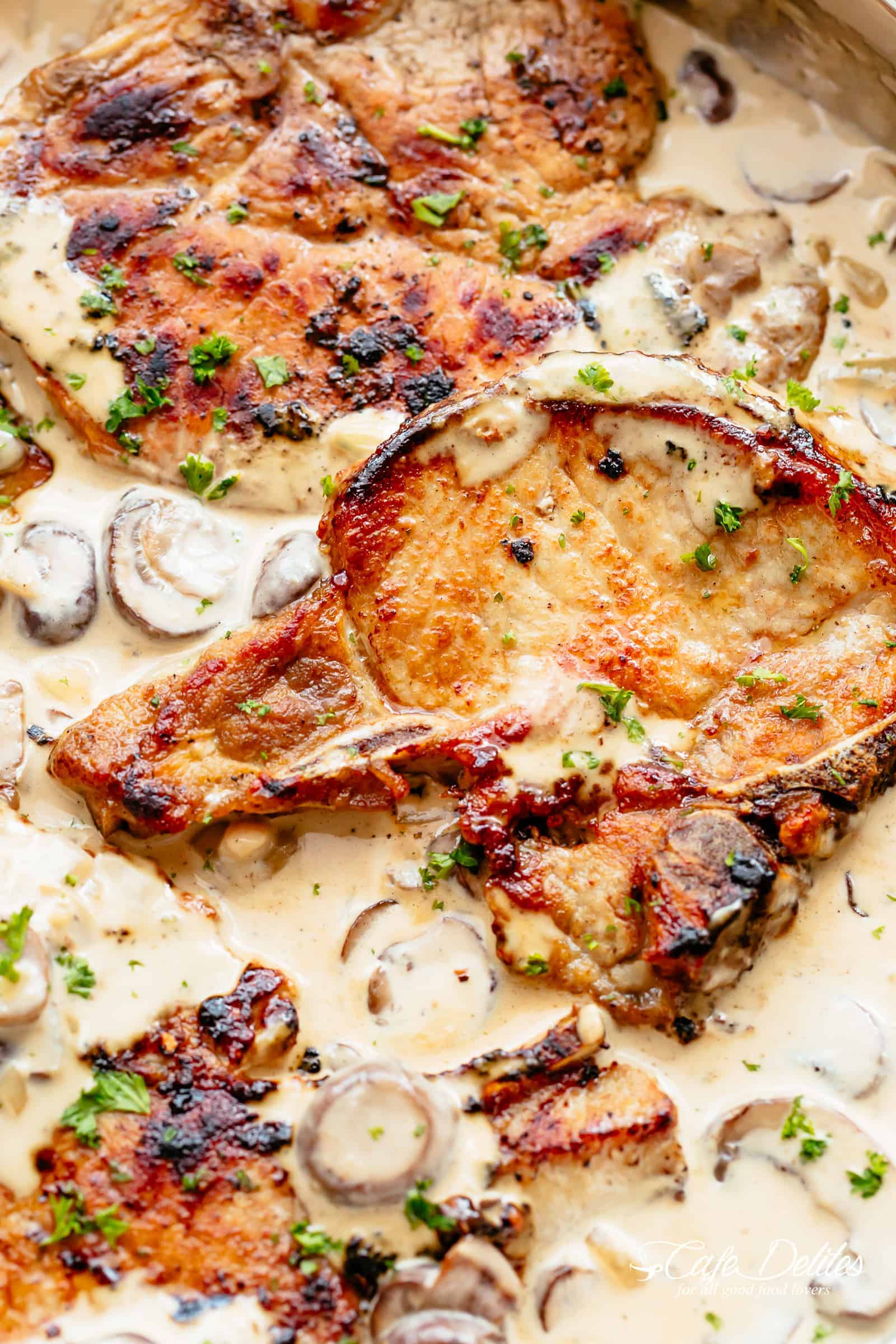 Best Sides For Pork Chops
A simple salad
Pasta with olive oil, garlic and a little Parmesan sprinkled on top
Rice
OR LOW CARB SIDES
Cauliflower rice
Zucchini noodles
Steamed veggies
Mashed cauliflower
Love creamy recipes? Try these!
Chicken and Mushrooms in a Creamy White Wine Sauce | Creamy Shrimp Mushroom Linguine | Creamy Chicken Marsala
Easy Creamy Pork Chops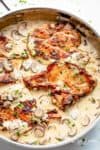 Seared Pork Chops with a creamy garlic and herb mushroom sauce is a super easy dinner recipe! Perfect for any night of the week! The ultimate ONE PAN Pork Chop Recipe is ready on the table in less than 20 minutes!
4 pork chops, bone in or boneless ((about 1-inch thick))
Salt and pepper, (to season)
2 tablespoons olive oil, (divided)
2 tablespoons unsalted butter, (divided)
Creamy Mushroom Sauce:
1 cup sliced brown mushrooms
2 teaspoons fresh chopped parsley, (divided)
1 teaspoon fresh chopped thyme
4 cloves garlic (crushed)
3/4 cup reduced fat cream or half and half, ((heavy cream or evaporated milk))
Season chops with a generous amount of salt and pepper. Heat oil and butter in a frying pan or skillet over medium-high heat until butter is melted.

When pan is hot, sear chops for about 3-4 minutes per side until golden browned and the centre is no longer bright pink. Transfer to a warm plate. Set aside.

Add the mushrooms to the buttery juices in the pan and cook for 3-4 minutes over medium heat. Scrape up any bits left over from the chops. When mushrooms are browned, add 1 teaspoon of parsley, thyme and crushed garlic; sauté for 30 seconds until fragrant. 

Pour in the cream and bring to a gentle simmer for 3-4 minutes until slightly thickened. Season with salt and pepper, to your taste.

Add the chops back into the sauce, allow to simmer for a minute to heat through. Garnish with remaining parsley and serve immediately.
Optional wine add-in for the creamy sauce: After sautéing the garlic in Step 3, add in 1/2 cup dry white wine. Let simmer until liquid has reduced by half (about 3 minutes). Then continue on to Step 4.
The post Easy Pork Chops appeared first on Cafe Delites.