This recipe for Portobello Mushroom Fajitas is a hearty, meatless recipe bursting with spicy, Tex-Mex flavor! With colorful peppers, savory onions, and meaty slices of portobello mushrooms, these fajitas are a nutritious and mouthwatering meal that's sure to please.
Incredible Portobello Fajitas
Fajitas are truly awesome. They just are, and that's a fact. No one should resist the combination of sizzling peppers and onions, cooked to crisp-tender perfection with your favorite protein. And, while I'm definitely a fan of beef, chicken, and even shrimp fajitas, sometimes you need a good meatless entree. Enter ? these easy portobello mushroom fajitas! ?
In this recipe, slices of portobello mushrooms take the place of meat, but trust me, even dedicated carnivores won't miss it! Portobellos are known for their "meaty" texture and flavor, and when they're sliced thinly, they're just right for fajitas.
Also? The cooking method couldn't be more simple: just season your veggie blend, arrange on a sheet pan, and bake until tender. It's a super-easy, uber-flavorful dinner that's just perfect for busy families!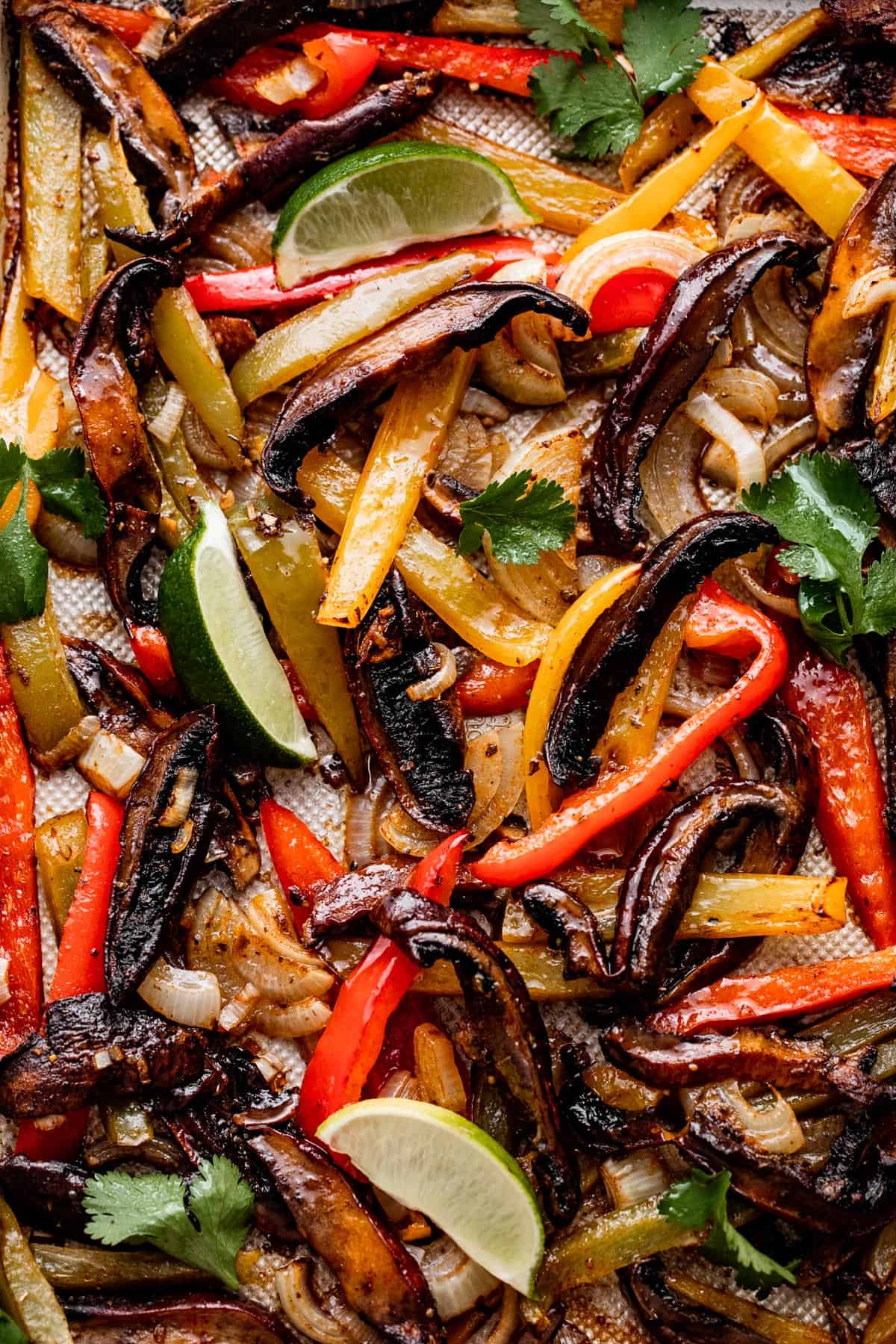 What's the Difference Between a Fajita and a Taco?
Fajitas and tacos are similar, but there are a few key differences that you can use to tell them apart. Fajitas are made with palm-sized flour tortillas, usually topped simply with strips of grilled vegetables and meat, often steak.
Tacos, on the other hand, are can be made with corn or flour tortillas, and feature a filling of ground or chopped meat. Also, tacos usually don't have cooked vegetables in them; instead, crisp raw veggies like tomato and lettuce are used as toppings. 
The Ingredients List
So what ingredients will you need to make these quick, vegetarian- and vegan-friendly portobello mushroom fajitas? Glad you asked! Here's a quick rundown of each ingredient, and some tips for easy substitutions.
Olive Oil: This is my go-to, but you could substitute avocado oil, or any other cooking oil that you prefer.
Lime Juice: A little acidity is so important in fajitas—it brings out the flavors in the seasoning mixture and in the vegetables. If you don't have lime juice, use lemon juice, or you could substitute your favorite vinegar. (Keep in mind that some vinegars have a stronger fragrance and flavor than lemon or lime juice).
Homemade Fajitas Seasoning: You can use store-bought fajita seasoning, or make a quick batch of my amazing homemade fajitas seasoning!
Cayenne Pepper: Use this to taste, to add a spicy kick. If you don't care for the heat of cayenne pepper, you can leave it out.
Portobello Mushrooms: You'll want to get a few large portobello mushrooms, and slice them into ½-inch strips.
Bell Pepper: I like to use one each of red, green, and yellow bell peppers, but using just one color is totally fine. Slice the bell peppers thinly.
Yellow Onion: Red, white, or sweet onions are also fine. Slice thinly, just like the bell peppers.
Flour Tortillas: For serving. 
Optional Toppings: You can top the fajitas simply with a dollop of sour cream, or go all out with salsa, avocado slices, chopped fresh cilantro, lime wedges, and any other toppings or garnishes that you like.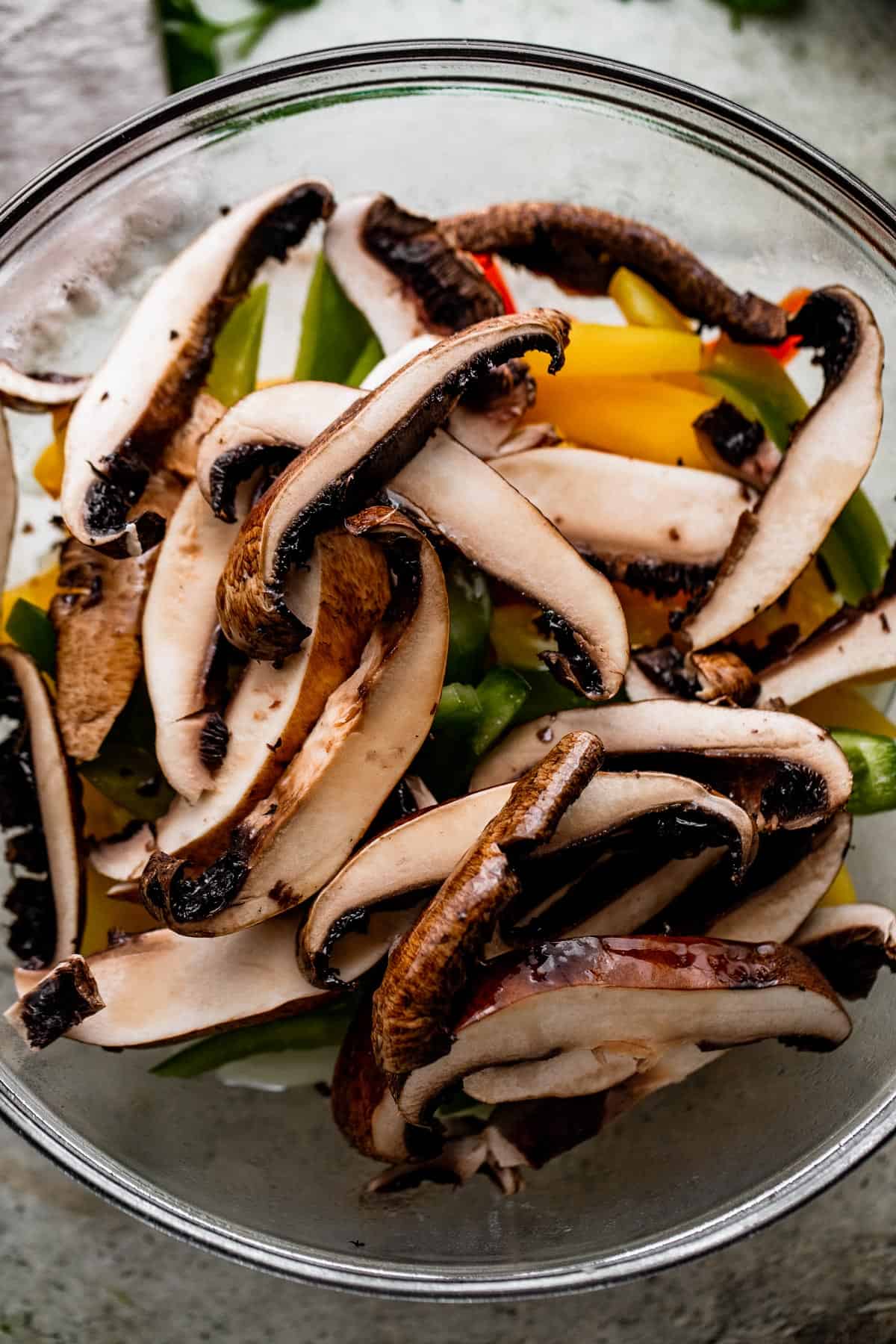 Let's Make Mushroom Fajitas!
Portobello mushroom fajitas come together in no time at all, with very little prep. All you have to do is slice your veggies, combine them with the seasoning mixture, and bake to perfection.
Get Ready. Once your ingredients are assembled and ready to go, preheat your oven to 450˚F. Then, line a large baking sheet with foil. Set the baking sheet aside.
Season Your Veggies. Get a large mixing bowl, and combine the olive oil, lime juice, fajitas seasoning, and cayenne pepper in it, giving it a good stir to mix. Add in your mushroom slices, peppers, and onions, and gently toss them to coat in the oil. Then transfer the veggies and mushrooms to your prepared baking sheet, and spread them out in a single layer.
Bake, and Serve. Bake for about 15 minutes, or until the vegetables are tender. Take them out of the oven, and serve with flour tortillas and toppings of choice.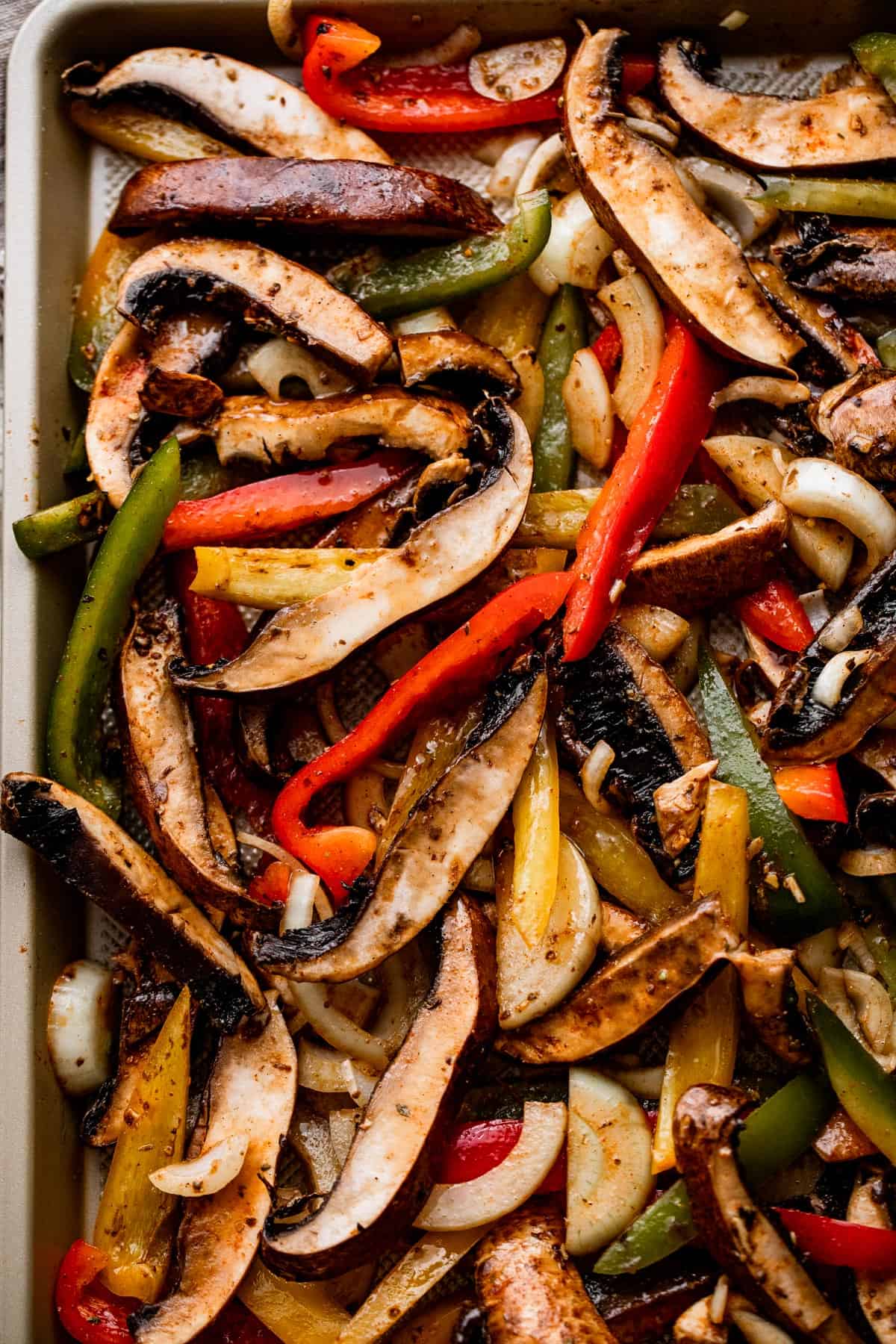 Helpful Tips for Great Fajitas
Before you start cooking, I hope you'll take a minute to look over these easy tips and tricks for making the perfect mushroom fajitas. This easy meal is so flexible, so be sure to put your own spin on it! Happy cooking!
Extra Veggies: Not sure about portobello mushrooms? Feel free to substitute sliced button mushrooms or baby bellas – or go in a totally different direction, and use strips of zucchini, summer squash, eggplant… whatever you love!
Cheese: When it comes to tacos, burritos, and fajitas, you can't really go wrong with cheese. For an extra-creamy twist, sprinkle shredded or crumbled feta, cotija, cheddar, monterey jack, or pepper jack cheese over your fajitas.
Protein: This dish is wonderful as a meatless meal, but you could definitely add your favorite protein to it as well. Steak, chicken, or pork all work wonderfully.
Tasty Serving Suggestions
If you'd like to add a side dish or two to the menu, I've got you covered! These are some of my favorite side dishes to go with a plate of spicy fajitas.
Southwest Salad: Corn, black beans, and creamy avocado collide in this colorful and tangy Southwestern Orzo Salad. It's a filling and healthy side dish that's perfect alongside this easy fajita recipe.
Light Skillet Cornbread: Cornbread is good with just about anything, but I think it goes particularly well with Tex-Mex flavors. This Light Skillet Cornbread has a gorgeous color and flavor, baked the old-fashioned way in a cast-iron skillet.
Lemon Garlic Oven-Roasted Potatoes: Roasted potatoes are a classic side that you might not typically think of with fajitas, but honestly? It's an amazing combo! Try these Lemon Garlic Oven-Roasted Potatoes for a grain-free side that's still carb-y and satisfying.
How to Store and Reheat Leftovers
To store, place your leftovers in airtight containers or food storage bags, and refrigerate. Properly stored, they'll keep for 3 to 4 days.
To reheat, place the desired portion in a covered skillet, over low heat. Heat until the veggies are sizzling and heated through, but don't overcook, or they'll become soft and mushy. You can also bake leftover portobello fajitas at 450˚F until hot. 
Can I Freeze Portobello Fajitas?
Can you or should you? ? While you can freeze mushroom fajitas, I don't recommend it—the frozen vegetables are likely to become soft and mushy once they're thawed and reheated. ?‍♀️
ENJOY!
Portobello Mushroom Fajitas
With colorful peppers, savory onions, and meaty slices of portobello mushrooms, these Portobello Mushroom Fajitas are a nutritious and mouthwatering meal that's sure to please!
Ingredients
3

tablespoons

olive oil

3

tablespoons

fresh lime juice

2

tablespoons

homemade fajitas seasoning

¼

teaspoon

cayenne pepper

3 to 4

large portobello mushrooms,

cut into ½-inch thick slices

1

red bell pepper,

sliced into strips

1

green bell pepper,

sliced into strips

1

yellow bell pepper,

sliced into strips

1

yellow onion,

thinly sliced

8

low carb flour tortillas,

for serving

lime wedges,

for serving

salsa,

for serving, optional

avocado slices,

for serving, optional

chopped fresh cilantro,

for serving, optional

sour cream,

for serving, optional
Instructions 
Preheat oven to 450˚F.

Line a large baking sheet with foil and set aside.

In a large mixing bowl combine olive oil, lime juice, fajitas seasoning, and cayenne pepper; mix until incorporated.

To the bowl add the mushroom slices, peppers, and onions; toss to combine.

Transfer the peppers and mushrooms to previously prepared baking sheet and arrange in one single layer.

Bake for 15 to 18 minutes, or until veggies are tender.

Remove from oven.

Serve with flour tortillas and optional fillings and toppings.
Nutrition Facts
Portobello Mushroom Fajitas
Amount Per Serving (2 fajitas)
Calories 152
Calories from Fat 99
% Daily Value*
Fat 11g17%
Saturated Fat 2g10%
Trans Fat 1g
Polyunsaturated Fat 1g
Monounsaturated Fat 8g
Sodium 124mg5%
Potassium 463mg13%
Carbohydrates 13g4%
Fiber 4g16%
Sugar 5g6%
Protein 3g6%
Vitamin A 1276IU26%
Vitamin C 123mg149%
Calcium 21mg2%
Iron 1mg6%
* Percent Daily Values are based on a 2000 calorie diet.
Nutritional info is an estimate and provided as courtesy. Values may vary according to the ingredients and tools used. Please use your preferred nutritional calculator for more detailed info.
Keywords: fajitas oven, vegan recipes, vegetarian recipes
Want To Save This Recipe?
More Tex-Mex Recipes