This Easy Pumpkin Cinnamon Roll Cake is soft and moist, with a sweet cinnamon swirl all topped with a drizzle of glaze icing. This cake recipe starts with a cake mix and is prepped in minutes! The perfect fall breakfast!
Make sure you try my classic Easy Cinnamon Roll Cake too…it's a family favorite recipe!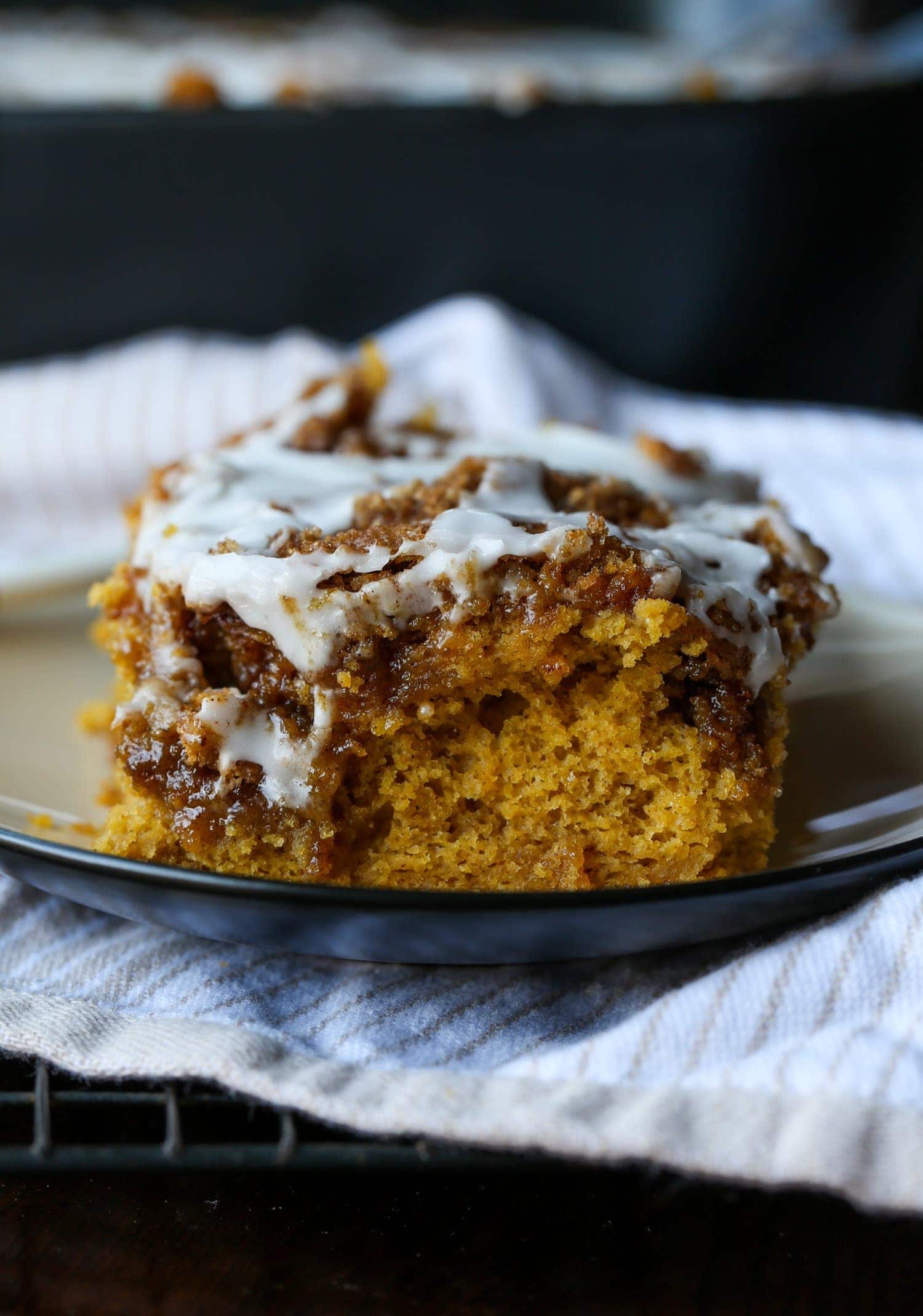 Pumpkin Cinnamon Roll Cake Is the Perfect Fall Breakfast!
This Easy Pumpkin Cinnamon Roll Cake is a fall version of my Easy Cinnamon Roll cake that is a beloved recipe here on Cookies and Cups. I thought it would be a fun one to add a little pumpkin too, and seeing how much you all love the original, I knew it would be a great idea. And I'll tell you…it is AMAZING. All the non pumpkin lovers here in my house absolutely adore this cake. It's an easy recipe that is as perfect for holiday entertaining, as it is a weekend brunch. Enjoy it in the morning with  a cup of coffee, as an afternoon snack, or for dessert!
What To Expect: 
Prep time is less than 10 minutes! You start with a cake mix, so you can have this in the oven quick!
A cake that you can serve either warm or at room temperature, which makes it great for both holiday entertaining or a weekend breakfast!
A soft pumpkin cake that is swirled with ribbons of cinnamon sugar all topped with a sweet glaze icing.
This is a no fail cake recipe that your friends and family will absolutely love.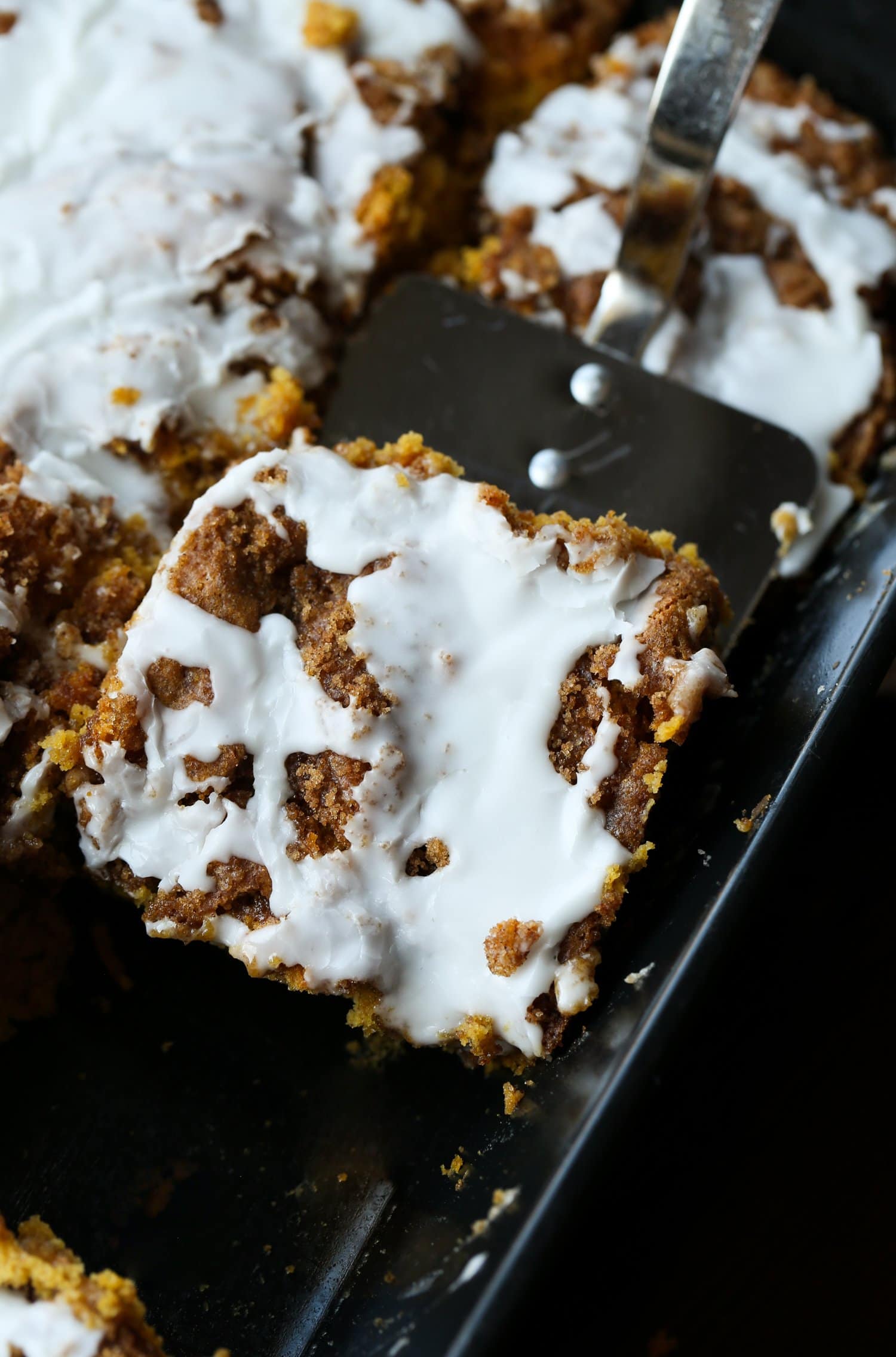 Ingredients For This Easy Pumpkin Cinnamon Roll Cake:
Cake Mix 
Pumpkin pie spice (a mixture of cinnamon, nutmeg, ginger, and allspice or cloves)  
Eggs
Pumpkin puree
Milk 
Oil. You can use any light colored oil like vegetable or canola.
Vanilla extract
Light brown sugar
Ground cinnamon
Powdered sugar. You will use this for the quick icing glaze on top!
Can You Make This Cake Using Real Pumpkin?
Yes you can, although the beauty of this Pumpkin Cinnamon Roll Cake recipe is that it's so quick and easy. So don't go to the trouble of seeding, roasting, blending, and draining fresh pumpkin just for this recipe. If you've already prepped fresh pumpkin and need to use it, absolutely! But don't go the extra step here. This is a quick recipe that starts with a cake mix, so save that fresh pumpkin for my Pumpkin Sausage Pasta Recipe!
What Kind Of Cake Mix Can Be Used?
I use a 15.25 ounce box yellow cake mix in this Pumpkin Cake recipe. I will note that I had a box of cake mix that was 18 ounces on my shelf as well and I tested the recipe using that box too and it came out perfectly. This recipe is extremely forgiving (as most cake mix recipes are) and the 3 ounce difference didn't change the result in anyway. 15.25 ounce cake mixes seem to be easier to find, but if you happen to have the larger size it will work! With all that said, you don't have to stick to just yellow cake mix. Here are a few other flavors you can use:
Butter Cake Mix
White Cake Mix
Spice Cake Mix (although if you use Spice Cake, omit the pumpkin spice in the recipe!)
French Vanilla
Even Carrot Cake mix would work!
More Pumpkin Recipes Using Cake Mix: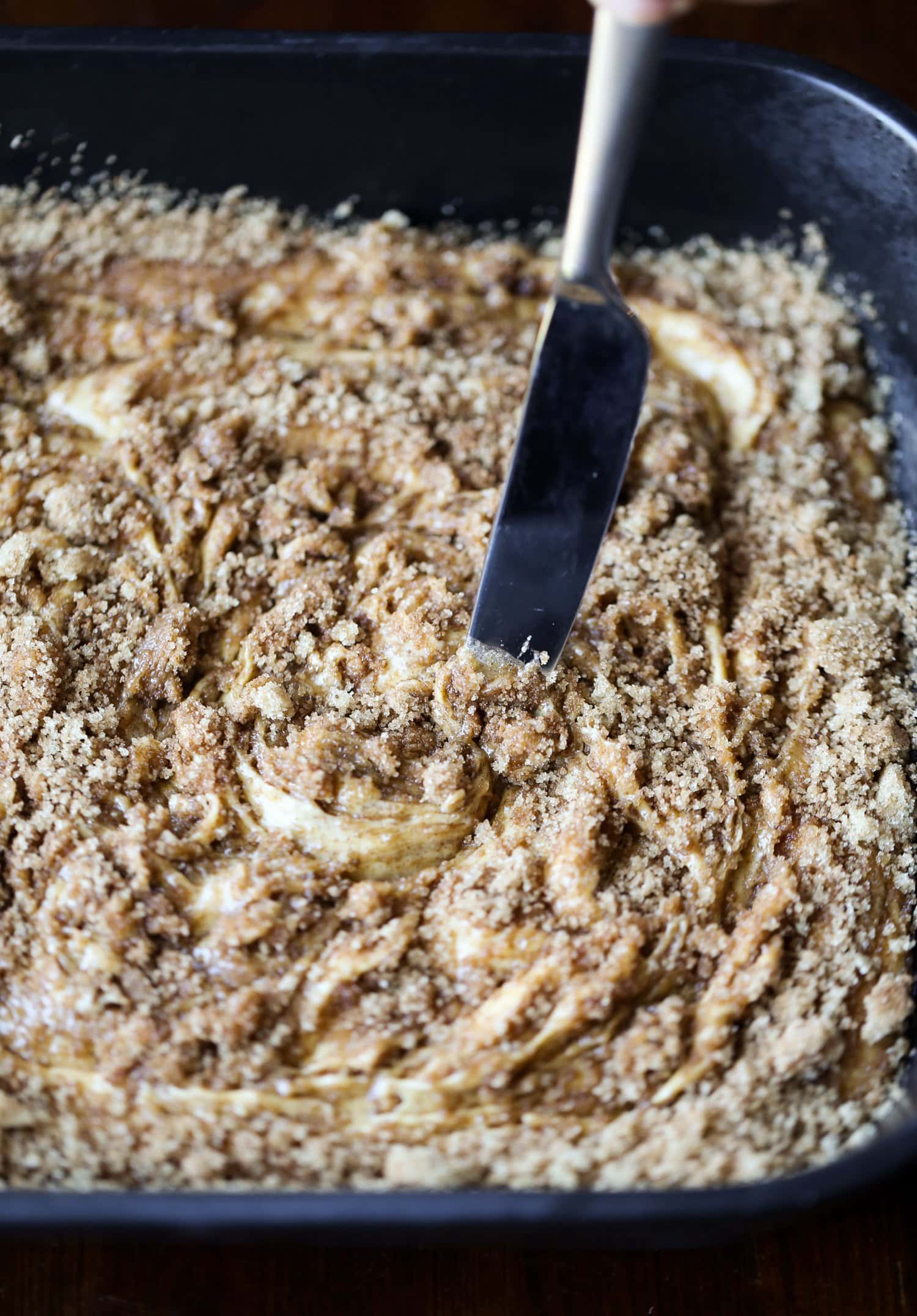 Instructions:
Cake: Preheat the oven to 325°F. Coat a 9×13 pan with nonstick spray and set aside.
In the bowl of a stand mixer combine the cake mix, pumpkin pie spice, eggs, pumpkin, milk, oil, vanilla. Mix on low for 30 seconds and then raise the speed to medium and mix for 2 minutes, scraping the sides of the bowl as necessary.
Spread the cake batter into your prepared pan. In a medium bowl whisk together the brown sugar and cinnamon. Sprinkle this evenly on top of your cake.
Using a butter knife gently swirl the cinnamon sugar into the cake batter. Don't over-swirl, as you want ribbons of the mixture throughout the cake.
Bake for 35-40 minutes or until a toothpick entered into the center of the cake comes out clean.
Cool cake for 15-20 minutes.
Icing: In a medium bowl whisk together the powdered sugar and milk. Pour this over the slightly warm cake. Allow the icing to set, or eat right away.