Easy45 minsGluten-Free
This Easy Shrimp Ceviche recipe is quick and easy to prep, tossed with a zesty chili-lime sauce, and perfect served with chips or piled on tostadas or whatever sounds good!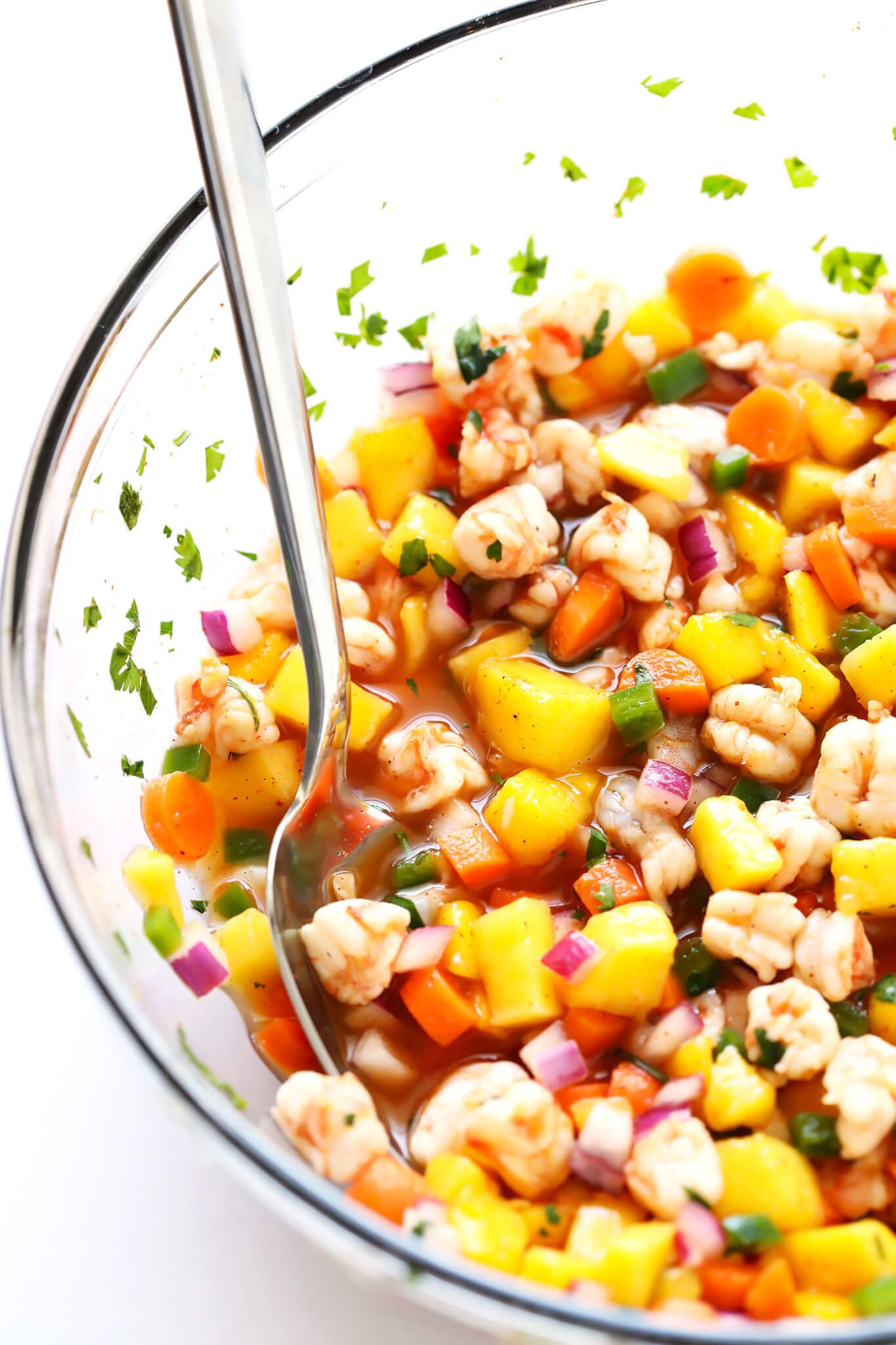 Heyyyyy, we're finally home from our honeymoon! You know, married and all. ?
Oh man, I don't even know where to begin catching up with you after my time away. This past month has all been such a happy, wild and wonderful whirlwind…filled with a record-breaking number of some of the best moments of my life. And ha, now that we're finally back home, we've also realized that this past month has left us record-breakingly behind on email and laundry and work and texts and and All The Things. But man, what a freaking blast it has been.
I can't wait to sorting through all of the photos from our wedding and honeymoon, and share with you all about our big day and our trip. Quick spoiler alert that will come as no surprise — Mexico was freaking awesome. And the cute little boutique hotel in Oaxaca that we were able to (re-)book for our honeymoon? Downright dreamy. Seriously, I don't think I've ever stayed anywhere as relaxing, delicious, and thoughtfully-designed as our cute little casita on the beach. And while we admittedly chose Oaxaca because it is the Land Of Mezcal (our fave), the fresh Oaxacan food at our hotel by far and away stole the show. Literally every single thing we tried on the menu during our 7 days there was a winner. From the chilaquiles and sopas and epazote quesadillas and enfrijoladas (a new fave) for brunch, to the gourmet fresh seafood (or meat, if you prefer) 3-course dinners, to the creative fruit-and-herb-infused waters and unlimited chips and salsa available all day long (on da house), to the extensive mezcal bar staffed by a talented team (who taught us a lot about the region's specialties) — our 7 days there were this Mexican food lover's dream come true. Bastante delicioso. ???
Interestingly, though, some of the most simple dishes ended up being some of my favorites — especially their house shrimp ceviche and aguachiles, which Barclay and I alternated ordering each day as a little afternoon snack by the pool. Living in the Midwest, I don't always think to order or make ceviche all that often. But wow, this trip reminded me how much I absolutely love it. I mean — let's be real — it's basically like seafood salsa! Win-win! And even better? It's ridiculously easy to make at home. Win-win-win.
I came home with a notebook full of dozens of new ceviche combinations that I'd like to try. But for a little throwback to last week, I thought I'd kick off our marriage with a throwback recipe inspired by the hotel's ceviche that we fell in love with last week. And then I thought I'd get back on the blogging train and take some photos so that I could share it with you. ?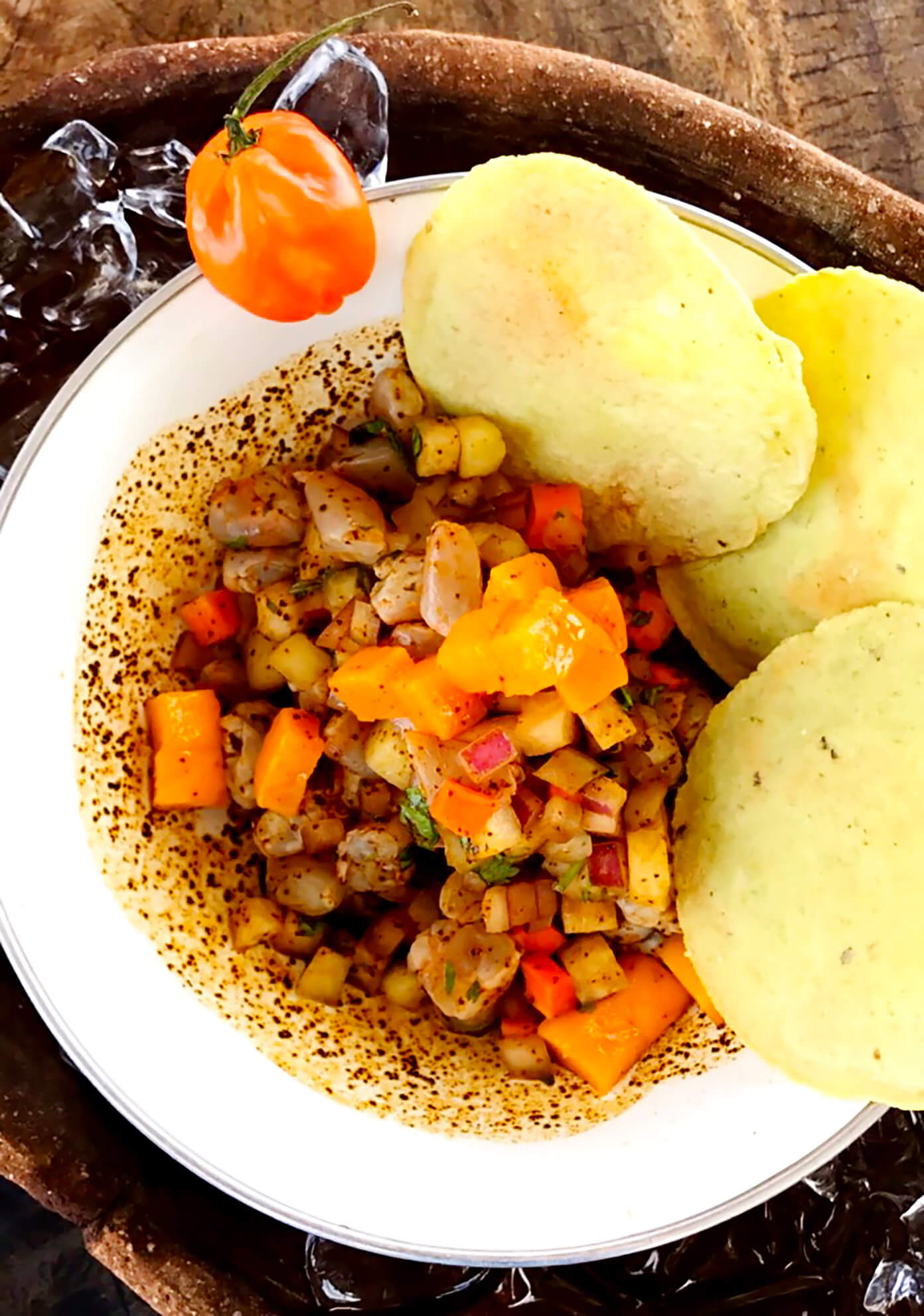 Case in point of our amazing culinary week — this was just a "light snack" at the hotel, served on ice with homemade chips (whose flavors varied each day — nopalito, epazote, garlic, etc.).
Yes, please. ? ? ?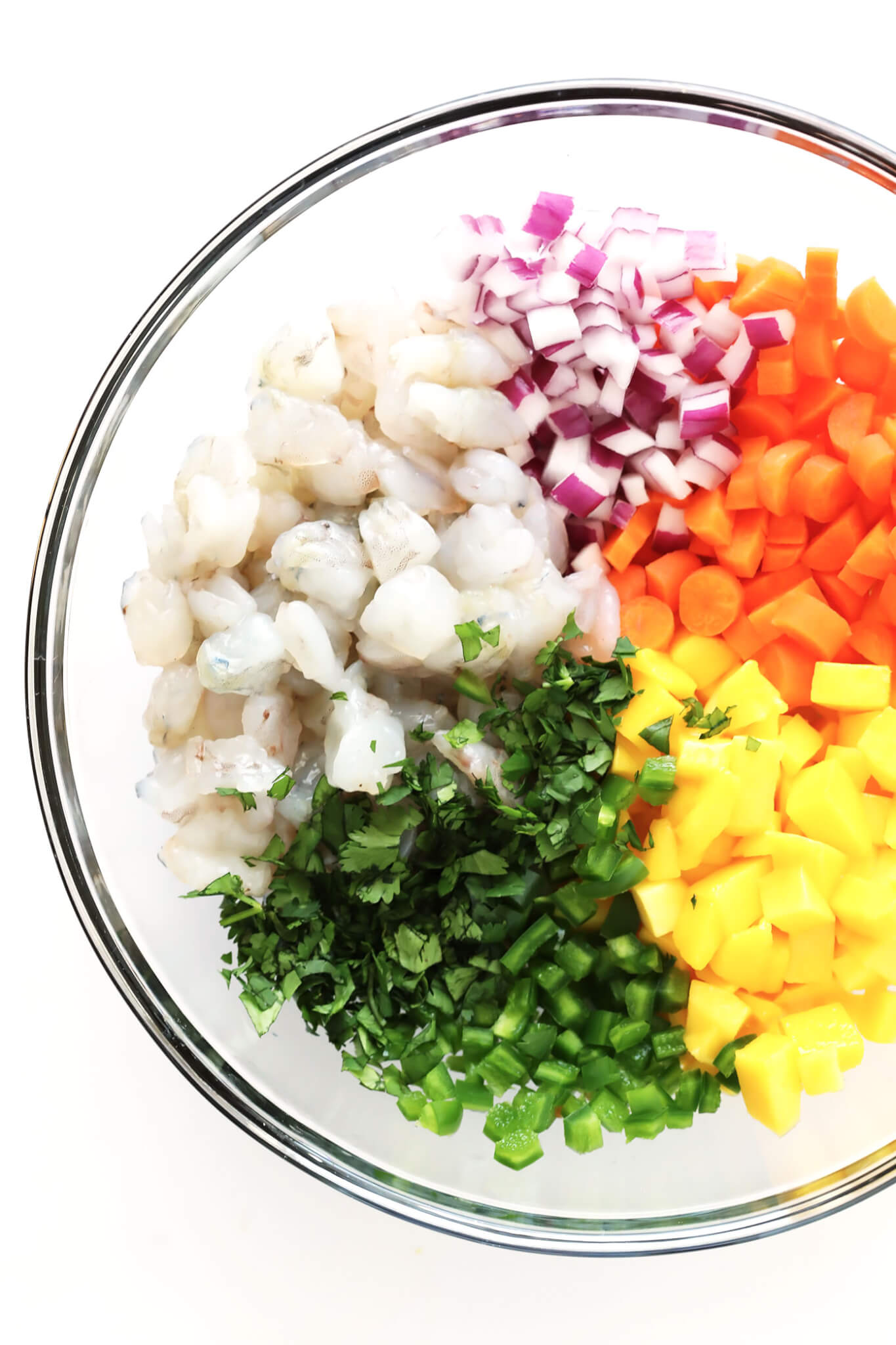 They offered their ceviche with either fresh shrimp or fish, tossed with mango, carrots, red onion, cilantro, ground guajillo, and lots and lots of lime juice…and the combination completely won me over. I did add a jalapeño to mine, since I seem to like everything with an extra kick. And if guajillo peppers are hard for you to find (you can either buy the powdered version in a spice jar or ground up some dried peppers), you can substitute ancho chili powder or chipotle chili powder. (Or if you can't find those, even just a traditional chili powder will do. But I definitely prefer the smokier chilis!)
Just toss everything together, then refrigerate the mixture for 20-30 minutes, or until the shrimp have "cooked" through in the lime juice and are nice and pink. (Or, if you're wary of using raw shrimp, you can just dice up some pre-cooked shrimp.)
Then…buen provecho! This vibrant, sunny, delicious ceviche will be yours to enjoy. Feel free to just serve it up with some tortilla chips (my fave)…
…or load it up onto some tostadas, or anything else that might sound good. Just be sure to enjoy it right away, as ceviche is always best nice and fresh.
I'm going to work on an aguachiles recipe to share with you soon. And heads up — there will probably be more ceviche recipes comin' atcha this summer, since I can't seem to get enough of it lately. But otherwise, thanks for tuning back in after our little wedding break, and I can't to share more wedding and honeymoon-inspired recipes with you soon!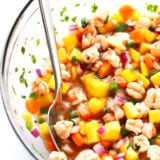 Yield: 8 servings
Easy Shrimp Ceviche
This Easy Shrimp Ceviche is made with lots of fresh mango, carrots, onion, cilantro, jalapeño and red onion, and tossed in a delicious chili-lime sauce. Feel free to sub in your favorite mix-ins, and/or make this recipe with fish instead of shrimp.
Ingredients:
12 ounces raw, peeled and deveined shrimp, diced
2 medium carrots, peeled and diced
1 large mango, peeled, cored and diced
1 large jalapeño, cored and finely-chopped
1/3 cup diced red onion
1/4 cup finely-chopped fresh cilantro
1/3 cup fresh lime juice
1.5 teaspoons guajillo or ancho chili powder (or more, to taste)
1/2 teaspoon ground cumin
1/2 teaspoon Kosher salt
Directions:
Add shrimp, carrots, mango, jalapeño, red onion and fresh cilantro to a large bowl.
In a separate small bowl, whisk together lime juice, chili powder, cumin and salt until combined.
Pour the lime juice mixture on top of the shrimp mixture, and toss until all of the ingredients are evenly combined.
Cover and refrigerate for 25-30 minutes, pausing to give the mixture a good stir every 10 minutes or so, until the shrimp has "cooked" and is pink. Taste and add extra seasonings if needed.
Serve immediately.
Difficulty: EasyCategory: Gluten-Free
Recipe inspired by the restaurant at Hotel Escondido.
All images and text ©Gimme Some Oven
If you make this recipe, be sure to snap a photo and hashtag it #gimmesomeoven. I'd love to see what you cook!